Soft and chewy with pockets of melted dark chocolate and little crunchy toffee bits. These pecan toffee chocolate chunk cookies provide a delicious mixture of flavors and textures!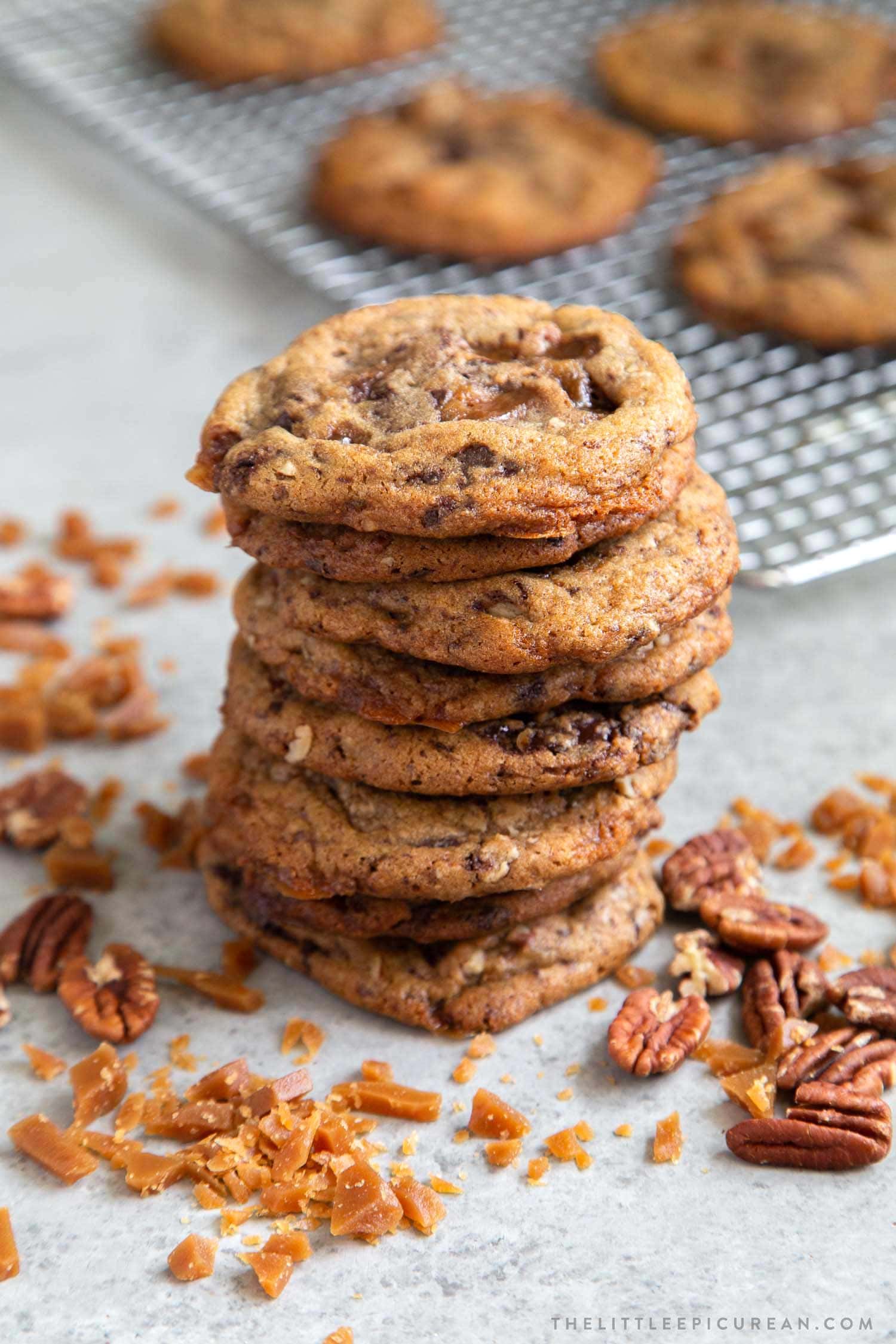 Chocolate Chip Cookie Variation
This cookie has it ALL. Luscious chocolate, chunks of nutty toasted pecans, and bits of buttery toffee bits throughout. For even more ump, sprinkle a bit of Maldon sea salt immediately after baking. 
What makes a great chocolate chip cookie?Some people like their thin and crispy. Others want their cookies soft and chewy. Then there are people who want thick cakey cookies.
This is the cookie for those that love chocolate! A great chocolate chip cookie must use dark chocolate chunks! Semisweet chocolate as works.
It's the contrast and balance between sweet brown sugar, creamy butter, and slightly bitter dark chocolate that makes this toffee chocolate chunk cookie such a great variation!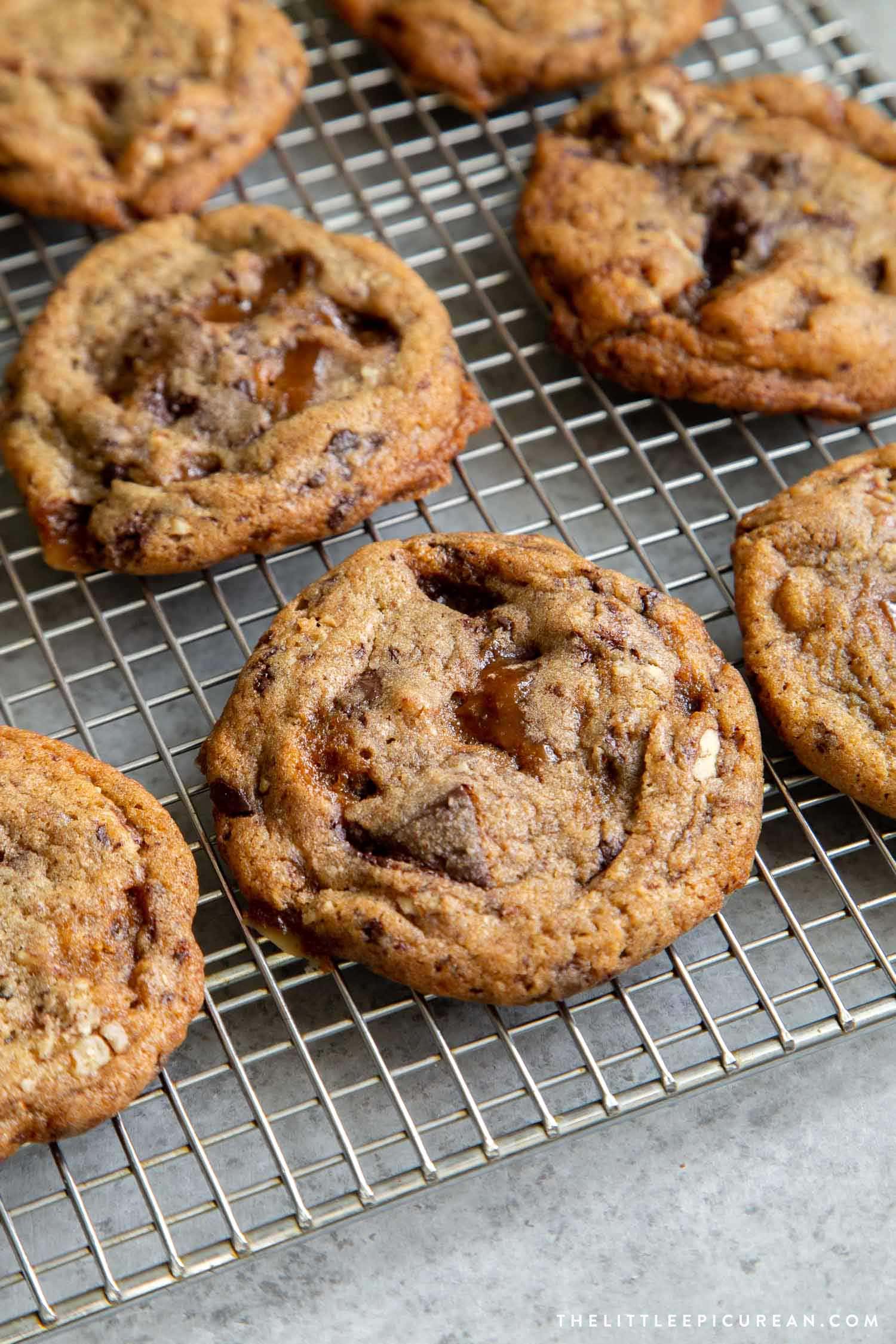 Recipe Ingredient Notes
For best results, measure ingredients by weight using a kitchen scale. However, if you prefer to use volume measures (cups), use the stir and spoon method to measure dry ingredients.
Brown Sugar : Use your choice of light or dark brown sugar. The color and flavor is determined by the amount of molasses mixed in.
Molasses : Unsulphured molasses is most commonly available. Use "original" or "regular" molasses for best flavor. Dark molasses and blackstrap molasses are too strong for these cookies. Or, simply omit molasses if you don't have any.
All-Purpose Flour : I exclusively use King Arthur Flour all-purpose flour for consistency. Any flour brand will work. Sub in gluten-free all-purpose flour mix if desired.
Chocolate : Use high quality chocolate. I suggest 60-72% dark chocolate. Semi-sweet is anther great option. Stay away from milk chocolate. It is too sweet for this cookie recipe.
Pecans : Toasted pecans pair wonderfully with the chocolate and toffee. Walnuts are great substitute. Or, simply omit the nuts, if you prefer.
Toffee : This recipe was created with homemade toffee. Alternatively, sub in store bought toffee candy. More details in the next section.
Homemade Toffee Pieces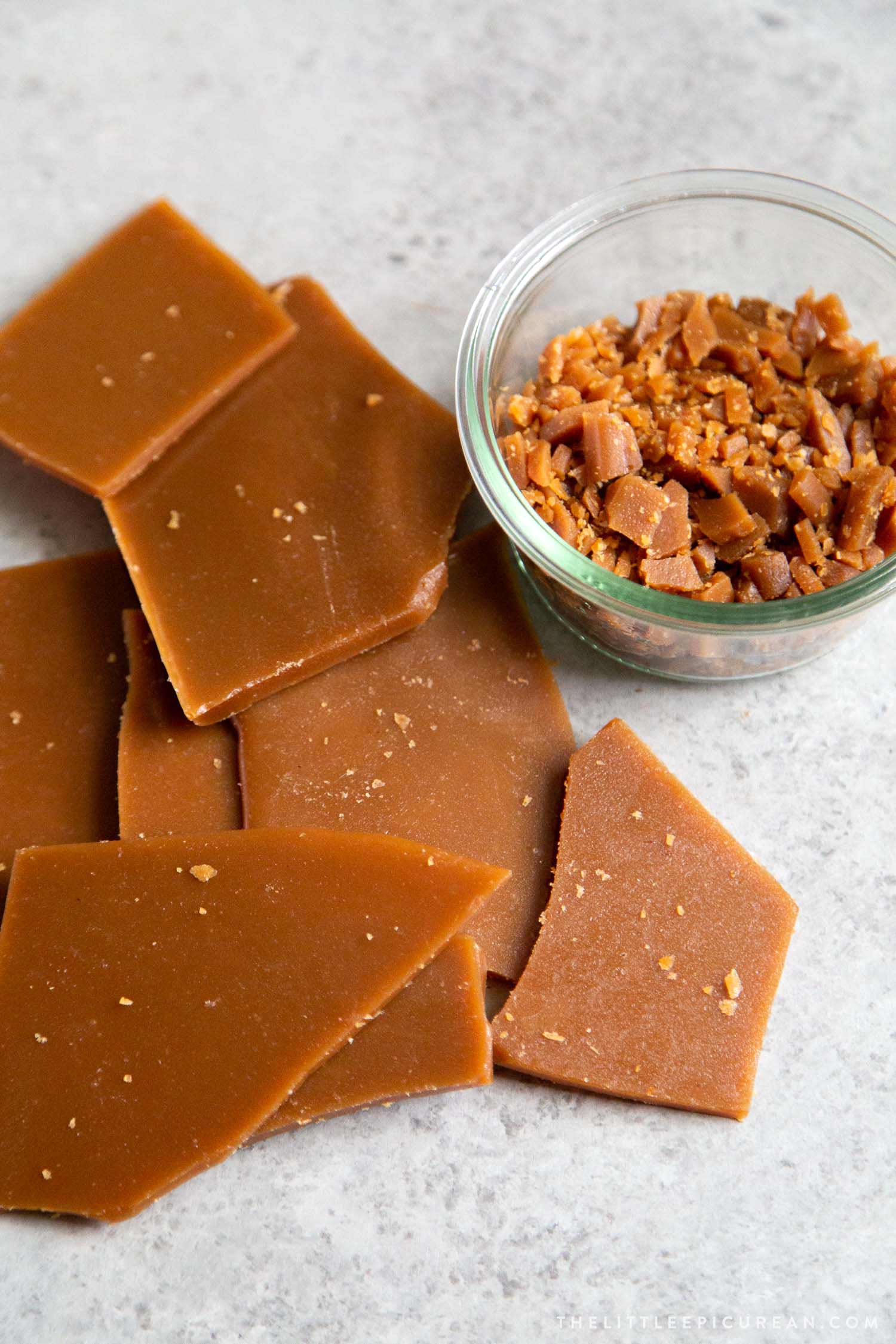 Homemade toffee is easier than you think! You simply need: sugar, water, and butter. Three main ingredients. That's it! 
Last week, I shared the this homemade toffee recipe (along with instructions to turn it into a toffee bark with chocolate, pecans, and sea salt!) .
The recipe makes one large sheet of toffee. Break it up or chop into smaller pieces. I suggest chocolate chip sized bits.
The toffee pieces melt into little puddles of sweet buttery goodness. It's the added homemade toffee that really makes these cookies shine brighter than your average chocolate chip cookie.
No time to make your own toffee? Alternatively, you make sub in store-bought toffee pieces like this package of Heath English toffee bits.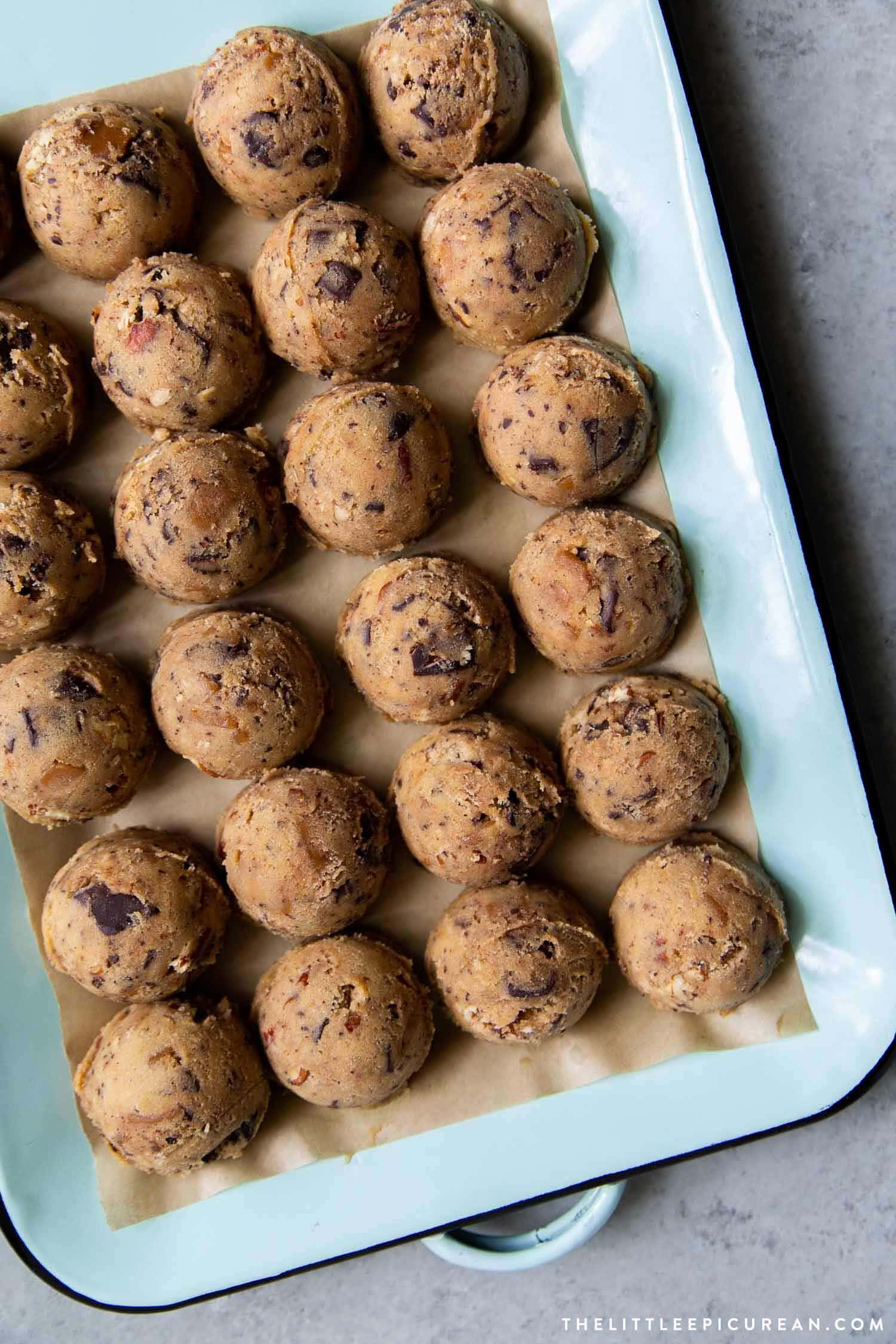 How to Portion Cookie Dough
These toffee chocolate chunk cookies are "drop cookies." That means the dough does not need to be shaped before baking. Simply scoop the dough and drop onto the prepared baking sheet and bake!
Proper portioning is the secret to uniformed sized cookies. Main reasons to reasons to portion dough: 1) cookies bake at the same rate and 2) same sized cookies are easier to package and store.
This recipe uses a size 24 scoop (1.75 oz). Amazon sells these options: stainless steel scooper or size 24 ice cream disher .
Make Ahead Cookie Dough Option
Freeze now and bake later! The pecan toffee chocolate chunk cookies can be made ahead of time. Store the raw dough in the fridge for up to two days, or keep in the freezer for up to a month. 
How to prepare cookie dough for freezer:
Mix together the dough.
Chill in the fridge for two hours (ideally overnight).
Scoop and portion into rounds.
Place portioned cookie dough on a parchment lined baking sheet. Place in the freezer for one to two hours until solid.
Once solid, transfer cookie dough to an airtight container such as a ziptop bag or reusable silicone bag.
Frozen cookie dough will remain at its peak up to a month in the freezer. No need to thaw cookie dough before baking. Frozen cookie dough can baked straight from the freezer!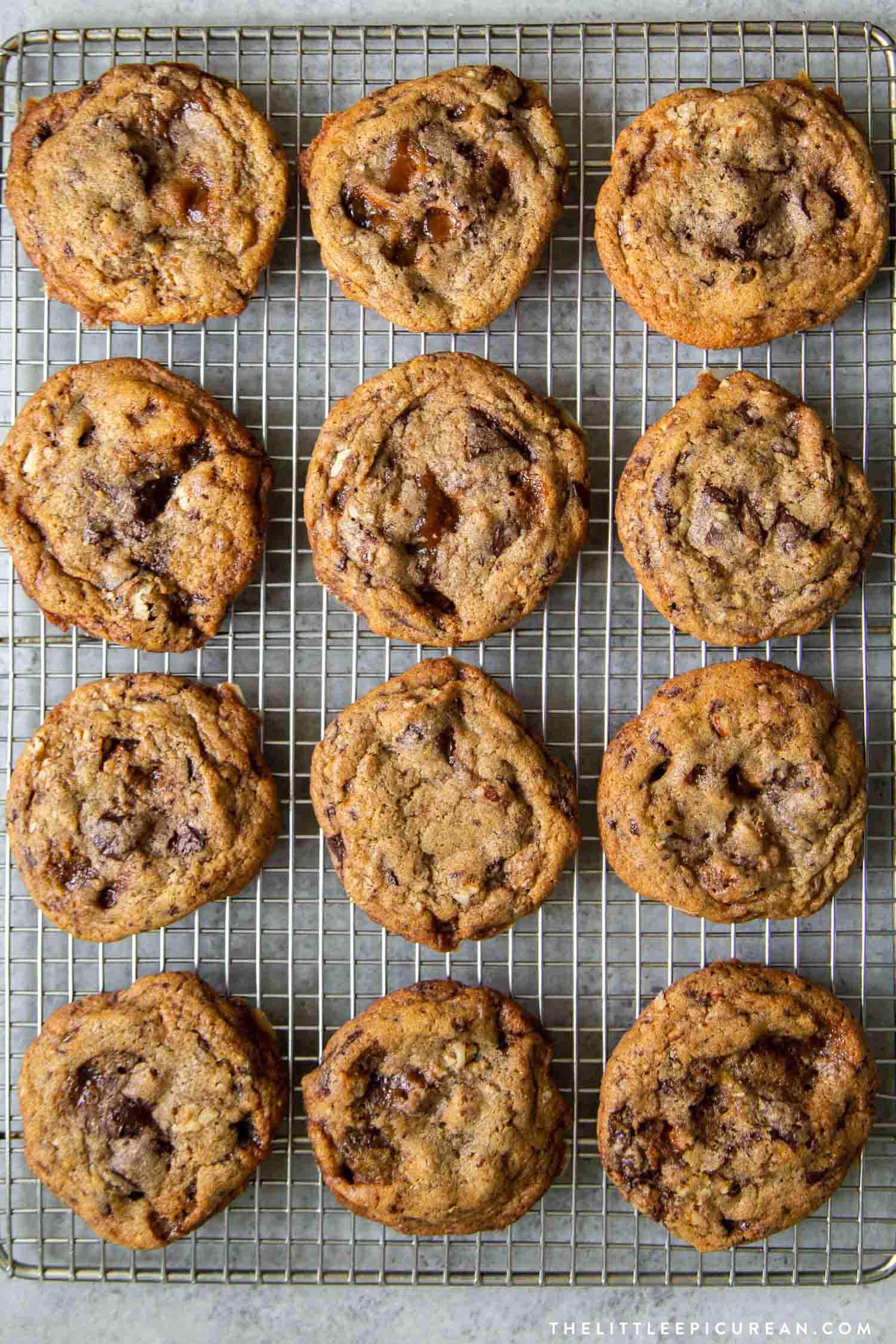 Cookie Troubleshooting
How do I get those puddles of melted chocolate in each cookie?

Skip the pre-packaged chocolate chips or chocolate chunks. Instead, purchase chocolate bars or large chocolate blocks. Chop the chocolate chunks yourself. The chocolate will not have have same stabilizers at the pre-packaged chocolate chips that prevent melting.
When scooping the cookies, intentionally place a chunk of chocolate into the scooper to make sure some chocolate bits are exposed on the surface of cookie dough ball.

Why are my baked cookies wonky and misshapen?

The cookies will spread during baking due to the high amount of butter and sugar in the recipe. You will have to use a dough scraper (or bowl scraper) or small spatula to shape the hot cookies into rounds. Or, use a large round cookie cutter to help re-round the cookie.

Does baking time change if using frozen cookie dough?

Straight from the freezer and directly into the oven, you will need to add an extra two minutes to baking time.
The frozen cookie dough will spread slower than the refrigerated cookie dough. As a result, you may have better shaped cookies. However, you will still have to shape the cookies as mentioned above.

Why does the recipe have two egg yolks?

The dough uses one whole egg plus two egg yolks. The additional fat from the extra egg yolks helps to ensure these cookies bake up soft and chewy.
What's the point of chilling cookie dough before baking?

This recipe contains a high ratio of butter, yolks, and sugar. Chilling does two things:
Chilling the dough allows the fats time to solidify and regain it's structure. As a result, the cookie dough will be spread too much during baking.
Chilling the dough helps to improve flavor. It gives the ingredients time to meld and blend together. (I call it "marinating the dough".)
Should you choose not to chill the dough, the cookies may spread too much during baking.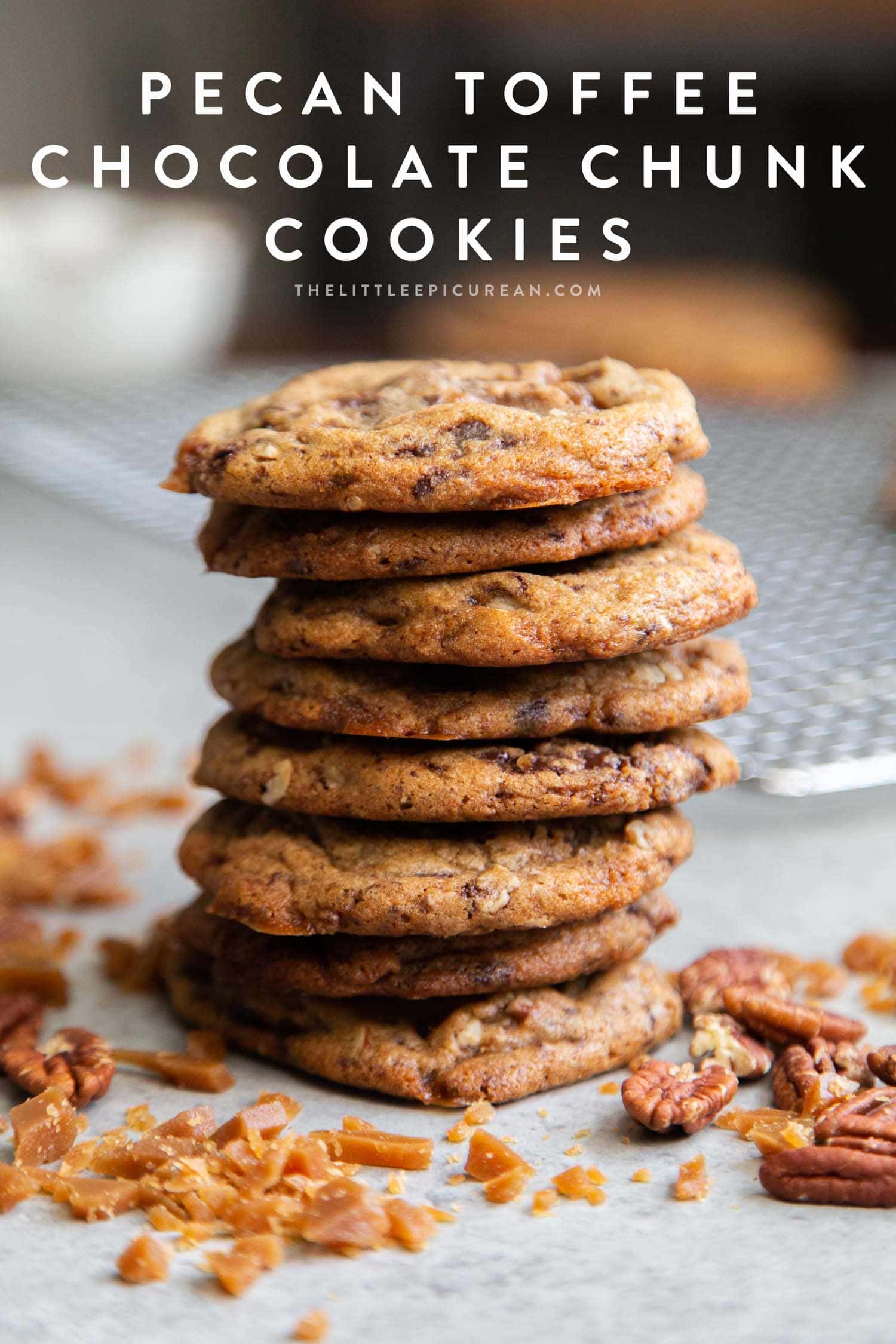 Cookie Storage Instructions
Cool the cookies to room temperature on wire racks. Once cool, they can be stacked or shingled in an airtight container.
Properly stored, these pecan toffee chocolate chunk cookies will remain fresh and soft up to 5 days after baking.
Since these cookies remain chewy for days after baking, they are great for shipping to friends and family for the holidays! (They also make for easy to eat ice cream sandwiches.)
More Drop Cookie Recipes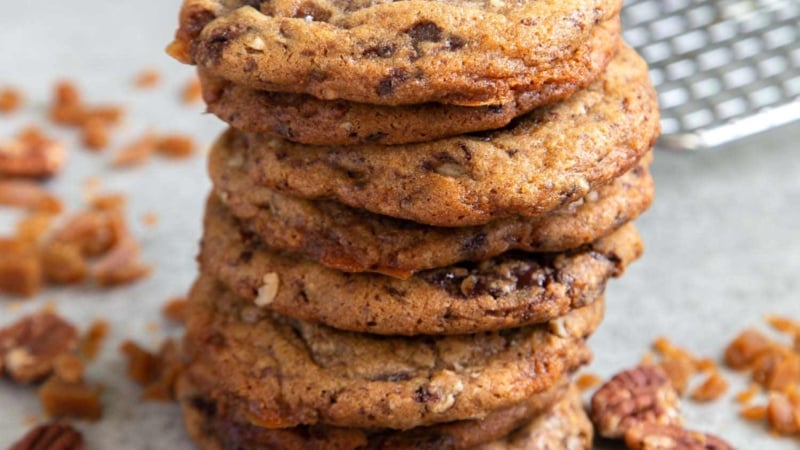 Pecan Toffee Chocolate Chunk Cookies
Soft and chewy with pockets of melted dark chocolate and little crunchy toffee bits. These pecan toffee chocolate chunk cookies are going to be your favorite new cookies!
Yield: 2 dozen cookies
Ingredients
1

cup

unsalted butter

(226 g) softened, room temp

1

cup

brown sugar

(200 g) packed

½

cup

granulated sugar

(100 g)

1

Tablespoon

molasses

(20 g)

1 ½

teaspoon

pure vanilla extract

or vanilla paste

1

large egg

room temp

2

large egg yolks

room temp

2 ½

cup

all-purpose flour

(325 g)

1

teaspoon

kosher salt

1

teaspoon

baking soda

1

cup

dark chocolate

(170 g) roughly chopped

1

cup

toasted pecans

(120 g) roughly chopped

1

cup

chopped toffee bits

(115 g)

Maldon sea salt flakes

for optional garnish as needed
Instructions
In the bowl of a stand mixer fitted with a paddle attachment, cream together softened butter, brown sugar, sugar, and molasses until smooth, about 3 minutes. Add vanilla.

On low speed, add eggs one at a time. Beat until eggs are well incorporated. Scrape down sides of bowl as needed to ensure thorough mixing.

In a large bowl, whisk together flour, salt, and baking soda. With the mixer running on low, add 1/3 of flour mixture. Once almost incorporated, add another 1/3 of flour mixing.

Toss chocolate chunks, toasted pecans, and toffee bits in remaining 1/3 of flour mixture. Fold into cookie dough until well distributed and there are no longer any dry streaks of flour.

Cover with plastic wrap (or reusable wrap). Chill in the fridge for at least 2 hours (overnight is ideal).

Scoop chilled cookie dough using a #24 scoop. Place on a parchment lined baking sheet. Cover and place in the fridge while oven preheats.

Preheat oven to 350°F. Line several baking sheets with parchment paper or reusable silicone baking mat.

Place chilled cookie portions at least 3-inches apart on prepared baking sheet. Bake for 7 minutes. Rotate baking sheets. Bake for another 4 minutes. Cookies will have spread. Use a flexible bowl scraper to push, gather, and reshape cookies into rounds. Return to oven for another 3-4 minutes until edges of cookies are set, but the center is still soft.

Note: 6 cookie portions will fit on a standard 18×13-inch half size baking sheet.

From the oven, immediately sprinkle hot cookies with sea salt flakes (if using). Allow cookies to remain on hot baking sheet for 7 minutes. It will take several minute for the cookies to regain structure. Use an offset spatula or bowl scraper to transfer warm cookies to a wire rack. Cool cookies to room temperature.
Notes
Baking time refers to size 24 cookie scoop portions. Adjust accordingly should you decide to portion cookie dough into a different size. 
If baking frozen cookie dough portions, add 1-2 minutes of extra baking time.
To toast pecan halves: bake in a 350° F oven for 10-12 minutes until nuts are warm and golden brown. Chop nuts once cooled. Allow nuts to cool to room temperature before adding to cookie dough.
Use high quality chocolate. I suggest 60-72% dark chocolate. Semisweet chocolate also works. Do not use milk chocolate.
Use this homemade toffee recipe. Alternatively, substitute with store-bought packaged toffee bits. 
Store cooled cookies in an airtight container for up to 5 days. 
*** In order to achieve the same round cookie shape photographed in the blog post, you must use a flexible bowl scraper or spatula to push, gather, and shape cookies. The cookies will spread in the oven.