Olive oil brownies studded with dark chocolate chunks and topped with sea salt flakes. These quick and easy brownies are ooey gooey delicious!
This post was sponsored by Filippo Berio. Thank you for supporting my brand partners. As always, all opinions stated here are entirely my own.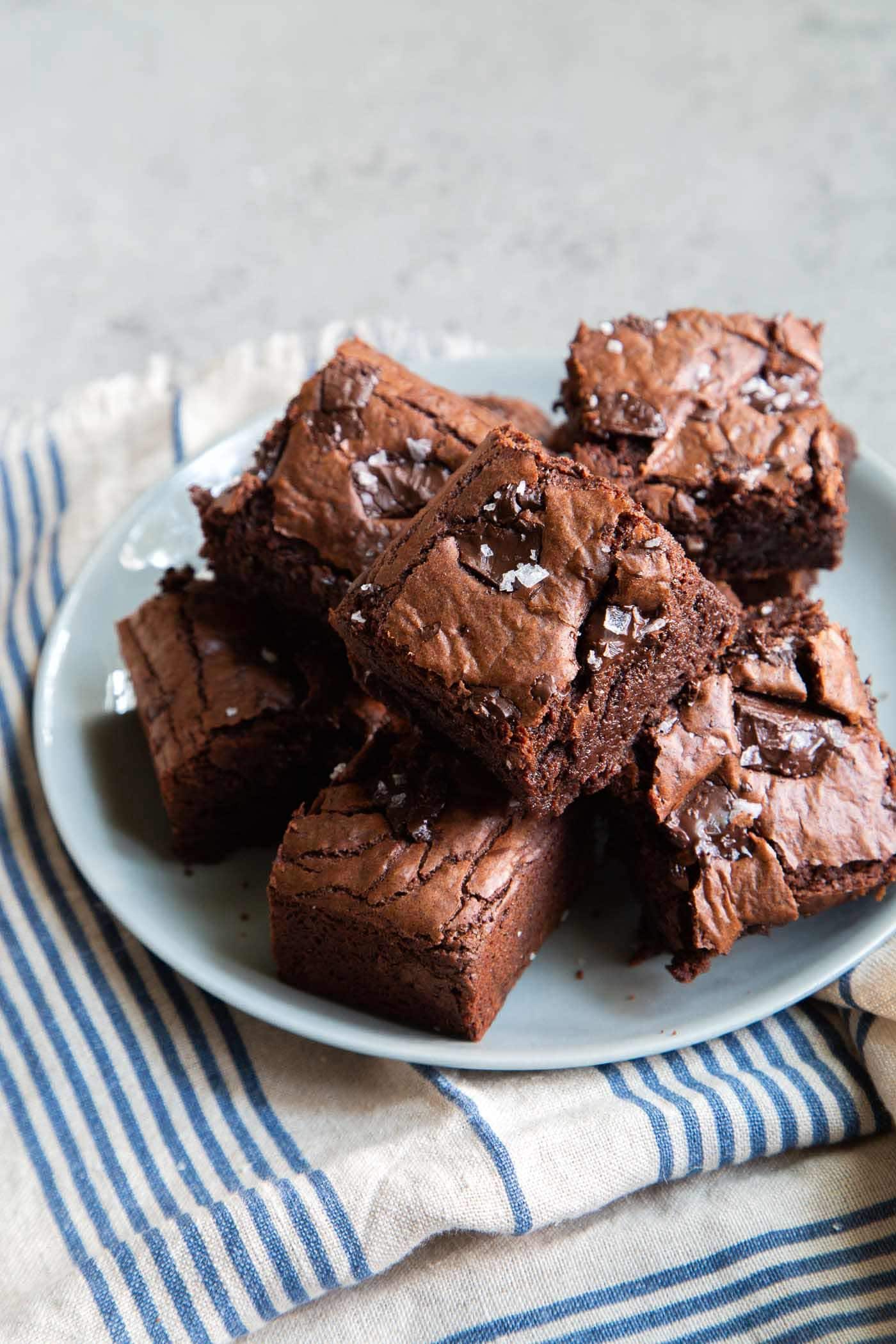 Decadent. Moist. Flavorful. Those are the three most important qualities I look for in brownies.
These olive oil brownies check all the boxes!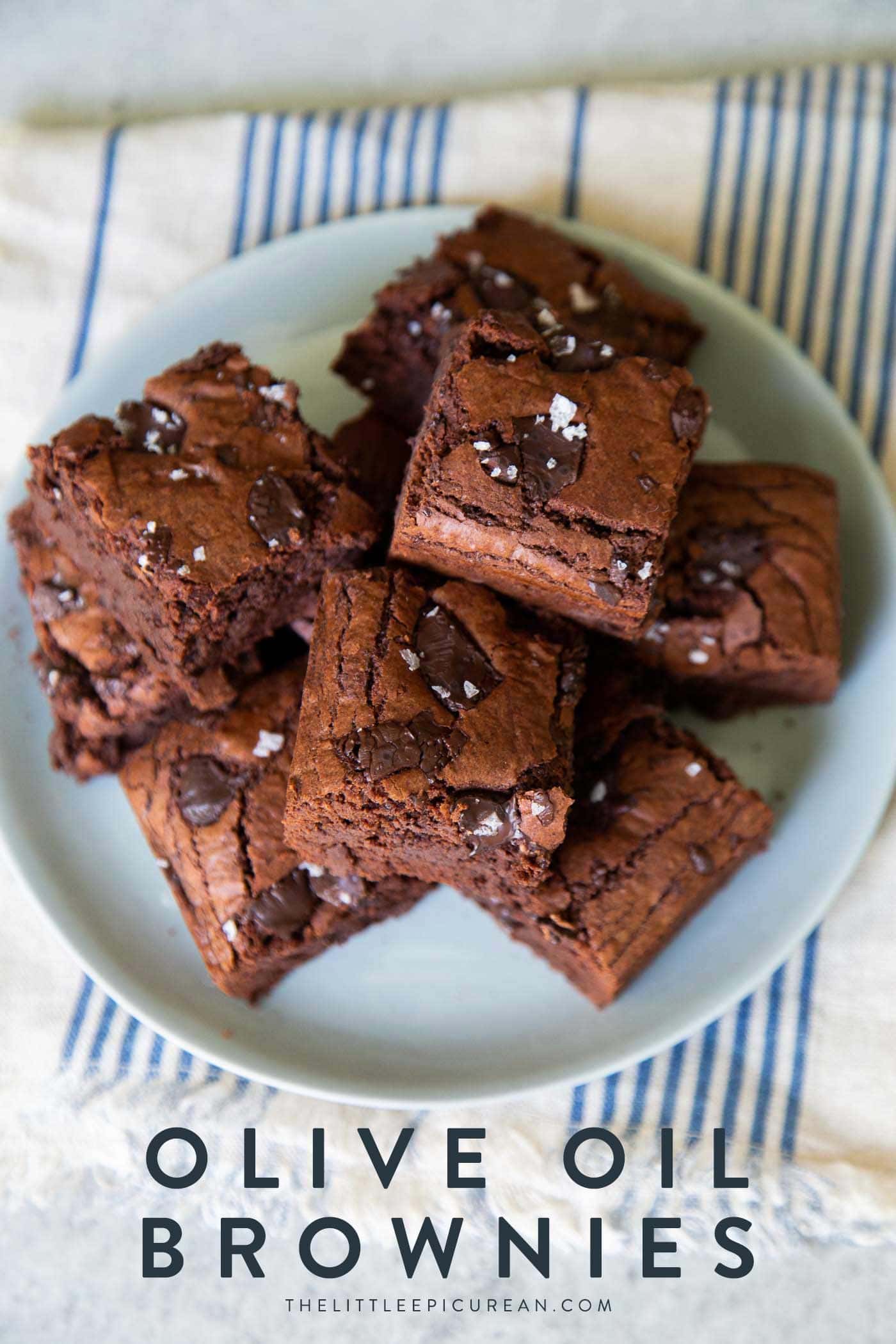 Chocolate Chunk Brownies
Regardless of the season or reason, brownies are always a welcome treat! Be it the holidays, a birthday celebration, or simply a random day you're craving chocolate- brownies will surely hit the spot.
These dairy-free brownies are made with olive oil instead of butter. The use of olive oil lends to rich, fudge-like brownie that remains fresh and moist days after baking.
This recipe works best with Filippo Berio Extra Light Olive Oil.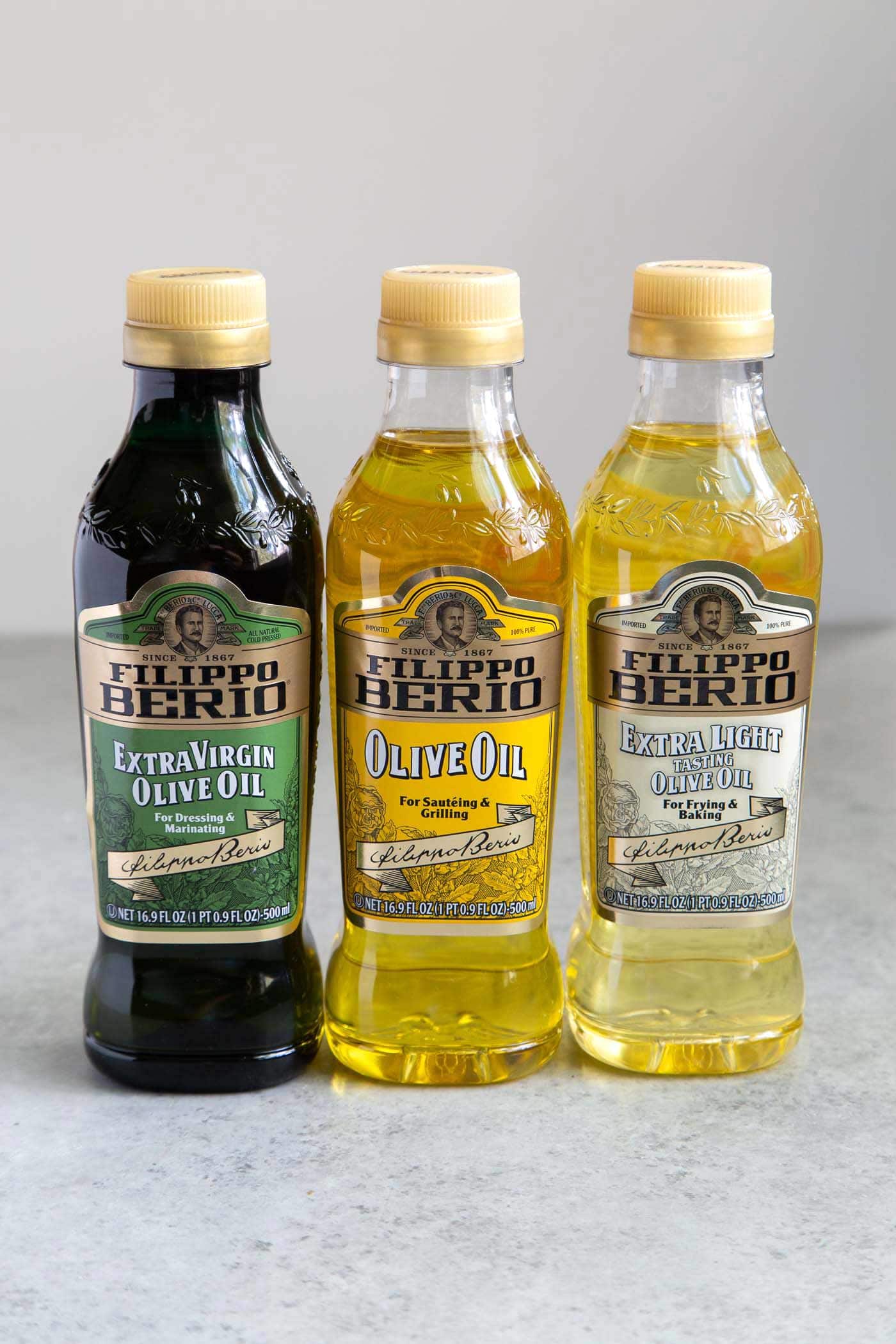 Choose the Right Olive Oil
Not all olive oils are created equal! As you can see in the image above, Filippo Berio indicates the best applications for each of their olive oils.
Extra Virgin Olive Oil is best for dressing and marinating.
Well-balanced rich oil with a deep greenish-gold color.
Made from the first cold pressing of the finest olives.
Suggested for salad dressings, drizzling over pastas, or marinating fish and vegetables.
Olive Oil is great for sautéing and grilling.
Versatile olive oil with a bright golden yellow color and mild aroma
Suggested for basting meats and fish, making pizza dough and focaccia, and roasting vegetables.
Extra Light Olive Oil is suited for frying and baking.
Pale yellow olive oil with an exceptionally high smoke point.
Perfect for baking, frying, and braising.
It's light aroma and delicately subtle olive flavor allows other flavors of the dish to shine through.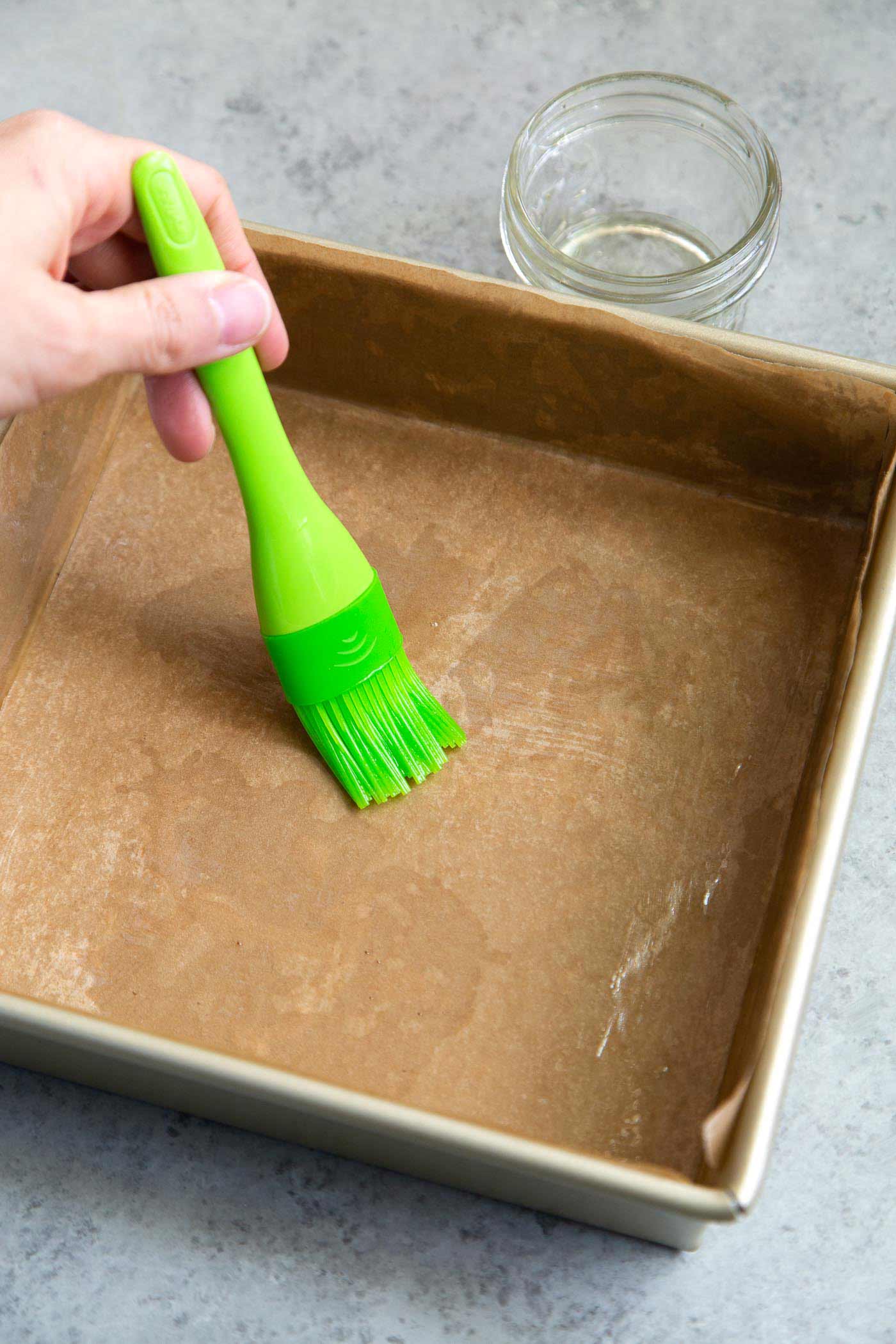 Prepping baking pan for brownies
Parchment paper is a baker's best friend!
Line the 8-inch square baking pan with two layers of parchment paper (one going horizontal and the other vertical). Cut the parchment long enough to hit the rim of the pan, or allow an excess overhang. This will allow for super easy brownie removal.
Brush the parchment paper with olive oil to prevent the brownies from sticking.
Once you're ready to unmold, simply lift the brownies using the parchment overhang. No stress, no mess, no trouble!
Hand Mix Brownies
Start by pouring olive oil over chopped chocolate (part 1) in a large bowl. Add in sugar. Melt mixture over a double boiler, or gently in the microwave until smooth.
Add eggs and vanilla. Beat mixture until smooth, thick, and shiny.
In a separate bowl, whisk together flour, cocoa powder, baking powder, and salt. Add dry mixture to chocolate batter. Fold to combine until there are no longer any dry streaks of flour.
Fold in chopped chocolate (part 2), reserving about a handful for topping.
Transfer batter to prepared baking pan. Spread into an even layer. Top batter with reserved chocolate chocolate
Bake in a 350 degree F for about 30 minutes.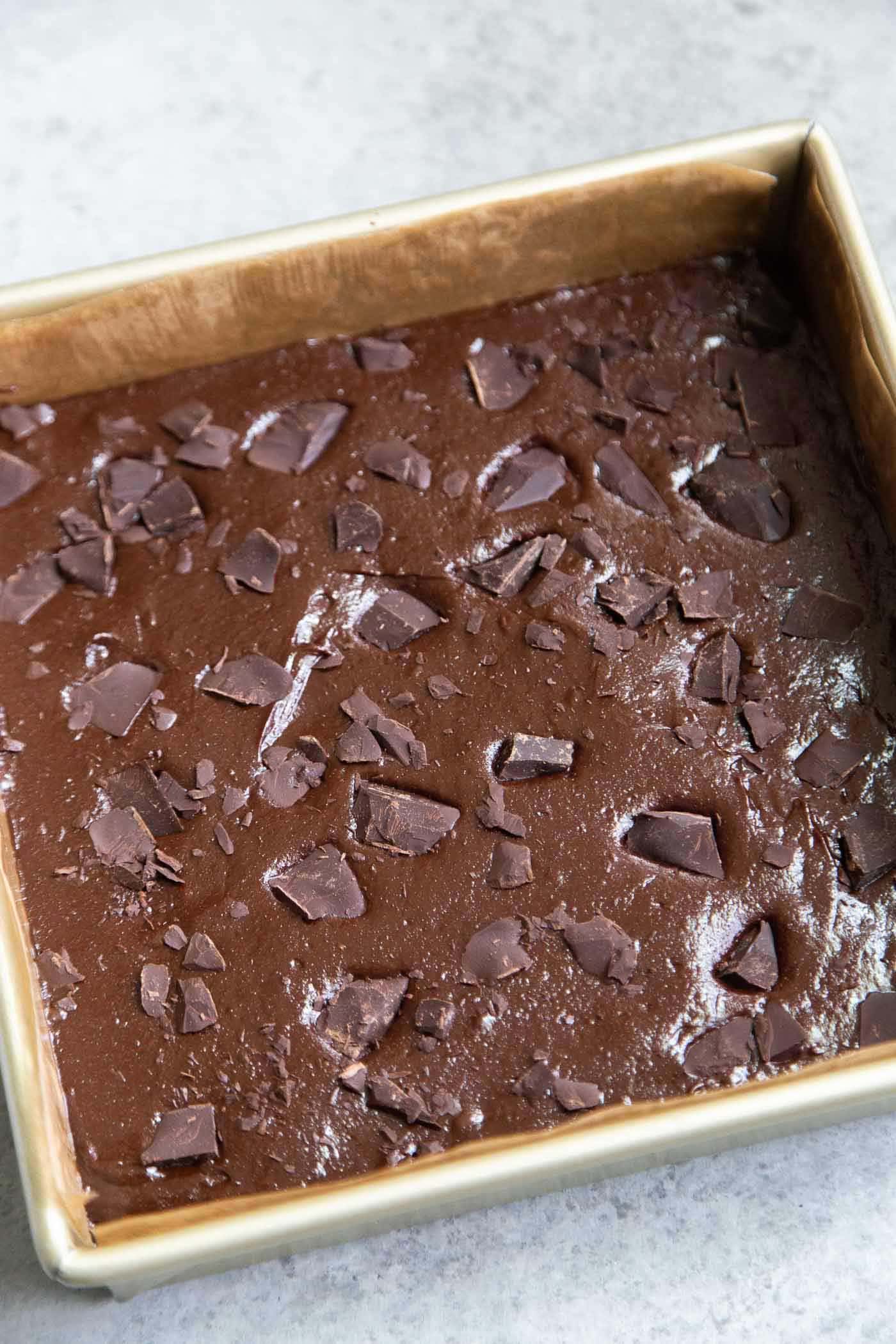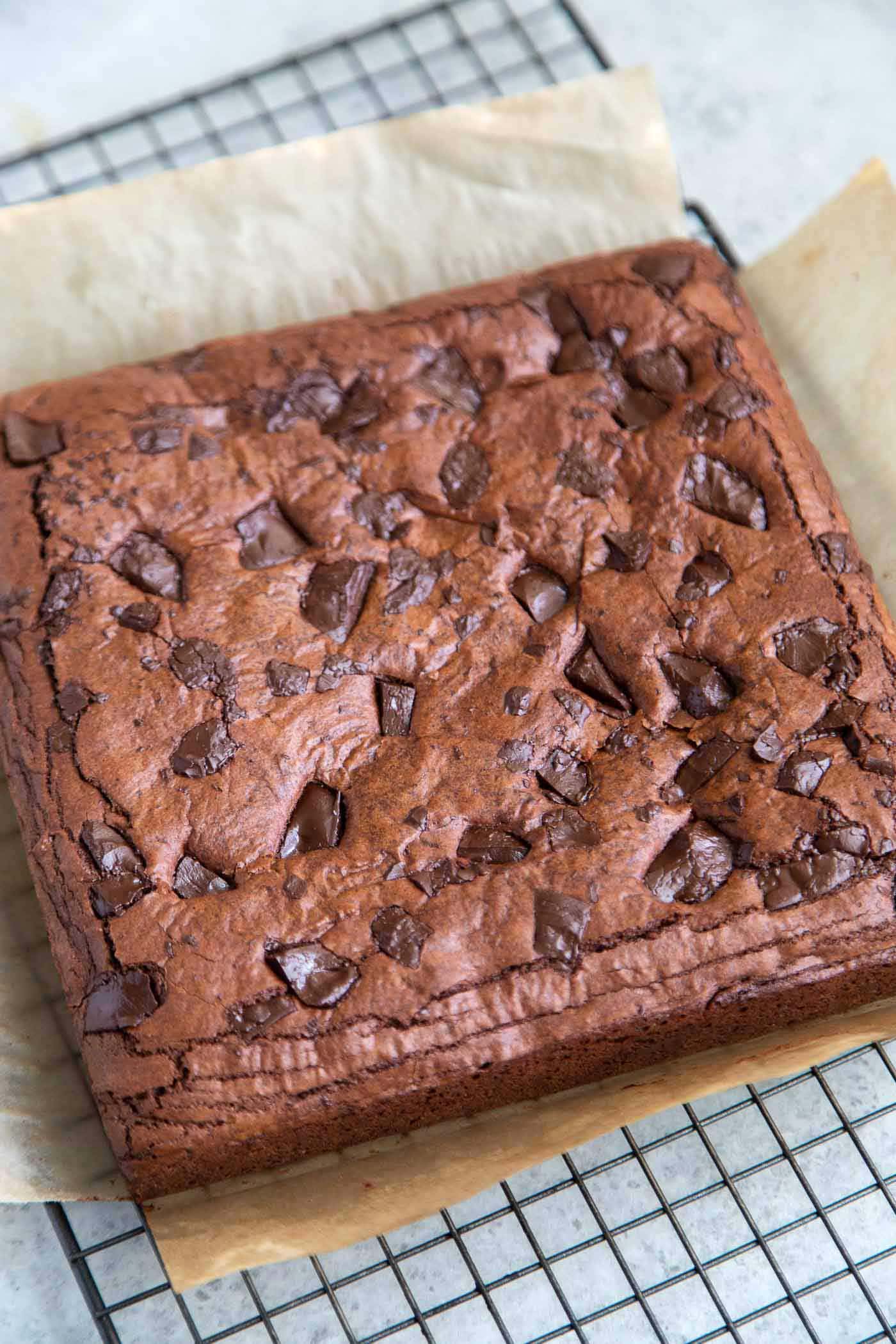 Baking Time
Bake until the surface of the brownies are set. You may insert a toothpick in the center of the brownies to ensure they are done.
Over-baked brownies will result in a dry, cakey texture. It is better to err on the side of under-baked.
The brownies will continue to slightly "cook" as it sits on the cooling rack in the baking pan.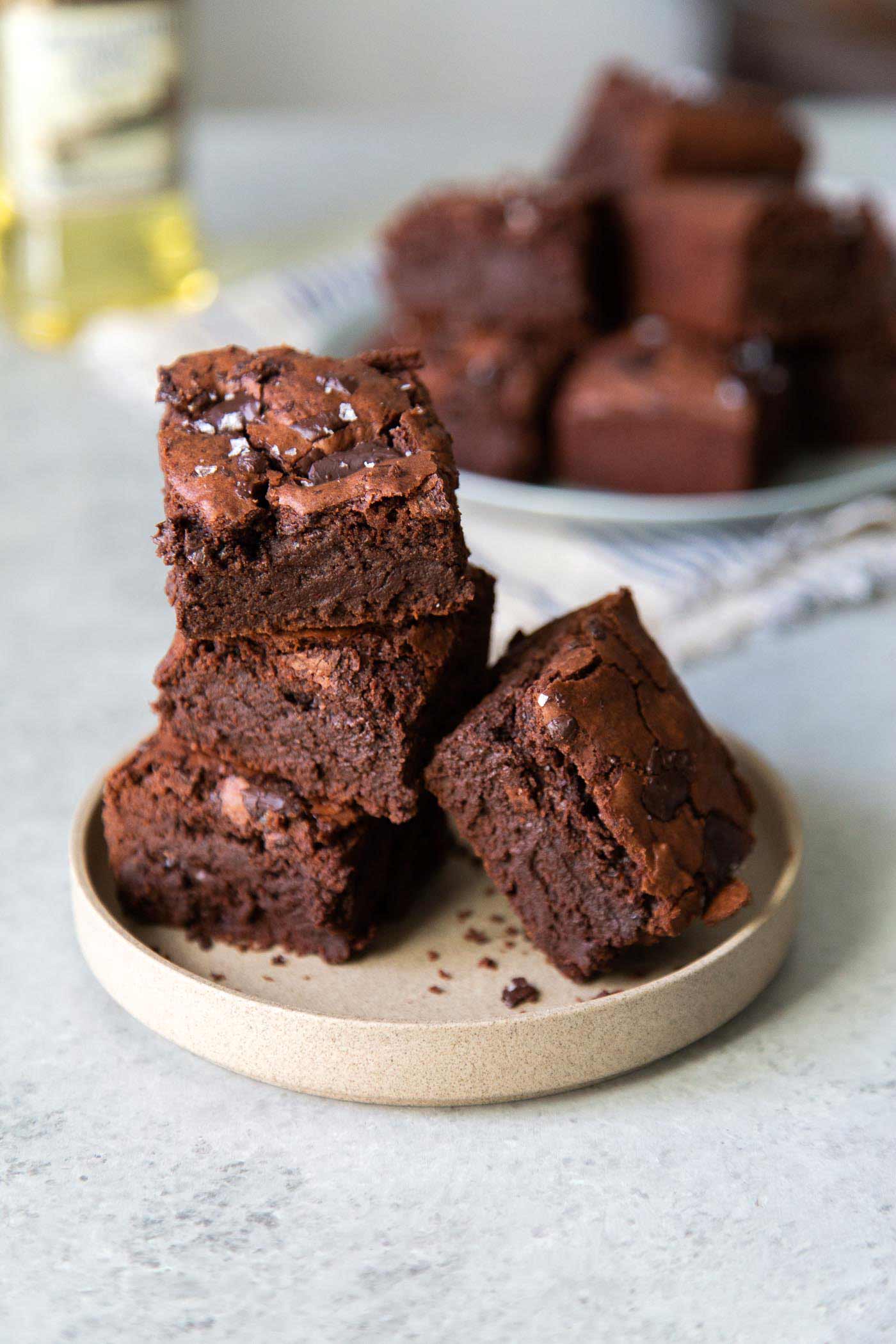 Tips for slicing brownies
Warm brownies will be difficult to slice into clean portions. Wait for the brownies to cool to room temperature.
Use a clean, sharp knife. Wipe knife with a clean towel in between slices.
You may also use a stainless steel bench scraper (also known as pastry scraper or dough cutter) for quick, clean cuts.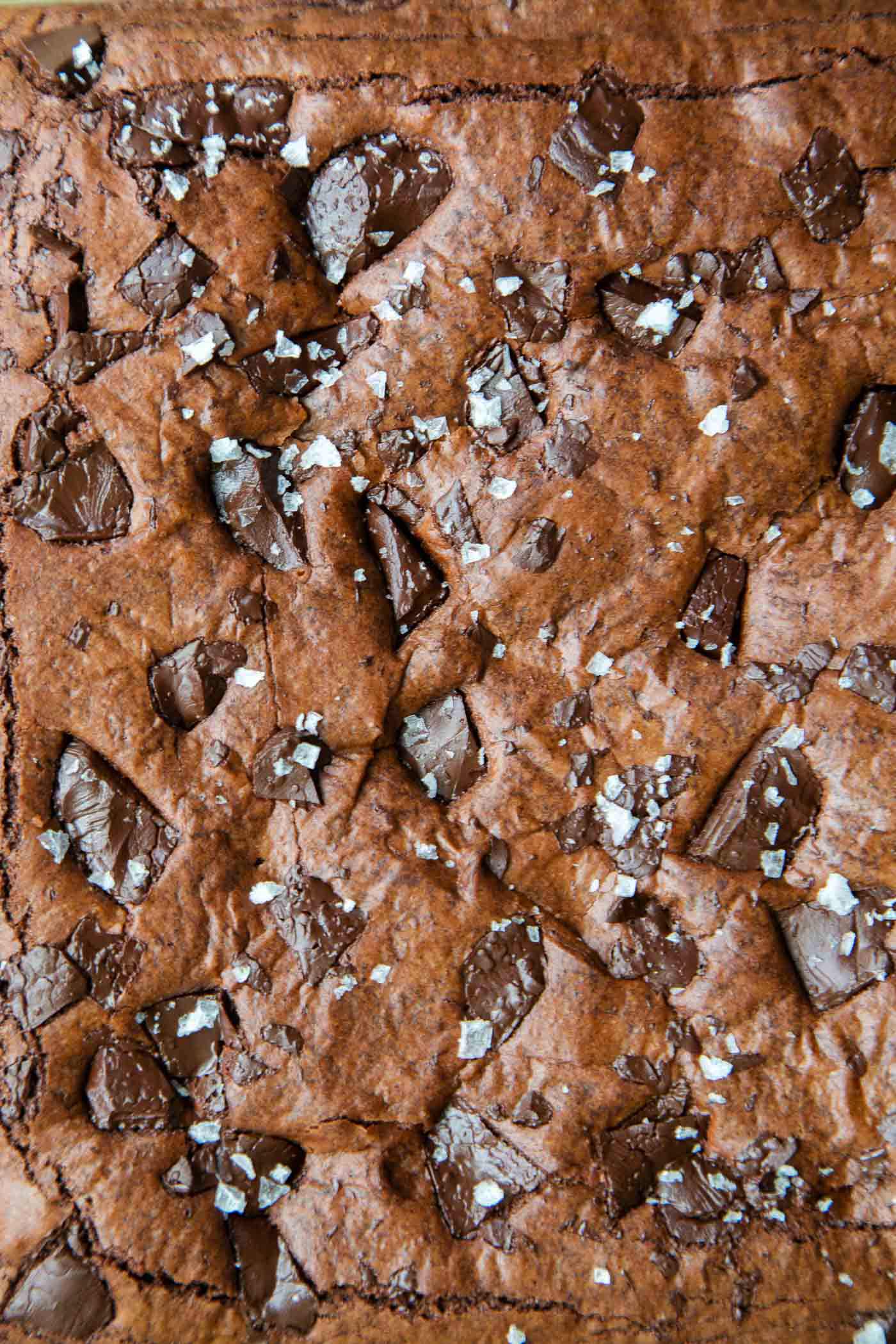 Storage and leftovers
Store brownies in an airtight container at room temperature for up to 5 days. After the third day, the brownies will start to harden.
If necessary, quickly reheat in the microwave for 10 second intervals with a mug of water. *the mug of water will ensure the brownies do not dry out.
Olive Oil Brownies
Ingredients
150

grams

(¾ cup) Filippo Berio Extra Light Olive Oil

115

grams

(about 1 cup) dark chocolate*

finely chopped

300

grams

(1 ½ cups)granulated sugar

3

large eggs

2

teaspoon

pure vanilla extract

130

grams

(1 cup) all-purpose flour

30

grams

(6 Tbsp) unsweetened cocoa powder

1

teaspoon

baking powder

½

teaspoon

kosher salt

115

grams

(about 1 cup) dark chocolate*

roughly chopped

sea salt flakes,

as needed
Instructions
Preheat oven to 350°F. Line an 8-inch square pan with parchment paper, leaving an overhang on all four sides of pan. Brush parchment with olive oil and set aside.

Fill a medium pot with about two inches of water. Bring to a simmer. In a large bowl, add 115 grams finely chopped chocolate and Filippo Berio extra light olive oil. Add sugar. Set bowl over pot of simmering water. Make sure the bowl does not touch the water. Melt together ingredients. Stir mixture as needed to ensure even melting.

Remove bowl from pot. Cool mixture for about 3 minutes. Stir in eggs and vanilla. Mix until smooth, thick, and shiny.

In another bowl, whisk together flour, cocoa powder, baking powder, and salt. Add to chocolate mixture. Fold until there are no longer any dry streaks of flour.

Reserve and set aside a handful of remaining 115 grams roughly chopped chocolate. Fold remaining chocolate into batter. Do not over-mix. (Over-mixing at this point will yield tough brownies.)

Transfer batter into prepared baking pan. Smooth into an even layer. Sprinkle reserved chocolate on top of batter. Bake for 28-30 minutes until the surface of the brownies are set and a toothpick inserted in center of brownies comes out clean. Immediately sprinkle sea salt flakes on top.

Cool brownies in pan for 15-20 minutes. Lift brownies out of pan using parchment paper overhang. Transfer to wire rack. Cool to room temperature. Slice into desired portions.
Recipe Notes
I suggest using 56-72% dark chocolate. Based on the amount of sugar listed in this recipe: chocolate below 56% will result in very sweet brownies and chocolate above 72% will yield slightly bitter brownies. 
Recipe can be baked in an 8-inch or 9-inch square baking pan. Double recipe to bake in a 9 x 13-inch pan.
Over-baking will results in dry, cakey brownies. It is better to err on the side of under-baked. The brownies will continue to slightly "cook" as it cools out of the oven.