Bacon parmesan walnut bread is great for sandwiches, especially grilled cheese! Chunks of bacon, bits of aged parmesan cheese, and chopped walnuts are kneaded into the dough for a savory treat.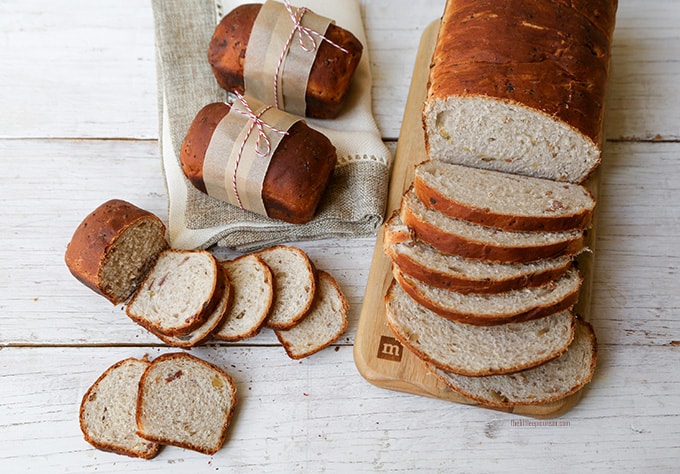 When asked to join #BakingADifference to spread the word about ending childhood hunger, the answer was simple. YES, OF COURSE!
While I grew up fortunate, always having more than enough food on the table, there were surrounding communities near my hometown with struggling families and children. Beginning in my teens, I started volunteering my time and efforts to help those that needed it.
Whether it was working at soup kitchens during Thanksgiving and Christmas, or heading our local clothing and toy donations– I wanted to share happiness and joy in whatever capacity I could give. One day when I have millions of dollars at my disposal (hey, a girl can dream), I want to start all sorts of charities, organizations, and programs aimed at helping people and animals.
In the meantime, I try to do what I can to share the blessings I have been fortunate to have.
Bake A Difference Campagin
This year Fleischmann's® Yeast, Fleischmann's® Simply Homemade® Baking Mixes and Karo® Syrup – trusted baking products that have helped people create beautiful homemade bread, baked goods and delicious desserts for more than 100 years – have launched the Bake A Difference campaign to benefit Share Our Strength's No Kid Hungry®.
Through the power of baking, we can all make difference to end childhood hunger in America.
In addition to donating $450,000 to the No Kid Hungry Campaign, Fleischmann's Yeast and Karo Syrup are encouraging bakers, foodies and chefs across the country to bake a for a cause. Inspire family, friends, and neighbors to get involved. Everyone is encouraged to participate and share their recipes and stories. T
he Baking a Difference campaign will culminate in spring 2014 with a unique e-cookbook featuring Joy the Baker along with recipe images from bakers across the country showing how they bake a difference within their local communities. Visit Facebook.com/FleischmannsYeast and Facebook.com/KaroSyrup to learn more.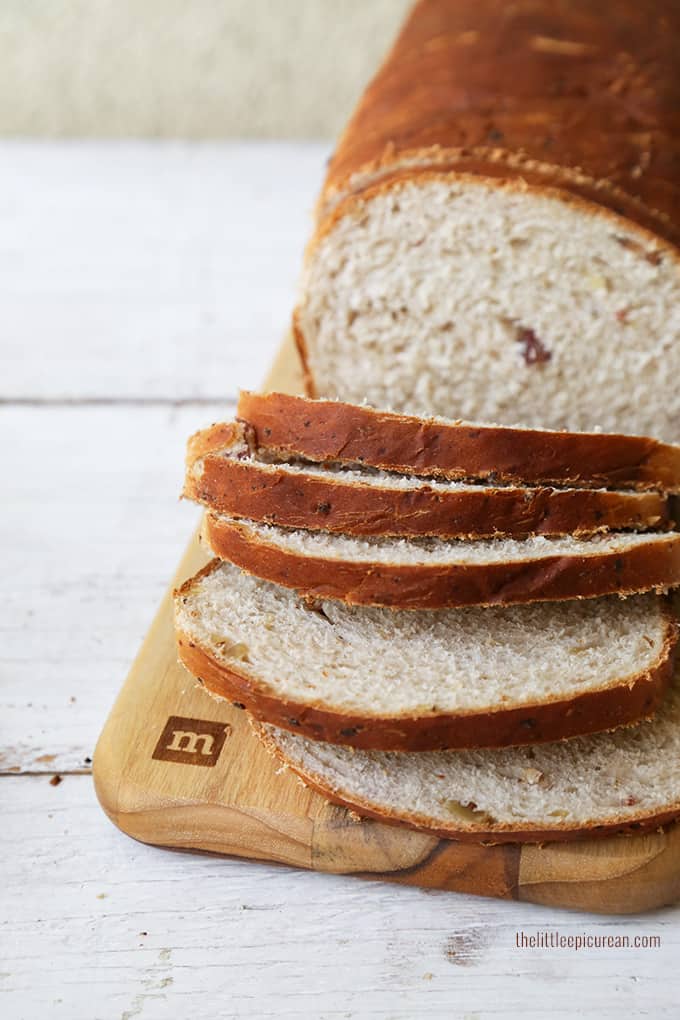 Bacon Parmesan Walnut Bread
I was challenged to put a spin on Fleischmann's Beginner's White Bread and make it my own. As a kid, I loved, loved, loved grilled cheese sandwiches. Rain or shine, day or night, a grilled cheese could always make me happy.
I'll always be partial to white bread because that's what we had at the house growing up. But nowadays, I love reinventing and adding new flavors to an old favorite. Hence, the creation of my bacon Parmesan walnut bread.
I add bits of crumbled bacon, large shreds of aged Parmesan cheese, and chopped toasted walnuts to make a simple loaf of white bread into something savory and complex. When this bread bakes in the oven, the aroma that fills the kitchen is intoxicating and alluring. It's nutty, smoky, and cheesy all at once.
I know many people are afraid of baking with yeast, especially active dry yeast- but I assure you- it's all in your head. This simple white bread will change your mind. To me, there is nothing as calming and relaxing as bread baking.
Step-by-Step Instructions: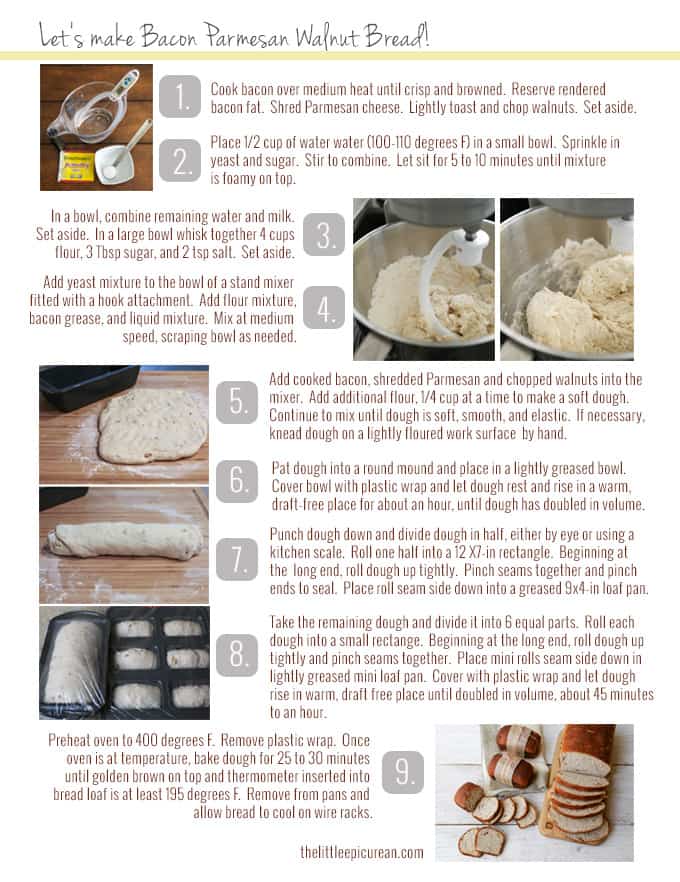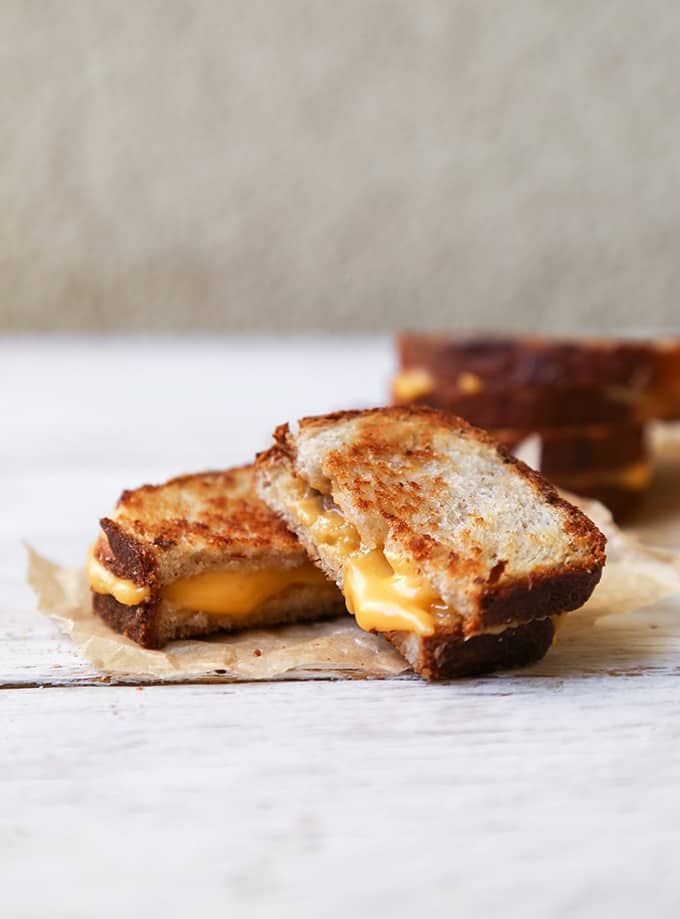 Look at this unbelievable grilled cheese sandwich made using bacon Parmesan walnut bread! The bread makes for the best buttered toast and leftovers would be lovely as croutons or made into a savory bread pudding.
Now, go bake and share the love.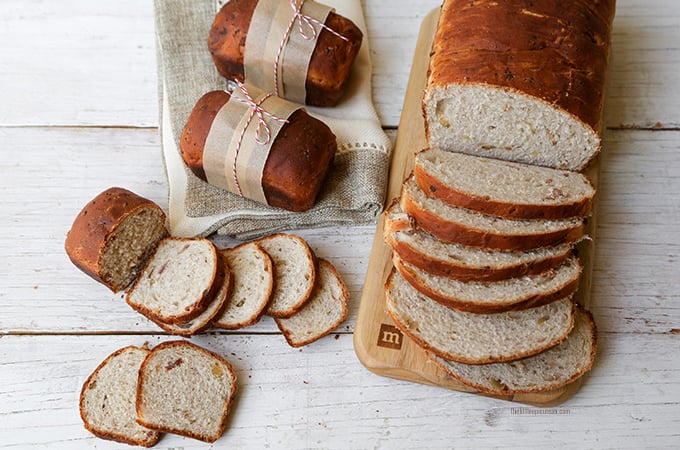 Bacon Parmesan Walnut Bread
Bacon parmesan walnut bread is great for sandwiches, especially grilled cheese! Chunks of bacon, bits of aged parmesan cheese, and chopped walnuts are kneaded into the dough for a savory treat. Yield: two 9×4-inch loafs
Ingredients
2

envelopes Fleishmann's Active Dry Yeast

5 1/2

cups

all-purpose flour, additional flour as needed

3

Tablespoons

+ 1 teaspoon granulated sugar

2

teaspoon

fine sea salt

1 1/2

cup

warm water, about 110-115 degrees F

1/2

cup

whole milk, room temp

5

oz

thick cut bacon

1

cup

shredded parmesan cheese

1/2

cup

lightly toasted walnuts, chopped

2

Tablespoon

rendered bacon fat
Instructions
Cook bacon over medium heat until brown and crisp. Reserve 2 Tbsp of rendered bacon fat. Place cooked bacon on a paper towel lined plate. Set aside.

Take 1/2 cup of warm water and place in a medium bowl or large measuring cup. Sprinkle two packets of yeast and 1 teaspoon of sugar over water. Stir to combine. Let sit for 5-10 minutes until yeast mixture is foamy on top.

In a bowl, combine remaining water and milk. Set aside. In a large bowl, whisk together 4 cups four, 3 Tbsp sugar and 2 tsp salt. Set aside.

Add yeast mixture to the bowl of a stand mixer fitted with a hook attachment. Add flour mixture, bacon grease, and liquid mixture. Mix at medium speed, scraping bowl as needed.

Add cooked bacon, shredded Parmesan cheese, and chopped walnuts into the mixer. Add additional flour, 1/4 cup at a time to make soft dough. Continue to mix until dough is soft, smooth, and elastic. If necessary, knead dough on a lightly floured work surface by hand.

Pat dough into a round mound and place in a lightly greased bowl. Cover bowl with plastic wrap and left dough rest and rise in a warm, draft-free place for about an hour, until dough has doubled in volume.

Punch dough down and divide dough in half, either by eye or using a kitchen scale. Roll one half into a 12×7-inch rectangle. Beginning at the long end, roll dough up tightly. Pinch seams together and pinch ends to seal. Place roll seam side down into a greased 9×4-inch loaf pan. Repeat with other half.

*If you'd like to make mini loafs with the other half: take the remaining dough and divide it into 6 equal parts. Roll each dough into a small rectangle. Beginning at the long end, roll dough up tightly and pinch seams and ends together. Place mini rolls seam side down in greased mini loaf pan. Cover with plastic wrap and let dough rise in warm, draft-free place until doubled in volume, about 45 minutes.

Preheat oven to 400 degrees F. Remove plastic wrap. Once oven is at temperature, bake dough for 25-30 minutes until golden brown on top and thermometer inserted into bread loaf is at least 195 degrees F. Remove from pans and allow bread to cool on wire racks.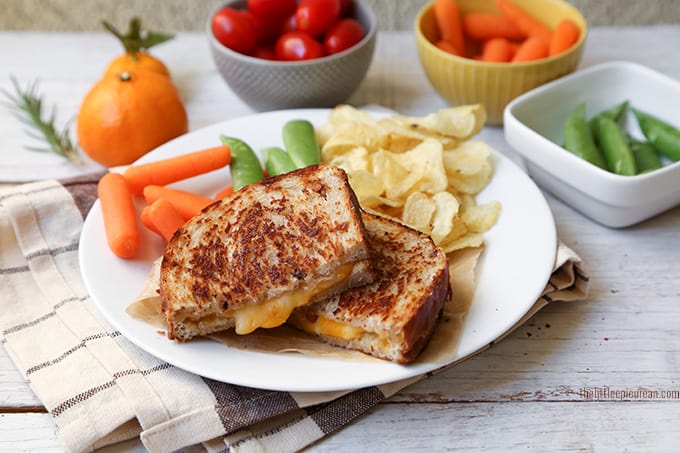 It's your turn! I'm challenging you to create your own bread! What would you add it to? Perhaps turn it into a cinnamon raisin swirl bread? How about a loaf of oatmeal flaxseed bread?
Share your recipe images on Fleischmann's Yeast, Fleischmann's Simply Homemade, or Karo Syrup Facebook pages using #BakingADifference for a change to be included in the Baking A Difference e-cookbook.
[GIVEAWAY IS CLOSED]
Disclosure: Thanks to Fleischmann's Yeast and Karo Syrup, I was provided with the same gift set for this giveaway. I was not compensated for this post. All opinions are my own.