This no-bake banana coconut pretzel tart is a quick and easy sweet fix for busy weeknight and lazy weekends.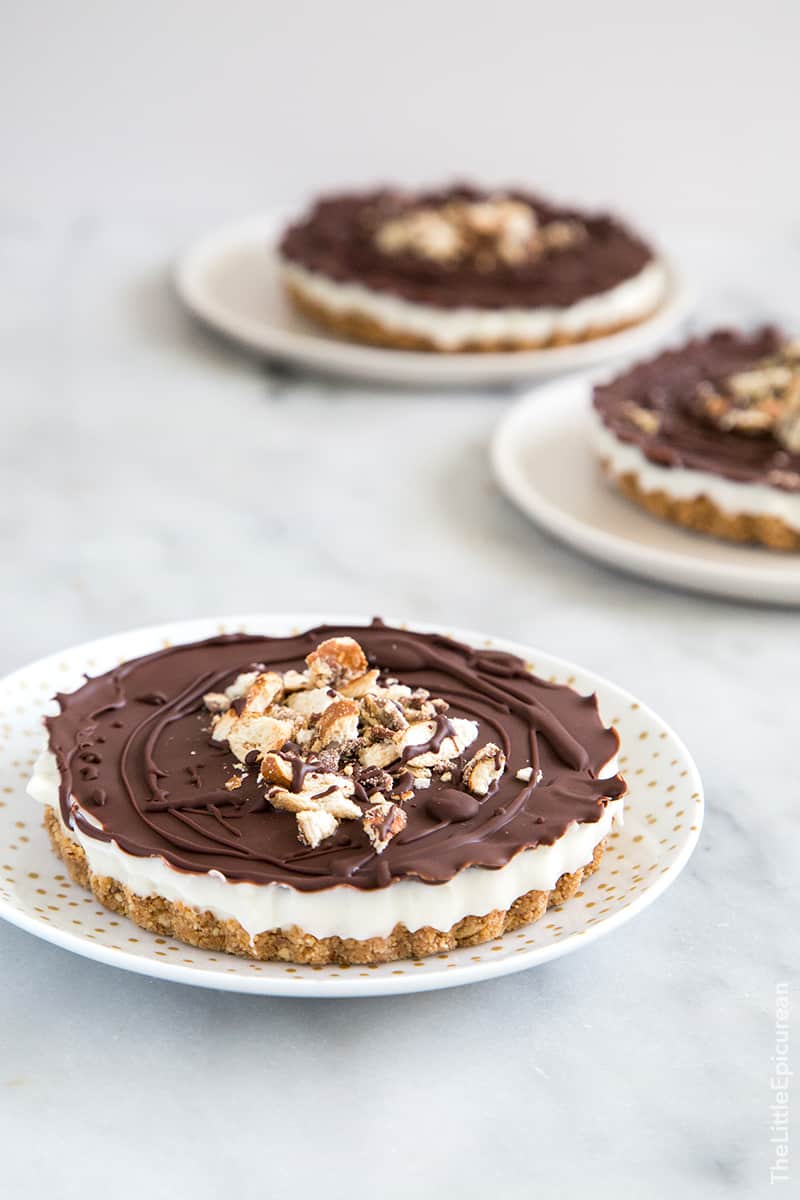 Where is the restart button?
I played a lot of video games as a kid. As a highly competitive gamer, my goal was to win. Nothing angered or disappointed me more than seeing "game over" written all over the screen. Rather let myself fall to that fate, I often quickly hit the restart button to start over.
I need a restart button for the weekend. Regardless of whether it was a great weekend or a terribly disappointing one, I'm never ready for Monday. (I learned early on to hate Mondays thanks to Garfield.)
Another thing that needs a restart button? Desserts. I often eat them too quickly and poof (!) they disappear. That was definitely the case with these banana coconut pretzel tarts I made last week.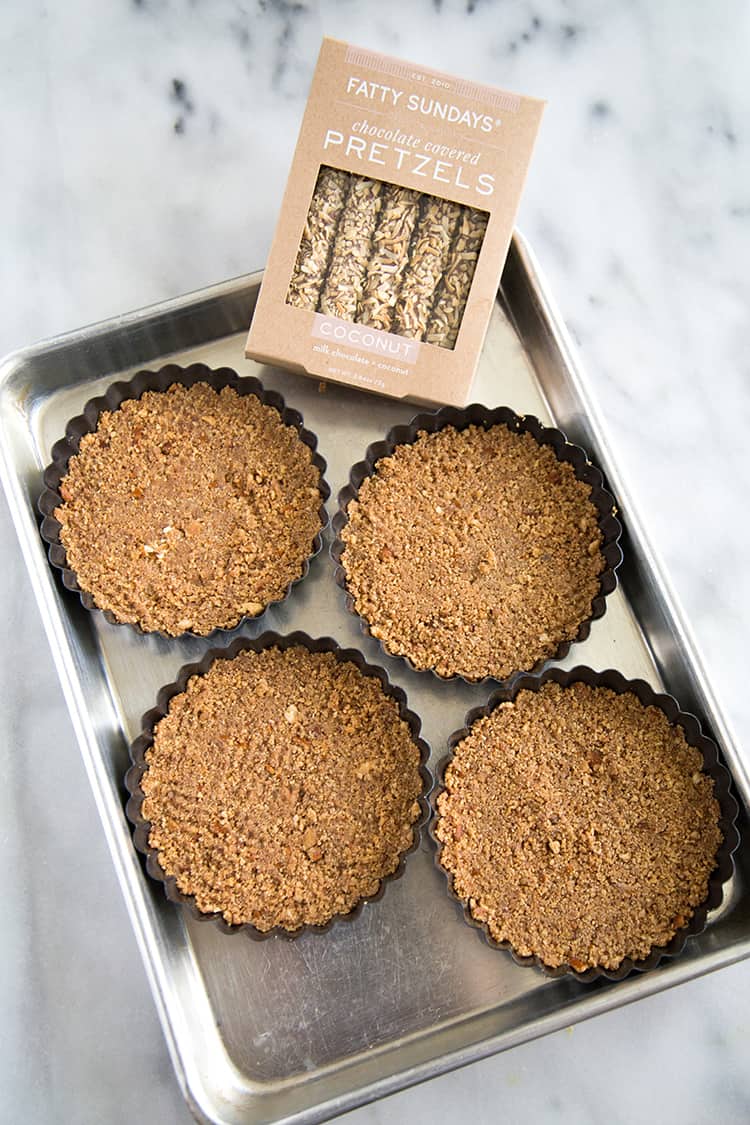 No Bake Banana Coconut Tarts
I love trying new products. Rather than fall prey to using the same ingredients over and over, I'm a sucker for tasting everything.
Fatty Sundays sent me a sampling of their pretzels. They make a large variety of flavors (as well, as gluten-free pretzels).
These coconut ones pictured up top were my favorite. They're pretzels dipped in milk chocolate and coated with toasted coconut.
Sure the chocolate dipped pretzels are are treat on their own, but I'm a dessert glutton and need MORE! I added the coconut pretzels and graham crackers into a food processor and set out to make a tasty tart crust.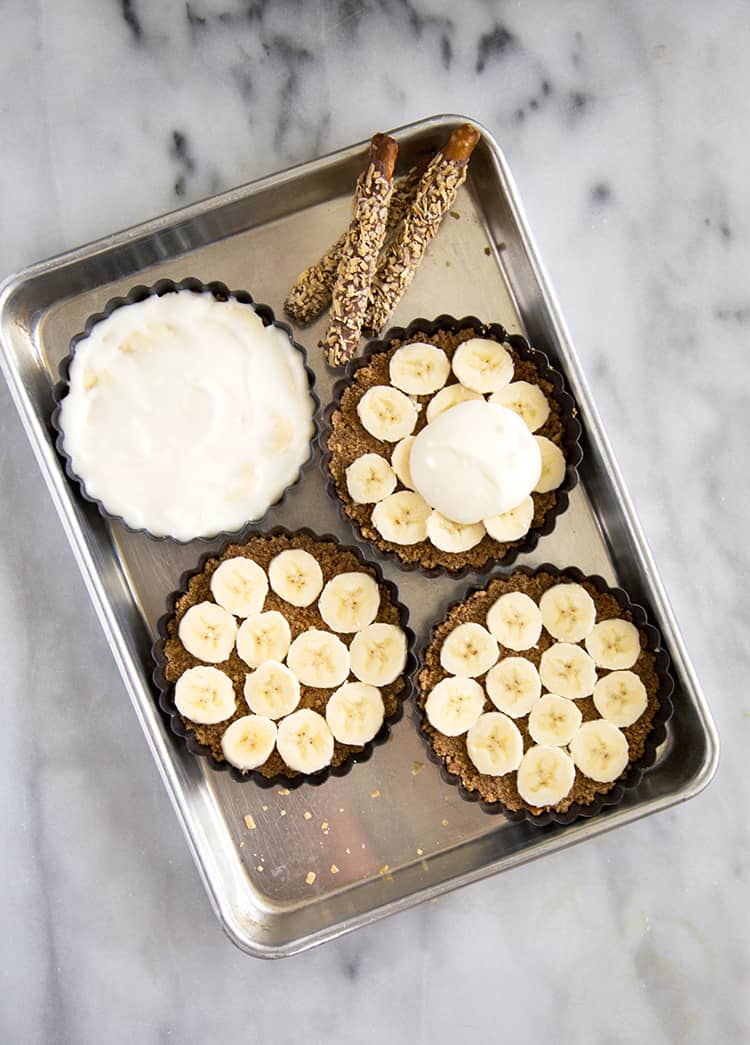 I've been craving this banana cream tart ALL WEEK. Unfortunately, I was too lazy to make/bake the dough, and even lazier to make pastry cream.
I sought to make a no-bake dessert to satisfy my banana cream tart craving. That's how this banana coconut pretzel tart came about and it exceeded all my expectations.
How to assemble layered tart:
Crust layer is made from a mixture of ground coconut pretzels and graham crackers. If you don't have coconut pretzels, simply substitute in standard crunchy pretzels.
Sliced bananas are placed atop crust.
Make the filling layer by whipping together cream cheese, sugar, coconut milk, sour cream, and salt until smooth. Spread over sliced bananas.
For the finishing touch, melted dark chocolate is drizzled over chilled coconut cream cheese layer.
The icing on the cake is the melted 70% dark chocolate you drizzle over the chilled tart.
Feel free to substitute in milk chocolate or white chocolate, if preferred.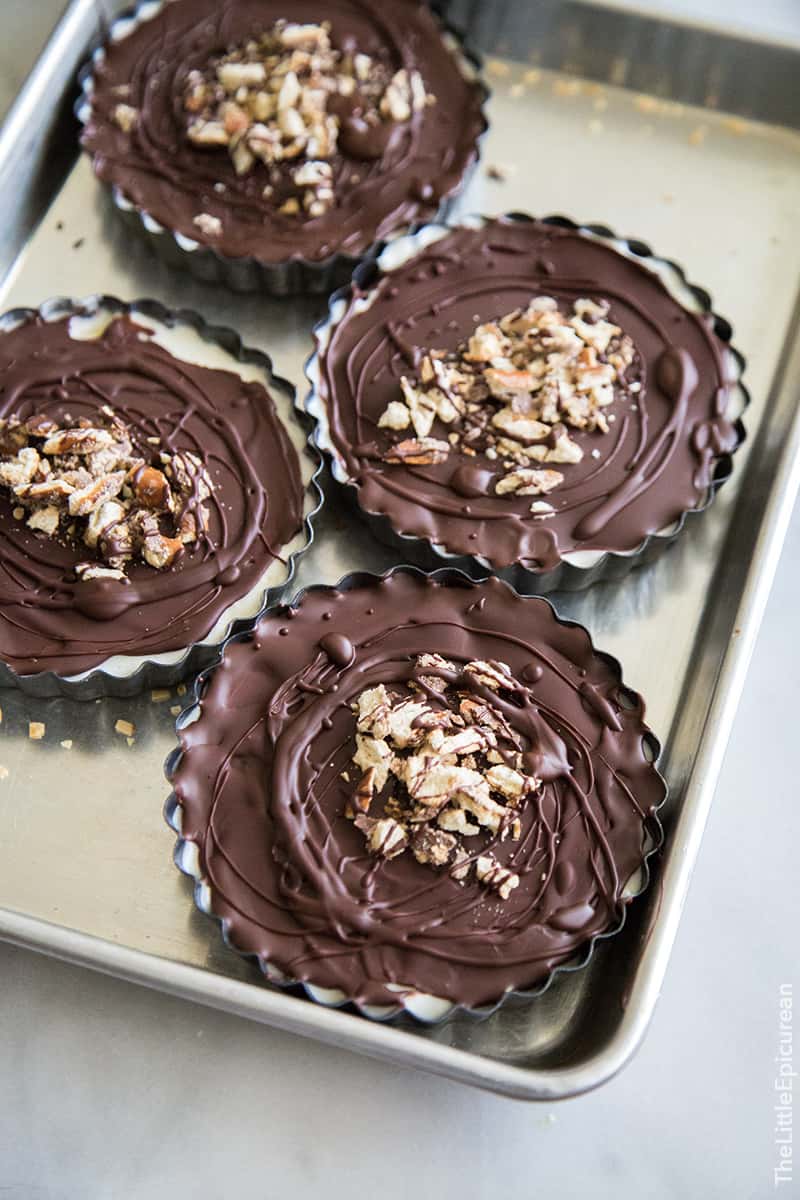 It may take me some time to find that weekend restart button. In the meantime, I'll happily and patiently snack on these banana coconut pretzel tarts!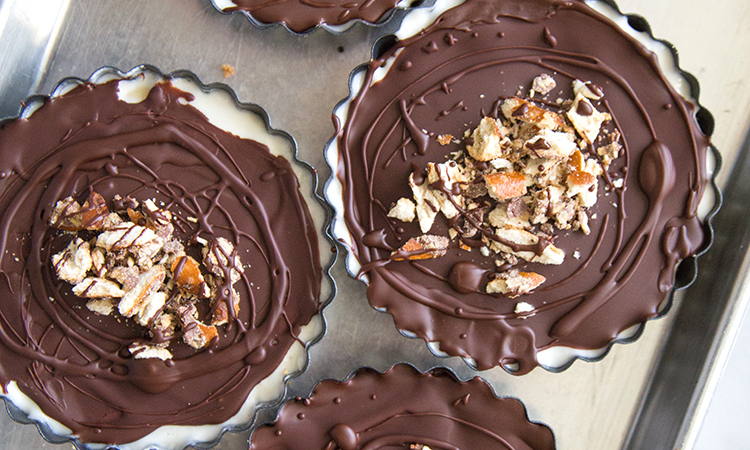 Banana Coconut Pretzel Tart
This no-bake banana coconut pretzel tart is a quick and easy sweet fix for busy weeknight and lazy weekends. 
Yield: makes 4 five-inch tarts
Ingredients
Pretzel Graham Crust:
1- 2.54 oz

package Fatty Sundays Coconut Pretzels*

4

sheets graham crackers

¼

teaspoon

fine sea salt

4

Tablespoons

unsalted butter, melted
Coconut Cream Cheese Filling:
4

oz

cream cheese, room temperature

1

cup

granulated sugar

¼

cup

coconut milk*, canned, full fat

1

Tablespoon

sour cream

pinch fine sea salt

2

banana, thinly sliced
Topping:
3

oz

70% dark chocolate, melted

Fatty Sundays Coconut Pretzels, crushed, as needed to top
Instructions
Pretzel Graham Crust:
Place coconut pretzels and graham crackers in a food processor. Pulse until mixture is coarsely ground. Transfer to a large bowl. Add melted butter and salt. Mix together using a spatula.

Divide mixture among four 5-inch tart pans. Press the mixture into the bottom of the pan and slightly up the sides. Use the bottom of a muddler or drinking glass to ensure the crust is compact. Set aside.
Coconut Cream Cheese Filling:
Using a hand mixer, whip cream cheese until smooth. Add sugar and beat until incorporated. Add coconut milk, sour cream, and salt. Mix until combined. Set aside.
Assembly:
Place sliced banana over prepared pretzel graham crust.

Divide coconut cream cheese filling among tart pans. Spread into an even layer. Allow to chill in the freezer for 15-30 minutes until cheese cheese filling is cold.

Gently melt dark chocolate over a double boiler, or in the microwave at half power in intervals of 10 seconds. Allow to cool slightly, until just warm to the touch. Chocolate should still be fluid.

Remove tarts from the freezer. Drizzle melted chocolate over coconut cream cheese filling. Immediately sprinkle crushed coconut pretzels over chocolate. Return tarts to freezer and let chill until chocolate is set, about 15-30 minutes.

Unmold tart and serve immediately.
Notes
I used these 5-inch tart pans with removable bottoms.
Be sure to used CANNED full-fat coconut milk. Shake well before use. 
Alternatively, you can use regular pretzels in place of coconut pretzels.