Brown butter spaghetti served with baby kale and roasted butternut squash. It's an easy pasta dish to make during busy weeknights!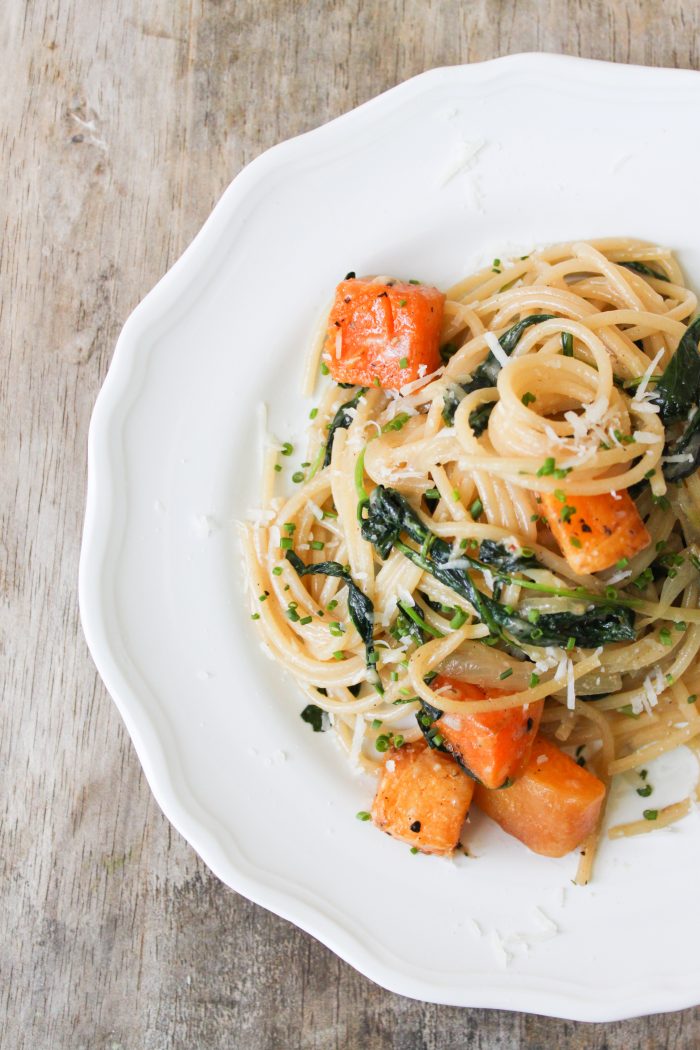 I sure do share lot of pasta recipes.
What can I say? I love carbs, especially in the form of noodles.
This spaghetti is special because it uses brown butter.
Brown butter is my secret ingredient of choice.
Not only it is amazing in baked goods like chocolate chip cookies and brown butter peach scones, but the warm, nutty flavor of brown butter does wonders to savory foods.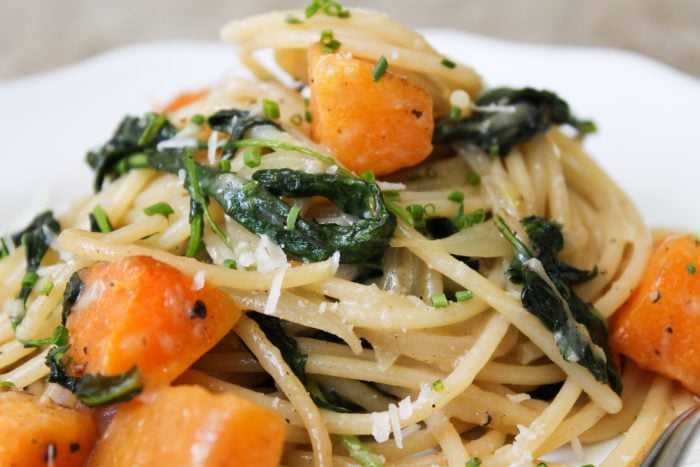 Brown Butter Spaghetti
The nutty brown butter works well with the hearty butternut squash, the slight bitterness of the baby kale, and the sweetness from the caramelized onions.  
Brown butter is created when the milk solids of butter is cooked until fragrant and golden brown.
Butter is made up of water, butterfat, and milk solids. As melted butter is headed, the water evaporates and the milk solids separate from the butterfat (thus creating clarified butter or ghee).
The milk solids brown in the fat. Those golden specks is what gives brown butter its iconic rich, nutty, warm flavor.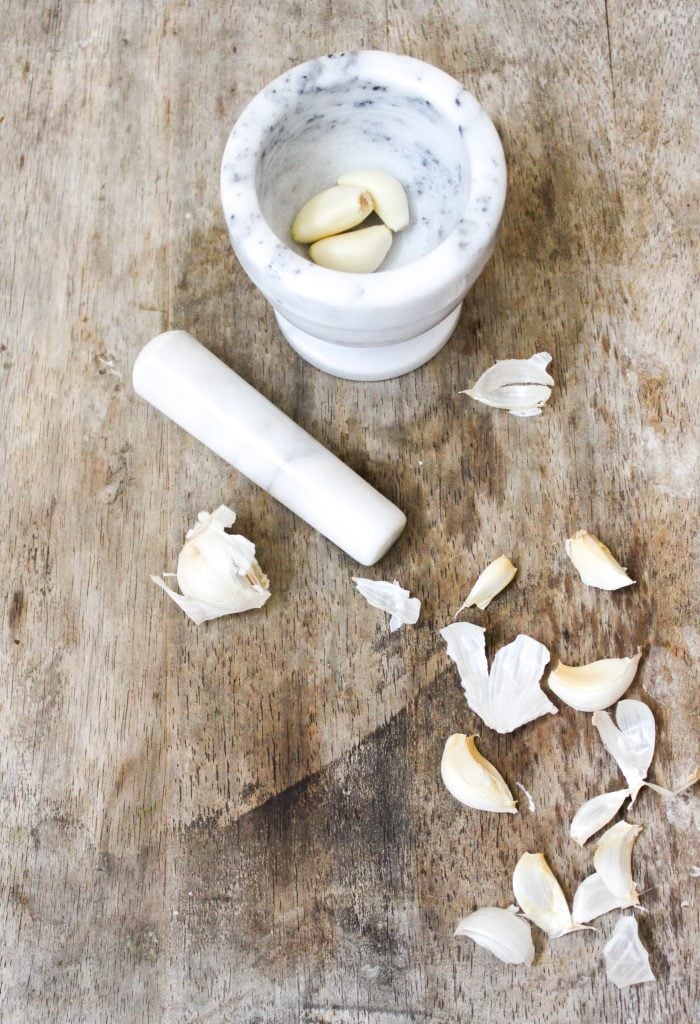 Use Fresh Garlic for Pasta
Fresh garlic tastes more vibrant and clean compared to jarred minced garlic.
Peeling and mincing fresh garlic is well worth the effort.
I have a mini mortar and pestle that I absolutely love.
For large amounts of garlic, I recommend using this garlic press.
Garlic fans will love this spicy garlic shrimp spaghetti or Filipino garlic fried rice.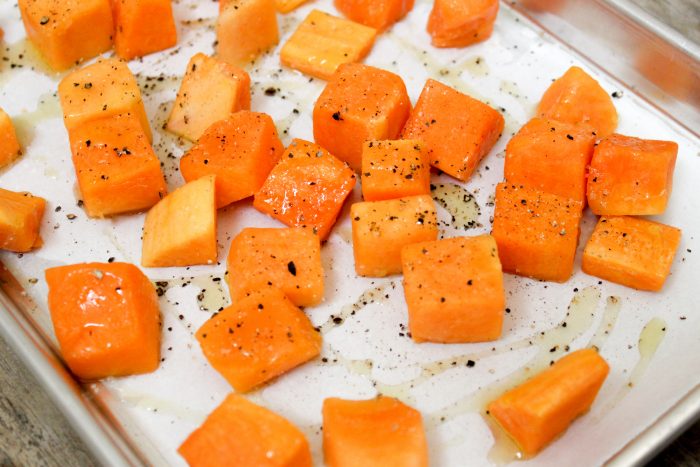 Oven Roasted Butternut Squash
Cooking the butternut squash is the most time consuming part of this dish.
Cut and prep a whole butternut squash, or save time by purchasing already cut squash.
It's best to roast butternut squash over high heat.
Spread the butternut squash chunks over baking sheet. Toss with oil and season well.
It will take about 30 minutes to cook. Heat until the squash is soft and can easily be pierced with fork tines.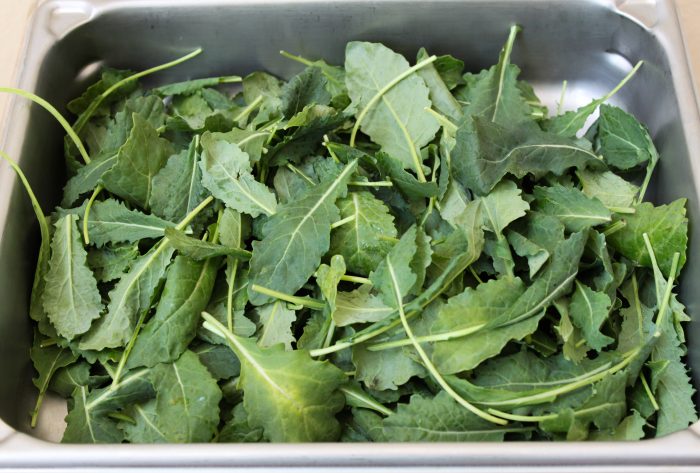 Kale and Other Vegetable Options
I highly recommend using baby kale. Although, any variety of kale will work such as dinosaur kale (Tuscan kale) or curly kale.
Other great green options include: spinach, baby spinach, or collard greens.
If you don't want leafy greens, you may also used sautéed zucchini, roasted mushrooms, asparagus, or eggplant.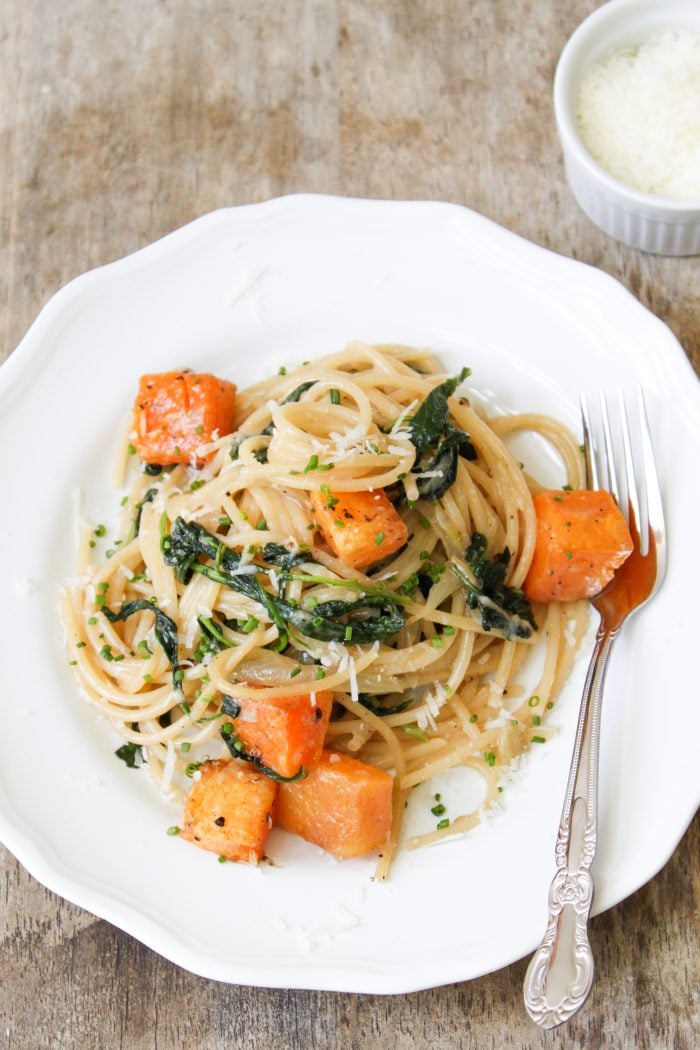 Serving Suggestions
This brown butter spaghetti sets off an explosion of flavors and smells that causes my belly to do a little dance with every bite.
For an even heartier dish, serve this pasta with grilled protein of choice. It's fantastic with chicken, steak, or shrimp.
Although the pasta dish should be served warm, it's just as tasty at room temperature or chilled.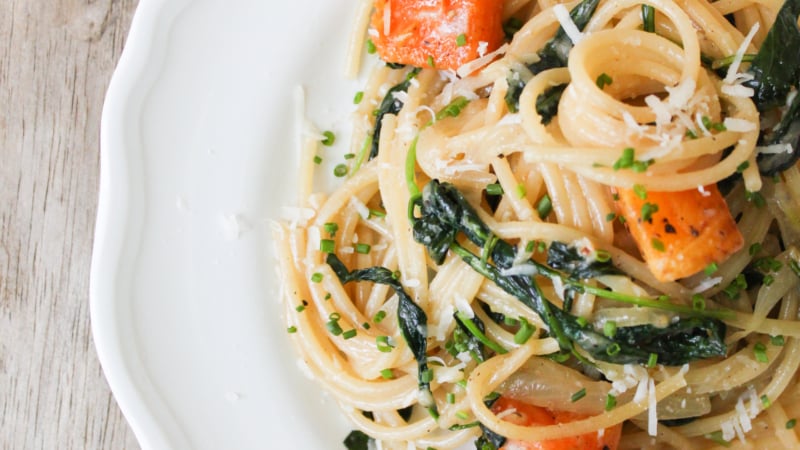 Brown Butter Spaghetti
An easy weeknight vegetarian meal. The combination of nutty brown butter paired with sweet butternut squash, earthy baby kale, and umami packed parmesan cheese is unstoppable. Yield: serves 2
Ingredients
6

oz

spaghetti

2

cups

butternut squash chunks

1

Tablespoons

olive oil

¼

cup

unsalted butter

3

cloves fresh garlic,

smashed or minced

2

small onions

sliced, about 2 cups

4

cups

baby kale,

packed

¼

cup

grated pecorino romano

¼

cup

grated parmesan cheese

salt and pepper, to taste

additional pecorino romano or parmesan, for serving

finely sliced chives, for serving
Instructions
Preheat oven to 400° F.  On a parchment lined baking sheet, spread out butternut squash.  Drizzle with 1-2 tablespoons of olive oil.  Season with salt and pepper.  Toss to combine.  Bake for 30-40 minutes until squash is soft and can be easily pierced with a fork or knife. Set aside.

Bring a large pot of salted water to a boil. Cook spaghetti to al dente according to package details. When draining pasta, reserve a cup of pasta water.

In a large nonstick skillet, melt butter over medium heat. Once butter is melted, continue to cook over medium low heat until butter has browned and is fragrant (should smell nutty).

Add minced garlic (I like to smash mine using a mortar and pestle) and sliced onions. Cook until onions are almost translucent. Add baby kale in two additions. Cook until kale begins to wilt. Remove from heat.

Add pecorino romano, parmesan cheese, and roasted butternut squash. Toss to combine. Season with salt and pepper to taste. Add cooked spaghetti and toss to coat pasta. Add 1/4 cup of reserved pasta water at a time until pasta is well coated with sauce. (I ended using 1/2 cup of pasta water).

Serve immediately with sliced chives and/or more cheese, if desired.