Best described as a cross between a croissant and French toast, fig pistachio bostock is a sweet treat that is best enjoyed warm, fresh from the oven.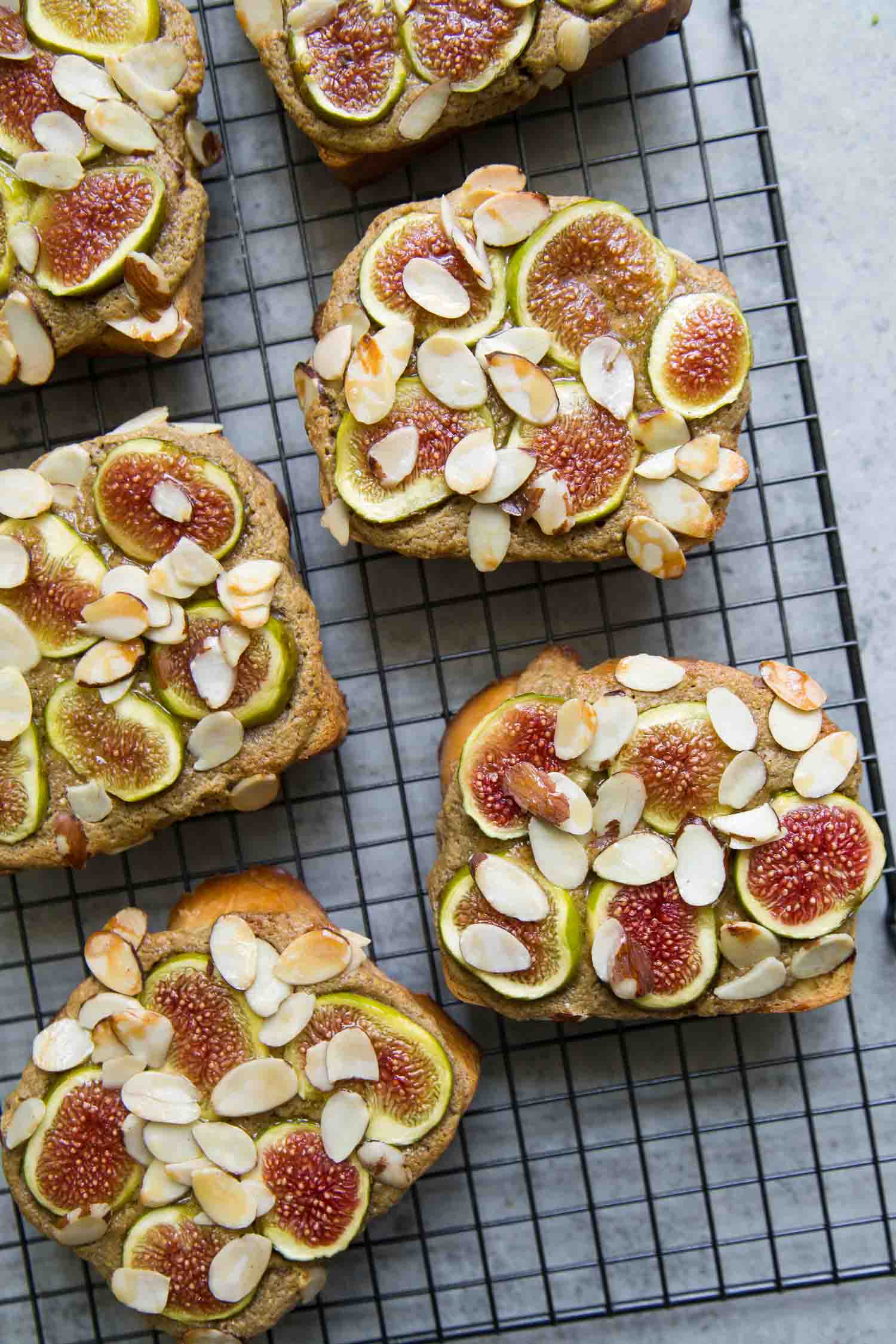 Earlier this year, I shared this orange almond bostock.
What is bostock?
There are numerous various on this decadent, buttery, crunchy baked treat.
The most popular being almond bostock (also known as brioche aux amandes).
Bostock is usually made with a thick slice of day-old brioche bread. It also works well with other enriched breads like challah or Japanese milk bread.
The bread is brushed with simple syrup or jam and topped with frangipane (almond cream) and loaded with sliced almonds. It is baked golden brown.
The exterior of the bostock get crunchy and toasted while the interior remains soft and custard-like.
Fig Pistachio Bostock
For this variation, I swapped the frangipane for a pistachio cream filling.
Instead of loading up the bread with nuts, I added sliced fresh figs and a light sprinkling of sliced almonds.
How to assemble bostock:
I used the sliced brioche bread from Trader Joe's. It's the perfect size and thickness for this application.
If you're an overachiever, I highly recommend using this homemade brioche recipe.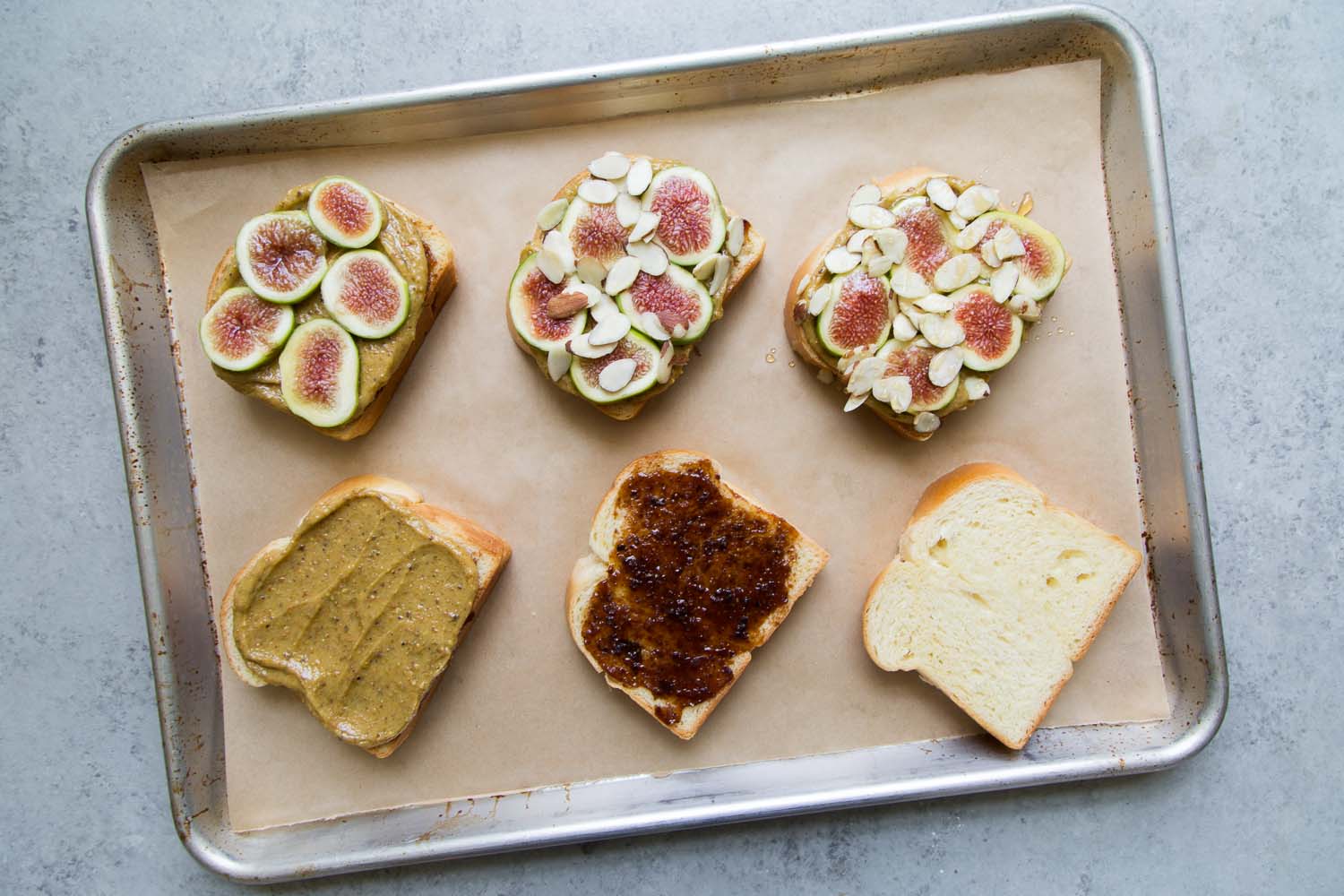 A thin layer of fig jam (or fig jelly) is spread on the brioche.
The jam is covered with pistachio cream.
Followed by fresh fig slices and sliced almonds.
For a touch of added sweetness, I like to drizzle a little honey before baking.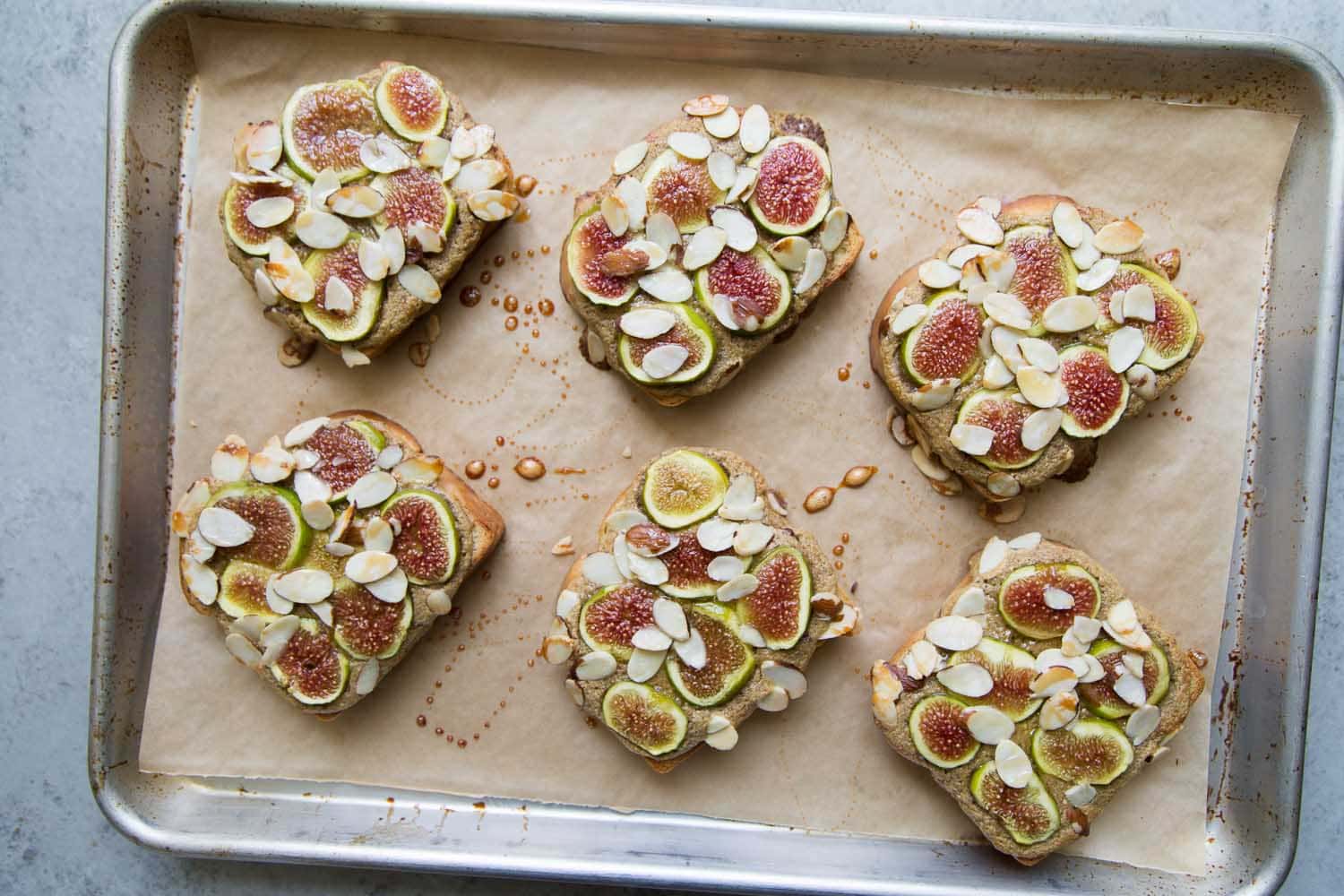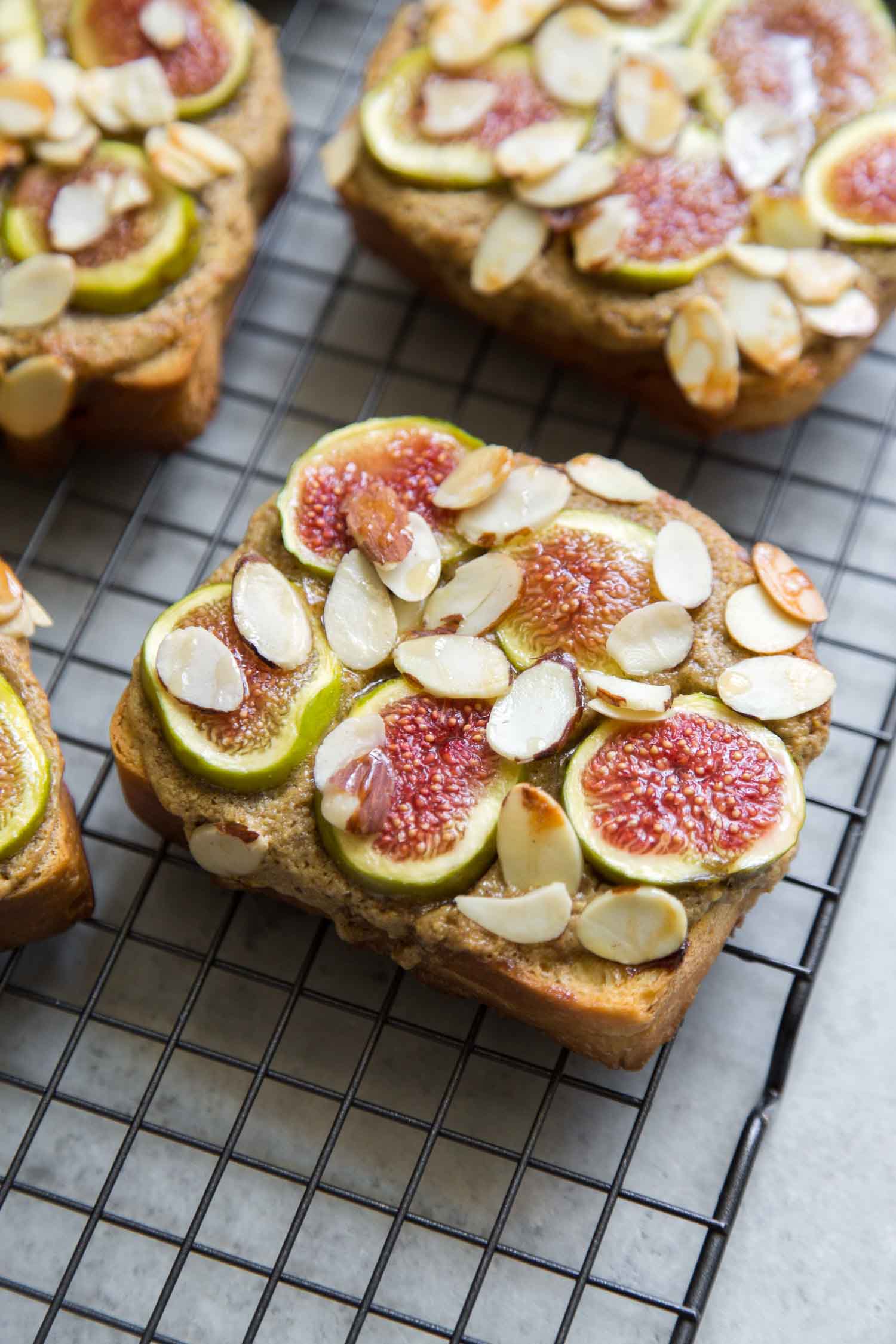 Pistachio Cream
Pistachio cream is my variation on frangipane (almond cream).
It is made by processing together roasted pistachios with sugar, butter, egg, and milk.
This method can be used with a variety of different nuts: almonds, walnuts, pecans, etc.
You might be tempted to eat this cream straight out of the food processor. DON'T!
There's a raw egg in the cream. You'll want to heat up the pistachio cream before indulging.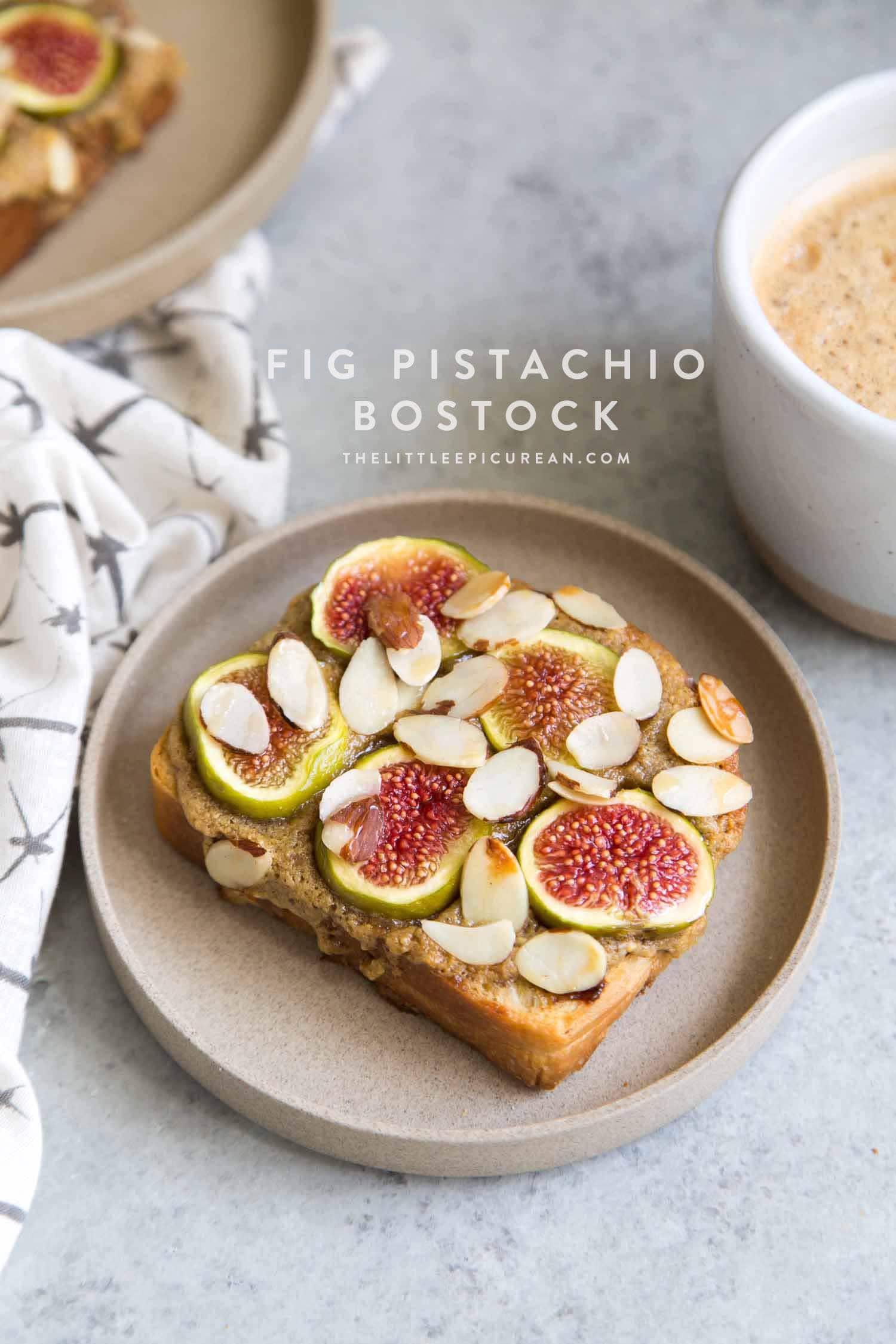 It may look complicated and fancy, but this this fig pistachio bostock is super simple and easy to make!
You'll definitely wow your friends and family when you pull this out of the oven. In order to keep the bostock bottom crisp, immediately transfer bostock to a wire cooling rack.
This will prevent the bostock bottom from getting soggy from the heat and steam.
Store leftover fig pistachio bostock in an airtight container in the fridge. Reheat in a toaster oven until warm and crisp.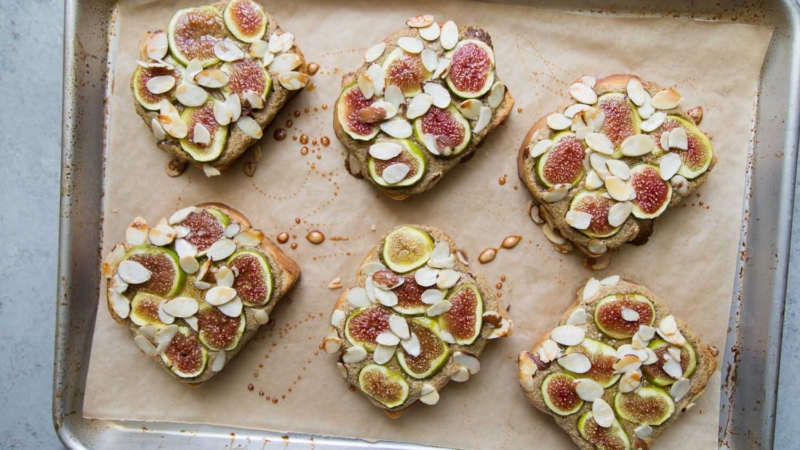 Fig Pistachio Bostock
Best described as a cross between a croissant and French toast, this fig pistachio bostock is a sweet treat that is best enjoyed warm, fresh from the oven.
Ingredients
6

slices

thick brioche, preferably day old

fig jam

pistachio spread

sliced figs

sliced almonds
Pistachio Spread:
½

cup

granulated sugar

⅔

cup

unsalted butter, softened

1

large egg

1

teaspoon

vanilla extract

1

Tablespoon

milk

2

Tablespoons

all-purpose flour
Instructions
Preheat oven to 350°F. Line baking sheet with parchment paper or nonstick silicone mat. Arrange brioche slices on baking sheet.

Spread about ½ tablespoon of fig jam over bread. Top with 2 tablespoons of pistachio spread. Arrange sliced figs on top, followed with sliced almonds. If desired, drizzle honey over the top.

Bake for 20-25 minutes until almonds are golden, bread is toasted, and pistachio spread has formed a crust. Transfer bread to wire rack to prevent bottom from getting soggy. Serve warm, or at room temperature.
Pistachio Spread:
In a food processor fitted with the blade attachment, pulse together pistachios and half of the sugar until nuts are finely ground. Transfer to a small bowl and set aside.

In the same food processor, process together softened butter, remaining sugar, egg, vanilla, milk, and flour until smooth. Scrape down bowl as needed to ensure thorough mixing. Add reserved ground nut mixture. Pulse until thoroughly combined.

Use pistachio spread immediately, or store in an airtight container in the fridge for up to a week. Allow to soften to room temperature before use. Nut oils and butter may separate. Simply stir back together until homogenous.
Notes
I used salted, roasted pistachios to make the pistachio spread. 
In place of fig jam, feel free to substitute in other fruit jam or preserves. Orange marmalade is also a great option.
If making pistachio spread ahead of time, allow it soften and come to room temperature before use. Stir up the spread until it soft, pliable, and creamy. Otherwise, you will have a difficult time spreading cold pistachio spread on the brioche bread.