Thank you C&H® Honey Granules for sponsoring this post. Visit your local retailer to pick up your own package and start sprinkling sweetness today!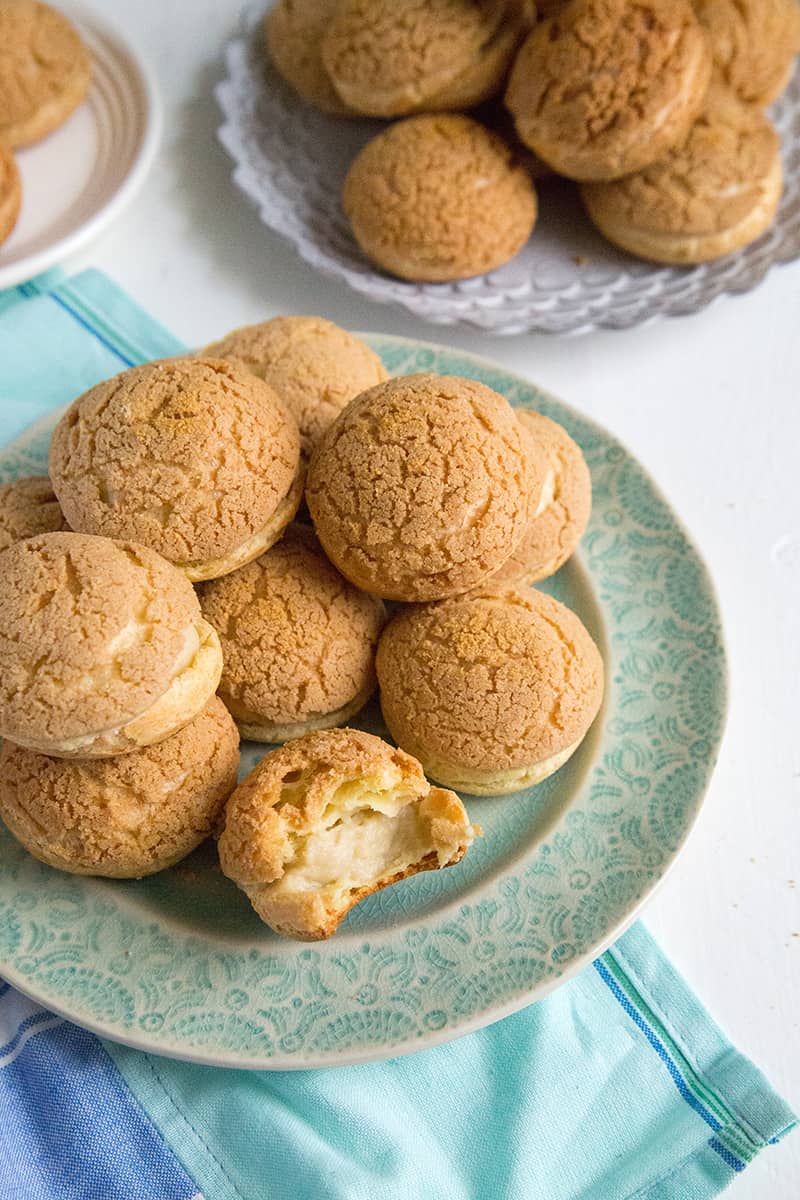 I'm a creature of habit. At least once a week, you'll find me sipping on honey jasmine green tea. I'll drink it iced, hot, or made into a latte. Sometimes I add aloe (yum!) or maybe a giant scoop of honey boba (chewy tapioca).
But today, I'm enjoying honey jasmine green tea in a profiterole!
These honey jasmine profiteroles (aka cream puffs) are the quintessential spring dessert. They're so cute, delicate, and dainty.
Can't you imagine nibbling on these for afternoon tea, maybe a garden lunch, or a picnic in the park? Yes to all of the above.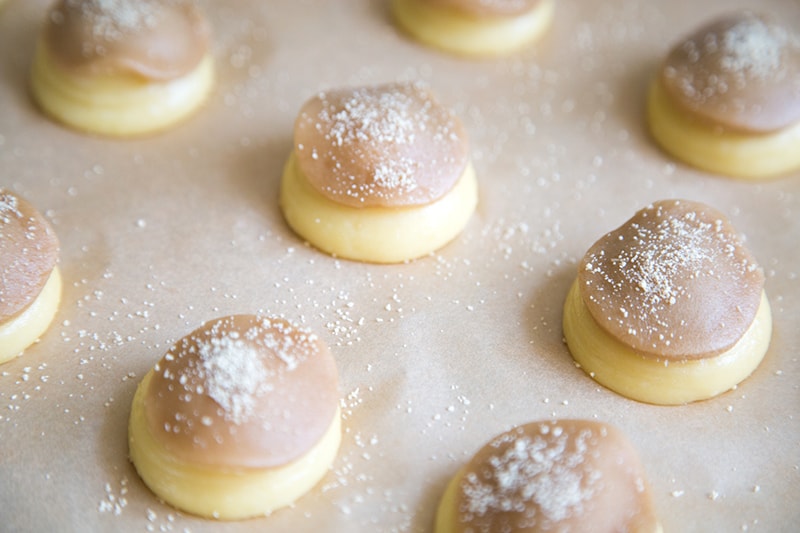 Honey Jasmine Profiteroles
I love the delicate and aromatic flavors of honey. While it's great for stirring into warm beverages, it can often be a pain trying to dissolve honey into cold drinks. It can also be difficult incorporating honey into baked goods. Think sticky measuring cups and crazy amounts of honey needed to impart flavor.
These honey jasmine profiteroles are special. They have that sweet honey flavor without any of the stickiness. Forget drizzling honey.
Today, we're sprinkling on honey flavor using C&H® Honey Granules. It's a dry mixture of granulated pure cane sugar and honey. It adds the flavor of honey without all the sticky mess and it tastes fantastic.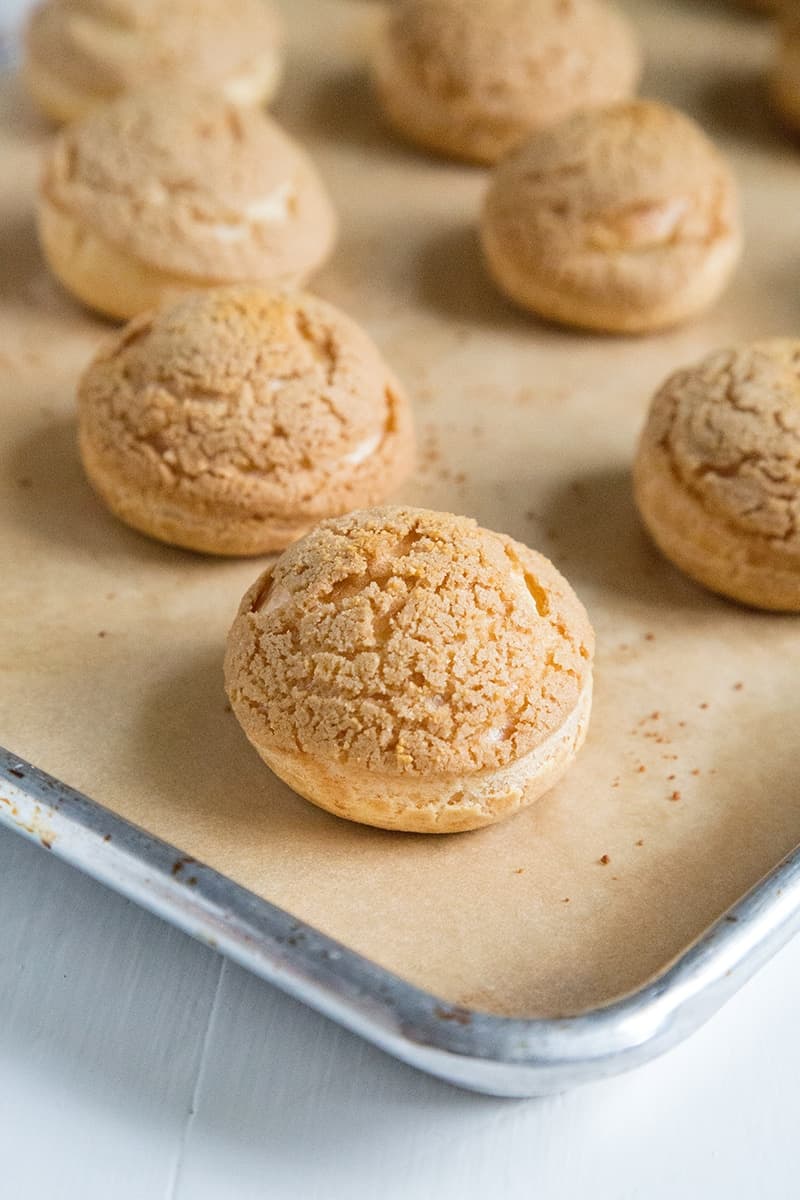 Cooked topped cream puffs
I used these honey granules to sweetened the jasmine green tea pastry cream that fills these profiteroles. While standard profiteroles are delicious own their own, envision how amazing these cookie topped profiteroles are!
I also sprinkled some honey granules over the cookie dough before baking. It creates a delicious crunchy top that would be unachievable with regular honey.
Profiteroles are easier to make than one would think. Pâte à choux (pronounced: "pat-a-shoo") is a very forgiving dough/batter. The addition of the cookie dough on top hides any piping imperfections.
But if you still have any doubts or fears, I have step-by-step photos on how the pâte à choux dough is supposed to look here: chocolate dipped eclairs.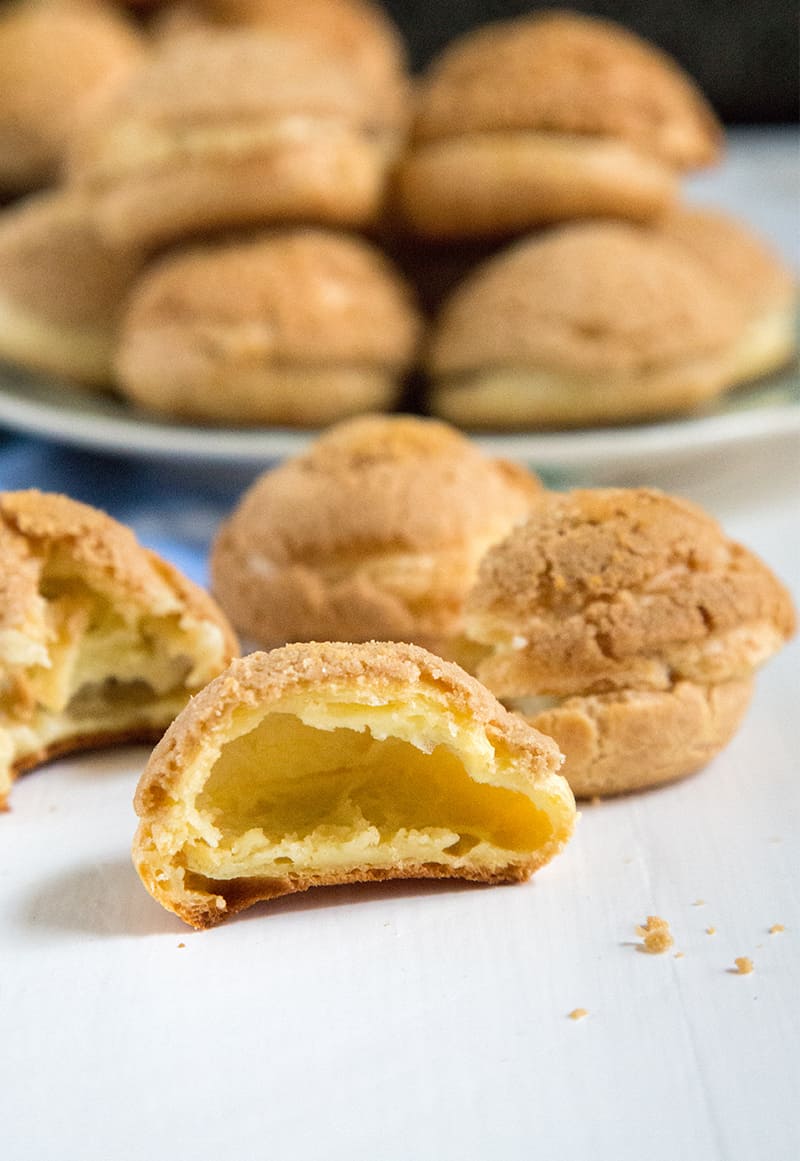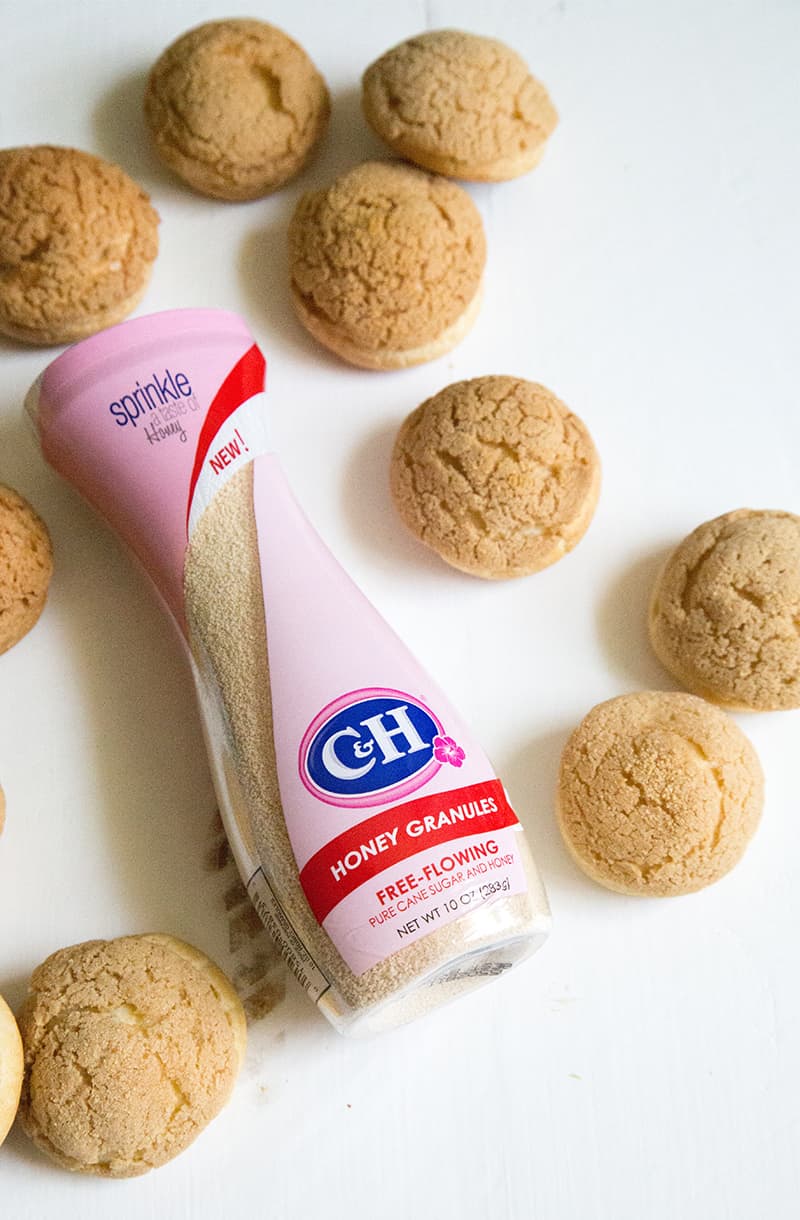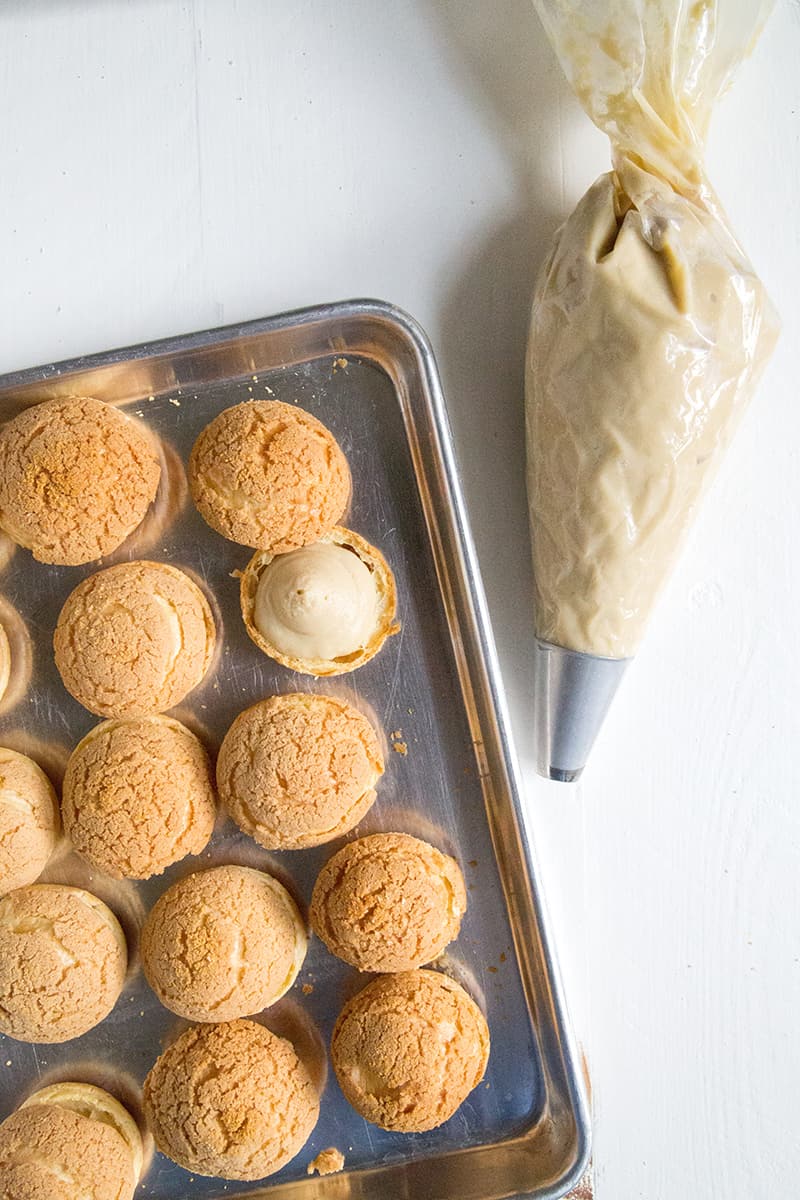 C&H® Honey Granules is sold where I live, but if they don't sell it in your area, look for Domino® Honey Granules, the sister brand of C&H®.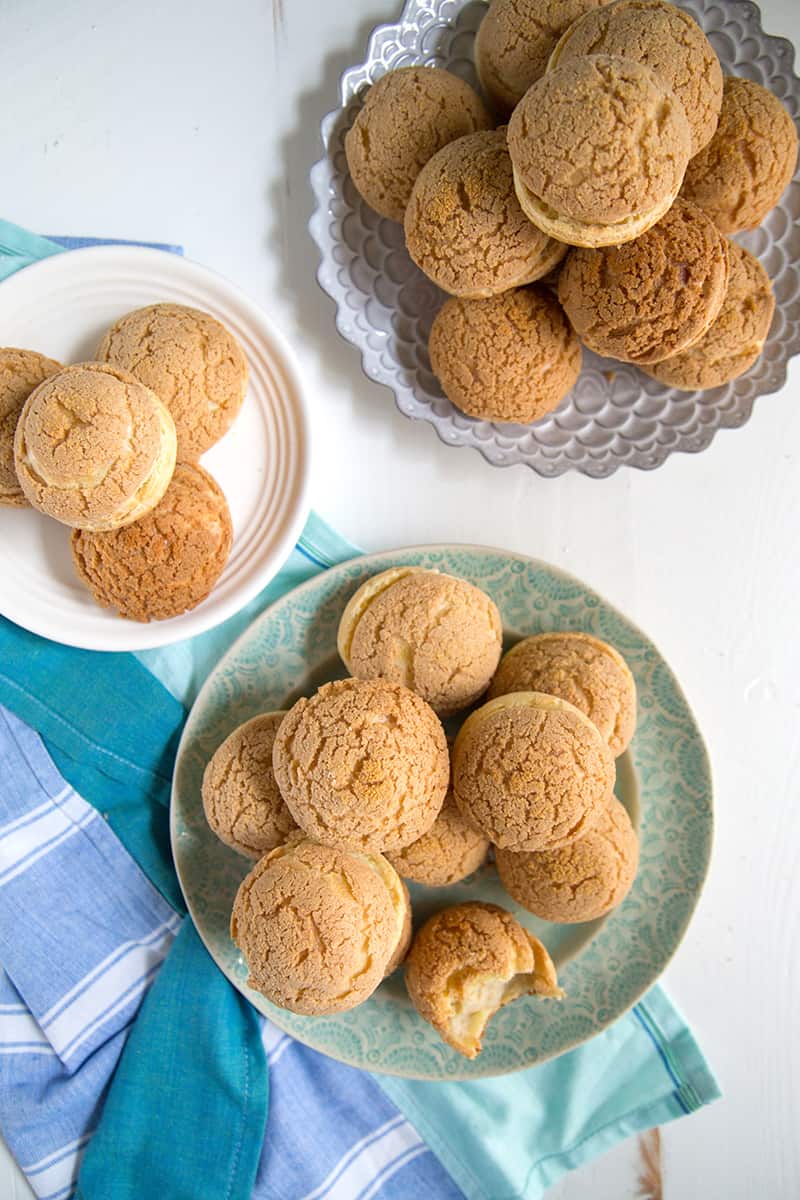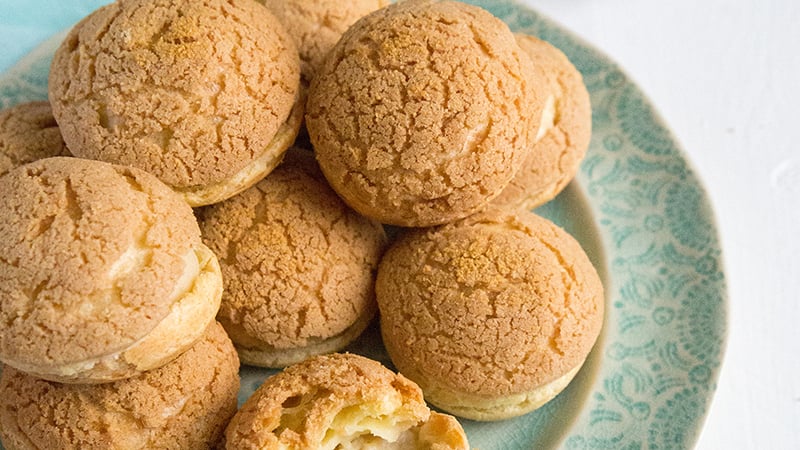 Cookie Topped Profiteroles with Honey Jasmine Pastry Cream
Yield: about 30 profiteroles
Ingredients
Honey Jasmine Pastry Cream:
2

cups

whole milk

3

(1.41 oz/40g) bags jasmine green tea

1/2

cup

(104 g) granulated sugar

3

Tablespoons

C&H® Honey Granules

1/4

cup

cornstarch

3

large egg yolks

2

Tablespoon

unsalted butter

1

teaspoon

vanilla extract
Cookie Topping:
1/2

cup

(115 g) light brown sugar,

packed

1/2

cup

(114 g) unsalted butter,

softened

1

cup

(135 g) all-purpose flour

C&H® Honey Granules,

as needed to sprinkle on top
Profiteroles:
1

cup

whole milk

8

Tablespoons

(114 g) unsalted butter

2

Tablespoons

(27 g) granulated sugar

1

teaspoon

fine sea salt

1

cup

(127 g) bread flour,

sifted

3

large eggs

1

large egg white
Instructions
Honey Jasmine Pastry Cream:
Place milk in a large heavy bottomed sauce pot. Bring to a boil over medium-high heat. Remove from heat. Add jasmine green tea and cover pot. Allow to steep for 30 minutes. Discard tea bags.

Line a half-sheet baking pan with plastic wrap, making sure the sides of the pan are covered. Set aside.

Place tea flavored milk over medium-high heat and bring to a simmer. Meanwhile, in a large bowl, whisk together salt, sugar, C&H® Honey Granules, cornstarch, and egg yolks.

Once milk is almost at a boil, slowly add milk to egg mixture about 1/4 cup at a time. Whisk as you add milk to distribute the heat. Continue to pour and whisk until only a couple tablespoons of milk are left in the sauce pot. Then pour the all the egg-milk mixture back into the sauce pot.

Reduce to medium heat. Constantly whisk the mixture until the custard has thickened. Keep whisking and the custard come to a boil to cook out the cornstarch. Remove from heat. Add butter and vanilla. Whisk until smooth.

Pour the hot pastry cream into the prepared plastic wrapped sheet pan. Spread evenly. Cover with plastic wrap and freeze for 10-15 minutes until the pastry cream has cool to room temperature. Remove from freezer. Transfer pastry cream to an airtight container and allow to cool in the fridge until ready to use.

Cookie Topping:
Cream together softened butter and brown sugar. Stir in flour until well combined. Flatten cookie dough and cover with plastic wrap. Let chill in the fridge until solid. Remove from fridge and allow to rest at room temperature for 10 minutes before using.

Roll dough into a layer about 1/4-inch thick. Punch out 1-1/2 inch rounds. Set aside until ready to top pipped profiteroles.

Profiteroles & Assembly:
Preheat oven to 375 degrees F. Line baking sheet with parchment paper or silpat mat.

In a medium sauce pot, combine milk, butter, sugar, and salt. Over medium heat, bring to a boil. Add sifted flour and stir to combine using a wooden spoon. Bring to a boil as you stir. Continue to stir constantly until the dough starts to pull away from the sides of the sauce pot.

Once the dough is a smooth, cohesive ball, transfer to the bowl of a stand mixer fitted with a paddle attachment. Beat at medium speed until the dough has cooled to just a little warmer than room temperature. Do not be alarmed, the dough will steam as you beat it. Once dough is ready, add the whole eggs one at a time. Make sure egg is incorporated before adding the next egg. Scrape down the bowl as needed to ensure thorough mixing. Once all the whole eggs are in, add the egg white and mix to combine. Continue to beat mixture until smooth.

Transfer batter to a piping bag fitted with a 16 mm plain round tip (you can use a larger/smaller tip, if you prefer). Pipe 2-inch rounds on the lined baking sheet, at least 1-1/2 inches apart. Place cookie round on top of dough. Sprinkle C&H® Honey Granules on top of cookie dough.

Bake in preheated oven for 20 minutes. Lower oven temperature to 325 degrees F and bake for another 20-30 minutes until profiteroles feel light in weight. Transfer to wire rack to let cool.

Once cooled, slice off the top of the profiterole. Using a pastry bag fitted with a 16 mm round tip, pipe honey jasmine pastry cream into the bottom cavity of profiteroles. Place cut top on filled profiteroles. Let chill in the fridge until ready to serve.
THE LITTLE EPICUREAN ©

I was selected for this opportunity as a member of Clever Girls and the content and opinions expressed here are all my own.