I love mangos.  Especially sliced mangos dipped in chili lemon powder and coarse sea salt.  I also like mango yogurt mousse with a simple white cake and an oh so buttery and flakey pie crust cookie bottom.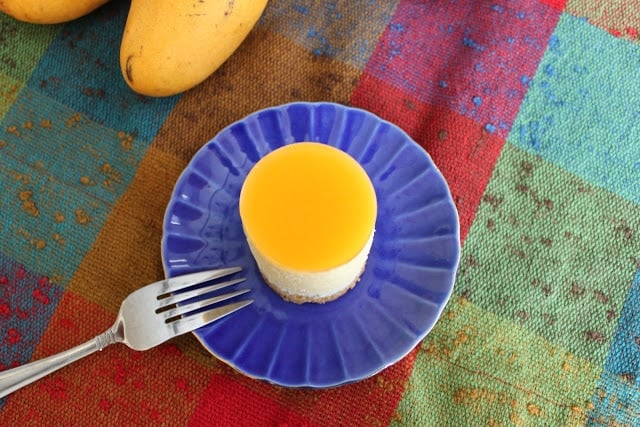 The recipe can be substituted with almost any fruit.  In culinary school, we did a similar cake with raspberries.  I've tried it with strawberries, peaches, and passion fruit– all very tasty.  Its best to choose fruits that are quite sweet and ripe to balance the tartness of the yogurt.
The mousse cake can also be frozen and served like an ice cream cake.  My taste testers prefer them frozen or slightly thawed from the freezer.  Its a very refreshing dessert perfect for summer nights.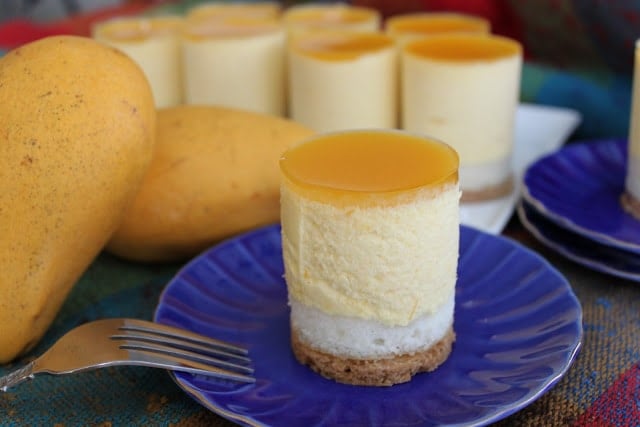 Mango Yogurt Mousse Cake
makes 12- 3" entremet rounds
Components (from bottom to top):
Apricot Jam
Mango Yogurt Mousse
Mango Mirror Glaze
Preparation:
Line 3″ entremet rounds with acetate strips.  Place shortbread cookie bottom inside.  Spread a little apricot jam to allow white sponge cake to adhere.  Follow with yogurt mousse, then finish with mirror glaze.  Let chill in the fridge to set up.  Unmold cake from entremet rounds and remove acetate strip before serving.
Mango Yogurt Mousse
8 oz plain nonfat yogurt
3 oz granulated sugar
3 sheet silver gelatin, bloomed
8 oz mango puree
10 oz heavy cream, whipped to soft peaks, chilled
Combine yogurt and sugar in small bowl.
Warm up puree.  About 15-20 seconds in the microwave.  Add bloomed gelatin (squeezed of excess water) into warmed puree.  Stir until gelatin is dissolved.
Add yogurt mixture into the puree.  Fold in whipped cream.
Pour into prepared molds immediately.  The cold whipped cream will set the gelatin fairly quickly.
Let sit on counter or place in fridge until ready to pour mirror glaze.
Mango Mirror Glaze
1 1/2 sheet silver gelatin, bloomed
2 oz water
2 oz mango puree
1 oz granulated sugar
Add water, puree and sugar to sauce pot.  Heat and stir until sugar is dissolved.
Remove from heat and add bloomed gelatin.  Stir until gelatin is dissolved.
Let sit at room temperature until slightly warm to the touch.
 Pour over prepared and set yogurt mousse.  The mirror glaze to set instantly because of the cold mousse.