Baked mini donuts tossed in melted butter and cinnamon sugar.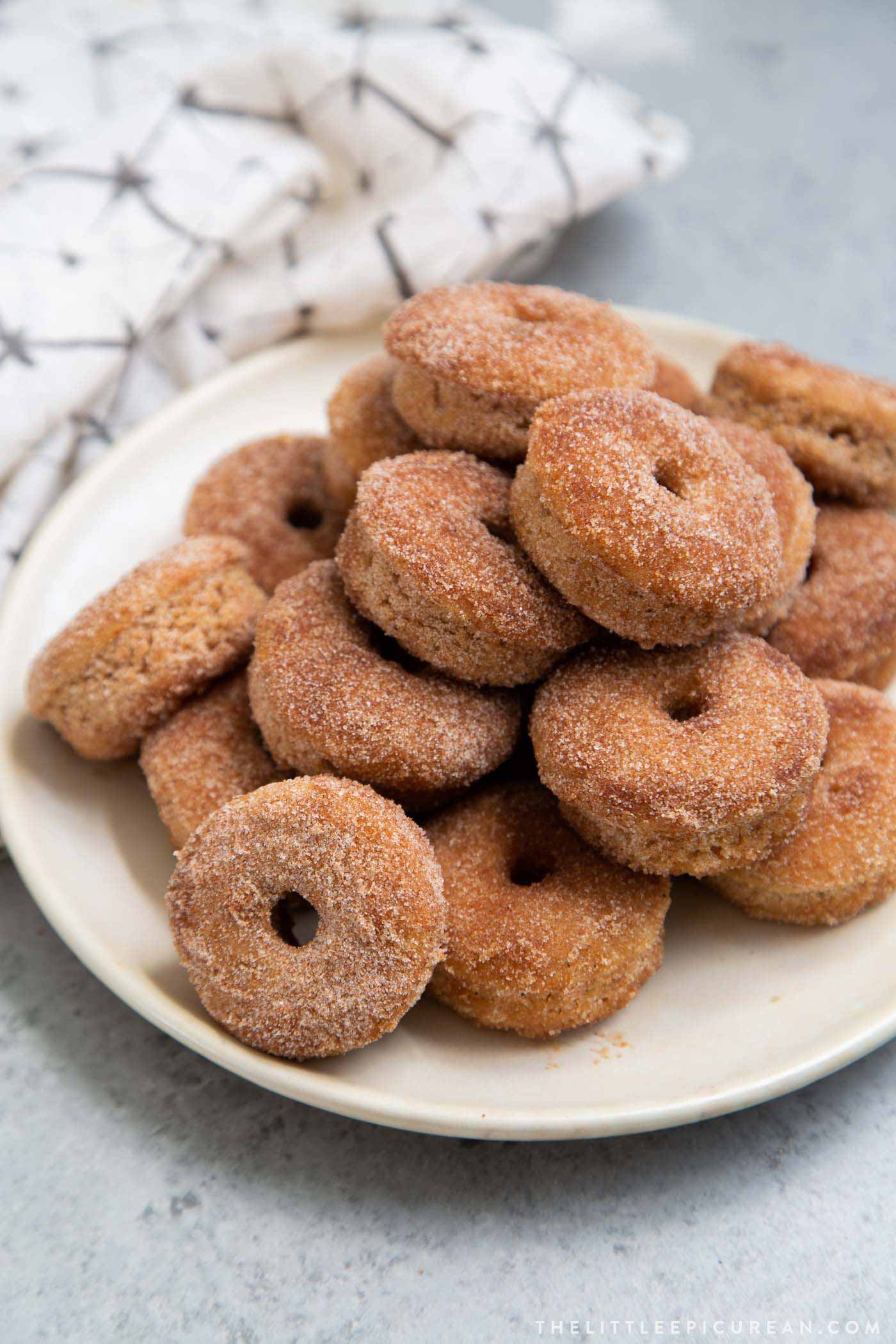 Baked Cinnamon Sugar Donuts
Mini baked donuts is the answer for days when I want a quick donut fix!
(Note: This post contains original photos from 2011, as well as updated photos from 2020)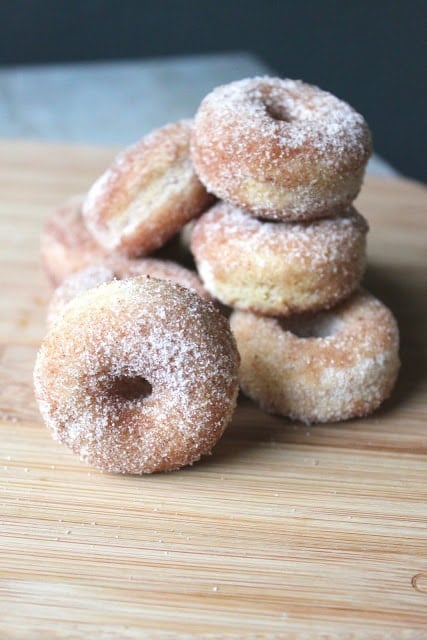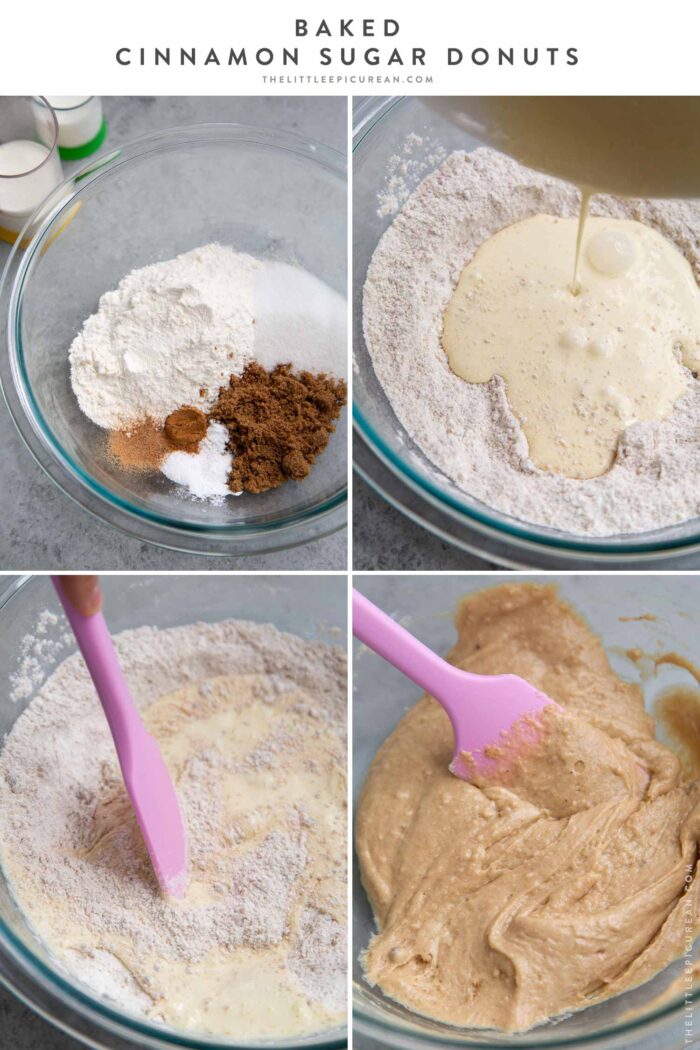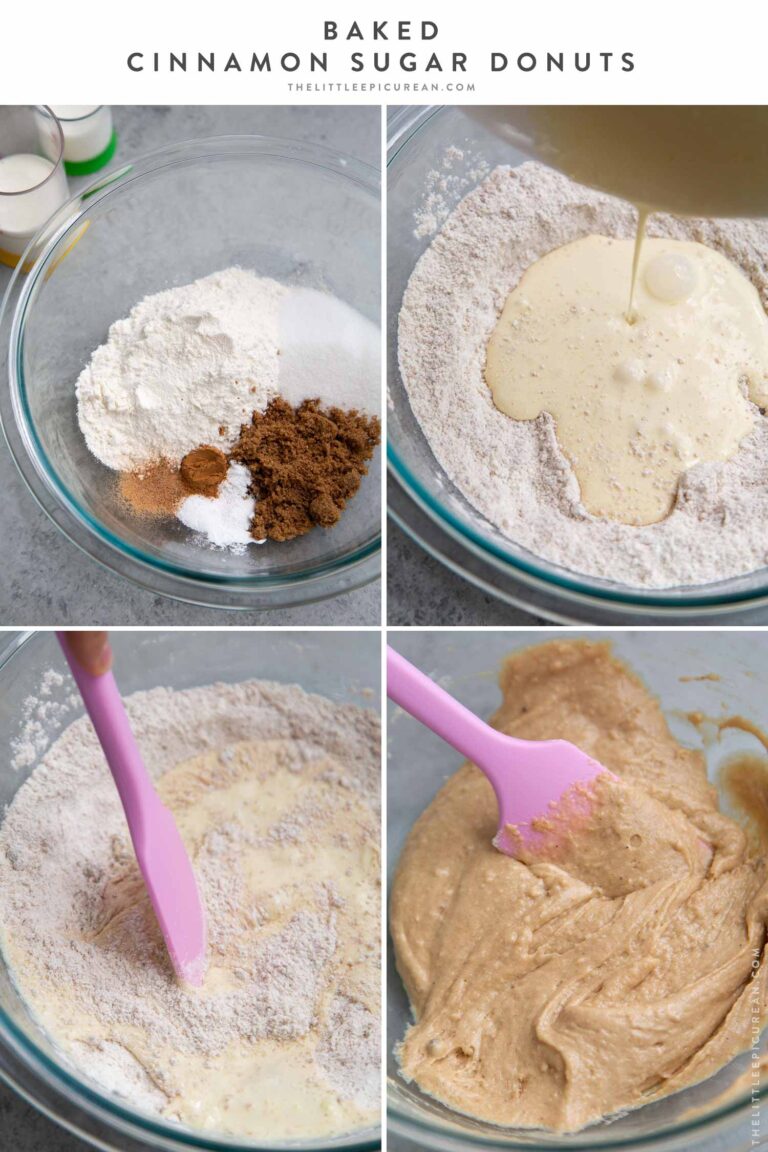 Mix together baked donut batter by hand
These donuts are very easy to make. No need for a stand mixer or electric hand mixer. This donut batter is easily mixed together by hand using a sturdy spatula.
In a large bowl, whisk together all the dry ingredients.
Mix together wet ingredients in a separate bowl. Pour wet ingredients over dry ingredients.
Stir to combine using a spatula.
Mix together until there are no longer any dry streaks of flour. Batter is ready to be baked!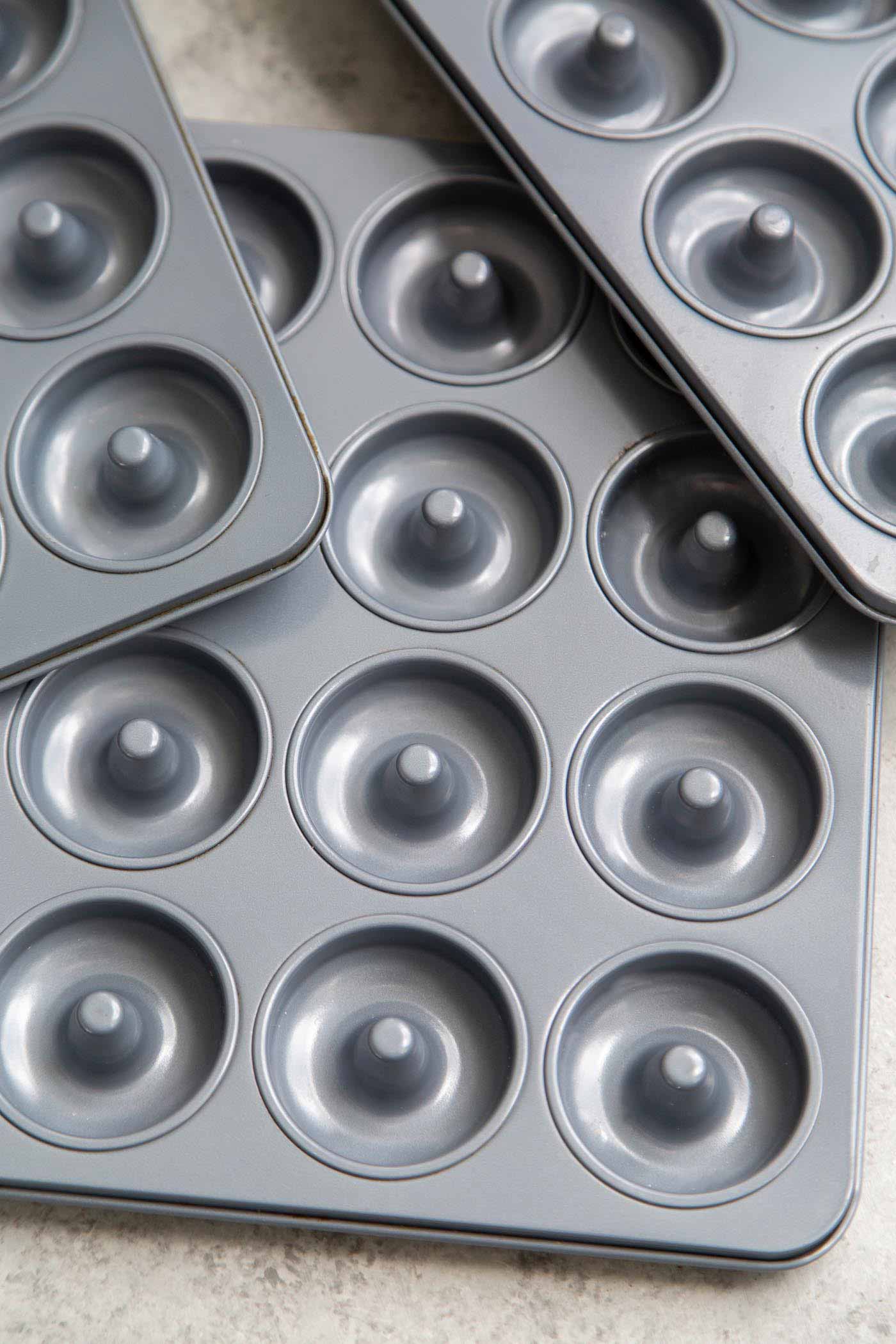 Special Equipment for Baked Donuts
To make these baked donuts, you will need:
nonstick mini donut bakeware pans
piping bag
Mini Donut Bakeware
There are a variety of different donut pans available. I recommend using these non-stick mini donut pans photographed above.
They are easy to clean and easy to use. Even though they are nonstick, I still suggest brushing them with melted butter or coating with baking spray before use.
Piping Bag
The donut pans can be filling using a piping fitted with a small round tip or a plastic zip-top bag with a corner snipped off.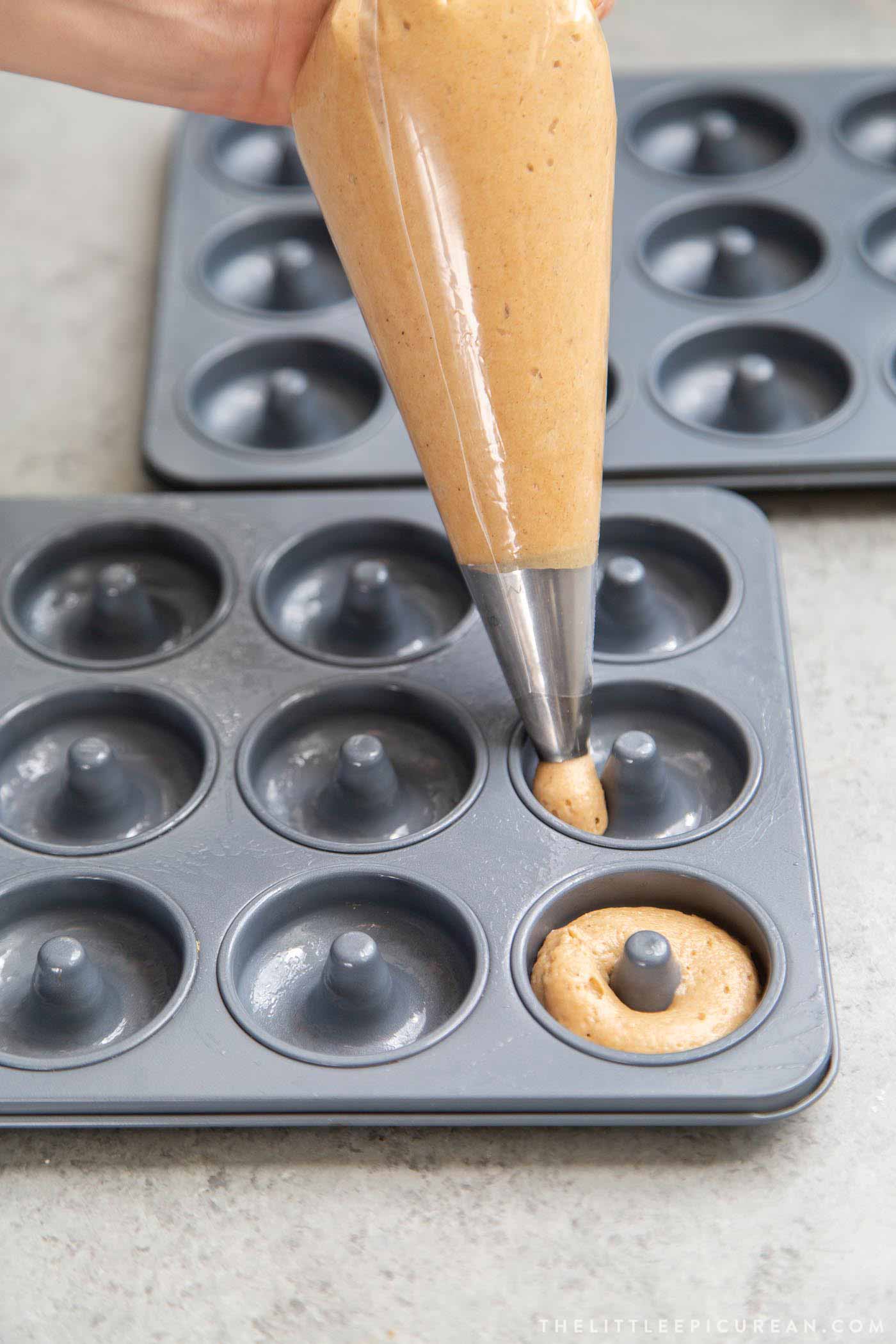 How to fill donut pan
Grease non-stick donut pan with melted butter or coat with baking spray (or cooking spray)
Transfer donut batter to piping bag fitted with small round piping tip. Alternatively, use a large plastic zip-top bag and snip off a corner.
Fill donut pan 2/3 full of batter. DO NOT OVERFILL! The batter will rise during baking.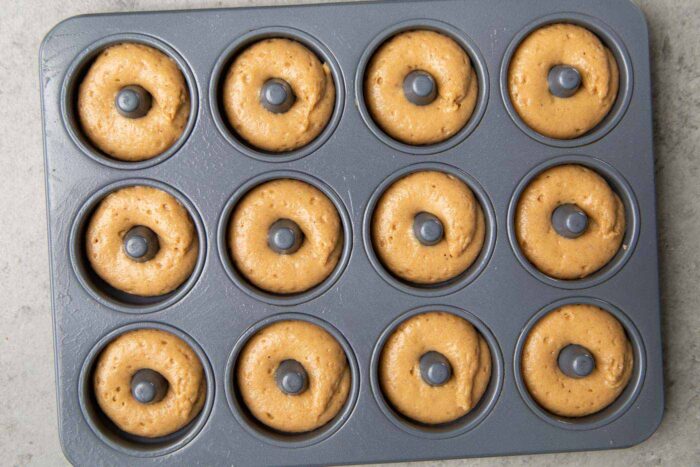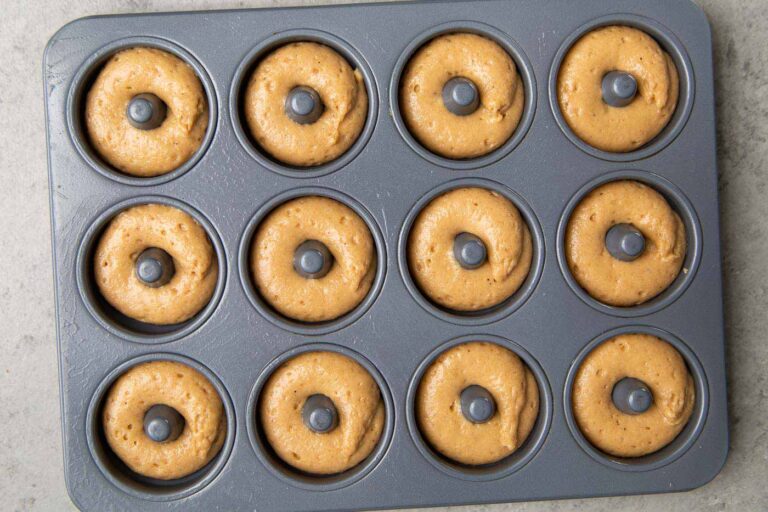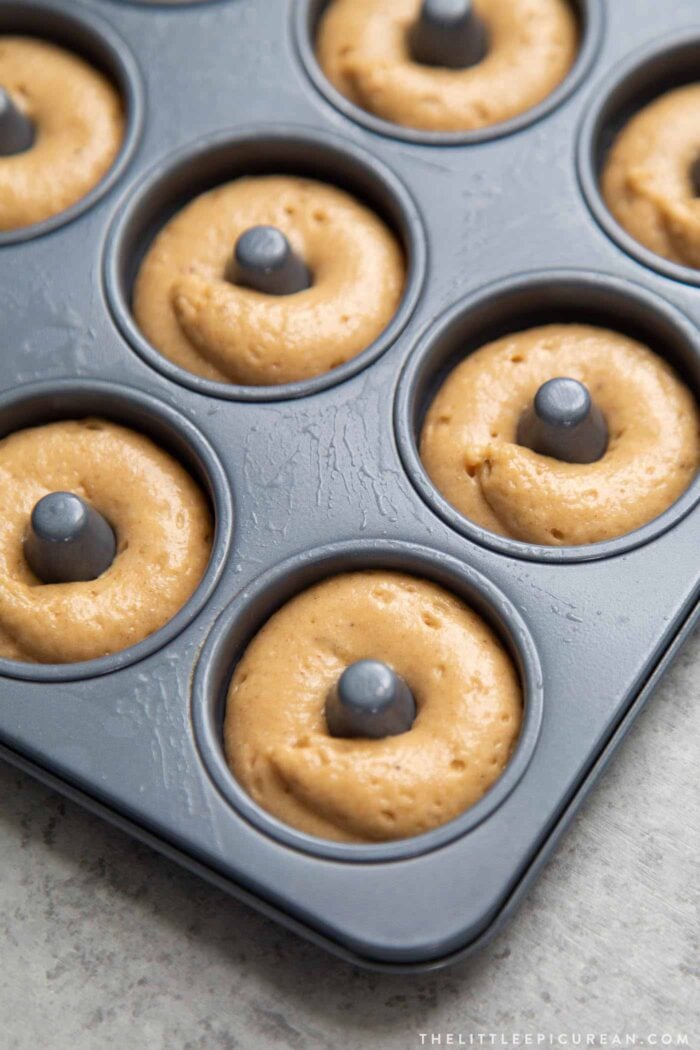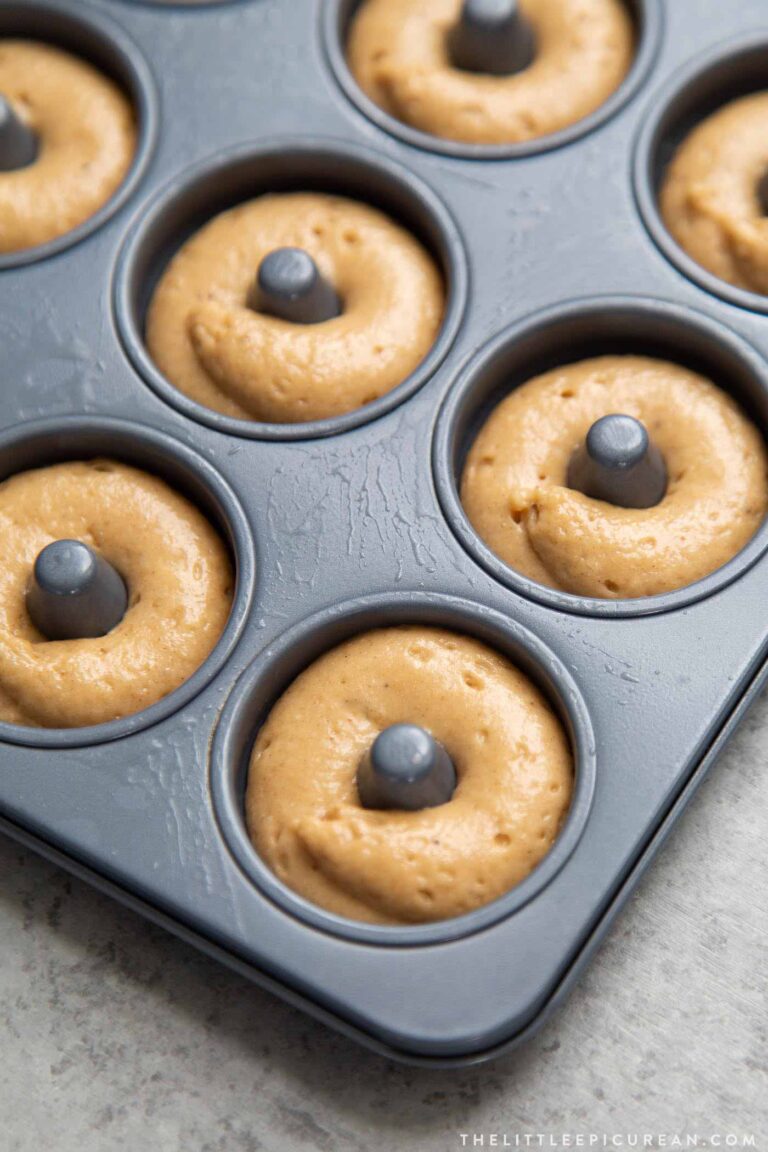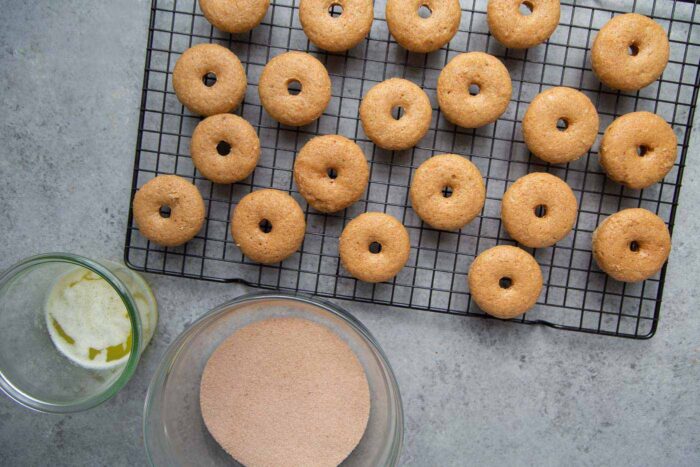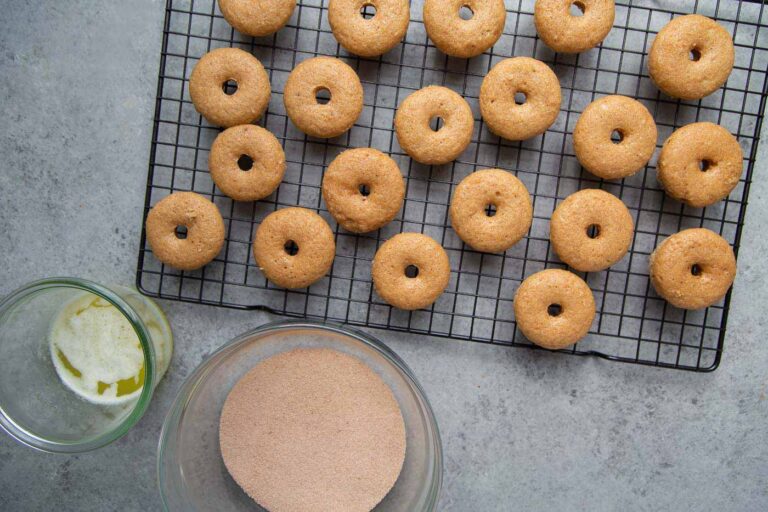 These mini donuts bake in less than 15 minutes! Let donuts cool in the pan for 2 minutes. Then, promptly unmold.
Allowing the donuts sit in the pan too long will cause them to be soggy.
Place warm donuts on a wire rack to slightly cool. Then, quickly dip both sides of donut into melted butter. Immediately, coat donut in cinnamon sugar mixture.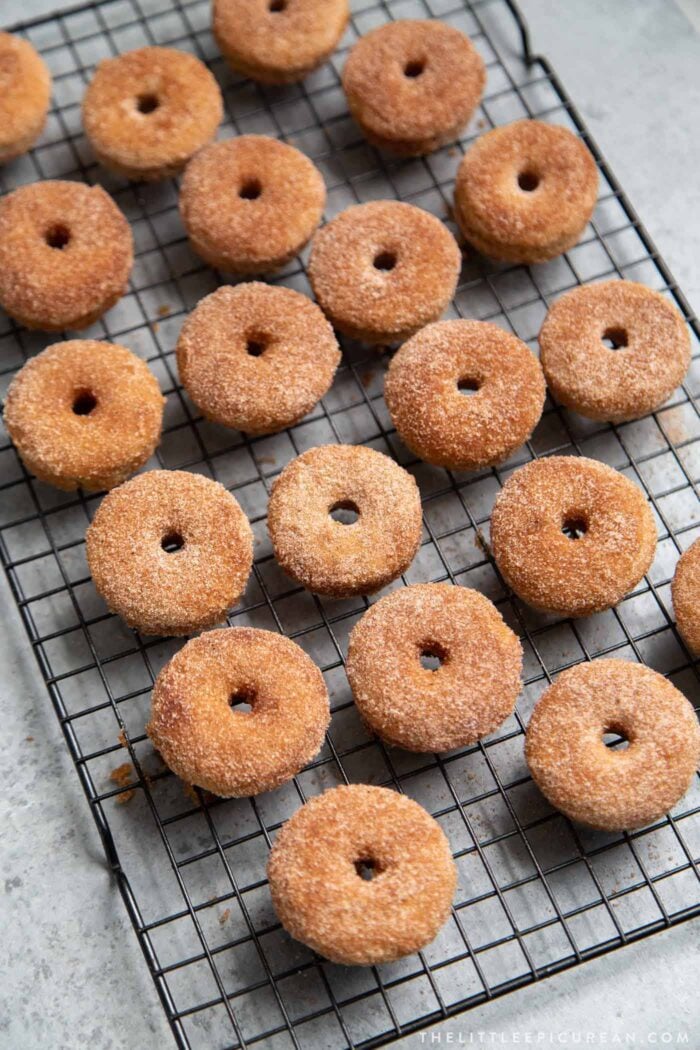 What is the texture of baked donuts?
These baked donuts have a tight crumb similar to muffins and coffee cake.
Unfortunately, it is very difficult to imitate the texture of fried donuts in the oven.
The baked donuts will be rather plain on their own. They get much of their flavor from the cinnamon sugar mixture.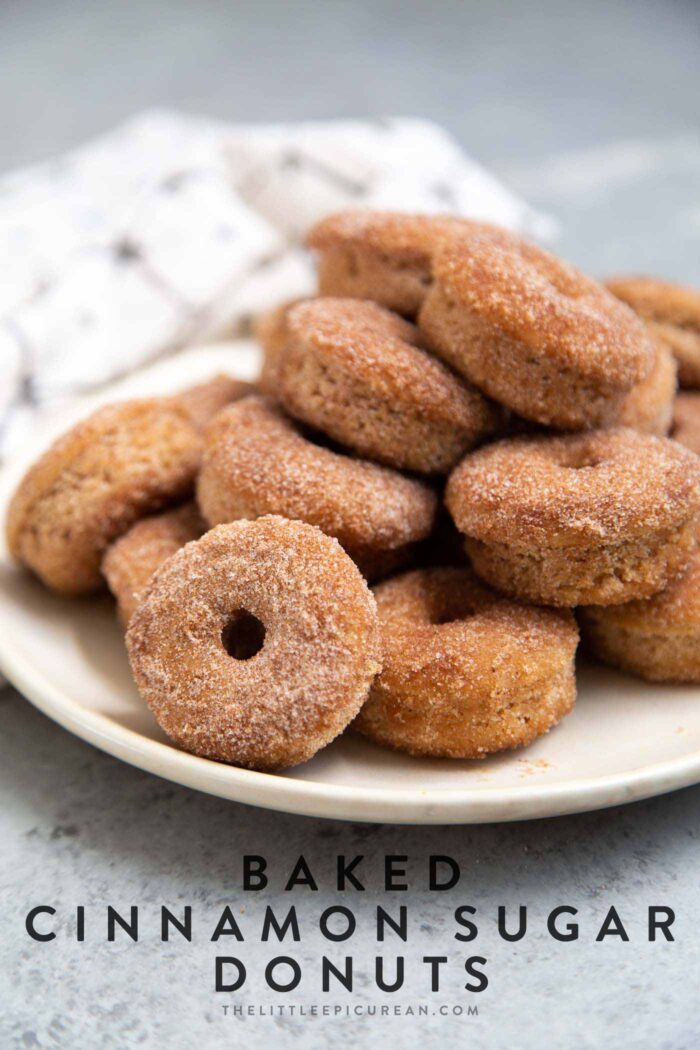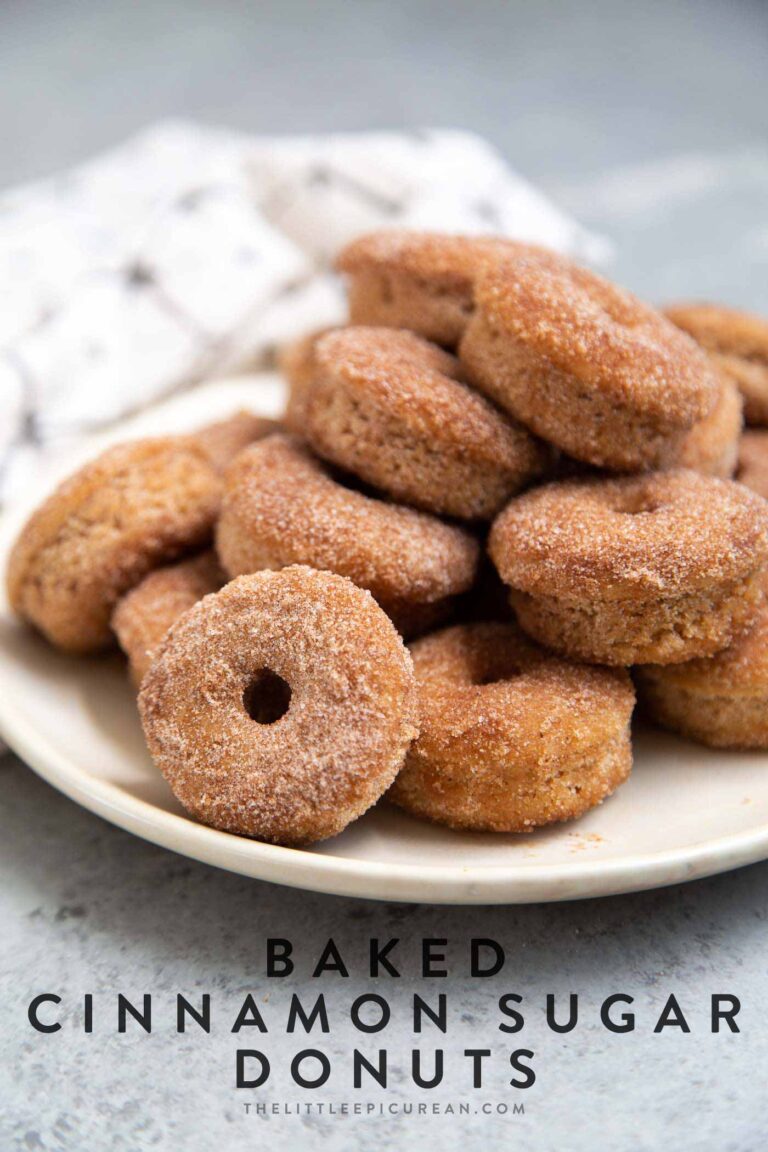 Baked Mini Donuts
These baked mini donuts are dipped in melted butter and tossed in cinnamon sugar. With a touch of nutmeg, they taste like old fashioned donuts!Yield: 21 mini donuts
Ingredients
130

grams

( 1 cup) all-purpose flour

50

grams

(1/4 cup) granulated sugar

35

grams

(about 3 Tbsp) light brown sugar

1

teaspoon

baking powder

1/2

teaspoon

fine sea salt

1/4

teaspoon

ground nutmeg

1/2

teaspoon

ground cinnamon

14

grams

(1 Tbsp) unsalted butter, melted

1

large egg

40

grams

(3 Tbsp) whole milk

60

grams

(4 Tbsp) heavy cream

1

teaspoon

vanilla paste,

or pure vanilla extract
Coating:
28

grams

(2 Tbsp) unsalted butter, melted

150

grams

(3/4 cup) granulated sugar

1 ½

teaspoon

ground cinnamon

½

teaspoon

ground nutmeg, or more to taste
Instructions
Whisk together flour, sugars, baking powder, salt, nutmeg, and cinnamon. Set aside.


In another bowl, whisk together melted butter, egg, milk, cream, and vanilla paste.


Pour wet mixture into dry mixture and combine with a spatula. Mix until smooth.


Transfer batter to a piping bag with a small round tip. Fill donut pans a little less than 2/3 full. Do not overfill, otherwise you'll end up with a muffin.


Bake for 8-10 minutes, until toothpick inserted in cake comes out clean. Let cool in pan for 2 minutes before unmolding.

For the topping, melted the butter in a small bowl. In another bowl, mix together sugar, cinnamon, and nutmeg. Dip both sides of the donut lightly in the butter. Bury the buttered donut in the sugar mixture until both sides are fully coated. Eat warm or let cool to room temperature.

Notes
ADAPTED FROM 

CAFFE INA
Equipment:
Unmolding donuts from pan:
You may have trouble unmolding donuts if pan is not greased well. Invert donut pan and tap one end hard against sturdy surface. The donuts should release from pan with enough pressure. 
Do not try to pick out the donuts. They will likely fall apart.