These triple chocolate baked donuts are a dark chocolate lover's dream. It's chocolate on chocolate on chocolate!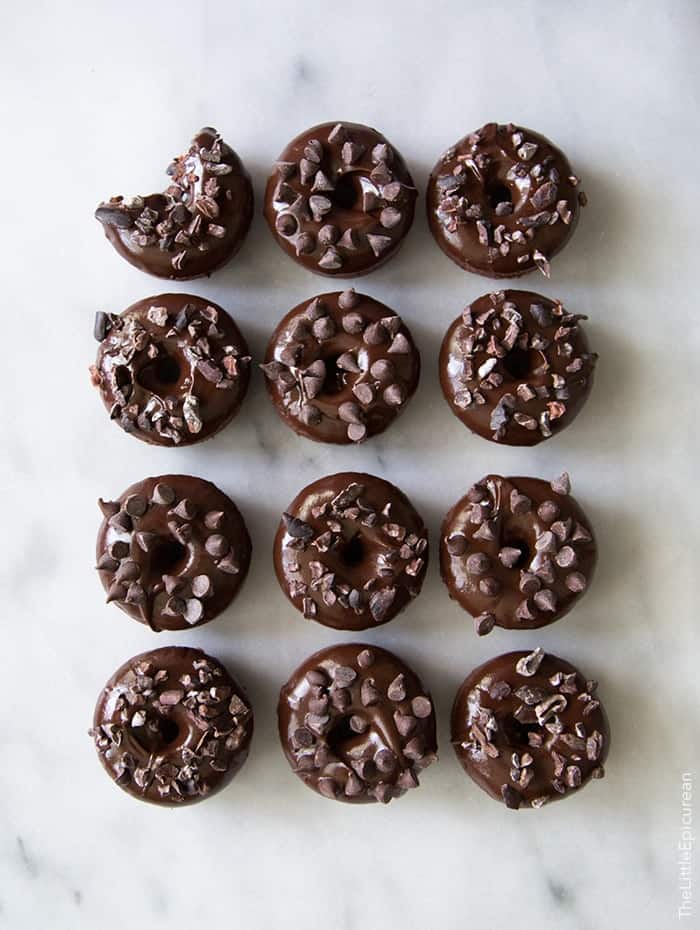 Reasons to Make This Recipe
If chocolate is the answer, I don't need to know the question! 
These baked donuts feature chocolate three ways. Cocoa powder is used to flavor the baked donuts. Melted chocolate makes up the glaze. And for the grand finale, the chocolate dipped chocolate donuts are topped with a mixture of mini chocolate chips or cacao nibs.
Is that enough chocolate for you?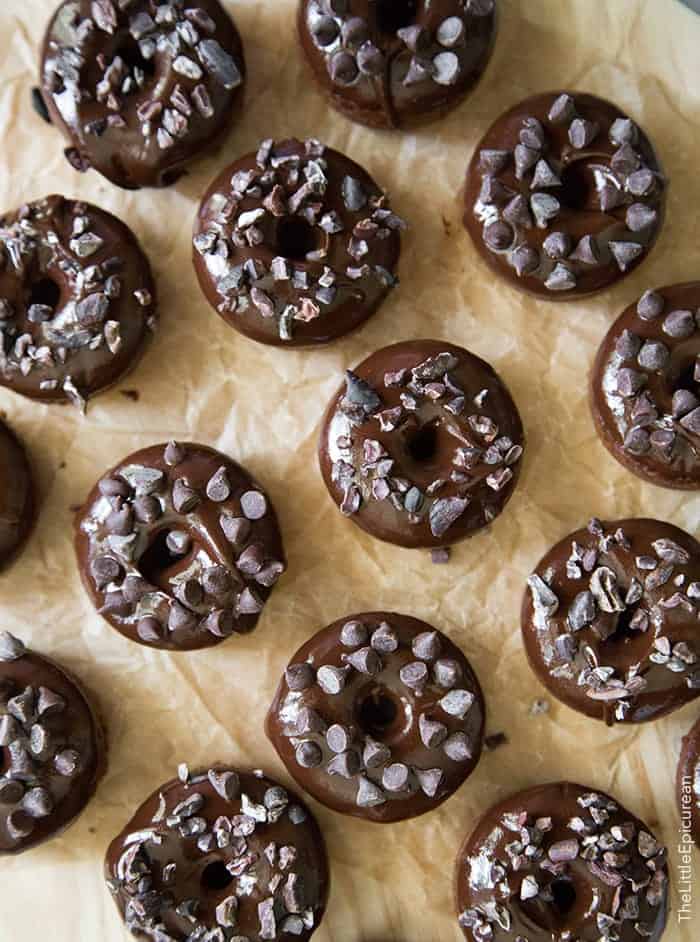 The baked donut is flavored with unsweetened cocoa powder and a hint of espresso. The rich and silky glaze is made with semi-sweet chocolate.
And you get a choice of mini dark chocolate chips or raw cacao nibs to top the chocolate baked donuts.  
It's dark chocolate overload!  The texture of the baked donut is like a cross between a brownie and a muffin.  They're utterly delicious and perfect with a glass of milk or a pint of stout beer.
Ingredients and Substitutions
For best results, weigh your ingredients using a kitchen scale. If you prefer to use volume measurements (such as cups), use the Stir and Spoon Method to measure flour.
Unsweetened Cocoa Powder: There are several choices of unsweetened cocoa powder to choose from: natural cocoa, Dutch-processed cocoa, or black cocoa. For this recipe, I used natural cocoa powder from King Arthur Flour.
Instant Espresso Powder: This enhances the rich chocolate flavor of the donuts. If you don't have it, simply omit the espresso powder.
Butter: Use oil or melted shortening/vegan butter or a non-dairy option.
Milk: Use any milk. Or, use any alternative milk for a non-dairy option.
Chocolate Chips: Use your choice of milk chocolate, semi-sweet chocolate, or dark chocolate chips. For contrast, use white chocolate chips.
Light Corn Syrup: Light corn syrup prevents crystallization in sweet treats like marshmallows, ice cream, and pecan pies. This keeps the chocolate glaze shiny, smooth, and soft.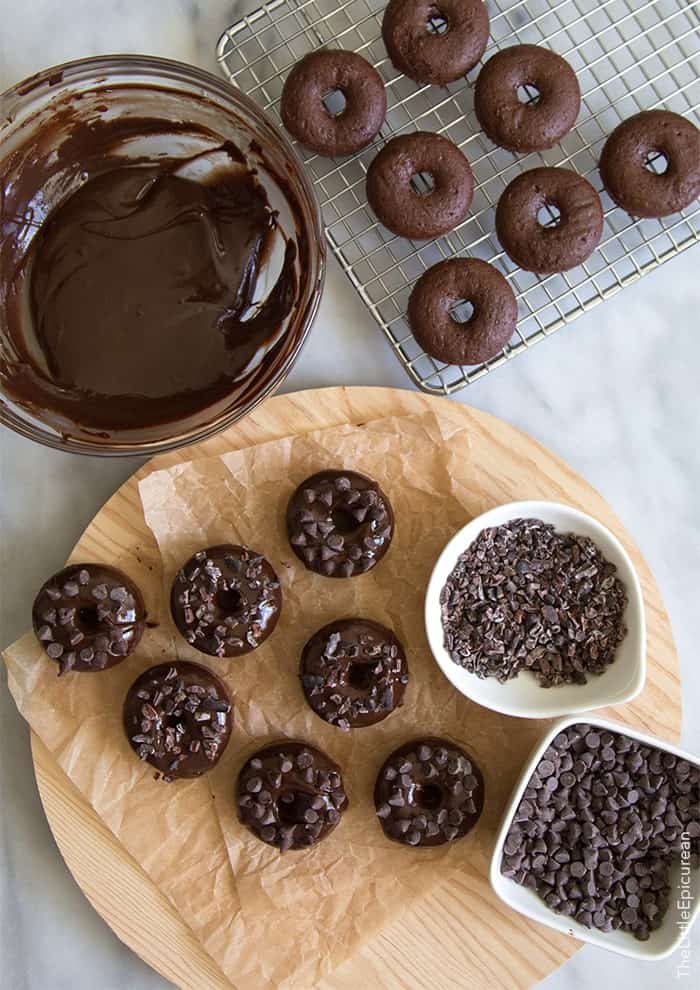 Recommended Bakeware and Tools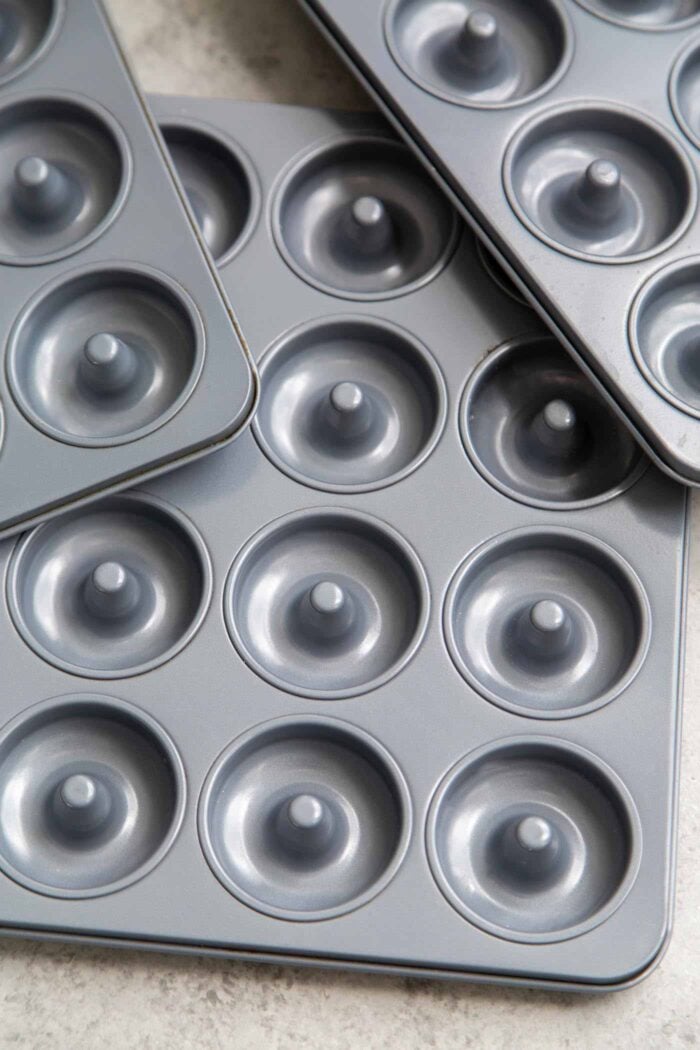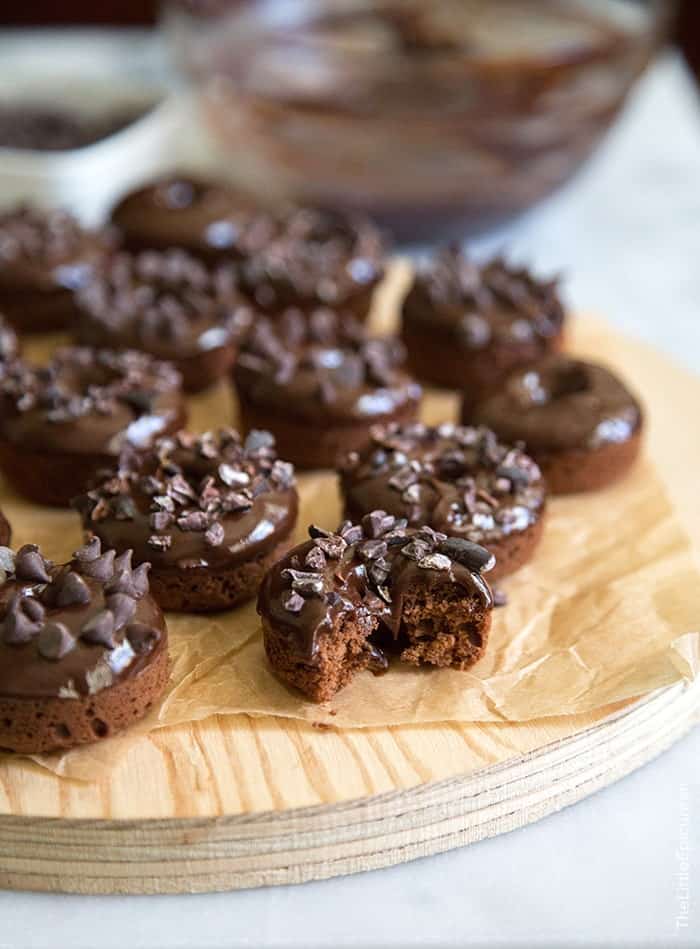 Easy Fried Donut Recipes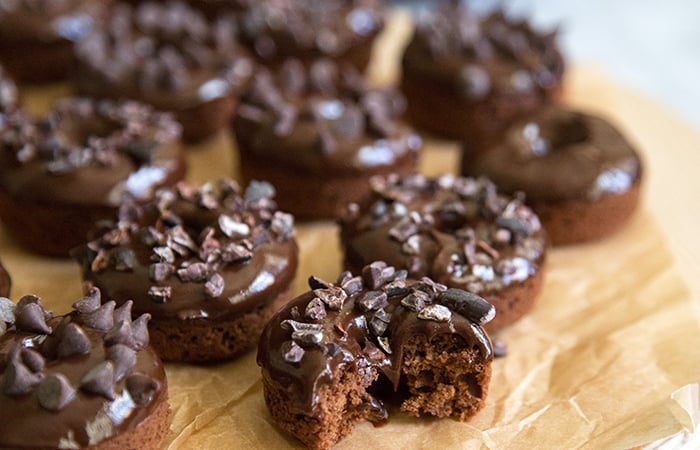 Triple Chocolate Baked Donuts
Talk about chocolate overload! These triple chocolate baked donuts are a dark chocolate lover's dream. It starts with a brownie-muffin like chocolate donuts, followed by a rich and silky chocolate glaze, and one's choice of mini dark chocolate chips or raw cacao nibs.
Ingredients
¾

cup

all-purpose flour

(98 g)

¼

cup

unsweetened cocoa powder

(25 g)

1

teaspoon

baking powder

¼

teaspoon

fine sea salt

½

teaspoon

instant espresso powder

6

Tablespoon

granulated sugar

(75 g)

1

Tablespoon

unsalted butter,

(14 g) melted, slightly cooled

1

large egg

½

cup

whole milk

1 ½

teaspoon

vanilla extract
Chocolate Glaze:
¾

cup

semi-sweet chocolate chips

(130 g)

3

Tablespoon

unsalted butter

(42 g)

1

Tablespoon

light corn syrup

(20 g)

mini chocolate chips,

for topping

cacao nibs,

for topping
Instructions
Preheat oven to 350℉.  Prepare a piping bag fitted with a small round tip.  Lightly grease mini donut pan with cooking spray.  Set aside.

Sift together flour, cocoa powder, baking powder, salt and espresso powder. Place in a medium bowl and whisk in sugar. Set aside.

Whisk together melted butter, egg, milk and vanilla. Add wet mixture to bowl of dry ingredients. Stir to combine and mix until there no longer any dry streaks of flour.

Fill prepared piping bag with batter. Pipe batter into prepared donut pans, filling molds a little over half full. Bake for 8-10 minutes. Let cool in pan for 2 minutes before unmolding. Let donuts cool on wire rack before dipping in glaze.

Chocolate Glaze:
In a double boiler over simmering water, place bowl of chocolate chips, butter, and corn syrup. Stir until chocolate has melted and mixture is smooth. Remove from heat. Dip one side of cooled donuts in chocolate glaze. Top with mini chocolate chips or cacao nibs.

Notes
You don't need a fancy "double boiler." You can easily make one by placing a heat safe bowl over a pot of water.
Use a bowl (glass or metal) to cover a sauce pot filled with about 1-inch of barely simmering water. Make sure bowl does not touch water. Slow melt chocolate mixture and stir often to ensure even melting.
Chocolate glaze will remain silky and smooth, meaning you cannot stack the glazed donuts.