Matcha azuki cupcakes combine the popular flavors green tea and red bean in a portable little treat!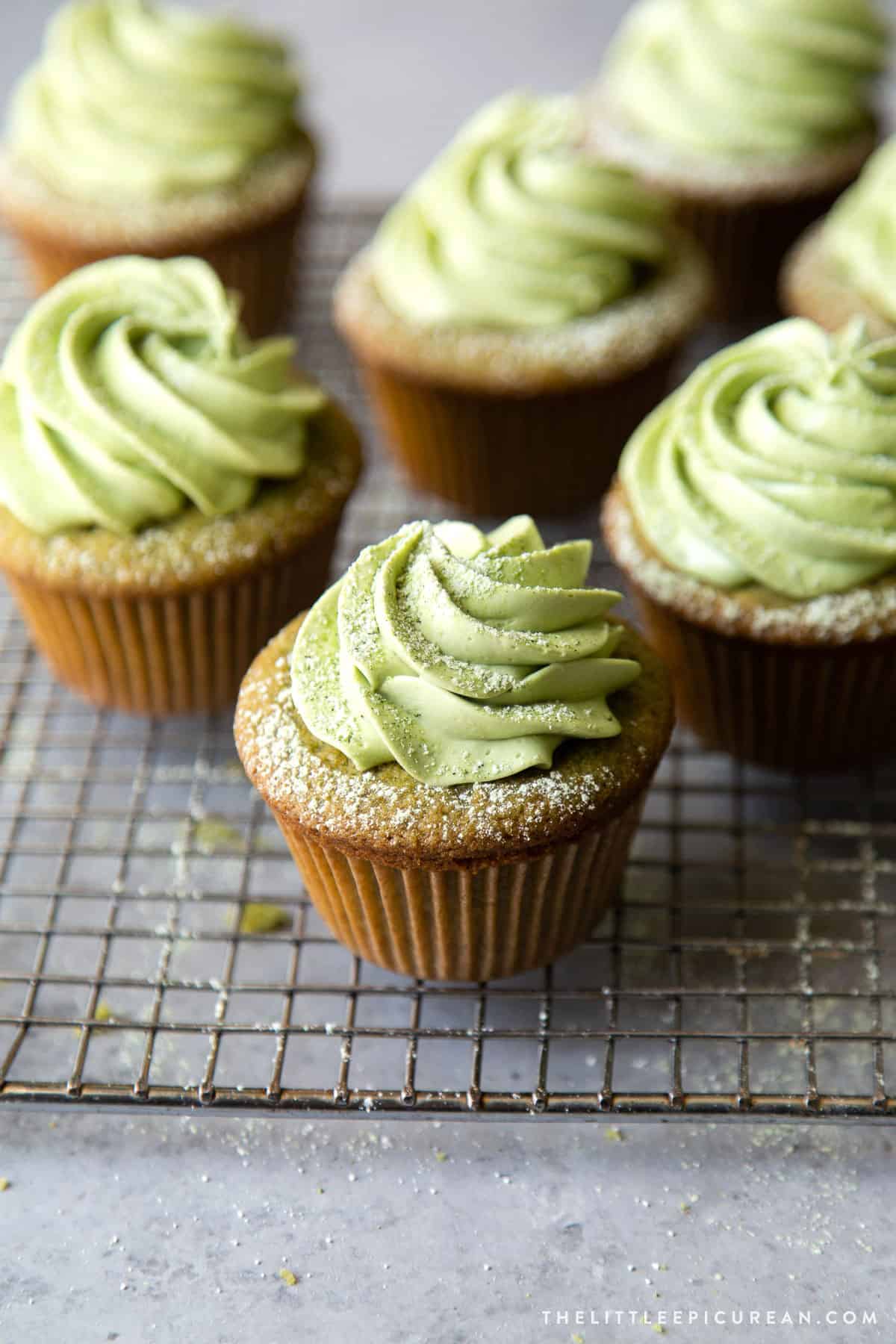 Green tea and red bean go together like peanut and jelly. Delicious on their own, but even better when paired together.
The depth of flavor in these cupcakes can be attributed to the slight bitterness of the matcha and the sweetness of red bean paste.
Matcha Cupcakes with Red Bean Frosting 
Azuki or adzuki red bean is frequently used in Asian foods, especially in Chinese and Japanese cuisines.
Sweetened red bean paste is used as a filled in cakes, pastries, and baked bread buns. Azuki beans are also made into soups and teas.
And, it is made into one of my favorites- red bean ice cream!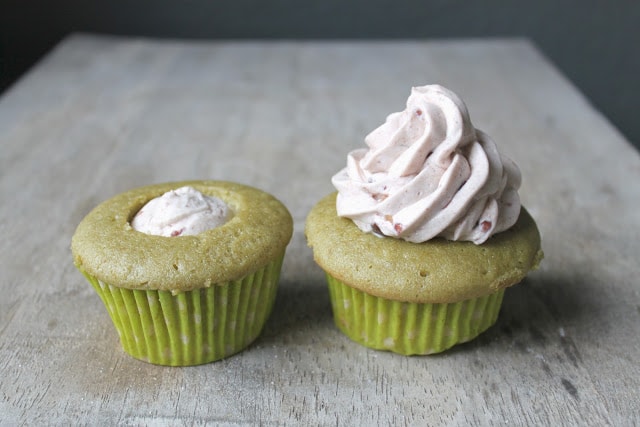 Baking with Matcha
Matcha is simply powdered green tea. This powder is simple to add into your favorite baked goods– cupcakes, pound cakes, breads and pastries.
There is a large selection of matcha powders available online. They can be quite pricey depending on the quality and grade of the powder. Taste and color also varies. I have some powders that are bright green and others that are dark forest green.
I suggest shopping around and visiting any nearby Asian markets (I find lots of great baking goodies at Mitsuwa and 99 Ranch Market). Try out different brands and find one that suits your liking.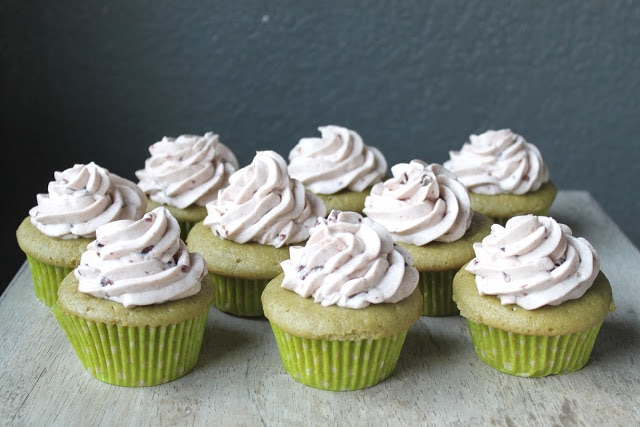 These cupcakes make a great afternoon snack or a nice little pick me up anytime of the day. I love the frosting. I can eat it all by itself because it reminds me of red bean ice cream.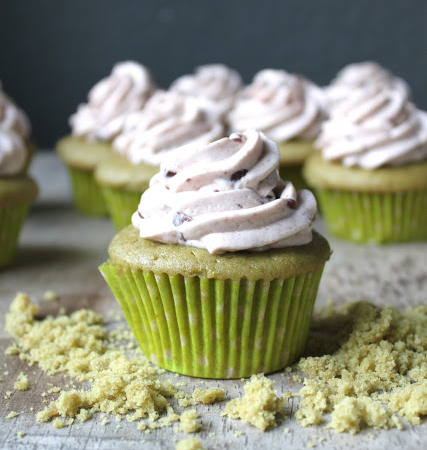 Matcha Cupcakes with Azuki Red Bean Buttercream
Ingredients
Matcha Cupcakes:
3/4

cup

+ 2 Tablespoons cake flour, sifted

3/4

cup

all-purpose flour

1

cup

granulated sugar

1

Tablespoon

matcha powder

1/2

Tablespoon

baking powder

1/2

teaspoon

fine sea salt

1/2

cup

unsalted butter, cut into cubes, room temperature

2

large eggs

1/2

cup

whole milk
Azuki Red Bean Buttercream:
8

oz

granulated sugar

2

oz

water

1/2

cup

egg whites

12

oz

unsalted butter, cut into tablespoons, room temperature

sweetened red bean paste, to taste
Instructions
Matcha Cupcakes:
Preheat over to 325 degrees F.


Combine flours, sugar, matcha powder, baking powder and salt in the bowl of an electric mixer with a paddle attachment. Mix on low until combined. Add butter cubes and mix until just coated with the dry ingredients.

in a large measuring cup, whisk together eggs and milk. Add the wet ingredients to the dry in three additions while the mixer is on medium speed. Scrape down sides of bowl before each addition. Mix until all ingredients are incorporated but make sure not to overmix.

Divide batter among lined cupcake pan, filling a little over 2/3 full. Bake 20-25 minutes, until a toothpick inserted in the center comes out clean.

Transfer to wire rack to cool. Once cupcakes have cooled, stamp out center with a small round cutter. Then fill and top with red bean buttercream
Azuki Red Bean Buttercream:
In a saucepan, combine sugar and water. Stir until it resembles wet sand. Set to high heat and cook until candy thermometer reads 245 degrees F. While the heat is on, DO NOT stir or disturb the sugar solution. Agitation will cause unwanted crystallization in the sugar solution. If any sugar splashes onto the sides of the saucepan, use a pastry brush soaked in water to dilute any crystal formation.

While the sugar is cooking, whip the egg whites in a stand mixer on low speed. Keep it at low until the white are foamy (it should look like the foam on top of beer). Once foamy, begin whipping at medium speed. Starting at a low speed helps to make for a stronger meringue.

Once sugar reaches 245 degrees F, pour it into the whipping egg whites in a slow and steady stream. After all the sugar has been poured, increase the speed to high. Continue to whip until the mixing bowl is slightly warmer than room temperature to the touch.

Turn down the mixer to medium speed and slowly add the butter a couple tablespoons at a time. Continue to whip at medium speed until all the butter has been added. Whip until buttercream is smooth and creamy.

Add about 1/4 cup sweetened red bean paste. You can add more if you'd like a stronger red bean taste. You can use smooth red bean paste or use one that have some whole red beans like I did. If you use whole red beans make sure to use a large enough piping tip to allow the beans to pass.