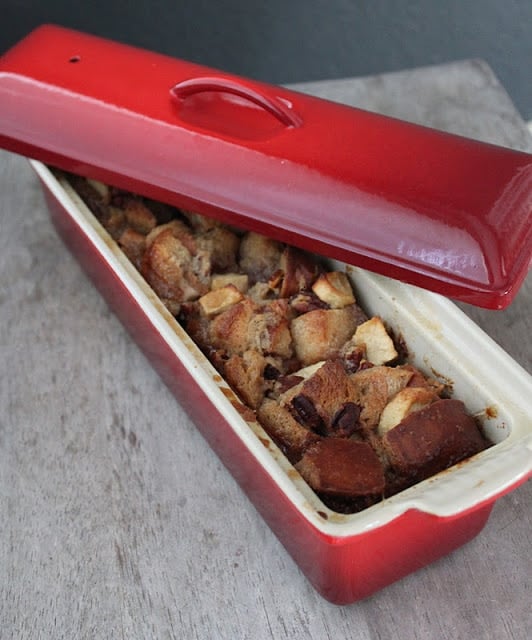 Happy Thanksgiving!
Yes, that is a terrine mold. But no, that isn't a cold terrine. It's warm apple and Calvados bread pudding perfect for breakfast while I watch the Macy's Thanksgiving Day Parade.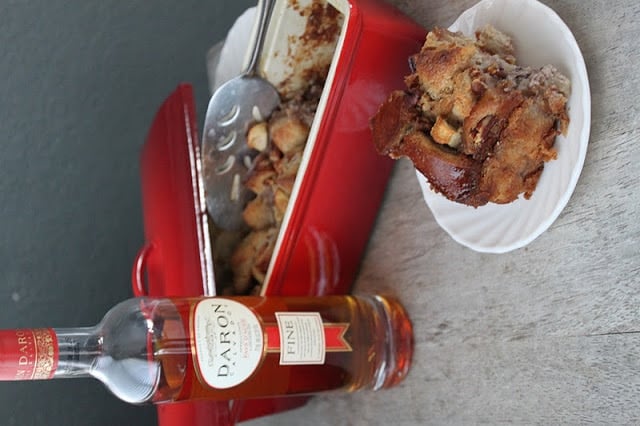 It has been quite an eventful and hectic month for me. Puppy responsibilities, birthdays, furniture shopping, moving, and lots of trips to the airport.
My bff's birthday was last Monday. Happy Birthday, Al! He requested bread pudding instead of a cake. I made him this fabulously boozy and delicious rum raisin bread pudding. However, in all the excitement, I forgot to take pictures of the finished product. Maybe it was all that rum.
Here is another bread pudding dedicated to my best friend/soul mate/brother from another mother. I have recently hooked him onto my liquor of choice- bourbon whiskey. Calvados is soon to be one of his new favorites. Calvados is an apple brandy from the French region of Lower Normandy. Like fine wine and great friends, Calvados improves with age.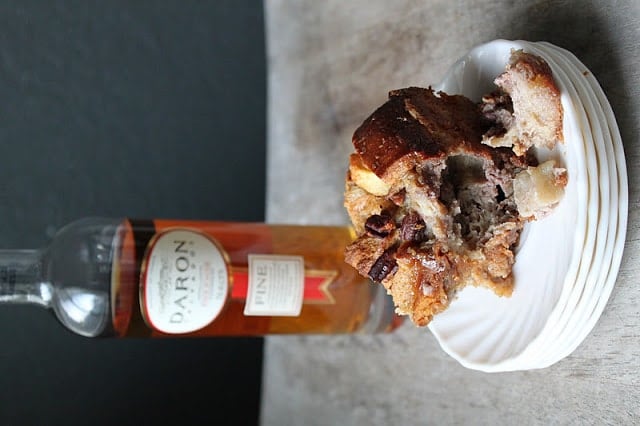 This is an easy last minute dessert for Thanksgiving or a nice treat after some major Black Friday shopping. Don't have Challah? Use whatever bread you have available. You can substitute the alcohol with rum, brandy, whiskey, or omit it all together. Don't like apples? Add dried fruits or nuts instead. Bread pudding is very versatile and can be adjusted to your liking.
Happy Thanksgiving!
Apple and Calvados Bread Pudding
Yield: 9x12-inch baking pan, casserole dish, or ramekin
Ingredients
1

pound

challah bread, cut into 1-inch cubes

1 1/2

cups

whole milk

1 1/2

cups

heavy cream

3

Granny Smith apples, peeled, cored, and cut into 1/2-inch cubes

1/3

cup

Calvados

1/4

teaspoon

fine sea salt

1/2

teaspoon

ground cinnamon

4

large eggs

1/2

cup

unsalted butter, melted and slightly cooled

1/2

Tablespoon

vanilla paste

1

cup

light brown sugar, packed

1/4

cup

granulated sugar

2

cups

pecans, toasted and roughly chopped
Instructions
Preheat oven to 350 degrees F. Butter ramekins or baking dish and set aside.

In a large bowl, soak bread in milk and cream. Let sit for about 10 minutes.

In another bowl, toss together apples, Calvados, salt and ground cinnamon.

In a medium bowl, whisk together eggs, melted butter, vanilla, brown sugar and granulated sugar.

Add apple mixture to bread. Fold to combine. Add sugar egg mixture and fold to combine.

Fold in chopped pecans. Pour pudding batter into prepared baking dishes. Bake for 45-60 minutes or until the top springs back when touched