This Persimmon Walnut Cake is similar in texture to banana nut bread. It is a very moist and dense cake that tastes like autumn!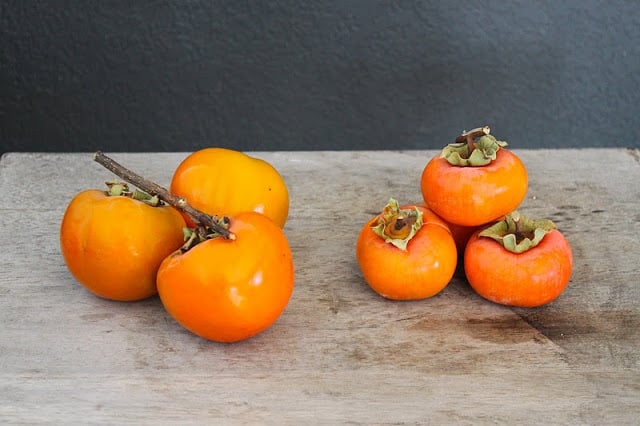 Persimmons have taken over my kitchen.
I have baskets of persimmon all over the counter, some 15 cups of puree stacked in the freezer, and loaves of delicious persimmon walnut cake cooling on the dining table.
Persimmons are available between September and December, usually peaking sometime in November.
There are many varieties of persimmons, but the two most common in the United States are the hachiya and fuyu.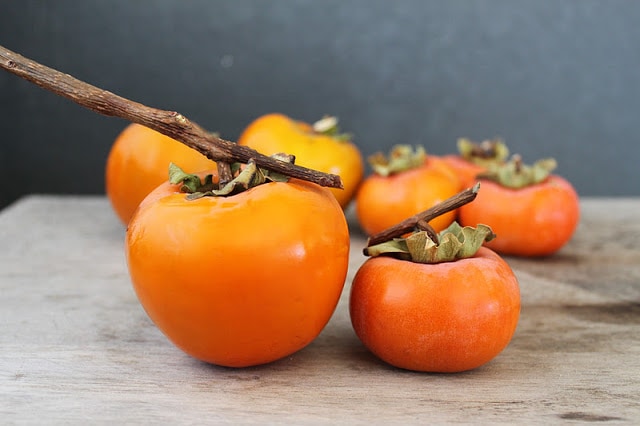 What is the difference between Hachiya and Fuyu Persimmon?
Haychiya
The hachiya (left in photo above) is elongated and acorn shaped. They are quite tart when firm. Please do not eat them while there are unripe. Trust me, it does not taste pleasant.
Ripe hachiyas are very sweet and juicy. As a child I used to freeze them, slice off the top and eat the inside of the fruit like sorbet.
In my opinion, hachiyas are best for baking. Like any other fruit puree, it adds moisture and sweetness to baked goods.
Fuyu
The fuyu (right in photo) is much smaller and flatter than the hachiya. It sort of resembles a tomato.
The fuyu is a little less intimidating to those new to the fruit. I like eating the fuyu raw.
It is crisp like an apple. I like to peel the skin and quarter it into wedges. The fuyu is best eaten while it is still firm.
I rarely use fuyu for baking. Rather, I find it better for snacking and salads.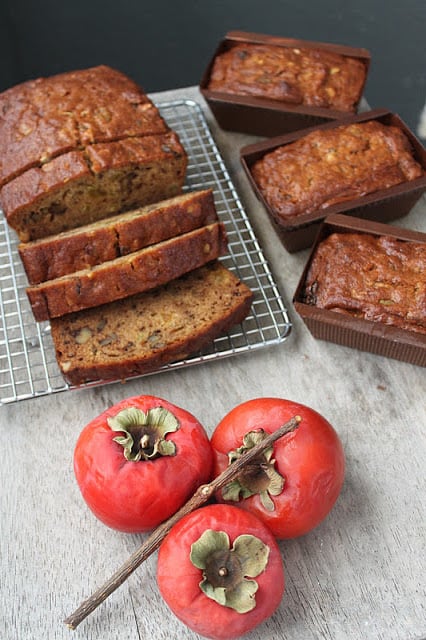 My parents have five persimmon trees in their backyard–three of the hachiya and two of the fuyu. My dad planted it 23 years ago when we moved into the house.
It has been bearing fruit every autumn for as long as I can remember. Around this time every year, my parents brings shopping bags full of persimmon to neighbors and friends.
How to choose persimmons?
Most grocery stores carry the hachiya variety. They usually sell them while they are still very firm.
When purchasing persimmons, look for plump ones that feel heavy for their size. Their skin should look smooth and glossy, without any bruises or blemishes.
How to ripen persimmons?
You can quickly ripen the fruit in a paper bag or just let them sit out at room temperature. As they ripen, they become deeper orange in color.
You can notice the difference from the firm hachiya in the first photos to the soft wrinkly ones photographed with the baked cake.
Once ripe, store the fruit in the fridge. Hachiyas turn overripe very quickly. I puree and freeze them once they are soft and save it for future uses.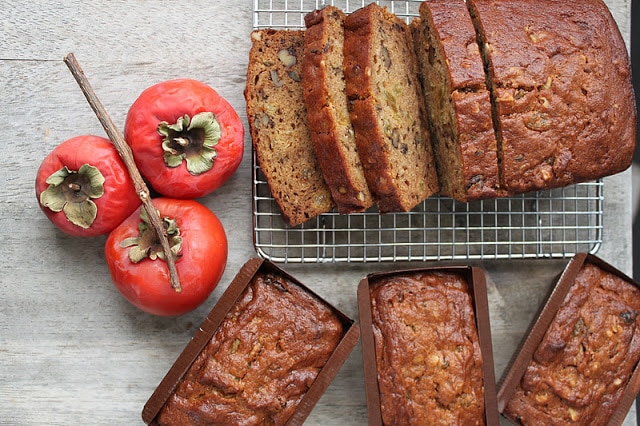 Persimmon Walnut Cake
This is my favorite persimmon recipe. Its similar in texture to banana nut bread, but persimmon is much milder in flavor than banana.
It is a very moist and dense cake that tastes like autumn.
This cake stores and freezes well. Once frozen, let the cake sit out at room temperature for a couple hours to let it thaw.
Warm it in the microwave for a couple seconds or serve it at room temperature. Either way, it will taste as good as it did the day you baked it.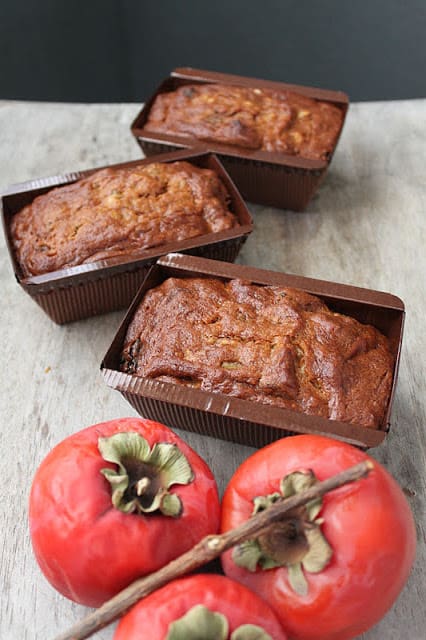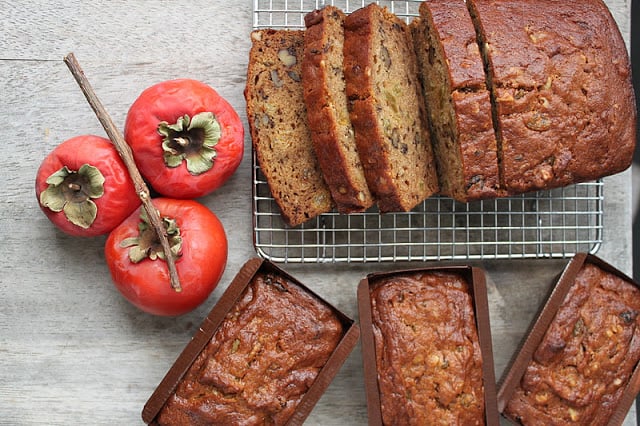 Persimmon Walnut Cake
Yield: makes one 9-inch loaf and five 5x3 inch mini loaves
Ingredients
3 1/2

cups

all-purpose flour

1 1/2

teaspoon

fine sea salt

2

teaspoons

baking soda

1/2

teaspoon

baking powder

1

teaspoon

ground cinnamon

3/4

cup

light brown sugar, packed

1 1/4

cup

granulated sugar

1

cup

unsalted butter, melted, cooled to room temp

4

large eggs, room temp, lightly beaten

1/4

cup

honey whiskey

2

cups

persimmon puree

2

cups

walnuts, toasted, roughly chopped

2

cups

golden raisins, or diced dried fruit of choice
Instructions
Preheat oven to 350 degrees F.

Sift together flour, salt, baking soda, baking powder, and ground cinnamon. Place in large bowl and whisk in brown sugar and granulated sugar.

Make a well in center of dry ingredients. Add in melted butter, eggs, liquor, and persimmon puree. Mix until combined. Fold in nuts and raisins.


Divide among loft pans. Bake the 9-inch pan for an hour or until toothpick inserted into center comes out clean. The mini loaf pans should take about 45 minutes.

Interested in more persimmon recipes? Here are some favorites: