The quintessential cookie to satisfy any chocolate fiend. Decadent chocolate cookies also known as chocolate crinkles or chocolate crackles are rich, soft, chewy, and such a treat!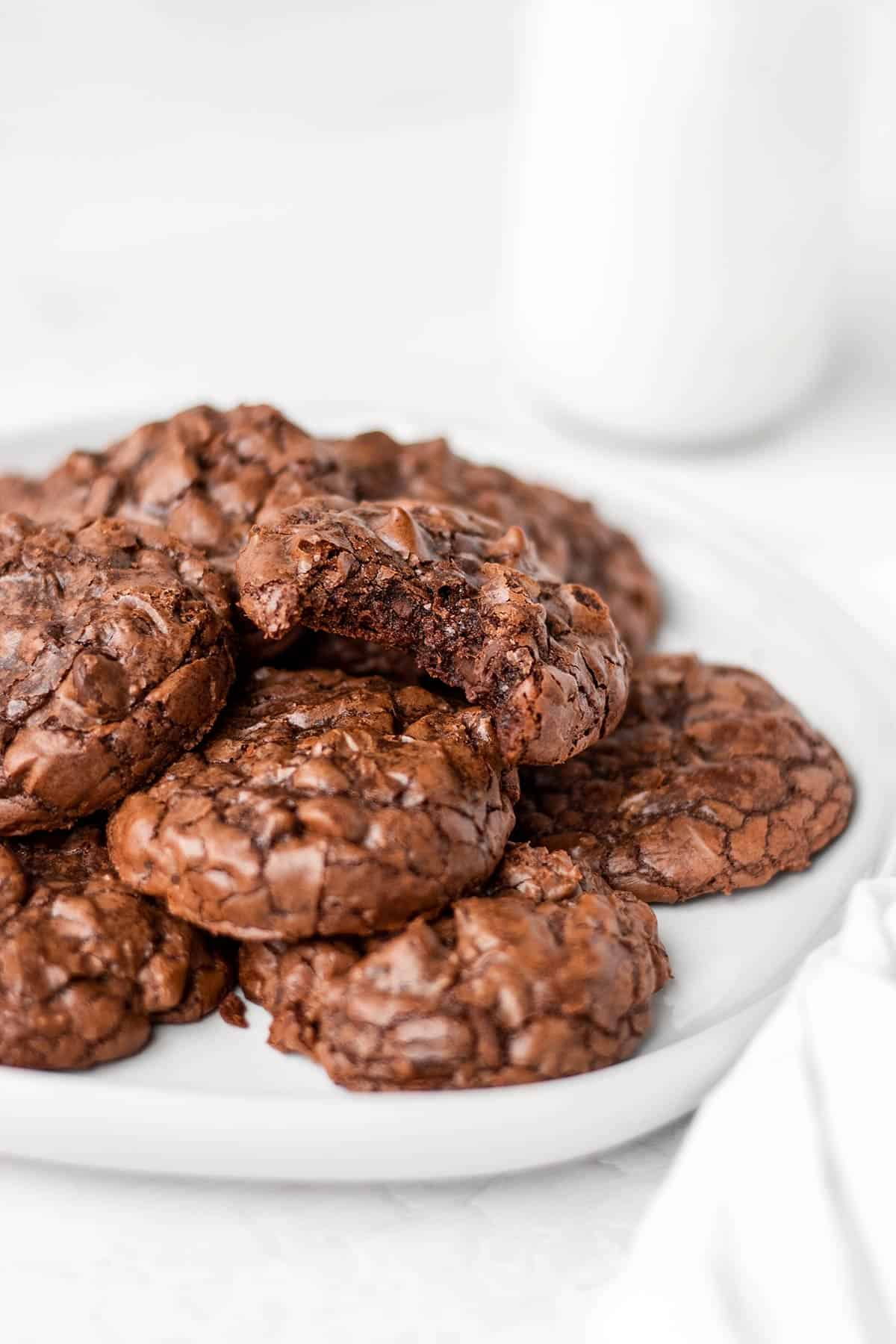 If chocolate is the answer, the question is irrelevant.
Does that sentence resonant with you?
If so, this is the chocolate cookie recipe for you!
Double Chocolate Crinkle Cookies
Before we begin, I must warn you. These cookies are rich.
These decadent chocolate cookies are meant to be shared.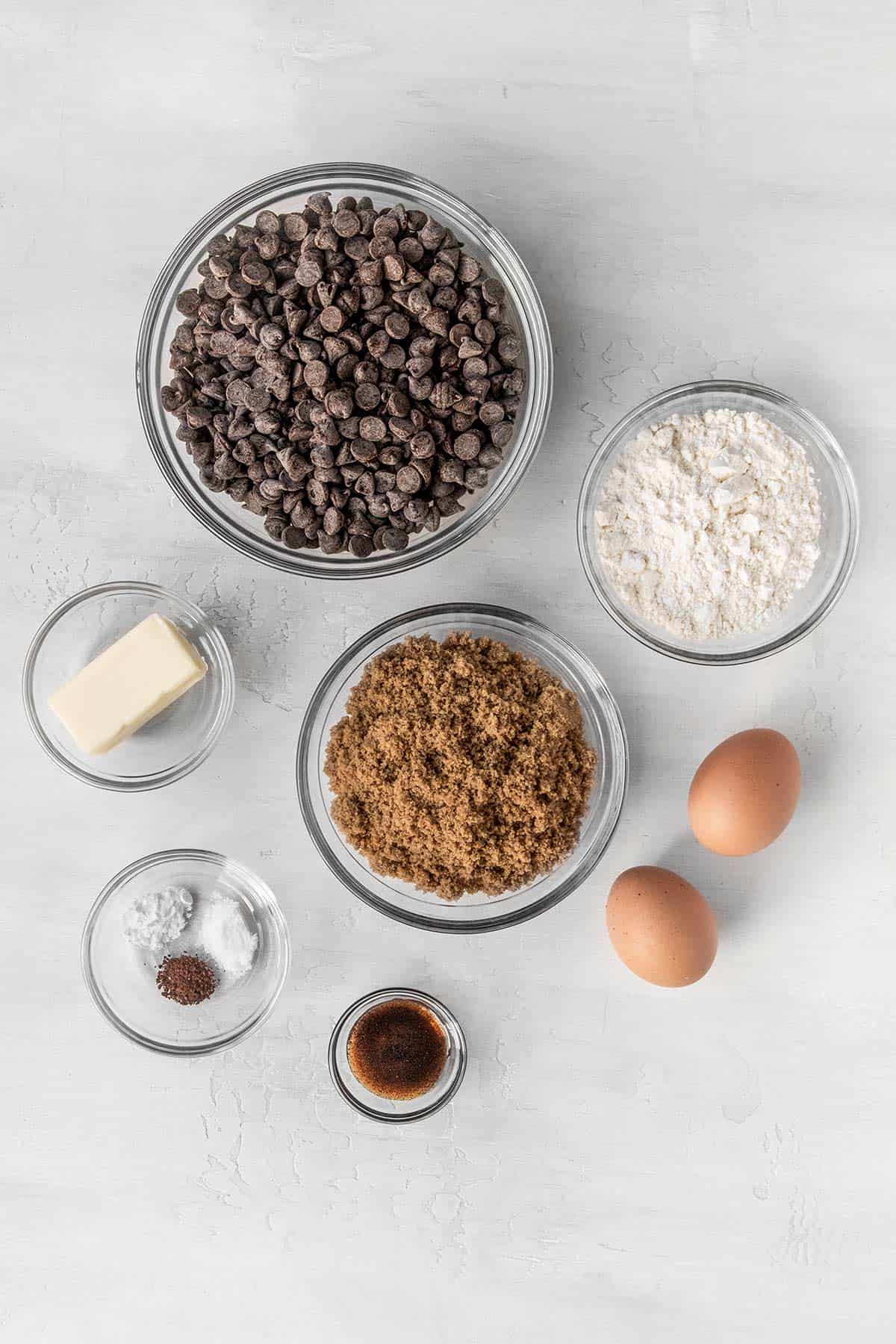 Ingredients
The recipe contains over a pound of chocolate! As such, it is best to use high quality chocolate.
Choose your favorite semisweet chocolate or dark chocolate. Chocolate chips, chocolate chunks, or chopped chocolate all work.
Keep in mind, chocolate chips will retain their shape during baking. Chocolate chunks and chopped chocolate will melt into soft, gooey puddles. Choose accordingly.
The remaining ingredients are your standard cookie dough line-up: flour, butter, baking baking, eggs, and sugar.
Recipe calls for dark brown sugar, but you may sub in light brown sugar. Dark brown sugar has slightly more molasses. This results in a richer, warmer flavored cookie.
Instant espresso powder is optional, but highly recommended. A touch of espresso powder does wonders in bringing out complex chocolate notes.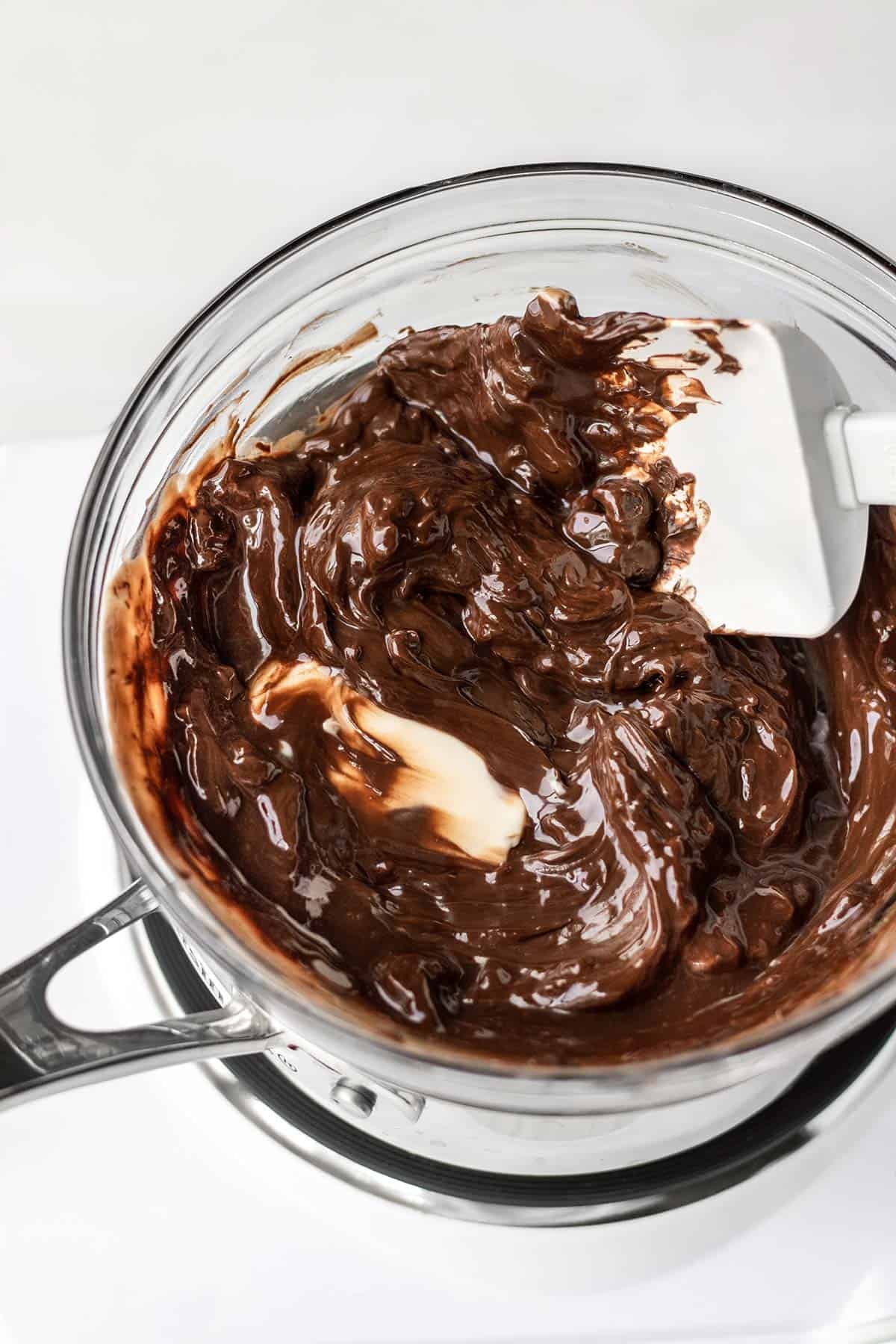 Tips for Melting Chocolate
There are two ways to melt chocolate: microwave or stove-top.
For this recipe, it is best to gently melt the chocolate chips stove-top over a bain-marie.
A bain-marie, or double boiler, is easy to set up. Place a glass bowl over a pot of barely simmering water. Ensure the bowl does not touch the water.
The steam from the simmering water will gently heat the chocolate chips.
GENTLE is key for melting chocolate. This indirect heating method keeps the chocolate "in temper."
Properly tempered chocolate has shine. It is smooth and does not turn "grainy" when set.
If you accidentally overheat the chocolate, it's best to start over. Otherwise, the cookies will not have the same shiny appearance as the ones shown here.
The addition of butter in the chocolate melting mixture helps to act as a buffer. This aids in preventing the chocolate from overheating.
Stir the chocolate mixture often as it melts to help eventually distribute heat as well.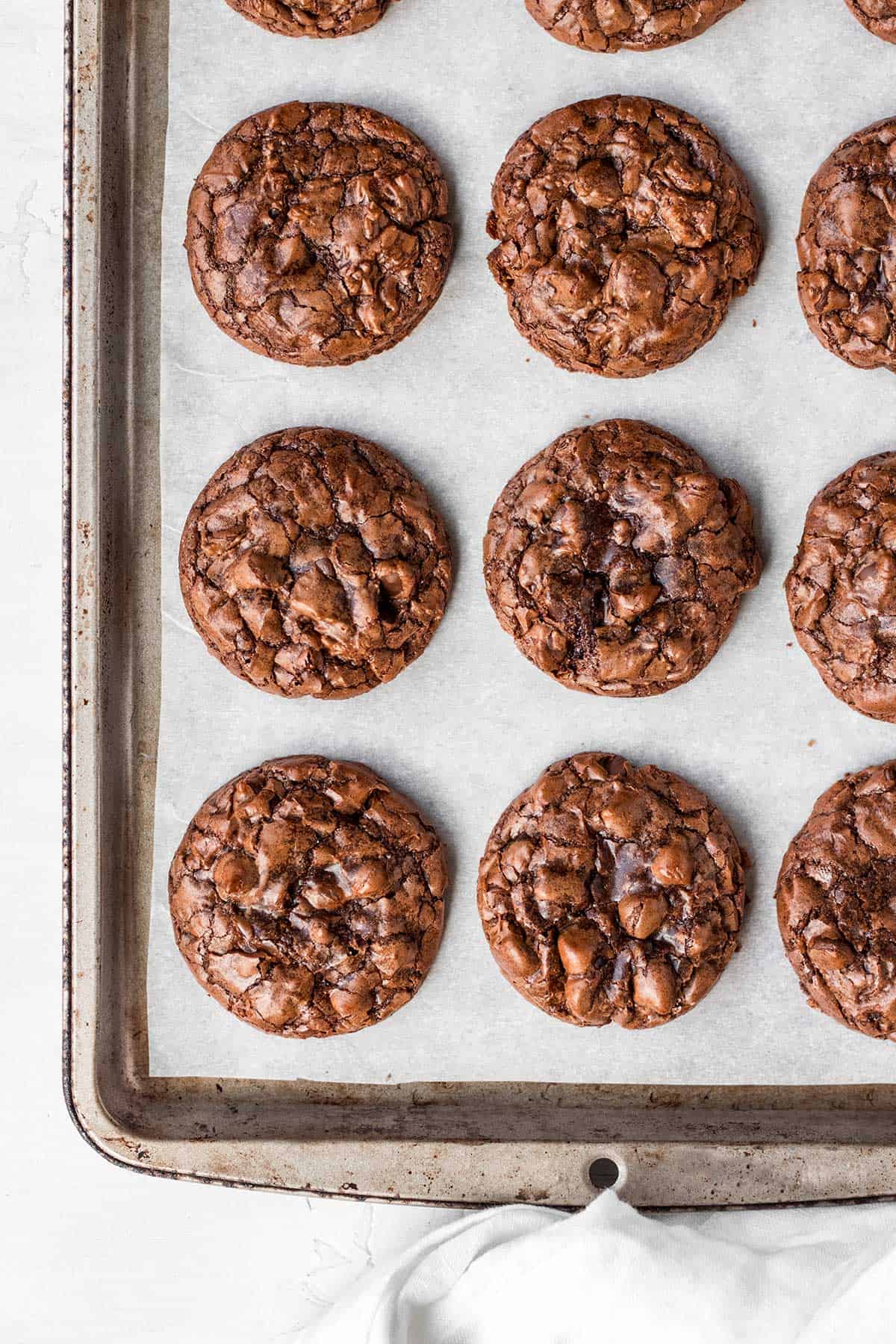 Even Uniform Cookies
Want even, uniform sized cookies? Use a cookie scoop to evenly portion out the dough!
I recommend this 1.5 tablespoon cookie scoop (size 40 scoop). This is a great all-purpose cookie scoop to have in your kitchen.
The same cookie scoop is used for these ube sugar cookies, matcha cookies, and double chocolate chip cookies.
Keep in mind, the baking time listed in this recipe needs to be adjusted should you choose to use a different size cookie scoop.
Baking 101
Cookie Scoop Sizes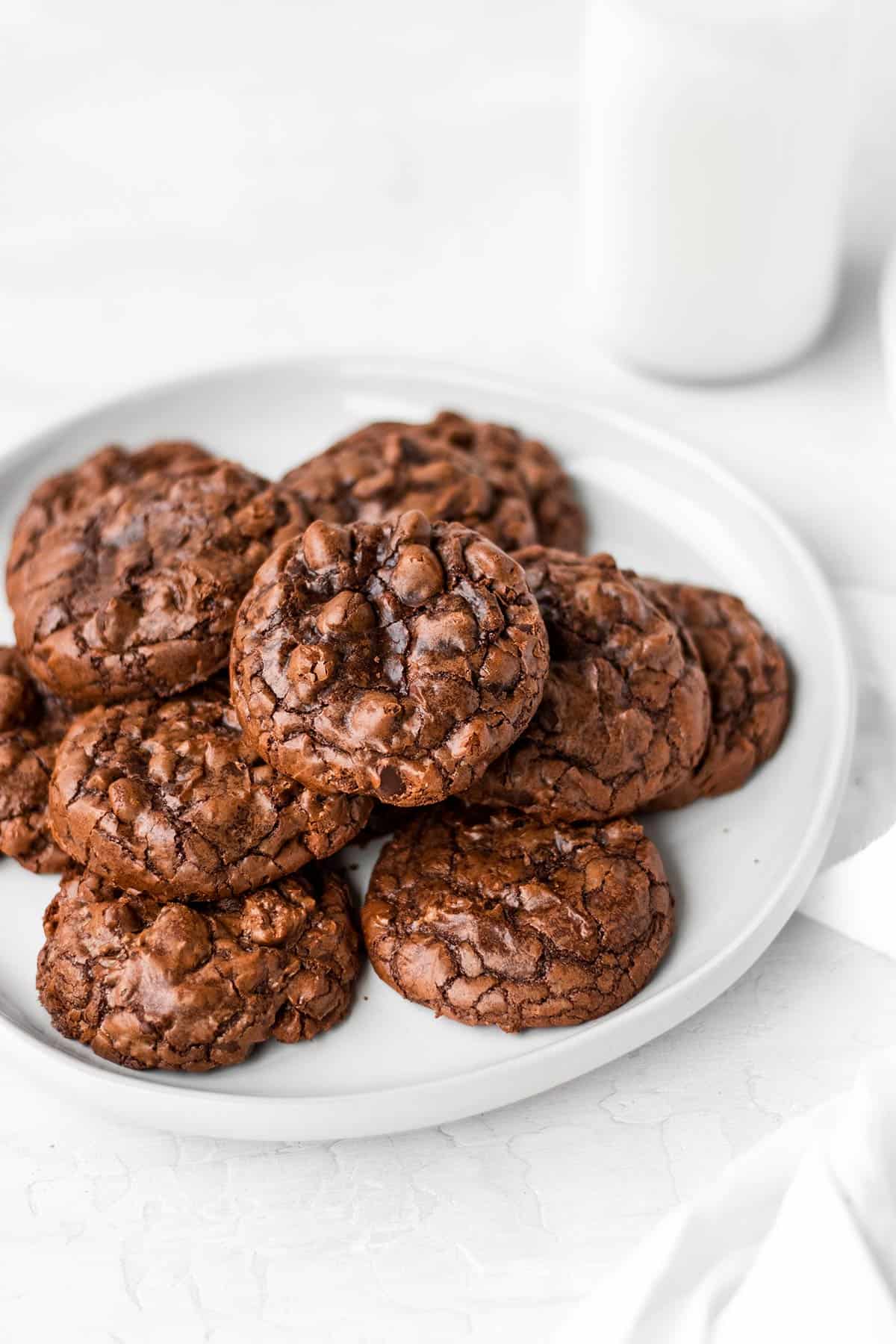 Underbaked vs Overbaked Cookies
When it comes to cookies, it is far better to err on the side of under-baked versus over-baked.
The cookies will continue to "cook" outside of the oven while it sits on the hot baking sheet.
Keep the cookies on the hot baking sheet for about 10 minutes. The cookies will be very soft and fragile directly out of the oven.
Then, transfer the cookies to a wire rack to cool further.
Decadent Chocolate Cookies
The name says it all These decadent chocolate cookies are sweet and rich. They are soft and chewy and sure to satisfy any chocolate craving!Yield: makes 2 dozen
Ingredients
8

oz

semisweet chocolate chips

4

Tablespoons

unsalted butter

⅔

cup

all-purpose flour

½

teaspoon

baking powder

½

teaspoon

fine sea salt

½

teaspoon

instant espresso powder , optional

2

large eggs, room temperature

¾

cup

dark brown sugar, packed

1

teaspoon

vanilla paste

12

oz

semisweet chocolate chips
Instructions
Over a bain-marie (water bath), gently heat 8 oz chocolate chips and butter until almost melted. Do not overheat. Chocolate butter mixture should be shiny and still in temper.

In another bowl, whisk together flour, baking powder, salt, and espresso powder. Set aside.

In the bowl of a stand mixer, beat together eggs, brown sugar, and vanilla until fluffy and light in color. Add melted chocolate and mix on low speed. Add dry mixture and mix until just combined. Fold in remaining 12 oz chocolate chips.

Scoop 1.5 Tbsp portions of dough 2 inches apart onto a parchment lined baking sheet. Bake for 10-14 minutes until cookies are shiny, crackly and still soft in the center. Cool on baking sheet for 10-15 minutes before letting cool completely on a wire rack.
Notes
The batter will look more like a brownie batter than a cookie dough.  If you overheat your chocolate butter mixture, your cookies will not be as shiny.
Espresso powder is optional, but highly recommended. It adds an extra depth of flavor to the rich chocolate.