Classic Irish coffee is a slightly sweet after dinner drink made with hot coffee, Irish whiskey, and a touch of cream.
During my recent trip to Ireland, I was told that everyone is a little Irish on Saint Patrick's Day!
I tried to investigate the origins of what we know as "Irish coffee" during our trip. Unfortunately, I came back empty handed.
There are numerous stories of how this iconic drink came to be.
Find Irish coffee and varying versions all over Ireland. At a coffee shop in Glendalough, we found:
Gaelic Coffee: fresh brewed coffee with Jameson whiskey, sugar, and smooth cream
Bailey Coffee: coffee with Bailey's and cream
Calypso Coffee: coffee with Tia Maria liqueur topped with cream
French Coffee: coffee with Cognac, brown sugar, and semi whipped cream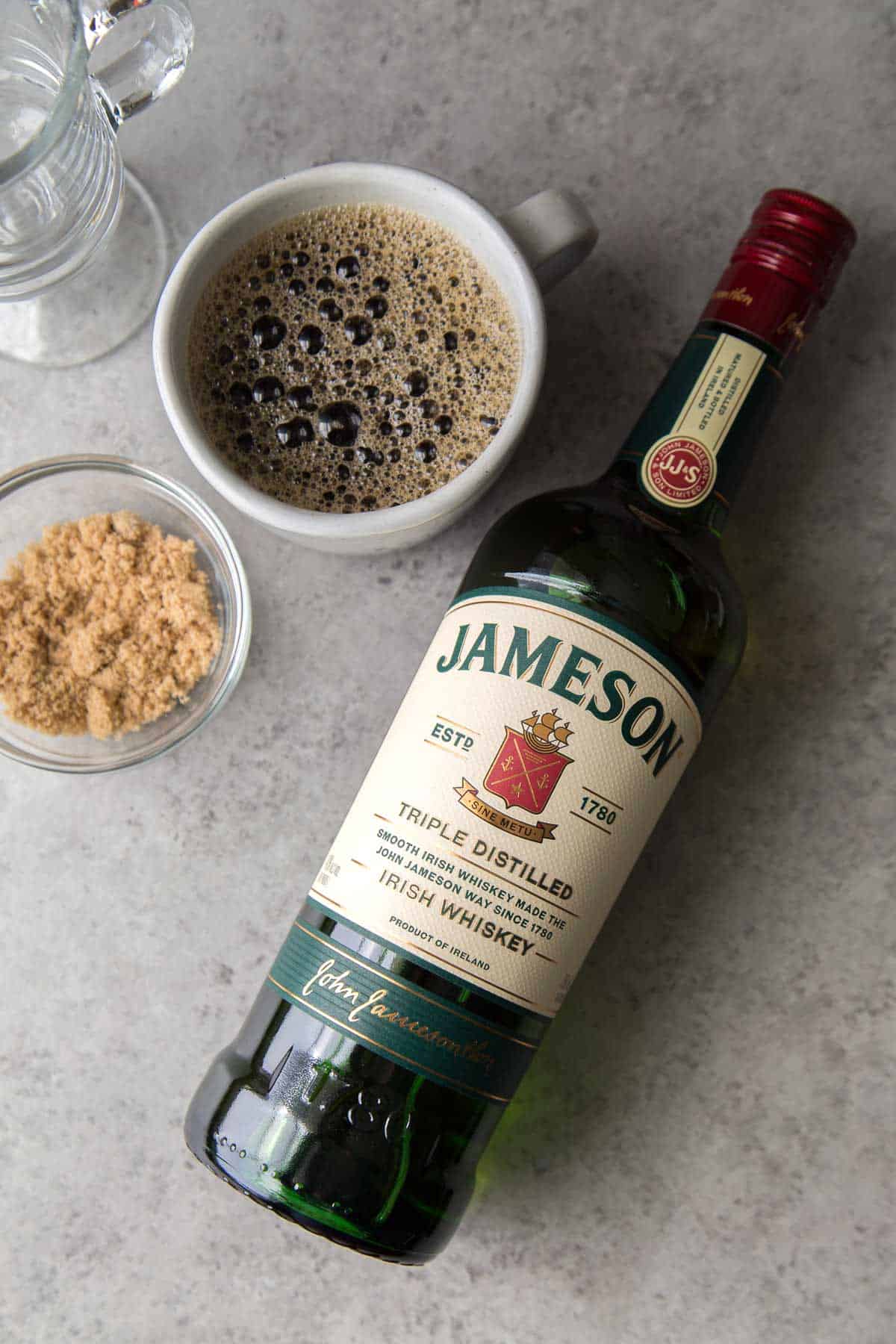 Jameson Irish Coffee
This classic coffee cocktail recipe is simple.
All you need are:
coffee
brown sugar
Irish whiskey
heavy cream
Customize the portions to your liking. Add more sugar for a sweeter coffee. Perhaps a bit more whipped cream for a creamier, more decadent drink.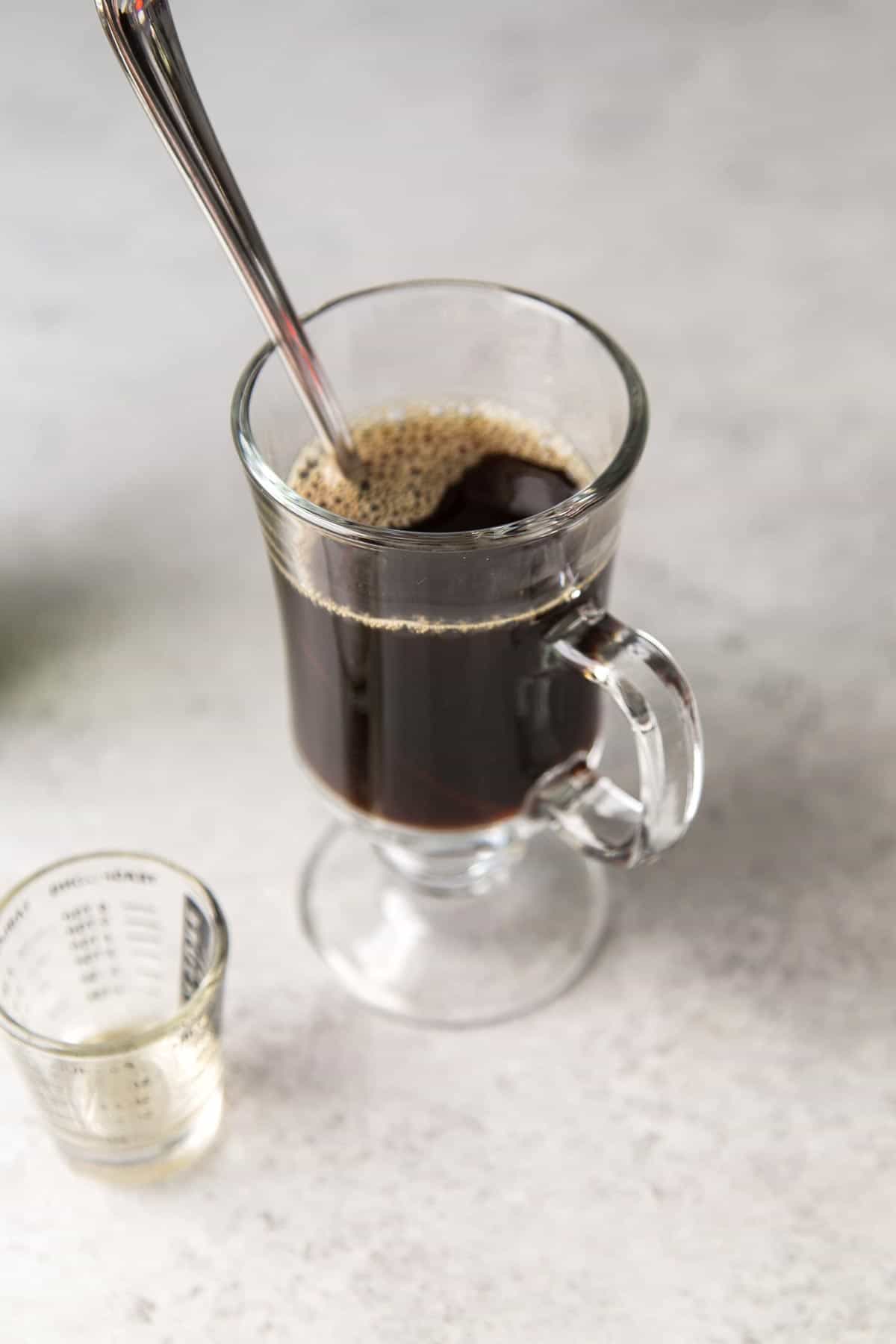 There are two ways to craft this cocktail.
One, layer all the ingredients in a serving mug.
Or, two, heat together coffee, sugar, and whiskey over the stove until sugar has dissolved. Pour into a serving mug a top with chilled, loose whipped cream.
I prefer the latter method.
Heating the coffee with the sugar helps to enhance the natural flavors in coffee.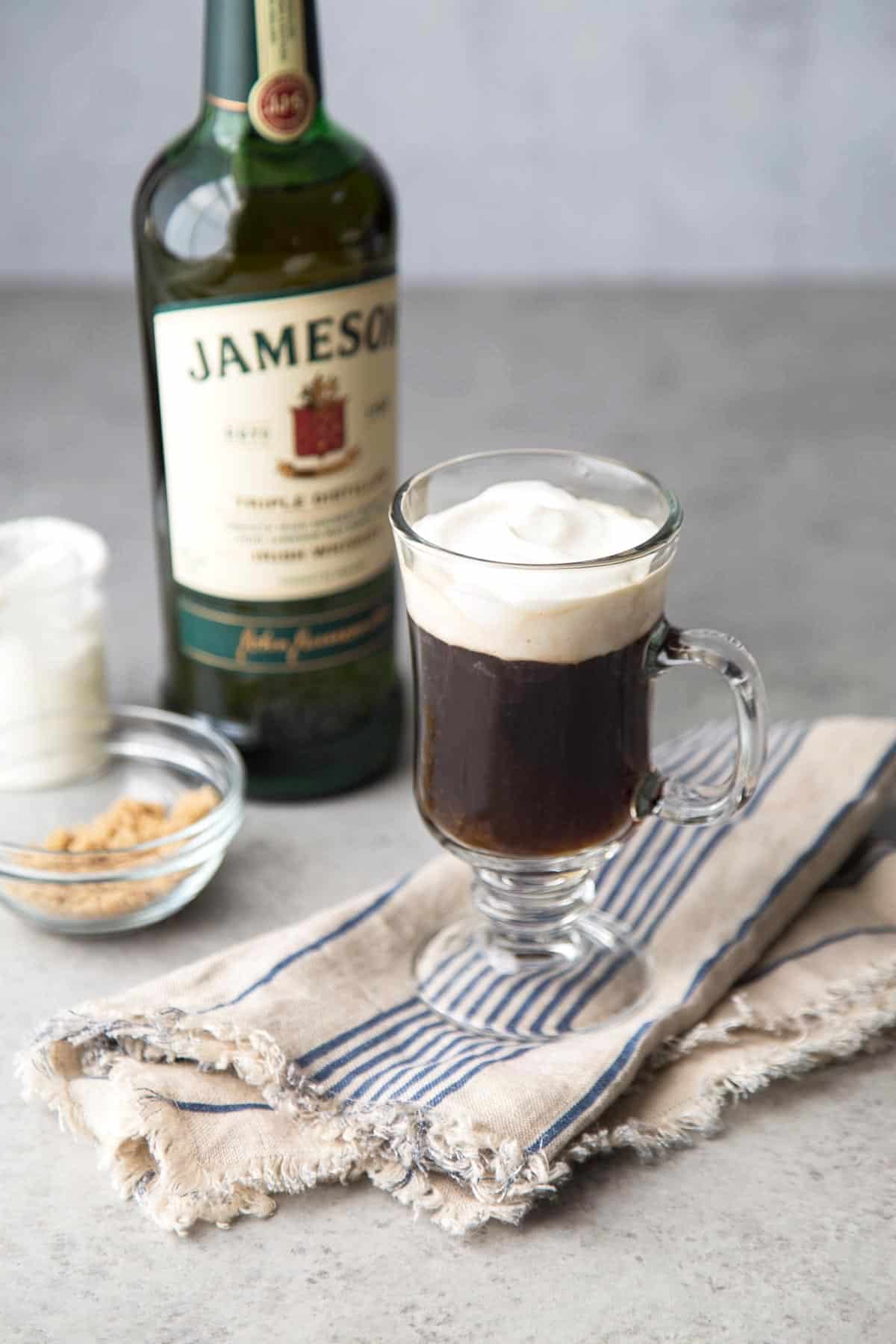 Whipped Cream Topping
While you could certainly used canned whipped cream, I highly suggest making whipped cream from scratch.
For this coffee beverage, a loose whipped cream topping works best.
Use heavy cream or heavy whipping cream. You may sweetened it with sugar, if desired.
The whipped topping is loose, almost like a foam. It is similar to the topping for sea salt coffee.
Ensure the mixing bowl and heavy cream is VERY COLD.
Whip the cream by hand using a whisk. Whisk until the cream has slightly thickened, just before it turns into soft peaks.
The whipped cream topping should be pourable.
Save time and make the whipped topping in advance. Store in an airtight container in the fridge for up to three days.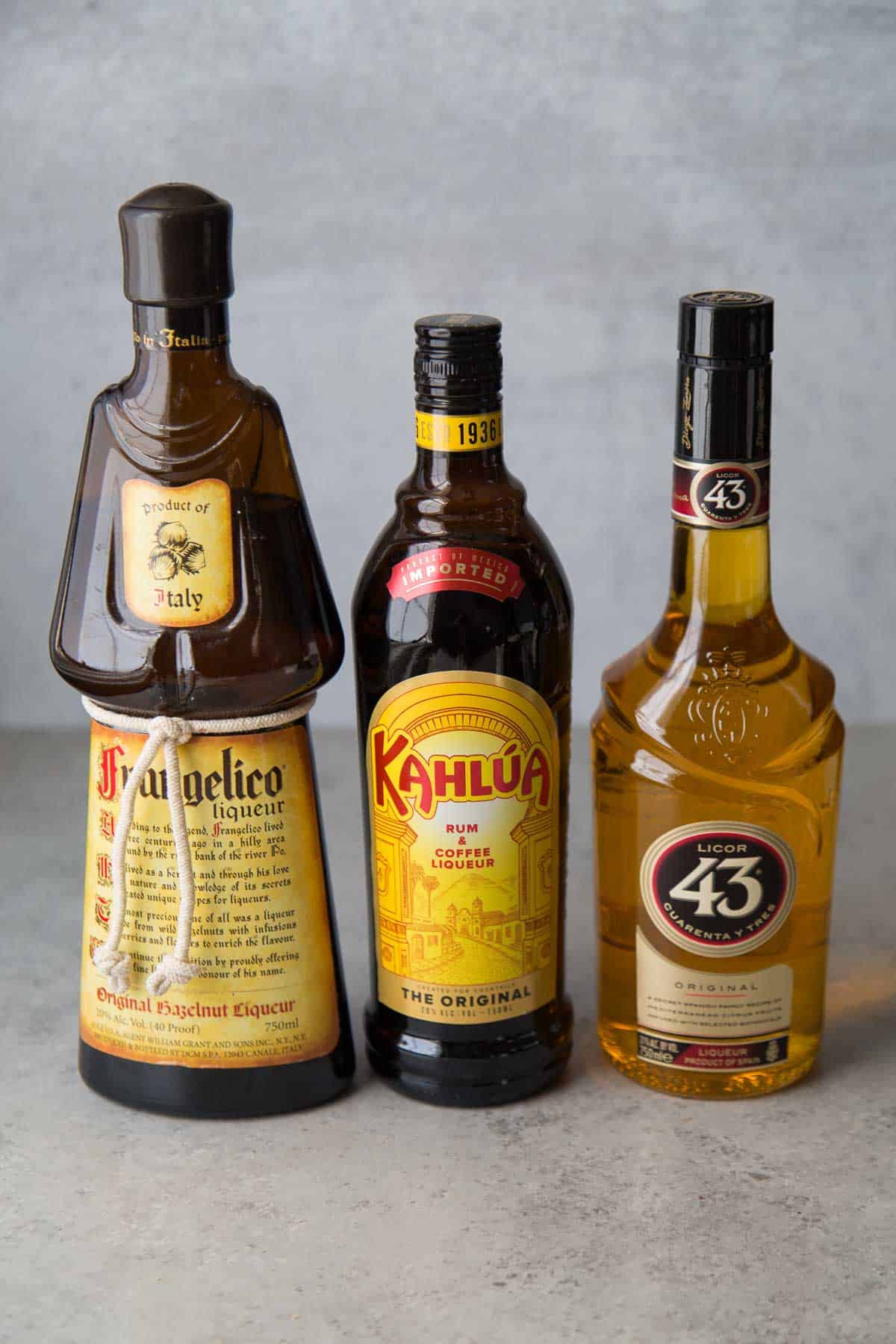 Liqueur Spiked Coffee
Once you've mastered classic Irish coffee, go ahead and experiment with other liquors and liqueurs.
Liquor is a distilled alcohol made from fermented mash of grains. Examples: rum, gin, brandy, vodka, or tequila.
Some recommended liqueurs are photographed above. Liqueurs are a sweet alcohol flavored with herbs, spices, fruits, or flowers.
Liqueurs are extensively used in desserts as flavoring agents. They are most commonly used in after-dinner drinks and referred to as cordials.
Along with whiskey, you may add about an ounce of:
Frangelico: Hazelnut Italian liqueur. It has nutty flavors with hints of vanilla and chocolate.
Kahlua: Sweet rum and coffee liqueur. Tastes of sweet butter and caramel.
Licor 43: Spanish liqueur with intense sweet vanilla and bright citrus notes.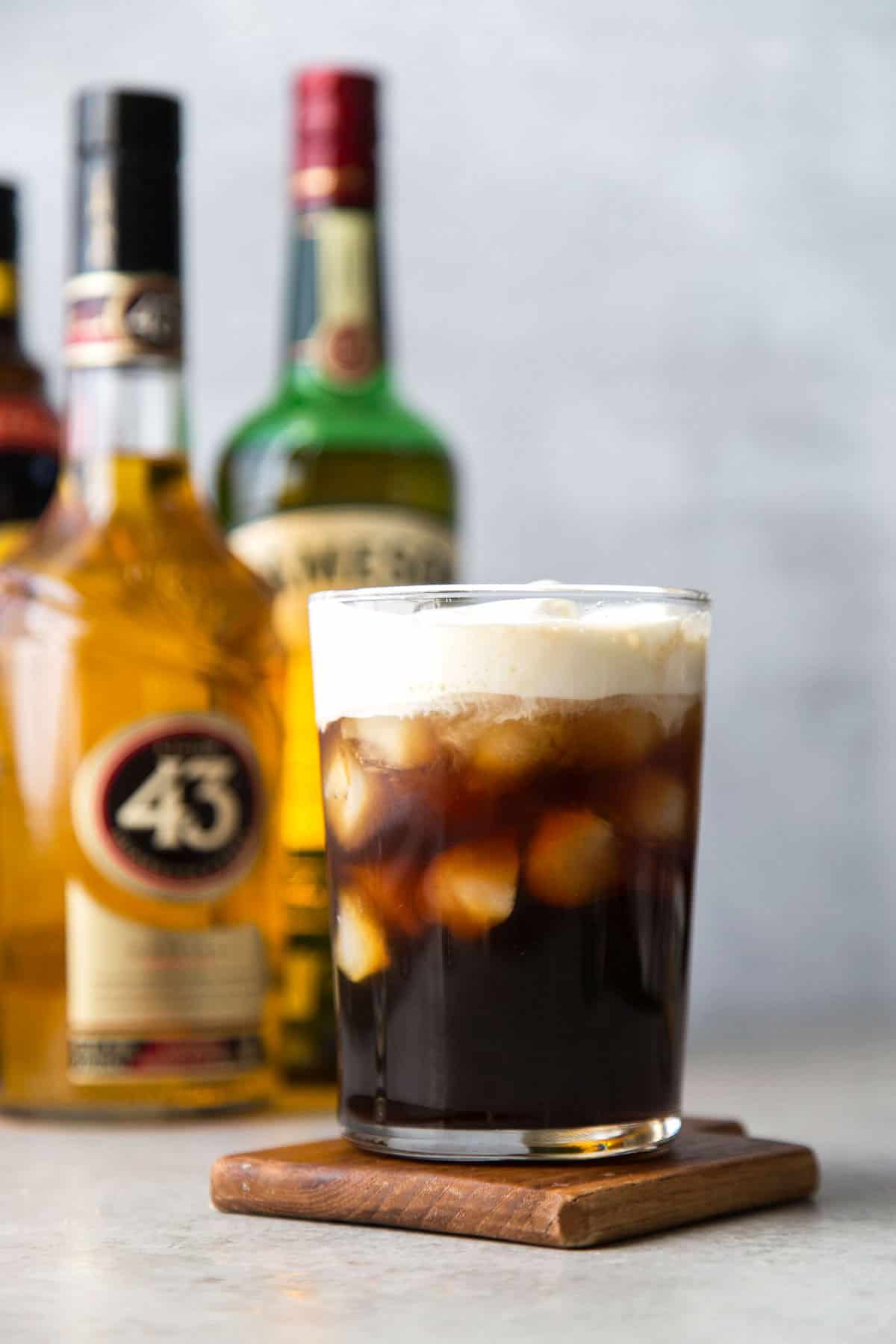 Modern Iced Coffee Cocktail
A warm cup of Irish coffee is great after dinner. It's fantastic during the chilly winter months.
However, as soon as the weather heats up, I prefer chilled beverages!
My iced coffee cocktail photographed above combines cold brew coffee with brown sugar simple syrup, whiskey, Licor 43, and a sea salt whipped topping.
Bonus Recipe
Iced Coffee Cocktail
To ensure the whipped topping stays afloat on top, pour the loose whipped cream over the back of a spoon to gently layer it over the coffee.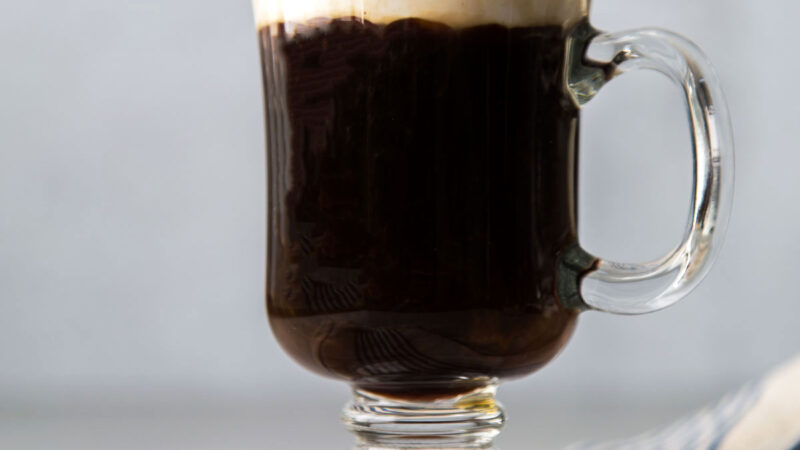 Classic Irish Coffee
Classic Irish coffee is a slightly sweet after dinner drink made with hot coffee, Irish whiskey, and a touch of cream.
Ingredients
4

oz

hot coffee

( ½ cup)

1

Tablespoon

brown sugar

1 ½

oz

Irish whiskey

of choice
Whipped Cream Topping:
2

oz

heavy cream

(¼ cup), very cold

sweetener

as needed, optional
Instructions
Hot Method: Combine fresh brewed coffee with brown sugar and whiskey in a small sauce pot. Set over medium heat and cook until sugar has dissolved. Pour into serving mug and top with whipped cream*.

Room Temp Method: Combine fresh brewed hot coffee, brown sugar, and whiskey in serving mug. Top with whipped cream*.
Whipping Cream Topping:
Whisk cold cream in a chilled bowl until soft peaks, just until cream has thickened. The mixture should be pourable consistency. Keep cover and chilled until ready to use. May be made in advanced, up to three days.
Notes
*Pour cream over the back of a spoon. This allows the cream to float in a layer over the coffee-whiskey mixture.