These Guinness brownies are topped with butterscotch fudge and garnished with a crunchy salted pretzel.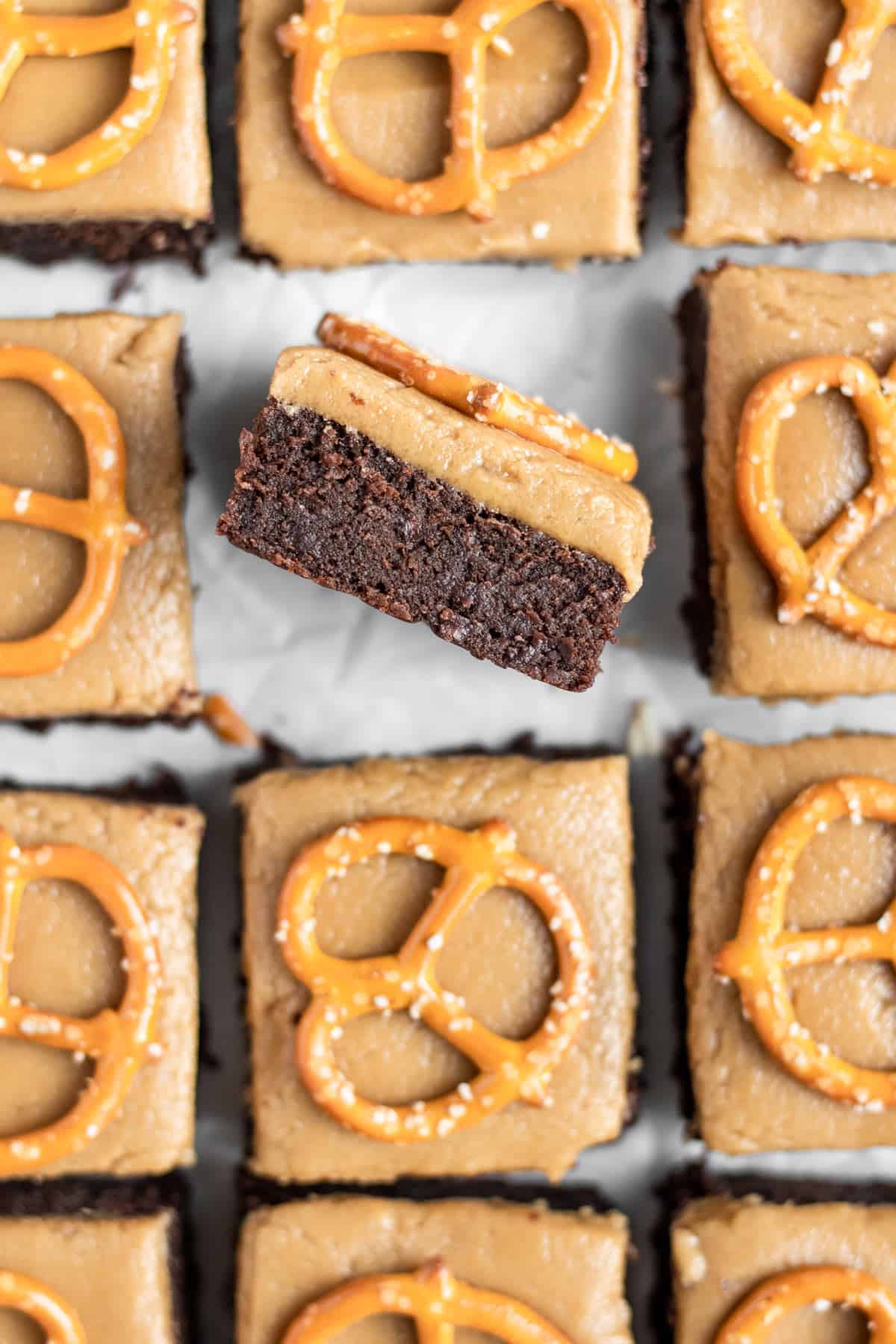 Its official. The Giants versus the Patriots on February 5th.
I've been trying really hard to understand and enjoy watching football. I have my dad, boyfriend, and a best friend that keep trying to explain to me the intricacies of the game. Don't lose hope, one day I'll get it.
For now, its okay that I'm not fixated on the game. Someone, meaning me, has to be in charge of preparing the finger foods and bite sized desserts for people to enjoy on game day. Isn't that a win-win situation?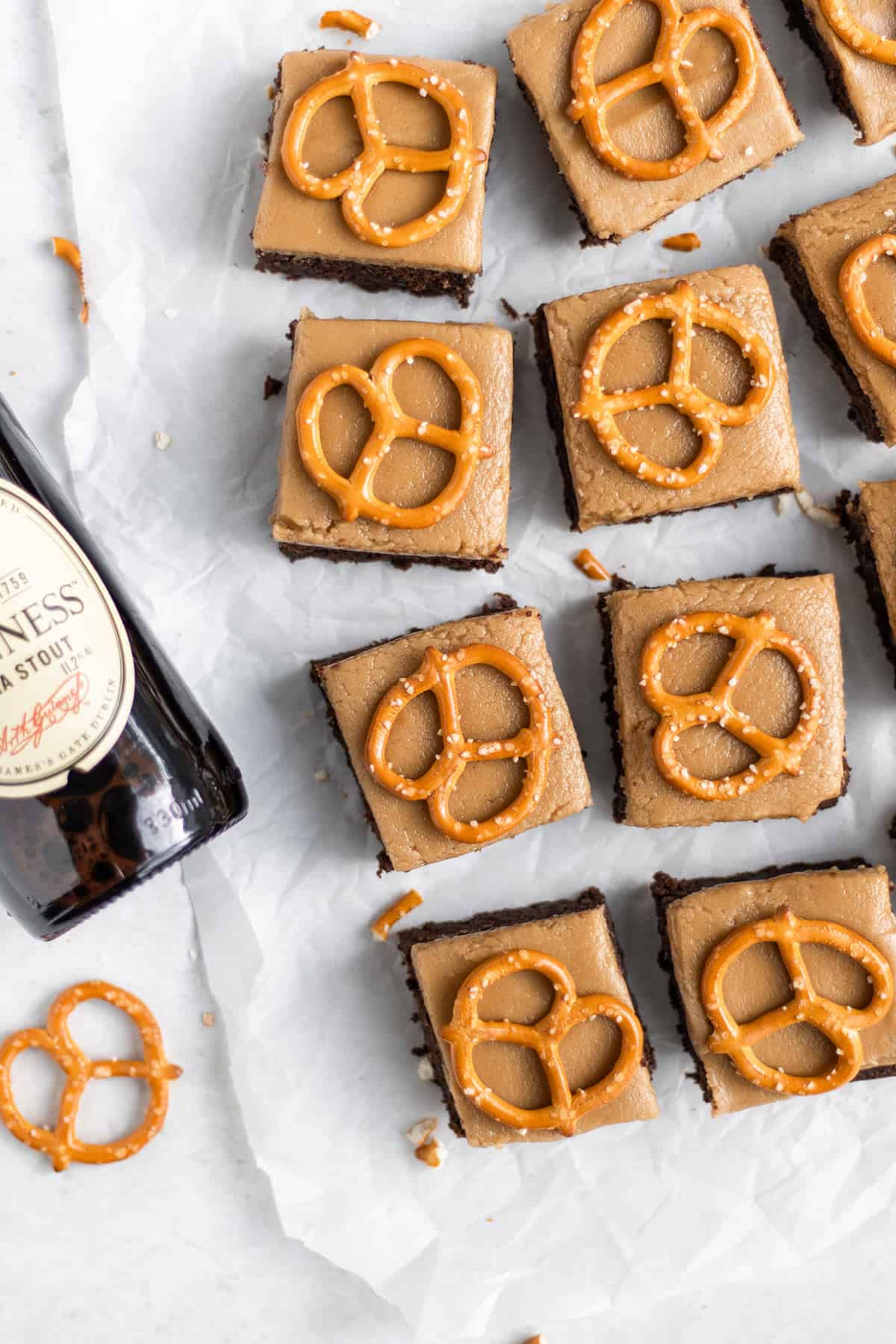 What's sure to be at every Super Bowl party? Some beer, pretzels, and probably some brownies. Mix it all together and you get my Guinness brownies with butterscotch fudge and salted pretzel. I would be more than happy to watch the 4th quarter with a couple of these brownies by my side.
If you are not a beer fan, do not worry. The Guinness is not overpowering. Much of the alcohol is cooked off and the slight bitterness the stout beer is mellowed out by the chocolate and the sweet butterscotch. T
he secret to these brownies are the salted pretzels that keep you coming back for more. This recipe makes about 40 bite-sized pieces. That should be enough to hold you and your guests over until half-time.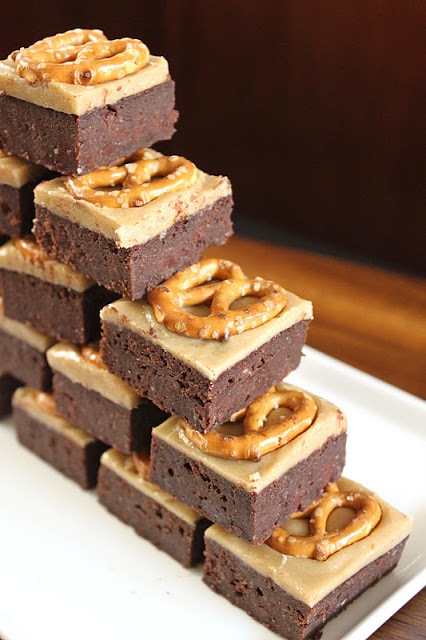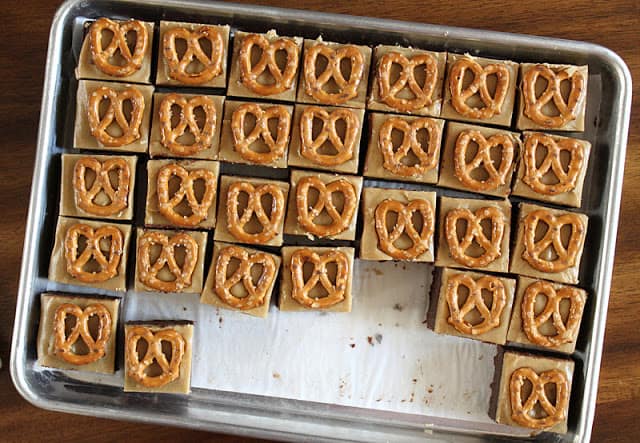 Guinness Brownies with Butterscotch Fudge
These Guinness brownies are topped with butterscotch fudge and garnished with a crunchy salted pretzel.Yield: 9×13-inch pan
Ingredients
Guiness Brownies
3

oz

unsalted butter

8

oz

dark chocolate, chopped

½

cup

granulated sugar

½

cup

dark brown sugar, packed

3

extra large eggs

1

cup

all-purpose flour

½

cup

unsweetened cocoa powder

¼

teaspoon

fine sea salt

1 ¼

cup

(10 oz) Guinness, or any stout beer

1

cup

mini chocolate chips
Butterscotch Fudge
½

cup

unsalted butter

1

cup

dark brown sugar,

packed

⅛

teaspoon

kosher salt

2

cups

confectioners' sugar,

sifted

3

Tablespoons

heavy cream

½

teaspoon

vanilla paste

or pure vanilla extract

salted pretzels, as needed to garnish
Instructions
Guiness Brownies
Preheat oven to 350°F.  Line sheet tray with parchment paper.  Grease pan extenders and place above sheet tray.  Or, use any 9'' x 13'' baking pan.

In a large saucepan, melt butter and chocolate over medium-low heat. Once melted, add sugar and brown sugar. Stir to combine. Remove from heat.

Transfer batter to the bowl of a stand mixer with a paddle attachment. Add eggs one at a time, making sure each egg is fully incorporated before adding the next.

Whisk together flour, cocoa powder, and salt. Alternate adding dry mixture and Guinness to the batter. Starting and ending with the dry mixture. Fold in chocolate chips.

Pour into prepared pan. Bake for 25-30 minutes until toothpick inserted in the center of the brownie comes out clean. Let cool on rack.
Butterscotch Fudge
In a medium sauce pan, melted butter and brown sugar.  Heat over medium heat until sugar mixture starts to boil.  Let simmer for one minute.  Then remove from heat.  Add salt.

In the bowl of a stand mixer with a paddle attachment, mix confectioners sugar, cream and vanilla. Once mixture is paste like, slowly add the slightly cooled butter-sugar mix. Beat at low-medium speed until thoroughly combined.

Immediately pour over cooled brownies and level with an offset spatula. If desired, place pretzels on top of fudge. Let fudge set before cutting. Serve same day.
Notes
Serving & Leftovers:
Serve same day. Pretzels will get stale overtime.

If the brownies are going to sit out awhile, I suggest chocolate covered pretzels.