These banana cream tarts are made with a sweet dough and filled with melted chocolate, vanilla pastry cream, banana slices and a drizzle of caramel sauce. It is topped with whipped cream and garnished with dark chocolate shavings.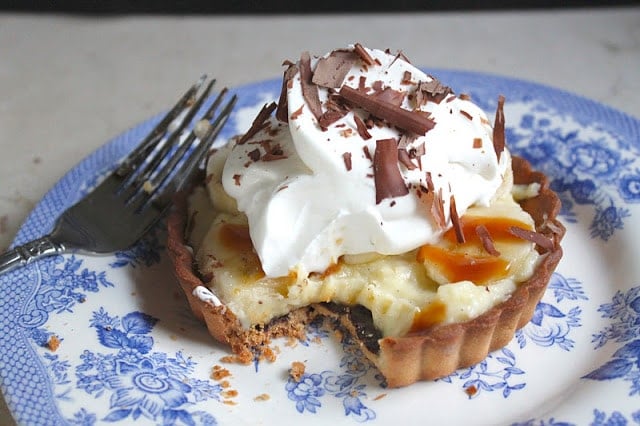 I did something really momentous this Sunday. I completed my first half marathon! Yes, I'm one step closer to taking on a full 26.2 mile marathon!
To celebrate this big feat, I had to make myself something very special.
Circa 2010 while my boyfriend and I lived in Napa, we would drive out to San Francisco once a month to get banana cream pies at Tartine Bakery. It was something I looked forward to all month. I didn't care about the long drive, 30 minutes it would take us to find street parking, or the line that wrapped outside the bakery. I just wanted that pie.
After I finished my half marathon, I was handed a banana and all I could think about was that pie once again.
Banana nutrients:
Bananas are crammed full of good stuff. Apparently, the vitamins and nutrients found in bananas aid in muscle recovery. That's great for me!
Potassium prevents muscle cramps. Vitamin C and manganese help build strong bones and aid in speeding up the muscle recovery process. That is exactly what I need after a 13.1 mile run.
Plus, bananas are good for your digestion, as they contain about 16 percent of your daily requirements for fiber.
Banana Cream Tarts
Too bad the rest of the components of this amazing banana cream tart are not so good for you.
Components:
baked tart shells
melted chocolate
caramel sauce
chilled vanilla pastry cream
sliced ripe bananas
whipped cream
dark chocolate shaving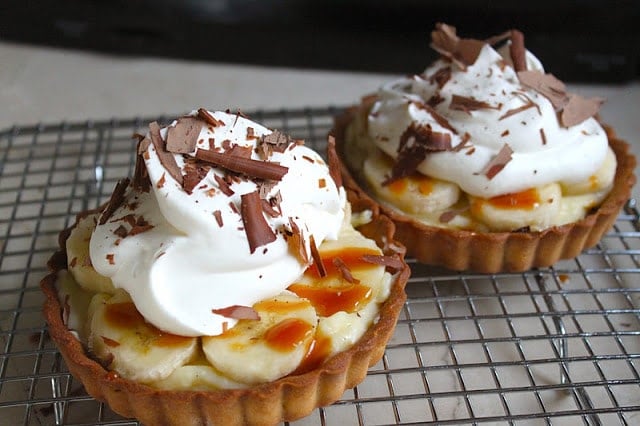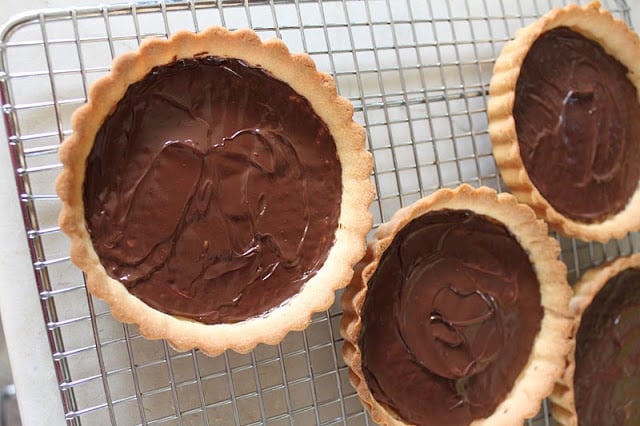 The buttery tart shell holds up really well. It doesn't get soggy. The layer of decadent dark chocolate provides a layer of protection between the tart shell and the sweet moist pastry cream.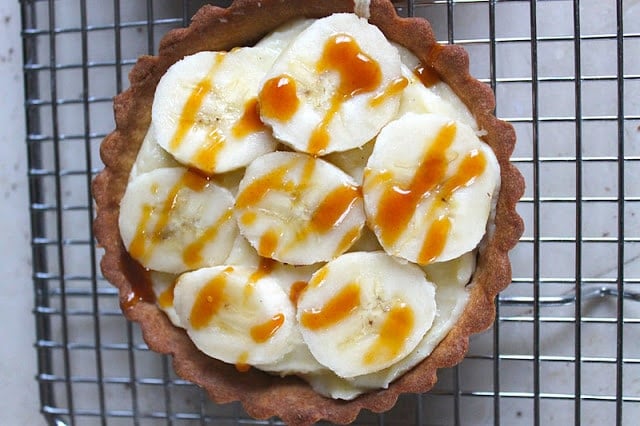 Since the pastry cream uses whole eggs, it is not as rich as traditional French pastry creams that only use egg yolks. I prefer this lighter pastry cream that is balanced out with whipped cream.
One of my favorite parts of this tart is the little caramel scattered throughout the pie. The caramel doesn't steal the show, but helps to complement the other sweet components.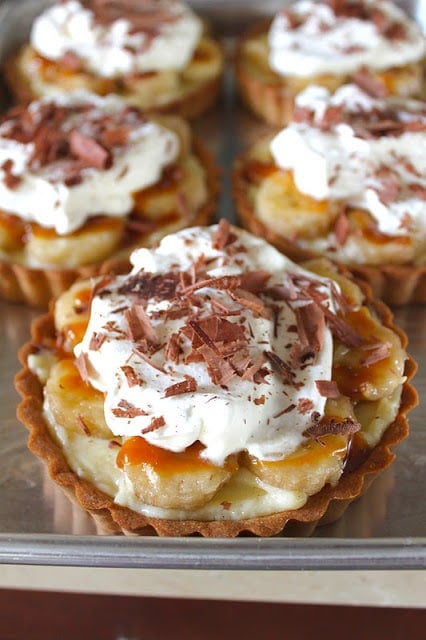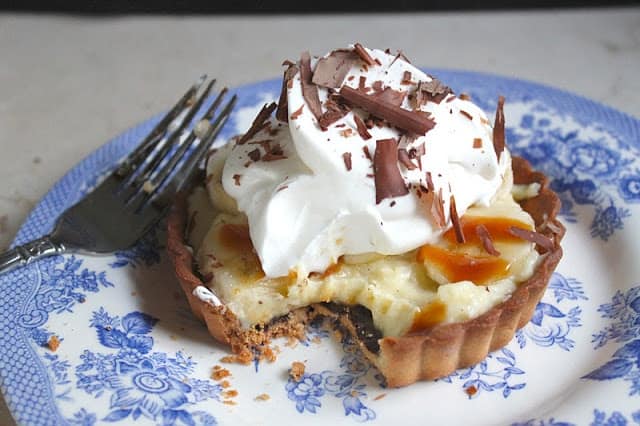 Banana Cream Tarts
Yield: eight 5-inch tarts
Ingredients
Sweet Tart Dough
1/2

cup

unsalted butter, room temp

1/2

cup

granulated sugar

1/8

teaspoon

fine sea salt

1

large egg, room temp

1 3/4

cup

all-purpose flour
Pastry Cream
16

oz

(2 cups) whole milk

1/4

teaspoon

fine sea salt

4

oz

granulated sugar

3

Tablespoons

cornstarch

2

large eggs

2

oz

unsalted butter, cut into tablespoons

1/2

teaspoon

vanilla paste
Caramel Sauce
1/3

cup

granulated sugar

3

Tablespoon

water

4

Tablespoon

unsalted butter, cut into tablespoons

1/3

cup

heavy cream
Whipped Cream
1

cup

heavy cream, cold

2 1/2

Tablespoons

granulated sugar
Other Components
1/2

cup

dark chocolate, roughly chopped and melted

3

ripe bananas, cut into 1/2-inch slices

chocolate shavings, to garnish
Instructions
Sweet Tart Dough
Using a stand mixer with a paddle attachment, cream butter, sugar and salt until smooth. Add egg and mix until combined.

Stop the mixer and scrape down the sides of the bowl. Add in all the flour and mix on low until just incorporated.


Turn dough out onto a lightly floured surface. Divide the dough into two parts and shape into a disk around 1/2 inch thick. Wrap well in plastic warp and chill 1 hour or overnight.


Preheat oven to 350 degrees.


On a lightly floured surface, roll out dough to 1/8 inch thick. Cut out a circle a little bigger than the tart mold- about 6 1/2 inches in diameter. Carefully transfer circle to the tart mold, pressing it gently into place. Trim the dough level with the tart mold by rolling the pin over the edges.


Dock the bottom of the tart shell with a fork. Bake for 15-20 minutes. The tart shell should be golden brown. Let cool completely on wire racks.
Pastry Cream
Pour the milk into a large saucepan. Add salt and 3 tablespoons of the sugar. Place over medium-high heat and bring to a boil. Stirring occasionally to make sure the milk does not burn along the sides or bottom of the pan.

Meanwhile, in a mixing bowl, whisk together remaining sugar and cornstarch. Add the eggs and whisk until smooth.


When the milk has boiled, slowly add a little bit of the milk into the egg mixture. Whisk constantly to distribute the heat. Continue to pour more milk until a couple tablespoons are left in the saucepan. Then pour the egg-milk mixture back into the saucepan.


Whisk constantly over medium heat until the custard has thickened. To cook the cornstarch out, heat the custard until it boils. Remove from heat. Whisk in butter one tablespoons at a time. Whisk until smooth. Add the vanilla paste and whisk until combined.


Pour pastry cream into a plastic wrapped sheet pan. Spread evenly. Cover with plastic wrap and freeze for 10-15 minutes until pastry cream has cooled to room temperature.


Remove from freezer and continue to cool in refrigerator until ready to use.

Caramel Sauce
In a medium saucepan, combine sugar and water. Heat over medium-high heat until sugar dissolves. Continue to heat until sugar mixture is lightly golden brown in color. Make sure not to distribute sugar mixture while it is heating up. Do not whisk or stir the pot, otherwise you will get a lumpy caramel.

Remove from heat and add butter. Whisk until butter dissolves. Add heavy cream. Be careful, the mixture will bubble and rise as soon as you add the cream. Whisk until smooth. Let cool until ready to use.

Whipped Cream
Pour heavy cream into a mixing bowl and whip with a whisk by hand or in a stand mixer with a whisk attachment. Whisk until slightly thick and then add sugar. Continue to whip until it holds medium-firm peaks.

Keep chilled until ready to use.
Assembly
Spread a thin layer of melted chocolate in each baked tart shell. Let sit at room temperature for a couple minutes until chocolate sets. Or, place in the refrigerator for 5 minutes to speed up the process.


Once chocolate has set, drizzle a little bit of caramel on top. Spoon enough pastry cream to fill the tart shell. Spread into an even layer. Arranged sliced bananas on top of pastry cream. If desired, drizzle caramel on top of bananas.


Spoon a dollop of whipped cream on top of bananas. Finish with dark chocolate shavings. Keep tart chilled until ready to serve.