This bright and cheerful rainbow cake features 6 cake layers enrobed in Italian buttercream.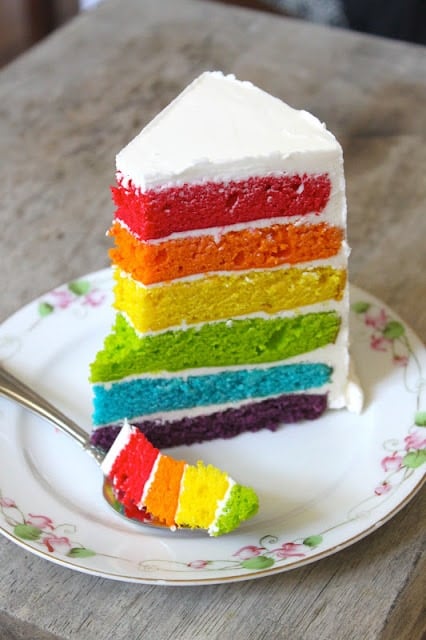 As children we are told that we could find a pot of gold at the end of the rainbow. Years later after a couple science classes, you realize that the ends of rainbows are always moving depending on where the viewer is standing. That's when the term "chasing rainbows" clicked in my head.
It doesn't matter. I still look for rainbows after the storm.
I love Kermit's "Rainbow Connection." He sings about how the rainbow is something to wish upon, that rainbows have the power to answer our hopes and dreams. In the Wizard of Oz, Dorothy sings of a world in peace and harmony in "Over the Rainbow."
Its no wonder that the rainbow flag as been a symbol of hope and social change throughout history. Which brings me to the real reason I made this rainbow cake. Last week, Proposition 8 was overturned in California! Its a small step, but a step forward nonetheless.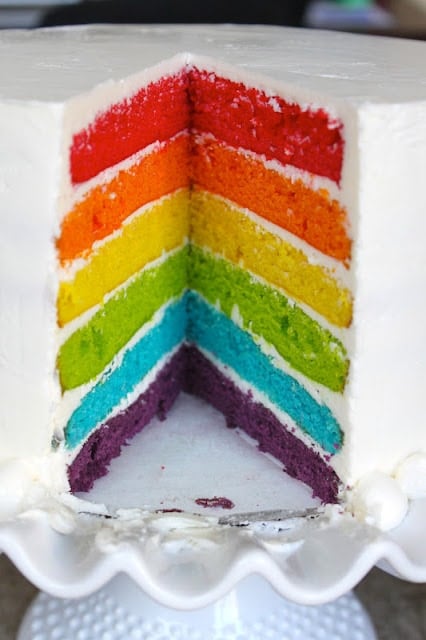 I think this is the perfect celebration cake for this momentous event. On the outside it seems like a boring vanilla white cake. But once you slice into it, you get this surprising happy pop of color and excitement.
I am a firm believer of equality. History has shown us that progress takes time. Look how long it took for women to gain the right to vote. How about how long it took before interracial marriage was legal in all states of the US?
This is a baking blog, after all, so I will not delve too much into the controversial or political topics. But this happens to be a matter very near and dear to my heart. In the end, I think it all boils down to love.
Love is hard enough to find. Those who find it and very lucky and fortunate. So, why deny people in love the right to get married? I was taught that love is something to be treasured, something to be celebrated, and something to be proud of. Any one who has ever fallen in love knows that you cannot choose who you fall in love with.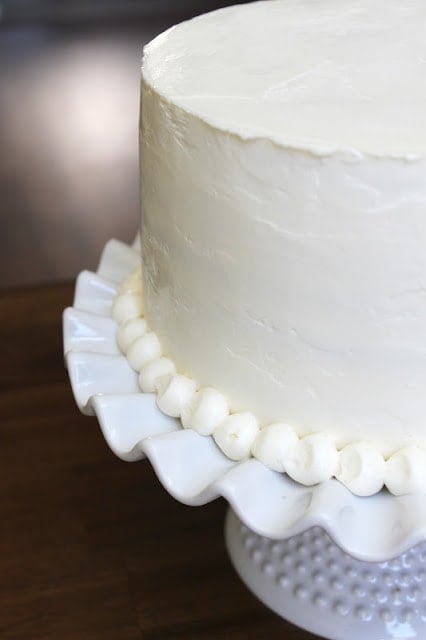 This battle for equality will be my generation's Loving vs. Virginia. I suggest looking it up. It was something that really struck a chord with me when I learned about it in college.
My favorite quote ever: "Le coeur a ses raisons que le raison ne connait pas." Translated meaning, the heart has reasons that reason does not understand. In any language, time period or alternate universe, love is love and it doesn't need an explanation. Just because you don't understand something doesn't mean its not right.
Equality takes time. Progress takes time. Just like everything else that happened in history, it takes time. Change just doesn't happen overnight.
You can't lose hope. I'm very optimistic. In my book, the good will always prevail– just look to any comic book super hero for validation.
This is a cake about happiness, peace, and equality. There is nothing sad about rainbows and all those beautiful colors in harmony together.
Happy Valentine's Day!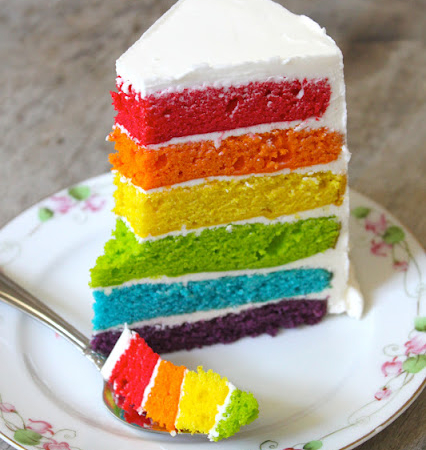 Rainbow Cake
Yield: 9-inch cake layers
Ingredients
1

cup

unsalted butter, room temp

2

cups

granulated sugar

5

large egg whites, room temp, lightly whisked

1 1/2

teaspoon

vanilla paste

1/2

cup

sour cream, room temp

3

cups

all-purpose flour

1

Tablespoon

baking powder

1

teaspoon

baking soda

1/2

teaspoon

fine sea salt

1

cup

whole milk

soft gel paste food colors*

super red, lemon yellow, electric orange, electric green, electric blue, and royal purple
Instructions
Preheat oven to 350 degrees F. Gather as many 9" round cake pans as you can find. I only had two, so I had to clean the pans between baking. Butter and line the cake rounds with parchment paper rounds. Set aside.

In a bowl of a stand mixer with the paddle attachment, cream butter. Add sugar and continue to cream until lighter in color. Slowly add egg whites to the butter on low-medium speed. Add vanilla paste and sour cream. Mix until thoroughly combined.


In a medium bowl, whisk together flour, baking powder, baking soda and salt.

Alternate adding flour mixture and milk to the creamed mixture. Add the flour in three additions, beginning and ending with the flour.

If you have a kitchen scale, transfer the batter to another bowl and weight it out. Take the weight and divide it by 6. My total weight was 1530 grams. Divide by 6, it was 255 grams. Measure of 255 grams of batter into 6 small bowls. If you don't have a scale, it was roughly 3/4 cup of batter into 6 bowls.

Add food coloring to individual bowls. I used about 4-8 drops of coloring for each. Some colors required more gel than others to get the vibrant hues I wanted. Be sure to use food gels. Adding liquid food coloring will make your batter too runny and thin.


Transfer colored batter to prepared cake pan. Bake for 13-15 minutes until cake is set. Let cool in pan for 3 minutes before unmolding and allowing to cool completely on the racks. Continue to bake off cakes until you have completed all six colors

Italian Meringue Buttercream
Ingredients
12

oz

granulated sugar

3

oz

water

3/4

cup

egg whites

18

oz

unsalted butter, cut into 1-inch cubes, room temp
Instructions
In a saucepan, combine sugar and water. Stir until it resembles wet sand. Set to high heat and cook and cook until candy thermometer reads 245 degrees F. While the heat is on, DO NOT stir or disturb the sugar solution. Agitation will cause unwanted cystallization. If any sugar splashes onto the sides of the saucepan, use a clean pastry brush soaked in water to dilute any crystal formation.

While the sugar is cooking, whip the egg whites in the bowl of a stand mixer with a whisk attachment. Keep it at low speed until whites are foamy (it should look like the foam on top of beer). Once foamy, begin whipping at medium speed. Before you add the sugar, lower the speed slightly.

Once sugar reaches 245 degrees F, pour it into the whipping egg whites in a slow and steady stream. After all the sugar has been added, increased the speed to high. Continue to whip until the mixing bowl is slightly warm than room temperature to the touch.

Turn down the mixer to medium speed and slowly add the butter, a couple cubes at a time. Continue to whip at medium speed until all the butter has been added. Whip until buttercream is smooth and creamy.

Notes
If you add the butter when the meringue is too hot, it may melt and the buttercream may not emulsify.  If this happens, place the mixing bowl in the freezer for a couple minutes to cool down the mixture.  Once cooled, started whipping again.
If the butter is too cold when added to the meringue, the buttercream may end up chunky.  Use a torch to warm the bowl or place over a bain-maire to soften the butter.
Cake Assembly
1. Place the purple layer of cake on a cake board. Spread a rounded 1/4 cup of buttercream on top. Repeat with blue, green, yellow, orange and red.
2. Use 1/2 a cup of buttercream for the crumb coat of the cake. Let chill in the refrigerator for 15 minutes. Once chilled, coat the cake with another layer of buttercream.