This funfetti doughnut cake features a layered funfetti cake frosted with coffee buttercream and decorated with baked mini doughnuts.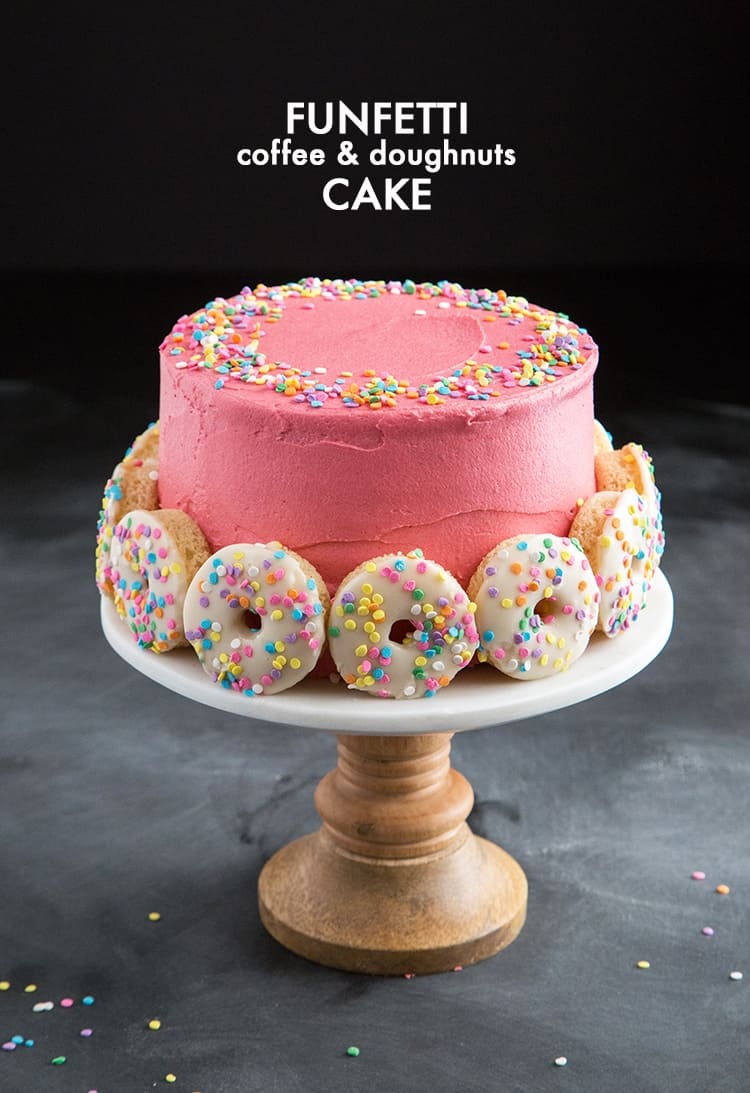 The secret is out of the bag. I'm currently at Disney World…celebrating my 30th birthday. (follow me on Instagram/Snapchat (username: littleepicurean) for updates!
I have been dreading this birthday. Sure, 30 is just a number. But it means saying goodbye to my 20's. I'm the kind of person that gets offended when I am not carded at a bar.
My best friend and I joke that we want to be carded until we're 40. We want to look 30 when we're 50. Basically, I want to be young foreverrrr. Which probably explains why I chose to celebrate at Disney World.
Funfetti Doughnut Cake
On your 30th birthday (and any birthday for that matter), you shouldn't have to choose between cake or doughnuts. You CAN have it ALL!
Also included in this cake: lots of confetti, a good helping of whiskey, and a touch of coffee.  This funfetti doughnut cake basically has everything I could ever want in a dessert (minus ice cream. I forgot to add ice cream!).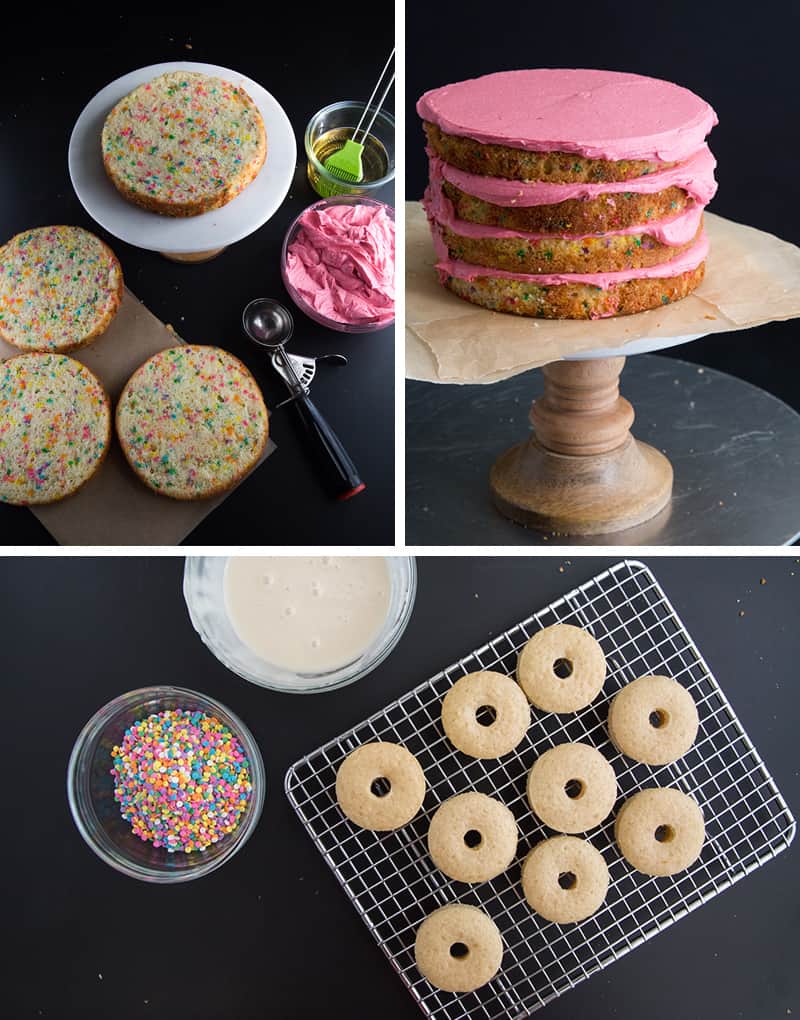 The right thing to do would have been to use REAL fried mini doughnuts. However, it has been way too hot to even try to fry something in my kitchen. These baked doughnuts will have to do.
And obviously, mini baked doughnuts save you a ton of calories. Those calories can be spent elsewhere…like towards a chocolate hazelnut cake or creme brûlée cheesecake.
Yellow Cake with Confetti Sprinkles
The funfetti cake is a simple yellow cake amped up with a ton of confetti sprinkles. When assembling the cake, I soaked each cake layer with a hefty amount of whiskey syrup.
The pretty pink buttercream is whipped with espresso powder. This cake has it all: coffee, doughnuts, cake, and whiskey. What else could a girl ask for?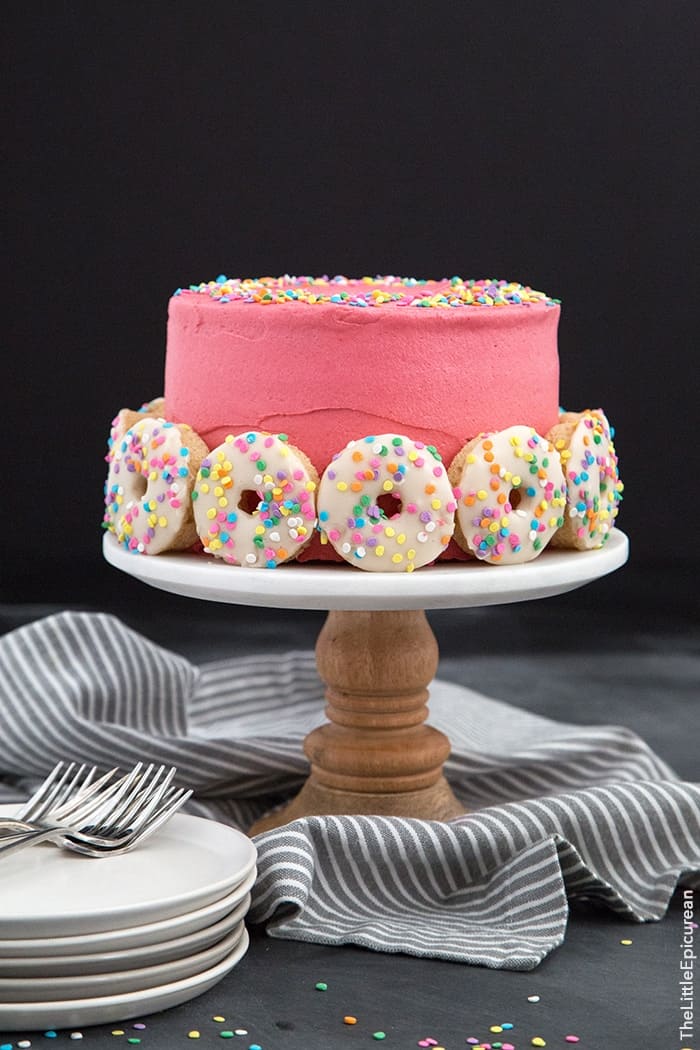 I've always photographed on white backgrounds. I like bright, airy, and happy colors. But I've recently started experimenting with darker backgrounds.
I really like the contrast of this bright cake against the dark chalkboard. It's something different and it's growing on me.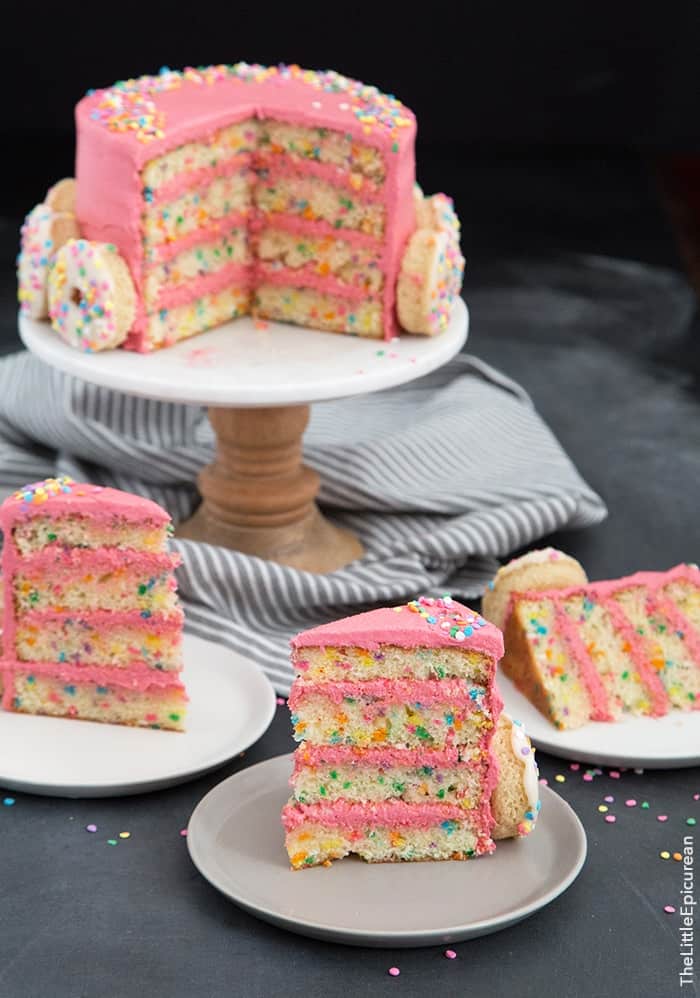 The mini doughnuts on the side of the cake are perfect little portion dividers. No guess work in trying to figure out where to slice. Simply slice around the mini doughnut!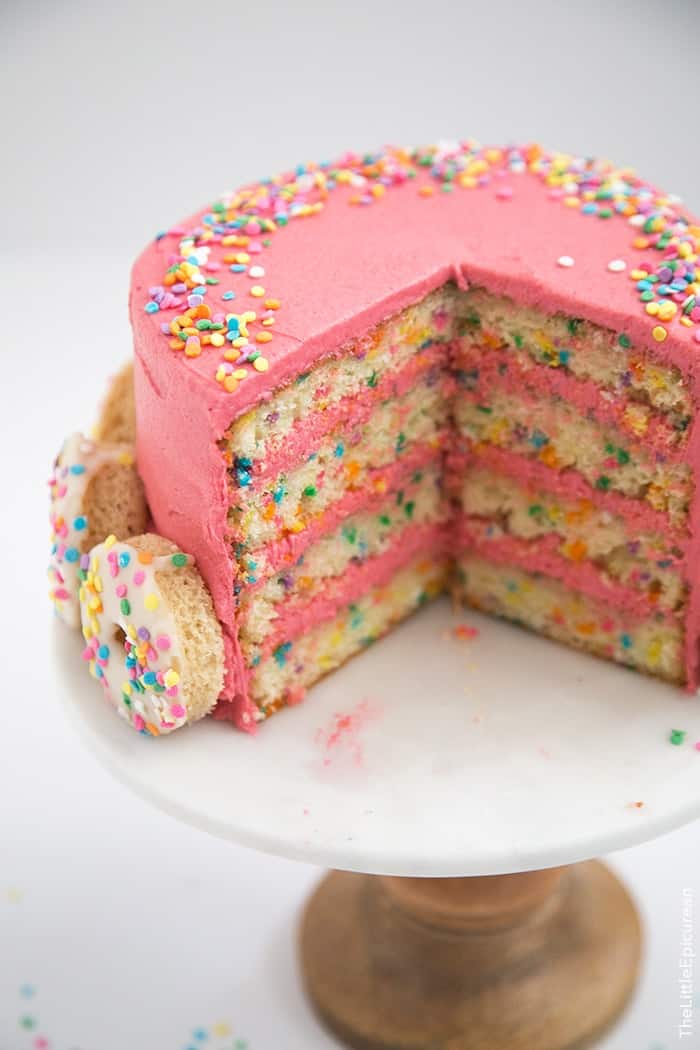 Even though I'm having fun photographing on dark backgrounds, I couldn't help sneaking in a couple white shots.
This cake is so vibrant and cheerful looking that I can't help but accept turning 30. Plus, my parents have convinced me that life gets better with age.
I guess it's true because each year my parents seem to have more fun than the last, laugh louder than the year before, and all their worries and stresses appear to disappear with time.
Here's to 30!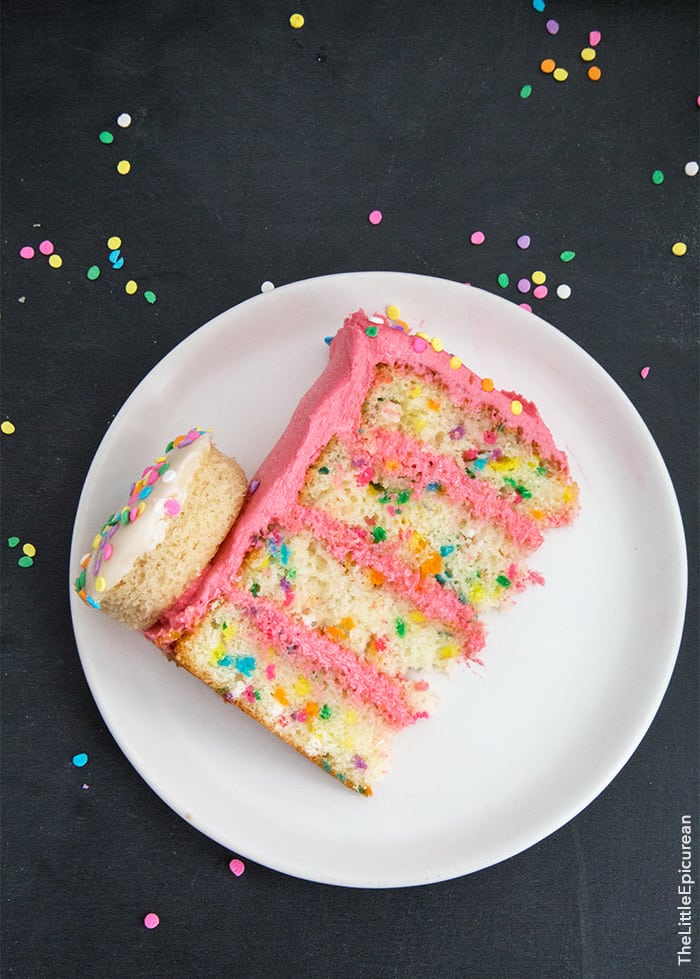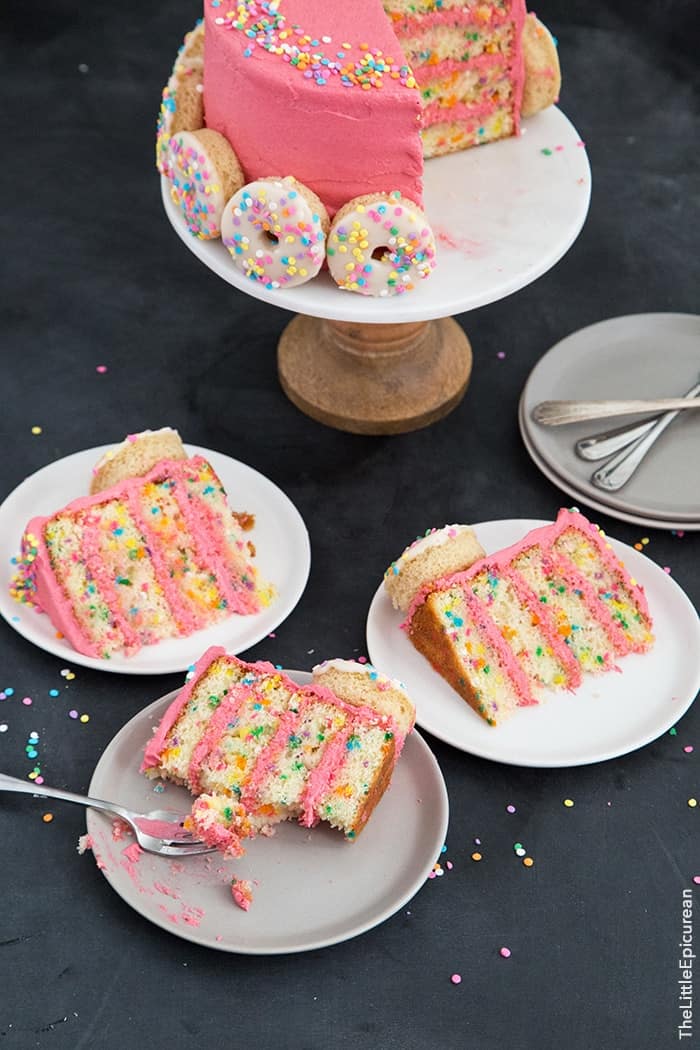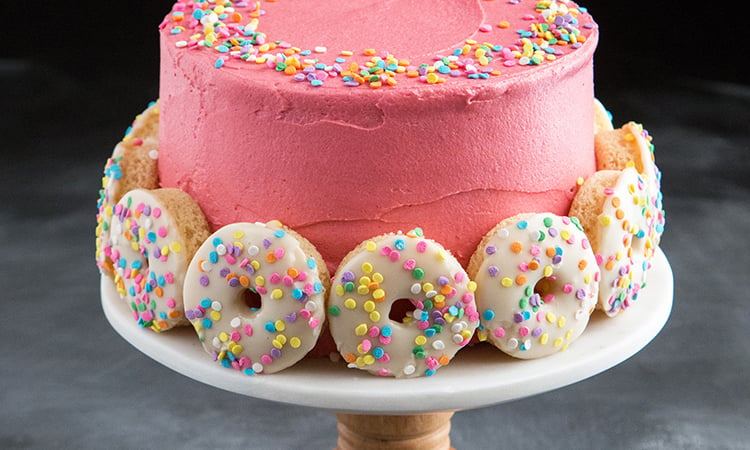 Funfetti Doughnut Cake
Yield: 6-inch cake and 3 dozen mini doughnuts
Ingredients
Funfetti Cake:
1 1/2

cup

cake flour

2

teaspoon

baking powder

1/2

teaspoon

fine sea salt

1/2

cup

whole milk,

room temp

1

teaspoon

vanilla extract

3/4

cup

unsalted buter,

room temp

1

cup

granulated sugar

3

large eggs,

room temp

1/2

cup

confetti sprinkles
Whiskey Soaking Syrup:
3

Tablespoon

simple syrup

3

Tablesoon

whiskey of choice
Coffee Buttercream:
1

cup

unsalted butter,

softened

1

teaspoon

instant espresso powder

1/4

teaspoon

fine sea salt

3

cups

confectioners sugar,

sifted

1/2

Tablespoon

heavy cream,

or whole milk

pink gel color,

as needed
Baked Mini Doughnuts:
1 1/2

cup

all-purpose flour

2

teaspoon

baking powder

1/4

teaspoon

fine sea salt

1/4

teaspoon

freshly grated nutmeg

1/4

teaspoon

ground cinnamon

3/4

cup

granulated sugar

1

large egg

1/4

cup

vegetable oil

3/4

cup

whole milk

1 1/2

teaspoon

vanilla extract
Doughnut Glaze:
1 1/2

cup

powdered sugar

1

Tablespoon

dark maple syrup

2

Tablespoon

whole milk

confetti sprinkles,

as needed
Instructions
Funfetti Cake:
Preheat oven to 350 degrees F. Line two 6-inch round cake pans with parchment. Lightly grease and set aside.

Whisk together cake flour, baking powder and salt. Set aside. In a small bowl, combine milk and vanilla. Set aside.


In the bowl of stand mixer fitted with a paddle attachment, cream butter. Add sugar and mix until smooth. On low speed, add eggs one at a time, making sure each egg is incorporated before adding the next one. Scrape down bowl as needed to ensuring thorough mixing.


Add a third of flour mixture into mixing bowl. Mix on low speed and add half of vanilla milk mixture. Add another third of flour mixture, following with remaining half of vanilla mix mixture. Add last third of flour mixture and mix until there are no longer any dry streaks of flour. Fold in confetti sprinkles until evenly distributed.


Evenly divide cake batter between the two prepared cake pans. Level cake as needed using a mini offset spatula, or the back of spoon. Bake for 30-35 minutes until toothpick inserted in center of cake comes out clean. Let cool in pan for 5-7 minutes before unmolding from cake pan. Allow cakes to cool to room temperature on a wire rack.

Coffee Buttercream:
Cream butter until smooth. Add espresso powder and salt and mix until throughly combined. Add sifted powdered sugar one cup at a time. Follow with heavy cream. Add pink food gel coloring until desired color is achieved.

*If buttercream is too thin, add additional powdered sugar 1/4 cup at a time until desired consistency is achieved. If buttercream is too thick, add heavy cream 1/2 tablespoon at a time until desired consistency is achieved.

Baked Mini Doughnuts:
Sift together flour, baking powder, salt, nutmeg, and cinnamon. Set aside.


In a large bowl, beat together sugar and egg until thick and light in color. Add dry ingredients to sugar egg mixture. Mix until combined.


Whisk together oil, milk, and vanilla. Add to batter in two additions until incorporated. Let batter stand for 3-5 minutes to slightly thicken.


Transfer batter to pastry piping bag. Pipe batter into prepared doughnut pan filling each mold about half full. Alternatively, spoon batter into doughnut pan. Bake for 10-12 minutes. Let cool in pan for 2 minutes before unmolding. Let cool on wire rack until ready to decorate.

Doughnut Glaze:
Combine confectioners sugar, maple syrup, and milk. Stir until smooth. Dip one side of cooled mini doughnut into glaze. Immediately top with confetti sprinkles. Place glazed doughnut on wire rack and allow glaze to set.

Assembly:
Slice each funfetti cake in two layers. You should end up with four layers of cake. Place one layer on a cake stand or a cake plate.

Combine simple syrup and whiskey. Lightly moisten the cake layer with syrup using a pastry brush.


Spread a thin layer of coffee buttercream over moistened cake. Place another cake layer on top. Moisten with syrup and top with frosting. Repeat until you finish with the top layer. Crumb coat the cake by spreading a thin layer of buttercream on the sides of the cake. Place in the fridge for 15-30 minutes to allow buttercream to slightly harden.


Meanwhile, dip doughnuts in glaze and top with sprinkles.


Coat the cake in another thin layer of buttercream. Garnish the top of the cake with confetti sprinkles. Arrange glazed doughnuts around the bottom of the cake. Use remaining buttercream to help doughnuts stick to cake. Keep cake stored in the fridge until ready to serve. Let cake sit at room temperature for at least 30 minutes before serving to allow cake to soften.