The perfect sweet and salty snack! Salted hazelnut toffee bark layers together toasted hazelnuts and melted dark chocolate over homemade toffee.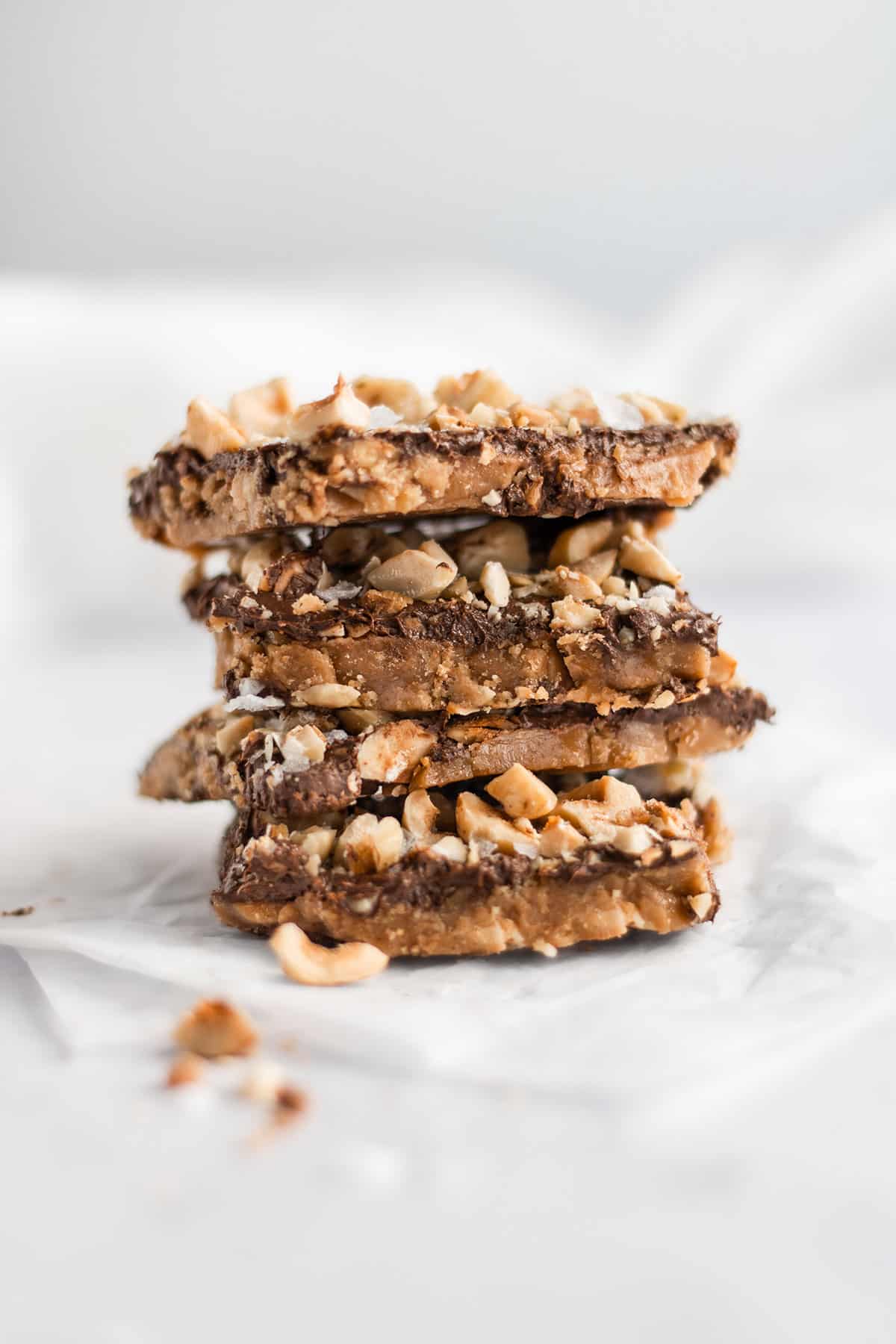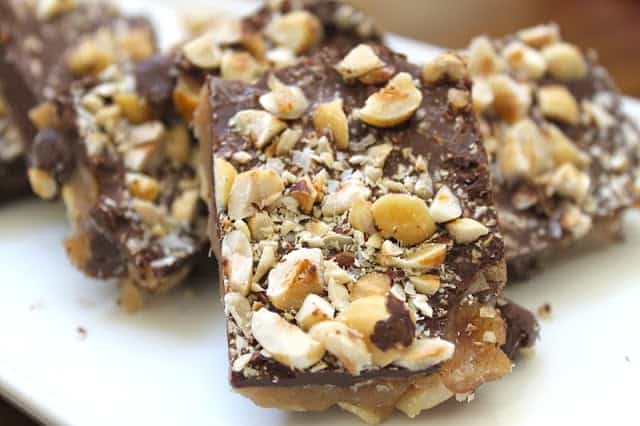 Simple to make and super satisfying!
Salted hazelnut toffee bark makes for great homemade gifts, especially during holiday season.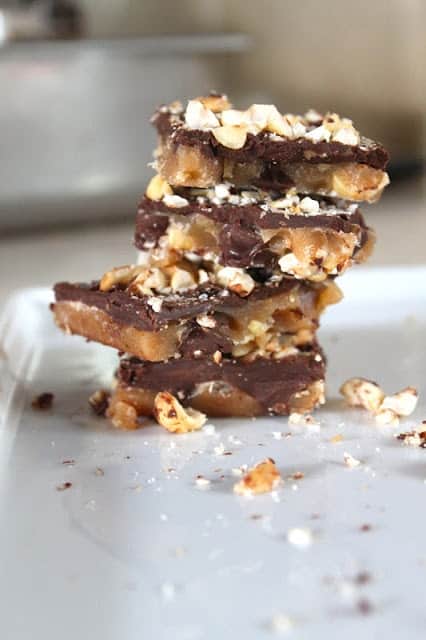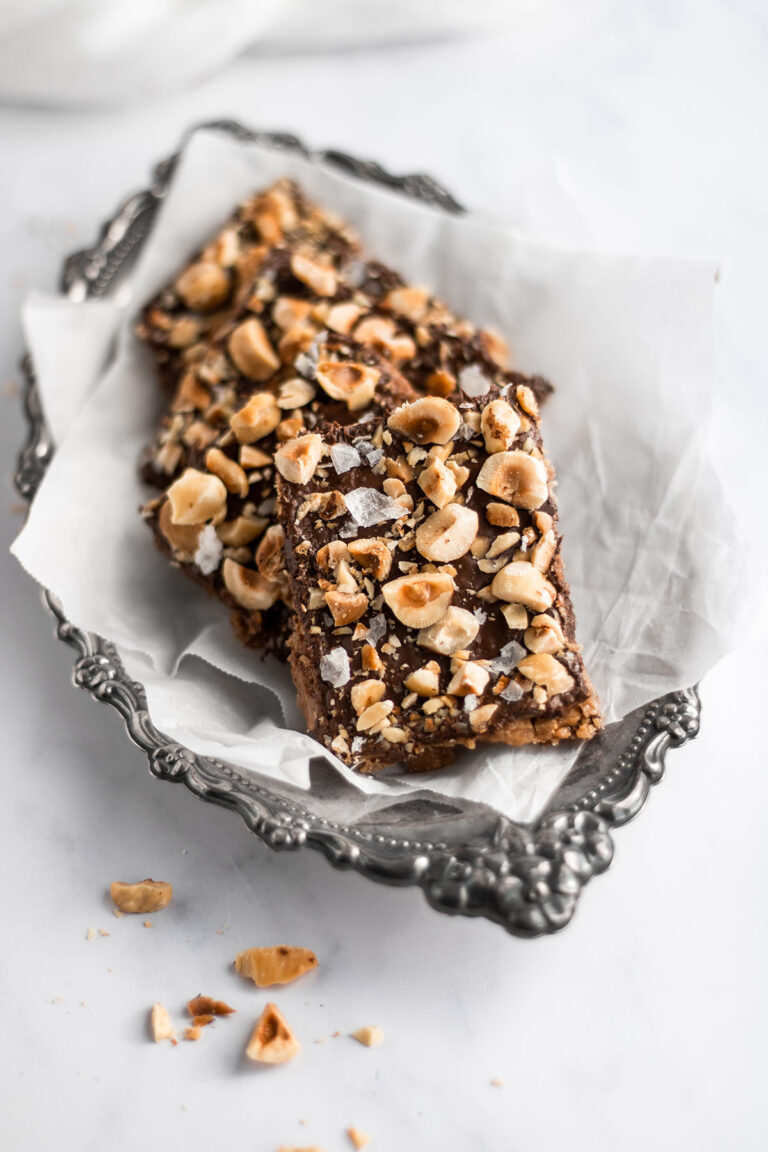 Easy English Toffee
These delicious treats go by many names. You may know them as English toffee, caramel bark, chocolate covered praline bark.
Essentially, this sweet treat is a layering of hard toffee, luscious chocolate, and chopped nuts.
Hazelnut toffee is absolutely delicious on its own. However, they become even more amazing when topped over vanilla ice cream or chopped and tossed into fresh made buttery popcorn!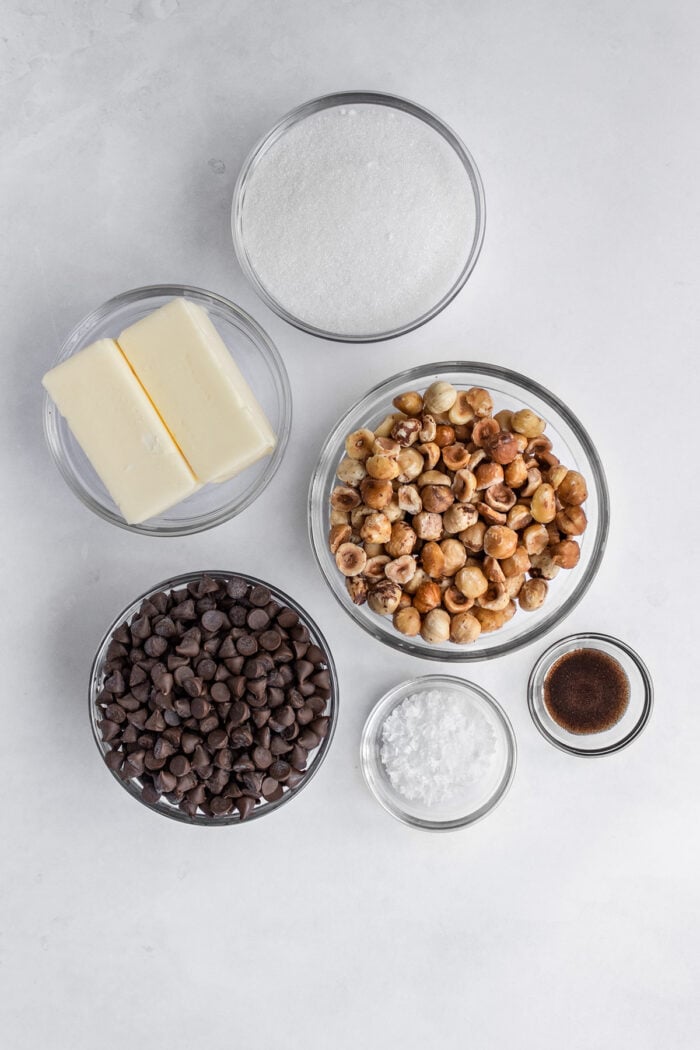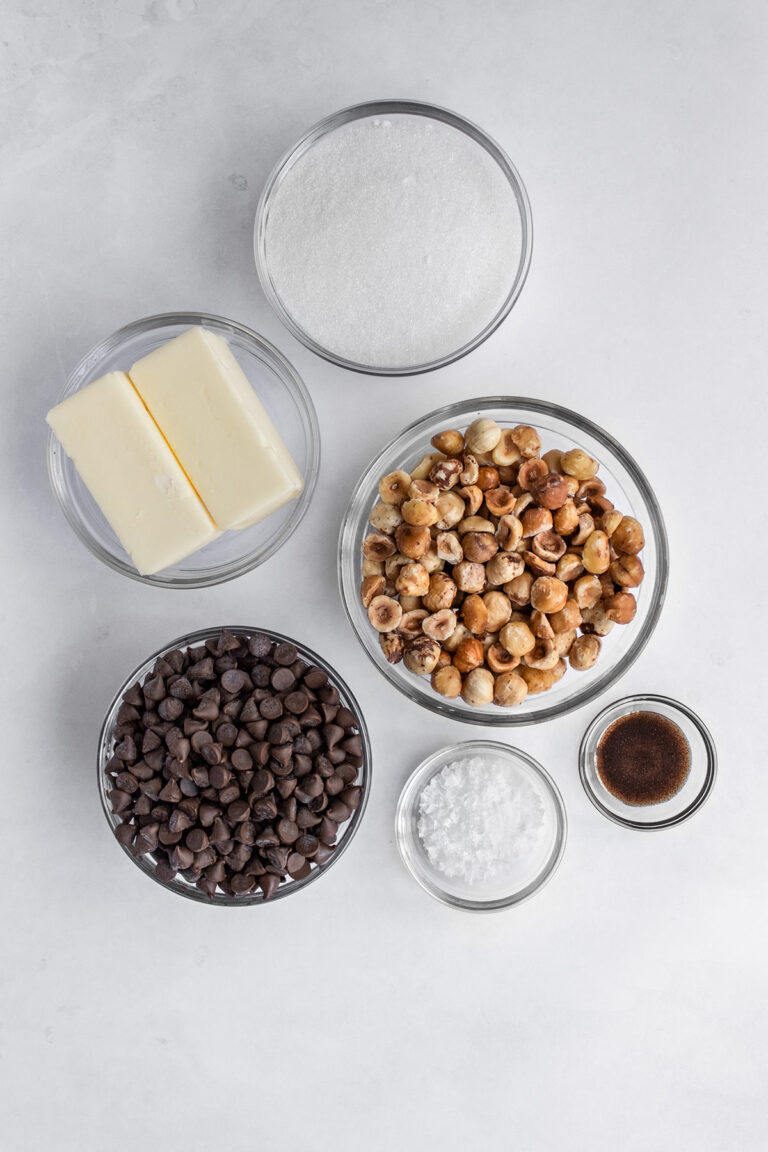 Tips for Toffee Success
Here's my NUMBER 1 tip- get a proper kitchen thermometer!
A reliable thermometer takes away all the guess work. You can clearly see when the sugar mixture is done cooking.
I recommend this candy thermometer (also labeled as deep fry thermometer). It's great for candy and caramel making, as well as for deep frying!
I also highly recommend this Thermapen. I use it for candy making, grilling, bread making, and more.
Have your mise-en-place ready
Mise-en-place translates to "everything in its place."
It is important to have all your ingredients and components ready before you begin cooking the toffee.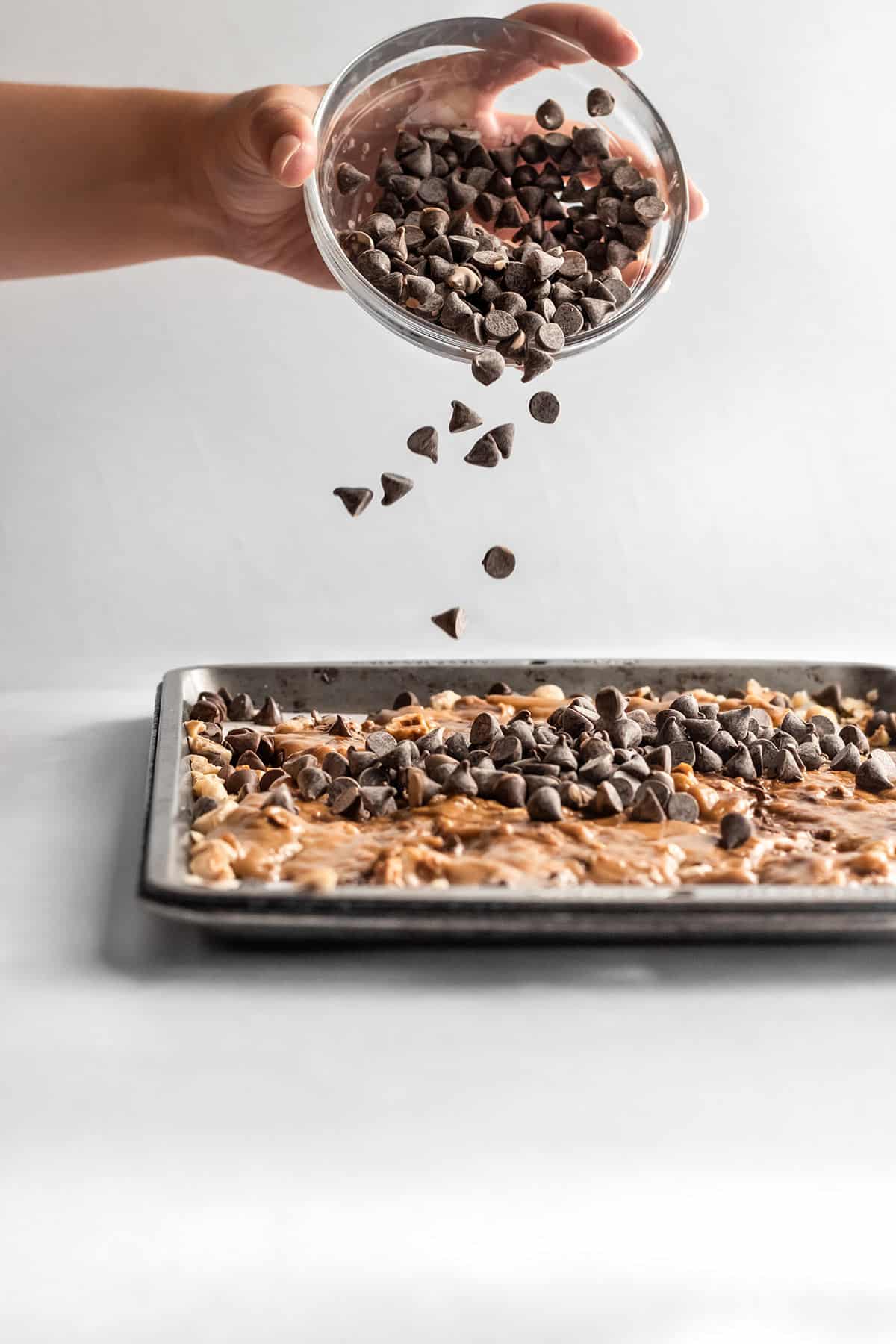 Dark Chocolate vs Milk Chocolate
This recipe works best with dark chocolate or semi-sweet chocolate.
Toffee is simply a mixture of butter and sugar. As such, it is rich and sweet.
The toffee needs the slight bitterness of dark chocolate to offset the overall sweetness.
You may certainly use your choice of chocolate. Milk chocolate and white chocolate does work.
However, keep in mind that the resulting English toffee will be much, much sweeter with milk chocolate or white chocolate.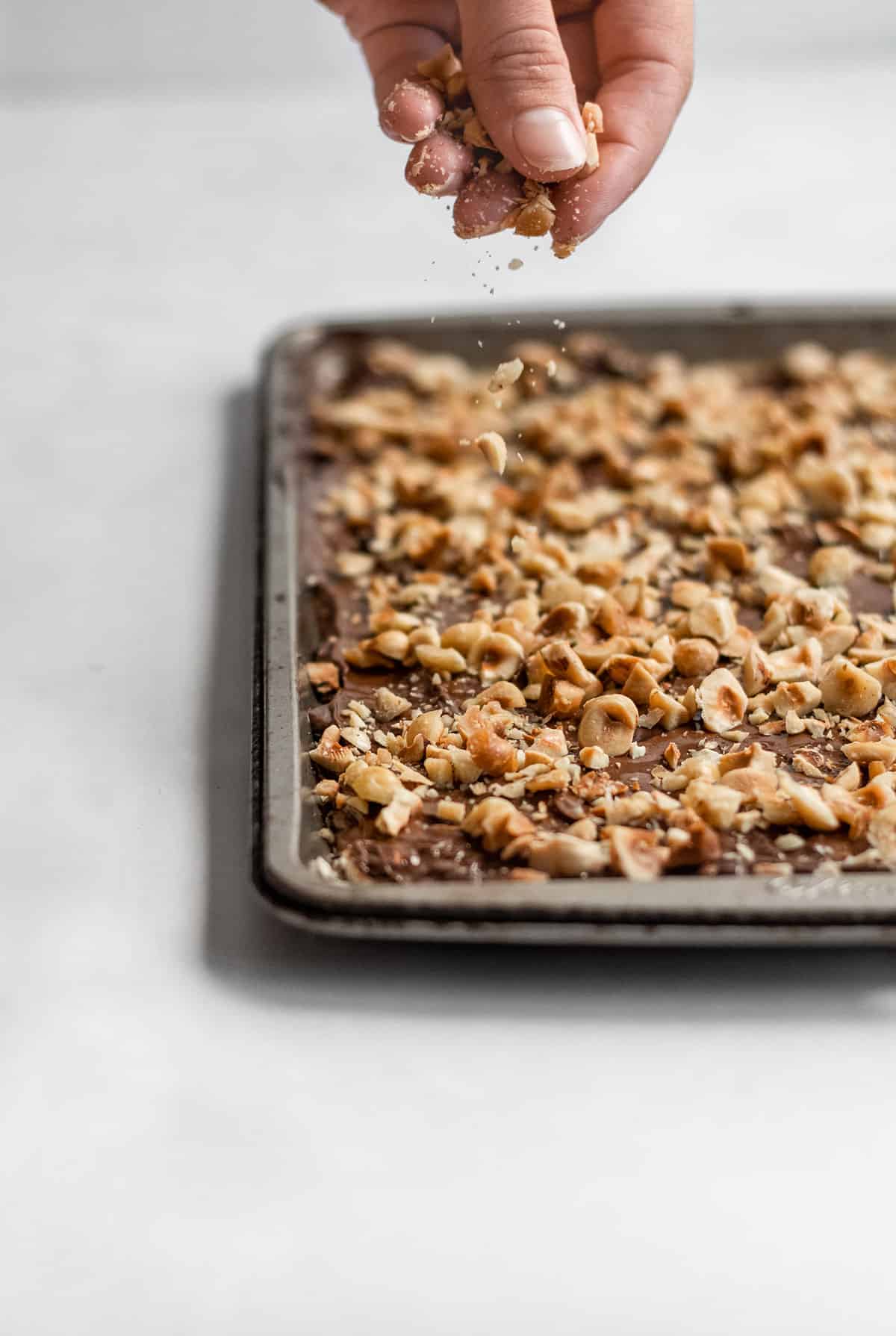 Swap in your favorite nuts or toppings
Customize the English toffee with your choice of nuts. Chocolate and hazelnut pair wonderfully together (think Nutella!)
Any nut works. Chocolate is great with pecans, walnuts, almonds, pistachios, macadamia nuts, etc.
Make a tropical version by topping the toffee with macadamia nuts, sweetened dried coconut flakes, and some chopped dried pineapple pieces.
A summer time road trip version would be great topped with granola and dried fruits.
A winter holiday version could include chopped peppermint (or candy cane) along with chopped almonds.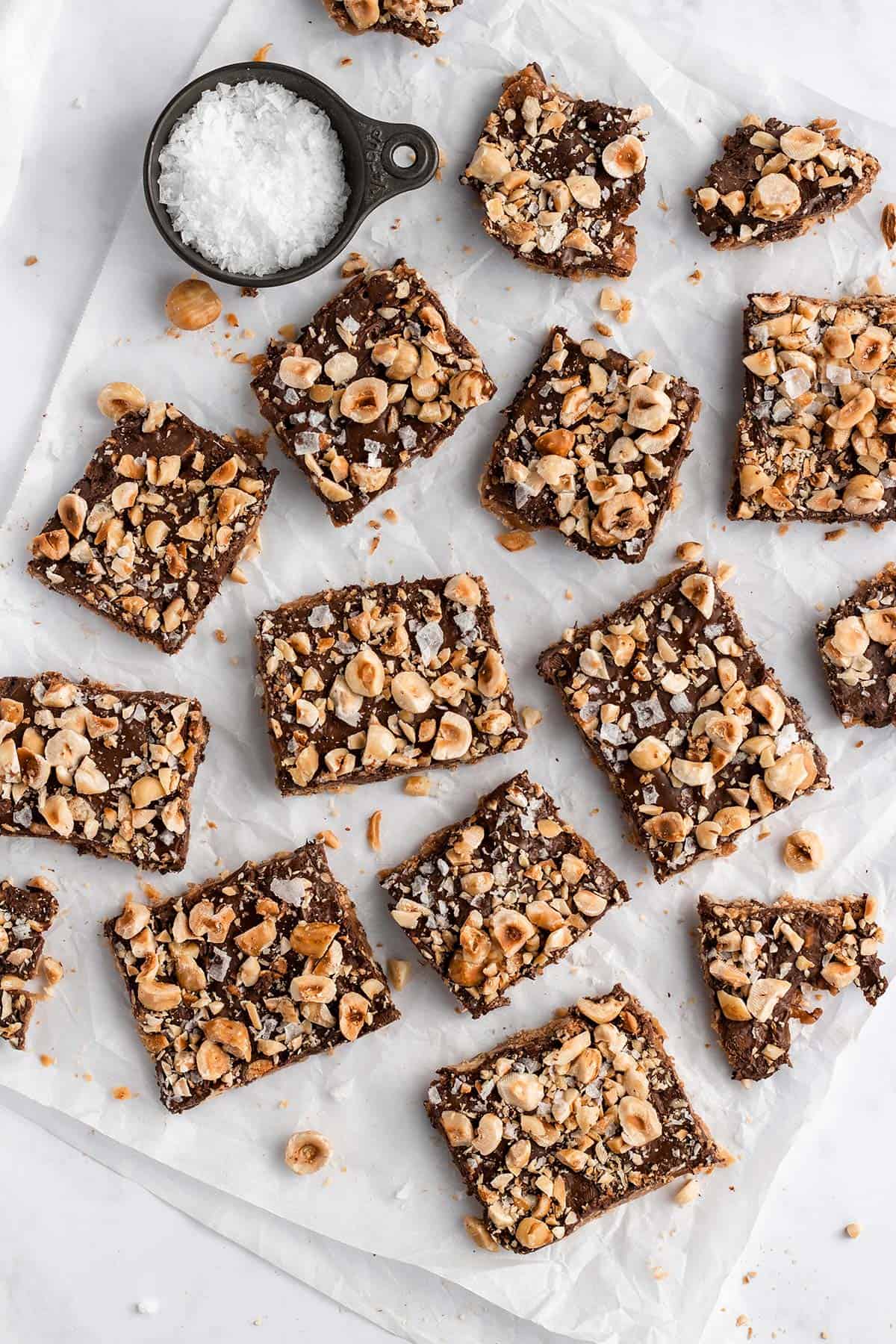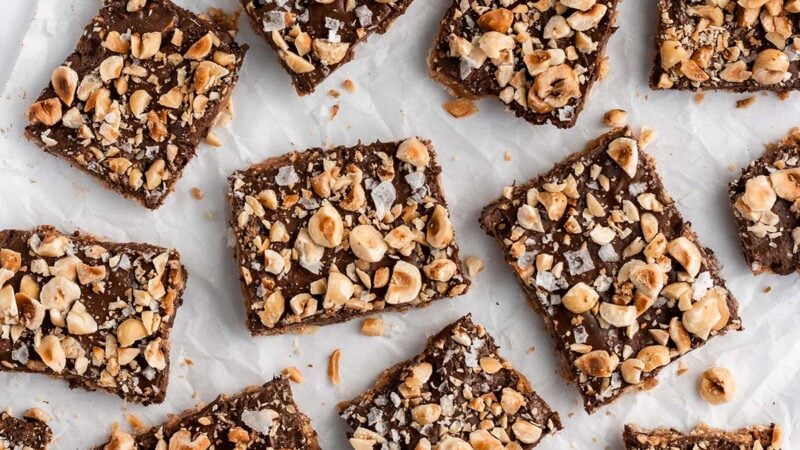 Salted Hazelnut Toffee
The perfect sweet and salty snack! Salted hazelnut toffee bark layers together toasted hazelnuts and melted dark chocolate over homemade toffee.Yield: 9×13-inch pan
Ingredients
1 ½

cup

hazelnuts

(220 g) skinned, toasted and roughly chopped

1 ½

cup

semi-sweet or dark chocolate chips

(255 g)

1

cup

unsalted butter

(113 g)

1

cup

granulated sugar

(200 g)

1

teaspoon

vanilla paste

or high quality pure vanilla extract

Maldon salt or fleur de sel

as needed
Instructions
In a small sauce pot, melt butter over medium heat. Turn off heat and add sugar.  Stir to combine.  Heat mixture over medium-high heat until butter-sugar solution reaches 300°F on a candy thermometer.

In the meantime, sprinkle ½ cup of chocolate chips and ½ cup of toasted, chopped hazelnuts onto prepared parchment paper.

Once butter-sugar solution has reached 300°F, remove from heat and let cool for 3 minutes.  Stir in vanilla paste.  Then pour over chocolate/hazelnut on the parchment lined sheet.  Let cool for 5 minutes

Pour remaining cup of chocolate chips over parchment. Let chips sit for a couple minutes until slightly melted. Using an offset spatula, spread chocolate into an even layer. Sprinkle remaining chopped hazelnuts on top. Sprinkle maldon salt or fleur de sel as desired. Let sit at room temperature until chocolate sets. Once chocolate and toffee have cooled, cut to your desired shapes and sizes.