The perfect sweet and salty snack! This salted hazelnut toffee bark layers together toasted hazelnuts and melted dark chocolate over homemade toffee.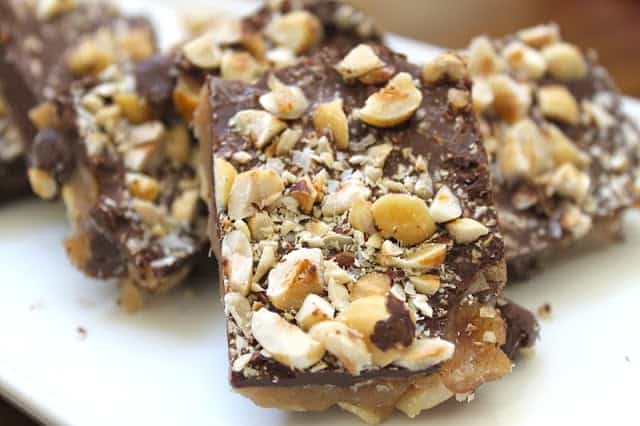 It is a little strange working at a bakery/restaurant. Your weekends get shifted and your sleeping habits change dramatically. Its quite embarrassing when I'm hanging out with friends and suddenly fall asleep by 8:30pm.
I savor Fridays off. My early Friday mornings (meaning I'm up and about by 6 due to force of habit) are reserved for getting coffee at Intelligentsia and then walking over to the Silver Lake dog park with Charlie. We stay there for an hour or so playing with the other dogs and soaking in the nice morning sun.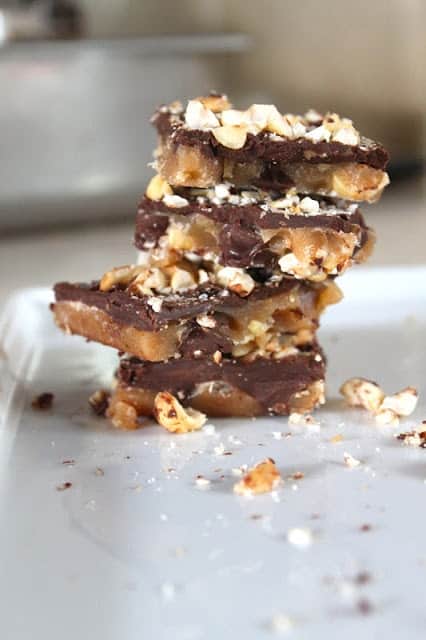 I'm not much into the blended specialty coffee drinks. Sometimes I'll get a latte but I prefer my coffee black. These little sweet and salty hazelnut toffee pieces provide a nice balance to my dark coffee. Forget adding milk and cream to my coffee, I want toffee and chocolate.
My parents absolutely love these treats. My mom is always asking me when I am going to make more. She can eat an entire sheet tray of these while watching her favorite TV shows. While these treats are good on their own, they are even more amazing with vanilla ice cream or chopped up and mixed with buttery popcorn.
Its a breeze to make and even easier to customize with whatever toppings you want. The only downfall is waiting for the toffee and chocolate to cool down and set. You can eat it while its warm, but I suggest holding out for less mess. Trust me, its a pain cleaning up. I love hazelnuts and how well it pairs with chocolate. Think Nutella but crunchier and with more substance.
I have another reason to be really happy this Friday. I have over a hundred followers! Yippy! I still remember when I first started this blog and I had to keep nagging friends and family to follow me. I can't express how delighted I am to know there are people out there that take the time to read my blog and check out my photos. I am very appreciative. I wish everyone a lovely weekend!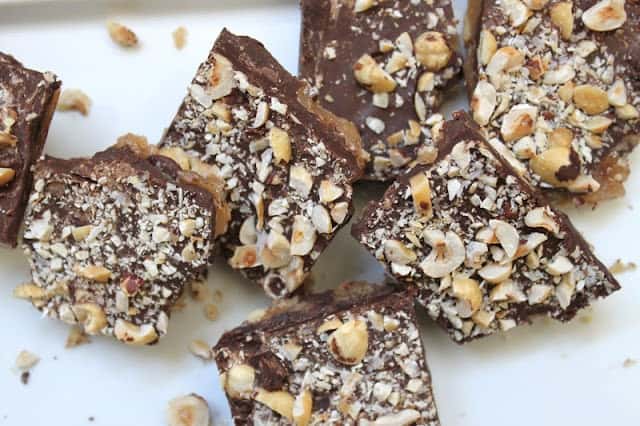 Salted Hazelnut Toffee
Yield: 9×13-inch pan
Ingredients
1 1/2

cups

hazelnuts, skinned, toasted and roughly chopped

1 1/2

cups

semi-sweet or dark chocolate chips

1

cup

unsalted butter

1

cup

granulated sugar

1

teaspoon

vanilla paste

Maldon salt/fleur de sel, as needed
Instructions
In a small sauce pot, melt butter over medium heat. Turn off heat and add sugar. Stir to combine. Heat mixture over medium-high heat until butter-sugar solution reaches 300 degrees F on a candy thermometer.


In the meantime, sprinkle 1/2 cup of chocolate chips and 1/2 cup of toasted, chopped hazelnuts onto prepared parchment paper.


Once butter-sugar solution has reached 300 degrees F, remove from heat and let cool for 3 minutes. Stir in vanilla paste. Then pour over chocolate/hazelnut on the parchment lined sheet. Let cool for 5 minutes


Pour remaining cup of chocolate chips over parchment. Let chips sit for a couple minutes until slightly melted. Using an offset spatula, spread chocolate into an even layer. Sprinkle remaining chopped hazelnuts on top. Sprinkle maldon salt or fleur de sel as desired. Let sit at room temperature until chocolate sets. Once chocolate and toffee have cooled, cut to your desired shapes and sizes.