An updated version of a classic childhood breakfast treat. These homemade cherry pop tarts are made with all natural real ingredients without any preservatives!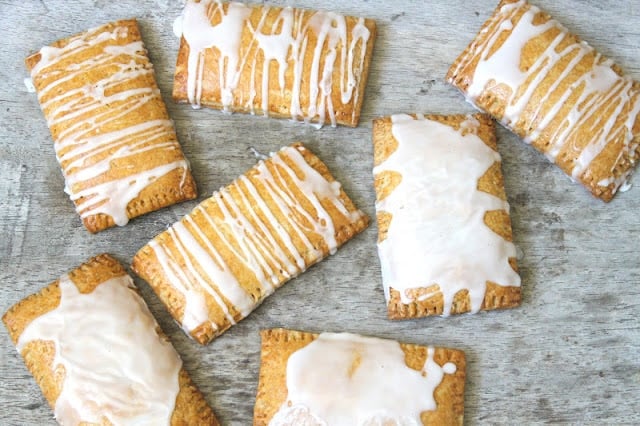 Life was so easy when I was a little kid. Life was scheduled and orderly. School was made bearable with a handful of recess breaks and plenty of friends.
It was nice to always have your laundry washed, folded and even put away by your mother.
And breakfast was always sweet and delicious. My mom always had a full spread ready. Be it muffins, eggs or warm porridge, it was all prepared and ready to go.
Then you inevitably grow up and move out of the house. Breakfast becomes a cup of coffee and whatever you can find at a moment's reach.
These sophisticated cherry pop tarts are my answer to the morning madness, the rush to get out of the house and on to work, errands, and life.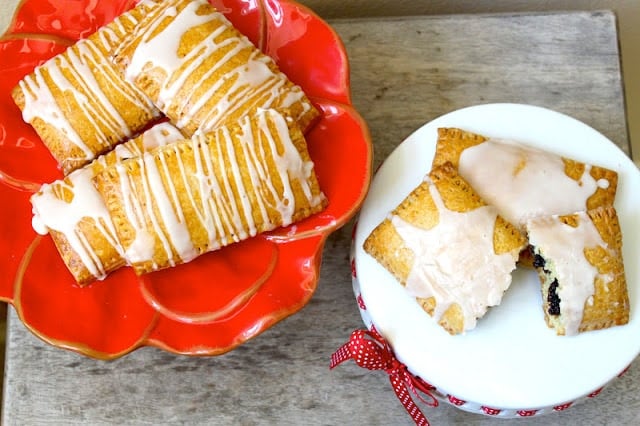 Homemade Frosted Cherry Pop Tarts
They aren't really like the traditional pop tarts you'd warm up in the toaster as a child, or the flaky toaster strudel you get to pipe your own frosting on. These sophisticated cherry pop tarts are a mixture of both.
The dough for these pop tarts are crumbly, rich, and full of flavor. They aren't flaky like a pie crust, but more substantial and holds up very well.
The dough is easy to work with and can be re-rolled over and over. I tend to have hot hands and I get pretty frustrated working with pie dough.
This dough is quite forgiving and can easily be cut into whatever shape you desire. Perhaps little pop tarts on a stick, round hand pies, or cute hearts?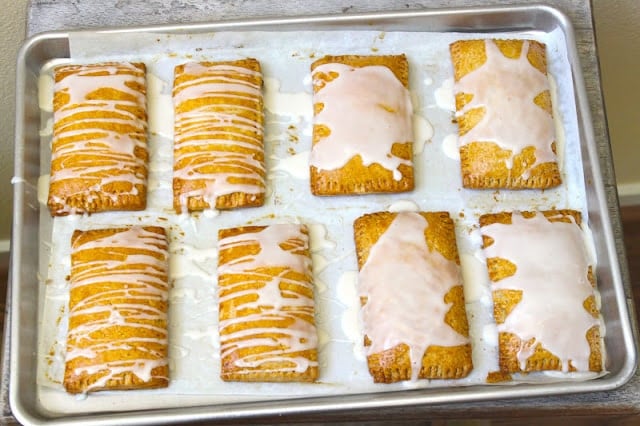 I loved pop tarts as a child. Brown sugar cinnamon was my favorite flavor. Instead of toasting them, I would put them in the freezer and eat them cold with ice cream. A little strange and excessive, I know.
I don't buy pop tarts anymore. The ingredients listed on the box scare me.
Although my version of pop tarts aren't like the real thing, I prefer knowing what I'm consuming. As a kid, eating pop tarts for breakfast was the norm. Now, I find them a little bit too sweet.
To make my pop tarts a tad healthier, I used dried tart cherries for the filling. The slightly tart filling tastes amazing on its own. I spread the leftovers on toast and crackers because its so addicting and I just couldn't let it go to waste.
I'll be bringing these goodies to my mom this weekend. It's funny how the tables have turned. While she still offers to do my laundry whenever I visit, now I get to bring her breakfast and try to make her life simpler.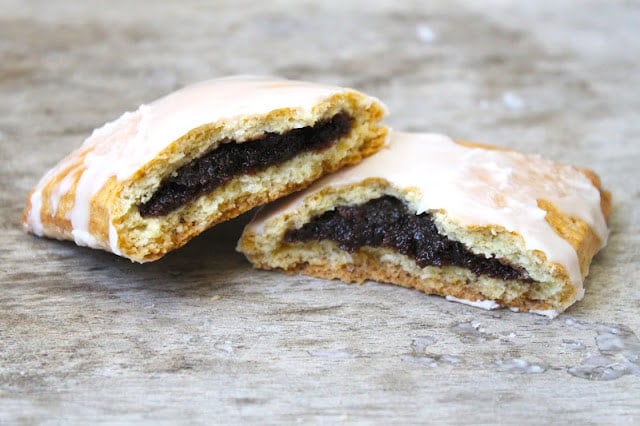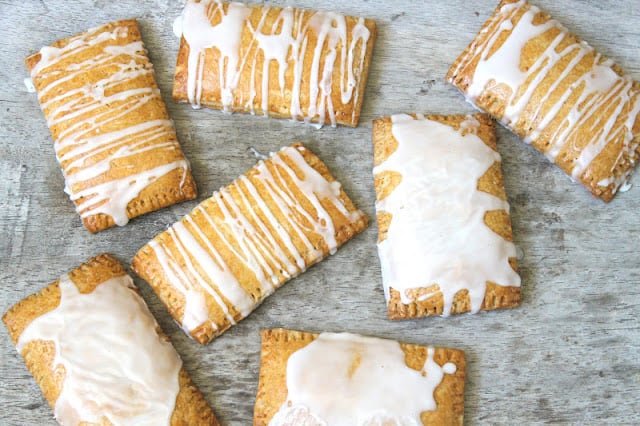 Cherry Pop Tarts
makes one dozen 3x5-inch pop tarts
Ingredients
Dough:
2

cups

all-purpose flour

2

cups

pastry flour

2

teaspoon

baking powder

1

teaspoon

baking soda

½

teaspoon

kosher salt

1

cup

unsalted butter

room temp

½

cup

granulated sugar

¼

cup

light brown sugar,

packed

1

large egg

6

Tablespoon

whole milk

½

Tbsp

vanilla extract
Cherry Filling:
2 ½

cup

dried tart cherries

¾

cup

water

¾

cup

light brown sugar,

packed

½

Tbsp

finely grated orange zest

½

teaspoon

kosher salt

1

Tbsp

all-purpose flour
Egg Wash:
1

large egg

1

Tbsp

water

1

Tbsp

heavy cream or whole milk

¼

teaspoon

kosher salt
Glaze:
1 ½

cup

confectioners' sugar

sifted

3

Tbsp

whole milk

1

teaspoon

vanilla extract
Instructions
Dough:
Whisk together flour, pastry flour, baking powder, baking soda, and salt. Set aside. In the bowl of a stand mixer with a paddle attachment, cream butter, sugar, and brown sugar. Add the egg and mix until just combined.

In a separate bowl, whisk together milk and vanilla. Add half of the dry mixture to the creamed butter. With the mixer running, slowly add the milk mixture. Add the remaining dry mixture and mix until just incorporated.

Turn dough out. Divide into two and wrap in plastic wrap. Chill for at least 1 hour.
Cherry Filling:
Meanwhile, make the cherry filling.  In a saucepan, heat cherries, water, brown sugar, orange zest, and flour over medium heat.  Stir to combine until sugar melts.  Let simmer for 10 minutes until syrup has thickened.  Transfer to food processor and pulse until mixture resembles jam.  Let cool to room temperature before filing the pop tarts.
Egg Wash:
Prepare the egg wash by whisking egg, water, cream, and salt together.  Set aside.
Assembly:
Once the dough has chilled,  take out one dough and roll out  to about ¼ inch on a lightly floured surface.  Cut dough into rectangles about 3x5inch in size.  Repeat with second dough.  You can lump scraps to together and roll it out again. You will end up with about 24 rectangles (12 tops and 12 bottoms).

Spoon about 1 ½ tablespoon of cherry filling into the center of 12 rectangles. This will become the bottom piece. Spread filling leaving a clean frame around the filling for sealing the edges of the tart.  Lightly brush egg wash along the clean frame.  Place a top piece over the bottom piece.  Line up the edges of the top and bottom piece, then press the edges to seal.  Be careful not to overfill the pop tarts and keep the edges clean and lined up.

Place pop tarts onto a parchment lined sheet tray.  Freeze pop tarts for at least 1 hour.

Preheat oven to 350 degrees F.  Brush tops of the pop tarts with egg wash. Bake for 10 minutes, rotate pan, and continue baking for another 10 minutes until pop tarts are golden brown.  Cool to room temperature before glazing.
Glaze:
To make the glaze, combine all ingredients in a bowl and mix until smooth.  Drizzle glaze over cooled pop tarts.