Slice and Bake Peanut Butter Chocolate Swirl Cookies with crunchy turbinado sugar coating.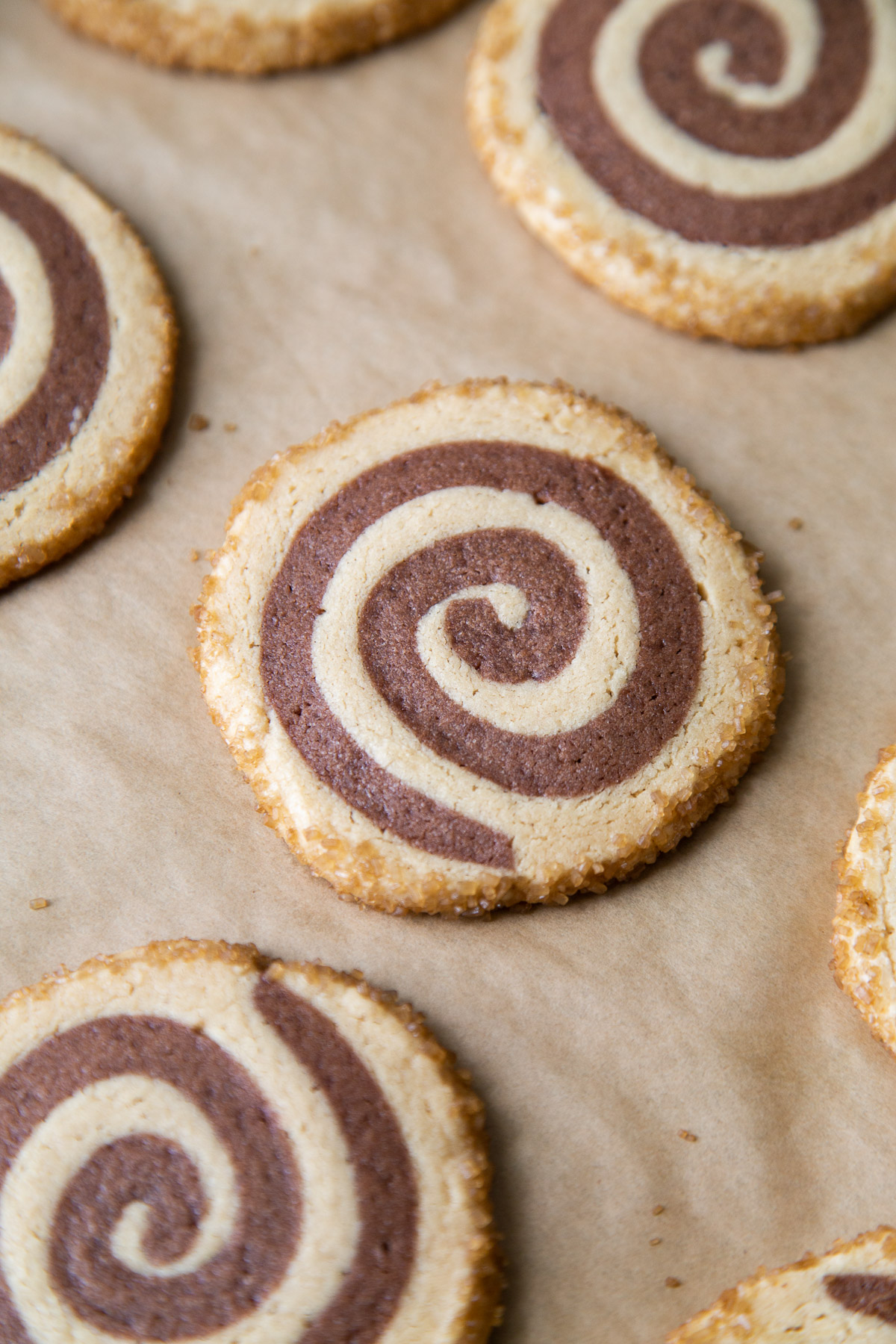 Nothing pleases a crowd more than peanut butter and chocolate.
They're great on rainy days, sunny days, and all the days in between.
Unlike the winter peppermint or the fall pumpkin, peanut butter and chocolate are not limited to any season.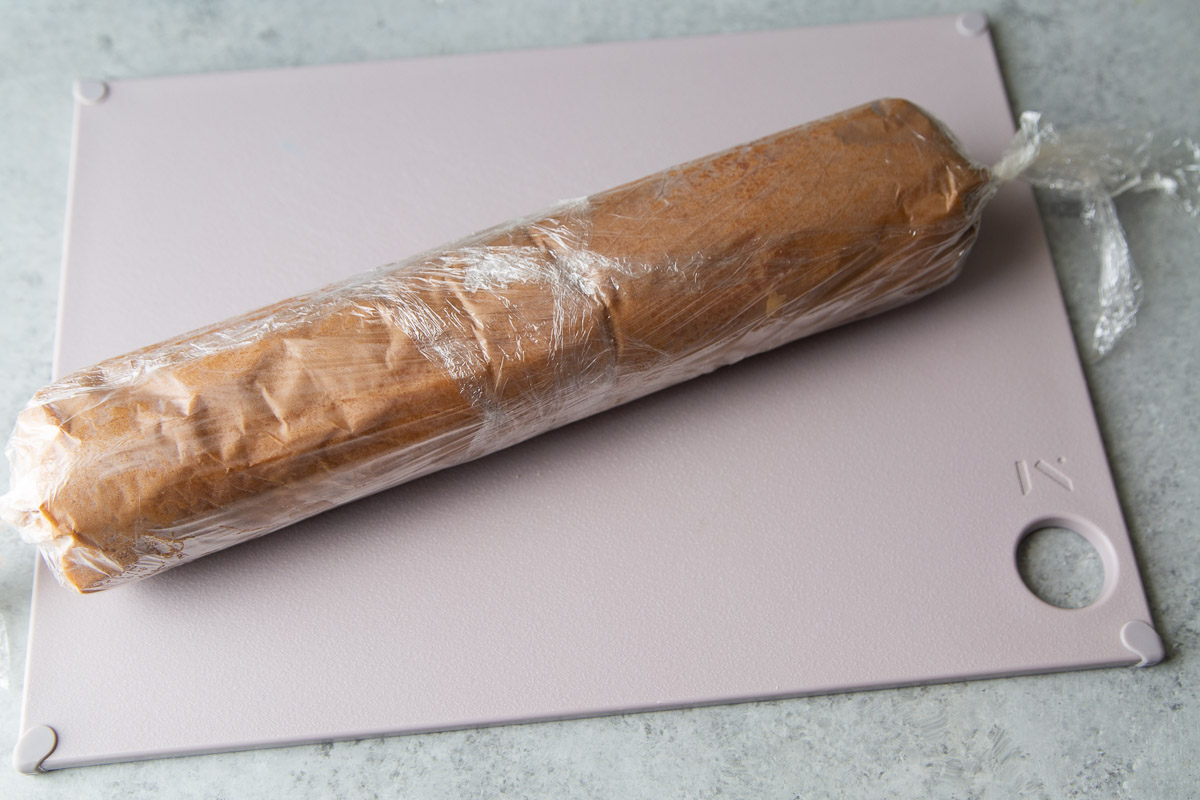 Peanut Butter Chocolate Swirl Cookies
Cookies are a great idea no matter what the season or reason. These peanut butter chocolate swirl cookies are perfect for celebrations of all sorts.
They're also wonderful for cookie assortment gift boxes!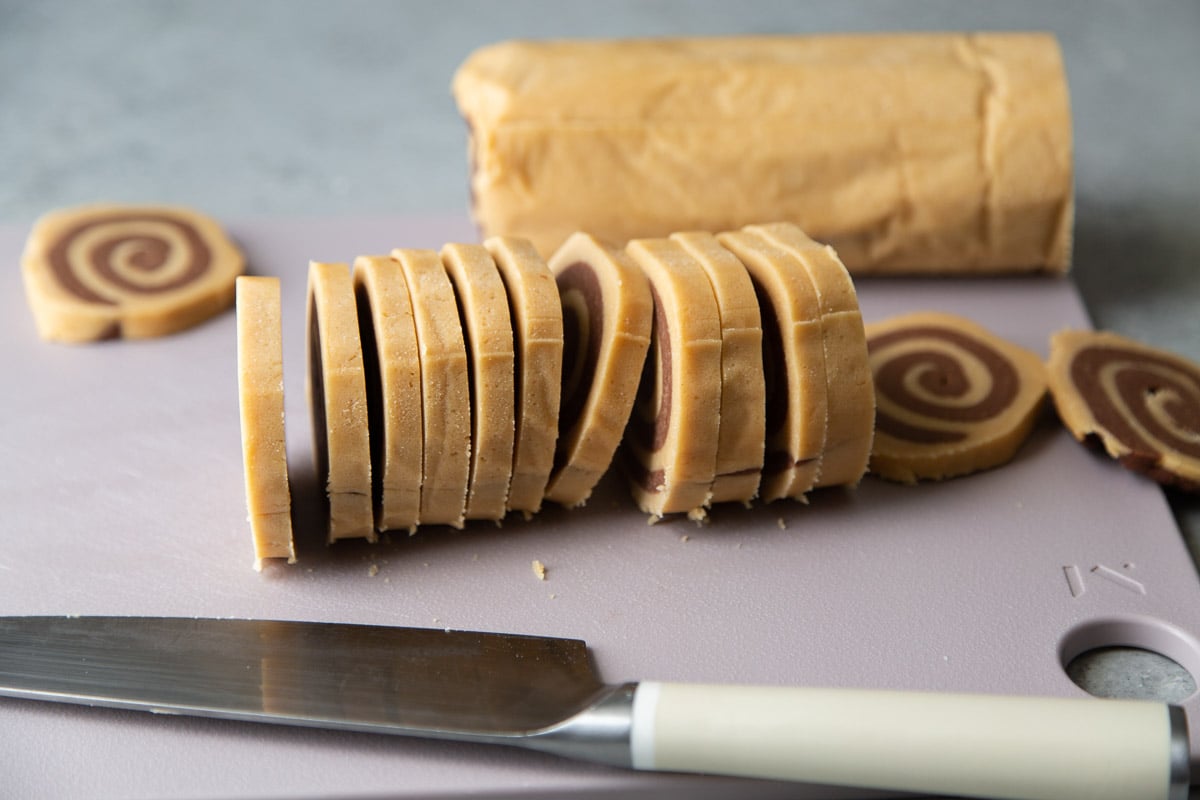 I rolled the cookies in turbinado sugar to make them super festive and crunchy. I also added a pinch of espresso powder to the chocolate filling for a little zing.
How to keep slice and bake cookie round:
I learned a little trick about keeping slice and bake cookies really round while chilling them in the fridge. Paper towel rolls!
Cut a slit lengthwise down the paper towel roll and slide the cookie dough inside. The paper towel roll prevents the cookie dough from having that unwanted flat bottom.
Great Make Ahead Cookies
These cookies can be made in advance and stored in your refrigerator. They can also be kept in the freezer for up to two months.
You can cut a couple slices at a time and bake them off fresh whenever you have a cookie monster craving.
Its the perfect cookie to share with family or enjoy a quiet moment alone with a glass of milk.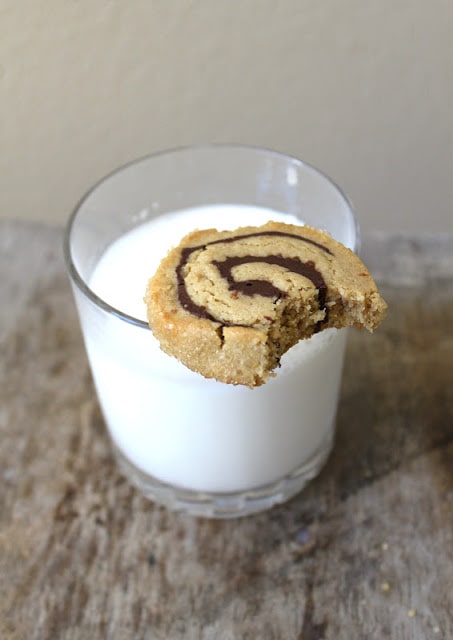 Peanut Butter Chocolate Swirl Cookies
Ingredients
1/2

cup

unsalted butter,

softened, room temp

1/2

cup

dark brown sugar,

packed

1

large egg

1/2

cup

creamy peanut butter,

or unsweetened peanut butter

1

teaspoon

vanilla extract

1 1/4

cup

all-purpose flour

1/2

teaspoon

baking soda

1/2

teaspoon

baking powder

1/4

teaspoon

kosher salt

6

oz

bittersweet chocolate,

chopped

1/2

teaspoon

espresso powder

turbinado sugar,

as needed
Instructions
In the bowl of a stand mixer with a paddle attachment cream all but 1 tablespoon of butter and sugar.  Beat in egg.  Add peanut butter and vanilla.  Beat until smooth.

Whisk together flour, baking soda, baking powder, and salt.  Stir into peanut butter mixture.  Mix until dough comes together and there are no more dry streaks.  Turn dough out and wrap in plastic wrap.  Chill dough in refrigerator for 30 minutes.

While the dough is chilling, set up a bain-marie (heatproof bowl set over a sauce pot filled with about one inch of water).  In the bowl, melt the 1 tablespoon of butter with the chopped chocolate and espresso powder.  Keep at low heat.  Stir until smooth.  Remove from heat once melted and let cool slightly.

Unwrap chilled dough.  Have two sheets of parchment paper cut to 10×15-inches.  Place dough on one piece of floured parchment paper.  Lightly flour the top of the dough and place the other parchment paper on top.  Roll the dough into a rectangle the same size as the parchment paper.  The dough should be about 1/8"-1/4" thick.

Remove top layer of parchment paper.  Spread the dough with the chocolate mixture, leaving a 1-inch border on one long side.

Gently and carefully, roll dough into a log.  Place log seam side down and wrap it tightly in parchment paper.  To have perfect rounds, you have place the log inside a paper towel roll.  Refrigerate until firm.  Its best to let the cookie dough sit overnight.

Preheat the oven to 350 degrees F.  Prepare baking sheets with parchment paper.  Wrap the logs and cut into equal slices about 1/4-1/2 inch thick.  Using your fingers or a pastry brush, wet the edges of the cookie with water.  Roll the wet edges into turbinado sugar/coarse raw sugar.

Space cookies evenly on prepared sheet tray and bake for 10-12 minutes until cookies are lightly golden and slightly puffed.  Let cookies cool on pan for a couple minutes before transferring to wire rack to cool completely.