These Danish butter cookies are a homemade version of the classic Royal Dansk tin cookies. They're great for baking into cookie gift boxes!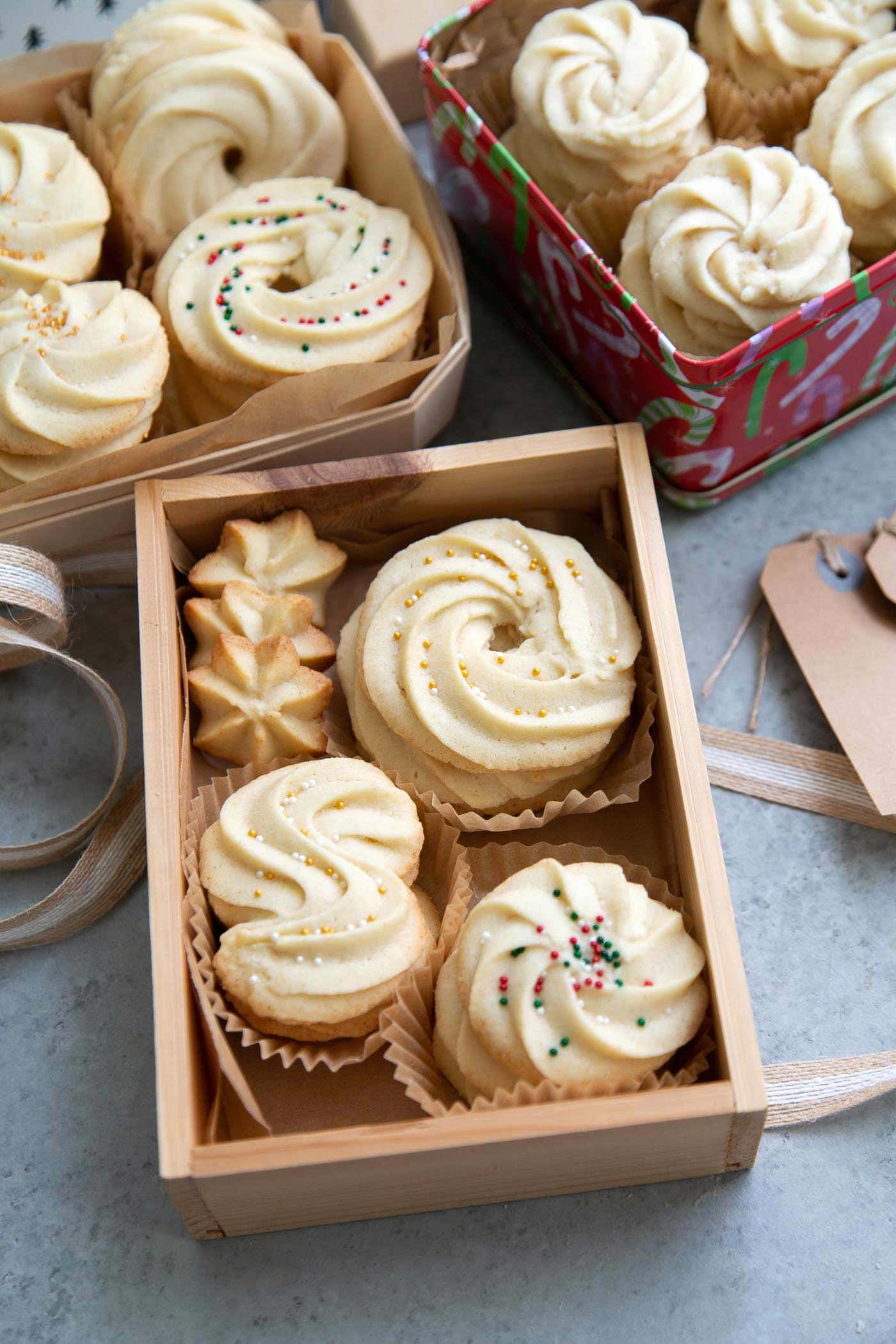 The holiday season is synonymous with cookies! It's the best time of year to bake.
There are so many occasions and opportunities to share sweets and baked good with loved ones during this festive time of year. Whether you want to treat loved ones at home, or ship care packages afar, it's definitely the season to spread cheer!
Growing up, these sweet little butter cookies from the iconic blue tins were a staple at all my holiday family gatherings. From September until January, our house was stocked with Danish butter cookies.
Here's my homemade version of those nostalgic sweet and crunchy cookies that you can enjoy all year long!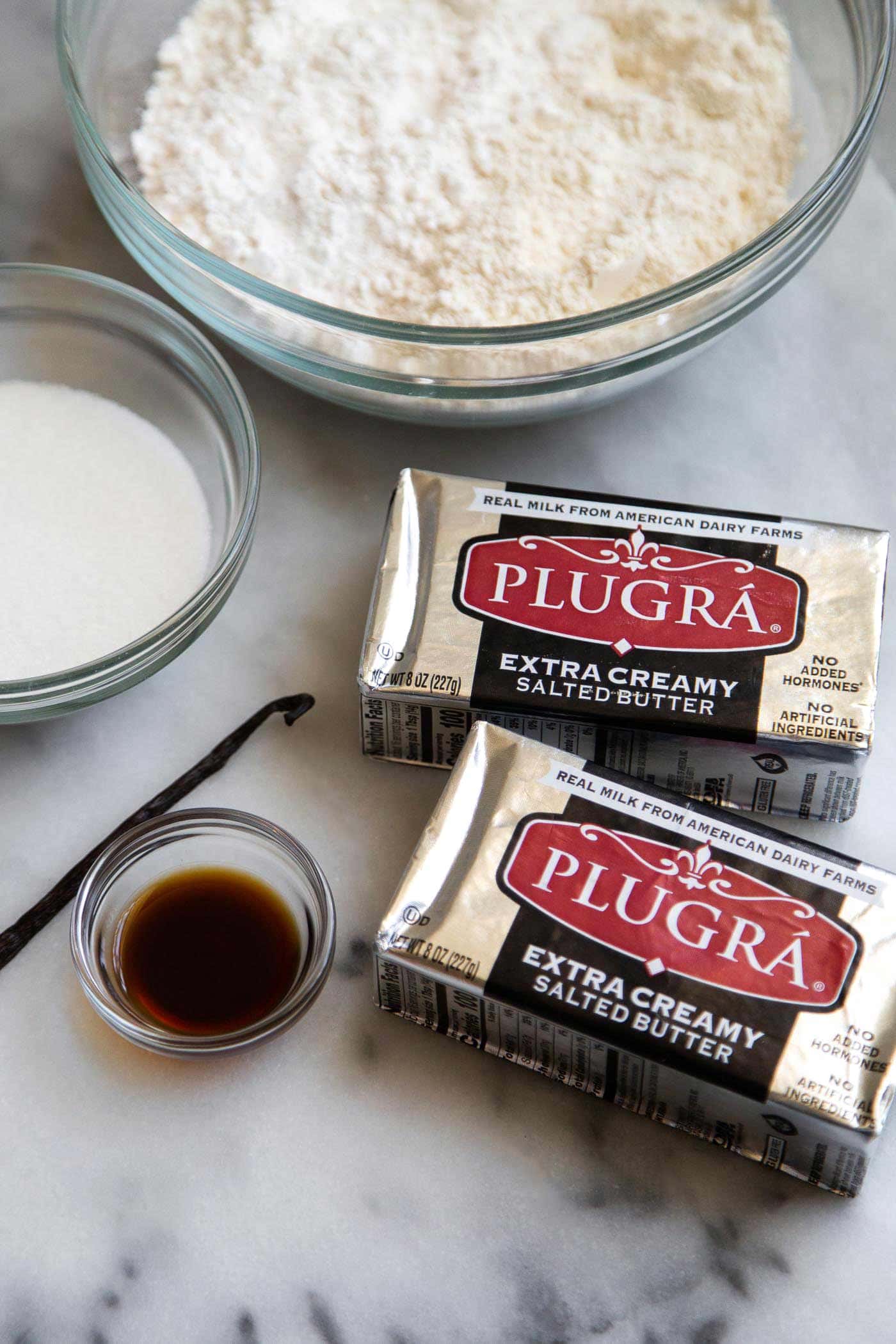 Ingredients and Substitutions
These cookies are made with a handful of ingredients: butter, sugar, flour, vanilla, and egg. As such, it is important to use high-quality ingredients.
These are BUTTER cookies. The right butter makes ALL the difference!
Butter
I highly recommend using a European style butter or extra creamy butter like Plugra .
Plugra has the perfect amount of butterfat that makes these butter cookies SO good. (These brown butter snickerdoodles are also made with European style butter!)
Different brands of butter have differing amounts of butterfat. Why does it matter? Flavor is best transported through fat.
Think about the difference between the flavors of skim milk milk versus whole milk versus heavy cream. All three products are made with cow's milk with varying degrees of fat content. The more fat, the richer and distinct the flavor.
NOTE: On the other end of the spectrum, you CAN have too much fat in cookies. That explanation will come in another post.
Flour
This recipe uses a mixture of all-purpose flour and cake flour. The cake flour helps to give these cookies more crumble and crunch (due to the added amount of cornstarch found in cake flour).
Be sure to use relatively fresh flour. Open up a new bag of flour if yours has been sitting on the shelf for a few months.
Vanilla
I like to splurge on vanilla beans or vanilla bean paste during the holiday season. They taste far superior to vanilla extract.
NOTE: Costco offers a great deal on vanilla beans! 5 organic vanilla beans for $16!
When using vanilla extract, seek PURE vanilla extract. Stay away from imitation vanilla extract.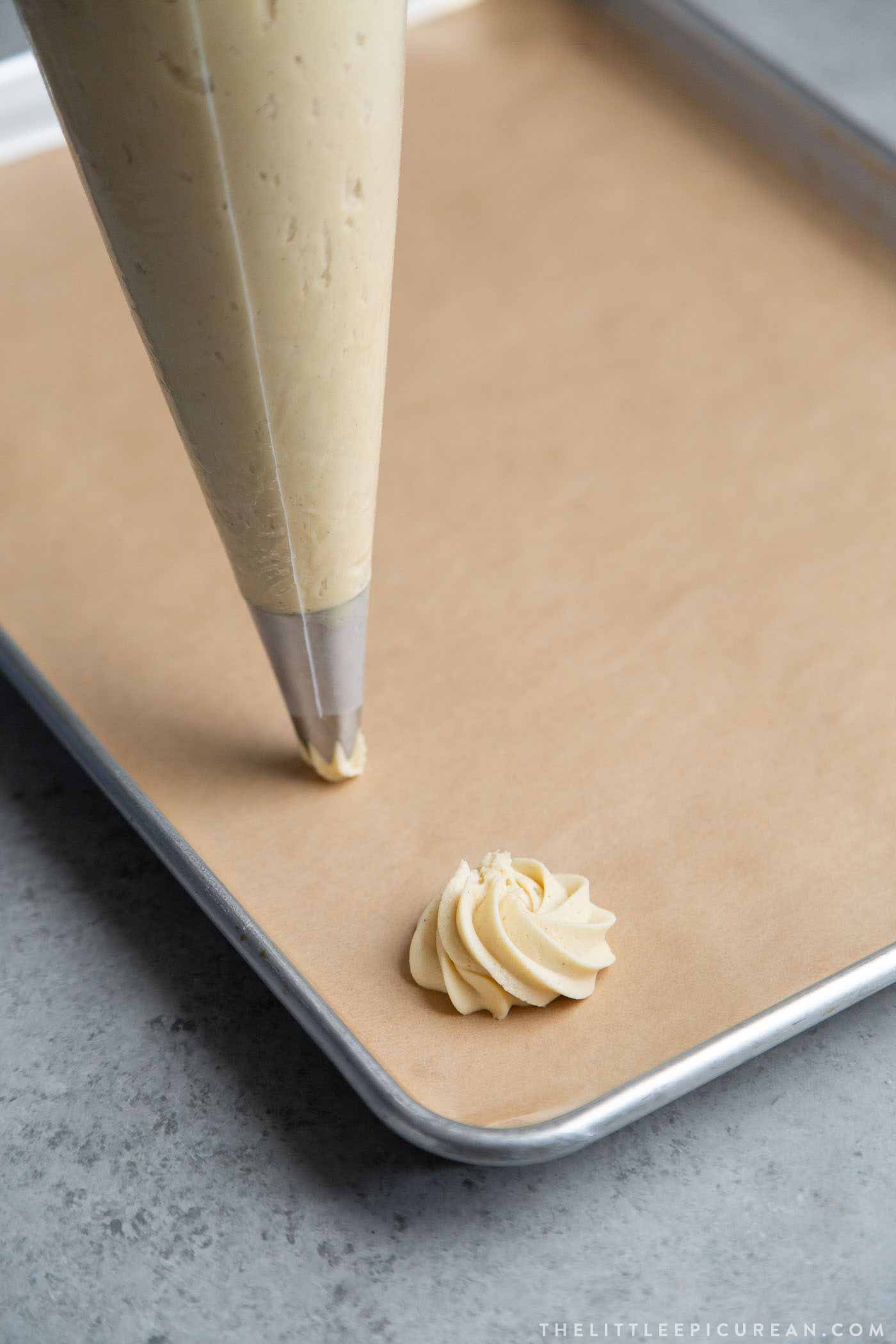 Tips for Mixing Together Cookie Batter
Be sure to use softened, room temperature butter. The butter should be cool to the touch, but your finger should leave an indentation when you press the butter.
Leave the butter at room temperature for about 30 minutes to one hour to get that perfect softened, texture.
To quickly bring cold eggs to room temperature: place egg in a bowl of room temperature water for 5-10 minutes.
Don't overmix. Overmixing will cause the batter to toughen up. Stiff dough will be difficult to pipe.
Tools needed for piped butter cookies:
The cookie batter may be mixed together by hand. However, I highly suggest using a stand mixer or electric hand mixer.
Bake the cookies on a parchment lined or reusable silicone baking mat lined sheet tray. Do not bake on wax paper or foil.
Use piping bag fitted with a star piping tip. Or, you may use a cookie press.
Recommended piping tip and piping bag:
I use this large open star piping tip (ateco #826). It has a 1/2-inch opening. This piping tip is paired with an 18-inch piping bag. I recommend these disposable bags or this reusable decorating bag.
Note: The star piping is great size tip to have on hand. It can be used for making churros or cruller donuts.
How to Pipe Cookie Rosettes
Keep the piping bag in a vertical position. Hover piping tip a few centimeters off the parchment paper. Squeeze out a little batter until a star forms onto the parchment paper.
Using constant, continuous pressure, drag the piping tip in a circular motion, going around the initial star.
Let pressure go once you return to the original starting point of your rosette. Pull piping bag in the same direction of circle to quickly release dough and close off the rosette.
Not a fan of rosettes? Pipe the cookie dough into easier shapes like strips, circles, or "s" shape.
If you don't have a piping bag and piping tip, you may also use a cookie press to portion out the dough.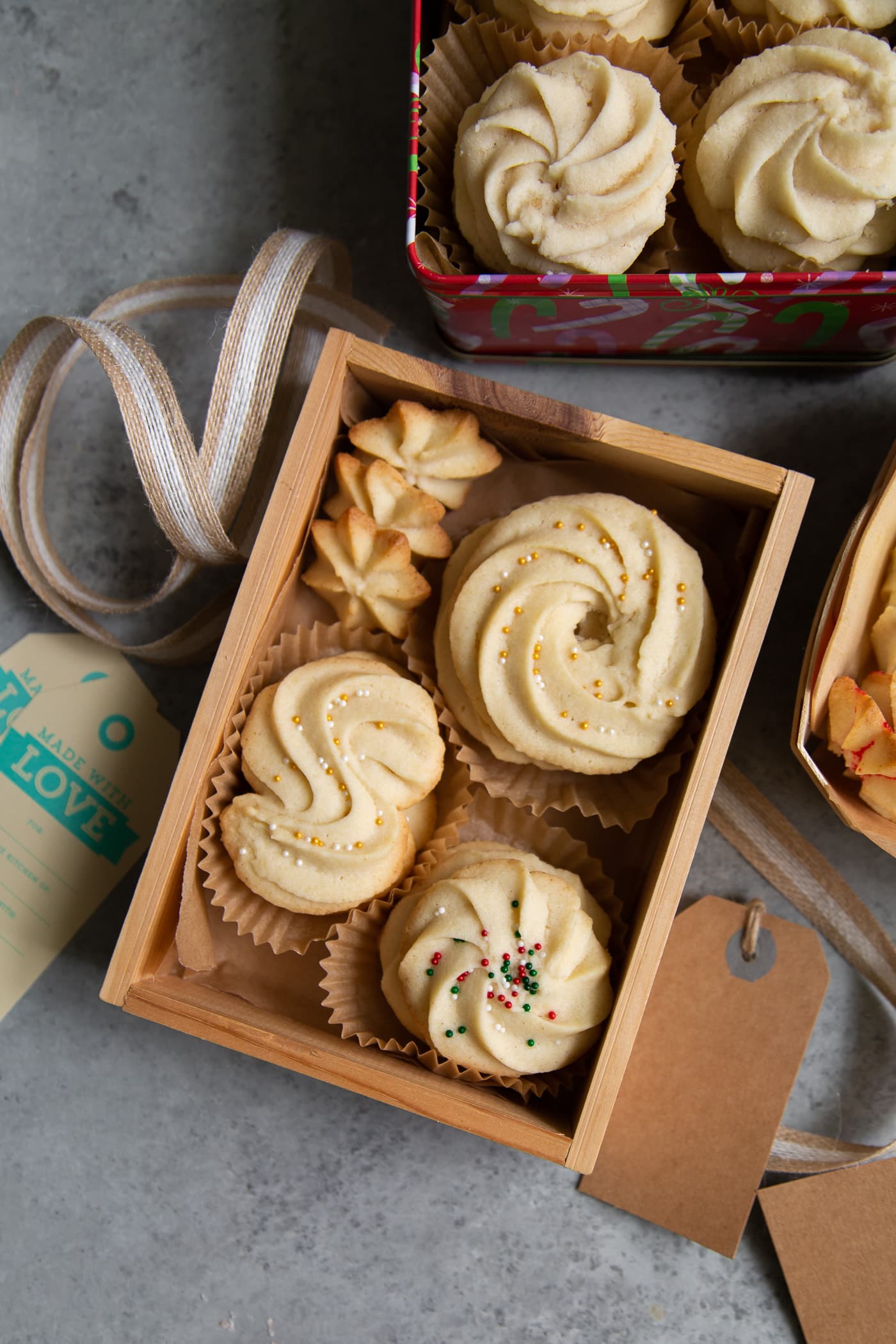 Cookie Toppings
These butter cookies don't need any additional toppings. However, if you'd like to add a colorful festive touch, add sprinkles!
Immediately after piping, top cookie dough with desired sprinkles. Colorful nonpareil sprinkles, sanding sugars, or coarse sugar (like turbinado sugar) work best.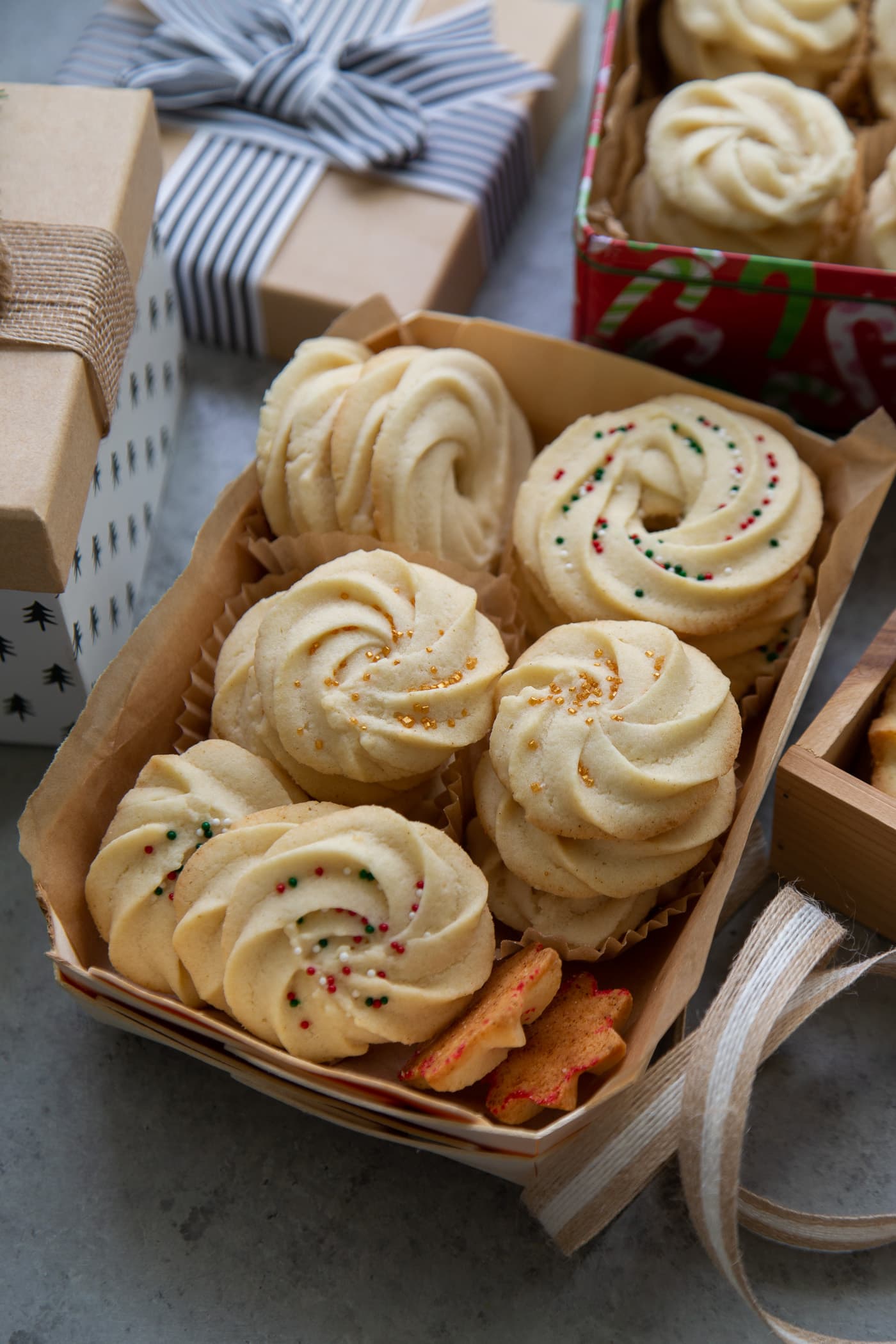 Serving Suggestion and Packing Notes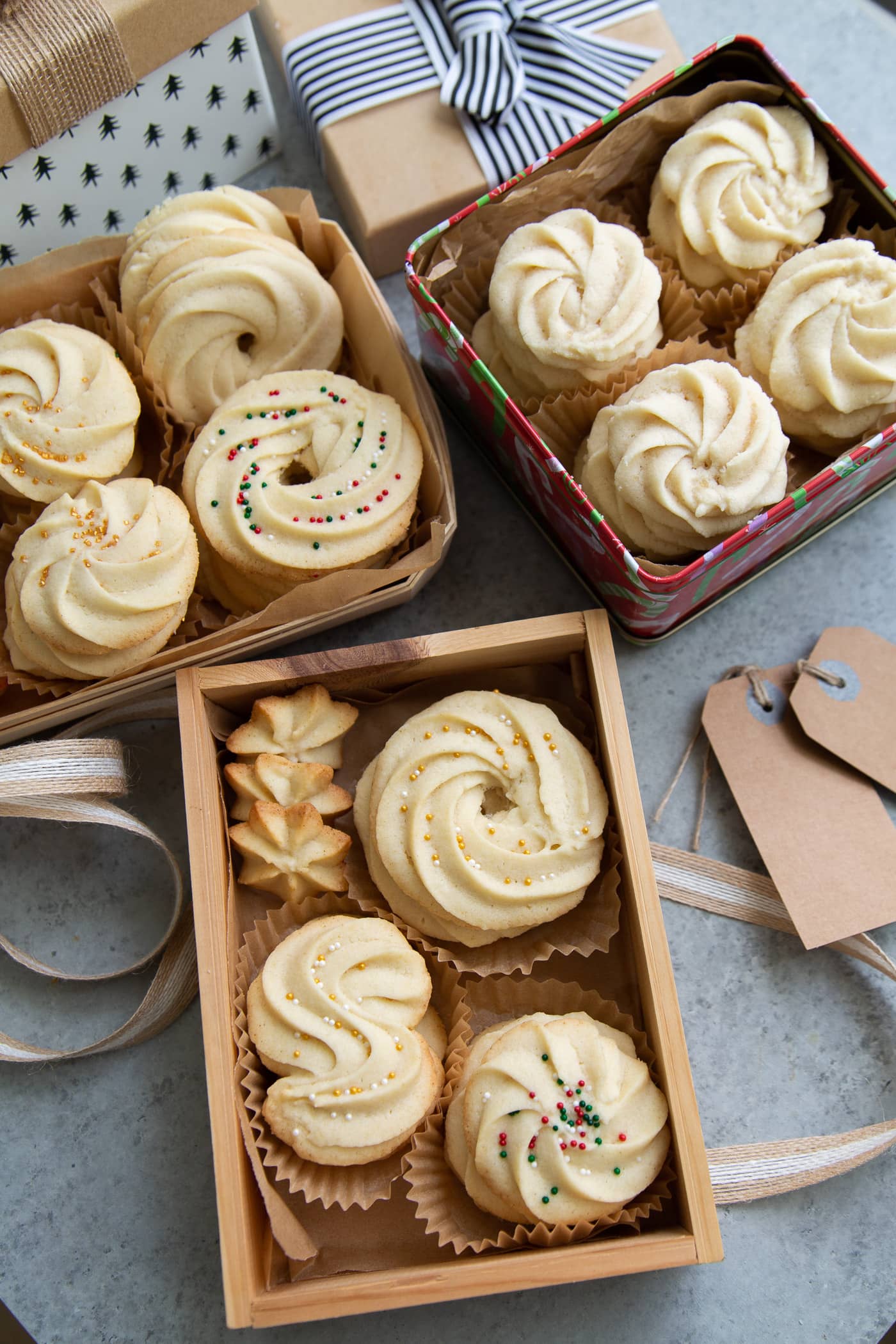 More Holiday Cookie Recipes
These cookies are perfect for gift boxes and sharing with loved ones.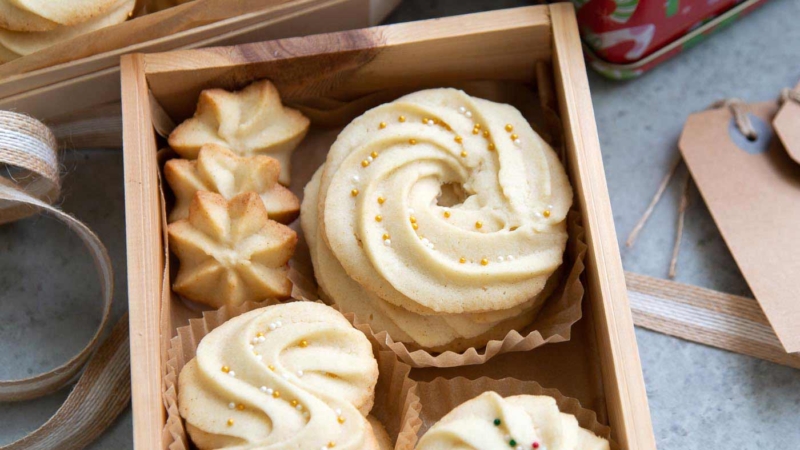 Danish Butter Cookies
Homemade Danish butter cookies similar to those butter cookies from the iconic blue tins! These are a family favorite during the holidays.
Ingredients
1

cup

Plugra Extra Creamy Salted Butter

(227 g) or European salted butter, softened, room temp

½

cup

granulated sugar

(100 g)

1

large egg,

room temp

2

teaspoon

pure vanilla extract

or ½ vanilla bean scraped

1 ½

cups

all-purpose flour

(200 g)

½

cup

cake flour

(60 g)

¼

teaspoon

baking powder

nonpareil sprinkles, sanding sugar, or coarse sugar

if desired for decorating
Instructions
Preheat oven to 350°F. Line two baking sheets with parchment paper or silicone baking mat. Set aside.

In the bowl of a stand mixer fitted with a paddle attachment, cream butter until smooth. With the mixer running on medium speed, slowly add in sugar. Mix until incorporated.

Add egg and vanilla. Continue to mix on medium speed until well combined. Scrape down sides of bowl as needed to ensure thorough mixing.

In a separate bowl, whisk together flour, cake flour, and baking powder. Add flour mixture to mixer in two additions. Mix on low speed until there are no longer any dry streaks of flour.

Transfer cookie batter to large piping bag (18-inch) with fitted a ½-inch open star tip (also labeled as #826 tip). Pipe 2-inch rosettes (or rounds/circles, stripes, or S-shapes) on prepared baking sheet. Space cookies at least 2-inches apart.

Bake for 15-18 minutes, rotating sheet midway through baking. Bake until edges are lightly golden brown. Let cookies cool in baking sheet for about 5 minutes before transferring to wire rack to cool to room temperature.

Store cooled cookies in an airtight container. Cookies will keep at room temperature for up 5 days.
Notes
Baking time may vary depending on size and shape of piped cookies. The listed baking time in this recipe is for 2-inch rosettes. 
Mixture of all-purpose flour and cake flour gives the baked cookies a nice crunchy yet melt in your mouth texture. If desired, you may use omit the cake flour and simply use 260 grams all-purpose flour.
If you choose to use unsalted butter, add 1/4- 1/2 teaspoon kosher salt.