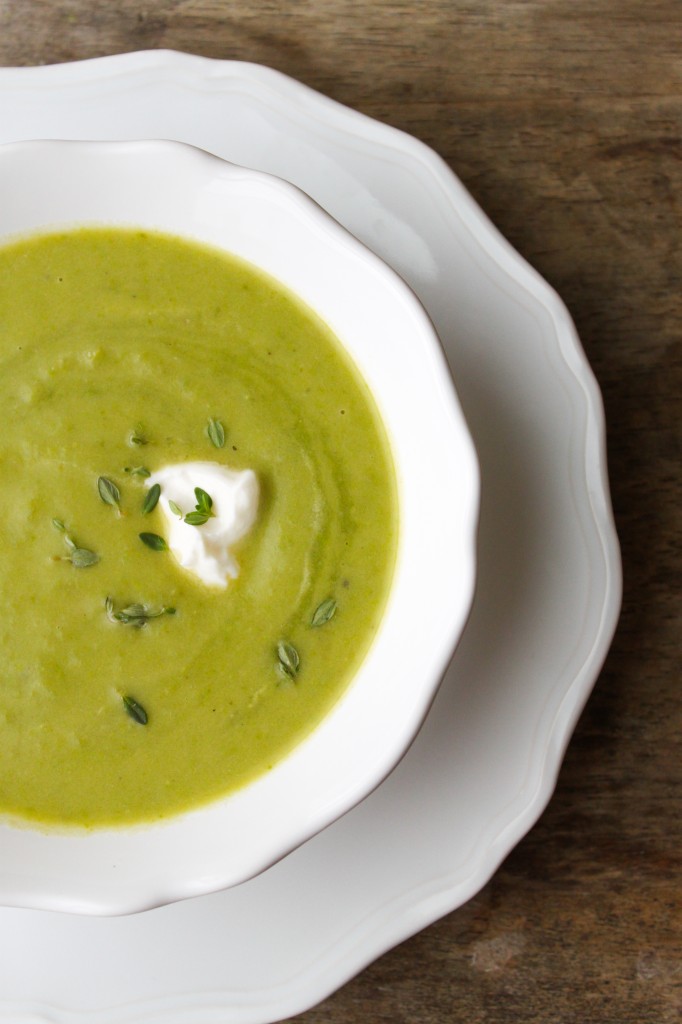 Can you believe that I have never had green pea soup?  I've managed to stay away from it for 27 years.  Growing up, I had a major aversion to the tiny green vegetables.  It was mushy, it rolled around my plate, and I thought it tasted like chalk.  But my biggest question as a kid was– what was it doing in my fried rice?  I like fried rice just the way its meant to be– rice that is fried.  Even now, sometimes by habit I pick out the green peas from chicken pot pie.
Since then, I have grown to love peas (and all vegetables for that matter).  I don't know what it is with children and their vegetables.  I have no idea why I hated greens like broccoli, peas, brussels sprouts.  Perhaps these vegetables were too bitter for my young and limited palette.  Although, I did really love carrots.  Carrots with ranch dip, to be exact.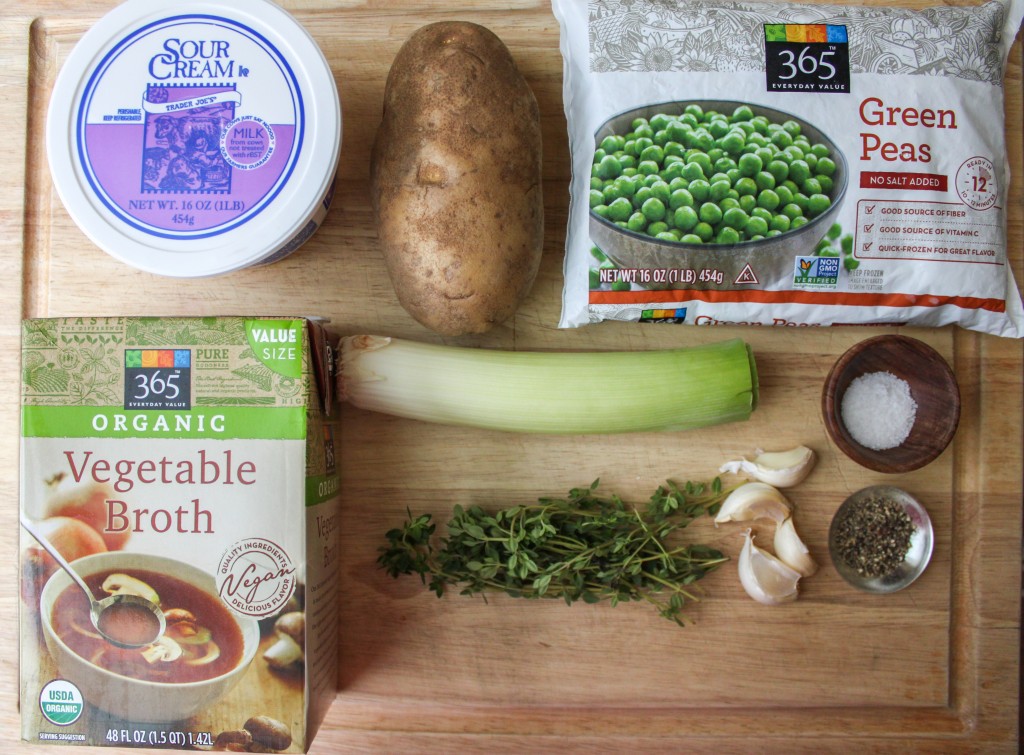 I was a bit hesitant to make this soup, afraid that I might not like it and once again go hating peas.  This soup truly surprised me.  I think its delicious and it looks so pretty in a white bowl.  I may have to get myself one of those fancy Vitamix blenders because I foresee myself making tons of soup this year.
The additional of lemon thyme does wonders to the soup.  It brings a nice kick and brightness to the earthy peas.  The soup is delicious warm or chilled making it perfect for unpredictable spring weather.  Serve the soup alone or with a tasty grilled ham and cheese panini.  Pair it with a nice salad or enjoy with a white wine.
Green Pea Soup
Ingredients:
1 Tbsp vegetable oil, or more to coat bottom of pan
1 medium leek, whites and light green parts only, halved and sliced thin
1 medium onion, chopped
4 garlic cloves, minced
1 large potato, peeled, cut into small cubes
16 oz frozen peas
4 cups vegetable stock
a couple sprigs of fresh lemon thyme, tied in a bundle
1/3 cup sour cream, plus more for serving
additional lemon thyme for serving
Directions:
Heat large heavy bottomed stockpot. Add oil. Once oil is warm, add garlic and onions. Cook over medium-high heat for 30-45 seconds until garlic is fragrant. Add leeks and cook until leeks and onions have softened, about 3 minutes.
Add potatoes and peas. Cook for about 2 minutes until frozen peas start to defrost. Add vegetable stock and lemon thyme bundle. Bring to a boil, reduce heat, and let simmer for 15-20 minutes until potatoes can be easily smashed with a fork. Remove from heat and let cool for 10-15 minutes. Remove lemon thyme bundle.
Puree soup using an immersion blender, or transfer soup in batches to a blender. Blend soup until smooth. Stir in sour cream and season with salt and pepper. Serve soup warm or chilled with additional sour cream and fresh lemon thyme leaves.