This easy chickpea corn chowder is loaded with fiber and protein thanks to the ever versatile chickpea, also known as garbanzo beans or Bengal gram.
This chickpea corn chowder recipe was made in collaboration with USA Pulses & Pulse Canada. As always, all opinions mentioned here are entirely my own.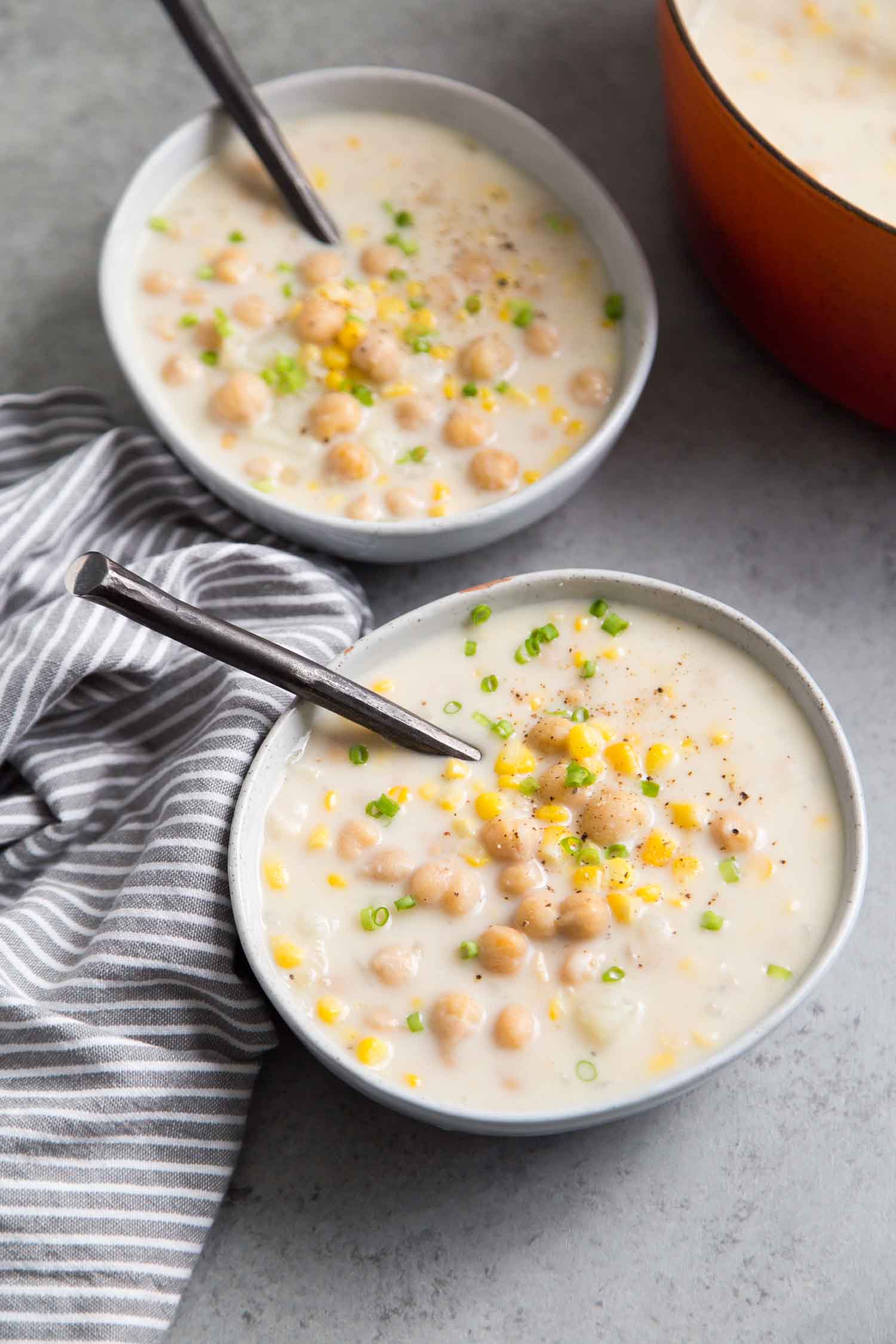 How do I maintain a healthy weight while eating all the cake, cookies, and ice cream?
Life is all about balance. Believe it or not, when I'm not enjoying sweet treats, I eat a ton of vegetables.
Give me salads, grain bowls, and roasted cruciferous veggies (broccoli, cauliflower, kale, bok choy).
As much as I savor meats and fish, plants make up a much larger part of my diet.
Today I'm sharing one of my favorite ways to introduce pulses in your weekly meal planning routine. Soup! It's the easiest and quickest meal to make.
Add everything into one pot and voilà!
What are pulses?
Pulses are the dry, edible seeds of plants in the legume family.
While pulses are legumes (like soybeans, peanuts, fresh beans), pulses ONLY refer to the dried seeds. These include chickpeas, lentils, dry peas, and beans.
Why should you care about pulses?
Pulses are good for you! Pulses are an excellent way to incorporate more fiber into your diet.
They're also a great source of plant-based protein.
I encourage you to sign up for the Half-Cup Habit to learn about how easy it incorporate pulses into your lifestyle.
How about using hummus instead of mayo in your sandwiches and wraps?
How about swapping out the meat in your tacos/burritos/bowls with lentils?
And my personal favorite- how about replacing some flour in your brownies with mashed black beans?
Black bean brownies are a thing, and they're absolutely delicious. (I'll share my recipe soon!)
Chickpea Chowder
Corn chowder is a family favorite in my house.
With a couple tweaks, I was able to amp up the nutrients without sacrificing on flavor.
This chickpea corn chowder is the entire package. It's not just a soup or starter to begin your meal.
It is a meal in itself.
The addition of chickpeas packs this soup with protein and fiber, leaving you full and satisfied.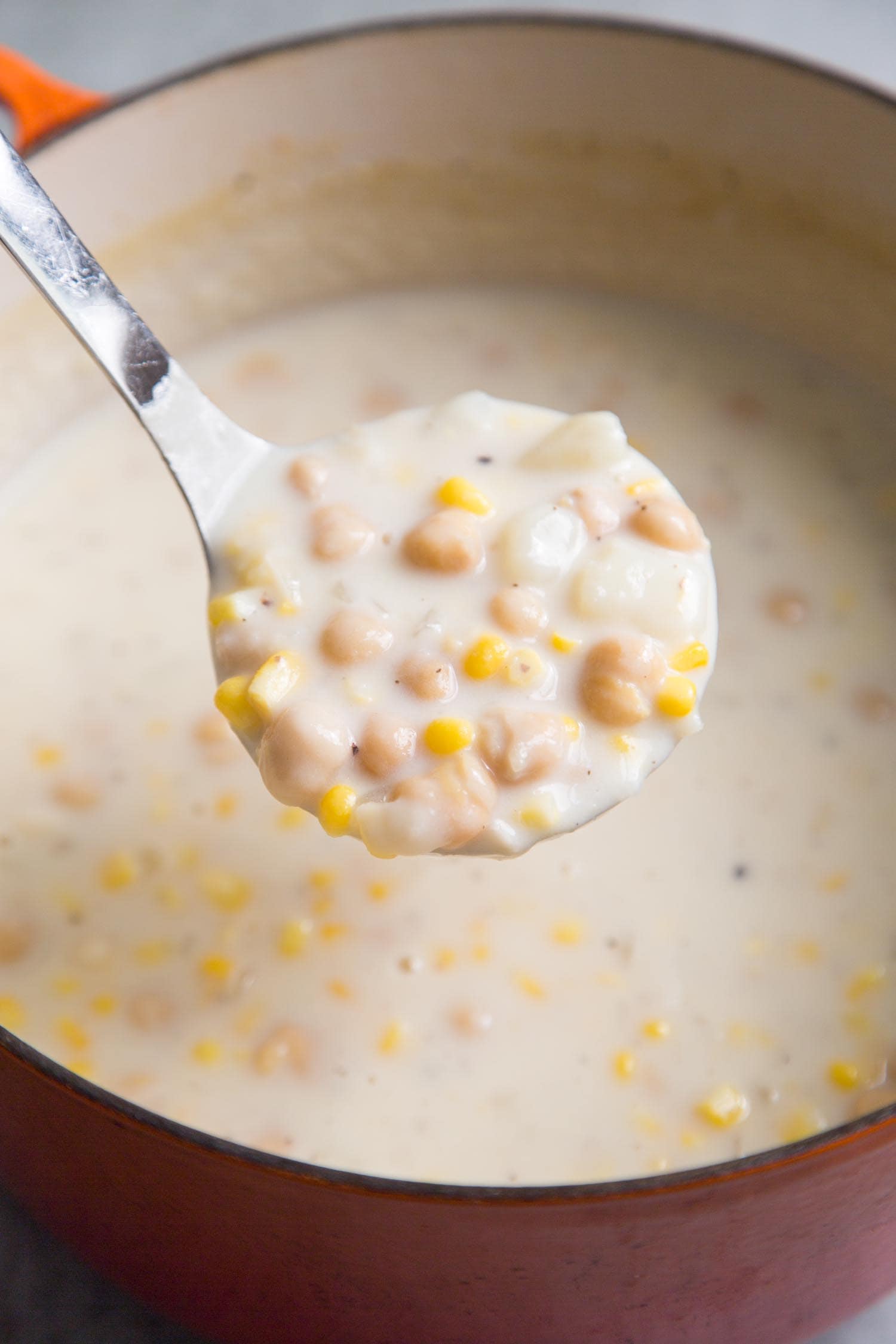 The soup is simply seasoned with kitchen staples: garlic, onion, salt, and pepper.
Instead of relying on heavy cream to thicken the soup, I pureed some starchy potatoes with the broth. It does the trick.
But since this is a chowder, after all, I splashed in some half and half for that rich, creamy goodness.
This chickpea corn chowder tastes even better the following day, once all the flavors have had time to meld together.
I suggest making a large batch because you'll definitely want leftovers!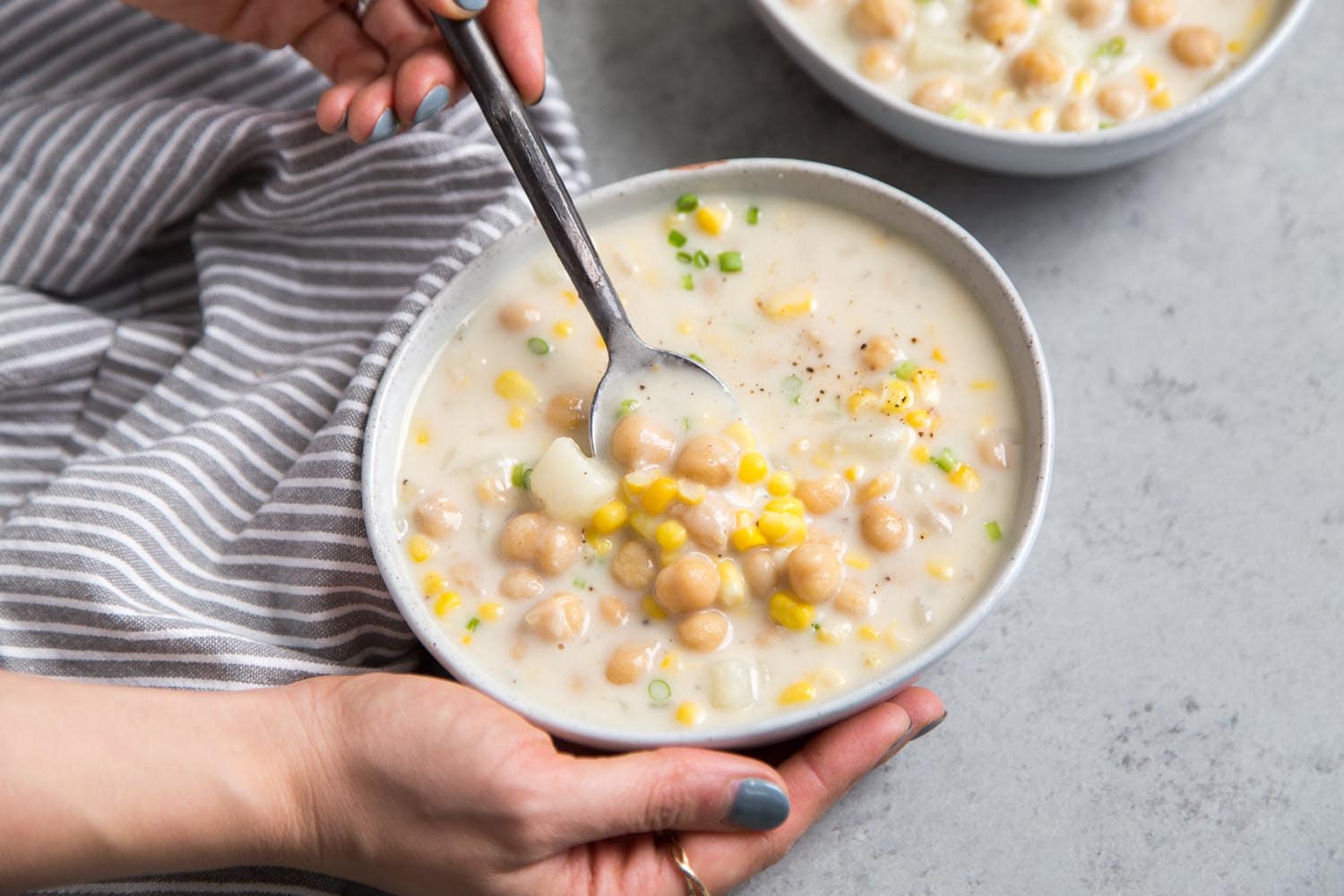 Ready for another pulse recipe?! Try this Pressure Cooker Miso Lentil Soup!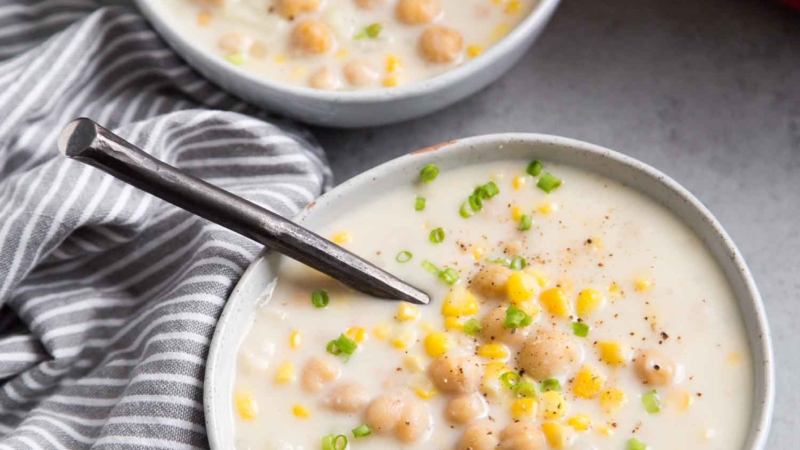 Chickpea Corn Chowder
This easy to make soup is loaded with fiber and protein thanks to the ever versatile chickpea, also known as garbanzo beans or Bengal gram.
Ingredients
1

Tablespoon

olive oil

1

Tablespoon

unsalted butter

3

garlic cloves,

minced

1

medium onion,

chopped, about 1 1/4 cup

1

teaspoon

kosher salt

¼

teaspoon

freshly ground black pepper

1

medium Russet potato

(about 10 oz), peeled and diced into small cubes

4

cups

reduced sodium chicken broth*

¾

cup

half and half, or milk

3

cups

corn kernels,

fresh or frozen

2

-15 oz cans chickpeas

(garbanzo beans), rinsed and drained

chopped green onions (or chives),

as needed to garnish
Instructions
In a large pot, combine olive oil and butter over medium heat. Once butter has melted, add garlic and onion. Cook until onion is tender and almost translucent. Season with salt and pepper.

Add potatoes and chicken broth. Bring mixture to a boil, reduce heat, cover pot, and let simmer for 10-15 minutes until potatoes are fork tender. Scoop out about 2 cups of mixture and puree in a blender until smooth. Return puree back into the pot.

Add half and half, corn, and chickpeas. Return to to a boil and then reduce to a simmer. Cook on low heat for 5-10 minutes until chickpeas are warmed throughout. (If using frozen corn, heat until corn is cooked). Season with additional salt and pepper, as needed. Garnish with chopped green onions. Serve warm.
Notes
Chicken broth adds much more flavor to this chowder. If you would like to use vegetable broth, use one that is not heavy on tomato flavor.