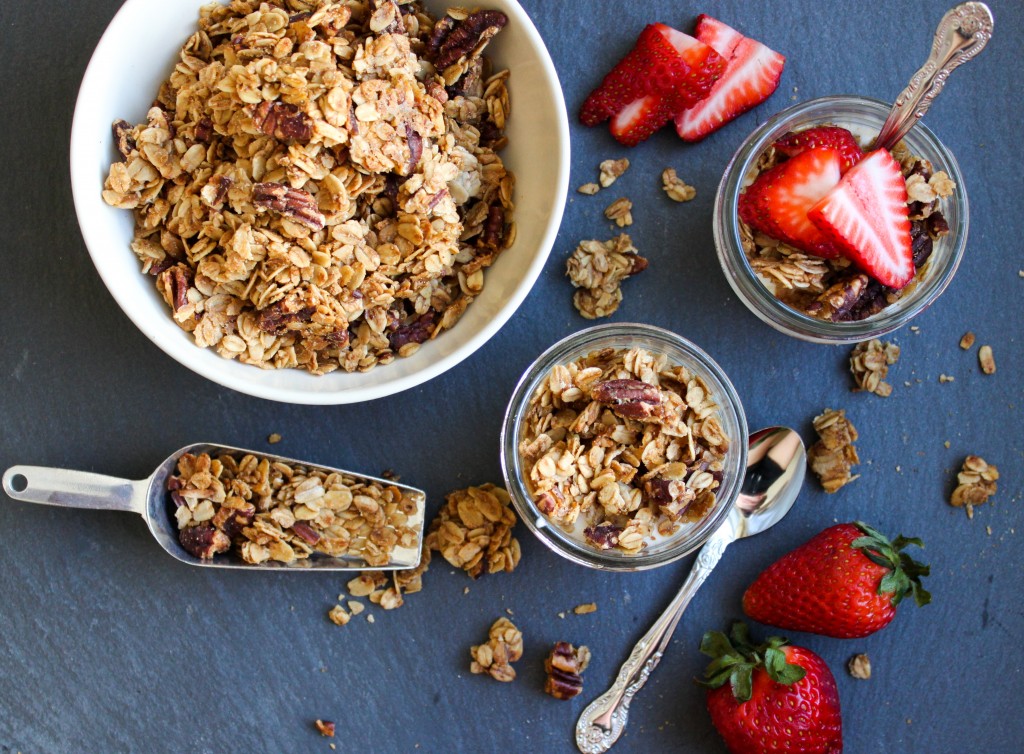 Granola is the grown up's version of cereal. Sort of. It's supposed to be healthier and better for you. But have you ever looked at the nutritional labels and ingredients in granola sold in markets? They are jam packed with sugars and sweeteners. Some are even baked with so much oil that its almost like eating a donut because of all the saturated fats! They can also get pretty expensive, especially the ones I end up liking at Whole Foods Market.
I always have lots of old-fashioned oats in the house.  I buy pounds of these oats telling myself, I'm gonna make oatmeal for breakfast.  I'm going to eat oatmeal this week.  Unfortunately, my stomach doesn't agree with me in the morning.  I wake up wanting croissants, fried eggs or pastries. Good old wholesome oatmeal gets long forgotten. I do however, enjoy eating yogurt.  And what goes well with yogurt– granola!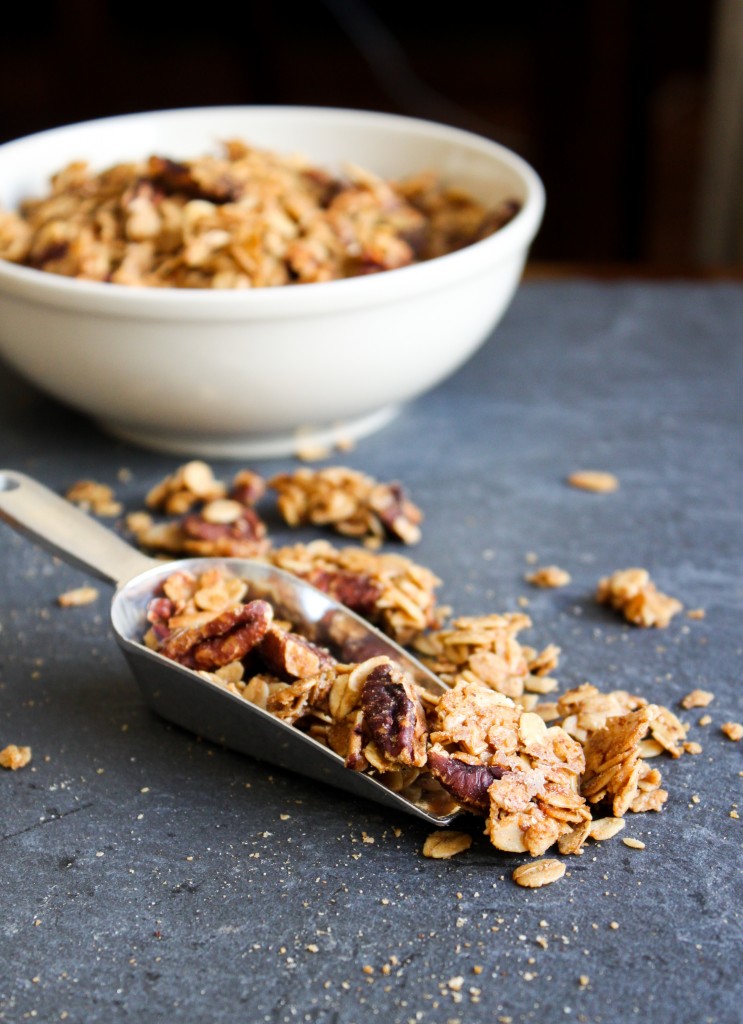 I'd say this is a relatively healthy granola. This maple pecan granola uses little sugar and instead relies on maple syrup for sweetness. I once worked at a bakery where we made granola three times a week.  It was amazing and addicting granola. But it also had as much sugar as the cookies we also made.
Making oatmeal in the morning is a chore (unless you make my overnight steel cut oatmeal), but this granola allows you to have the benefits of oatmeal at a moment's notice. You get protein from the pecans, fiber from the oats, and it keeps you fuller longer than most cereals.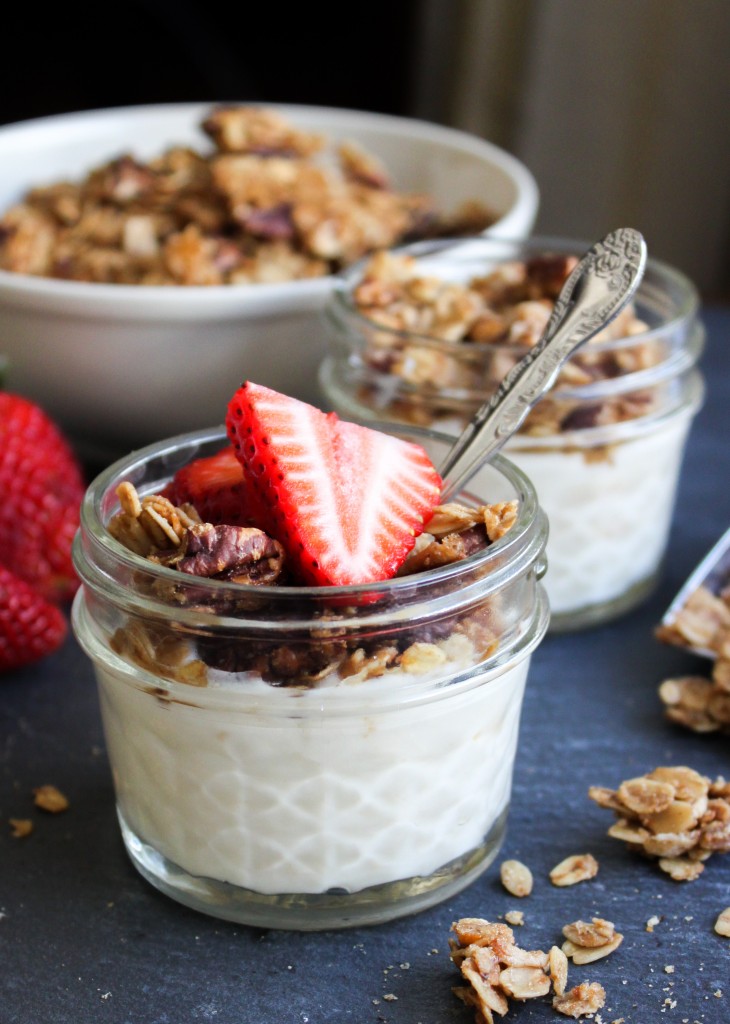 Like most granola recipes, you can swap in different nuts, sweeteners, and dried fruits. Don't like pecans? Try walnuts, sliced almonds, pistachios.  Don't have maple syrup? Use honey, agave syrup, or brown sugar. And if you want to make it even more decadent, add dried fruits or chocolate chips into the mix after baking. Mix and match until you find your perfect combination. Enjoy your granola with milk or yogurt, eat them plain by the handful, or if you're feeling naughty- sprinkle them over ice cream.
I think once I finish this batch, I'll be making a cocoa nib, sliced almond, agave sweetened granola. Yum!
Maple Pecan Granola
Ingredients
1/3

cup

maple syrup

1/2

cup

vegetable oil

1/3

cup

light brown sugar, packed

1/2

tsp

fine sea salt

5

cups

old-fashioned rolled oats

2

cups

pecans, roughly chopped
Instructions
Preheat oven to 325 degrees F. Line an 18×13-inch baking sheet with parchment paper. Set aside.

In a large bowl, whisk together maple syrup, vegetable oil, brown sugar, and salt. Fold in rolled oats and pecans. Mix until the dry mixture is thoroughly coated.

Transfer mixture to prepared baking sheet. Spread evenly across baking sheet. Lay parchment paper over mixture and press with the bottom of another baking sheet to make the oat mixture compact.

Bake for 40-45 minutes until mixture is firm and lightly golden brown in color. Rotate baking sheet midway through baking. Let granola cool to room temperature on wire rack. Break room temperature granola into bite size pieces (or into your desired size). At this point, you can add dried fruits or chocolate chips. Store at room temperature in an airtight container for up to one month.