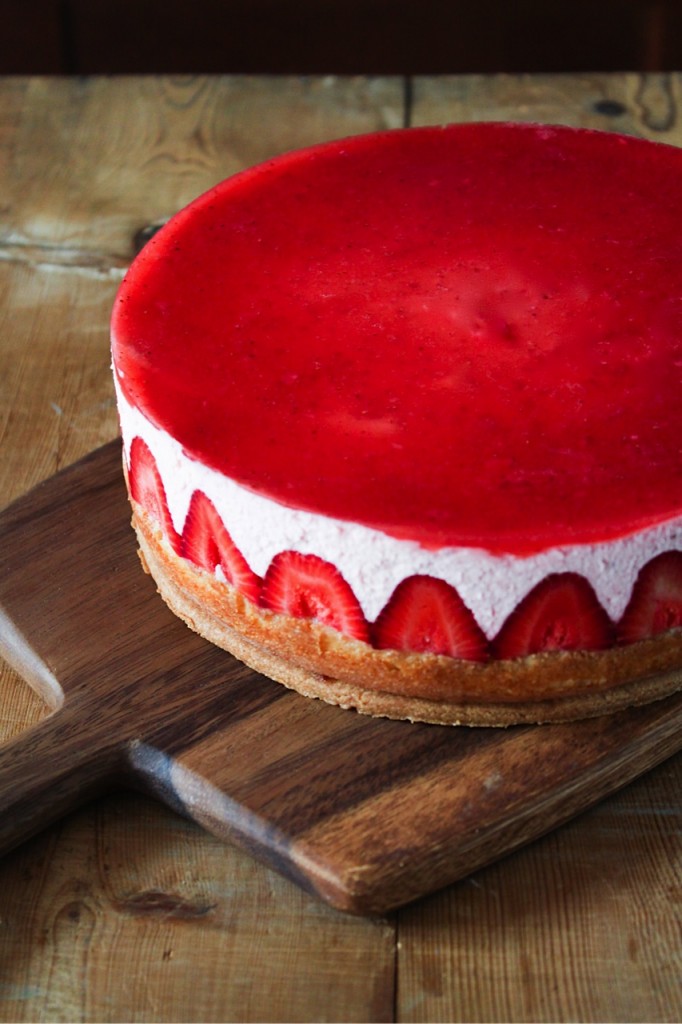 I have been waiting all year to make this cake.  Last weekend I drove up to Oxnard to get a flat of freshly picked strawberries.  Now that strawberries are in season, I am pleased to introduce you to one of my favorite cakes.  Say hello to my Strawberry Yogurt Mousse Cake.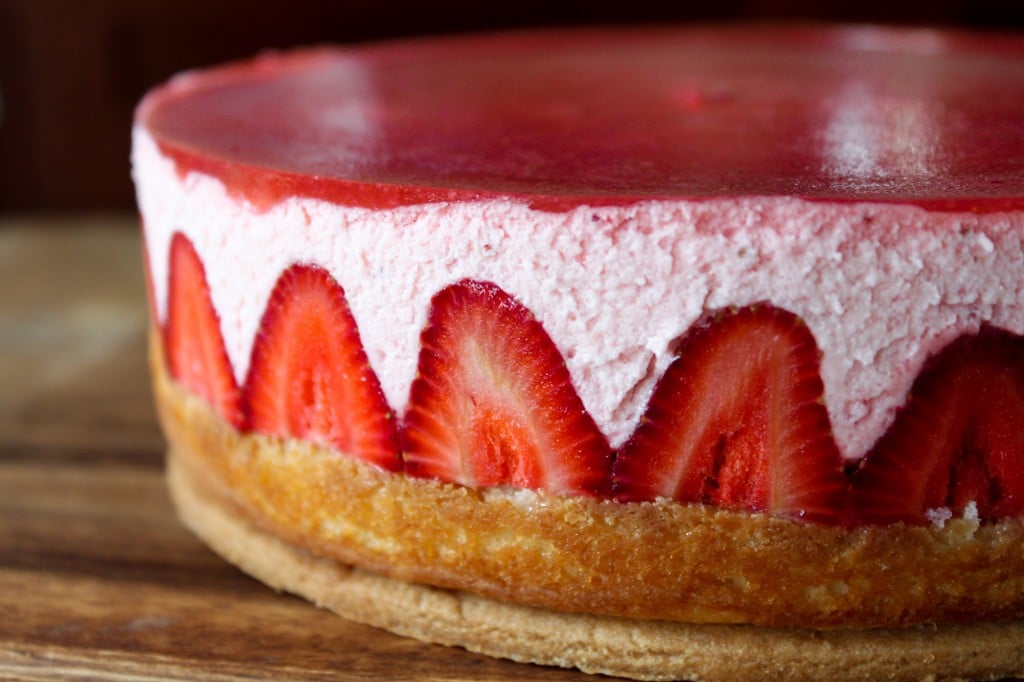 This cake is magical.
The bottom layer is a buttery and crisp shortbread cookie crust.  There is a thin layer of strawberry jam adhering a light white cake to the cookie bottom.  Fresh strawberries line the perimeter of the cake bringing a pop of color and excitement.  The majority of the cake is made up of a smooth and slightly tart strawberry yogurt mousse.  And a transparent strawberry gelatin tops the cake and brings everything together.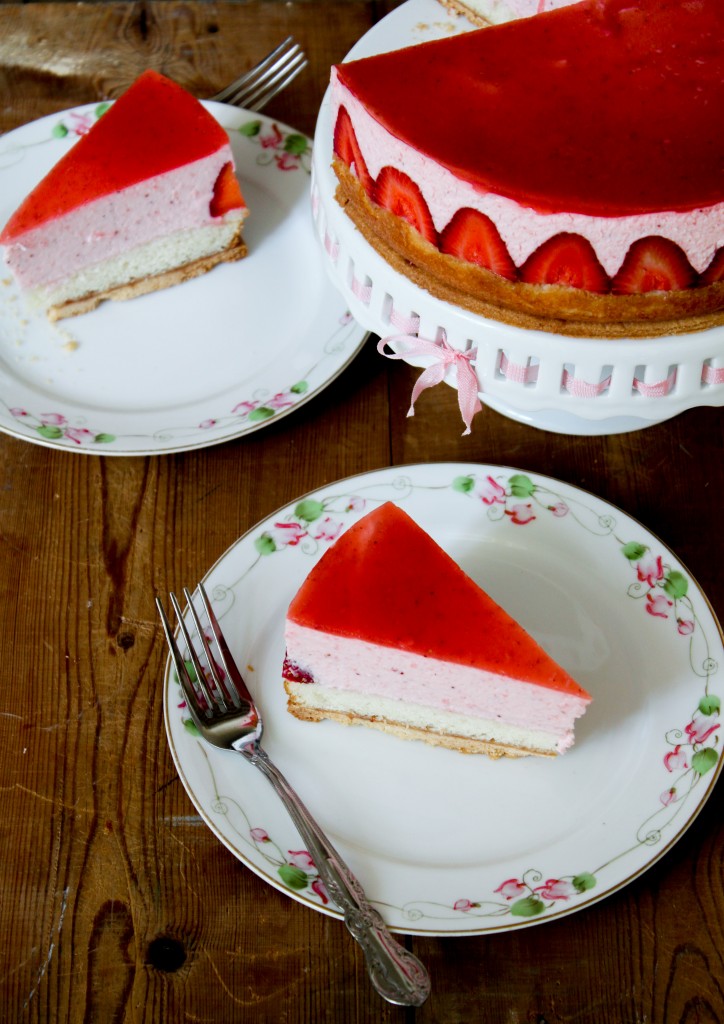 I love the different textures and flavors within this one cake.  It never gets boring as each spoonful is a new surprise.  Each eater can enjoy the cake as they please.  My mom likes to eat all the yogurt mousse first.  My dad likes to have a little of each layer with every bite.  There is no wrong way to eat it, as long as you enjoy it.
Memorial Day kicks off the unofficial start of summer.  I hope everyone enjoyed the long weekend!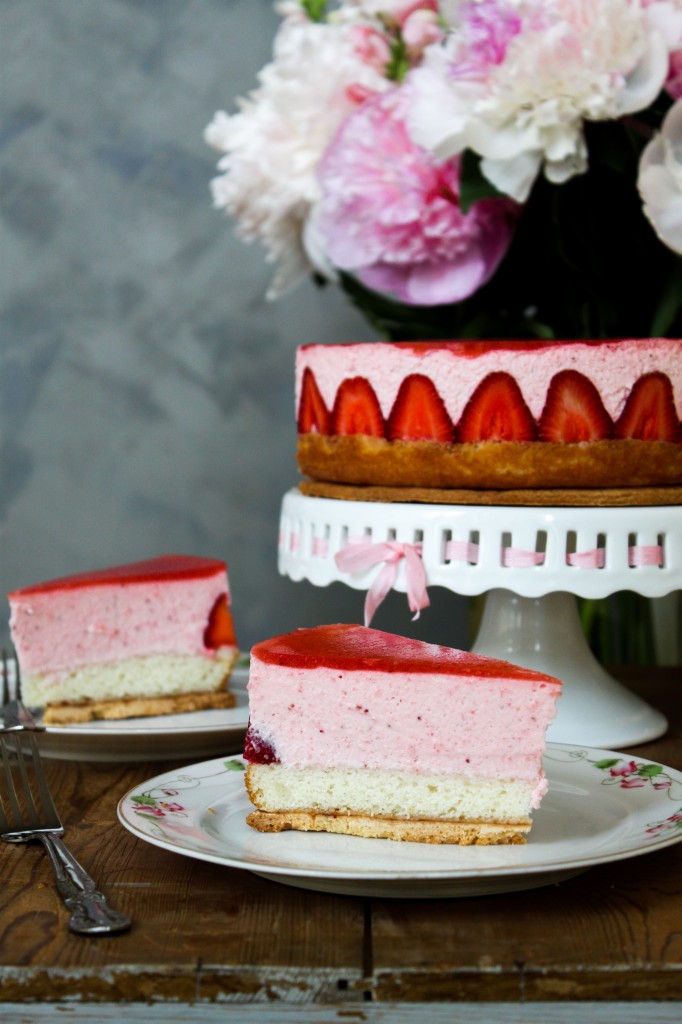 Strawberry Yogurt Mousse Cake
Ingredients:
Shortbread Crust:
8 Tbsp unsalted butter
1/4 cup granulated sugar
1/4 tsp fine sea salt
1 large egg yolk
1 1/2 cups cake flour
White Cake:
1/2+1/3 cup cake flour
3/4 cup granulated sugar
1/2 Tbsp baking powder
1/2 tsp fine sea salt
5 Tbsp unsalted butter, cut into tablespoons
2 large egg whites
1/2 cup whole milk
1 tsp vanilla extract
Strawberry Mousse:
8 oz plain nonfat (or low fat) yogurt
3 oz granulated sugar
3 sheets gelatin, bloomed
9 oz strawberry puree
10 oz heavy cream, soft peaks, chilled
strawberries, sliced, for garnish and decoration
Strawberry Jelly Glaze:
1 1/2 sheets gelatin, bloomed
2 oz water
2 oz strawberry puree
1 oz granulated sugar
Directions:
Shortbread Crust:
In the bowl of a stand mixer fitted with a paddle attachment, cream together butter, sugar and salt. Mix until smooth. Scrape down sides of the bowl as needed.
Add the yolk and continue to mix on medium speed until incorporated. Add all the flour and mix on low until the dough is crumbly and moist- about 45 seconds.
Dump dough onto a lightly floured surface and press dough together into a cohesive mass. Press down until dough is about 1/2 inch thick. Wrap tightly in plastic wrap and let chill in the refrigerator for at least 30 minutes until cold.
Preheat oven to 350 degrees F.
Place chilled dough on a lightly floured surface. Divide dough in half. Roll out one half of dough into a even layer of about 1/4'' thick. Place an 8-inch cake ring over the dough. Trace a circle around the outside of the cake ring.
Gently lift dough and place it on a parchment lined baking sheet. Use a dough docker or a fork to dock/punch holes all over the dough. Bake in a preheated oven until dough is a nice golden brown- about 20-30 minutes. Let crust cool in pan for a couple of minutes before transferring to wire rack to cool to room temperature.
Save remaining half of dough for other recipes. Dough can be kept in fridge for up to 3 days or frozen for up to two weeks.
White Cake:
Preheat oven to 350 degrees F. Butter an 8-inch round pan and line with parchment paper. Set aside.
In the bowl of a stand mixer fitted with a paddle attachment, combine flour, sugar, baking powder, and salt. Slowly add butter and mix on low-medium speed until crumbly.
In a measuring glass, whisk together egg whites, milk, and vanilla. Add 1/2 of wet mixture to mixing bowl at medium speed. Add remaining half of wet mixture and continue to mix until combined.
Transfer batter to prepared pan. Bake for 20-30 minutes until cake is set and golden in color. Insert a toothpick in center of cake to test doneness. Let sit in pan for a couple of minutes before molding. Let cool to room temperature on wire rack. Slice cake into desired thickness.
Place shortbread crust on a parchment lined sheet tray. Place 8 inch cake ring around crust. Line cake ring with an acetate sheet. If desired, spread a thin layer of strawberry jam over shortbread crust. Gently place cooled cake on top of shortbread crust.
Strawberry Mousse:
In a medium bowl, whisk together yogurt and sugar. Set aside.
Fill a small bowl with ice cold water to bloom gelatin for 3-5 minutes. Squeeze out excess water from gelatin. Place soft gelatin sheets into strawberry puree. Microwave mixture 10 seconds at a time until gelatin has melted. Transfer to a large bowl and let cool slightly.
Add sugar yogurt mixture to slightly cooled strawberry puree. Mix until combined.
In another bowl, whip heavy cream to soft peaks. Add whipped cream to the strawberry yogurt mixture in three additions. Gently fold cream into mixture.
Arrange sliced strawberries around the perimeter of cake ring on top of white cake. Pour strawberry yogurt mousse over white cake into cake ring. Use a mini offset spatula to spread mousse into an even layer. Place in refrigerator to chill for 15-30 minutes(or longer) while you prepare jelly glaze.
Strawberry Jelly Glaze:
In a bowl of ice cold water, bloom gelatin sheet for 3-5 minutes. Squeeze out excess moisture.
Place bloomed gelatin in a small bowl of 2 oz water with strawberry puree and sugar. Microwave for 10 seconds at a time until gelatin has melted. Whisk to ensure smooth consistency. Let cool to room temperature.
Take out chilled mousse cake and pour room temperature jelly glaze over cake. Use a torch to remove any bubbles or foam that may form. Return to fridge to let jelly glaze set. Keep in fridge until ready to serve.