This Irish coffee mousse features Irish whiskey spiked mousse flavored with espresso and cream.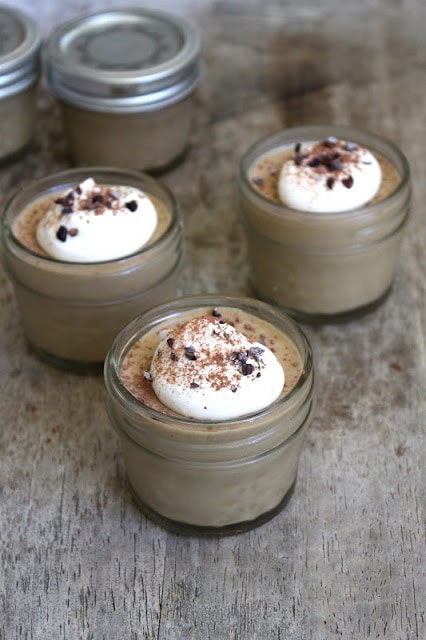 I've been told that it is happy hour somewhere, so I might as well have a drink.  Although it was enough reasoning for me in college, that's hardly the case now.  It may be a little too excessive to drink whiskey and heavy cream with my morning coffee even if it is St. Patrick's Day.
This Irish coffee mousse is a great way to be part of the party without the unwanted side affects of too much alcohol.  Its also a dessert you can get away with eating anytime of the day, including breakfast.  With St. Patrick's Day around the corner, this is a perfect little treat to get into the spirit.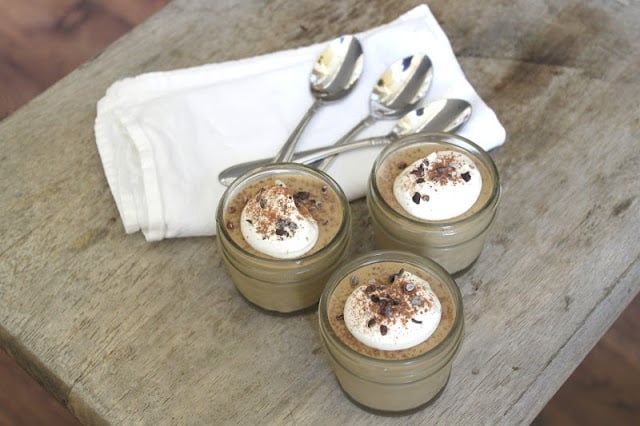 I have a soft spot for whiskeys and bourbons, especially Jameson.  Jameson is a great whiskey to incorporate into desserts because of its smooth finish and lingering caramel after tones.  The slight bitterness of the espresso mixed with the whiskey is mellowed out by the dollop of sweet whipped cream.
I also added some cocoa nibs to break up the monotony of the creamy texture with a little bit of crunch.  Crushed cookies or biscotti would work just as well.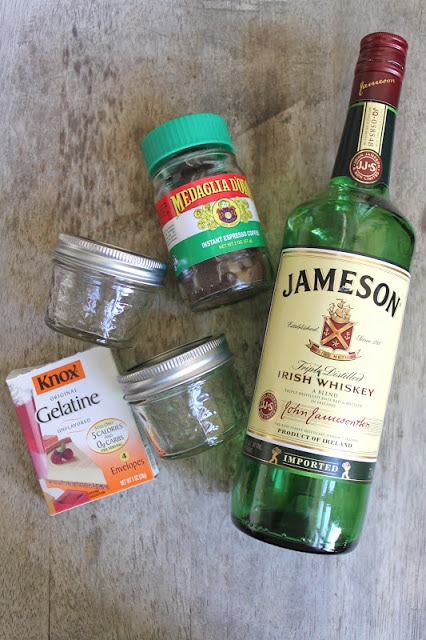 Mousse based desserts are extremely easy to make and can be prepared a day in advance.  This dessert requires few ingredients and little kitchen time.  Not only is it simple to make, its very satisfying and delicious.
 You can serve it in a ramekin or dress it in up cute little jars.  Its a perfect dessert to serve at dinner parties as it will surely impress your guests.  Who doesn't like mousse?  Its rich, smooth, creamy, and full of flavor.  Its like ice cream but grown up and more mature.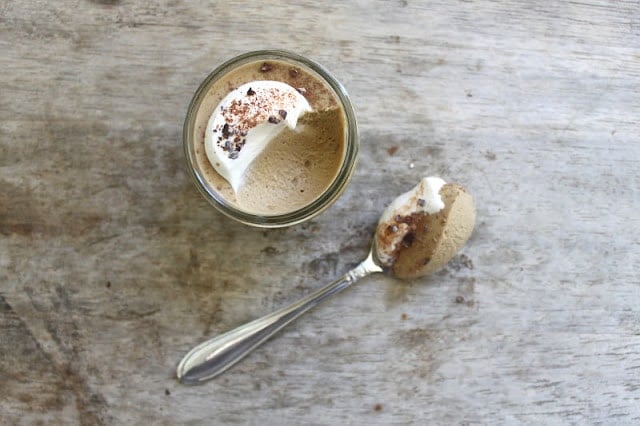 Irish Coffee Mousse
Yield: six 4-oz portions
Ingredients
Mousse:
2

teaspoon

unflavored powdered gelatin

1

Tablespoon

water

4

large egg yolks

½

cup

granulated sugar

(100 g)

⅛

teaspoon

fine sea salt

2

cups

heavy cream,

cold, divided

1 ½

Tablespoons

instant coffee

2

Tablespoon

Irish whiskey
Whipped Cream:
½

cup

heavy cream,

cold

1

Tablespoon

confectioners' sugar

cocoa nibs, as needed

unsweetened cocoa powder, sifted, as needed
Instructions
In a small bowl, sprinkle gelatin over water.  Let sit until gelatin is hydrated.

In a medium bowl, whisk together egg yolks, sugar, and salt until pale in color.

In a small saucepan, heat 1 cup of cream and instant coffee over medium heat until warm. Stir occasionally to make sure cream doesn't burn. Just before cream starts to boil, gradually whisk cream mixture into egg mixture. Return mixture back into the saucepan and cook over medium heat, constantly stirring. Add whiskey. Cook until mixture thickens and reaches a temperature of 180℉.

Transfer to a clean bowl and whisk in hydrated gelatin mixture until incorporated. Press plastic wrap onto the surface of the mixture. Let cool completely at room temperature for 30-45 minutes. Make sure the entire surface of the mixture is covered with plastic to prevent an unwanted skin from forming.

In the bowl of a stand mixer, whisk 1 cup cream until soft peaks form. You can also whisk the cream by hand. With a spatula, gently fold soft cream into the cooled espresso mixture. Divide mousse among six 4-ounce containers. Cover and chill until set, about 1 hour.


Before serving mousse, whisk remaining 1/2 cup cream and 1 tablespoon confectioners' sugar until soft peaks form. Garnish chilled mousse with a dollop of whipped cream. Sprinkle with cocoa powder and cocoa nibs.