This Asian summer salad features marinated steak atop fresh greens, corn, and cherry tomatoes.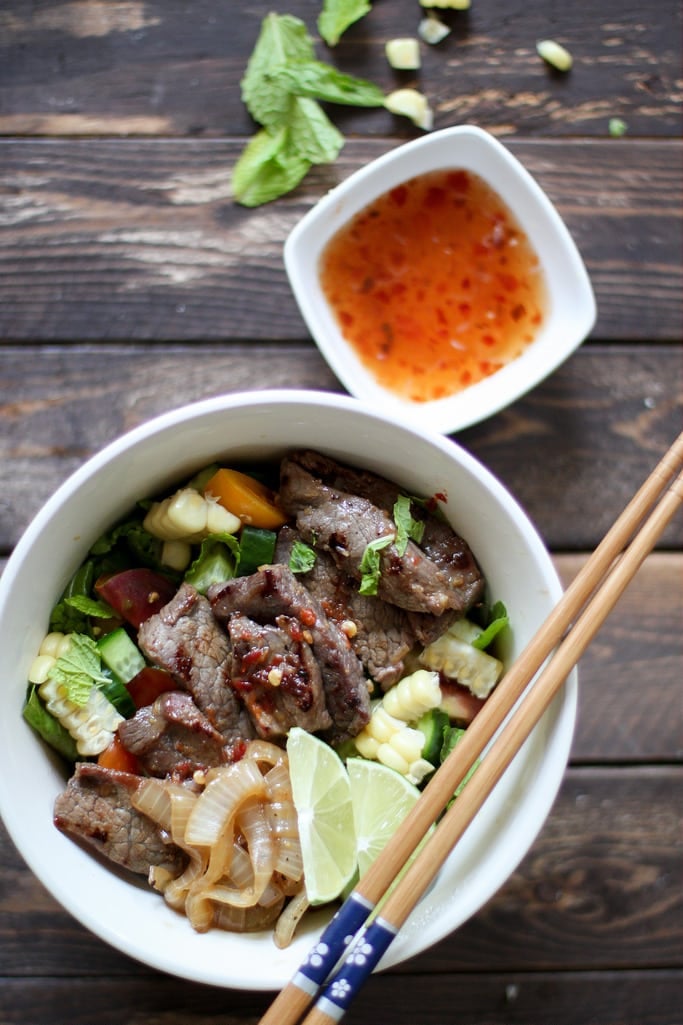 I'm not too fond of the morning June gloom, but I'm totally loving the sunshine and activities that happen during the afternoon and long summer nights.
I may have mentioned before that I'm not much of a salad eater. But if you add a little meat to that boring bowl of greens, I'm all over it.
And if you dress the salad with Asian flavors and it will be finished before you set the bowl on the table!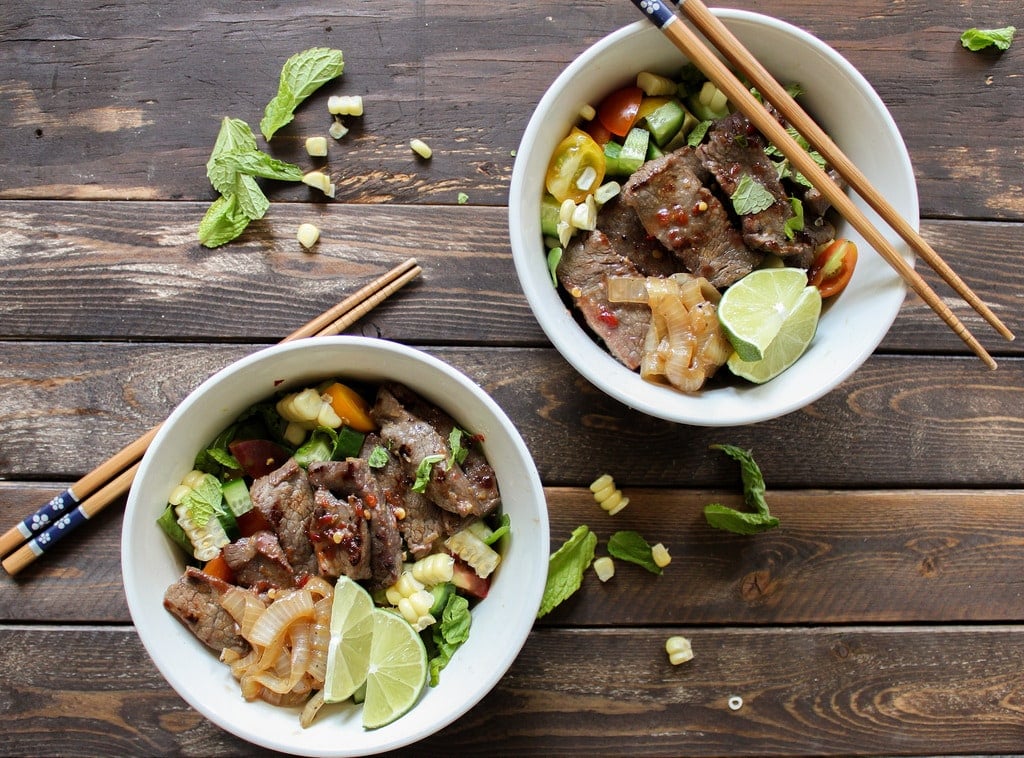 Asian Summer Steak Salad with Lime Vinaigrette
A major component of this Asian summer salad is fish sauce. Fish sauce may take some getting used to if you've never had it before.
I absolutely love it. I tend to add a little splash of it in most of my food (sliced green mango with chili salt and fish sauce, scrambled eggs with a little fish sauce, and OMG have you tried hamburgers made with fish sauce? It's an umami bomb!).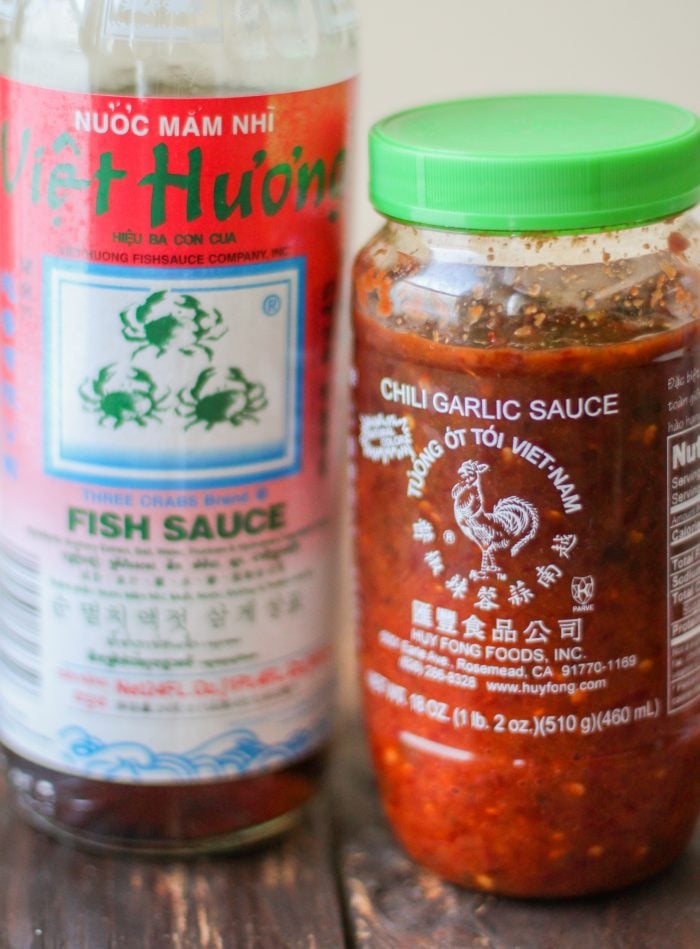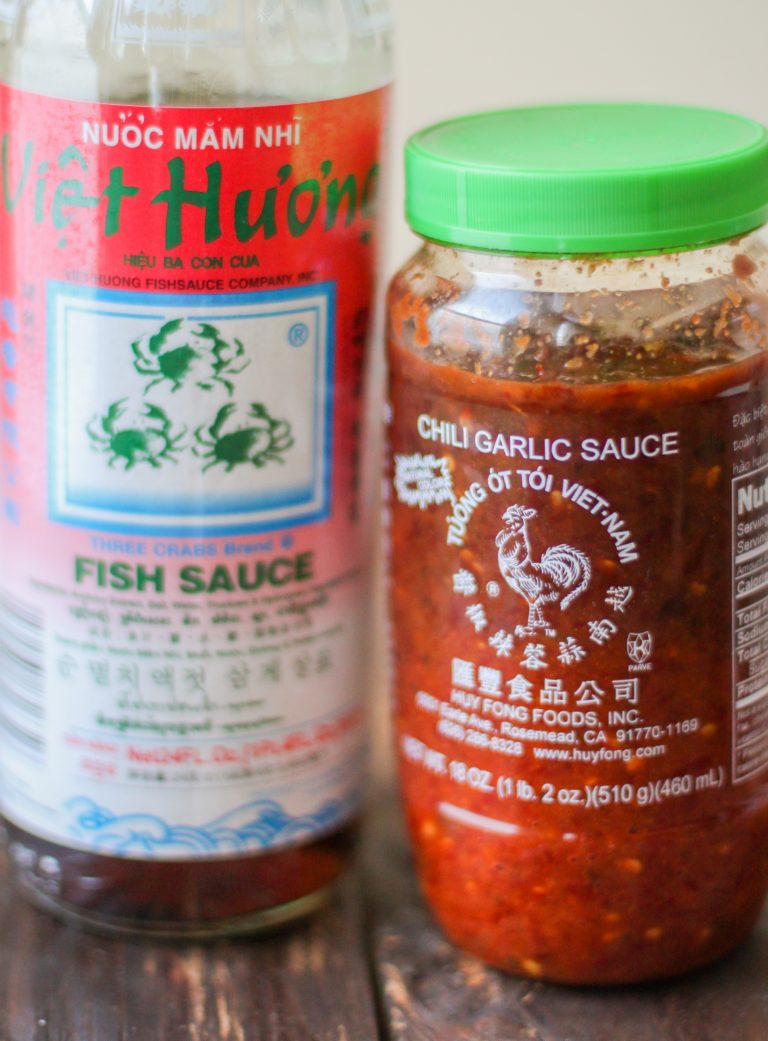 What is fish sauce?
Fish sauce is made from salted and fermented fish. It is popularly used throughout Southeast Asian cuisine.
What does fish sauce taste like?
It tastes salty with fishy notes. I prefer to add sweetness and sourness to make the fish sauce more palatable.
The addition of sugar and lime juice, transforms fish sauce into an umami powerhouse.
Recommended Fish Sauce Brand:
I am very particular with my fish sauces. Throughout the years, I have tried a whole lot of different fish sauces.
Some are dark and pungent, some I couldn't even pour without holding my breath, and then some are perfect- light and refreshing.
Viet Huong's Three Crabs is my favorite brand. For me, it's the perfect combination of sweet, salt, and savory. Its light enough that it is not overpowering, yet strong enough to give you that great umami flavor.
Chili Garlic Sauce:
When I don't have fresh Thai chili peppers, I like to use this chili garlic sauce pictured above.
Add a little spoonful of it to the fish sauce dressing to add as much spice and heat as you can handle. Both the fish sauce and chili garlic sauce are widely available at Asian markets and now can also be found at many online retailers.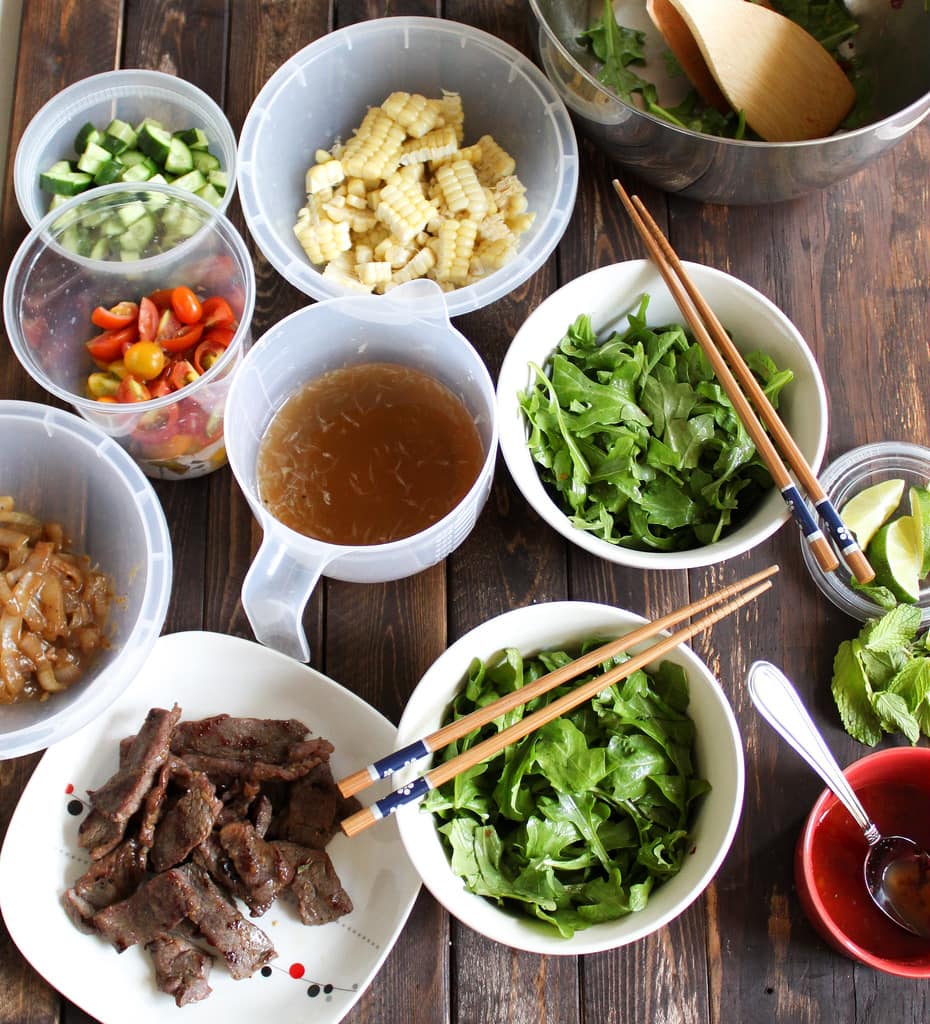 Bowl Assembly:
This is my take on a Vietnamese rice noodle bowl. Usually the dish is served with rice noodles, a plethora of different fresh mints and herbs, some bean sprouts, and maybe a little pickled daikon and carrots.
This summer salad swaps in arugula for rice noodles. Instead of the usual toppings, I opted for staples I usually have in my kitchen: fresh mint, corn, Persian cucumbers, and some cherry tomatoes.
Ways to Customize Summer Salad:
This is definitely a dish that you can make your own by your choice of toppings and ingredients. Use tofu or chicken instead of the steak.
Use mixture of greens instead of just arugula. Perhaps use thinly shredded green cabbage? Maybe even use grilled vegetables?
Regardless of what you add to the mix, I love how fresh, cool and bright this salad is. It doesn't weigh you down or make you feel heavy– meaning it is perfect for summer!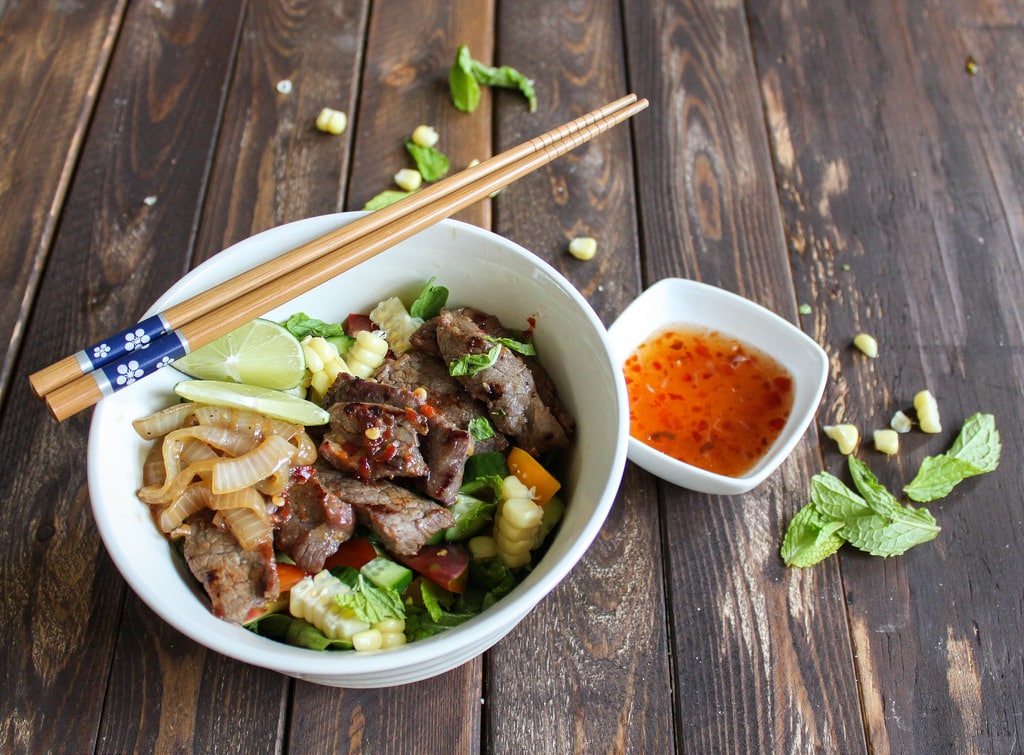 Notes on Fish Sauce:
There are lots of different types of fish sauce. Fish sauce varies from country to country and different cuisines use fish sauce for different applications.
Some fish sauce is meant for cooking or marinating, while others are more suited for dipping and everyday use.
Viet Huong's Three Crabs makes my favorite fish sauce.
Be careful if you use another brand as you may have to adjust the amount of fish sauce needed in the recipe. This brand of fish sauce is widely available at Asian markets and online through retailers such as Amazon.com or soap.com.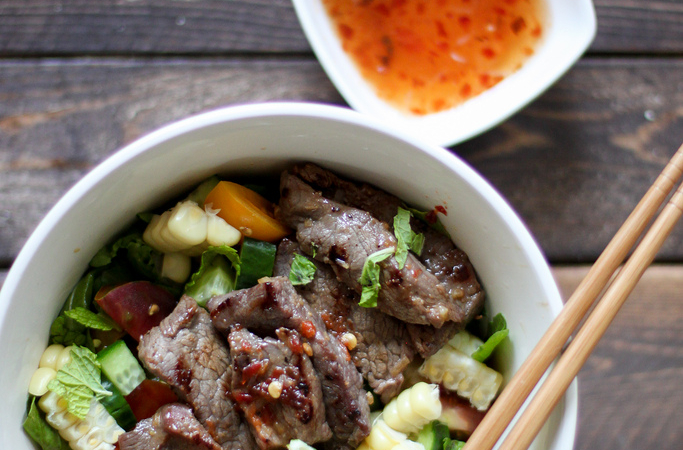 Asian Summer Salad with Marinated Steak
Ingredients
Steak Marinade:
1

teaspoon

cornstarch

1

teaspoon

granulated sugar

1/2

teaspoon

kosher salt

1/2

teaspoon

ground black pepper

2

teaspoon

fish sauce*

2

Tablespoon

light soy sauce
Steak:
1 1/2

pound

New York strip steak

(rib eye or fillet also work), sliced 1/4" thick stripes against the grain

2

Tablespoon

peanut oil,

or vegetable oil

1

medium onion,

sliced into half moons

4

garlic cloves,

minced
Salad Dressing:
4

Tablespoon

fresh squeezed lime juice

1

Tablespoon

rice vinegar

3

Tablespoon

granulated sugar

2/3

cup

lukewarm water

5

Tablespoon

fish sauce*

1

teaspoon

chili garlic sauce,

optional, or more to taste
Other Components:
7

oz

fresh arugula

2

Persian cucumbers,

sliced into quarters (or 1 English cucumber)

1

cup

cherry tomatoes,

halved

2

ears cooked corn,

kernels separated

fresh mint leaves,

torn, as needed

lime wedges,

as needed
Instructions
Steak Marinade:
In a shallow bowl, whisk together cornstarch, sugar, salt, black pepper, fish sauce, and sauce sauce.

Coat sliced steak in marinade. Cover with plastic wrap and let rest while you prepare the rest of the ingredients.
Steak:
In a large skillet, heat 1 tablespoon of oil. Add sliced onions. Let cook over medium-high heat for about a minute. Add minced garlic and toss to combine. Let cook for 30-45 seconds until garlic is fragrant. Remove onions and garlic and place in a clean plate.

Add another tablespoon of oil. Add sliced beef in a single layer around hot skillet. Let cook for about 60-90 seconds and then flip beef to cook the other side. If necessary, cook the beef in batches if skillet is not large enough.

Before beef to thoroughly cooked, add onions and garlic back to skillet. Cook until beef is done and onions have softened and cooked.
Salad Dressing:
In a small bowl, whisk together lime juice, rice vinegar, sugar, and water. Allow sugar to dissolve. Add fish sauce and stir to combine. Cover with plastic wrap and let rest while preparing the rest of the ingredients. Add chili garlic sauce option when serving.
Assembly:
In a large bowl, toss arugula and torn mint leaves with a 2-3 tablespoons of prepared salad dressing. Do not drench arugula, just add enough dressing to lightly coat and flavor the arugula.

Divide seasoned arugula among bowls. Add cucumbers, tomatoes, and corn to bowl.

Divide cooked beef and onions among bowls. Serve with lime wedges and additional toppings if desired. Serve with additional dressing. Allow diners to toss and dress their salad with more dressing as desired.
Notes
*I prefer to use Viet Huong's Three Crabs fish sauce