A Filipino twist on the classic marble pound cake. Ube pound cake swirls together ube and vanilla batter to create a visually striking, delicious treat!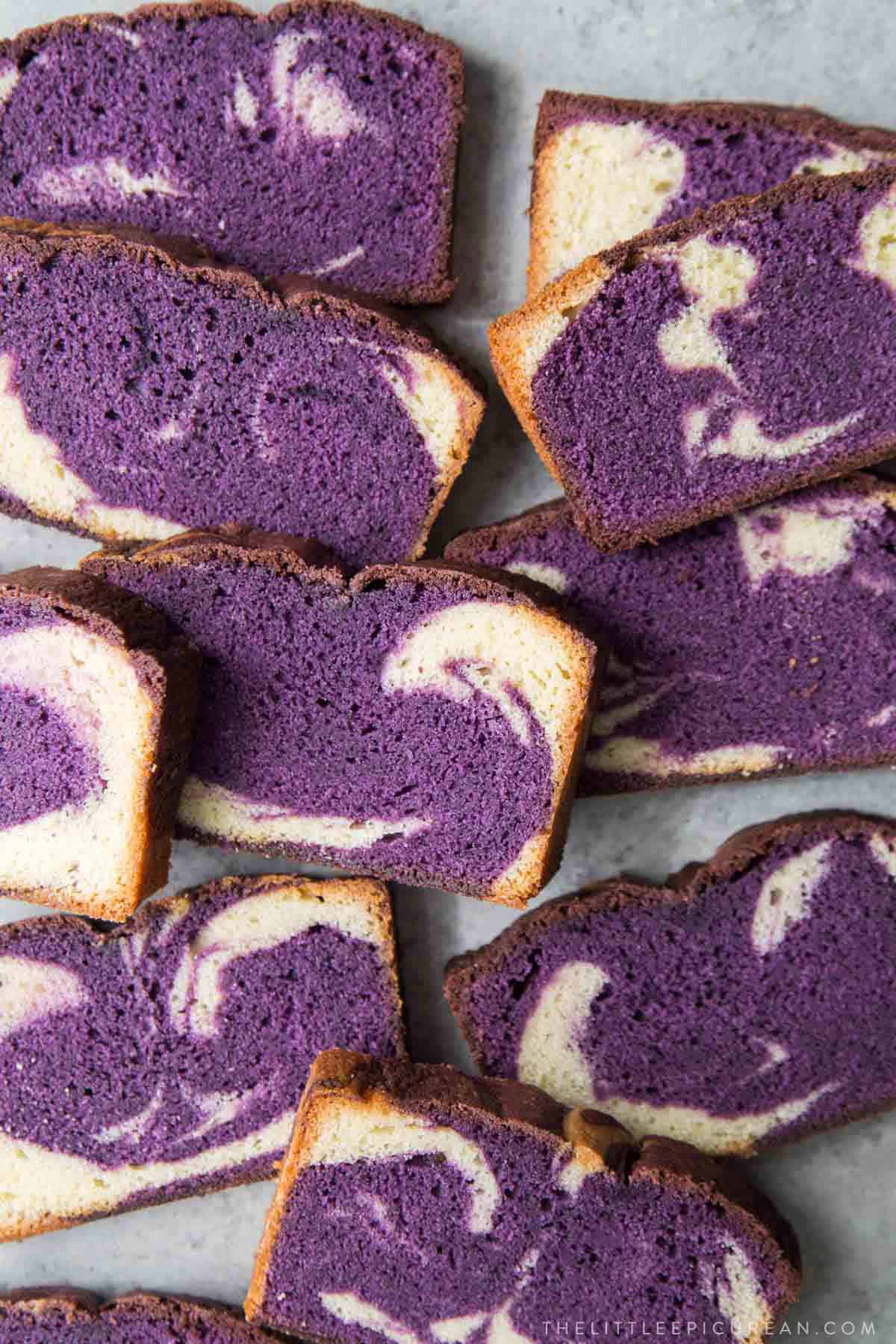 A quick and easy simple dessert for whenever you have an ube craving!
If you have more time, I highly suggest trying these other ube dessert recipes:
Ube Sugar Cookies: soft and chewy purple yam crinkle cookies coated with purple sanding sugar
Ube Bread Rolls: fluffy bread rolls filled with ube halaya and frosted with sweet cream cheese
Ube Pancakes: flavorful pancakes made with purple yam and coconut milk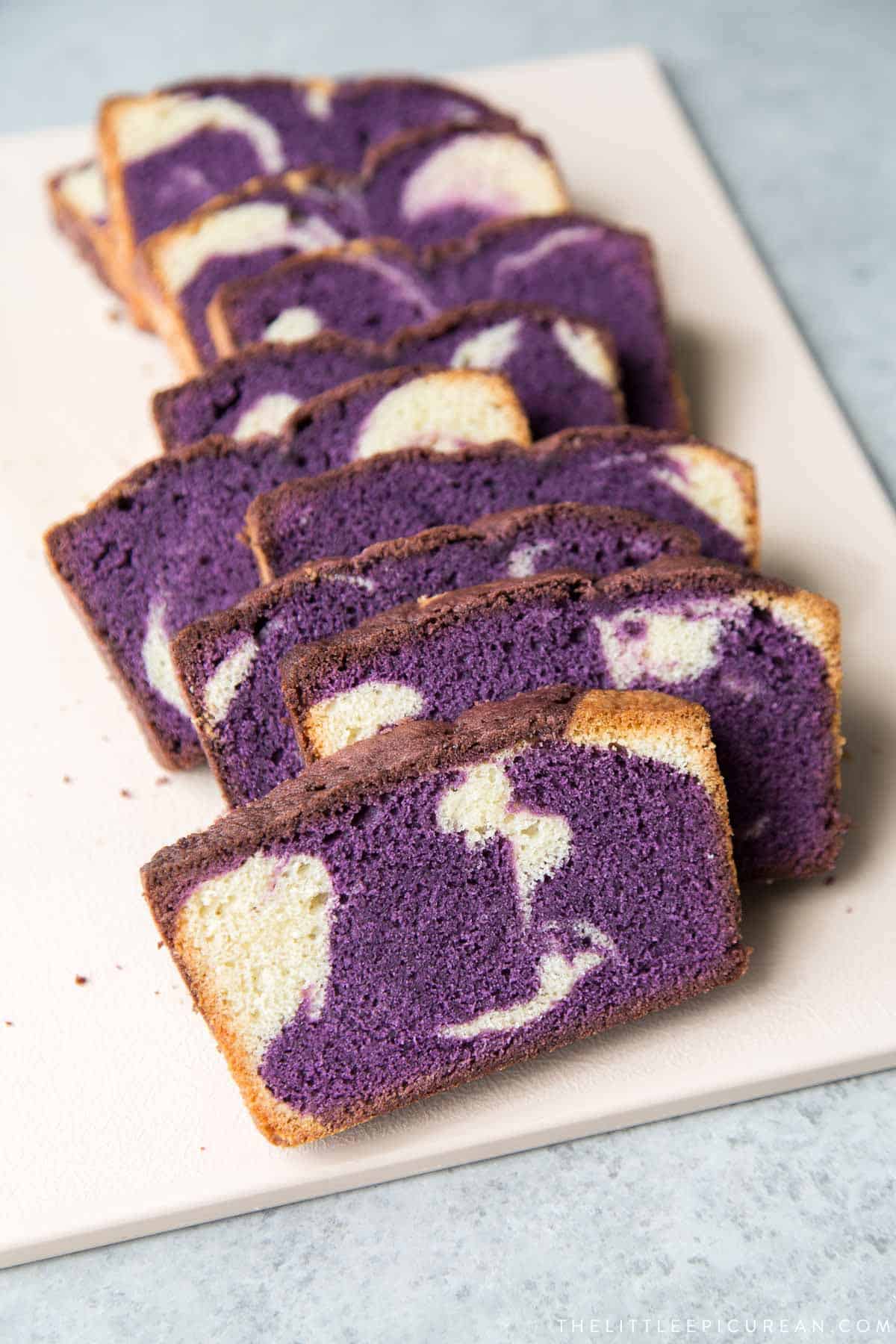 Marble Ube Pound Cake
As the name suggests, pound cake was traditionally made with a pound of each ingredient.
One pound of each: flour, butter, sugar, and eggs.
Over the years, pound cake has evolved to encompass any fine-textured loaf cake.
Pound cakes may be baked in loaf pans, tube pans (or angel food cake pan), or bundt cake pans.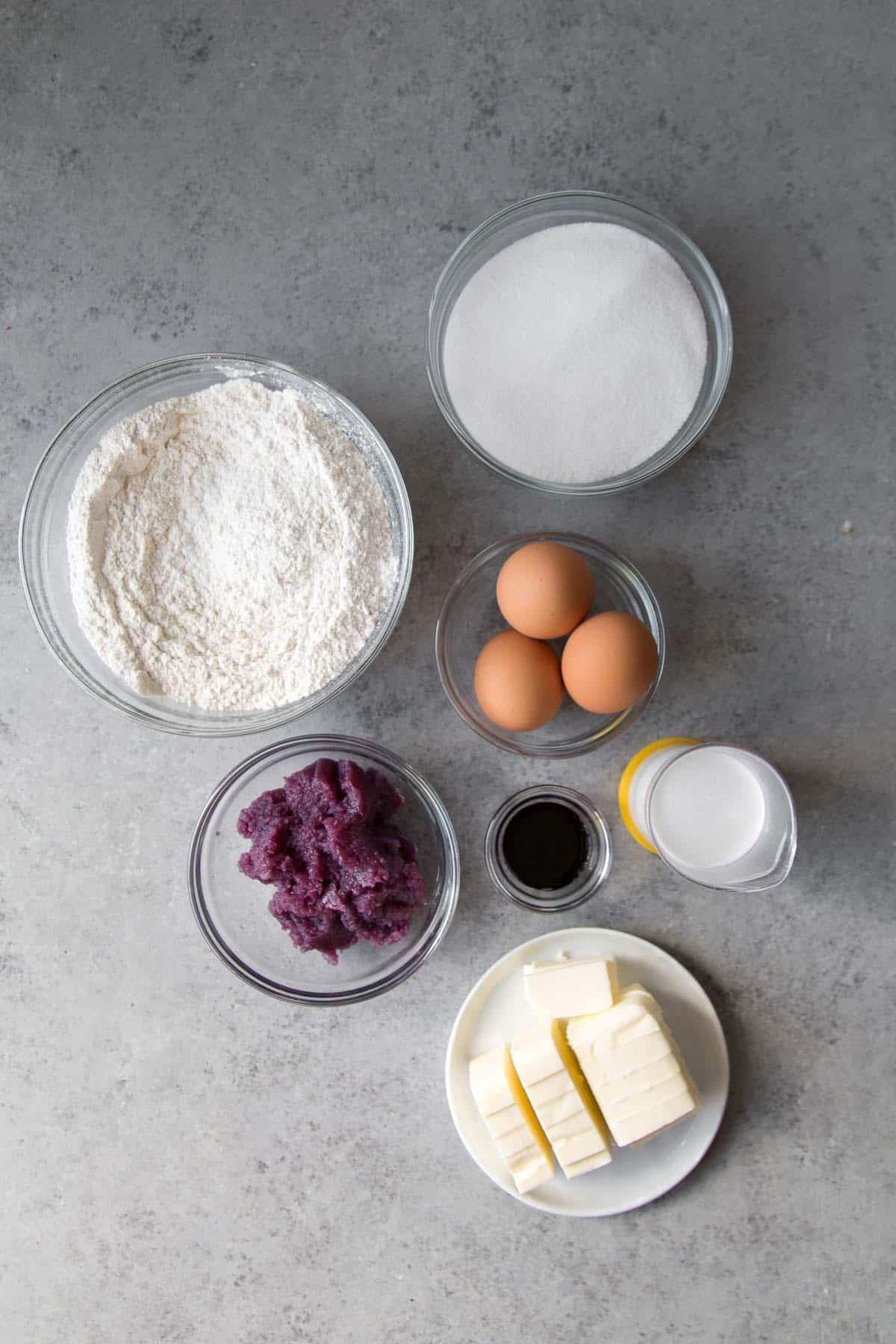 Ube Ingredients
Raw ube is extremely difficult to find in the United States. It is known by many names including purple yam, violet yam, or water yam.
While purple yam is a relative of sweet potato, they're not the same tuber. It is also not the same as taro root, although they are often mistakenly used interchangeably.
From my experience, powdered purple yam and prepared ube halaya are the most commonly available ube options.
If you live near a Filipino supermarket or large box Asian supermarket, you may be able to find frozen ube. Frozen ube is sold grated, shredded, mashed, or whole.
This ube pound cake recipe uses a combination of ube halaya, ube extract, and coconut milk to achieve the iconic "ube flavor."
Ingredient Intel
What is ube halaya?
Ube Halaya Options
Filipino supermarkets carry a variety of different ube halaya options.
They are often sold in glass jars labeled as purple yam jam, sweet purple yam spread, or purple yam pudding.
Color and sweetness varies depending on the brand.
Out of the two brands photographed above, I recommend the Bayanihan brand. I prefer it's flavor, texture, and vibrant color.
I like to add a touch of ube extract to ube halaya to further intensify the flavor.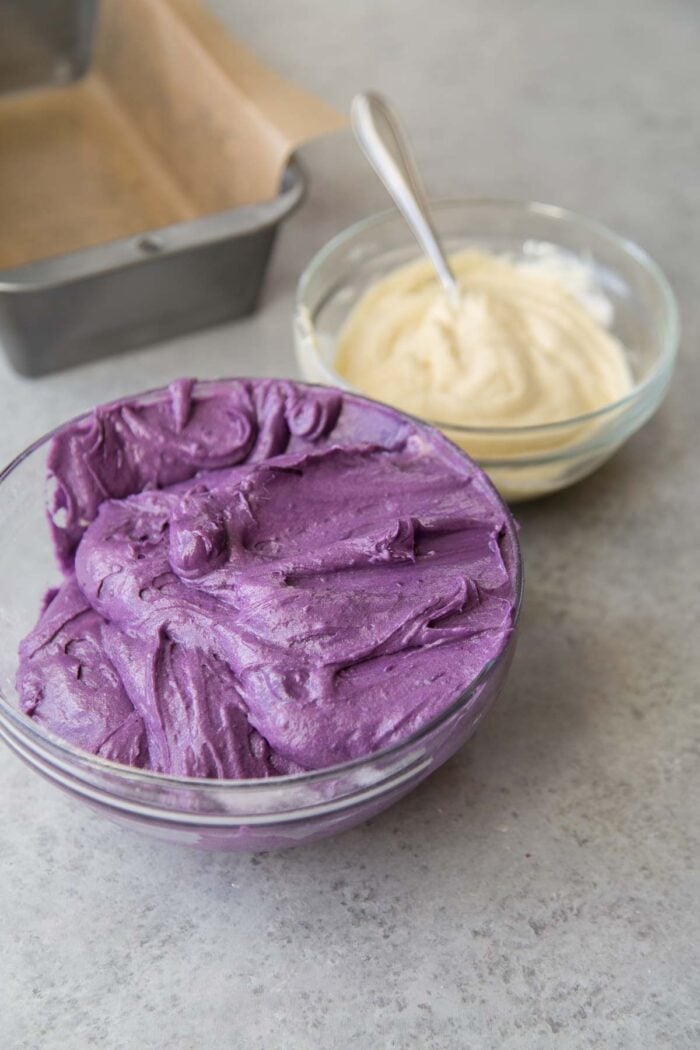 How to create swirl marble pound cake
Divide batter between two bowls. Add ube halaya and ube extract to one bowl. Add vanilla extract to second bowl.
Alternate adding dollops of ube batter and vanilla batter into parchment lined loaf pan. Use a cookie scoop or ice cream scoop to easily add cake batter to loaf pan.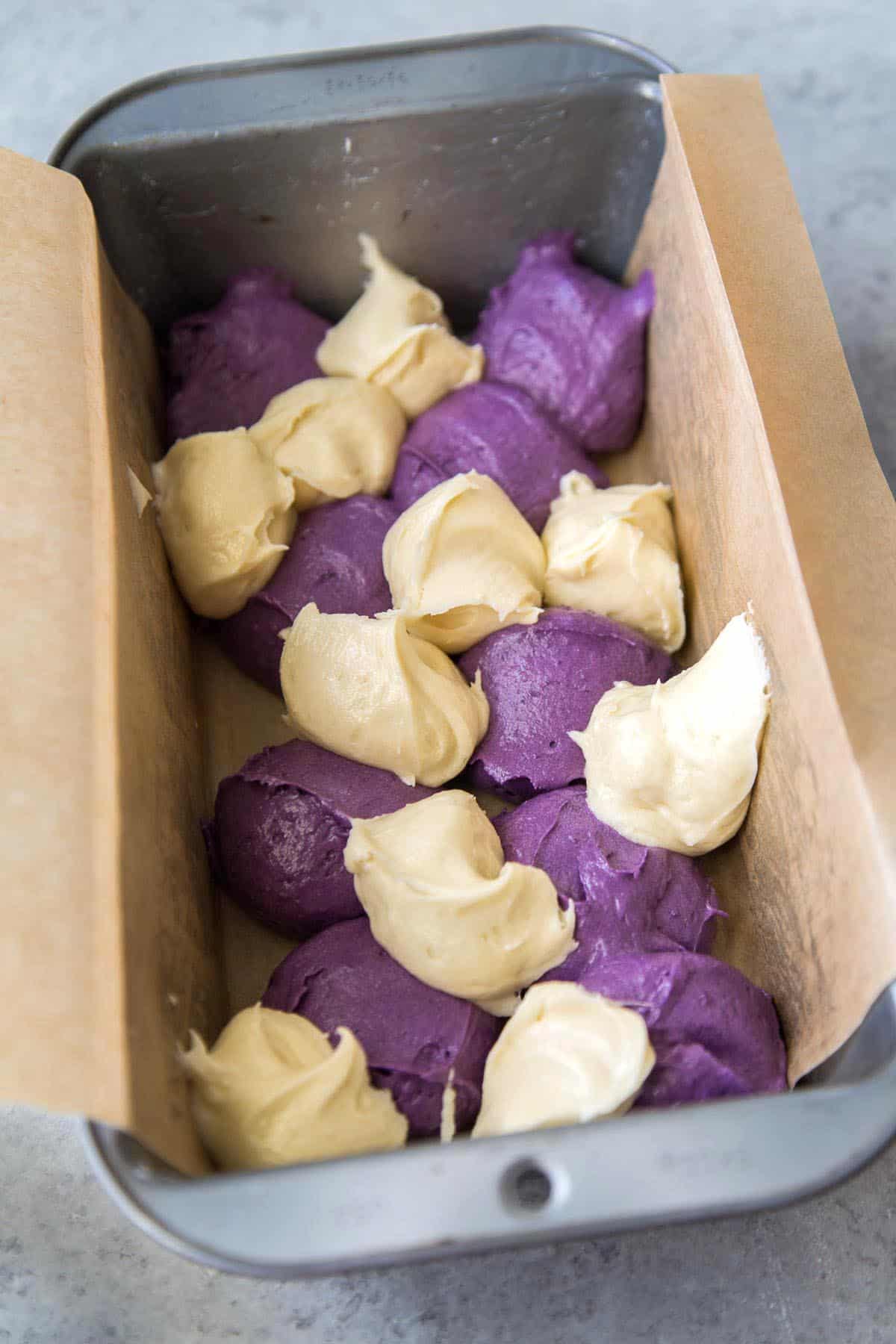 This recipe works best in a 9×5-inch metal loaf pan or standard 8.5 x 4.5-inch loaf pan (also known as 1 pound pan).
Baking 101
Type of Baking Pan Matters
Type of baking dish matters. Metal pans tend to conduct heat better, resulting in more evenly baked and browned goods.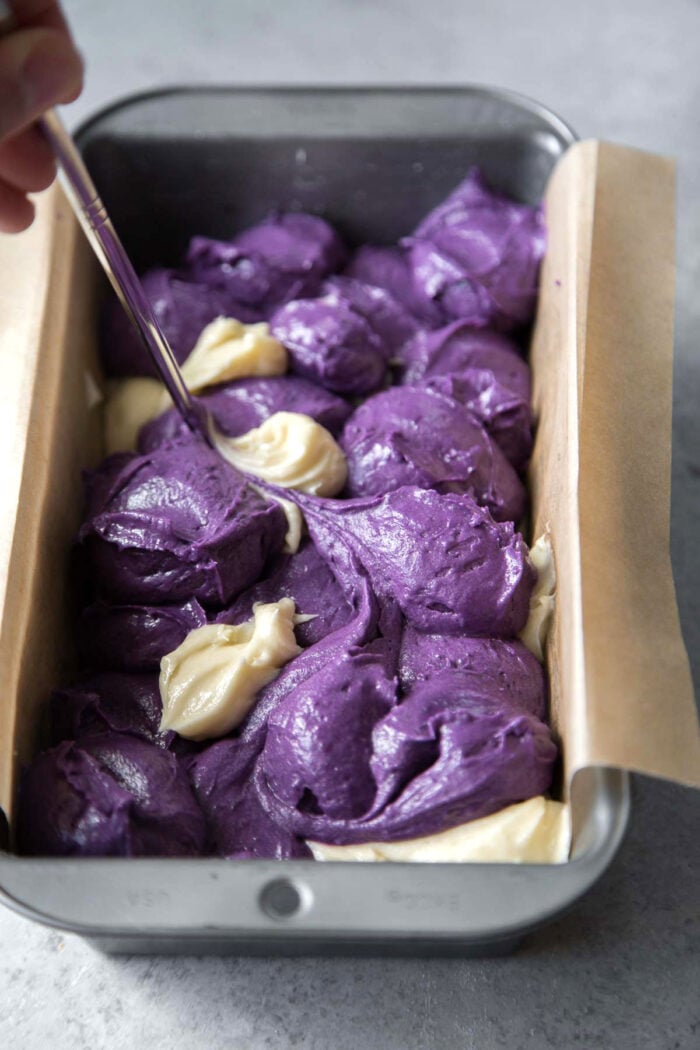 Use a chopstick, mini offset spatula, or a butter knife to gently swirl together the two cake batters.
Be careful not to over-swirl!
Tap the filled loaf pan against a hard surface to knock out any air pockets and ensure the batter has filled all the crevices of loaf pan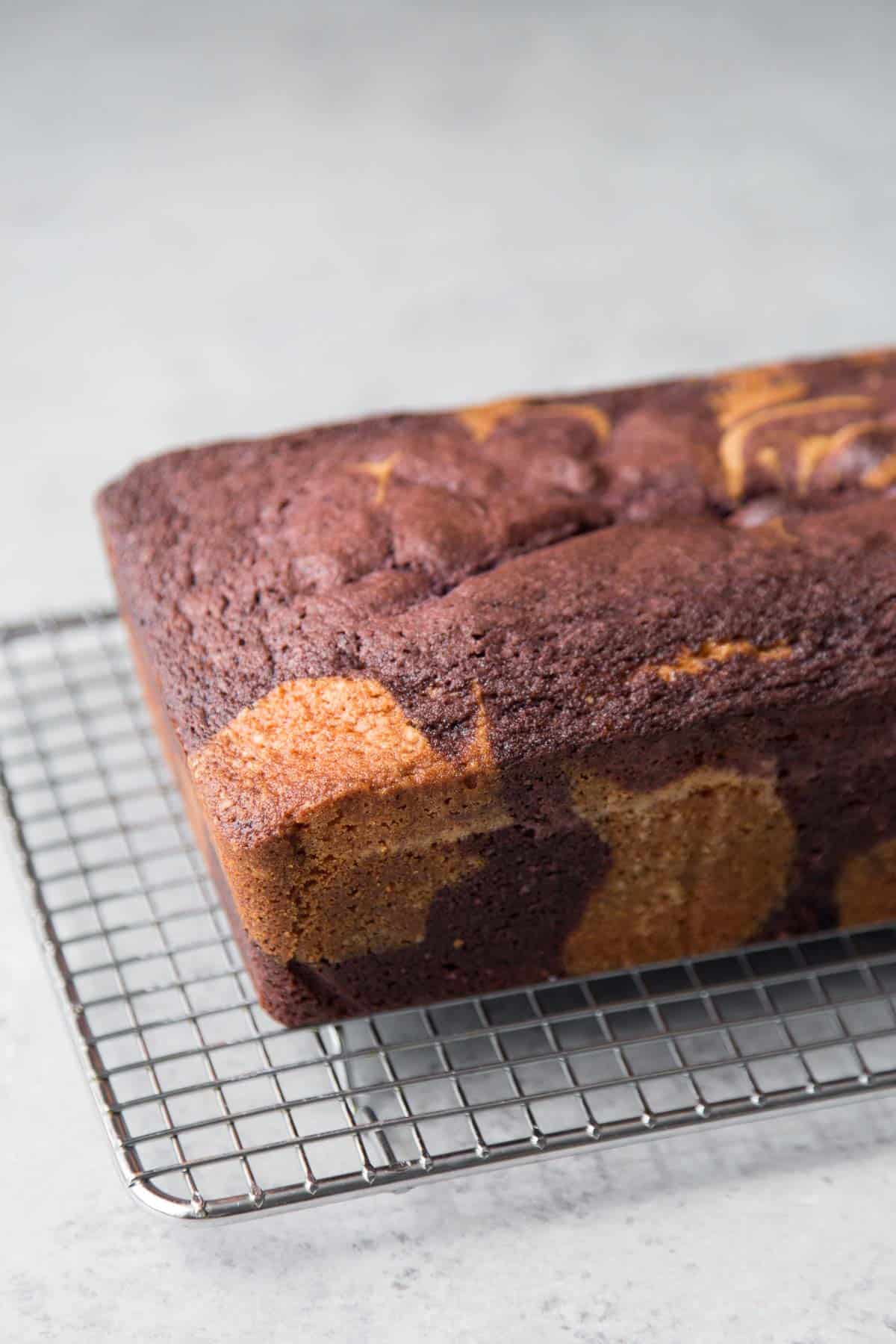 The Secret to Clean Slices
There are two important factors to consider when slicing cakes and other baked goods: 1) cake temperature and 2) type of knife.
Cool cake to room temperature! I cannot stress this enough.
Cake needs time to cool and regain its strength and structure. Slicing into a hot or warm cake will result in a gummy, crumbly slice.
Secondly, use a serrated knife!
Slice the loaf cake or pound cake in a gentle sawing motion. The toothlike, saw-like edge of the serrated knife will produce clean slices.
I recommend having a multipurpose bread knife. This one is great for crusty breads, slicing cake layers, and delicate fruits like tomatoes.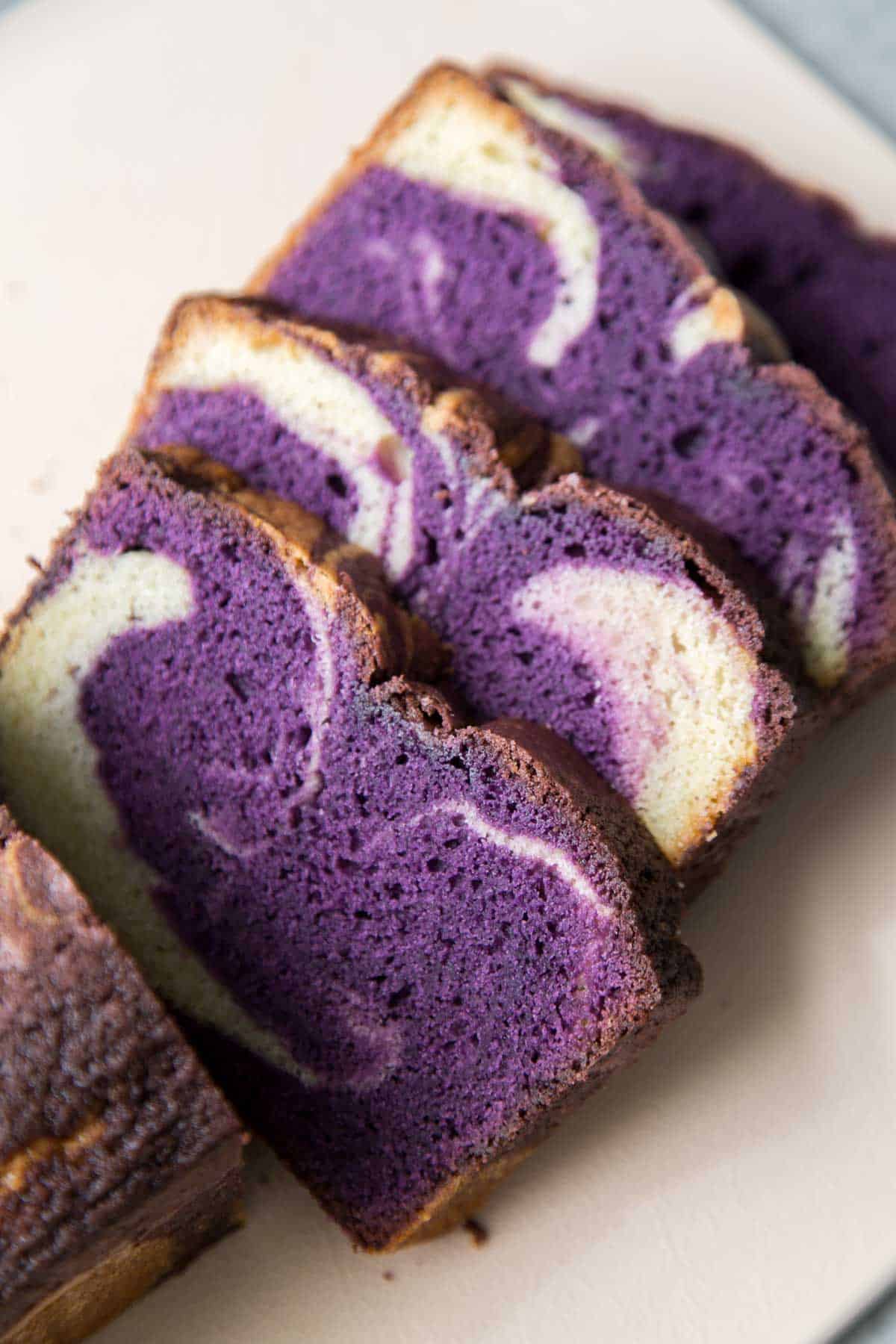 Cake Storage and Leftovers
Once cake is cool, use a serrated knife to slice into serving portions.
Keep slices in an airtight container at room temperature for up to three days.
For longer storage, keep in an airtight container in fridge for up to 5 days. Bring to room temperature before eating.
For a decadent treat, turn any leftover ube pound cake into cake French toast!
Use the batter from this French toast recipe. Top with a scoop of ube ice cream to make one unforgettable dessert!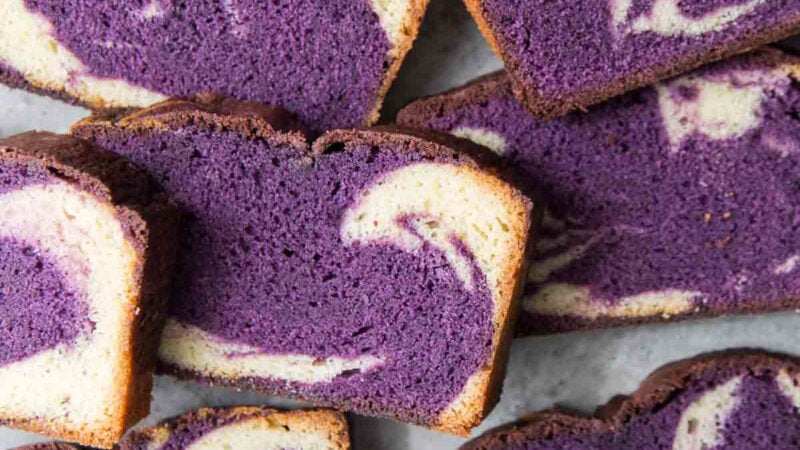 Ube Pound Cake
A Filipino twist on the classic marble pound cake. Ube pound cake swirls together ube and vanilla batter to create a visually striking, delicious treat! Yield: 9×5-inch loaf cake
Ingredients
¾

cup

unsalted butter

(170 g), softened, room temp

1 ½

cup

granulated sugar

(300 g)

3

large eggs

, room temp

2

cups

all-purpose flour

(260 g)

1 ½

teaspoons

baking powder

½

teaspoon

kosher salt

½

cup

canned full-fat coconut milk

(115 g), well shaken

1

teaspoon

pure vanilla extract

½

cup

ube halaya*

(160 g)

1

teaspoon

ube extract
Instructions
Preheat oven to 350°F. Line 9×5-inch metal loaf pan with parchment paper, along paper overhang to extend along the two long sides. Generously grease lined pan with butter. Set aside.

In the bowl of a stand mixer fitted with a paddle attachment (or using an electric hand mixer), cream butter and sugar on medium speed until smooth and slightly pale, about 3 minutes.

Mixing on low speed, add eggs one at a time until thoroughly incorporated. Scrape down sides of bowl as needed to ensure thorough mixing.

In a medium bowl, whisk together flour, baking powder, and salt. On low speed, add dry mixture to wet batter in three additions, alternating with coconut milk. Mix until just combined and there are no longer any dry streaks of flour.

Remove 250 grams of batter from mixing bowl (about 1/3 of batter). Stir in vanilla extract. Set aside.

Add ube halaya and ube extract to mixing bowl. Briefly mix on medium speed (about 30 seconds) until well combined.

Alternate adding dollops of vanilla batter and ube batter into the prepared loaf pan. When finished, use a mini offset (chopstick or knife) to gently swirl together plain and ube batter.

Bang bottom of the filled loaf pan against the counter to ensure there are no air pockets between the two batters. Bake for 45-55 minutes until toothpick inserted in center of cake comes out clean.

Cool in pan for 10 minutes. Then, unmold loaf and continue to cool to room temperature on wire rack. Slice room temperature cake with serrated knife.
Notes
This recipe was created using an aluminum 9 x 5 x 2-1/2-inch loaf pan. The "standard loaf pan" of 8.25 x 4.5 x 2.5 inches also works. 
I don't recommend using glass loaf pan or silicone loaf pans for this recipe. 
Ingredient Notes:
Coconut milk helps to add nutty flavor associated with ube desserts. Alternatively, you may use any milk of your choice. However, it will slightly alter the flavor of finished ube pound cake.
Ube halaya is also known as ube jam or halayang ube. This recipe was tested and created using store-bought jarred ube halaya. I recommend using Bayanihan, Kapuso, or Pamana brand. 
Ube extract gives this cake the iconic purple color of ube desserts. I recommend Butterfly or McCormick brand. Ube extract is available at Filipino and Asian supermarkets and online at Amazon.com. 
Storage and Leftovers: 
Keep in an airtight container at room temperature for up to 3 days. Alternatively, keep tightly wrapped in plastic wrap at room temperature.
For longer storage, keep in an airtight container in the fridge for up to a week. Bring to room temperature before eating.