This stir fry beef recipe combines the flavors of Filipino bistek and Vietnamese bo luc lac.
Note: Omaha Steaks has provided me the following products for review. All opinions expressed here are my own.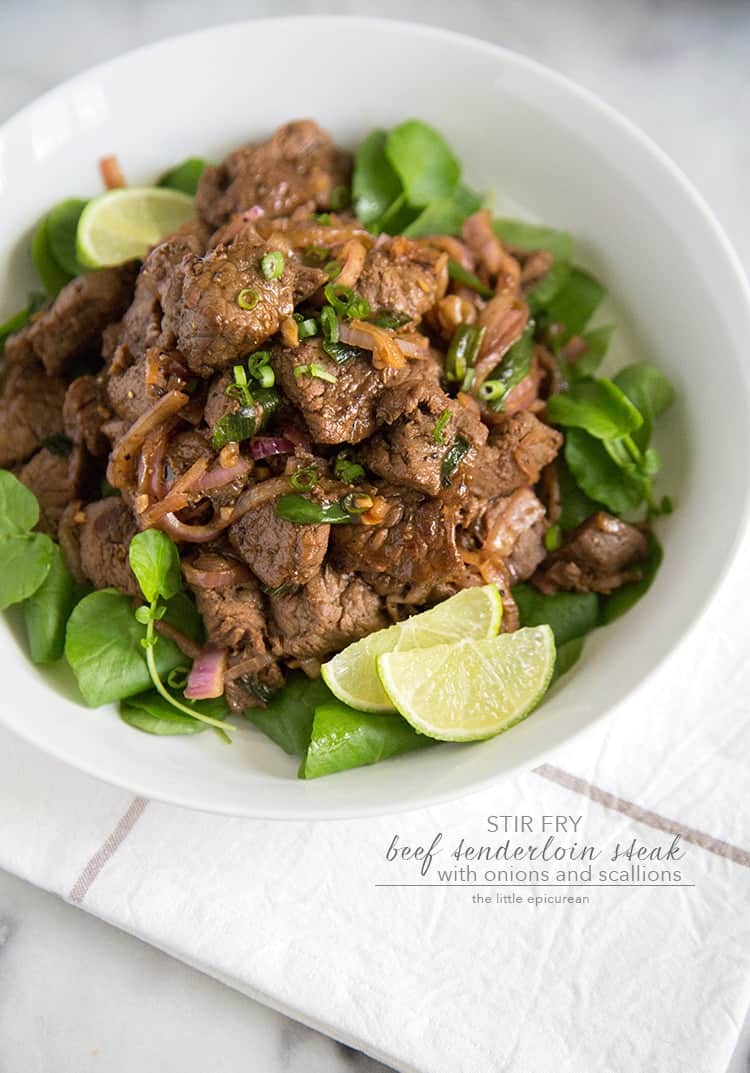 What's for dinner?
It's the dreaded question at the end of a busy work day.
One can only live on fast food and take out for so long. Eventually you crave something homemade.
This stir fry beef tenderloin dish is a fresh and hearty meal that is ready to eat in less than an hour!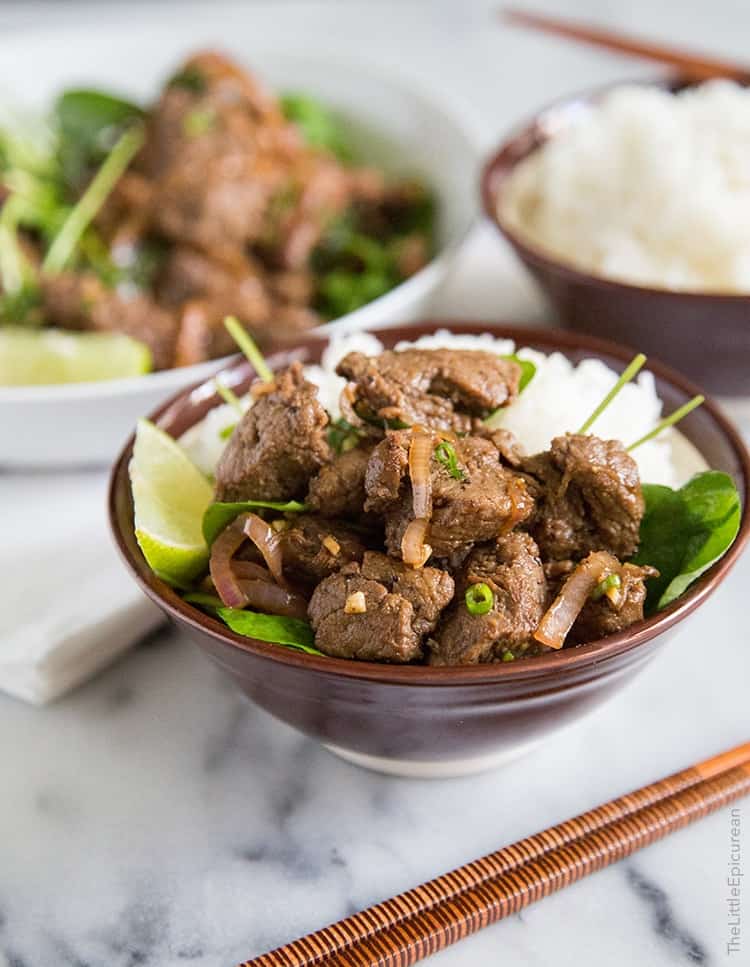 Asian Fusion Scallion Onion Beef
I've made this dish several times and I still don't have a proper name for it.
I'm not really sure what to call it. It combines two of my fav beef dishes- Filipino bistek and Vietnamese bo luc lac.
Bistek is a Filipino dish consisting of pan fried beef with onions marinaded with calamansi and soy sauce.
Bo luc lac, also known as "shaking beef," is a popular stir fry beef dish with onions and watercress.
They're kind of similar but also different.
This stir fry beef with onions and scallions melds the two dishes together!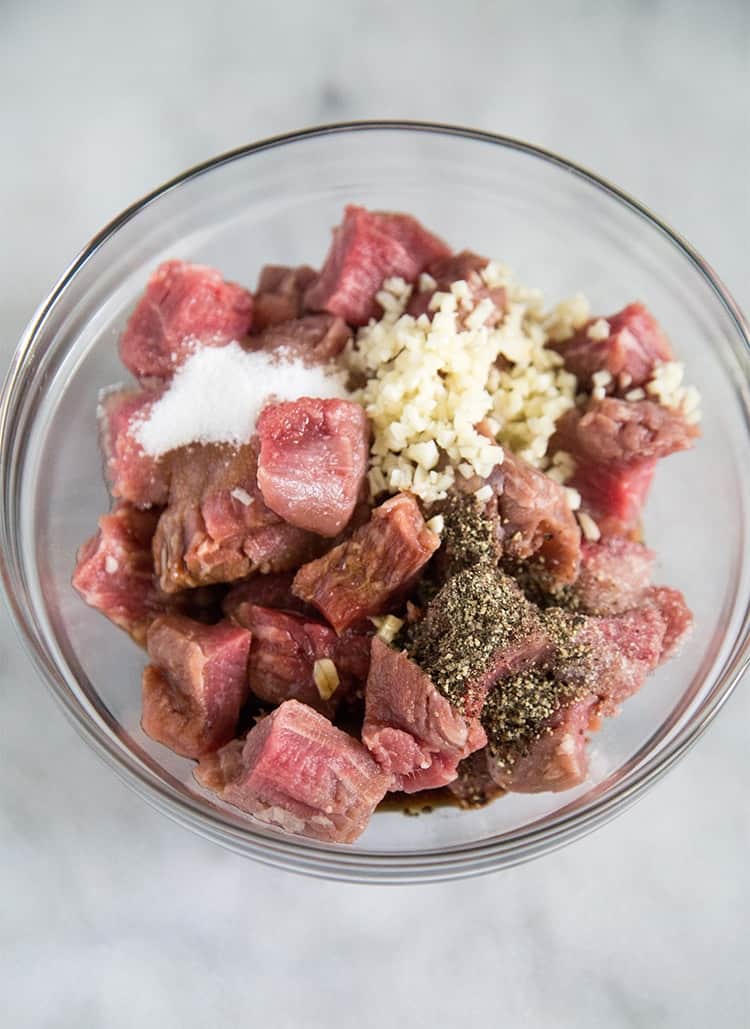 I used Omaha Steaks beef tenderloin steak tips to make this dish. (The steak tips come in one pound packages making it easy to portion for any size party.)
Marinate the beef
This dish is flavored with:
soy sauce
garlic
fish sauce
salt and peper
It's a breeze to make and takes about 30 minutes to cook from start to finish.  And major points to you if you multi-task by cooking the rice while the beef is marinating.  By the time the rice is finished, it's time to cook the beef.
I cut the tenderloin steak tips into bite-sized chunks and marinated it with soy sauce, garlic, a little fish sauce, and a some salt and pepper.
Cover it up and let it chill in the fridge for 20-25 minutes.
What cut is beef tenderloin?
Beef tenderloin is a lean cut of meat. It is a long narrow strip within the loin. It is the most tender cut of beef.
Beef tenderloin cut makes filet mignon, strip steak, and porterhouse steaks.
For this recipe, purchase beef labeled "tenderloin tips." These are trimmed tender end pieces perfect for stir-fry, kabobs, and other quick cooked dishes.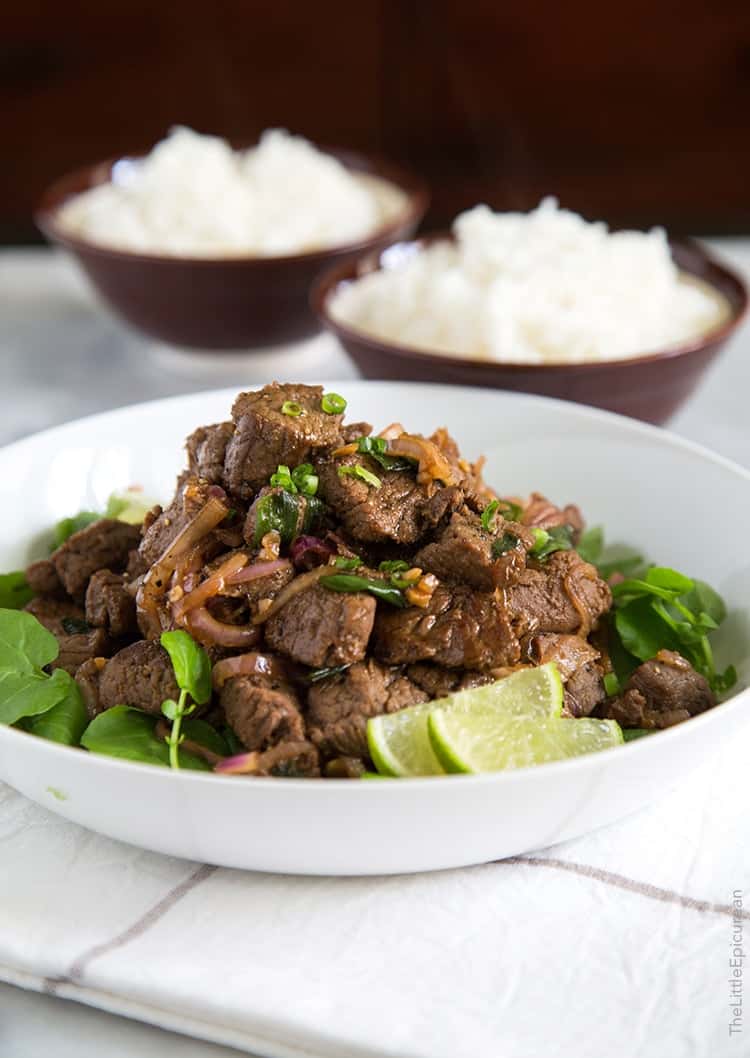 How to Serve Stir Fry Beef
Serve the cooked beef on a bed of peppery watercress. Watercress adds a fresh peppery kick to the slightly sweet beef.
Provide plenty of sliced lime wedges to allow guests to add a burst of brightness to the savory meal.
Serve alongside steamed white rice or cooked noodles. Steamed broccoli or steamed bok choy make fabulous side dishes.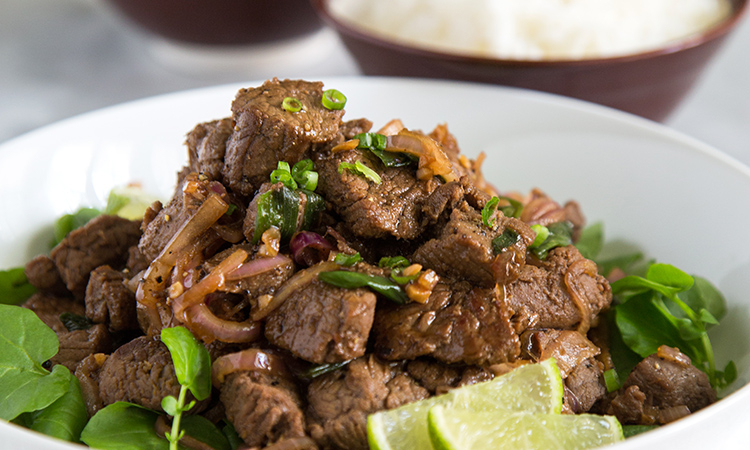 Stir Fry Beef with Onions and Scallions
This recipe combines Filipino bistek and Vietnamese bo luc lac. It's a flavorful beef dish best served with a giant bowl of steamed white rice!
Ingredients
Beef Marinade:
1

pound

beef tenderloin steak tips,

cut into small chunks

3

Tbsp

reduced sodium soy sauce

1

Tbsp

granulated sugar

½

teaspoon

fish sauce*

2

garlic cloves,

minced

½

teaspoon

kosher salt

½

teaspoon

freshly ground black pepper
Sauce and Components:
2

Tbsp

reduced sodium soy sauce

1 ½

Tbsp

granulated sugar

1

teaspoon

fish sauce

1

teaspoon

rice wine vinegar

½

teaspoon

kosher salt

1

Tbsp

rice bran oil*

or canola oil

½

teaspoon

freshly ground black pepper

7

green onions (scallions),

cut into 1-inch pieces, using only green parts

1

red onion,

thinly sliced

½

bunch watercress
Instructions
Place cut tenderloin steak tips in a medium bowl.  Add soy sauce, sugar, fish sauce, garlic, salt and pepper.  Mix together until steak tips are covered in marinade.  Cover with plastic wrap and let chill in the fridge for 20-25 minutes.

Meanwhile, cook rice.  To make the sauce, combine soy sauce, sugar, fish sauce, rice wine vinegar, and salt and pepper.  Whisk to combine and let sit to allow sugar to dissolve.

Add rice bran oil to a large skillet and set over medium-high heat.  Once skillet is hot, spread beef in a single layer.  Cook for about 2 minutes on each side.  Remove beef from pan and discard expelled liquids in pan.

Return beef to pan and let sear for about one minute.  Remove from heat.  Add green onions and sliced red onions.  Add prepared sauce.  Toss to combine.  Serve immediately over a bed of watercress. Serve with lime wedges and rice.
Notes
*The strength and flavor of fish sauce varies from brand to brand.  I used Three Crabs Fish Sauce for this recipe.
*I use rice bran oil because it has a higher smoke point allowing you to cook the steak at a higher temperature than other oils.
More quick dinner recipes
This easy to make slow cooker Asian braised beef combines garlic, ginger, lemongrass, soy sauce, and rice vinegar to create a delicious hearty dish.
Prepare a restaurant quality meal in under one hour. This soy ginger shrimp dish is sure to impress any dinner date.
This spaghetti carbonara uses a handful of staple ingredients. It is quite possibly the easiest pasta dish to make!