Los Angeles Dodgers Baseball Cake made with chocolate cake and peanut butter frosting.
Happy birthday, Alex!
For as long as I've known Alex, he's always had his Dodgers hat. He wears it work everyday instead of a Chef's toque, he wears it every afternoon when we walk Charlie around the park, and I know he's having a bad hair day when I see it on in the house.
Alex is a big Dodgers fan. It helps that we live 10 minutes away from the stadium. We try to go to as many games as possible.
I wasn't much of baseball enthusiast until him. Now, I even have the SportsCenter app on my phone. I follow the Dodgers on Instagram and most of the players on Twitter. I don't know how this happen, but it did. I love baseball almost as much as him.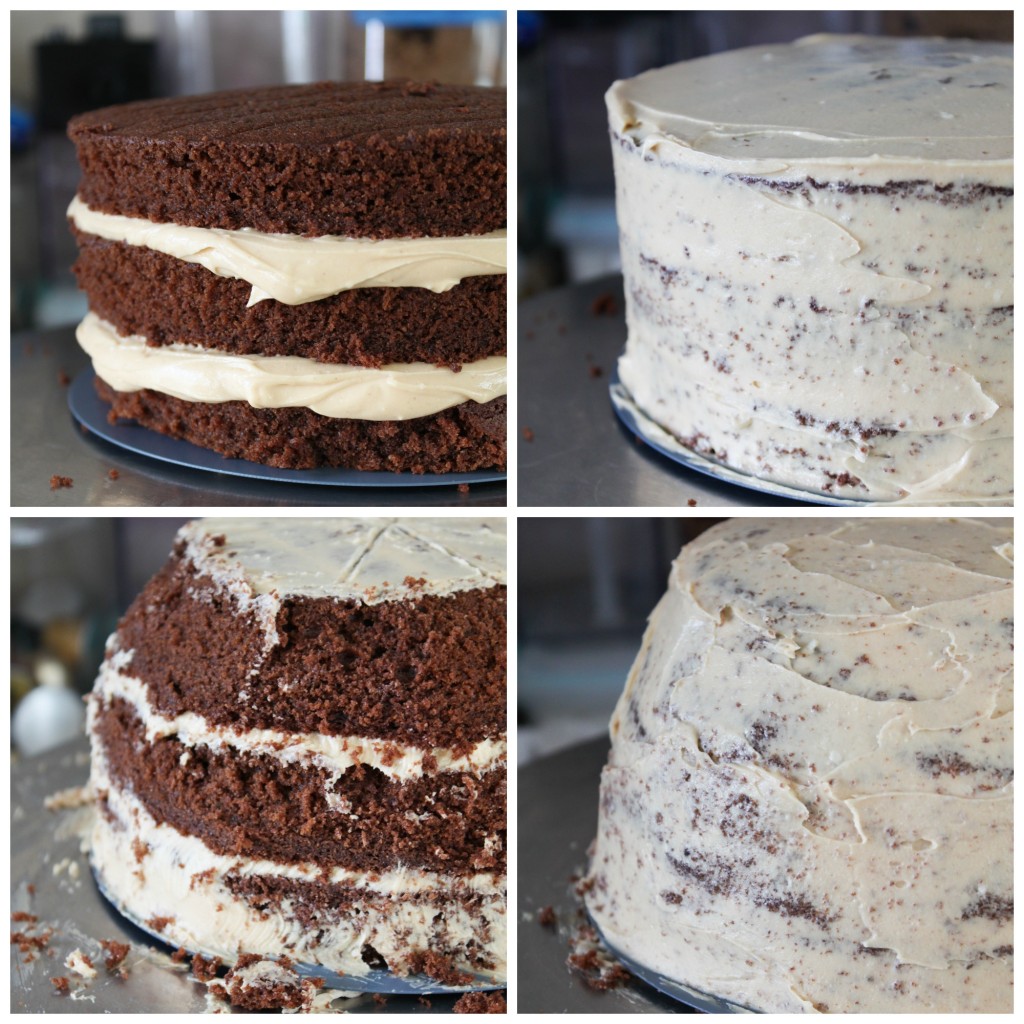 Alex is also a big fan of Reese's peanut butter cups. We have a stash of the mini cups at home at all times. We both agree it's the perfect combination of sweet chocolate and salty peanut butter.
Reese's sets the bar for anything with chocolate and peanut butter. Naturally, I had to make his birthday cake with the same sweet and salty ratio.
The baseball cap cake starts off like any regular layer cake. I baked three layers of chocolate cake (actually the recipe makes four layers, but the last layer is for snacking or cake pop making). The frosting is a simple buttercream amped up on smooth peanut butter and a touch of kosher salt.
You build and frost the cake as usual and finish with a crumb coat. Let the cake chill in the fridge for at least half an hour to get the cake and frosting firm. Use a small serrated knife or small paring knife to carve the cake.
This is wear the artistic skills and hand-eye coordination kicks in. Shave off a little bit at a time until you get the proper shape of the cap. Once you're happy with the shape, proceed with another crumb coat to seal up the cake. Place it back in the fridge for another half hour or so.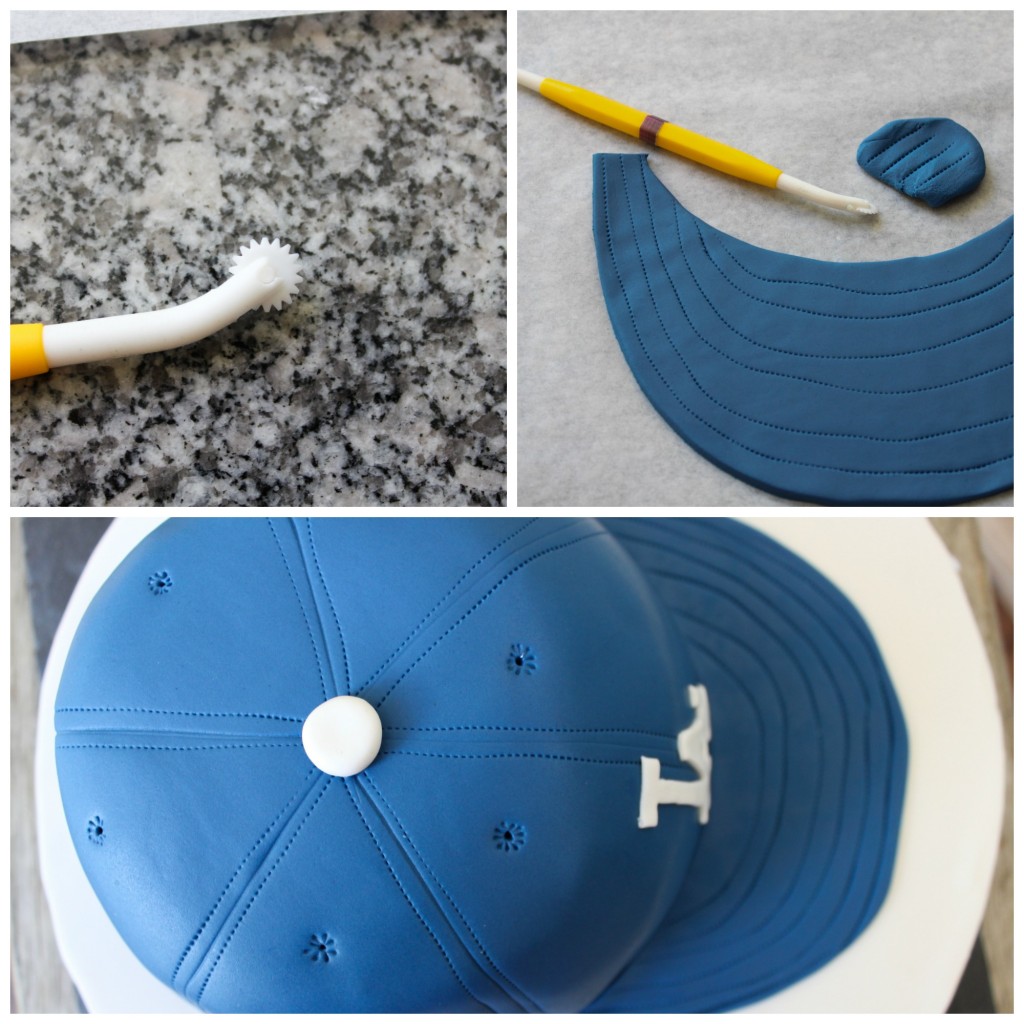 This cake was relatively easy to make. Coloring the fondant was the tricky part. It took me almost an hour to get a color I was satisfied with.
Once the cake is firm, roll the colored fondant into a thin even layer. Gently and quickly cover the cake with fondant, smoothing out the bumps with the palms of your hands or a fondant smoother tool.
The bill of the cap is attached onto the cake separately. Place the cake on a cake board or plate, then measure the appropriate size of the bill. Using the cool tool pictured above (serrated quilting/cutting wheel), create the stitching on the bill. Use the same tool for stitching in the cap. I used a toothpick to create the air vents on the top of the cap. I used a small cutting wheel to make the seams between the stitching.
As for the LA logo, I drew that out by hand and cut it out of the fondant using a sharp x-acto knife.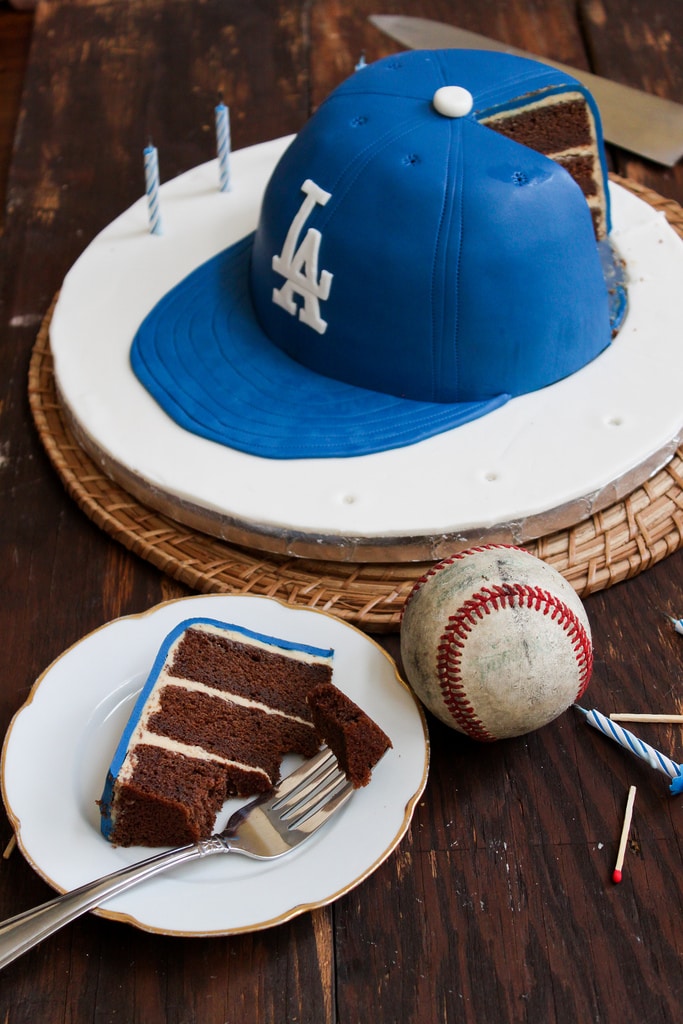 I made this cake last night in preparation for today. Unfortunately, I couldn't keep Alex from opening the fridge at home so I had to show him yesterday. He was very surprised and shocked. I had mentioned that I was making him a cake but he had no idea I was making him a baseball cap. I recorded his reaction when he first saw the cake. Priceless. We enjoyed the cake this morning for breakfast.
Happy birthday to the best boyfriend a girl could ask for. Thank you for your unconditional patience and unfaltering love. I found my soul's perfect complement in you. Here's to another birthday together and to many, many more in the years to come.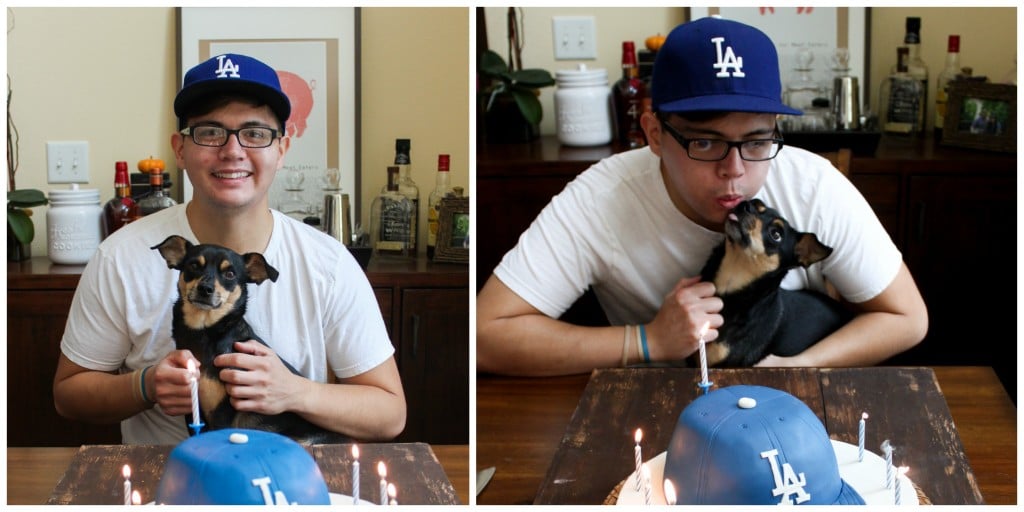 Also, happy early birthday to our adorable pup, Charlie! He turns 2 in a week!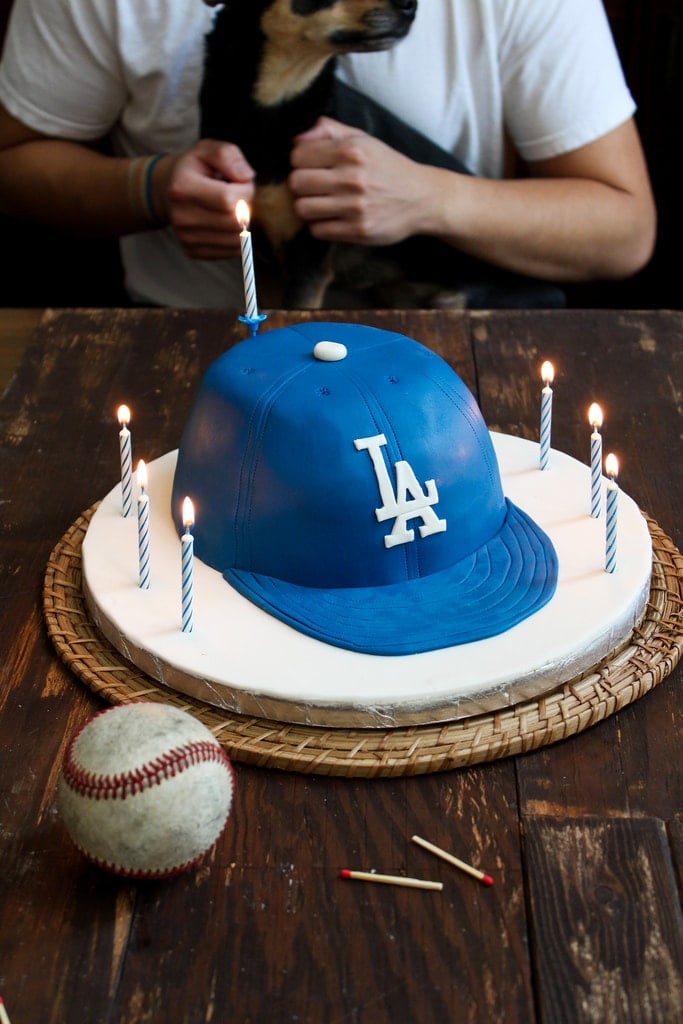 Chocolate Layer Cake with Peanut Butter Frosting (baseball cap cake)
Ingredients
Chocolate Layer Cake (4 -eight inch rounds)
2 ½

cup

all-purpose flour

1

tsp

baking soda

1½

tsp

kosher salt

1

cup

unsweetened cocoa powder

2

Tbsp

instant espresso powder

1½

cup

unsalted butter,

room temp

2 ½

cup

granulated sugar

4

large eggs,

room temp

2 ¼

cup

whole milk,

room temp

2

tsp

pure vanilla extract,

or vanilla paste
Peanut Butter Frosting
1

cup

unsalted butter,

room temp

⅔

cup

smooth peanut butter

½

tsp

kosher salt

3

cup

confectioners' sugar (powdered sugar)

sifted

¼- ½

cup

heavy cream

,adjust according to desired consistency
Instructions
Chocolate Layer Cake:
Preheat oven to 350 degrees F. Butter and lightly flour 4- 8 inch cake rounds. Line with parchment paper and set aside.

In a medium bowl, whisk together flour, baking soda, salt, cocoa powder, and espresso powder. Make sure there are no cocoa powder lumps. If desired, sift ingredients together. Set aside.

In the bowl of a stand mixer fitted with a paddle attachment, cream butter until smooth. Gradually add sugar and beat until lightened in color and fluffy in texture. Scrape down bowl as necessary.

Add eggs one at a time, ensuring each egg is incorporated before adding the next one. Scrape bowl as necessary to ensure even mixing.

Add vanilla extract to milk.

Add 1/3 of dry flour mixture to mixing bowl. Mix on low speed until almost combined. Follow with 1/2 of milk mixture. Repeat and end with last 1/3 of flour mixture. Mix until thoroughly combined and there are no streaks of flour left.

Divide batter evenly between four 8-inch cake rounds. (If you only have two cake rounds, divide by two and split cake layers after baking.) Use a mini offset spatula to even out the cake batter. Bake for 25-30 minutes until cakes are done and toothpick inserted in center of cake comes out clean.

Let cakes cool for 5-10 minutes before unmolding. Let cake cool to room temperature on wire rack.
Peanut Butter Frosting
In the bowl of a stand mixer fitted with a paddle attachment, beat together butter and peanut butter until smooth and combined. Slowly add sifted powdered sugar and mix on low speed until incorporated. Add cream and mix until desired consistency is achieved.