Peanut Butter Apple Pupcake is perfect treat for celebrating your dog's birthday. It is made with applesauce cake and frosted with peanut butter. Top it with your pup's favorite biscuit treat!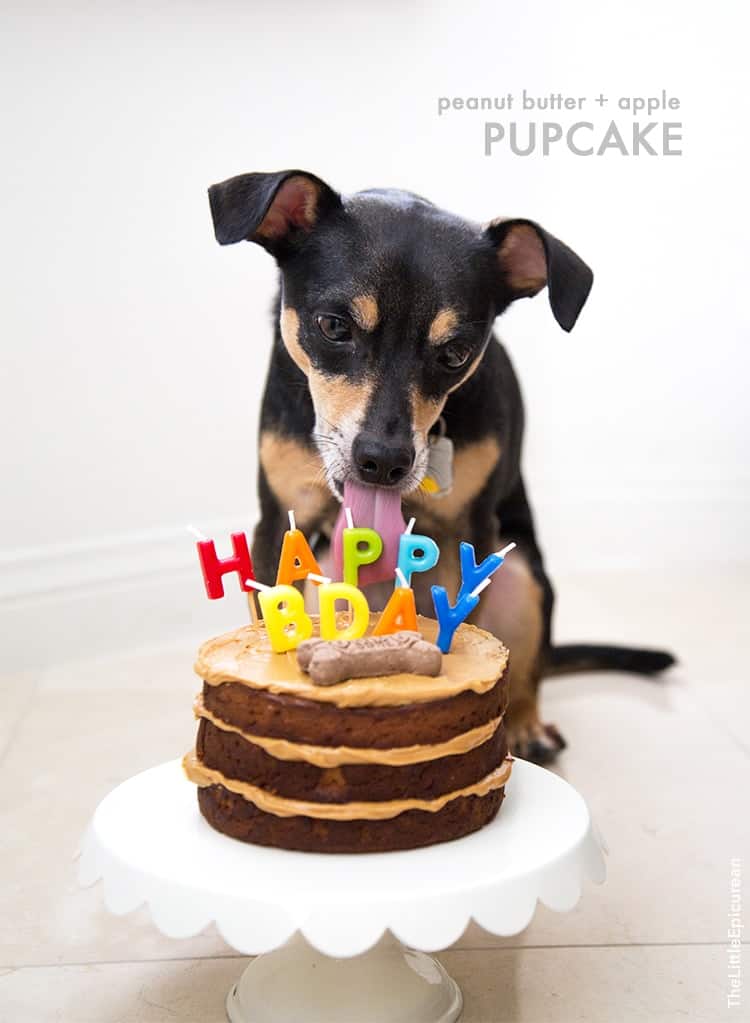 Ten years ago, none of my friends or family would ever believe that I'd have a dog. It's not that I didn't like dogs. I love animals. I just never had the time or wanted to deal with the responsibilities (and mess) of caring for a pup.
Fast forward to present time and I have two dogs. And honestly, I can't imagine a life without Charlie or Taylor.
Before meeting Charlie, I had spent a great deal of time visiting local shelters and scanning pet adoption websites. I had met other pups, thought they were extremely cute, I never felt any connection with them.
And then I met Charlie. I immediately knew he was meant to be part of my family.
Cuddly Canines
I found Charlie through Cuddly Canines, a non-profit rescue organization serving LA/OC counties. Cuddly Canines was hosting an adoption fair at a nearby Petsmart.
There was at least 15 pups of all ages there. They all were super energetic, jumped, barked and played with one another…expect little Charlie (then named Hobbs).
He was the smallest dog there and he was tucked in the corner sleeping soundly. I was told that Charlie was a solo orphan that was dropped off at a local shelter. Luckily the foster family that cared for him had a new beagle mom that took Charlie in.
We're not really sure the exact date Charlie was born, but it was sometime in early July. As a result, we've always celebrated the first weekend of July.
This past Saturday (4th of July!) we threw a paw-ty for Charlie's 4th birthday and served him this peanut butter apple pupcake!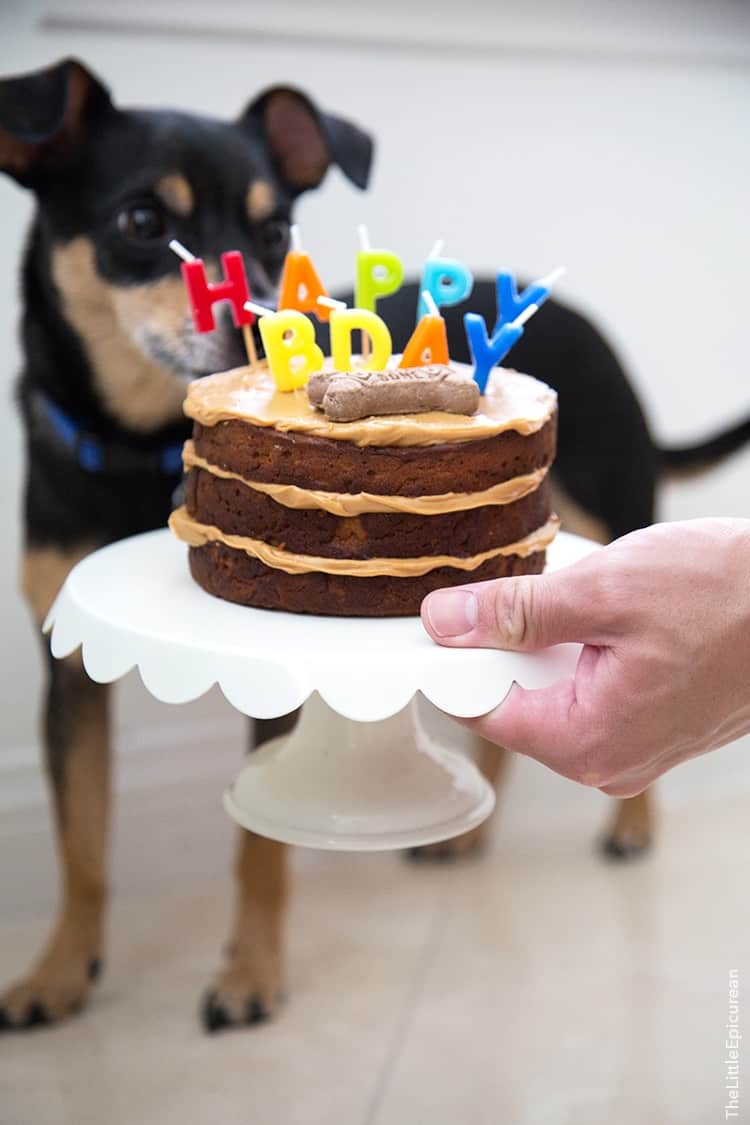 Dog Birthday Cake
Charlie brings so much happiness and joy to my family. He is super sweet and polite.
Unless you hit the doorbell or knock on the front door, then a completely different dog emerges.
Whenever I'm reading a sad book or watching drama on tv, as soon as I start sniffling or tearing up, Charlie immediately tucks himself under my arm and begins licking my face.
He's so loving and caring.
Is cake safe for dogs to eat?
This pup cake recipe is specifically designed for dogs. It is made with dog-friendly ingredients.
Have you ever met a pup that didn't LOVE peanut butter? Me, neither.
This cake is flavored with peanut butter. It is moistened with apple sauce and vegetable oil. Grated apple and honey give the a cake a touch of sweetness.
However, you should consult with your veterinarian regarding any food allergies your dog may have.
 How many servings are in this dog cake
This is a rich cake, even for large dogs. I suggest dividing this cake into at least 8 slices.
If possible, use unsweetened unsalted smooth peanut butter.
How to store pupcake
The assembled apple pupcake can be stored at room temperature for up to two days.
Keep in an airtight container. Keep in the fridge for longer storage, up to 4 days.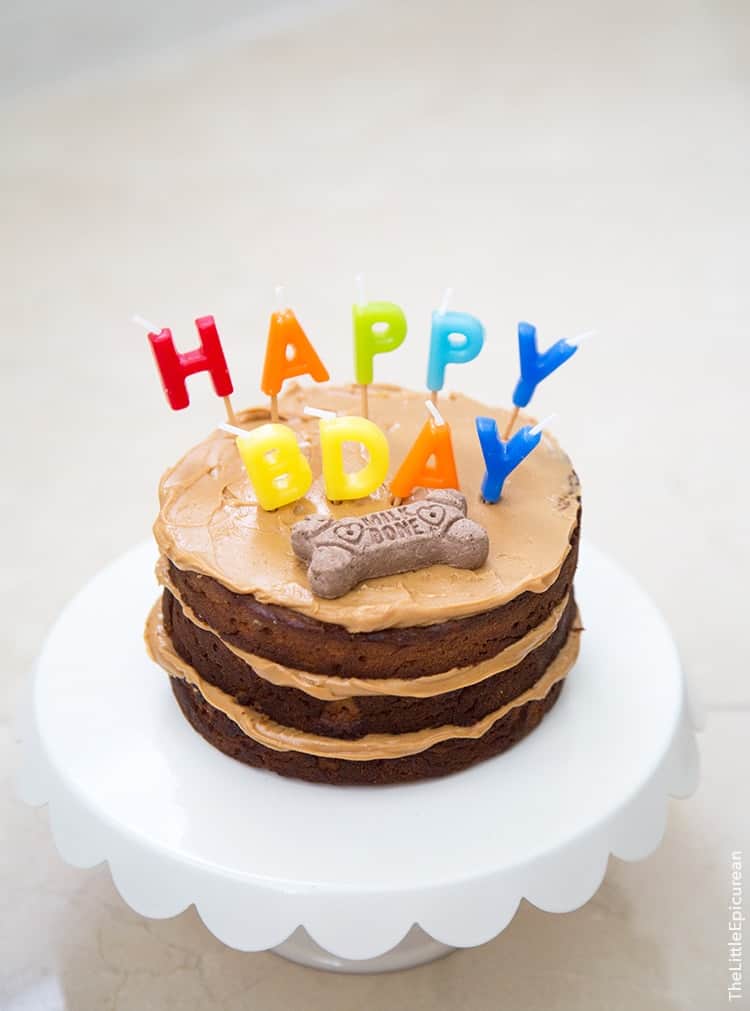 Charlie is also the world's pickiest eater. Partly because my mom always cooks him special no-salt chicken breast with freshly steamed rice whenever he sleeps over.
Despite his picky palate, one thing he can never refuse is peanut butter.
Hence, this peanut butter apple pupcake!
Happiest of birthdays my dear Charlie! Here's to many, many, many more!
Interested in more homemade dog treats?
Homemade dog biscuits don't contain preservatives. As such, they don't last as long as store-bought treats.
Keep them in the fridge or freezer for longer storage. Better yet, make a batch and share them with friends from the dog park!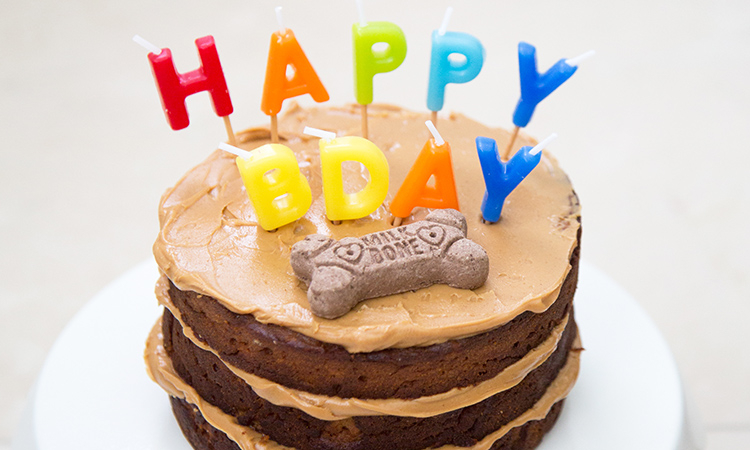 Peanut Butter Apple Pupcake
Dog friendly cake made with applesauce cake and frosted with peanut butter. Top it with your pup's favorite biscuit treat!Yield: 3-inch layer cake
Ingredients
1

cup

whole wheat flour

1 ½

teaspoon

baking powder

2

large eggs,

whisked

¼

cup

vegetable oil

⅓

cup

unsweetened apple sauce

⅓

cup

smooth peanut butter,

preferably unsalted and unsweetened

1

cup

shredded or grated apple, peeled and cored

preferably Granny Smith apple

2

Tablespoons

honey

additional smooth peanut butter to frost cake, if desired

dog biscuit, to garnish
Instructions
Preheat oven to 350°F. Line 3-inch round cake pan (5-inch tall) with parchment paper. Lightly grease and set aside.

In a large bowl whisk together flour and baking powder. Add whisked eggs, oil and apple sauce. Stir to combine. Once there are no longer any streaks of dry flour, add peanut butter. Stir to mix in. Follow with shredded apples and honey. Fold to combine.

Transfer batter to prepared cake pan. Bake for 35-40 minutes until toothpick inserted in center of cake comes out clean. Allow to cool in pan for 3-5 minutes before unmolding. Let cool to room temperature on wire rack.

If desired, slice cool cake into four layers. Stack layers together using a thin layer of peanut butter. Top with dog biscuit. Serve immediately.
Notes
This is a very large and rich cake for small dogs.
If possible, use unsweetened and unsalted smooth peanut butter. I served Charlie and Taylor a very small slice each.
Humans can obviously eat this cake as well…it just doesn't have the sweetness humans associate with cake and treats.
All images and text ©The Little Epicurean