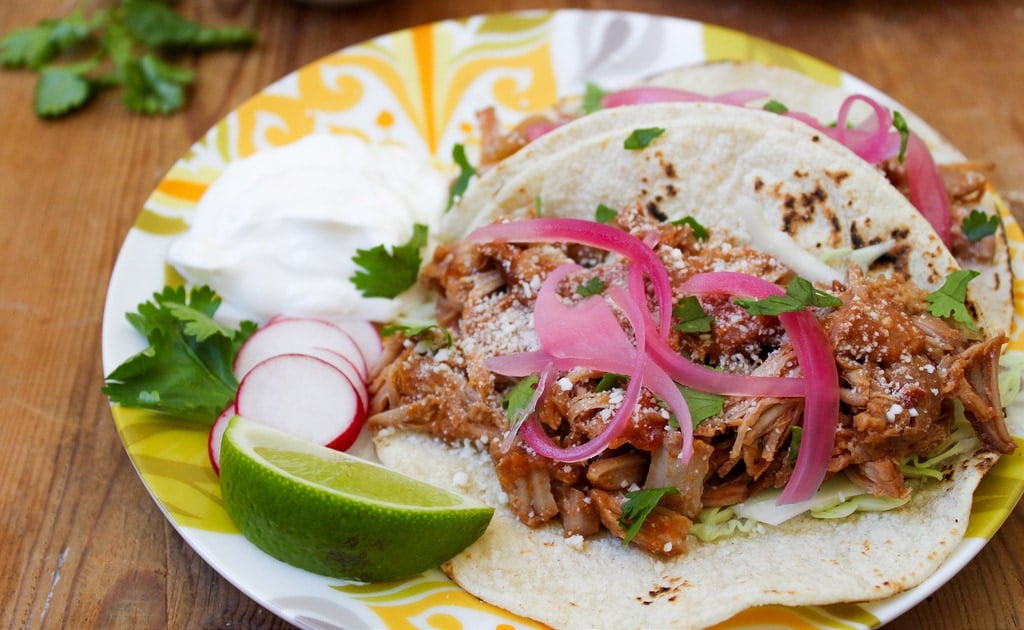 Making dinner for one is no fun.  Just like eating dinner alone is no party.  I'm so happy that my boyfriend is on vacation.  That means I won't be eating dinners alone this week!
This is a special post with a recipe courtesy of Alex, the boyfriend. I didn't understand the deliciousness and diversity of Mexican food until I met him.  Occasionally, I'd go get tacos or burritos, but I never really craved it.  I grew up in a heavily Asian populated suburb where I was surrounded by noodles, rice, and dumplings.  But now that I live in (North-East) Los Angeles, I must have Mexican food at least once a week.  I love tamales, menudo, elotes, and horchata.
Although this recipe isn't traditionally Mexican, the ingredients and flavor profiles are indicative of the cuisine.  This is our take on easy homemade California-Mexican food.  It's super simple to make and great for parties.  Guests will be shocked you made your own red onion pickles.  Just smile and take in the compliments.  No need to tell everyone how easy it was to prepare.

I used to think pickling was difficult and time-consuming.  Say hello to my stress-free pickled red onions.  I love the sweet yet tart crunch of these pickles.  And I love the bright color it brings to food.  It's just so beautiful.
You start with one medium red onion.  Split it in half and slice into thin strips.  In a small sauce pot, mix together distilled white vinegar, sugar, and salt.  Add the sliced onions.  Heat and swirl the contents around until the sugar has dissolved.  Transfer juice and onions into a pint mason jar.  Add enough cold water to submerge onions.  Seal the jar and let it chill in the fridge while you cook the pork.  Voila.  Done. Easy, right?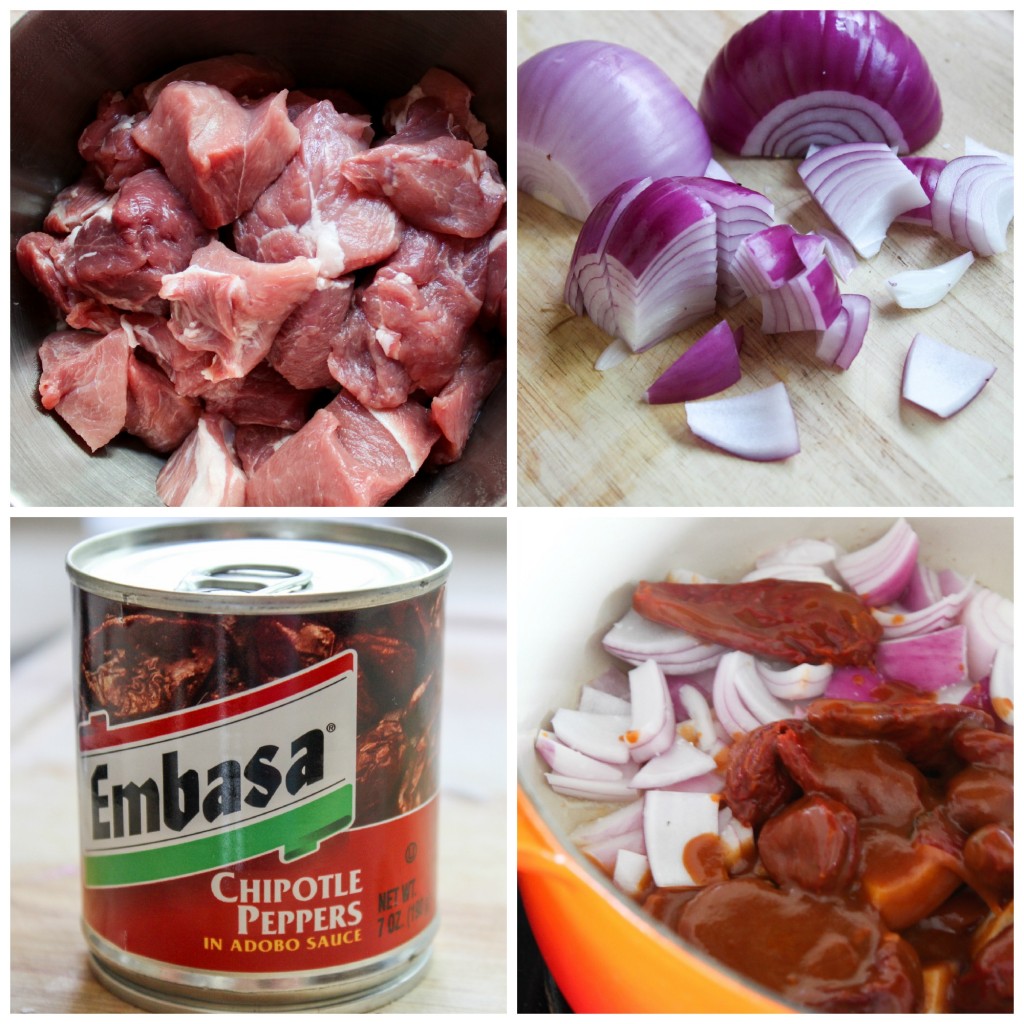 These Chipotle Braised Pork Tacos are super easy!  Start with about 6-7 pounds of pork butt.  Trim off the fat and cut the pork into medium-sized chucks.  You should be left with about 5 pounds of trimmed pork.  Toss the meat in kosher salt and black pepper.  Cover with plastic wrap and let the meat sit for about half an hour.
Meanwhile, prepare the remaining ingredients.  Put a large enamel cast iron dutch oven pot on the stove over medium high heat.  Dice two medium red onions in large chunks and place in pot with canola oil.  Add 1/4 tsp kosher salt to get the onions to sweat.  Cook until onions start to soften.
Open a can of chipotle peppers in adobo sauce.  Add all the sauce into the pot with the onions. Depending on your spice level preference add as many of the chipotle peppers as desired.  I say half the can gives you moderate heat.  I used the entire can because I like my food spicy.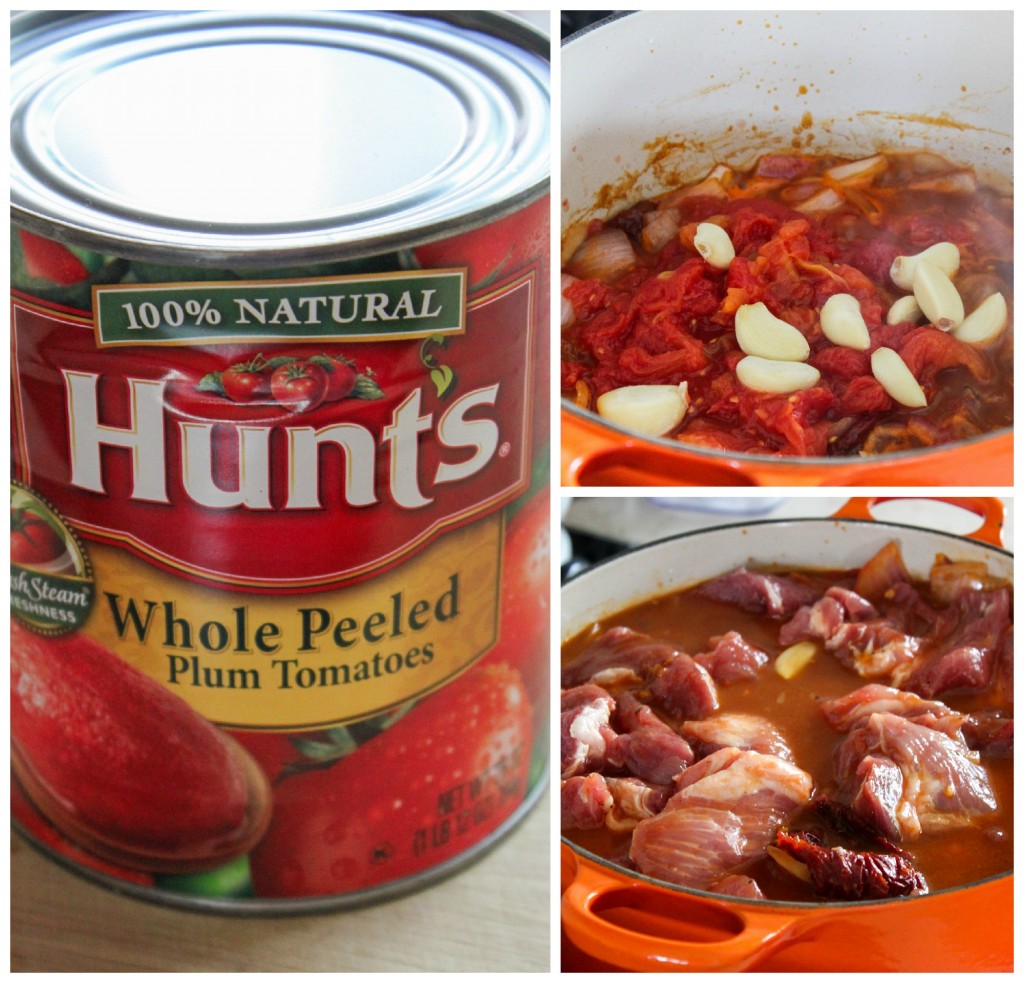 Discard the juice of a 28-oz can of whole plum tomatoes.  Crush all the tomatoes and add to the pot.  Add a bunch of whole peeled garlic, 1 cup of beer, followed by the seasoned pork. Don't worry that the pork is not submerged in the liquid.  You want some of the pork to be exposed because it helps the meat brown in the oven.  Bring the mixture to a boil on the stove.  This helps lessen the time the pork needs to cook in the oven.
Transfer pot to a 350 degrees F oven.  Cook for about 3 hours, removing the pot every hour to rearrange and stir the mixture. You want to give all the pieces of meat enough time out of the liquid and exposed to the heat to brown.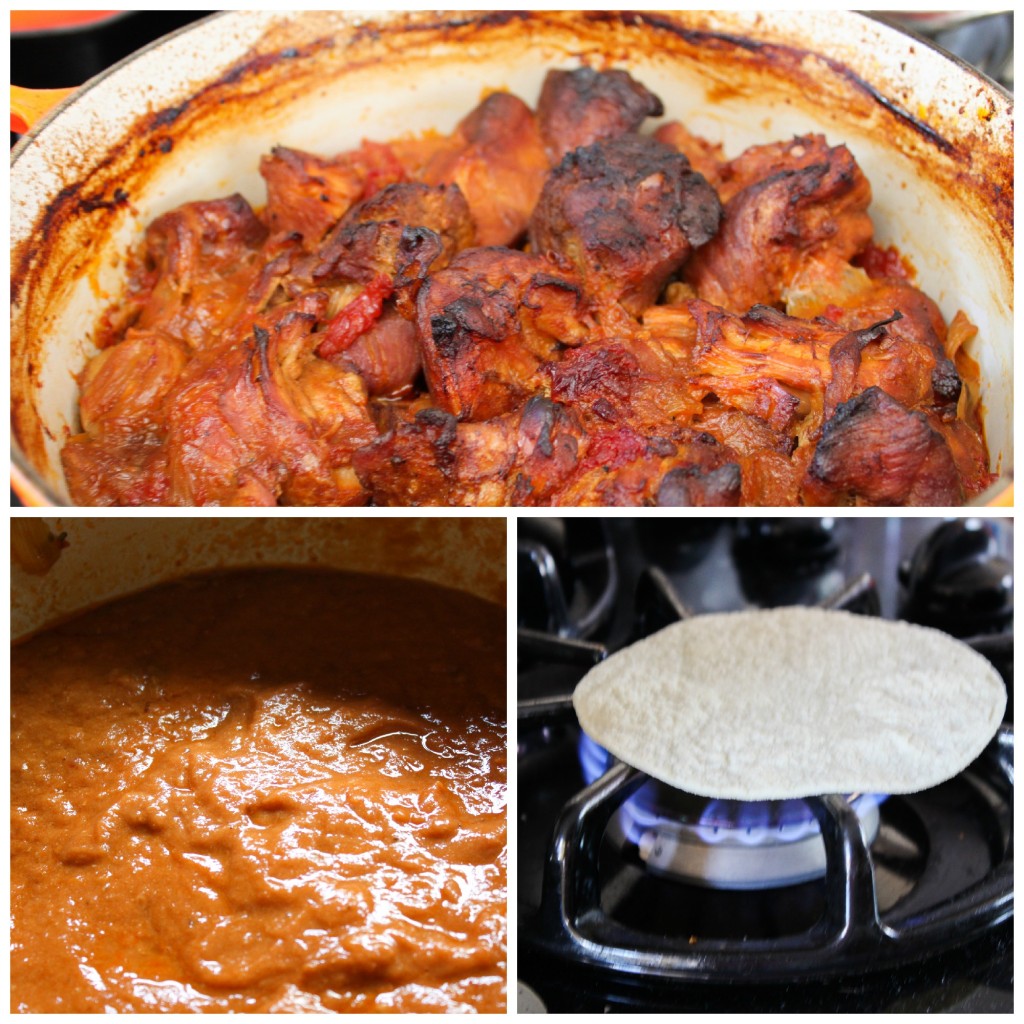 Eventually you'll get this perfectly browned and cooked pot of meat.  Remove the pork chunks and place in a clean bowl.  Using an immersion blender (or standard blender) carefully puree the sauce until smooth.  Roughly shred the pork and toss in the sauce.  Heat up corn tortilla over the stove or in a grill pan until warm.  By this time, the red onions should be cold and pickled.  Then start building your taco with shredded green cabbage, cotija cheese, chopped cilantro, sour cream and lime.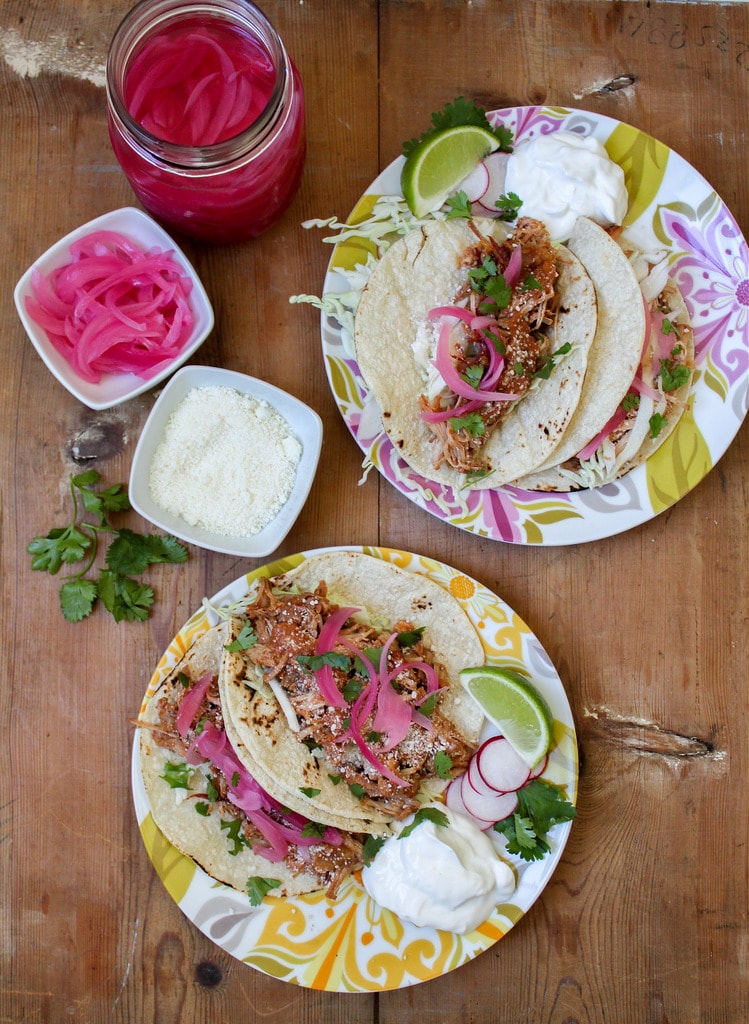 Dinners for two is fun and all, but this recipe makes enough to serve a decent sized party.  Invite your friends over, get to know your neighbors, and enjoy this tasty meal al fresco.  Did I mention that this dish goes well with margaritas and beer?
Chipotle Braised Pork Tacos
Ingredients:
Red Onion Pickles:
3/4 cup distilled white vinegar
1/4 tsp kosher salt
1 Tbsp granulated sugar
1 medium red onion, split in half, cut into strips
Chipotle Braised Pork:
5 pounds pork butt, fat trimmed off, cut into medium size cubes (about 6-7 pounds with fat)
1 Tbsp kosher salt
1/2 Tbsp freshly ground black pepper
2 medium red onions, diced into big chunks
2 Tbsp canola oil, or vegetable oil
1/4 tsp kosher salt
7 oz can chipotle peppers in adobe sauce (see pictures above)
1 Tbsp water
28 oz can whole tomatoes, discharge juice
1 head of garlic (11 cloves), peeled
1 cup light or amber beer
Other components:
small bunch radishes, sliced thin
head of green cabbage, sliced thin
cilantro, roughly chopped
grated cotija cheese
sour cream
lime wedges
corn tortilla, warmed
Directions:
Red Onion Pickles:
In a small sauce pot, heat vinegar, salt, and sugar. Add sliced onions. Continue to heat over medium-high heat until sugar dissolves.
Transfer onions and liquid to a pint mason jar. Add enough cold water until liquid reaches top of jar. Cover jar and let marinade in fridge while you braise pork.
Chipotle Braised Pork:
Trim the fat from 6-7 pounds of pork butt, leaving you with about 5 pounds of trimmed meat. Cut into medium sized chunks. Add 1 Tbsp kosher salt and 1/2 Tbsp black pepper. Toss to season meat. Cover with plastic wrap and let sit for 15-30 minutes as you prepare remaining ingredients.
Heat a large oven safe pot (i.e. enameled cast iron/dutch oven pot). Add 2 Tbsp canola oil and diced red onions and cook over medium high heat. Add 1/4 tsp kosher salt to sweat the onions. Cook until onions start to soften.
Add all the liquid juice of canned chipotle peppers to pot. Add half of peppers, or more depending on your spice level preference.
Discard the juice from tomato can. Crush all the tomatoes and add to the pot. Add whole peeled garlic cloves and 1 cup beer. Stir to combine. Add pork and bring to a boil, keep pot uncovered. As noted in picture above, some of the pork will be exposed. Not all the pork will be submerged in liquid. This will allow the pork to brown in the oven.
Preheat oven to 350 degrees F. Once mixture comes to boil, place pot in preheated oven. Bake for 3 hours. Rearrange and stir meat every hour to allow meat to brown.
When pork is done cooking, remove pork from sauce and place in a separate bowl. Using an immersion blender (or a standard blender) puree sauce until smooth.
Roughly shred pork and toss in smooth sauce. Serve pork on warmed corn tortilla with garnishes.
The Little Epicurean original recipe