Horchata latte is made by mixing homemade cinnamon rice milk with a shot of espresso.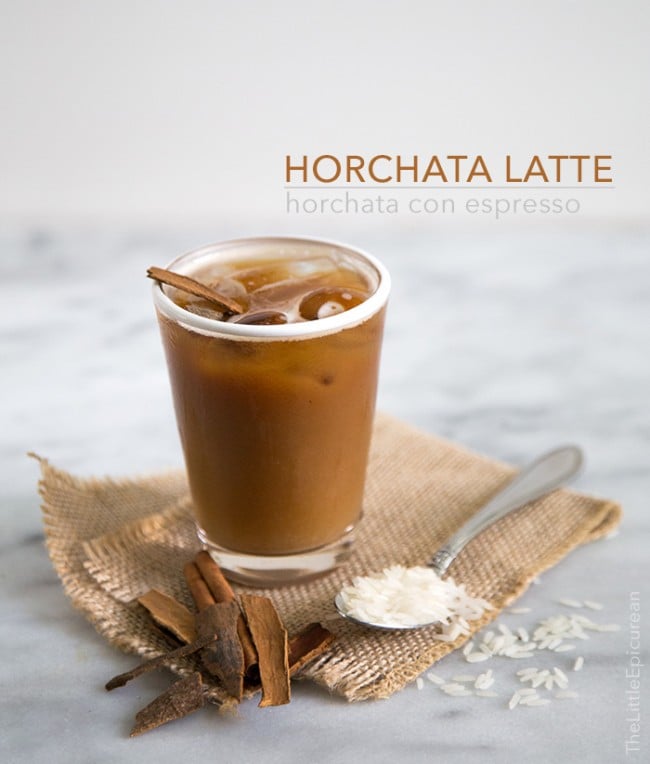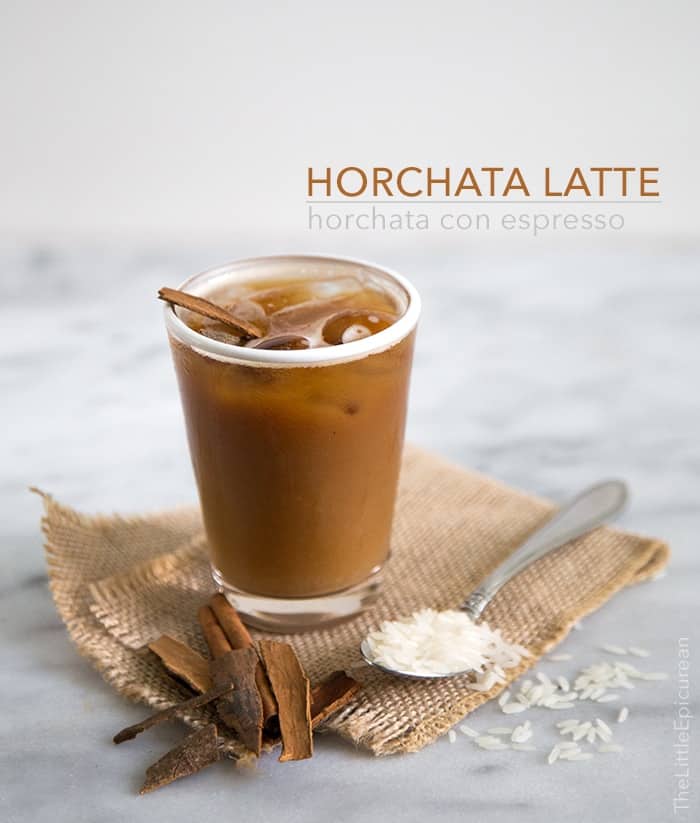 My summers are all about Horchata Latte.
During the warmer months, many coffee shops come up with all sorts of iced specials to helps cool down customers.
I first learned about this marvelous combination from Cafe de Leche in Highland Park.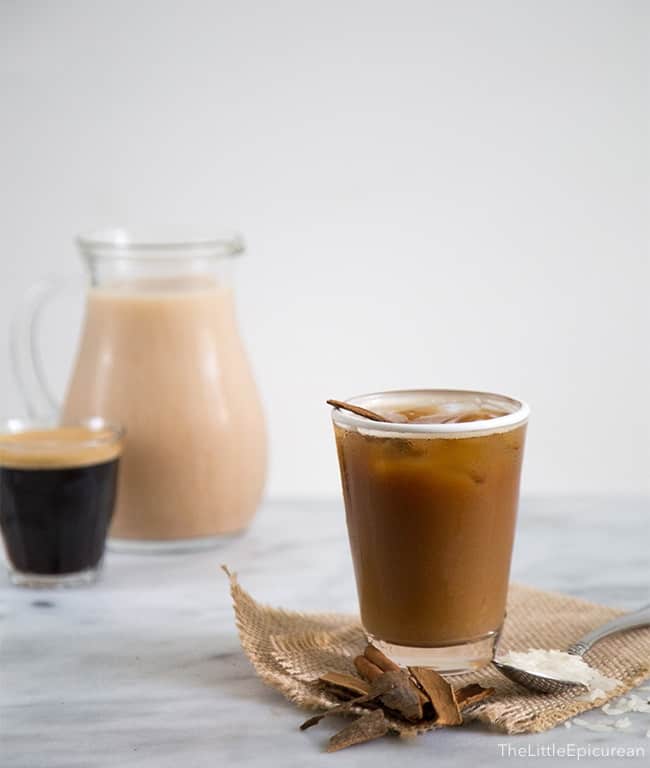 Homemade Horchata Latte
Dairy free. Soy free. Vegan. Vegetarian. Gluten free. Nut free.  
You name it. This horchata latte fits any dietary restriction.
This delicious drink is easy to customize to your taste preferences.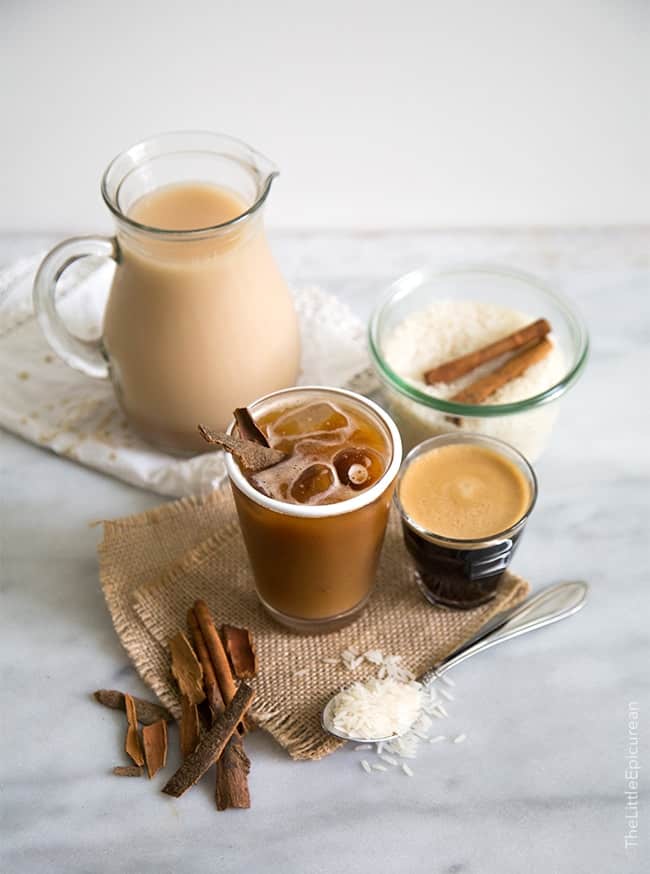 How to make Horchata
Horchata is very simple to make.
For this version, all you need is rice, water, cinnamon bark and sugar.
There are countless horchata variations that differ according to region and country.
Some are made with ground almonds, sesame seeds, and even barley.
I prefer to use cinnamon bark (canela or ceylon cinnamon) as it breaks down a lot easier.
It is slightly sweeter and more fragrant than the cinnamon sticks (cassia cinnamon) sold in glass jars at the supermarket.
Cinnamon bark tends to be much cheaper and it can be found at Latin and Asian markets. It is usually sold in bags alongside dried peppers and other dried spices.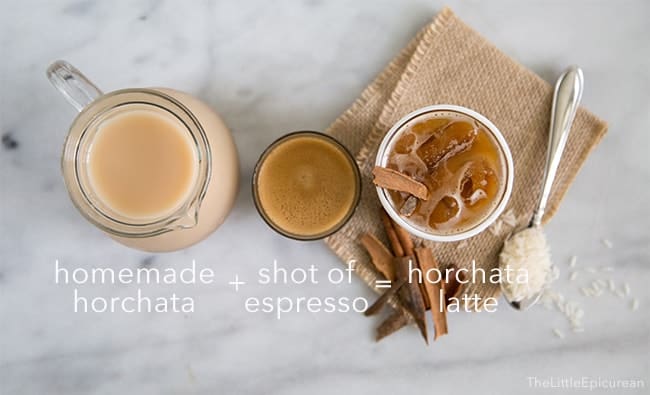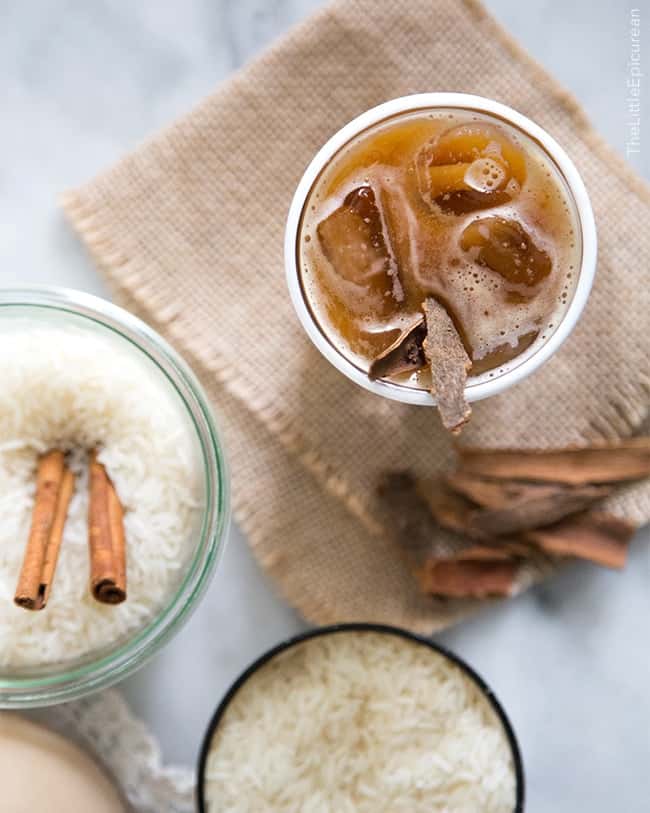 Spice up your usual iced coffee and try something new and exotic.
Here are some other latte beverages you might enjoy:
Ube Latte is a sweet delicious mixture of espresso, ube flavoring, and sweetened condensed coconut milk.
Cinnamon Dolce Latte is a homemade version of the popular Starbucks drink!
Honey Matcha Soy Latte has all the energy and caffeine kick without the coffee crash.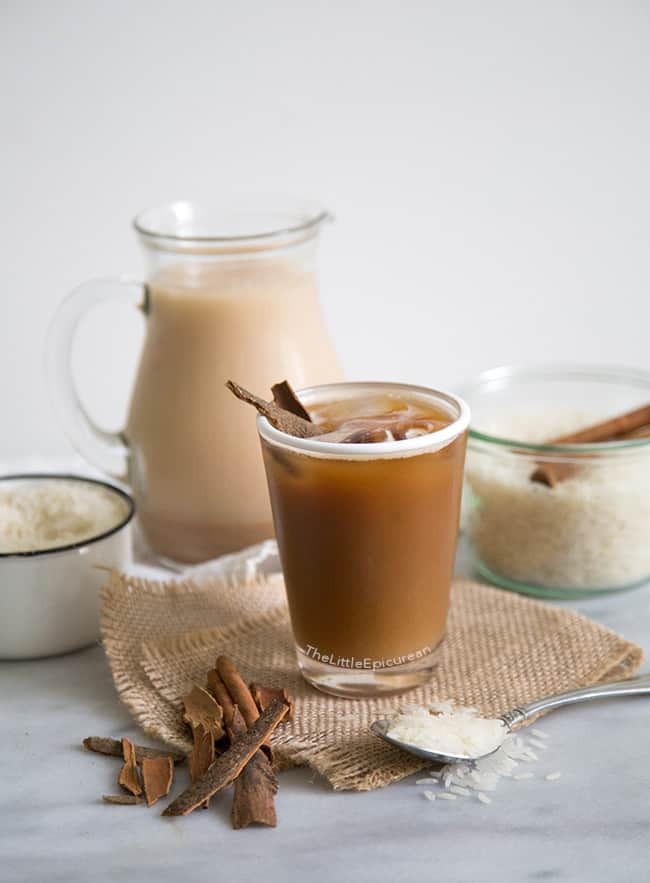 If you love cinnamon, this is the caffeinated beverage for you!
Since horchata is already sweet, no need to add extra sugar to this latte.
Make yourself a horchata latte and make iced horchata for the kids!
And if you happen to have too much horchata, go ahead and freeze them into popsicles!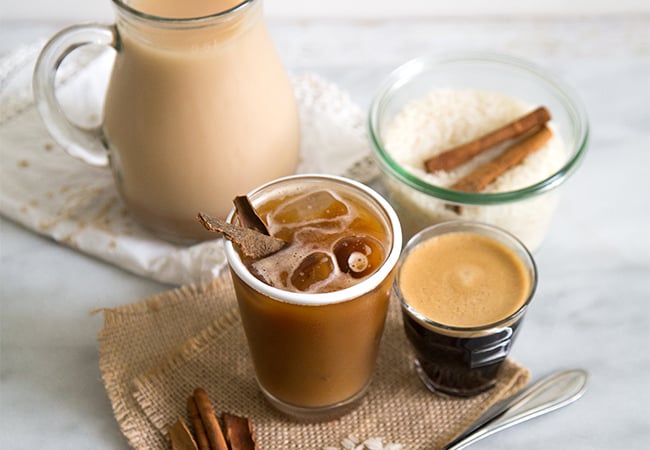 Horchata Latte
Horchata latte is made by mixing homemade cinnamon rice milk with a shot of espresso. Dairy free. Soy free. Vegan. Gluten free. Nut free. You name it.This horchata latte fits the bill!Yield: about 1 ½-liters horchata
Ingredients
Horchata Latte:
4

oz

horchata (recipe follows)

2

oz

strong espresso

ice, as needed
Horchata:
1

cup

long grain white rice, rinsed

1

oz

cinnamon bark (canela)

6

cups

water

¾

cup

simple syrup
Simple Syrup:
1

cup

water

1

cup

granulated sugar
Instructions
Fill serving glass with ice. Add chilled horchata and espresso. Stir and enjoy.
Horchata:
Add rice, cinnamon bark, and 3 cups water to blender. Blend until rice is broken down like coarse, pebble-like sand. Pour mixture into a large container. Add remaining 3 cups water. Stir to combine. Cover and let sit at room temperature for 3 hours.

In small batches, return mixture to blender. Blend once again until rice and cinnamon bark is further broken down into smaller bits. Strain mixture through a very fine sieve, or cheesecloth. Add ¾ cup simple syrup. Stir to combine. Store in the fridge to chill.

Once cold, stir mixture and taste. Add more simply syrup, if necessary. Serve chilled over ice.
Simple Syrup:
In a sauce pot, bring water and sugar to a boil. Boil until sugar has dissolved. Remove from heat and cool to room temperature.
Notes
Espresso:
Freshly pulled espresso is high recommended. This requires use of an espresso machine or a moka pot.
For the "instant version": dissolve 1 Tbsp instant coffee in 2 oz hot water.