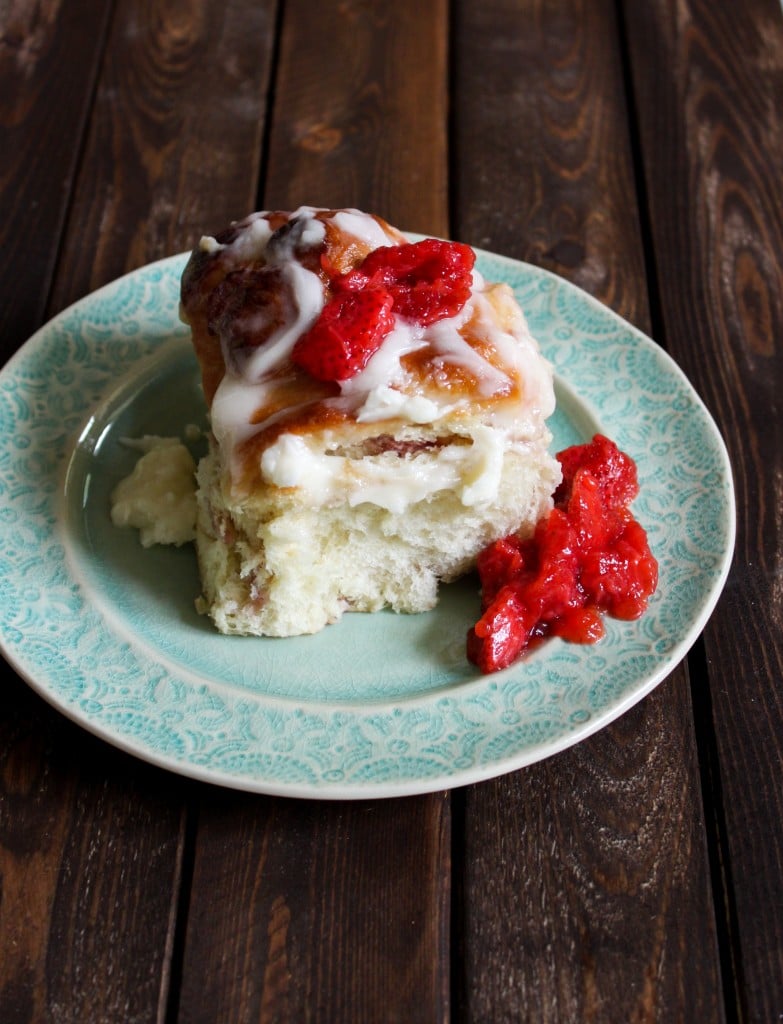 Cinnamon rolls are outdated.  Been there, done that.  When it's 90 degrees outside, do you really want to eat something that will warm you up even more?  No, of course not.  Its time for something a bit more refreshing and a lot more exciting.  Everyone has enjoyed a cinnamon roll at one point or another, but how many people have had a strawberry roll with cream cheese frosting?
I thought so.  This was my first time having it as well, and it has quickly become a new summer favorite.

It starts off as a regular bread roll.  Let the active dry yeast come back to life in some warm water and a pinch of sugar.  Then mix the yeast with flour, butter, and eggs.  Let the dough rise until it has doubled in size.  And then the good stuff happens.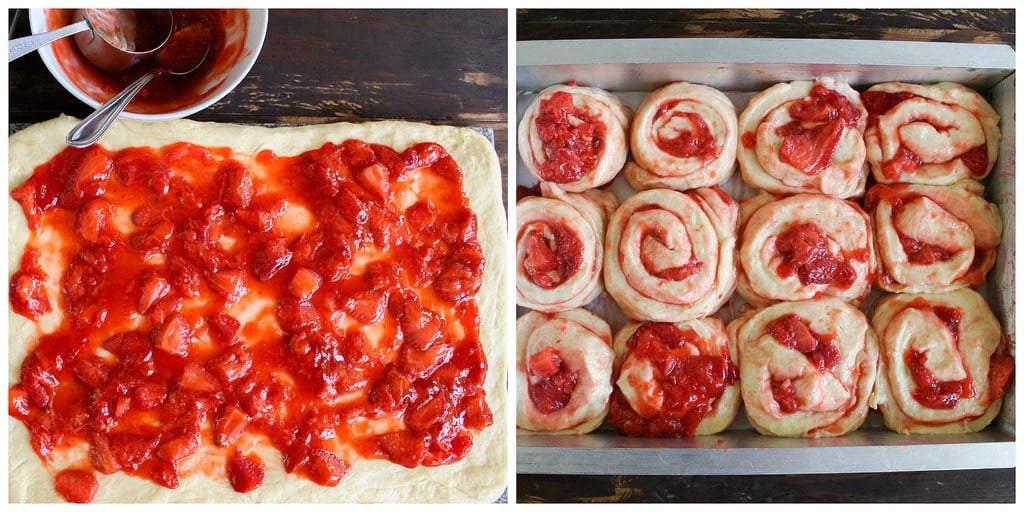 Roll out the dough into a rectangle.  Spread cooled strawberry filling all over the dough.  This part is very tricky and VERY MESSY.  I cannot emphasize how messy this can get.  At first I was hesitant to post this recipe, but what's a little mess in the kitchen?  I apologize in advance, but I assure you the mess is well worth it.  These rolls are too delicious and deserved to be shared.
It is best to cool the strawberry filling before spreading it onto the dough.  The cooled filling is much thicker and is able to adhere to the dough much better.  Warning: when you roll the dough, some filling WILL try to escape.  Just scoop up whatever comes out and spread it on top of the rolls in the pan.  You can also save the excess filling to serve alongside the finished rolls.
Once the dough is rolled into a nice log, slice into 12 equal rolls.  Place in a baking sheets with sides at least 2 inches high.  Cover the rolls with plastic wrap and let them rest until the rolls have risen to the top of the baking sheet.  And then it is finally time to bake!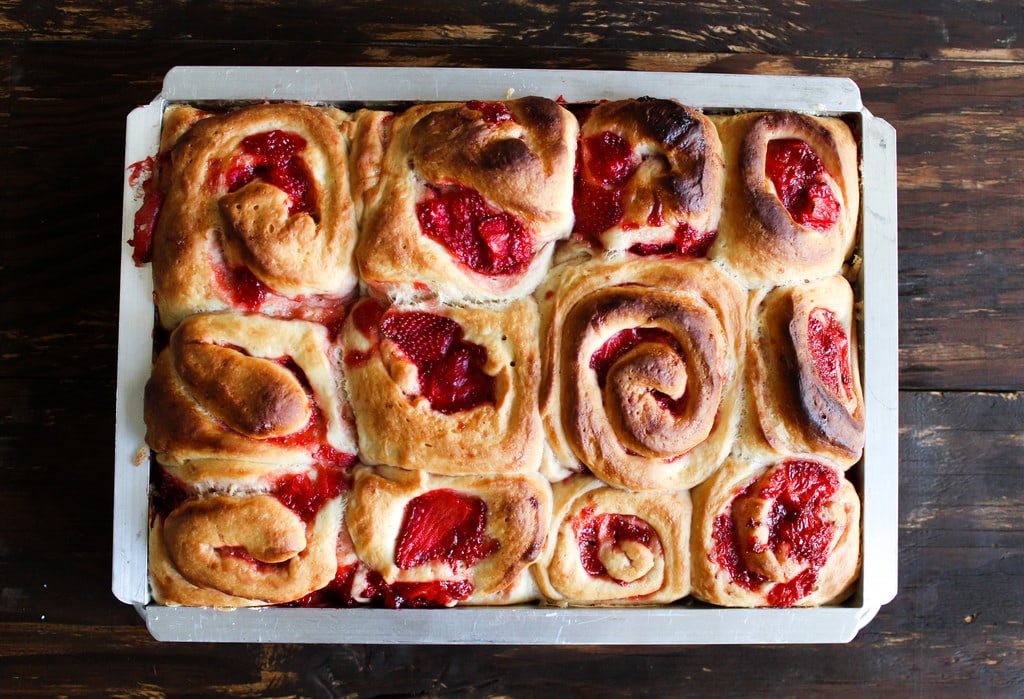 It is a long 30 minutes until the rolls are done and baked.  Instead of sitting in front of the oven and watching the rolls cook, I suggest you use this time to prepare the cream cheese frosting.  Also, try not to eat all the frosting before the rolls are finished. You will want to save as much of that stuff to slather all over the warm ooey-gooey strawberry rolls.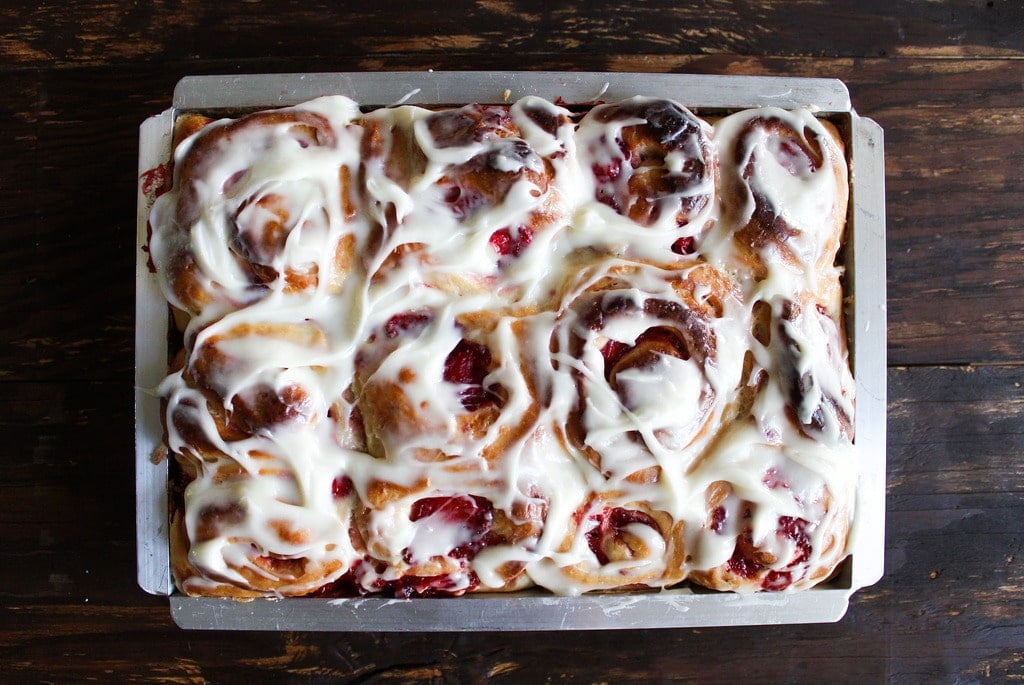 Strawberry Rolls
Ingredients:
Dough:
1/2 cup warm water, 110 degrees F
2 1/4 tsp active dry yeast
1/4 tsp granulated sugar
1/2 cup buttermilk
2 large eggs
2 tsp kosher salt
1/4 cup granulated sugar
4 cups all-purpose flour, plus 1-4 Tbsp
8 Tbsp unsalted butter
Strawberry Filling:
2 pints fresh strawberries, washed, hulled, and sliced
3 Tbsp granulated sugar
1/4 cup granulated sugar (or light brown sugar, packed)
1/2 tsp kosher salt
2 Tbsp cornstarch
3 Tbsp water
Cream Cheese Frosting:
4 oz cream cheese, room temperature
1/4 cup unsalted butter, room temperature
1 1/2 cup powdered sugar, sifted
Directions:
Dough:
Sprinkle yeast over warm water. Add 1/4 tsp sugar and stir to combine. Let sit for 5 minutes to allow mixture to bubble and expand.
In the bowl of a stand mixer fitted with a hook attachment, combine dissolved yeast mixture, buttermilk, eggs, salt, and 1/4 cup sugar. Once combined, add 3 cups of flour, one cup at a time. Continue to mix and knead until combined. Add butter in three additions. Add remaining 1 cup of flour. Knead until dough is smooth and cleans the sides of the bowl. If dough is too sticky, add flour one tablespoon at a time. (I added 3 Tbsp)
Transfer dough to a lightly greased bowl. Cover bowl with plastic wrap and let sit at room temperature for 60-90 minutes until dough has doubled in size.
Punch down dough. Transfer to a lightly floured surface. Roll dough into a 16x12-inch rectangle.
Spread cooled strawberry filling evenly over the dough, leaving a 1/2-inch border around all sides.
Roll dough into a tight log, starting with the long side. It may get messy and some of the strawberry filling will try to escape. Slice log into 12 equal slices. Place slices in a parchment lined 13x9-inch baking sheet with sheet pan extenders.
Cover with plastic wrap and let the rolls rise for 45 minutes to 1 hour until rolls reach top of pan.
Meanwhile preheat oven to 350 degrees F.
Remove plastic wrap and bake rolls for 25-35 minutes until tops are golden brown and internal temperature hits 185 degrees F.
Let rolls sit in pan for 5 minutes before running a knife or offset spatula around the edges to loosen from pan. Spread cream cheese frosting on top and serve warm.
Strawberry Filling:
Place sliced strawberries in a bowl and toss with 3 Tbsp sugar. Let sit for 15-30 minutes and allow juices to expel from strawberries.
Transfer strawberries and juice to a sauce pot. Add remaining 1/4 cup sugar and salt. Cook over medium heat. Lightly smash some of the strawberries to expel more juice.
In a small bowl, dissolve 2 Tbsp cornstarch in 3 Tbsp water. Add mixture sauce pot. Bring to a boil and continue to heat until strawberry mixture has thicken.
Remove from heat. Allow mixture to thicken and come to room temperature, or let chill in fridge to thicken faster. Set aside until ready to fill dough.
Cream Cheese Frosting:
In the bowl of a stand mixer fitted with a paddle attachment, beat together cream cheese and butter until smooth. Add sifted powdered sugar and beat until smooth and thickened.