This roasted tomato pasta recipe is a quick and easy meal. The pasta is simply tossed with oven roasted tomatoes and grated parmesan cheese.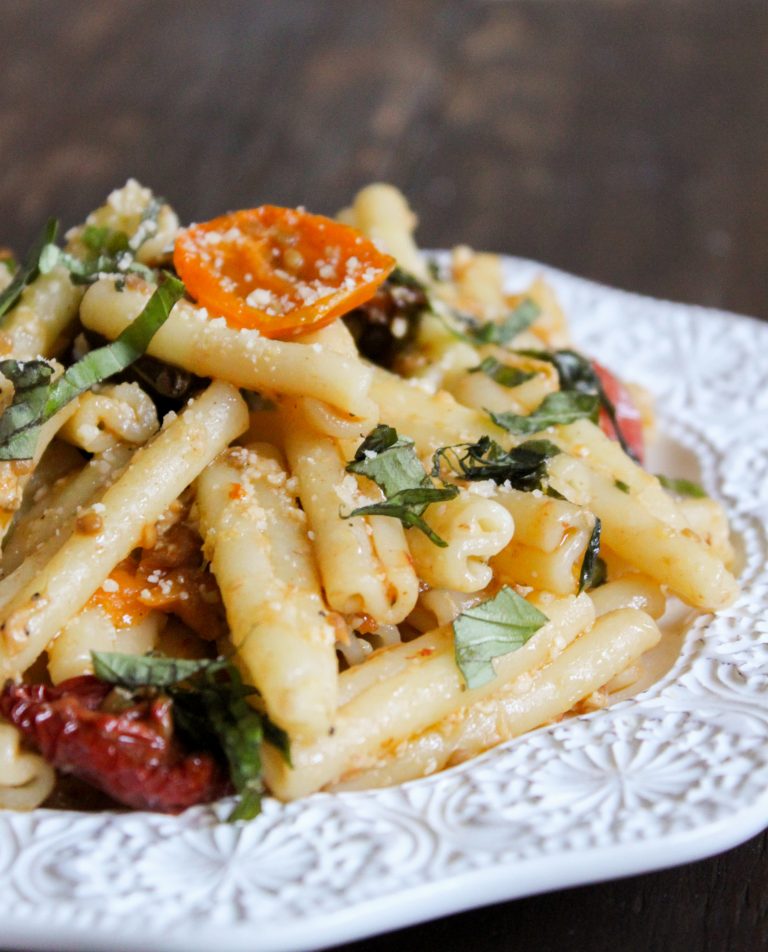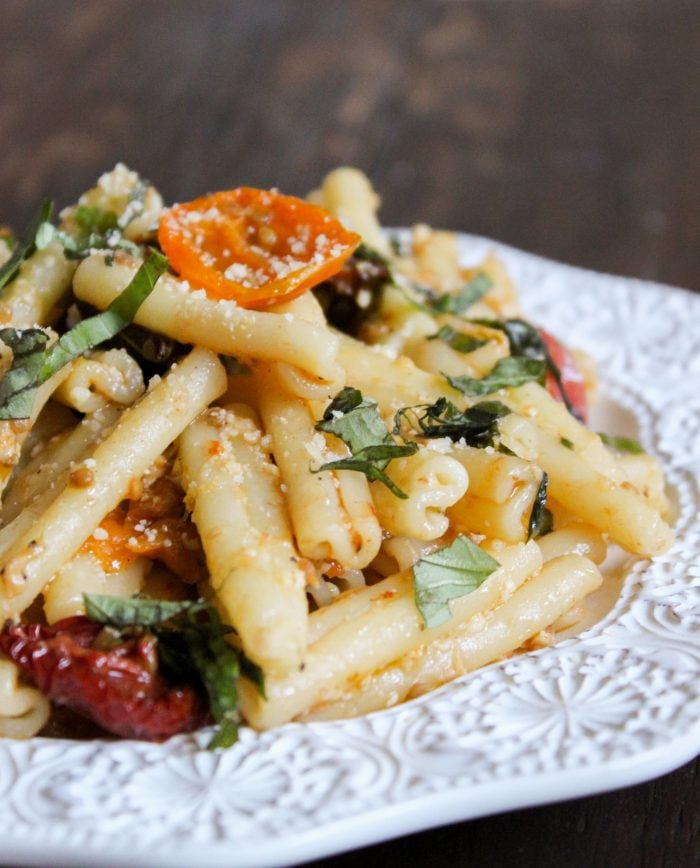 Its been almost two weeks since I've returned from Italy and I'm still having withdrawals.  I miss all the fresh homemade pasta, the plethora of charcuterie, and the endless glasses of wine.
This is a simple pasta dish reminiscent to those delicious meals I had in northern Italy.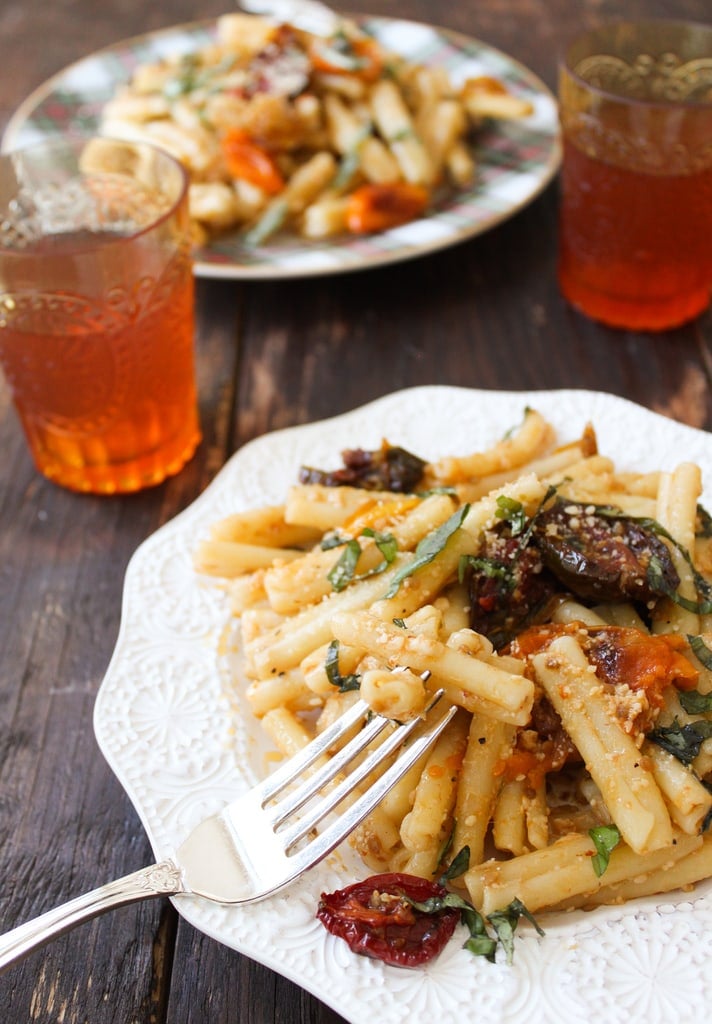 Nowadays you can get tomatoes any time of the year, but during the colder months tomatoes are usually shipped from halfway around the globe.  I prefer to stock up on tomatoes during the summer when they are actually in season.  Not only do they taste better, but they are also fresher because they didn't have to travel far to get to you.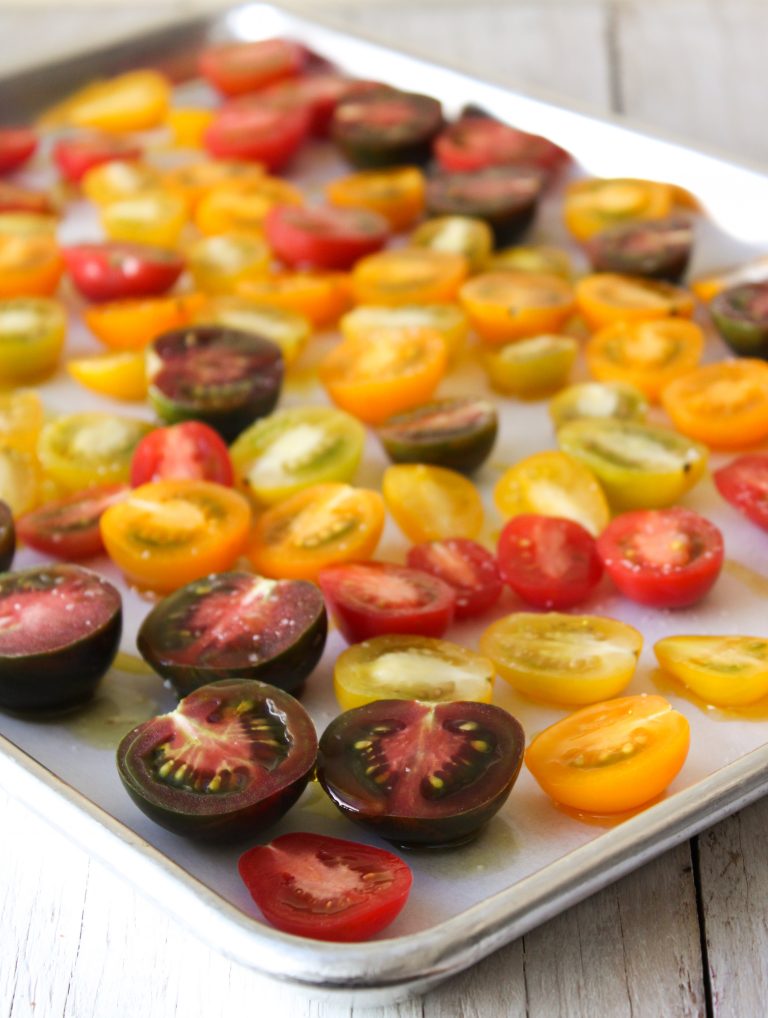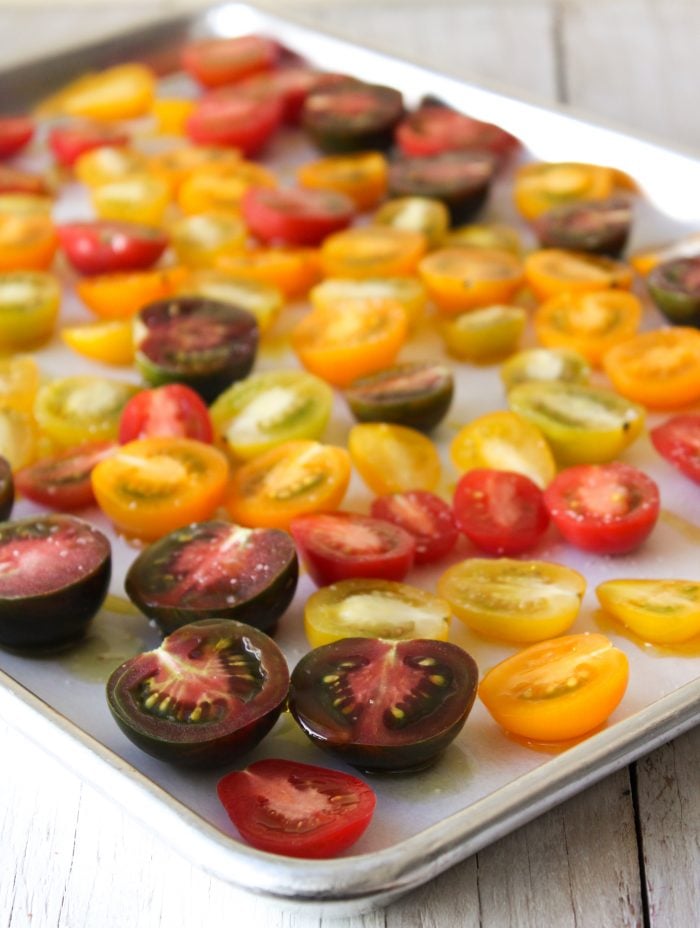 Roasting tomatoes can take some time because of its high moisture content, about an hour or so.  But I swear its really simple!  Halve the tomatoes, coat them with some extra-virgin olive oil and add a couple pinches of kosher salt and granulated sugar.  Place the tomatoes in a low temperature oven, go do whatever you need to do around the house, and come back to kitchen to the sweet aroma of the finished tomatoes.  This slow roasting process enhances the sweet flavor of the fruit while creating an excellent sauce as the tomato juice infuses with the olive oil.  Its best to use small tomatoes for this recipe, like cherry, grape or mini heirlooms because they cook more evenly.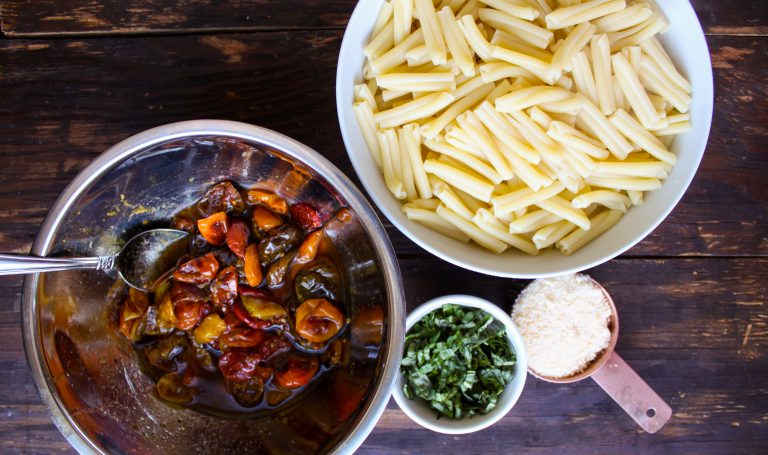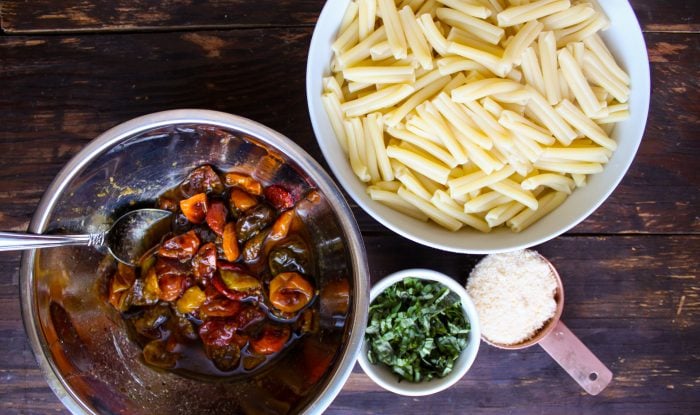 Once you've roasted the tomatoes, its time to throw all the other components together.  While this dish is great warm (when the cheese is ooey and gooey), it is also delicious and refreshing chilled.  That makes this perfect for picnics, barbecues, or any other outdoor events.  Not to mention, its a great vegetarian dish.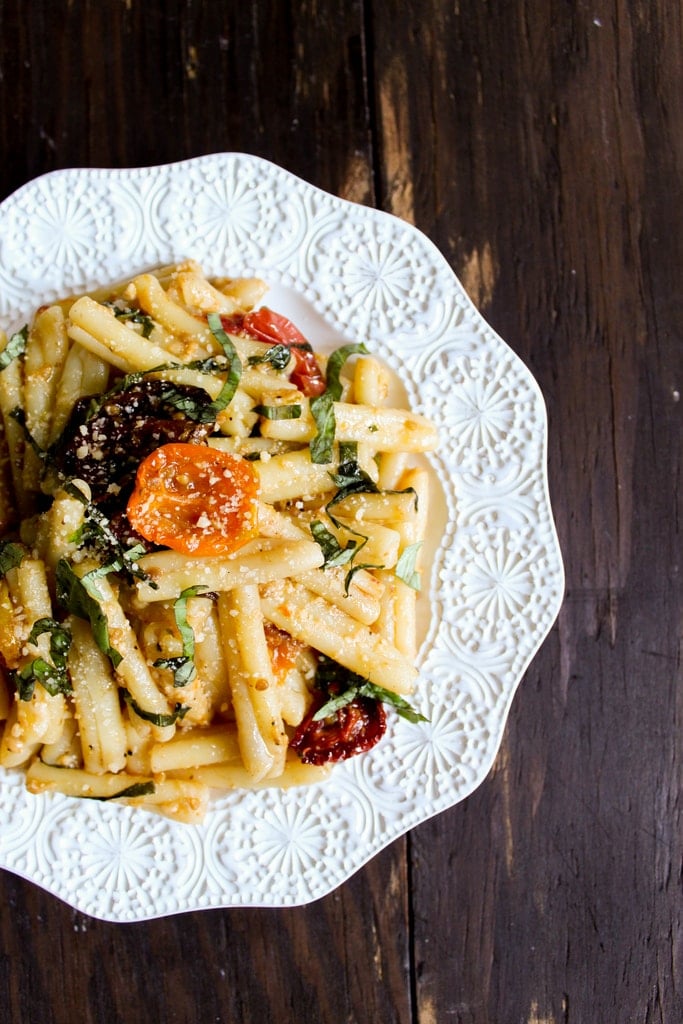 Roasted Tomato Pasta
Yield: 4 servings
Ingredients
Roasted Tomatoes:
2

pounds

mini heirloom tomatoes, halved

2

Tablespoons

olive oil

1

teaspoon

kosher salt

1/2

teaspoon

granulated sugar
Sauce:
1/3

cup

olive oil

finely grated zest from 1 lime

2

Tablespoon

fresh squeezed lime juice

1

Tablespoon

balsamic vinegar

1

teaspoon

kosher salt

1/2

teaspoon

freshly ground black pepper
Assembly:
1

pound

gremelli, or other short pasta

3/4

cup

grated parmesan cheese, plus additional for serving

1/2

cup

fresh basil leaves, roughly chopped
Instructions
Preheat oven to 325 degrees F. Line baking sheet with parchment paper.

Place tomatoes cut-side up on baking sheet. Drizzle 2 Tbsp olive oil over tomatoes, then sprinkle salt and sugar on top.

Bake tomatoes for 60-75 minutes until tomatoes begin to shrivel and expel juices. Allow tomatoes to cool slightly then transfer to a bowl. Be sure to pour any juices and oil into the bowl, as well.

Add 1/3 cup olive oil, lime zest, lime juice, and balsamic vinegar to bowl. Stir to combine with roasted tomatoes. Season with salt and pepper. Set aside as you cook pasta.

Cook pasta in a large pot of boiling salted water. Cook to al dente according to the pasta's package directions.

Drain pasta and toss with parmesan cheese and chopped basil leaves while pasta is still warm. Then pour in roasted tomatoes with olive oil sauce. Fold until pasta is fully coated with sauce and tomatoes are evenly distributed.