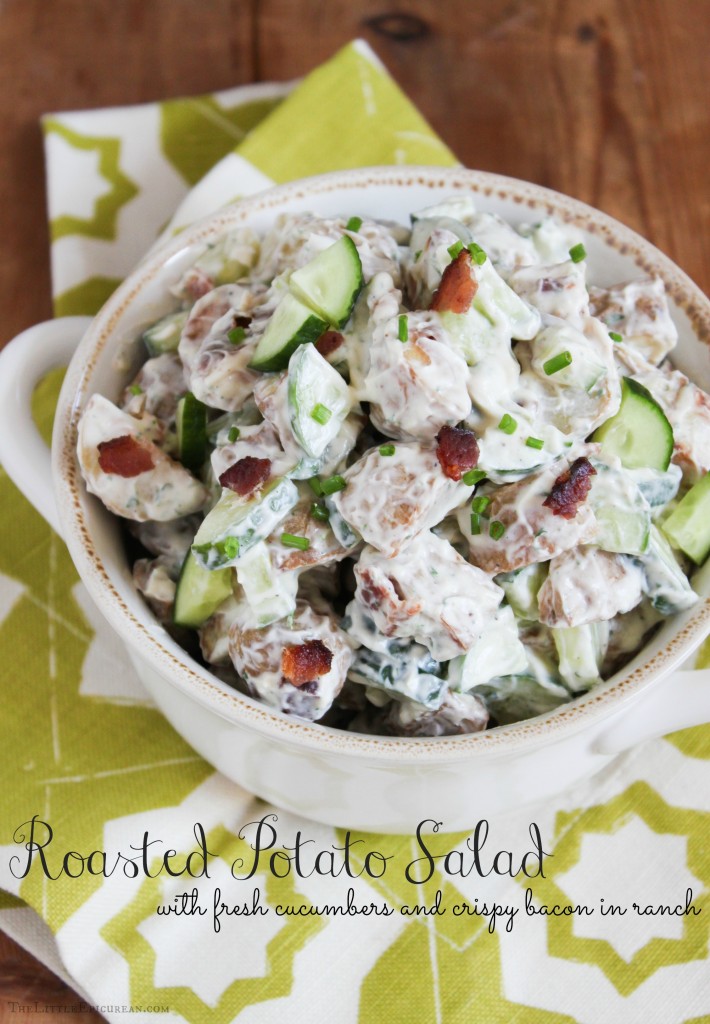 The other night I had dinner with my BFF at one of my favorite Persian restaurants in Glendale, Raffi's Place. Anytime I eat kabobs or koobideh, I require yogurt and cucumber dip. It's a little sour, a tad tart, and super refreshing and I really like it.
Anyway, we were chit-chatting away and I was happily munching on my flatbread with yogurt dip. We started talking about breakfast burritos, another love of mine. My BFF said he didn't like potatoes in his breakfast burritos. I stopped eating for a second. WHAT?! No potato? My favorite breakfast burrito (from this hole in the wall in Atwater Village) is filled with steak and potato! And then it got me thinking…potatoes with cucumber and yogurt sound really good together.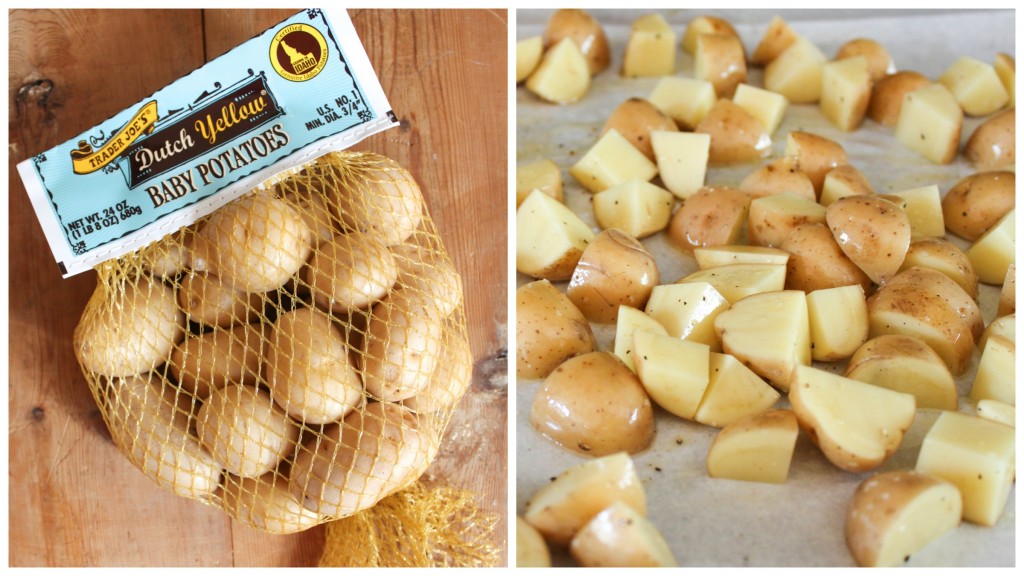 As a result, this roasted potato ranch salad with fresh cucumbers and crispy bacon was born.
For friends and family that know my unusual eating preferences– I hate sauce. Please don't give me ketchup with my fries, don't pour gravy into my mashed potatoes, or put hot fudge on my ice cream sundae. But one sauce that I cannot live without is ranch.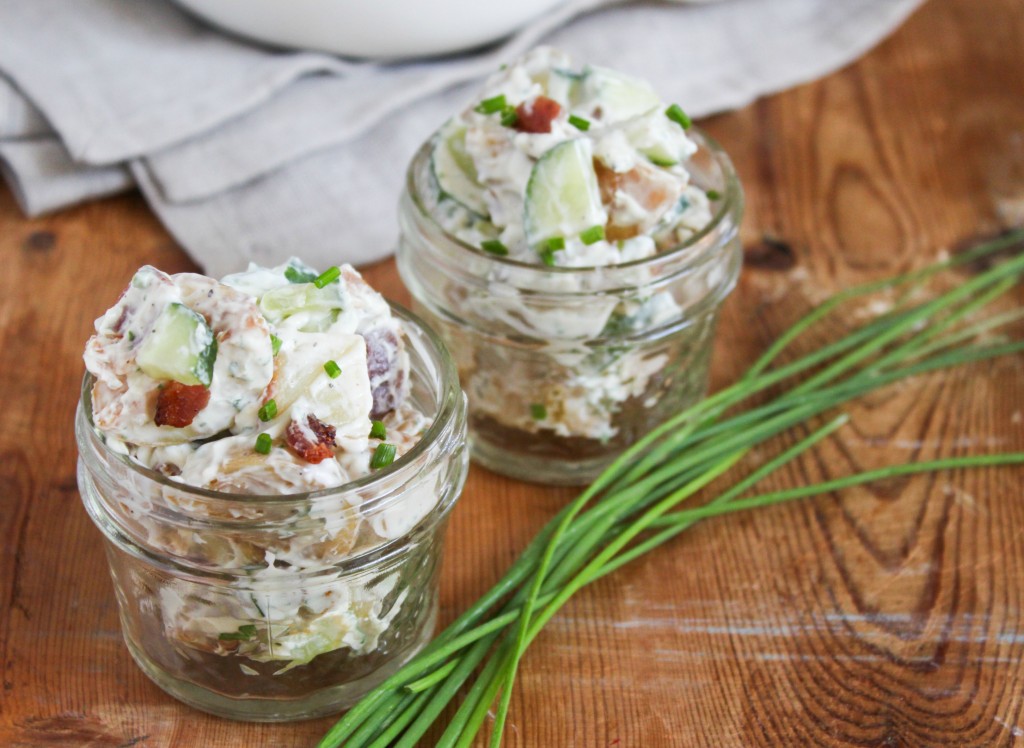 I had to portion this out into little glass jars so I wouldn't eat the entire batch. Cucumbers are a great alternative to celery (which is usually used in potato salads). Not only does the fresh cucumber lend a nice crunch, it also provides a refreshing bite from the rich and creamy ranch.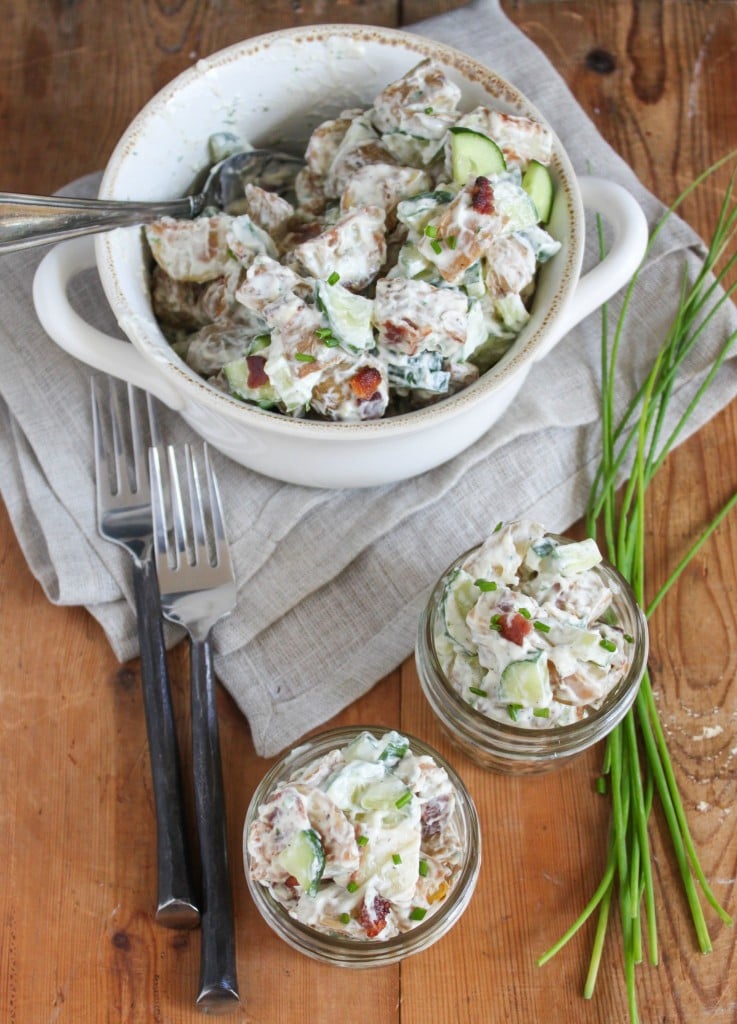 Roasted Potato Salad with Cucumber, Bacon, and Ranch
Ingredients
24

oz

Dutch yellow baby potatoes

quartered

1

Tbsp

olive oil

kosher salt and black pepper

to taste

3

small

Persian cucumbers

¼inch thick slices, quartered

4

thick slices of bacon

cooked, crumbled into small pieces

½

oz

Hidden Valley Ranch Powder

8

oz

sour cream

chives

as needed for garnish
Instructions
Preheat oven to 450°F. Line baking sheet with parchment paper. Thoroughly scrub and wash potatoes. Pat dry and cut into quarters. Place on prepared baking sheet.

Drizzle olive oil and a pinch of salt and pepper over cut potatoes. Toss to combine and coat potatoes with oil. Bake for 20-25 minutes, rotate pan midway through baking. Let potatoes cool to room temperature.

Meanwhile, mix together half a 1-oz packet of ranch powder with 8 oz of sour cream. Cover and let chill in fridge will your prepare other ingredients.

Once potatoes have cooled, combine with cucumbers and bacon. Start by adding 1/3 cup of the ranch dip. Fold to combine. Add additional ranch dip depending on your preferences. I didn't use all the dip. I wanted the bacon and cucumbers to stand out.

Garnish with chives. Serve chilled.