This strawberry layer cake is made up of two vanilla sponge layers filled with fresh whipped cream and thinly sliced strawberries. 
It is a given that birthdays require cake.  Even if my best friend is 2,000 miles away, I'm making her a birthday cake.
Some relationships are complicated, but our friendship is simple.  Just like this cake– simple, sweet, and pretty.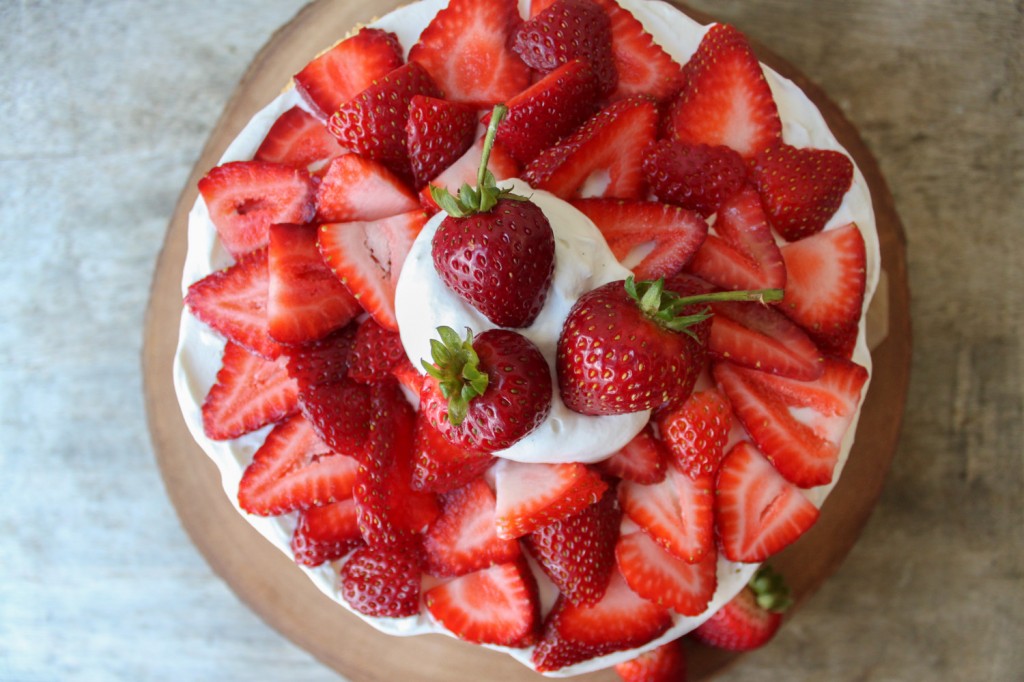 Best friends don't need to be close in proximity to have an important or active role in your life.  You can be separated by distance, time zones or ages, but best friends remain constants.
Although my best friend and I don't get to see each other all the time, whenever we talk on the phone, we can pick up a conversation from a week or month ago as if no time has passed.
Best friends not only remember your birthday, but they also know your favorite foods and drinks and somehow, watch all the same TV shows as you.
You meet hundreds (maybe thousands) of people throughout your lifetime.  But there are only a few that you can be your complete self around; only a handful or so of people who totally get you and accept you for who you are.
I am happy to have found one of those people in my best friend.  We can totally like act like we're still 15 years old together but also be refined and sophisticated 28 years olds when we want to be.
Happy Birthday, Z!  Each year I wish you a better birthday than the last!
(To read more about my best friend Z, see Chocolate Hazelnut Cake.)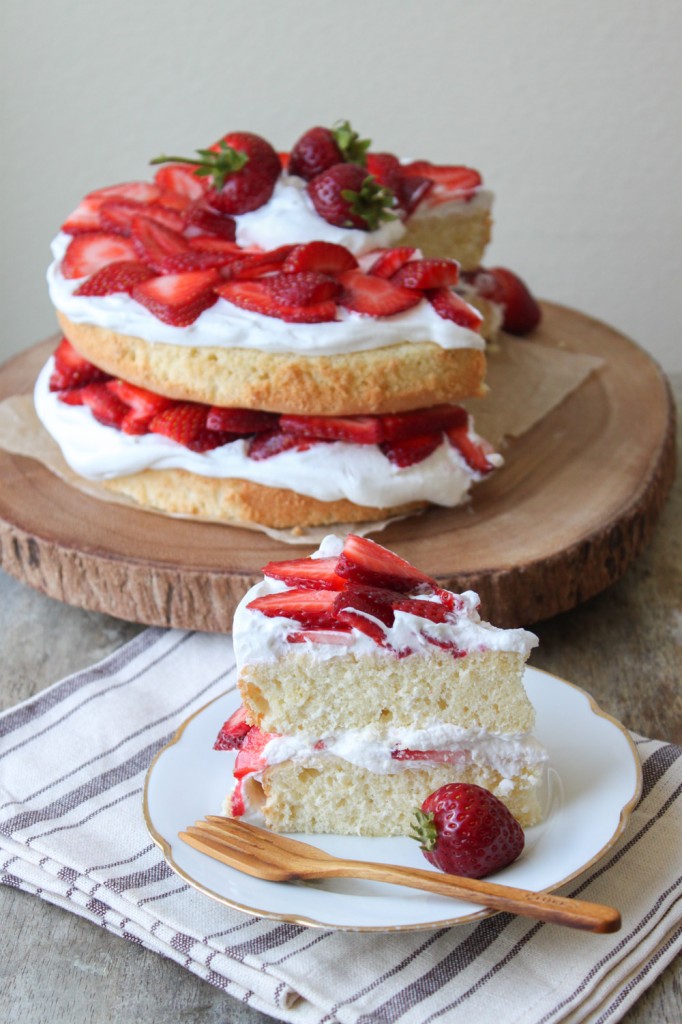 Not only is this a quick and easy cake to make, but so beautiful and pleasant to look at.  Also, if you happen to find freshly picked ripe strawberries- the aroma of the sweet fruit mixed with the vanilla cake brings euphoria to your senses.
A slice of this strawberry layer cake is best served with my best friend's favorite midday beverage: sea salt coffee.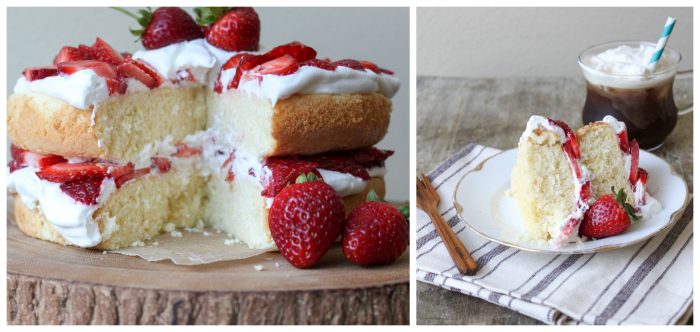 Strawberry Layer Cake
Ingredients
Vanilla Cake:
2

cups

cake flour

1 1/2

teaspoon

baking powder

1

cup

granulated sugar

1/3

cup

vegetable oil

1/3

cup

water

1

Tablespoon

pure vanilla extract

4

large eggs, seperated

3/4

teaspoon

kosher salt

1/4

teaspoon

cream of tartar
Whipped Cream:
1 1/2

cup

heavy cream, cold

1 1/2

teaspoon

vanilla paste, or pure vanilla extract

1/4

cup

confectioners' sugar, sifted
Strawberry Filling:
3

cups

strawberries, hulled and sliced thin
Instructions
Vanilla Cake:
Preheat oven to 350 degrees F. Line two 8-inch cake rounds with parchment paper. Set aside.

In a medium bowl, whisk together cake flour, baking powder and 1/2 cup of granulated sugar. In a larger bowl, whisk together vegetable oil, water, vanilla, egg yolks, and salt. Add dry mixture in three additions to wet mixture. Fold to combine.

In the bowl of a stand mixer, combine egg whites and cream of tartar. Using a whisk attachment, mix on low speed until mixture is foamy. Increase speed to medium and slowly add remaining sugar, 1 Tbsp at a time. Once all sugar has been added, increase speed and continue to mix until mixture is stiff peaks.

Add egg white mixture to cake batter in three additions. Fold to combine

Divide the batter evenly between the prepared pans. Bake for 18-20 minutes until tops of cake are lightly golden brown and a toothpick inserted in center of cake comes out clean. Let cool in pan for 5-10 minutes Run mini offset spatula around the edges of the cake pan to loosen cake before unmolding. Let cake cool on wire racks.
Whipped Cream:
In the bowl of a stand mixer fitted with a whisk attachment, add cold heavy cream and vanilla. Whip on medium speed until it begins to thicken. Add confectioners' sugar and continue to whip to almost stiff peaks.
Assembly:
If necessary, level out the two cake layers. Spread about half of whipped cream over bottom layer of cake. Arrange sliced half of sliced strawberries on top and dollop a small amount of whipped cream (to allow second cake to adhere better). Place second cake layer on top. Add remaining whipped cream and sliced strawberries. Let chill in the fridge until ready to serve. Let sit at room temperature for 10-15 minutes before serving to allow cake to soften.

Recipe Notes
VANILLA CAKE ADAPTED FROM HOME BAKED COMFORT
All images and text ©The Little Epicurean