Strawberry layer cake has two vanilla sponge layers filled with fresh whipped cream and thinly sliced strawberries.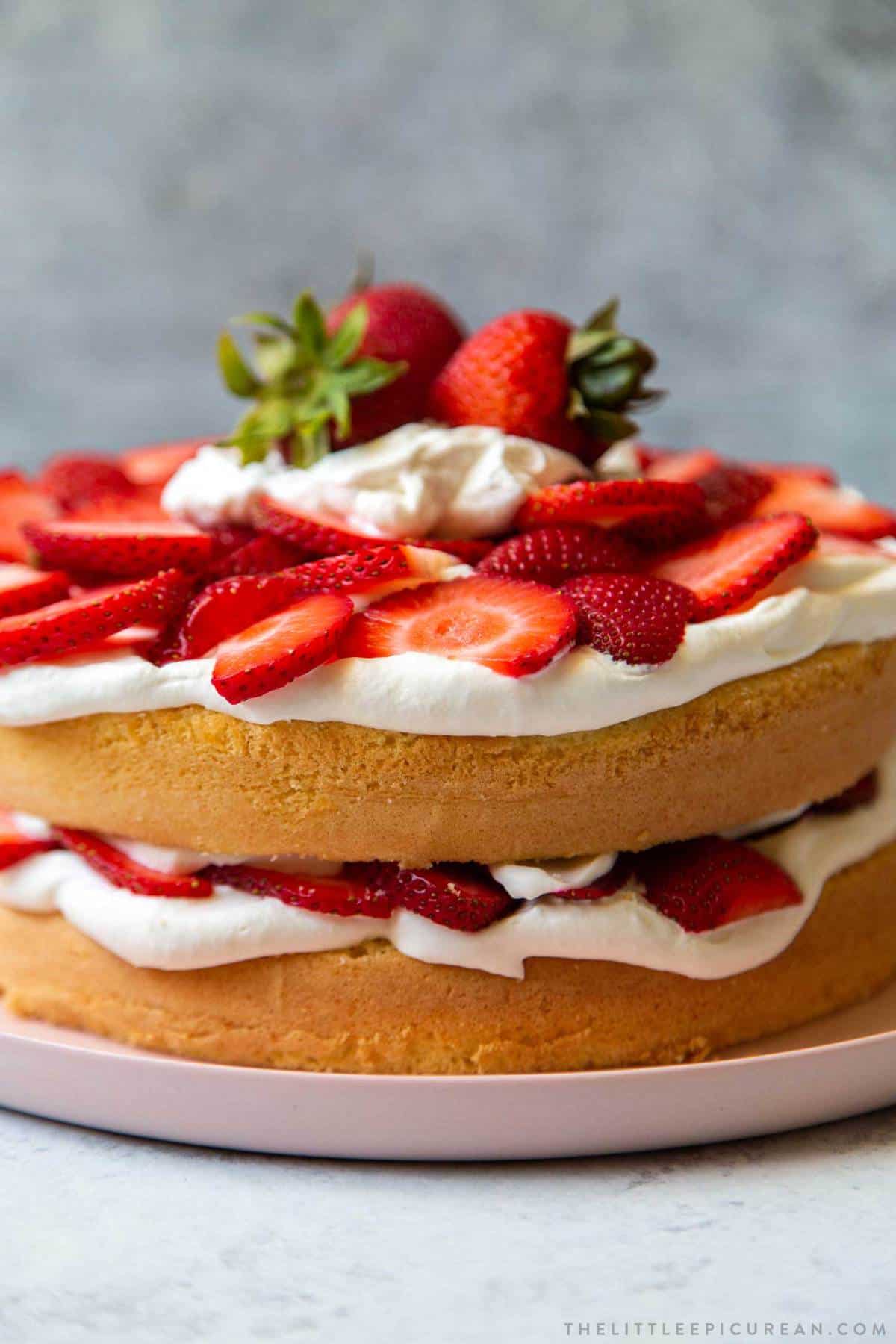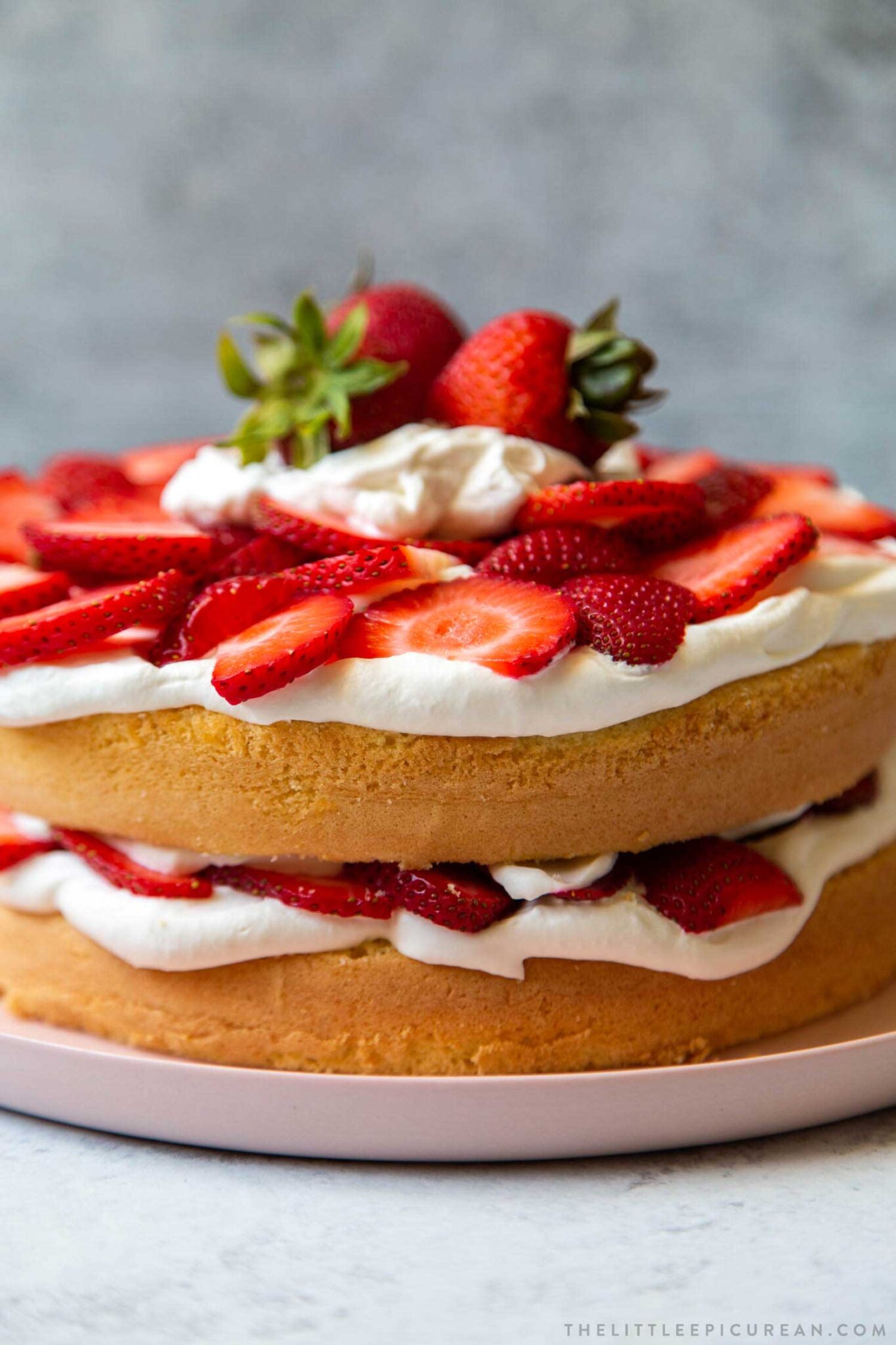 Don't over complicate things. Some things are best kept sweet and simple.
This strawberry cream cake is just that. Straight forward simple.
Two layers of vanilla sponge cake sandwiched with fresh whipped cream and sliced sweet strawberries.
Fresh Strawberry Cream Cake
This no-fuss cake is perfect for summer.
It is reminiscent of the strawberry sponge cake (or Japanese strawberry shortcake) that most Asian bakeries sell. Visit a Taiwanese, Korean, Japanese, or Filipino bakery. You are bound to find some version of this cake.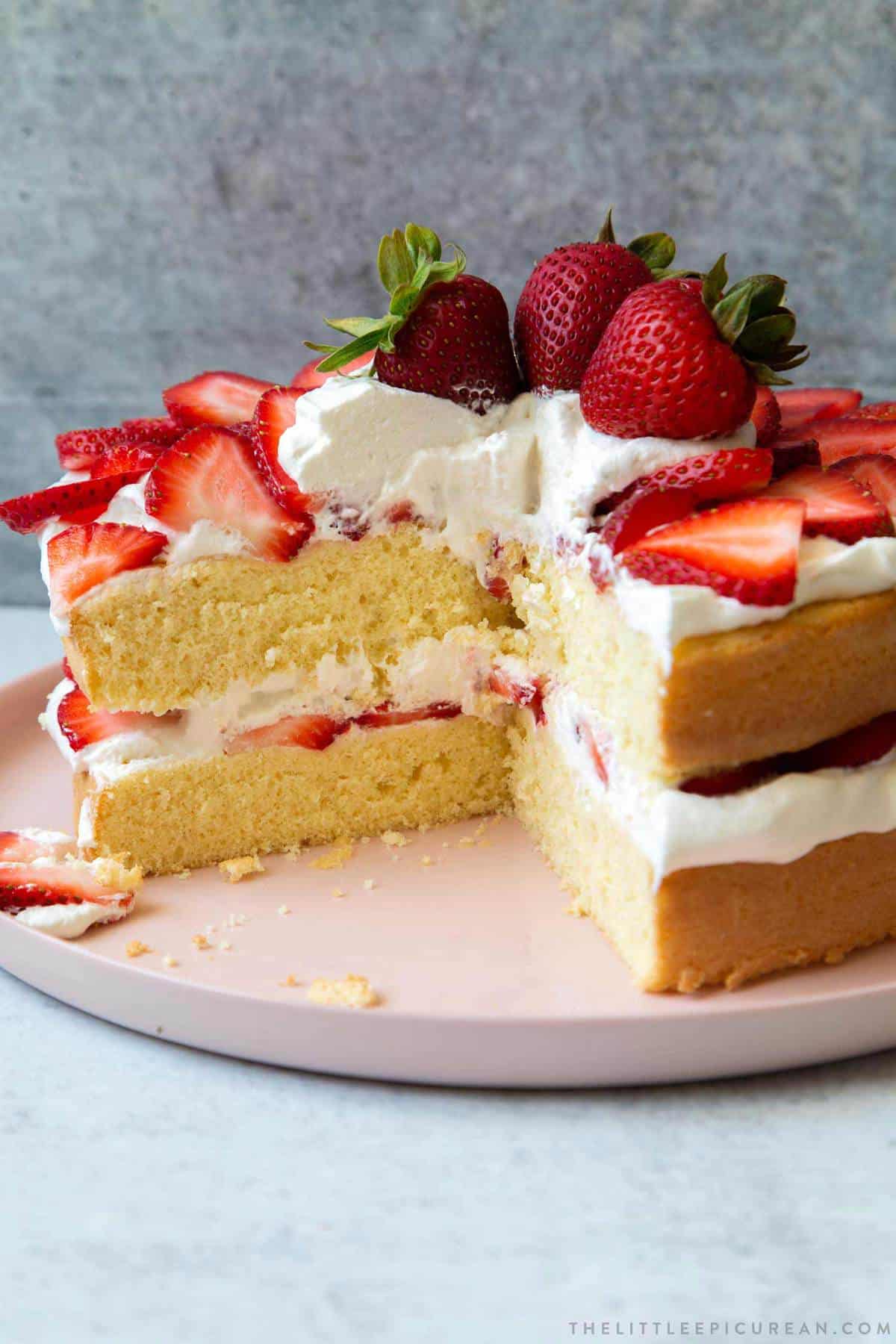 Vanilla or yellow sponge cake with whipped cream frosting and fresh berries.
This is a popular cake for birthdays and celebrations. The cake and frosting is not very sweet. Rather, the dessert relies on the sweetness of the fruit. As such, it is vital to use the freshest, ripest strawberries you can find.
NOTE: Most Asian bakeries use Whip'n Ice or a similar stabilized whipped cream frosting.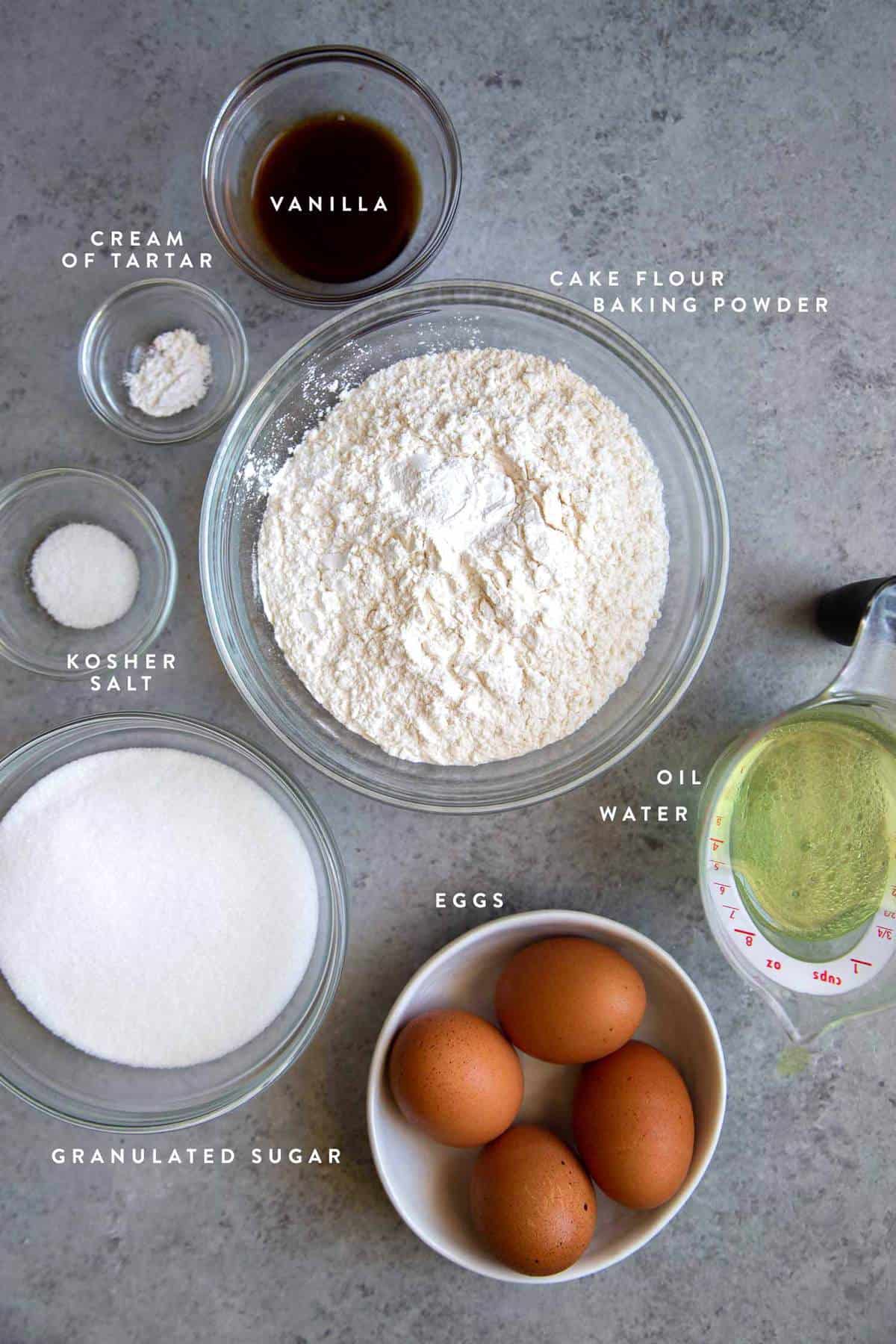 Vanilla Sponge Cake Ingredients
There are dozens of sponge cake variations. The one thing they all have in common: eggs are separated.
Whip the egg whites to stiff peaks. Then, gradually fold the egg whites into the rest of the cake batter.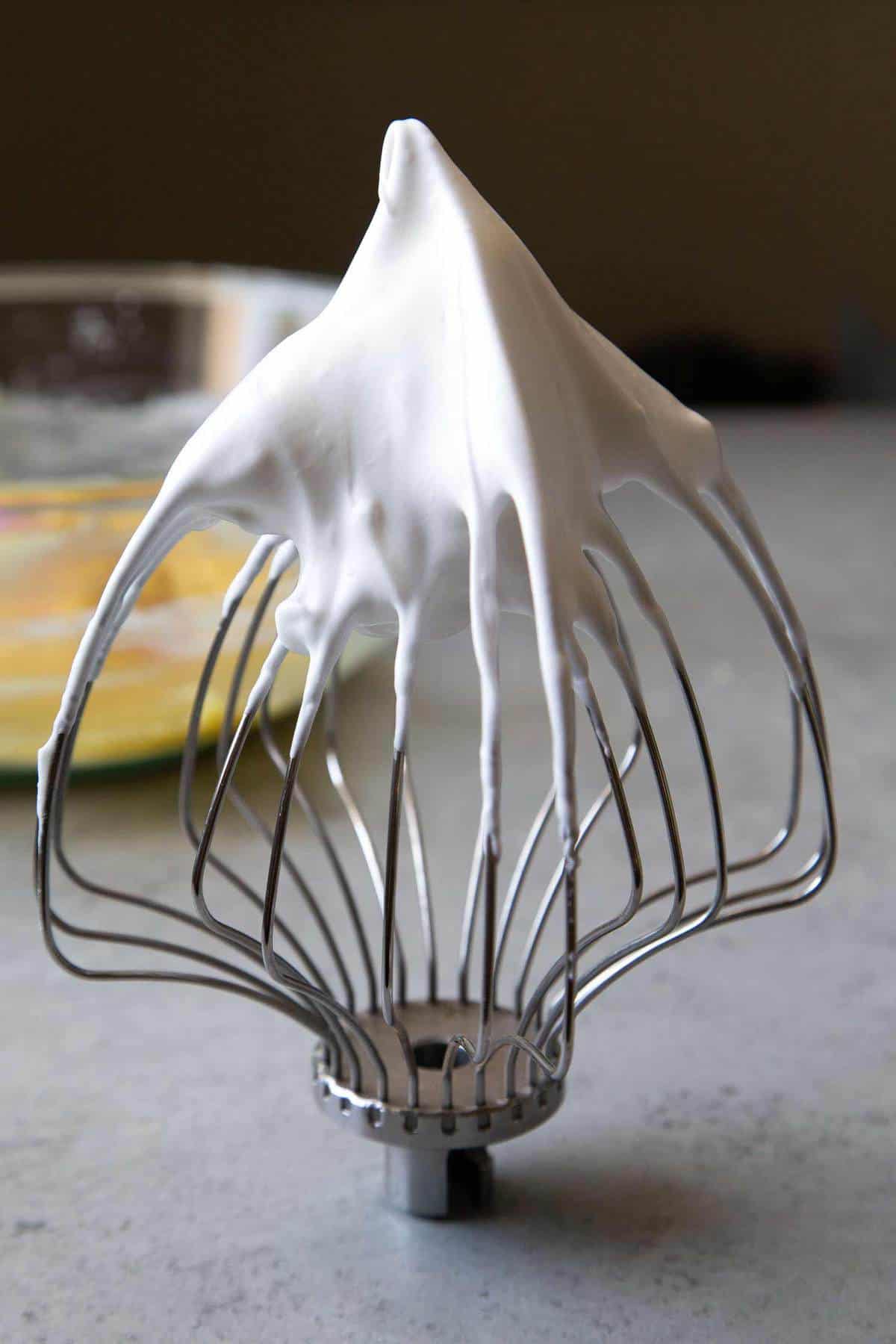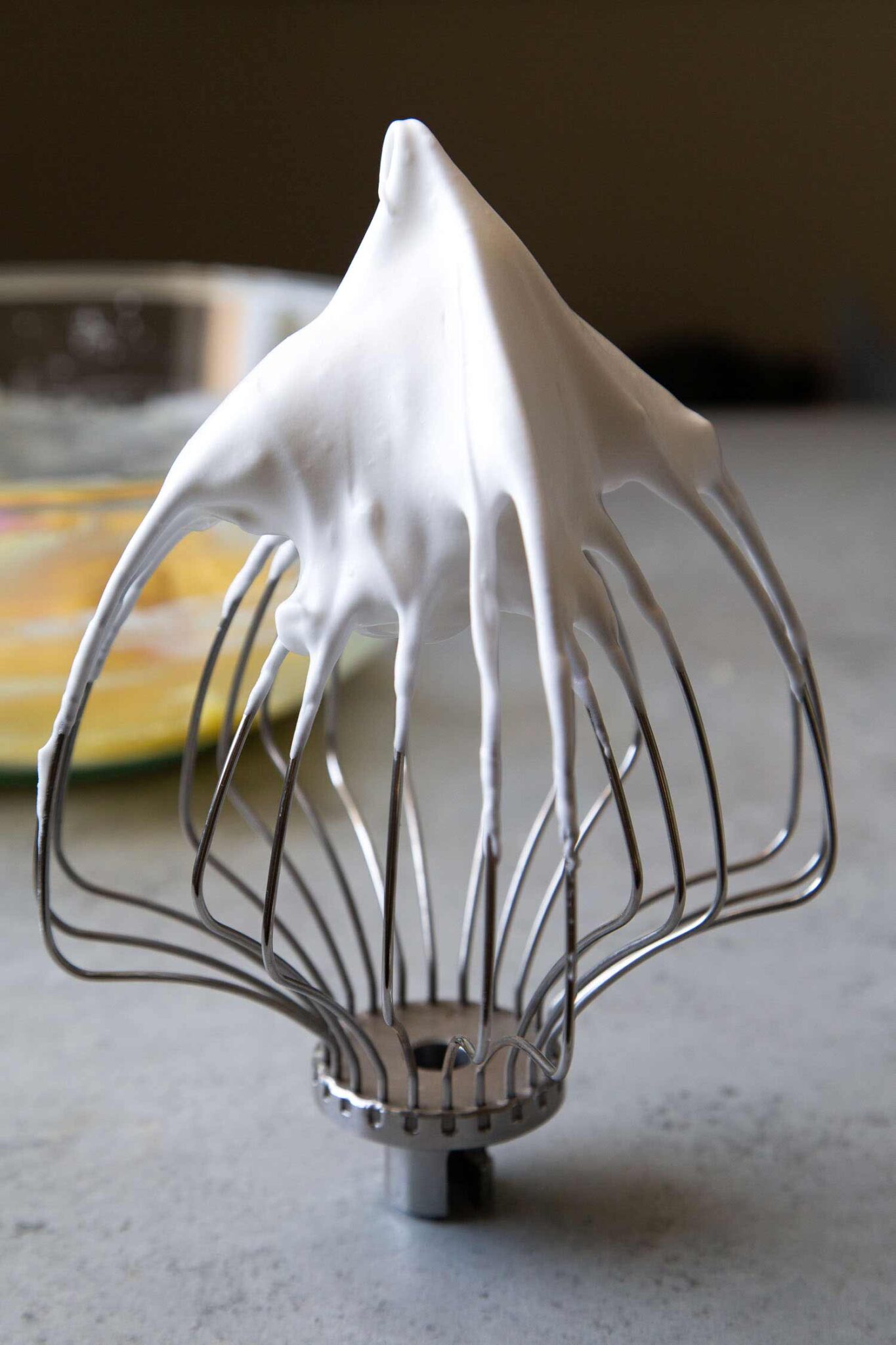 Whipped French Meringue
The term French meringue encompasses any mixture of raw egg whites whipped with sugar.
It is the least stable of the meringues. Italian meringue is the strongest.
I highly recommend using a stand mixer fitted with a whisk attachment to whip the meringue. While it can be mixed using an electric hand mixer, I have repeatedly found better results using a powerful stand mixer.
The whipped egg whites should be shiny, smooth, and fluffy.
If your meringue is dull or dense, START OVER. This will throw off the cake.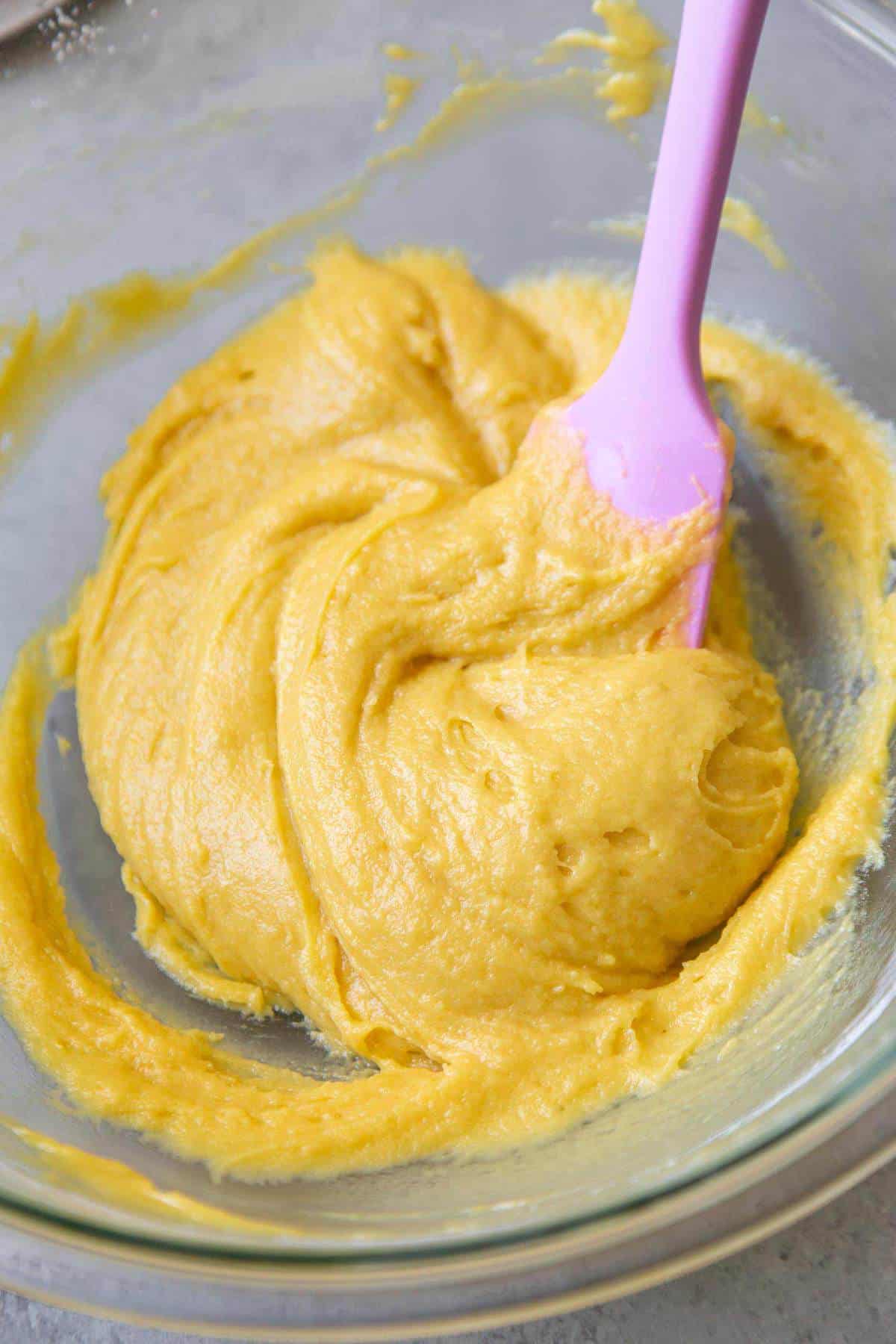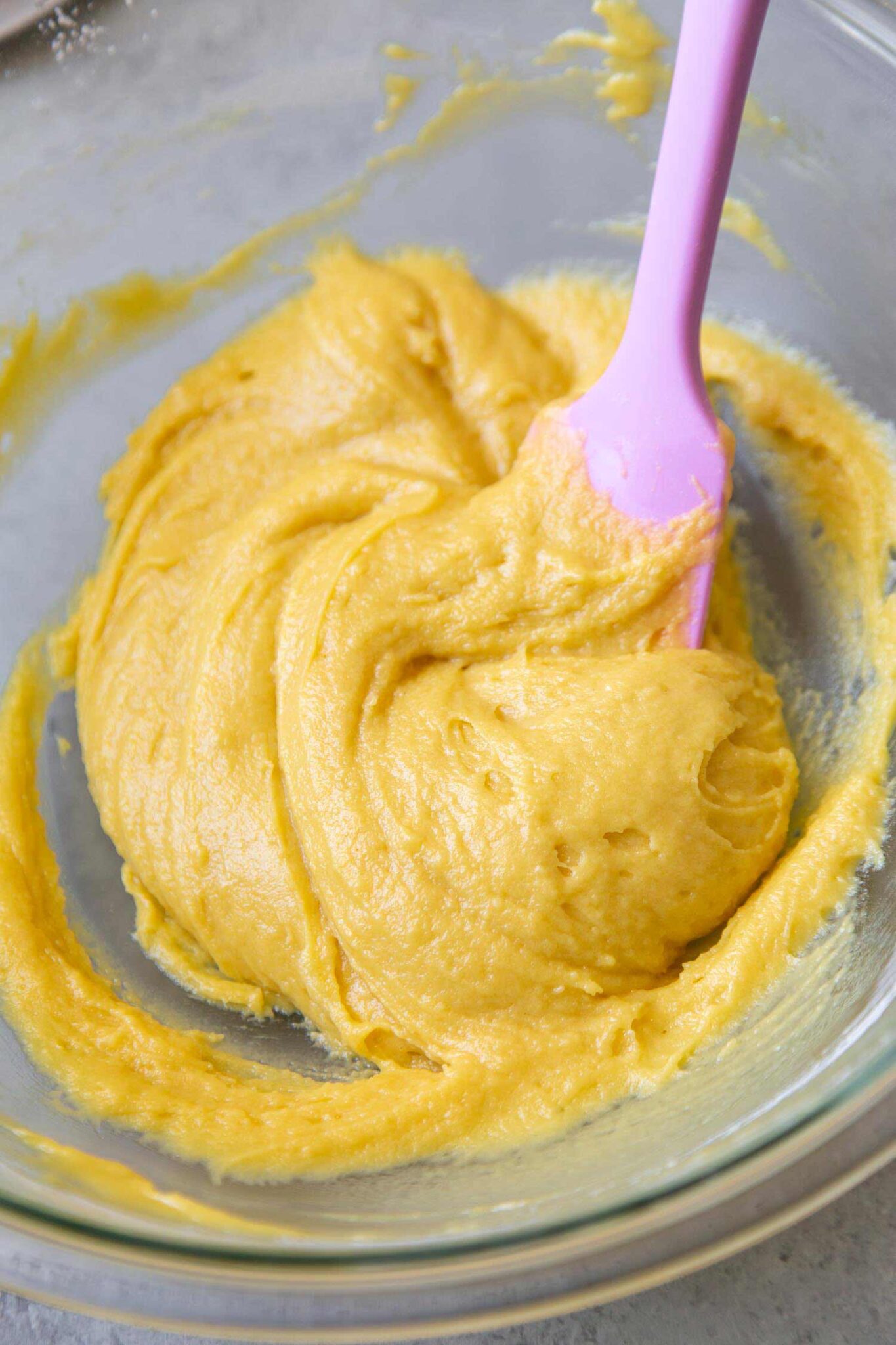 Sponge Cake Batter
Do not be alarmed by the cake batter. Initially, the cake batter will be very thick. It will thin out add the whipped eggs are gradually added to the batter.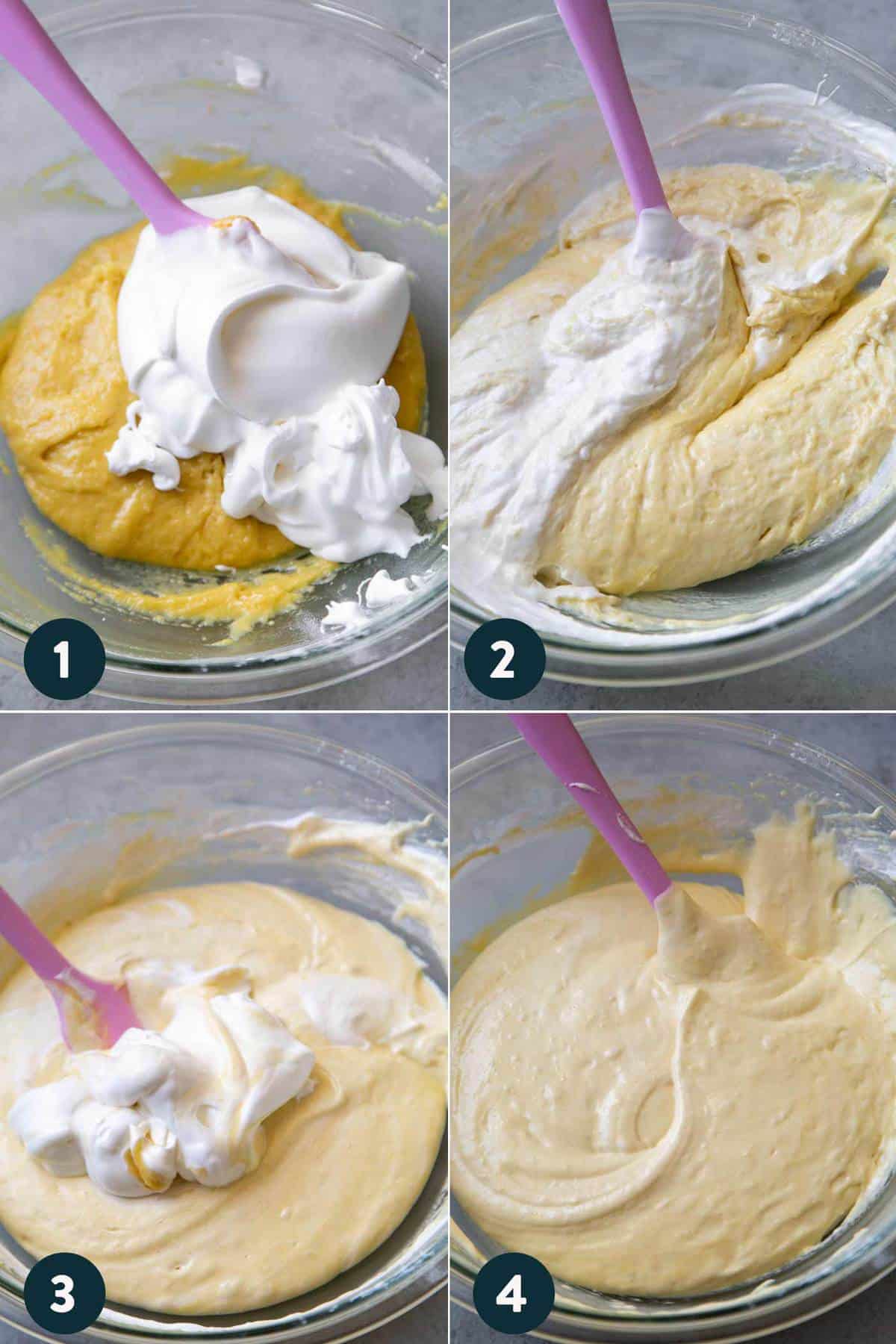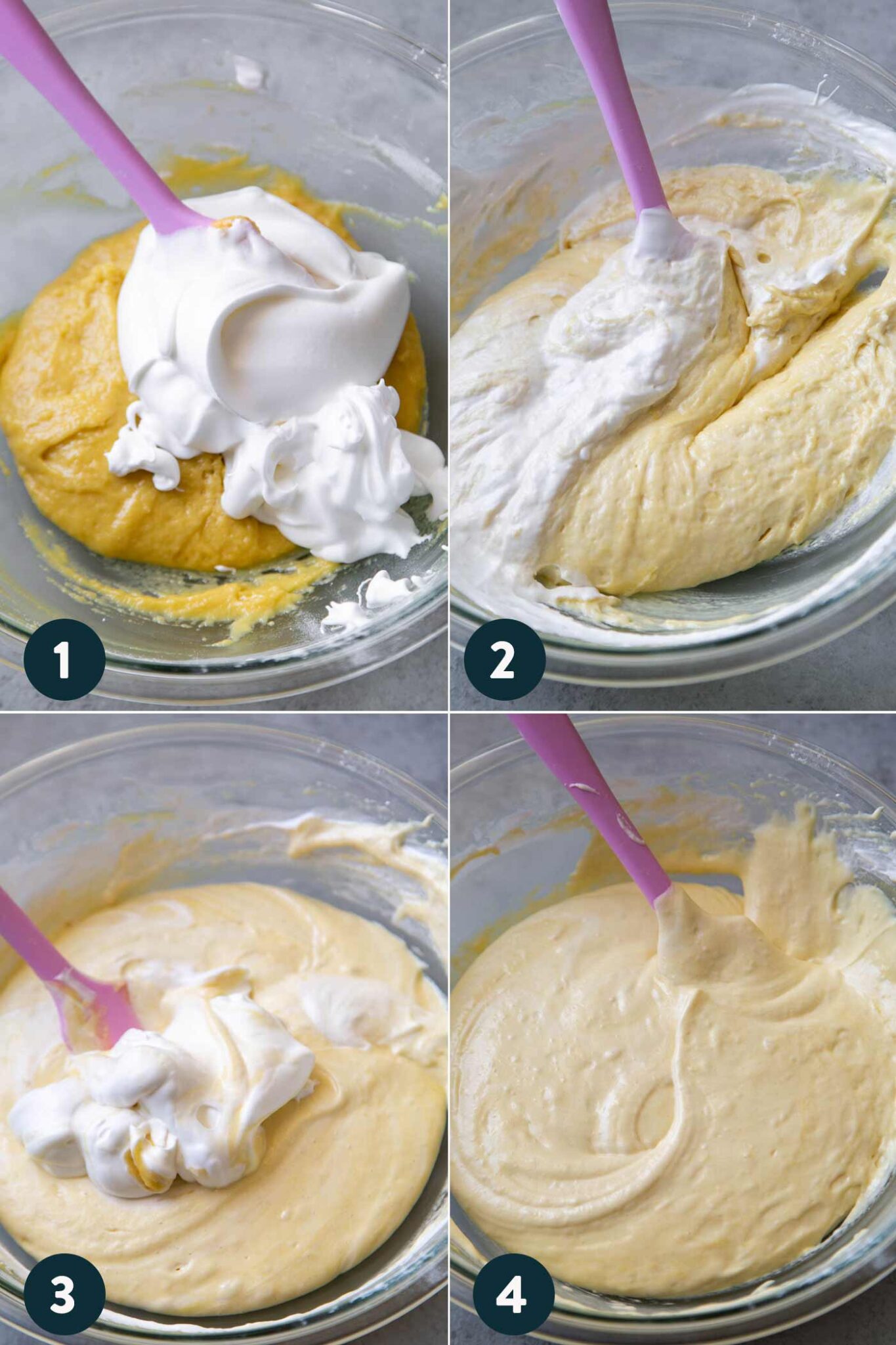 Fold meringue into cake batter
Add 1/3 of whipped meringue into thick cake batter.
Use a strong sturdy spatula to gently fold in meringue. The thick cake batter will slowly loosen.
Add another 1/3 of meringue to cake a batter. Once almost fully incorporated, add remaining 1/3 of meringue.
Gently fold until there are no longer any white streaks of meringue and the cake batter is smooth and creamy.
NOTE: Be careful not to over mix the batter! You don't want to deflate the meringue.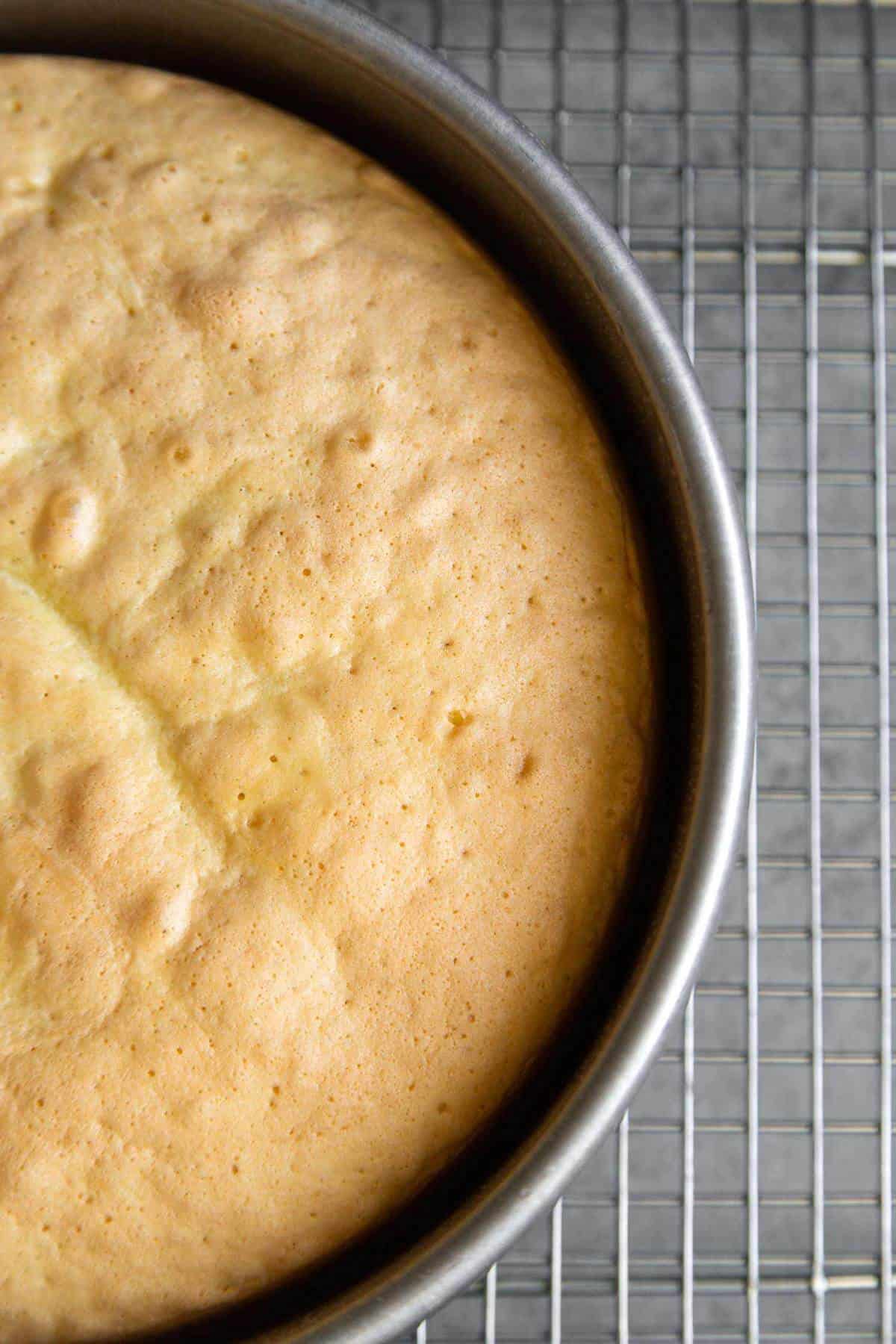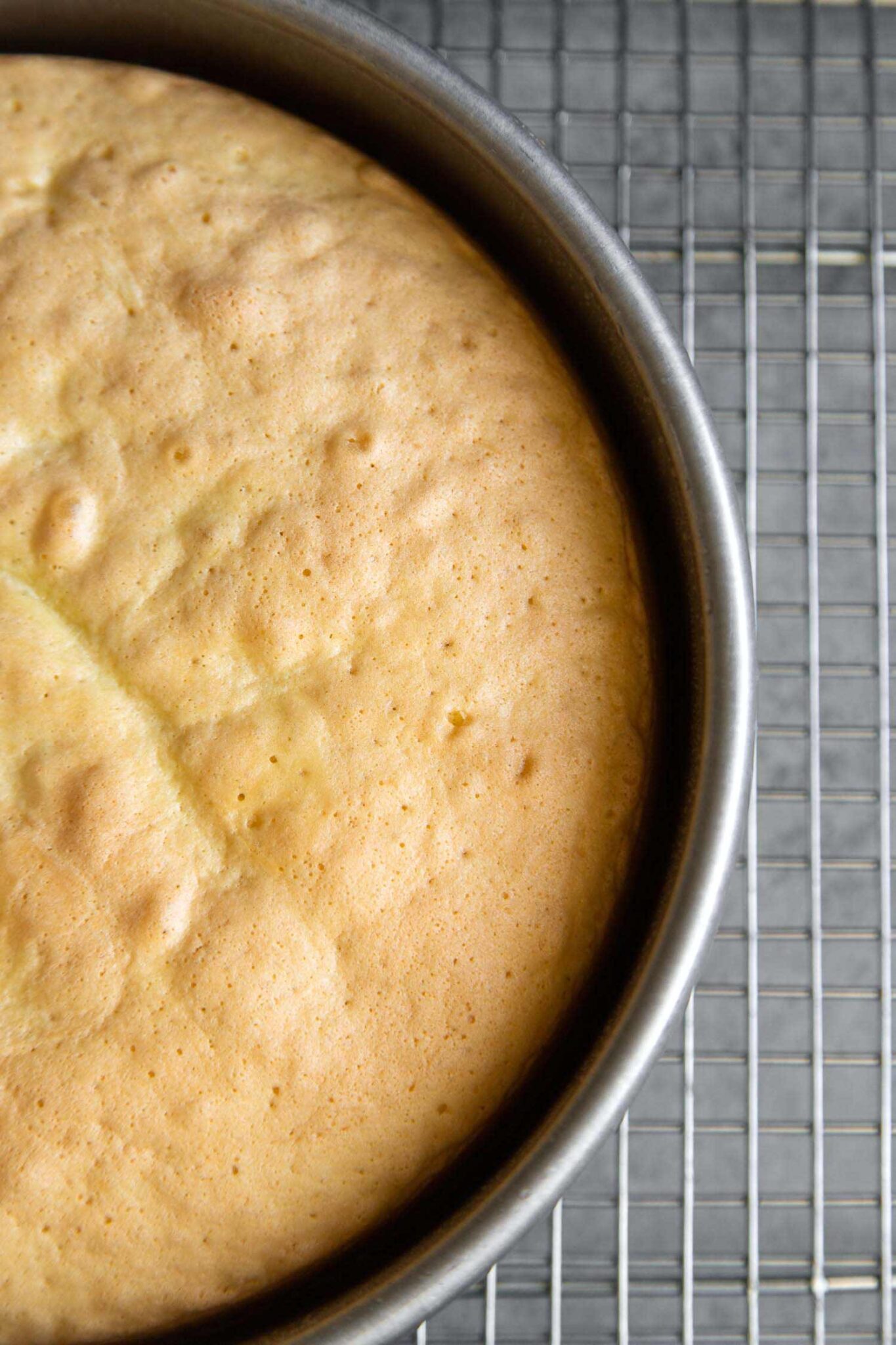 Sponge Cake Notes:
This sponge cake recipe makes two 8-inch rounds or one 9×13-inch sheet cake. It the same recipe used to make Mango Coconut Sheet Cake.
Brush the cake pan with oil. This will ensure the cake pulls away from the pan during baking. This also helps to keep the cake bake level and flat.
The sponge cake itself is not very sweet.
Baked cake will light and fluffy. If your sponge cake is dense:

the meringue was not properly whipped
the meringue had traces of fat (egg yolks or oil)
the cake batter was over-mixed causing the meringue to fall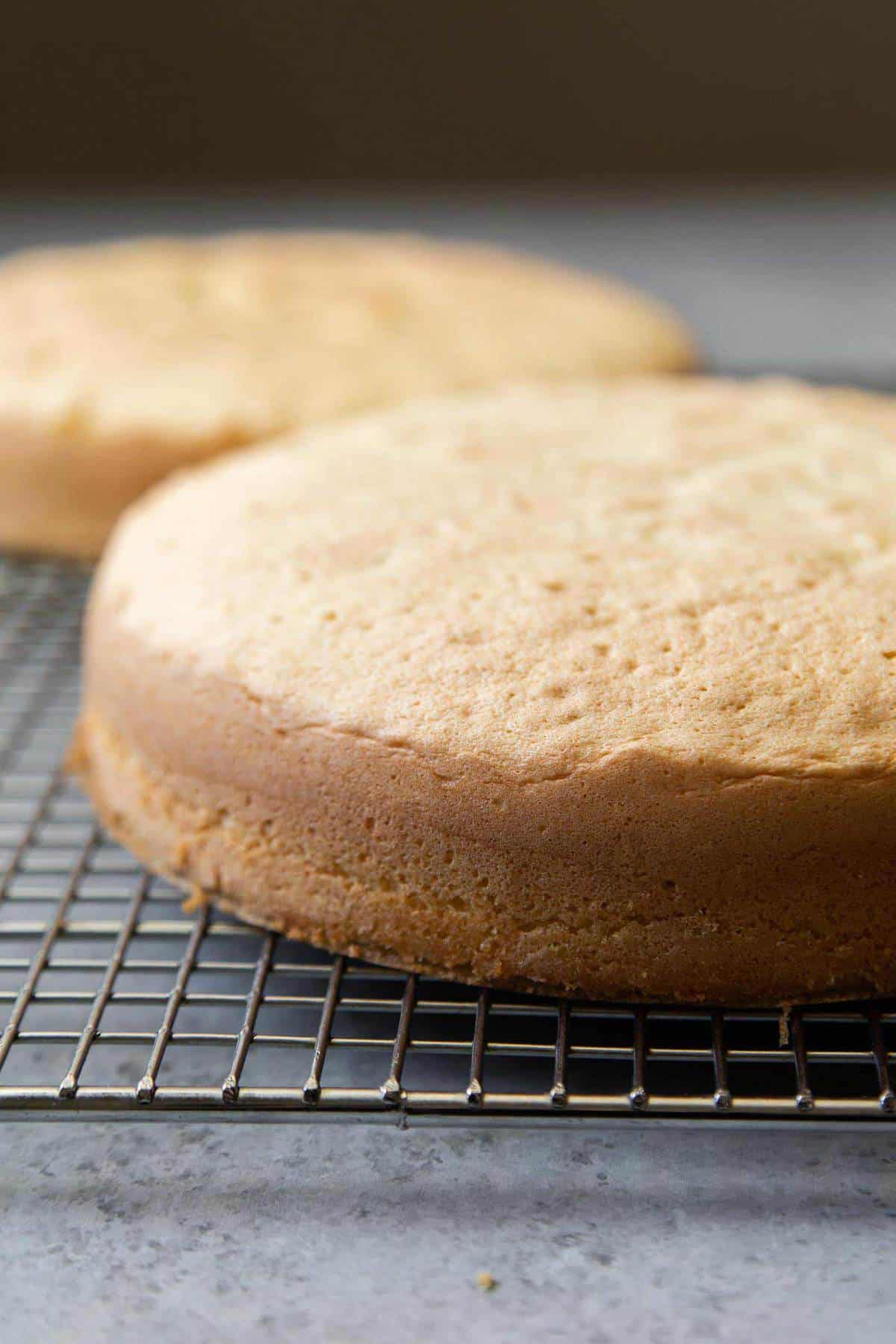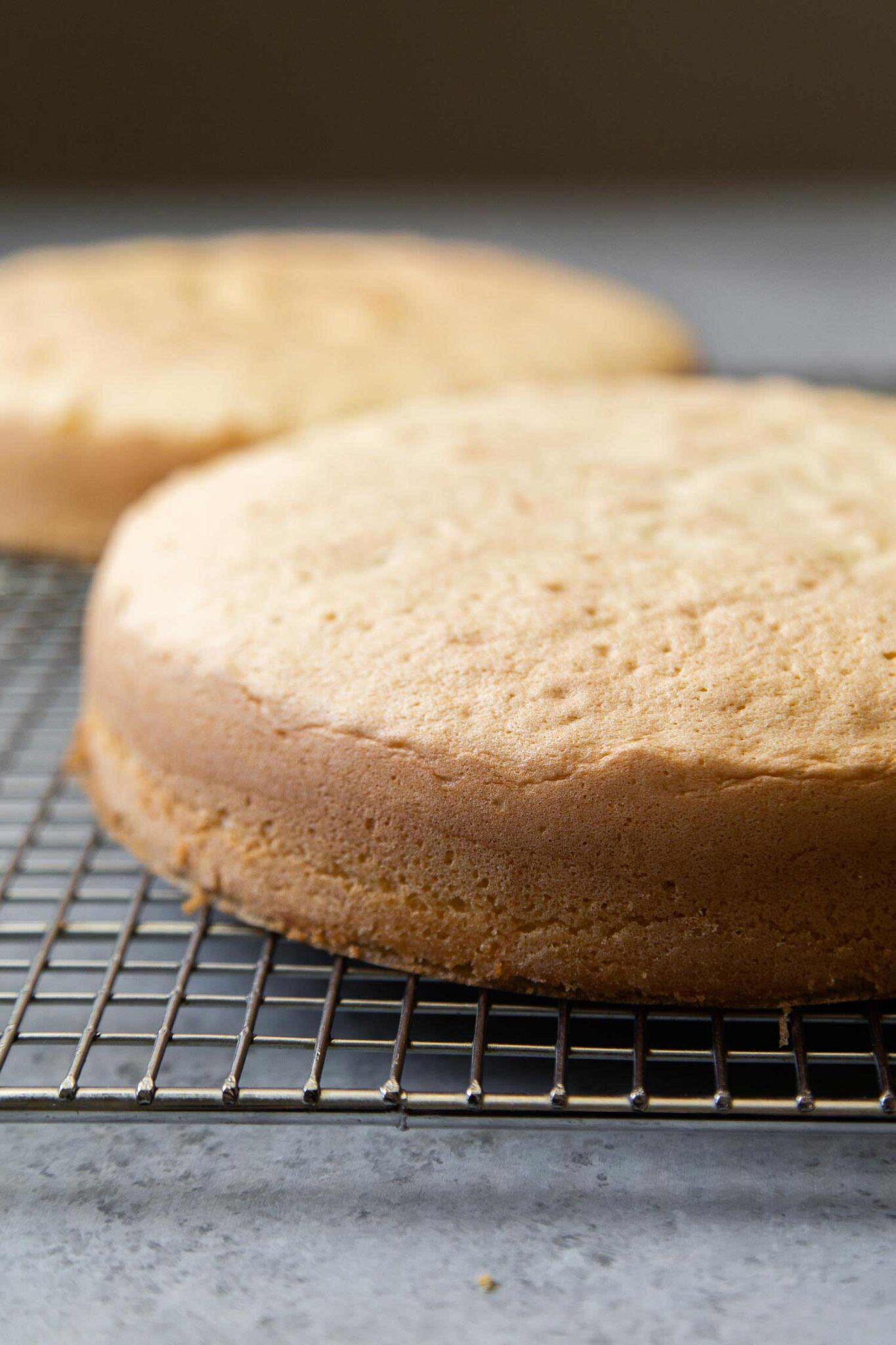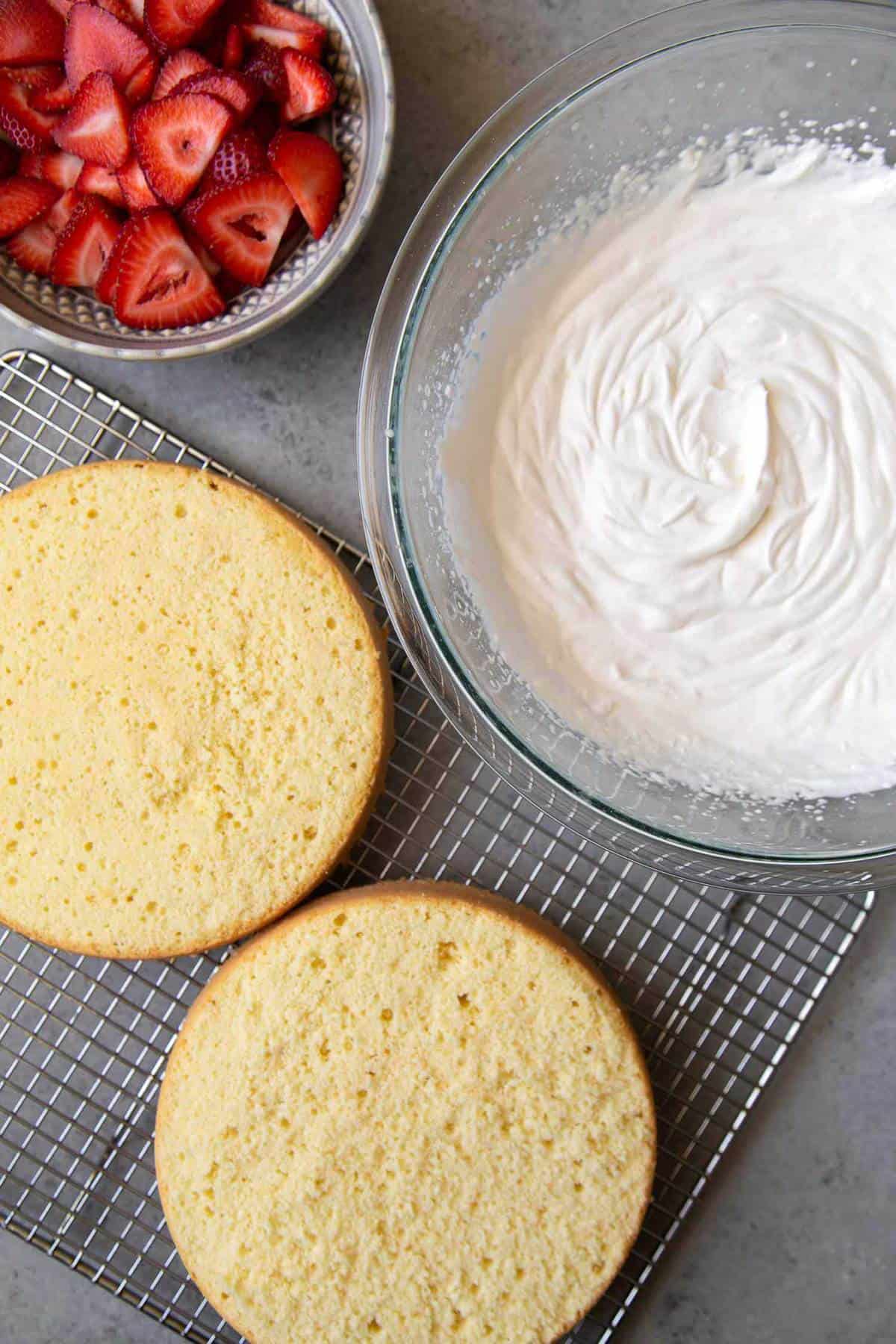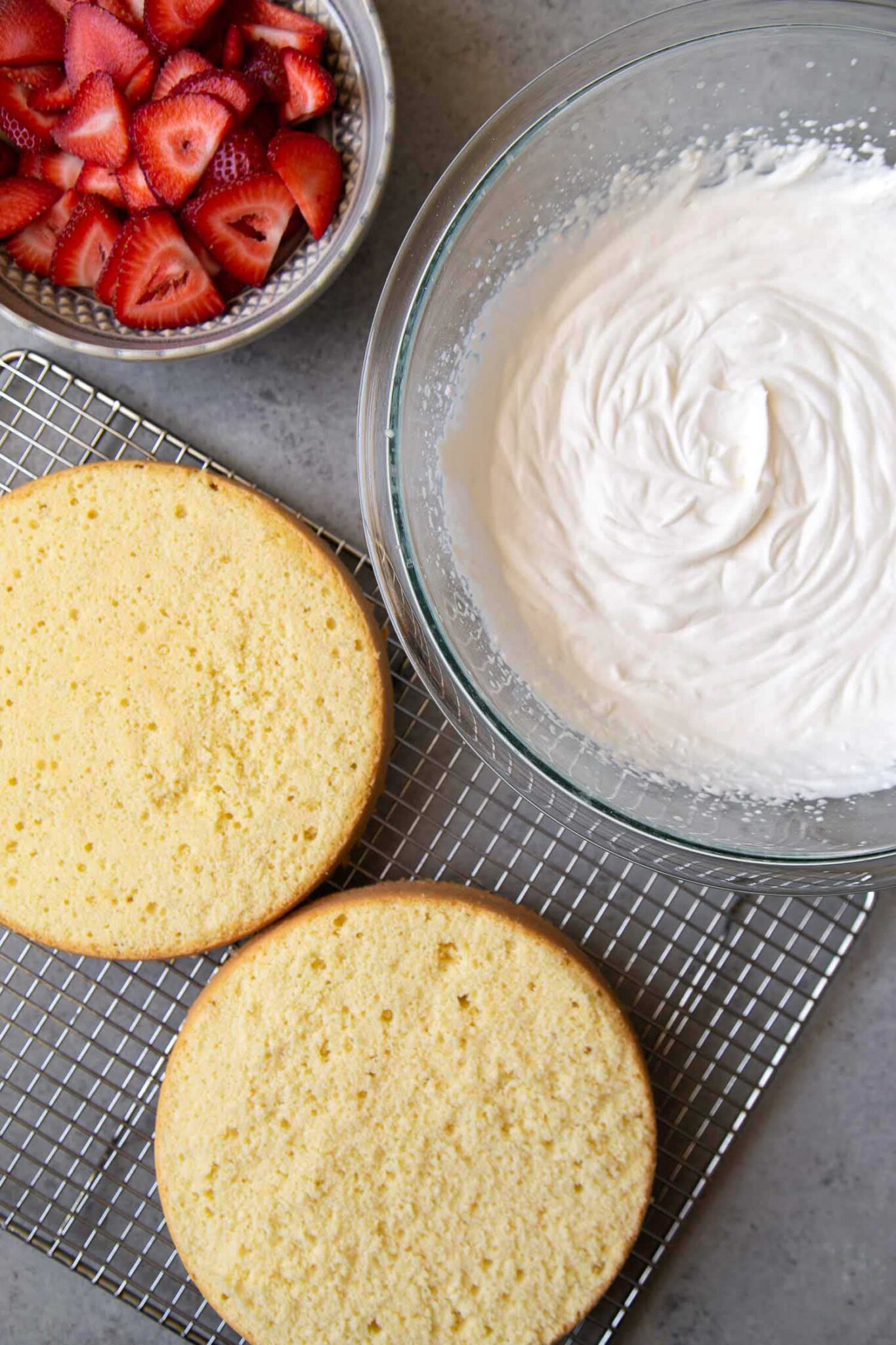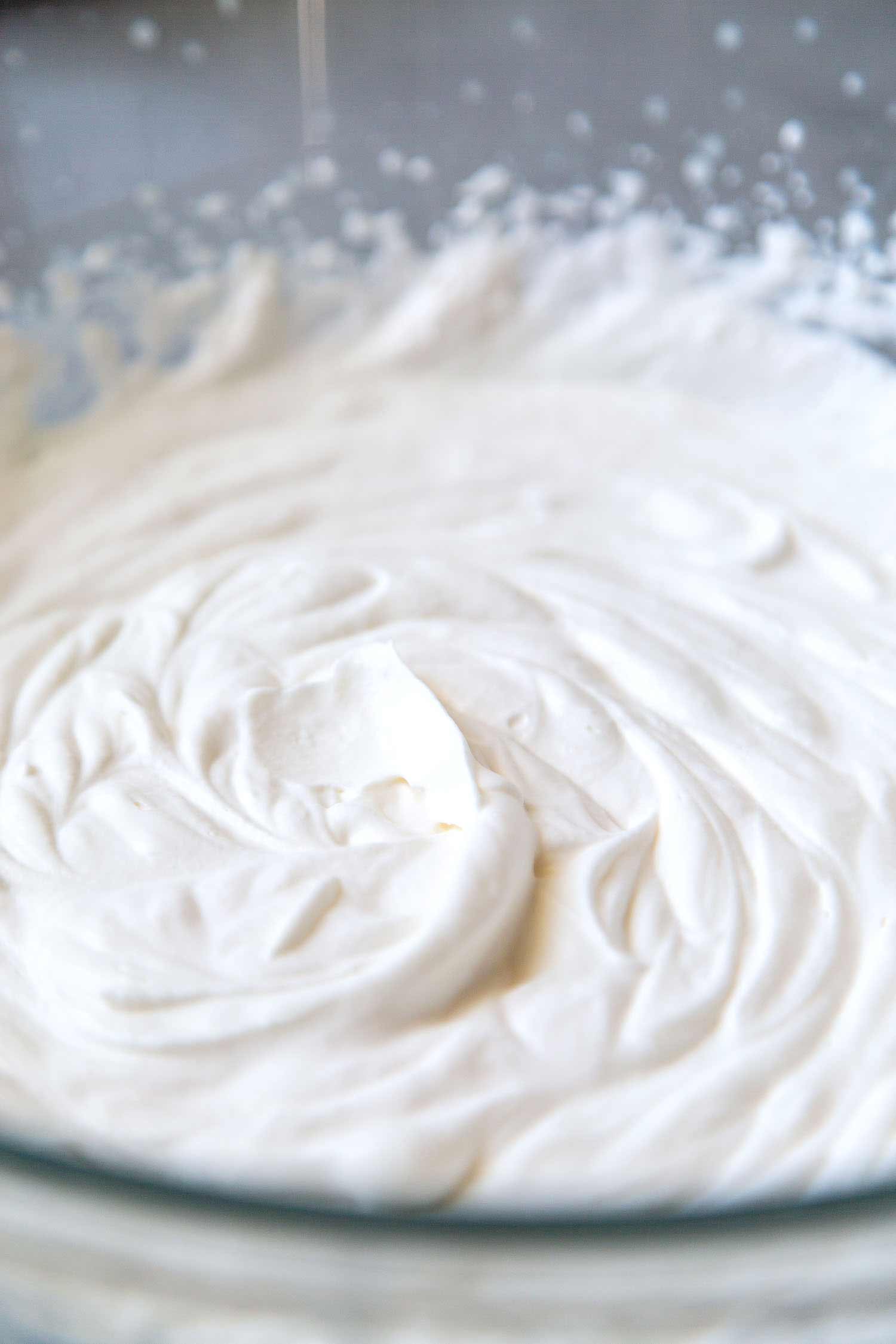 Whipped Cream Frosting
For best results, whip cream to soft-medium peaks. The agitation from spreading the whipped cream onto the cake layers will stiffen the frosting up.
It is better to err on the side of under-whipped than over-whipped cream.
There is a fine line between whipped cream and over-whipped cream. Over-whipped cream will be grainy. It will look curdled.
As mentioned, Asian bakeries often use Whip'n Ice or a similar stabilized whipped cream frosting.
Layer Cake Assembly
Place one cake layer on serving plate. Spread about half of whipped cream over cake layer.
Arrange one layer of sliced strawberries over whipped cream.
Dollop a small amount of whipped cream over strawberries. Gently spread over strawberries. This will act at the glue to hold second cake layer.
Stack top cake layer over whipped cream covered strawberries.
Spread remaining whipped cream over cake layer.
Arrange layer of sliced strawberries over whipped cream. Store in the fridge until ready to serve.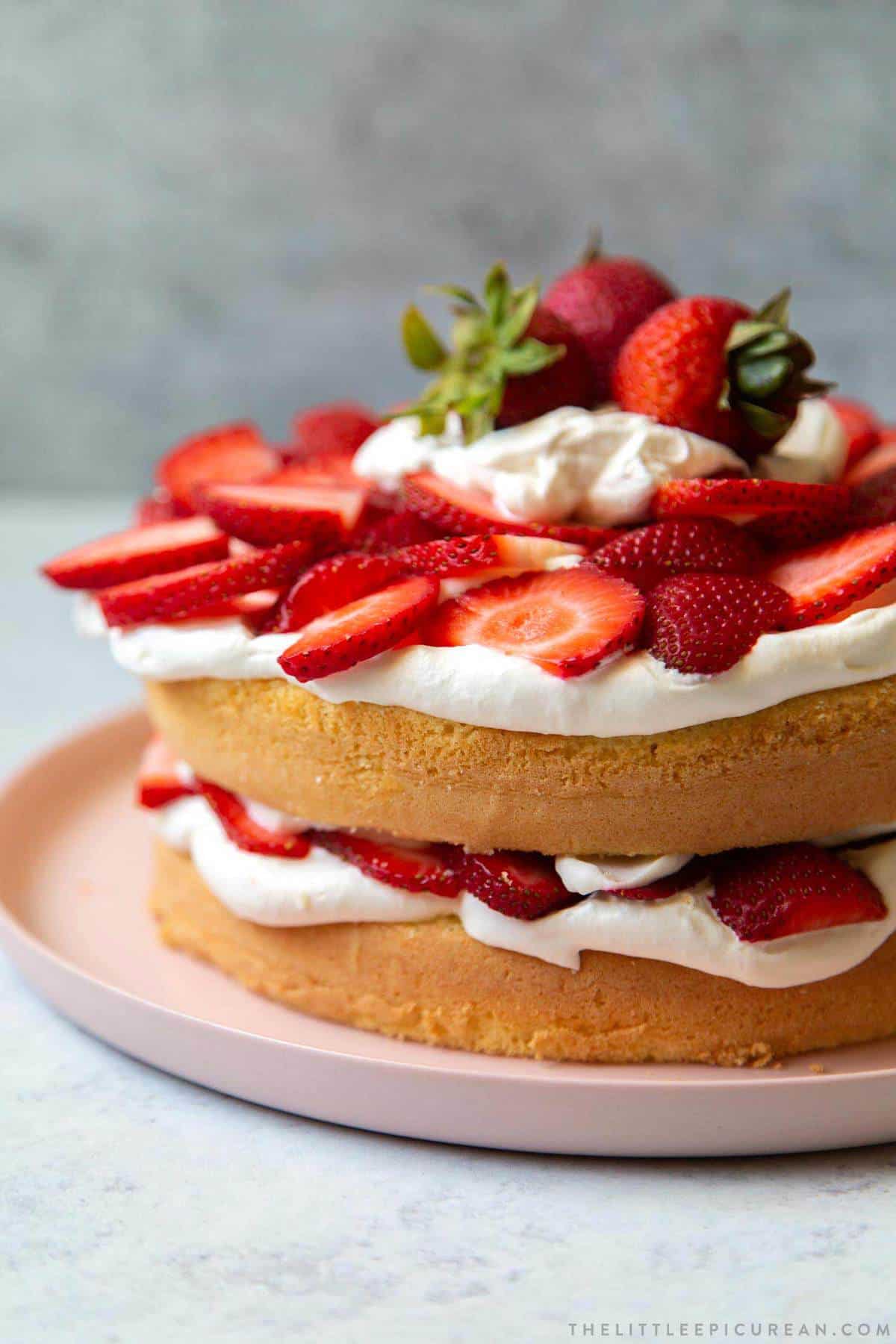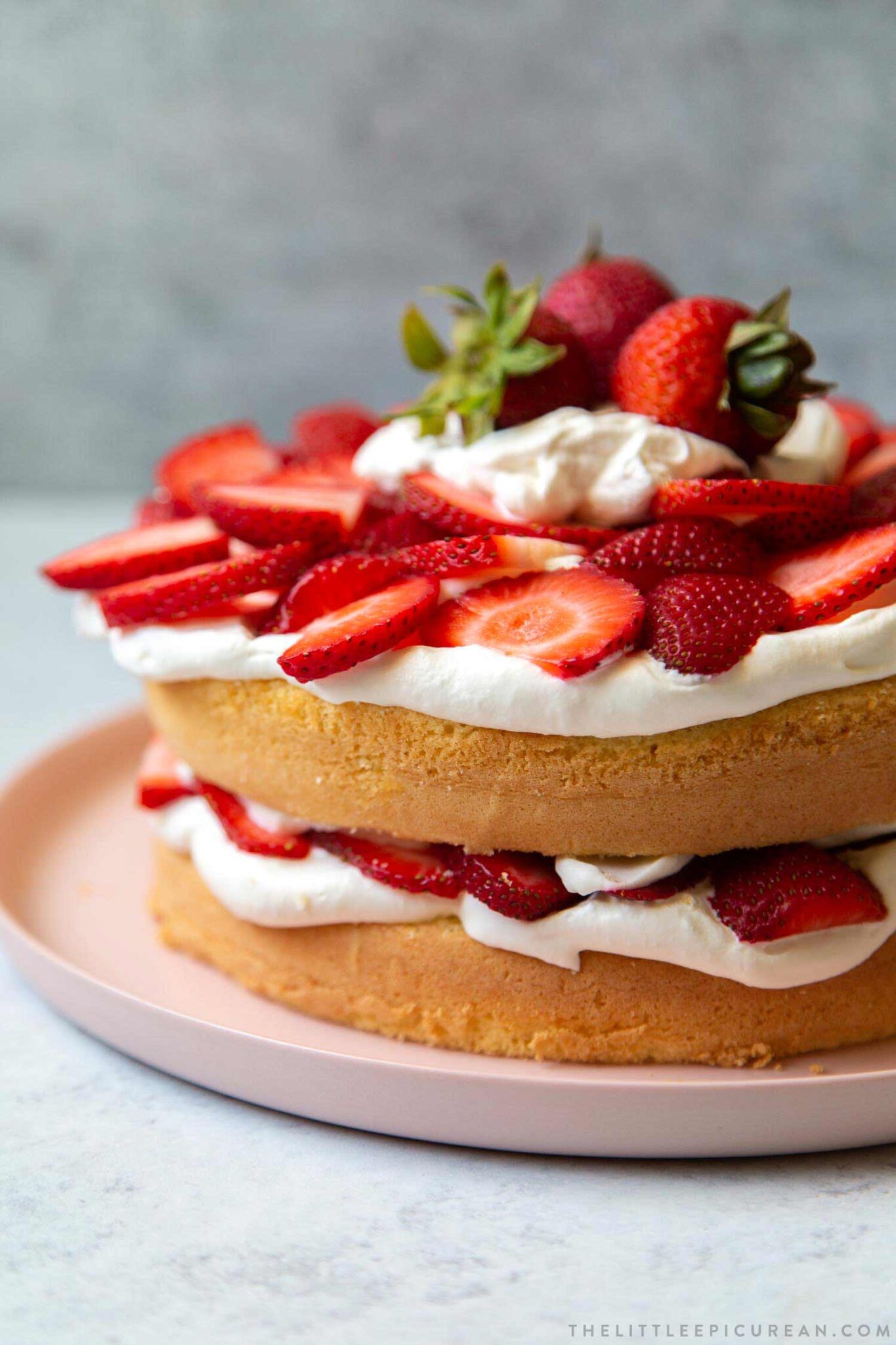 Serve strawberry layer cake with sea salt coffee for the ultimate afternoon treat.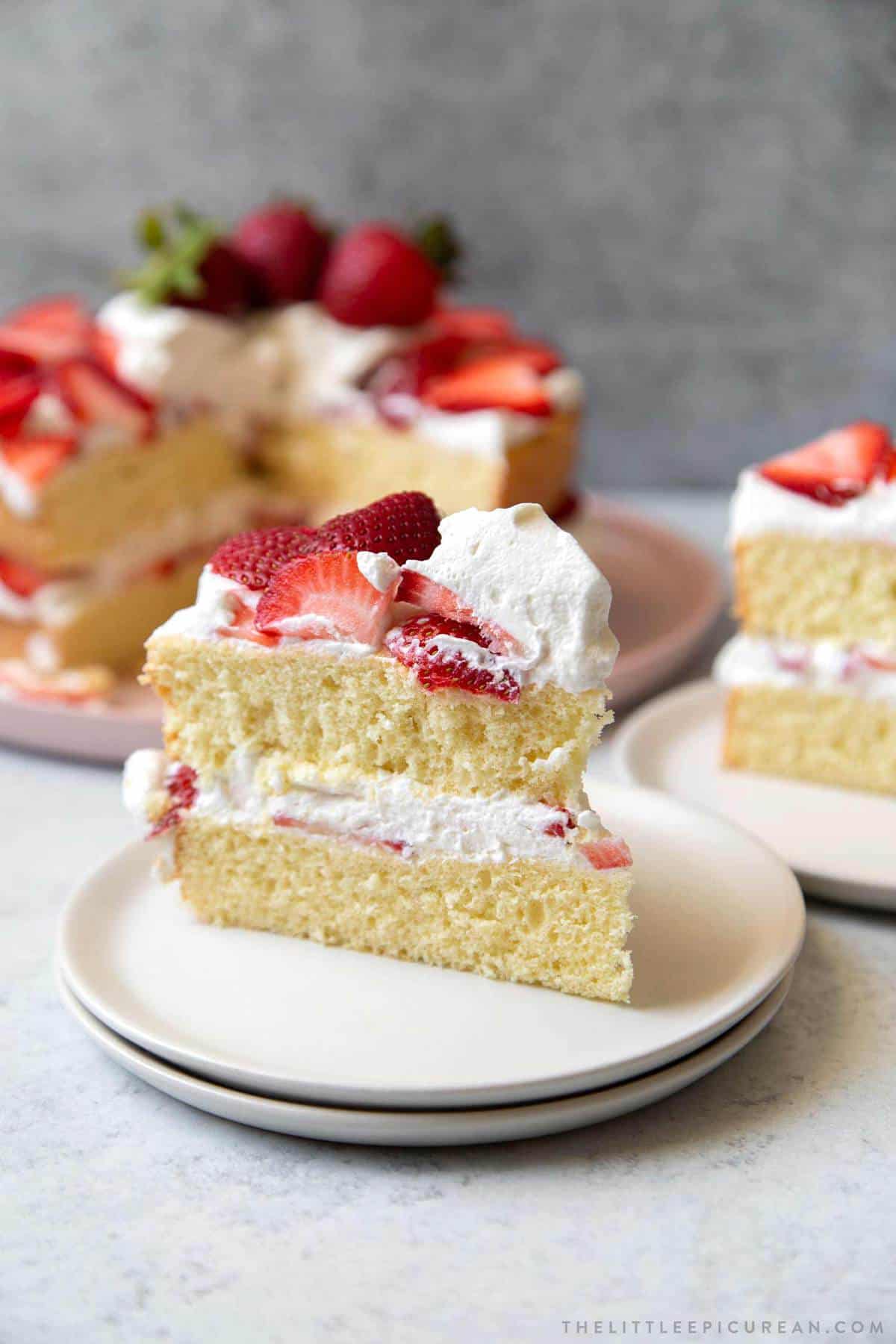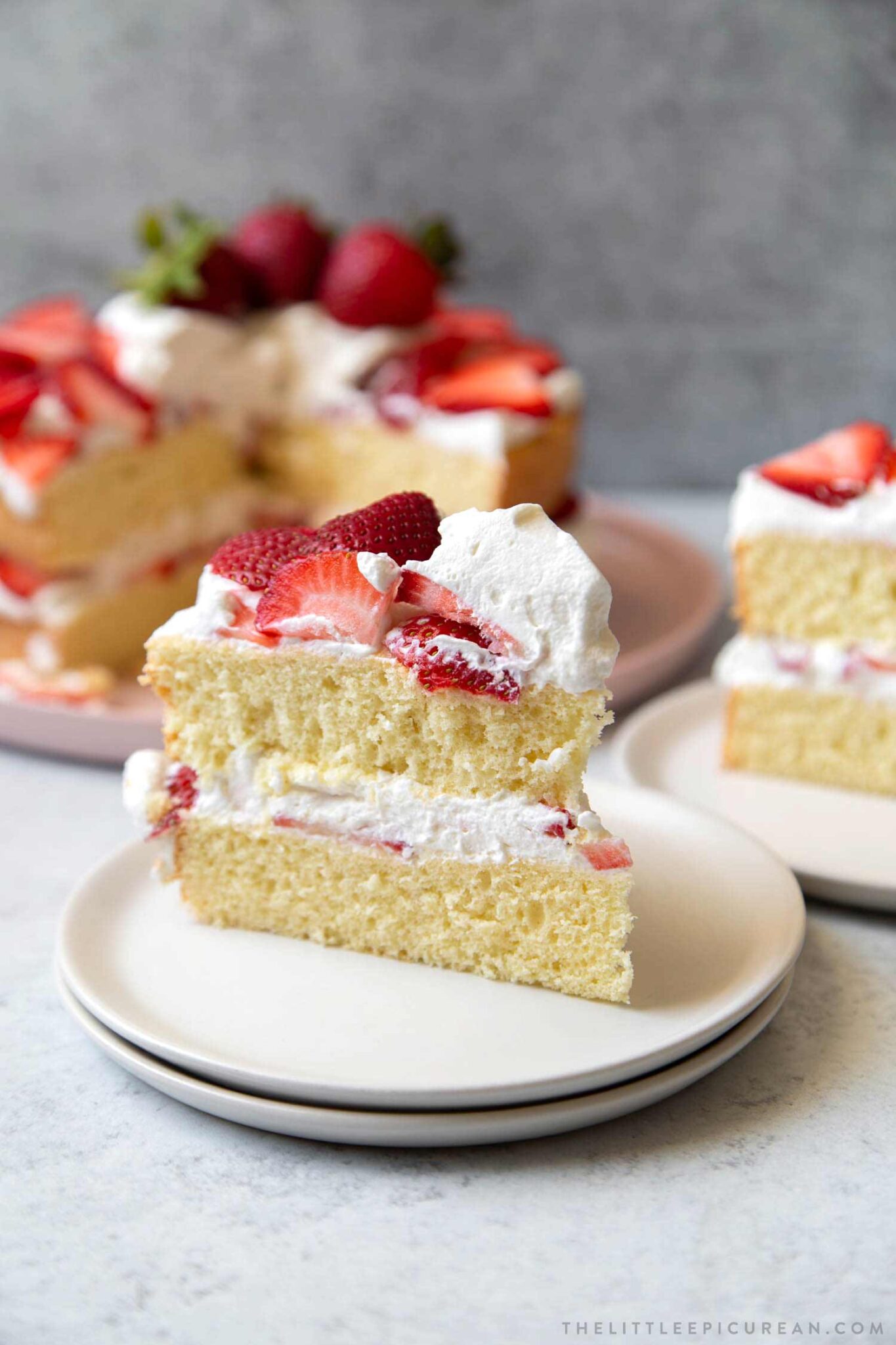 More Fruit Layer Cake Recipes