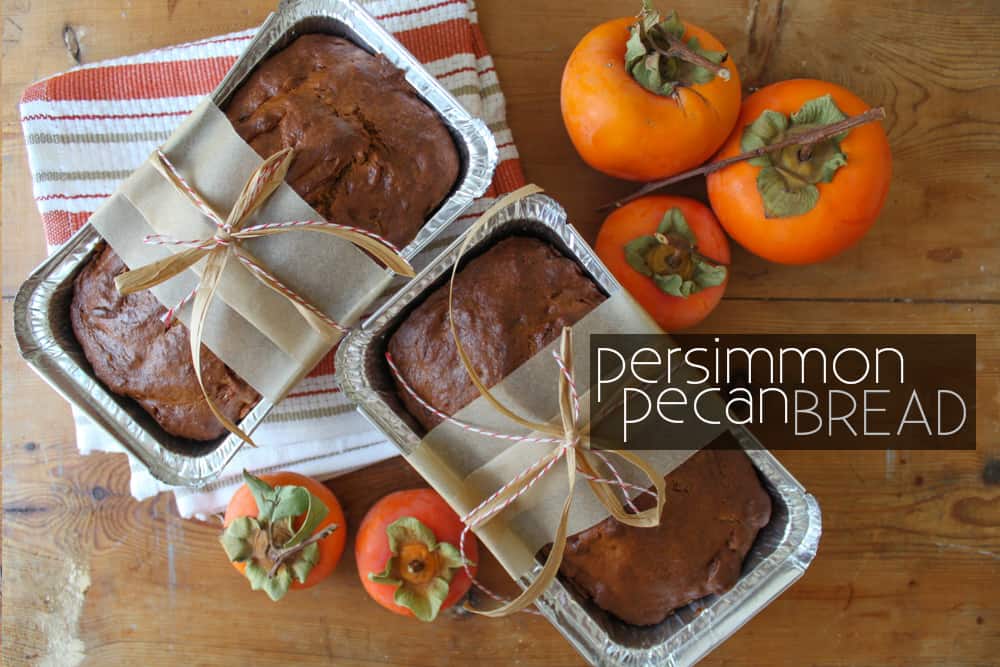 It's persimmon time!
(Not in the loop about this wonderful autumn fruit? Read more about it here!)
Every autumn I look forward to harvesting baskets and baskets full of persimmon from my dad's giant persimmon trees in his garden. (See: persimmon walnut cake circa 2011)
It seems like each year we harvest more fruit than the last. And each year I have the task of figuring out what to make with all this fruit. I've experimented with the usual persimmon cookies to the not so usual persimmon pasta (which I will be sharing with you next week!)- but persimmon bread is still my favorite and the first persimmon recipe I must do every fall.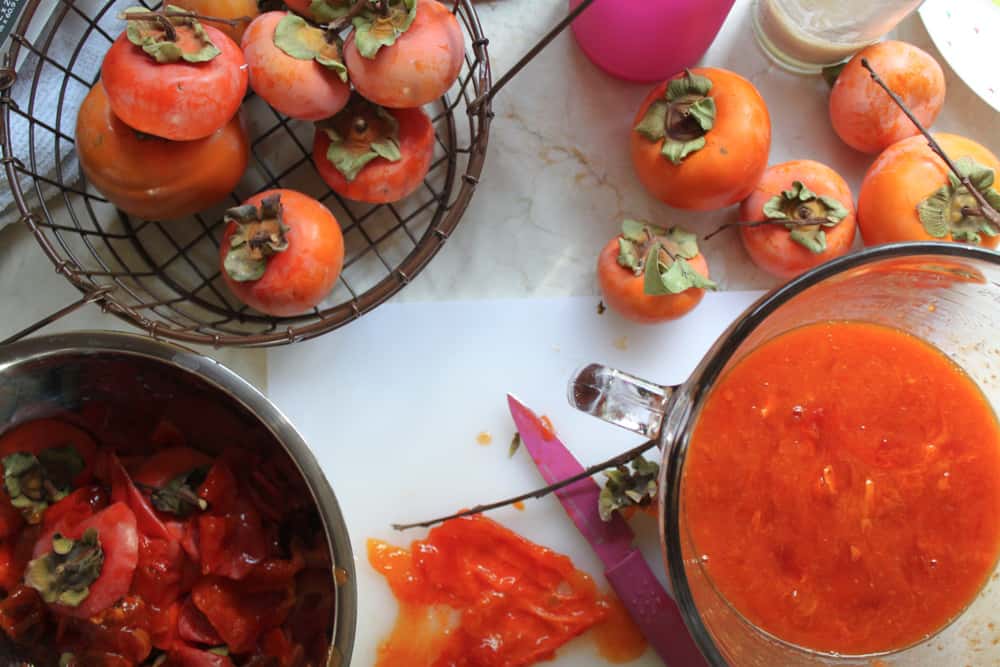 I like to wait until the persimmon is super ripe and very soft. Once you peel off the skin, the inside of a very ripe persimmon is soft and mushy. Instead of using a food processor or blender, I smash the fruit with muddler to puree it. I like to leave small chunks of the fruit in the puree.
Persimmons taste great raw, fresh from the tree. However, when baked into a bread, much of its flavor mellows out, leaving a very mild taste. Rather than providing a punch of persimmon flavor, the fruit ends up moistening the bread. Regardless, its very delicious and in my opinion, beats banana bread any day!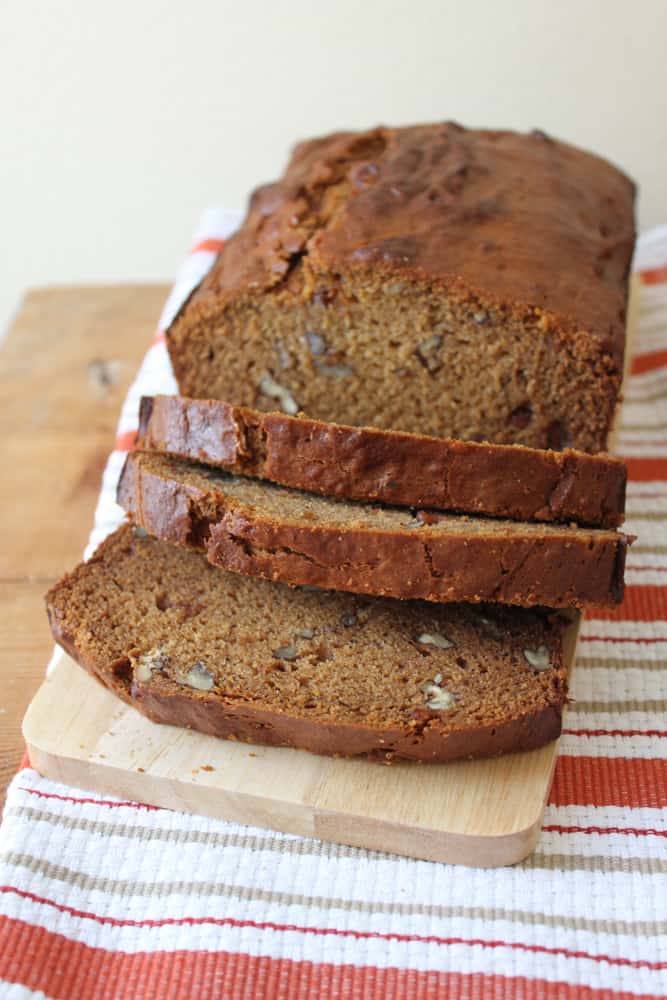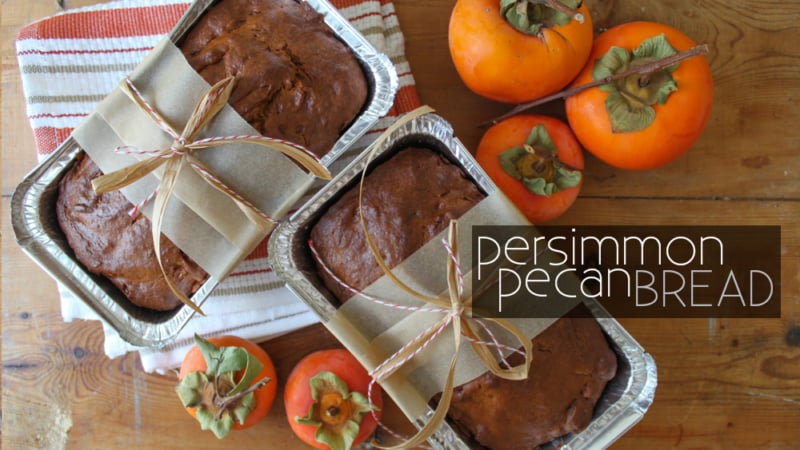 Persimmon Pecan Bread
Yield: one 9×5-inch pan plus two 4×6-inch pans
Ingredients
3 1/2

cups

all-purpose flour

1 1/2

teaspoons

kosher salt

2

teaspoons

baking soda

1

teaspoon

baking powder

1

teaspoon

ground cinnamon

3/4

cup

light brown sugar, packed

1

cup

granulated sugar

1

cup

unsalted butter, melted, slightly cooled

4

large eggs, lightly whisked

3

Tablespoons

dark rum

2

cups

persimmon puree (used hachiya variety)

2

cups

pecans, lightly toasted, roughly chopped
Instructions
Preheat oven to 350 degrees. Grease a 9×5" loft pan. Set aside two 4×6" aluminum mini loaf pans.

In medium bowl, whisk together flour, salt, baking soda, baking powder, and cinnamon. Set aside.

In a large bowl, combine brown sugar, sugar, and melted butter. Use a study spatula to mix together. Add eggs and mix until incorporated.

Add about 1/3 of flour mixture to large bowl. Fold to combine.

Stir rum into persimmon puree. Add half of puree to mixing bowl. Mix, follow with another 1/3 of flour mixture. Mix, add remaining puree. Mix and adding remaining flour mixture. Stir together until there are no longer any dry streaks of flour.


Add pecans and fold until thoroughly distributed.


Transfer half of batter to prepared 9×5" loaf pan. Divide remaining batter between two smaller loaf pans.


Bake 9×5" loaf for 50-60 minutes until toothpick inserted in center of bread comes out clean. The smaller loaf should bake for about 40 minutes.


Let bread cool in pan for a couple of minutes before unmolding. Allow bread to come to room temperature before slicing.