Add a pop of color and flavor to banana bread. This strawberry banana bread loaf is studded with chopped strawberries and toasted walnuts.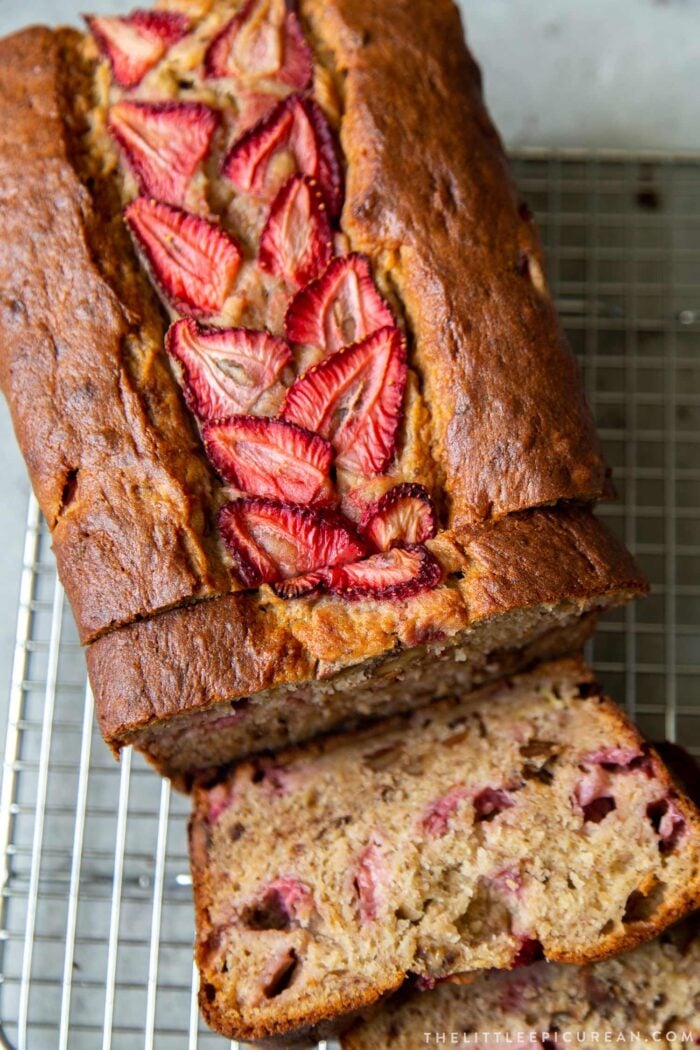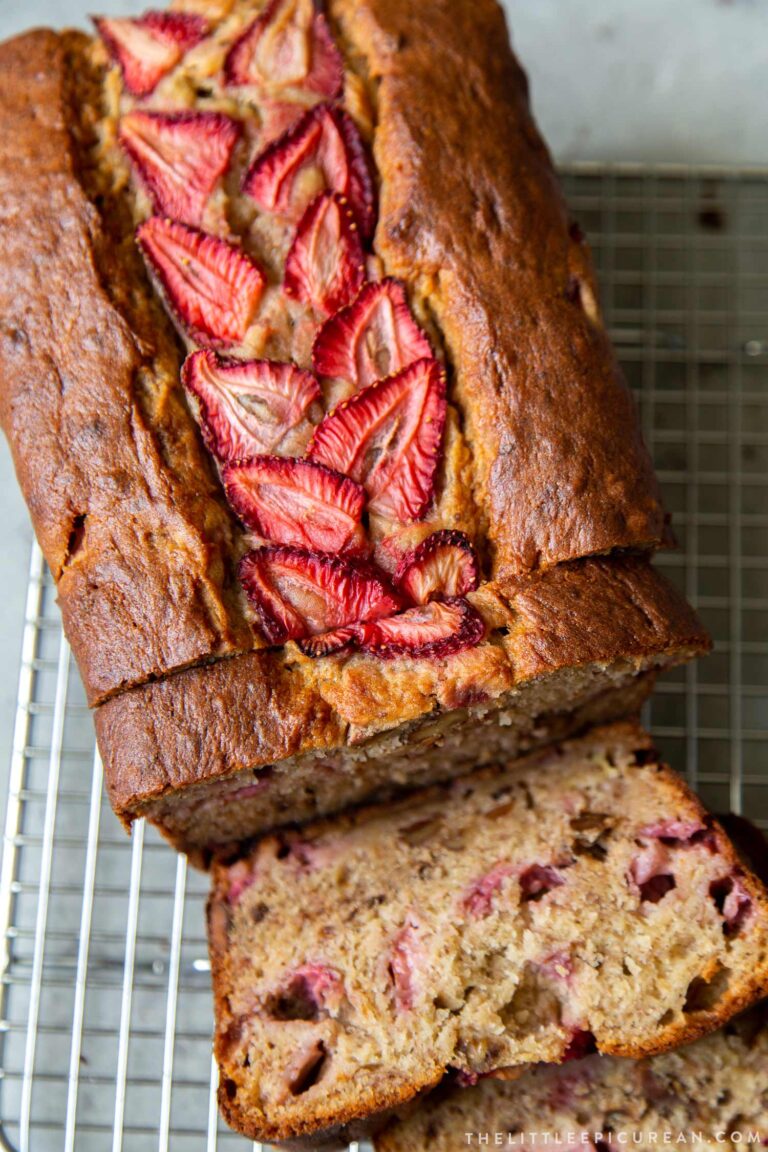 Banana bread is a weekly staple at many households. It's the simplest solution when you have overripe bananas.
Let's put a spring twist on classic banana bread!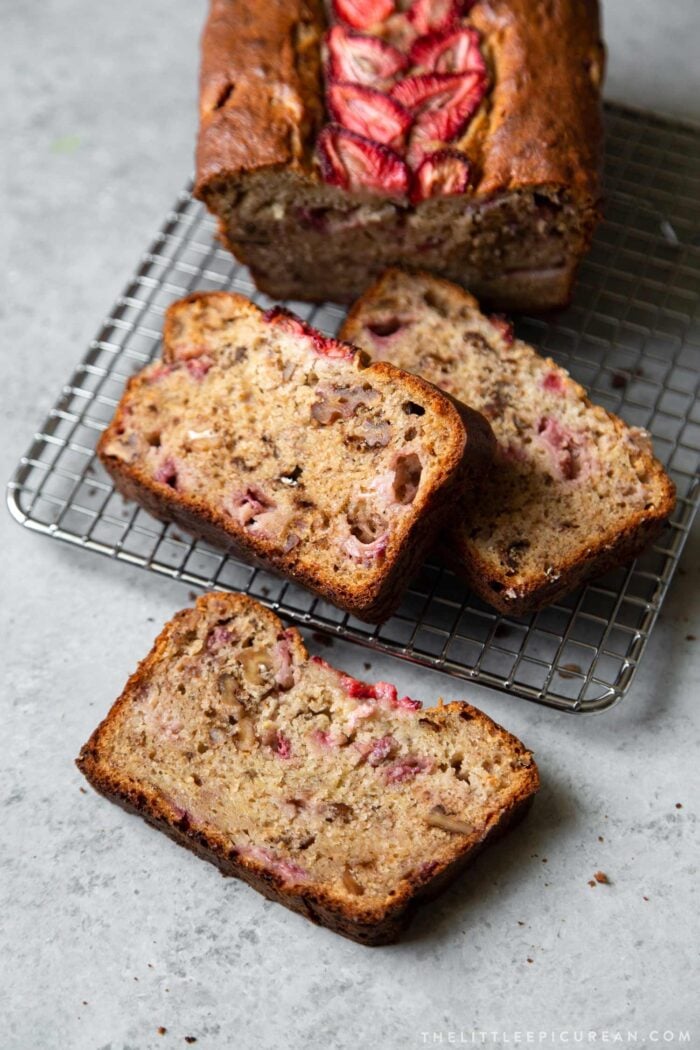 Strawberry Banana Nut Bread
This recipe is great for strawberries that are too soft to eat or not sweet enough to eat on their own. It's a great way to use up an blemished strawberries, as well.
However, do not use frozen strawberries or thawed previously frozen strawberries. Those strawberries have too much moisture for this recipe.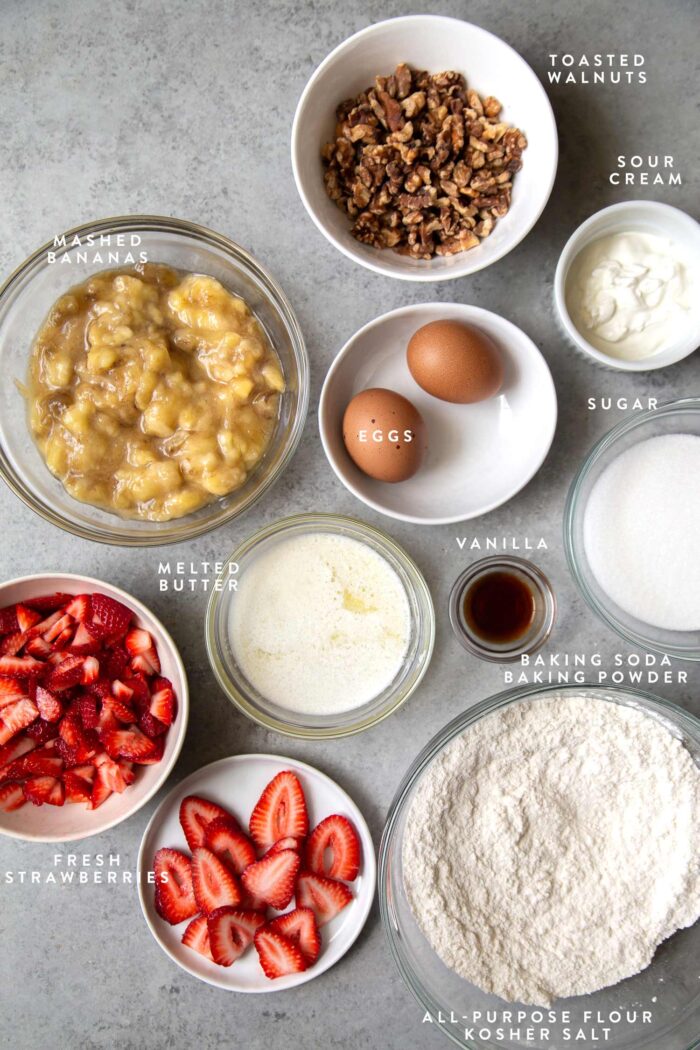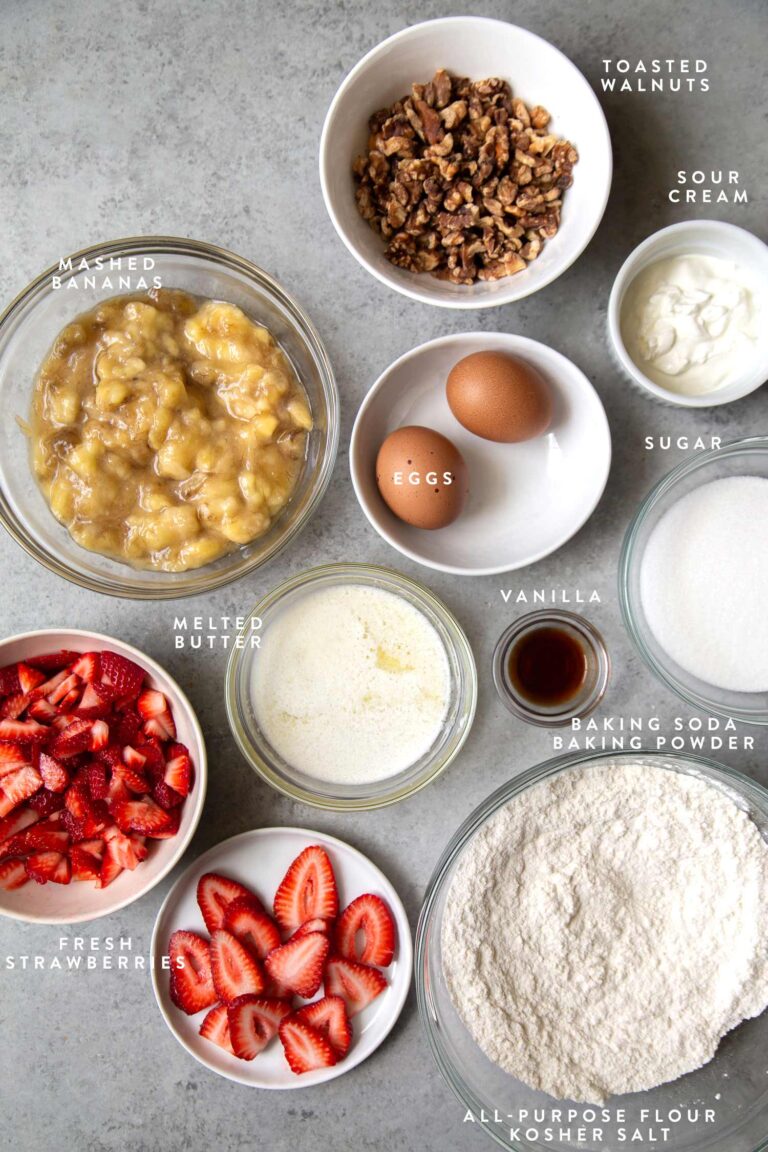 No mixer needed. This is the kind of quick bread that you can easily mix together by hand.
Melted Butter vs Oil in Banana Bread
Flavor is the biggest difference between using butter versus oil. Butter generally tastes better.
You may substitute oil of choice. Olive oil will produce a fruity notes that pair well. Unrefined coconut oil will give the bread a slight coconut flavor. Grapeseed oil is the most neutral flavored oil that will allow the sweet banana notes to shine through.
Both will result in moisture, flavorful banana bread. Butter caramelizes the crust and exterior of the banana bread. This adds an extra dimension of flavor.
For even more depth, you could use melted brown butter!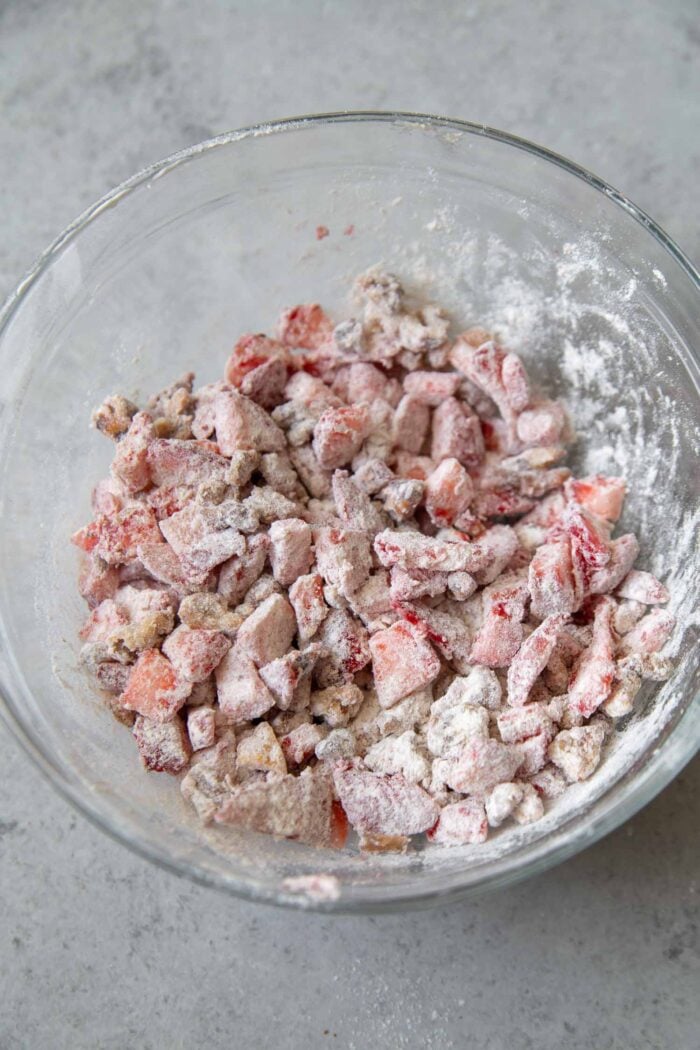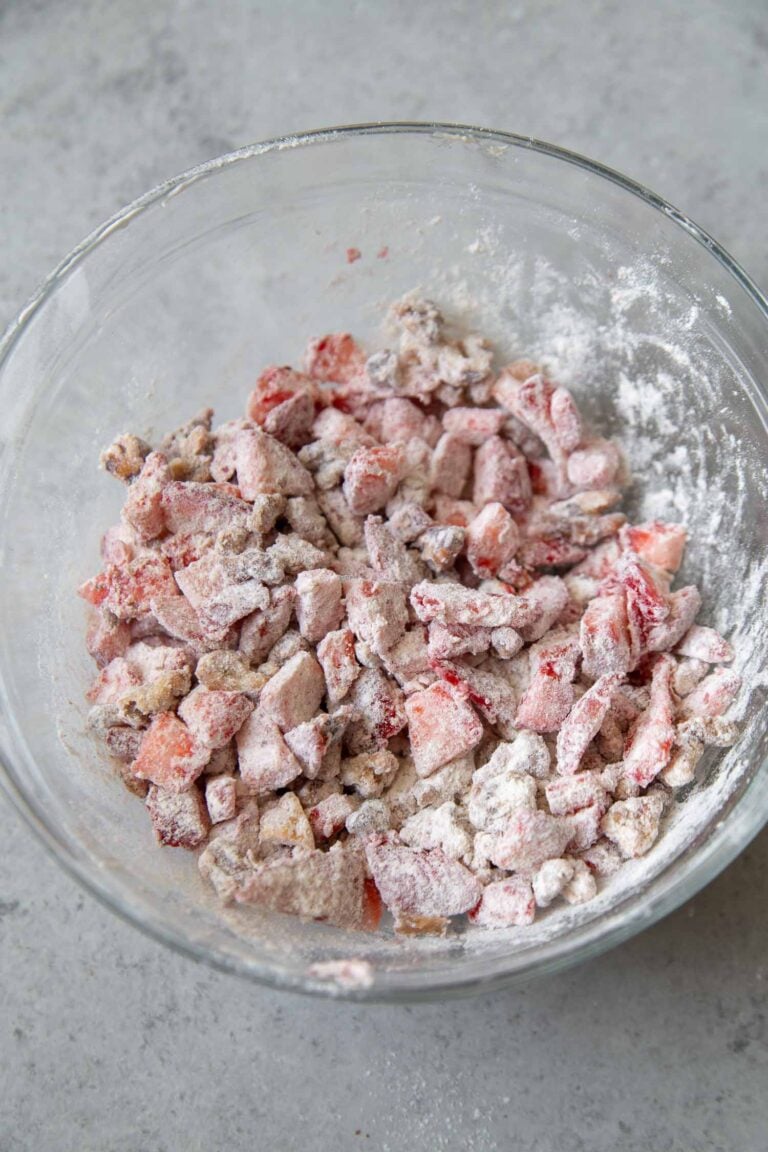 Toss Fresh Strawberries in Flour Mixture
Toss the fresh strawberries and chopped walnuts in some of the flour mixture.
This ensure that the mix-ins will stay afloat during baking. If not, you risk having all the strawberries and nuts sinking to the bottom of the bread.
NOTE: This recipe works best with fresh strawberries. Frozen strawberries or previously frozen strawberries will have too much moisture.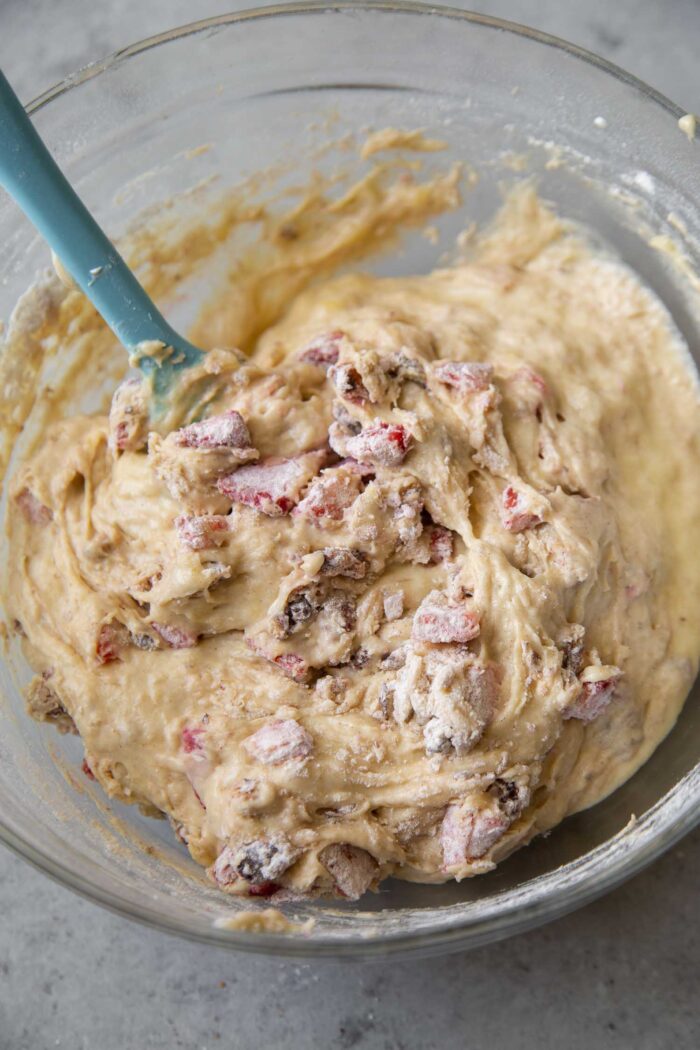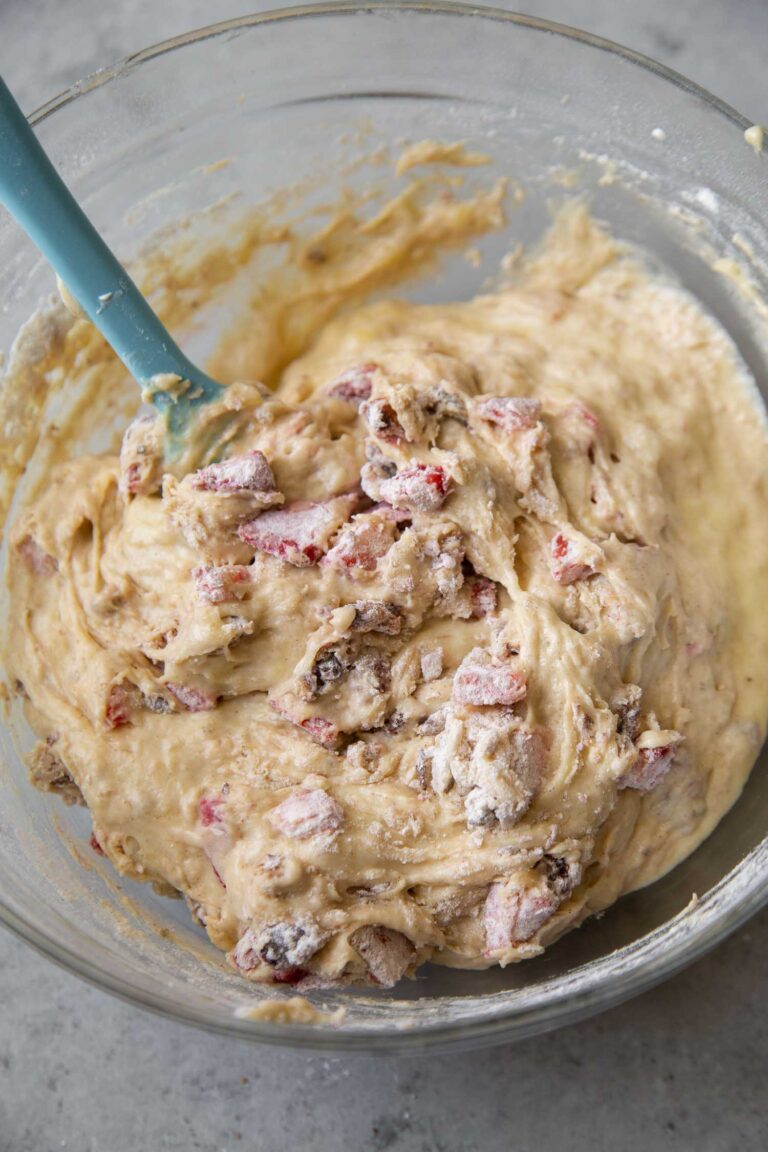 Don't Over Mix Banana Bread
Yes, it is possible to overmix quick bread. Overmixing will result in dense, gummy banana bread.
This quick bread batter can easily be together by hand or using an electric hand mixer.
I like to use an electric hand mixer to beat together the butter, sugar, and eggs. At this stage, it's okay to fully incorporate the ingredients.
The trouble arrives when the flour is added. Over agitation of flour and liquid will develop too much gluten. When the gluten bonds are super strong and tight, it will cause the quick bread to be gummy and dense.
I like to use a sturdy spatula to gently and quickly fold in the flour, strawberries, and nuts.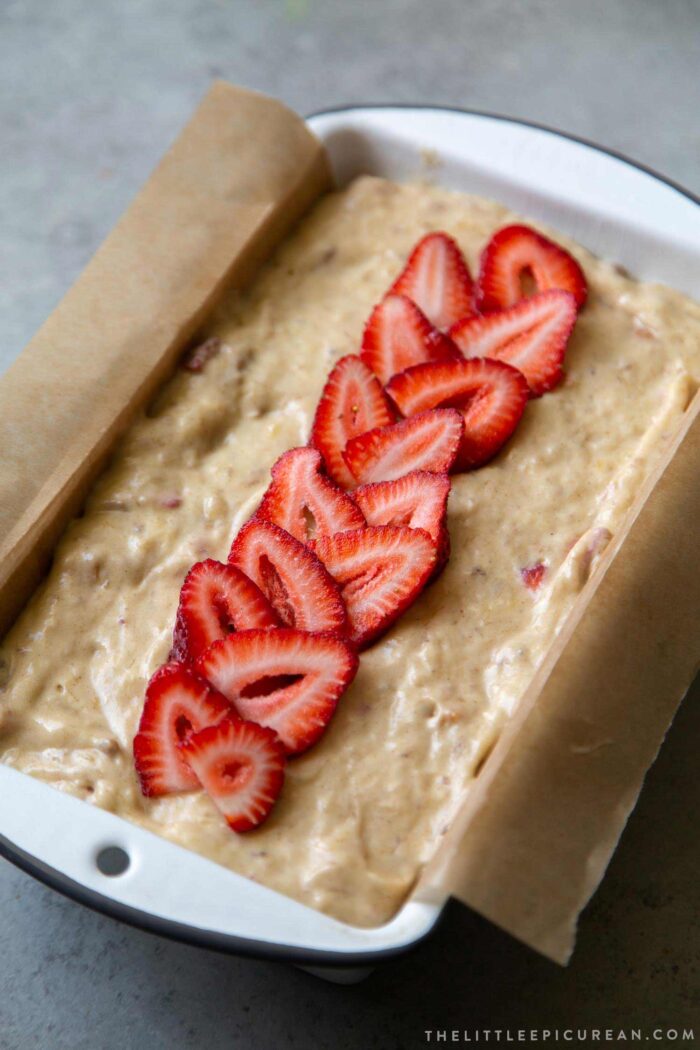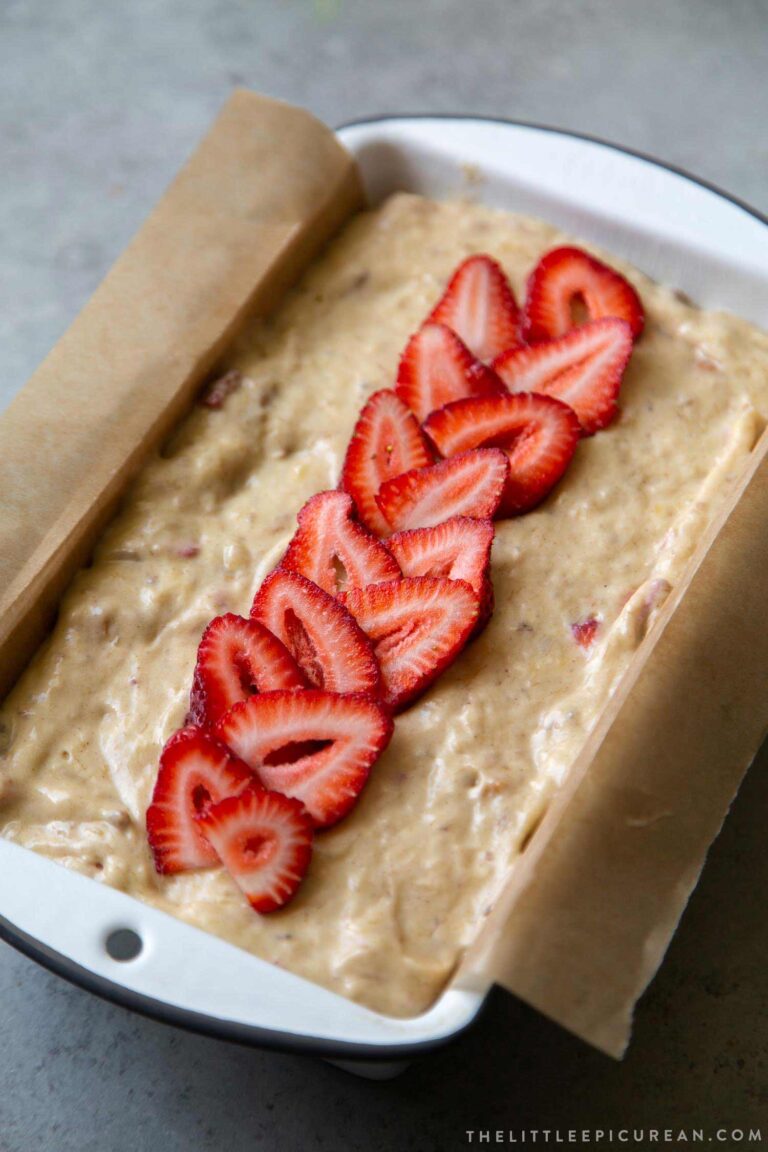 Garnishing with Fresh Strawberries
Spread the batter into a well greased or lined 9×5-inch loaf pan. If desired, garnish the bread with sliced strawberries.
Be sure to use thinly sliced strawberries. Large chunks of strawberry will expel too much moisture. This may cause the center of the loaf bread to sink in. It may take too long to cook the center, causing the edges of the bread to brown too much.
Once again, garnish with fresh strawberries. Don't use frozen strawberries for garnish.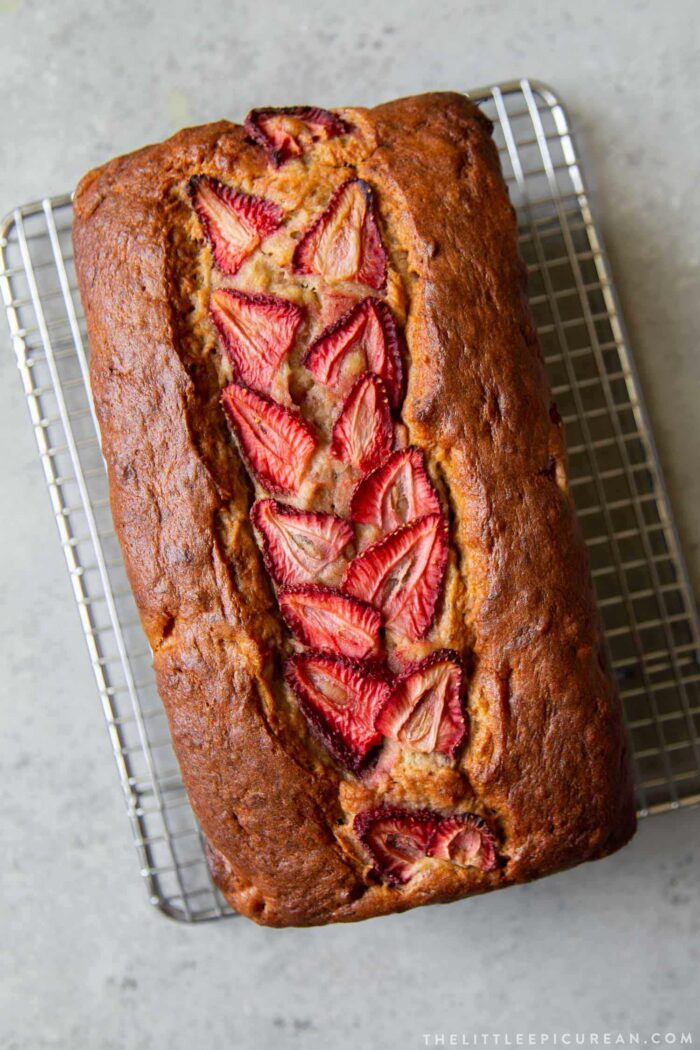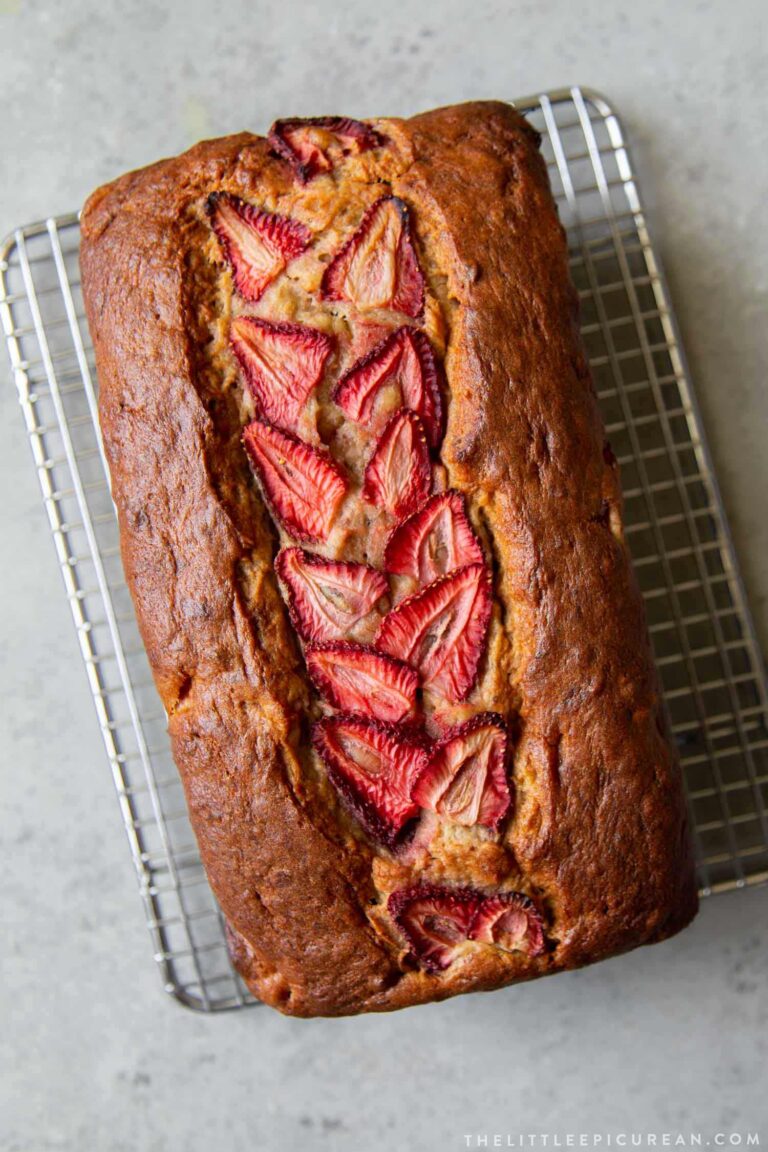 Tip for Slicing Banana Bread
Patience is very important. Do not slice into hot banana bread!
Allow the strawberry banana bread to cool to room temperature on a wire rack. This cooling period helps to strength the structure of the bread.
To speed up the process, you can lay the banana bread on its side to allow the steam escape from top and bottom of the bread.
For best results, use a serrated knife. Slice in a gentle sawing motion. This will produce nice, clean slices.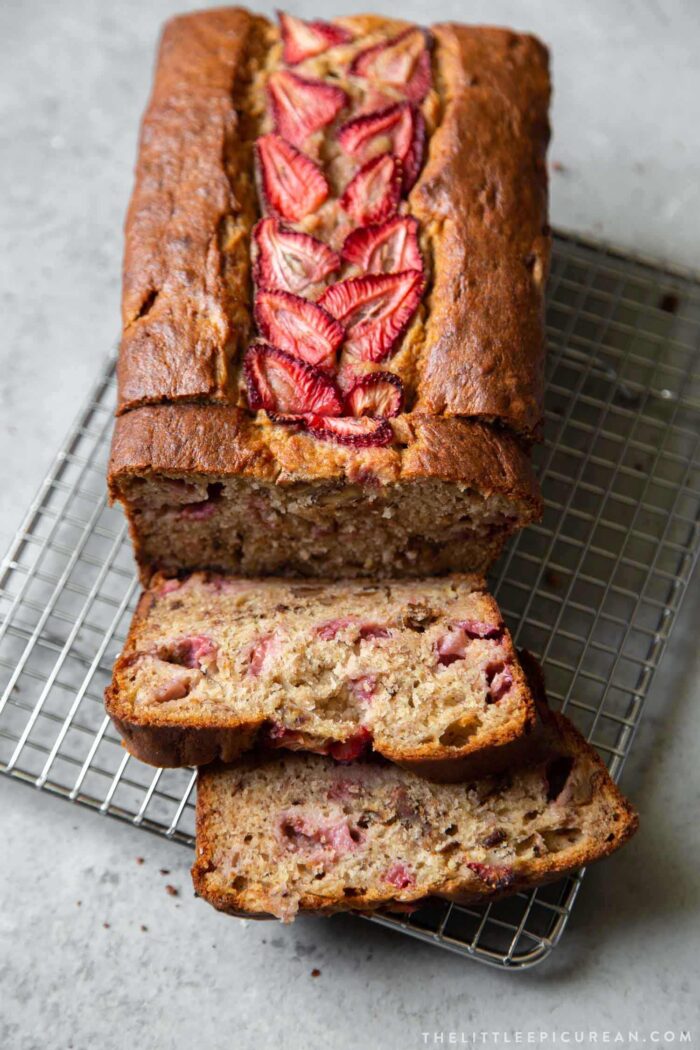 Storage and Leftovers:
Banana bread may be left at room temperature for several hours after baking. Transfer leftovers to an airtight container and leave at room temperature. Keep in the fridge for longer storage, up to three days.
Due to the strawberry's high moisture content, it is best to keep leftovers chilled. Eat the bread chilled, bring to room temperature, or reheat in a toaster oven.
Strawberry Banana Bread
Add a pop of color and flavor to banana bread. This strawberry banana bread loaf is studded with chopped strawberries and toasted walnuts. Yield: 9×5-inch loaf
Ingredients
2

cup

all-purpose flour

(260 g)

1

teaspoon

baking powder

½

teaspoon

baking soda

½

teaspoon

kosher salt

¾

teaspoon

ground cinnamon

(optional)

¾

cup

granulated sugar

(150 g)

½

cup

unsalted butter

(113 g) melted

2

large eggs

1

teaspoon

pure vanilla extract

1 ½

cup

mashed ripe banana

(400 g), about 3 medium bananas

¼

cup

sour cream

(60 g)

1 ½

cup

fresh strawberries

(175 g)

1

cup

lightly toasted walnuts

(115 g) roughly chopped (optional)
Instructions
Preheat oven to 350°F. Line a 9×5-inch loaf pan with parchment paper, allowing parchment to hang over the long edges of the pan. Grease well with softened or melted butter. Set aside.

In a medium bowl, whisk together flour, baking powder, baking soda, salt, and (optional) cinnamon. Set aside.

In a large bowl, mix together melted butter and sugar. Add in eggs and vanilla. Mix until eggs are well combined into mixture. Add banana and mix until incorporated.

Add half of dry flour mixture. Stir until almost combined. Add sour cream. Mix until almost incorporated.

Add half of the remaining dry flour mixture. Stir until almost combined. Toss the remaining flour mixture with the strawberries and walnuts. Add to batter. Fold to combine until strawberries and walnuts are evenly distributed.

*DO NOT overmix. It's okay if these are still slight streaks of flour in the batter.

Transfer batter to prepared loaf pan. Smooth top into an even layer. If desired, arrange fresh strawberry slices on top of batter.

Bake for 60-70 minutes until toothpick inserted in center of loaf comes out clean. Cool banana bread in pan for 10 minutes before unmolding. Cool to room temperature on wire rack before slicing.
Notes
Due to the moisture from the fresh strawberries, this banana bread takes a little longer than usual to fully bake. 
Cool banana bread to room temperature before slicing. Slicing warm (or hot) banana bread will cause the loaf to fall apart and it will result with
"gummy" bread. 
Slice with a serrated knife for clean cuts. 
Walnuts are optional, but highly recommended. Toast the walnuts ahead of time to bring out the nut's oils and flavor.

To toast walnuts: Preheat oven to 325-350 degrees F. Spread nuts out in an even layer on baking sheet. Bake for 6 to 8 minutes. Check on nuts. If nuts are still pale, return to oven for another 3 to 4 minutes.

Cinnamon is optional. It does not add a significant amount of cinnamon flavor. However, it does add a subtle warm flavor that melds wonderfully with the sweet banana and strawberry.