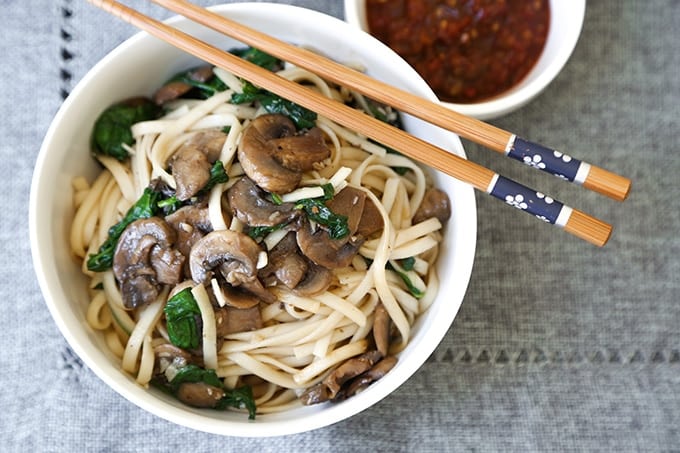 Noodles.  I cannot live without noodles.  I could give up plenty of other carbs- potato, bread, even rice, but noodles are my favorite.
This is a super quick, real simple recipe that I make often.  Whenever I'm in pinch and dinner should have been made hours ago, I turn to this noodle dish.  I love it.  My boyfriend loves it.  Even my parents love it when I bring some over.
The Wu-Mu Dry Noodles pictured above are my favorite to use.  It only takes three minutes to cook! (That's faster than most pastas, which probably explains why I love using it so much.)   Feel free to use whatever noodles you happen to have, even linguine or fettuccine noodles are fine.
This noodle dish is vegan and vegetarian friendly.  However, if you'd like to include proteins, grilled chicken or sliced steak would be amazing with this.  And if you choose to eat the dish as is– I must warn you that it's an umami bomb in your mouth.  You get a big punch of savory flavors from the combination of soy sauce and mushrooms.  The sesame oil helps to round out the noodles.  And of course, the garlic! The sautéed garlic keeps me asking for seconds and thirds. Oh, how I love garlic noodles.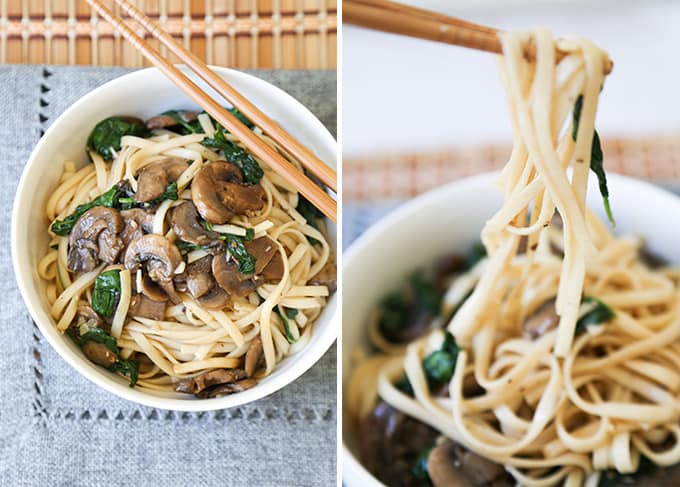 Mushroom and Spinach Garlic Noodles
Ingredients:
Mushrooms and Spinach:
1 pound button mushrooms, cleaned and sliced
2 garlic cloves, minced
1 Tbsp olive oil
1 Tbsp water
1 Tbsp light (reduced-sodium) soy sauce
4 handfuls of spinach leaves, cleaned
kosher salt and black pepper, to taste
Noodles:
10 oz noodles of choice, cooked according to package
1 Tbsp olive oil
5 garlic cloves, minced
3 Tbsp soy sauce
1 Tbsp sesame oil
Directions:
Mushrooms and Spinach:
In a medium size skillet, heat olive oil. Once warm, add minced garlic and let cook for 30-45 seconds until fragrant and starting to color. Add sliced mushrooms and toss to combine. Add water and soy sauce and continue to cook on medium heat until mushrooms have started to shrink down. Add spinach in two additions. Cook on medium heat until mushrooms and spinach have cooked down and are tender. Season with salt and pepper to taste. Remove from heat and set aside.
Noodles and Assembly:
Cook and drain noodles according to package instructions.
In a large skillet, heat olive oil. Once warm, add minced garlic cloves. Cook for 30-45 seconds until garlic is fragrant and starting color. Reduce heat and add soy sauce and sesame oil. Add prepared mushroom and spinach. Add cooked noodles. Toss to combine. Ensure that the mushroom and spinach are evenly distributed. Ensure that the noodles get coated in the sauce.
Serve warm. Garnish with sesame seeds and red pepper flakes. Season with additional salt and pepper as needed.