Quick and easy balsamic ginger soba noodles served with marinated tofu, carrots, zucchini, and edamame. Enjoy it warm, chilled, or at room temperature.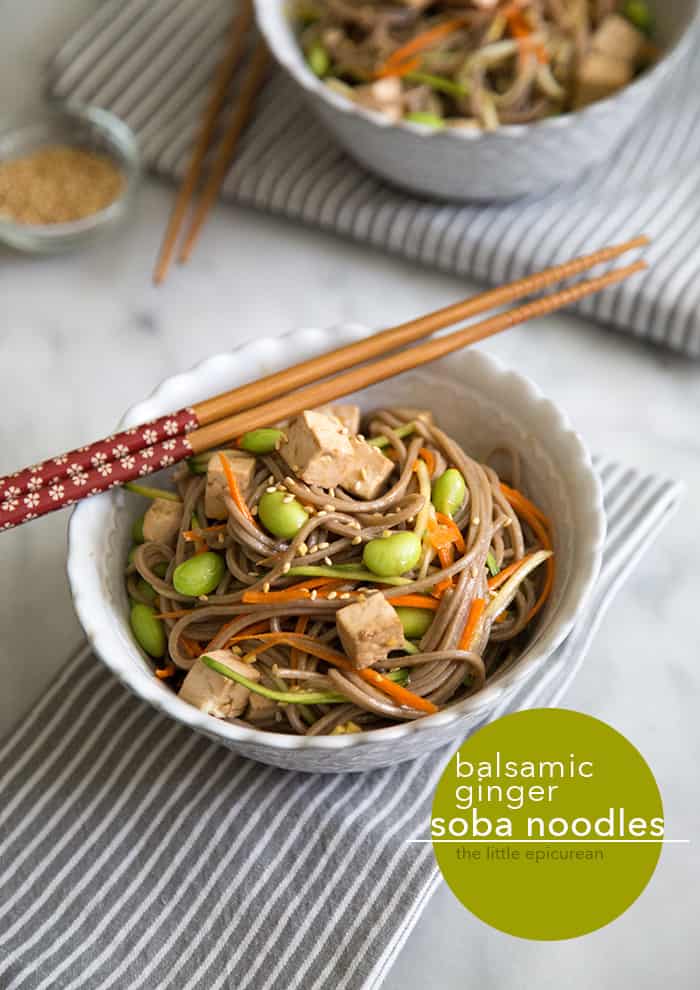 I'm not much of a salad person. Could you tell? I am definitely a carb person. I live off of cookies, cake, and ice cream. But as an almost 30 year old, I try to incorporate as much fruits and vegetables into my diet. Obviously, sugar can only sustain me for so long before I get hungry for what Alex calls "real food."
So when Girard's asked me to try their salad dressings, I was a bit hesitant at first. In the three years I've been blogging, I made salad three times. That averages to one salad a year.
However, after looking over all of the unique salad dressings Girard's makes, I decided to give it a try.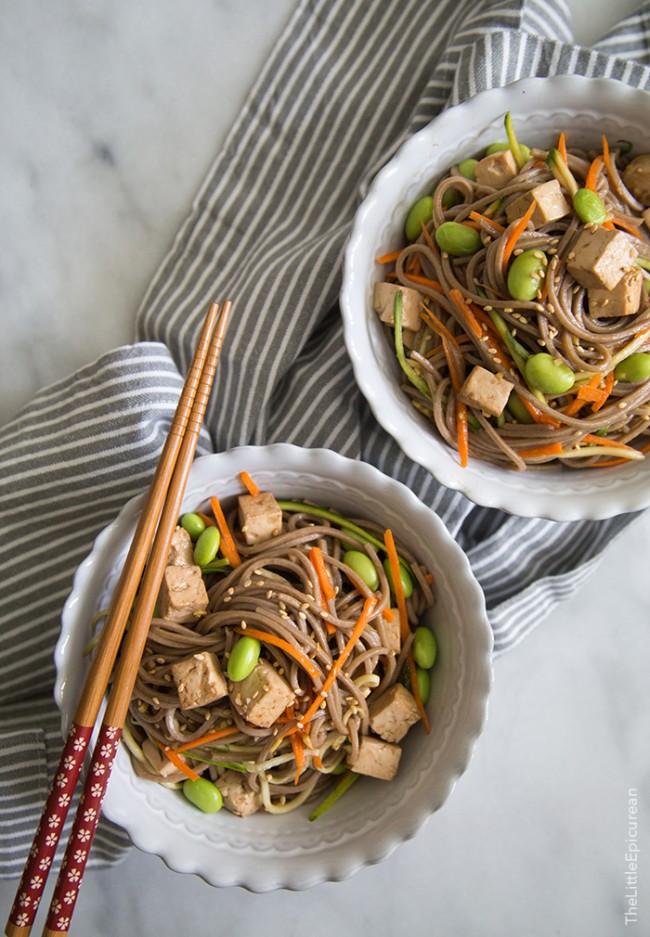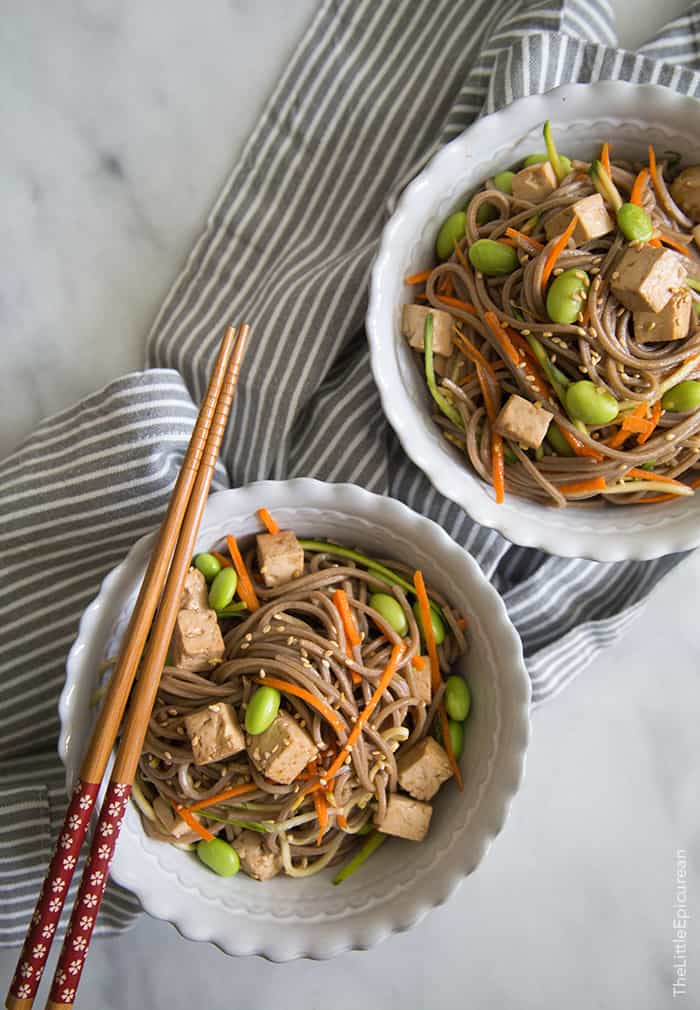 Balsamic Ginger Soba Noodles
Raspberry dressing, sun dried tomato and artichoke dressing, and roasted garlic hummus vinaigrette…these sound pretty darn delicious. And then I came across Barista Balsamic dressing. WHAT?! Roasted coffee beans infused into balsamic vinegar? Okay, I'm sold.
Except, I'm not using Barista Balsamic to dress a regular old salad. Nope. We're going to use it to flavor soba noodles. Using ingredients I normally have stocked in my kitchen, I introduce you to balsamic ginger soba noodles with tofu.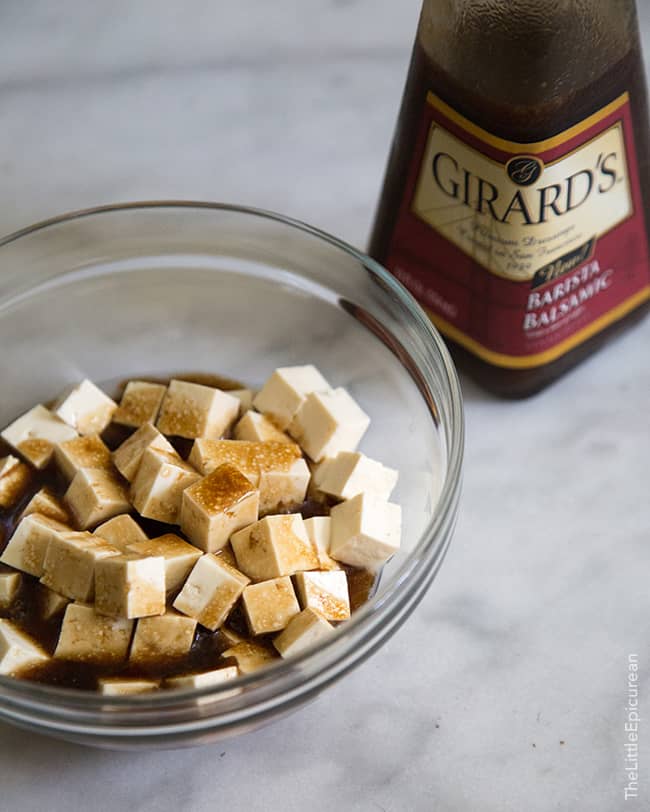 Marinated Tofu
Asides from making salads and vegetables tastier, did you know salad dressings also make great marinades? Growing up, my mom would often use Italian dressing to marinate chicken.
I cut up firm tofu into bite sized cubes and poured in enough dressing to coat the tofu. I let this mixture sit in the fridge for 20-30 minutes to allow the flavors to make their way into the tofu. You could also do this with chicken or beef.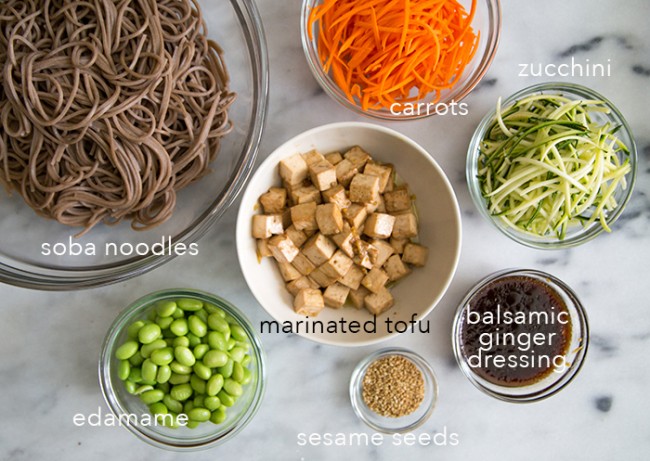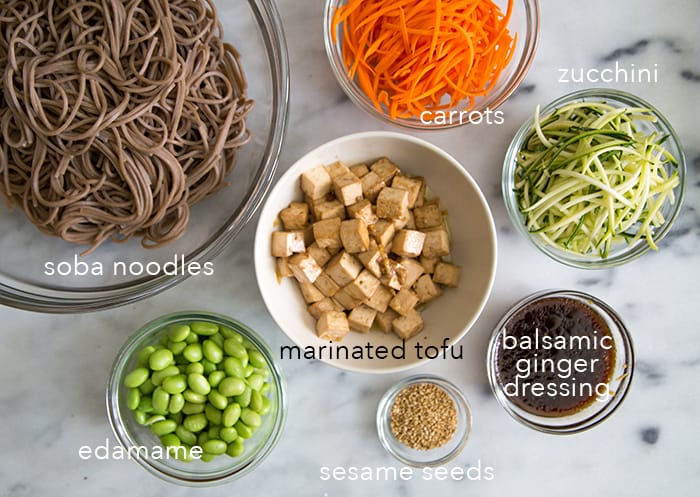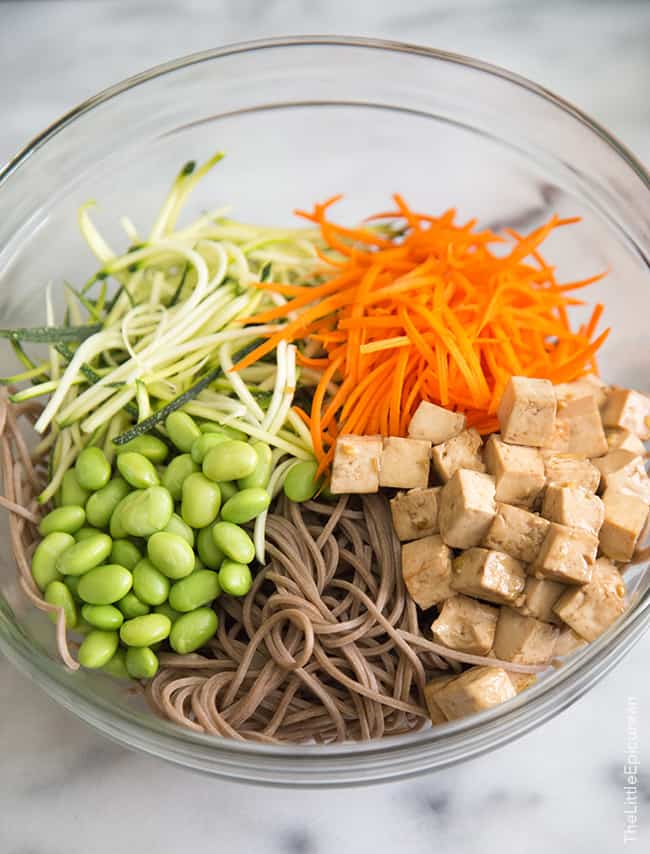 I always have carrots and zucchini in the kitchen. You never know when a carrot cake or zucchini bread craving will strike. And I'm always loaded with frozen edamame because they're one of my favorite snacks.
Julienning vegetable is very tedious and time consuming. I don't have the knife skills for that intricacy. I rely on a julienne peeler to make life easier.
This soba noodle dish couldn't be any easier. Once you've cooked the soba noodle and tofu, all you have to do is toss everything together and volià- a quick and easy lunch!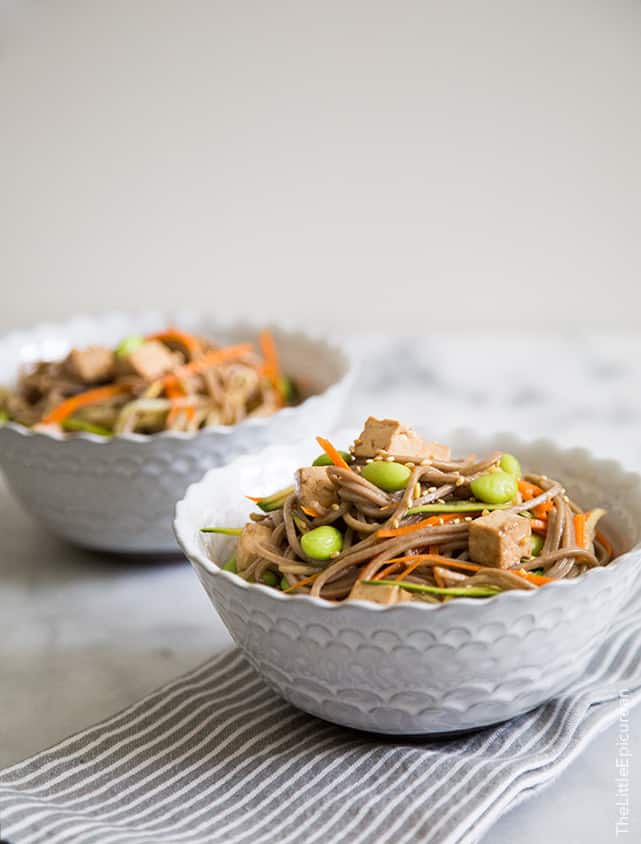 I like the kick of sweet and sour of the Barista Balsamic dressing. The hint of coffee makes it attractive and alluring. While the dressing tasted great by itself, I wanted to make it my own. With little alterations like minced ginger and a splash of Sriracha, it becomes the perfect sauce to my soba noodles!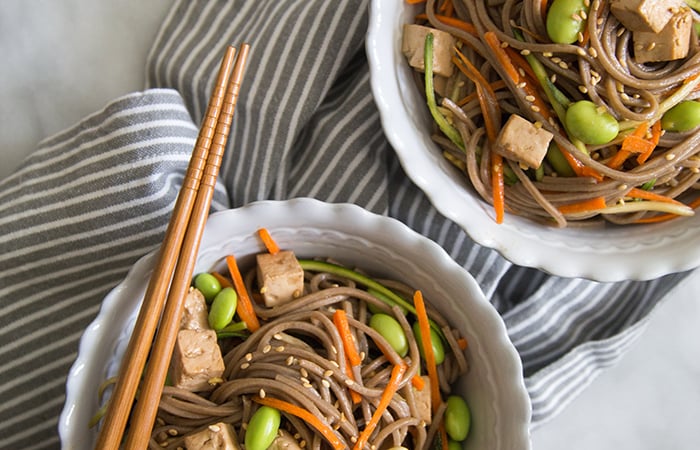 Balsamic Ginger Soba Noodles
Quick and easy balsamic ginger soba noodles served with marinated tofu, carrots, zucchini, and edamame. Enjoy it warm, chilled, or at room temperature.
Ingredients
7

oz

firm tofu

drained, cut into cubes

⅓

cup

Girard's Barista Balsamic dressing

4

oz

soba noodles

1

medium carrot

julienned

½

medium zucchini

julienned

¾

cup

shelled edamame

cooked

toasted sesame seeds

as needed to garnish
Balsamic Ginger Sauce:
⅓

cup

Girard's Barista Balsamic dressing

1

Tbsp

minced ginger

1

Tbsp

hoisin sauce

½

teaspoon

Sriracha hot sauce

½

teaspoon

toasted sesame oil

½

Tbsp

reduced sodium soy sauce
Instructions
Cut into cubes and place in a bowl.  Pour ⅓ cup dressing over tofu.  Stir to coat tofu.  Cover and let marinade in the fridge for 15-20 minutes.  Meanwhile, prepare remaining ingredients.

Cook soba noodles according to package instructions.  Drain, run under cold water and set aside.

Use a julienne peeler to slice carrot and zucchini. Alternatively use a vegetable peeler to create ribbons, or simply use a knife.  Set aside.

To make sauce: combine 2 tsp minced ginger, 1 Tbsp hoisin sauce, 1/2 tsp Sriracha, 1/2 tsp sesame oil, 1/2 Tbsp reduced sodium soy sauce, and 1/3 cup Girard's Barista Balsamic.

In a medium sautee pan, heat up about 2 tsp olive oil.  Add 1 tsp minced garlic.  Cook for about 15-30 seconds until fragrant.  Add marinated tofu.  Discard sauce.  Cook until tofu is heated throughout.  Set aside.

In a large bowl, combine soba noodles, carrots, zucchini, edamame, and tofu.  Pour in dressing and gently toss together.  Serve with toasted sesame seeds.
More Easy Noodle Recipes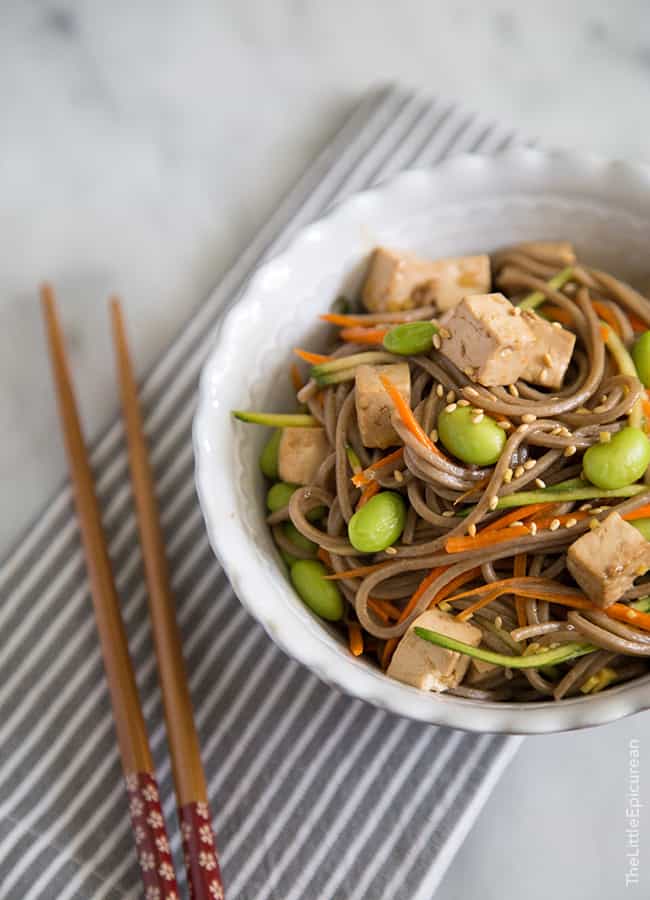 Disclaimer: The folks at Girard's sent me a selection of their salad dressings to sample. All opinions are my own.