These quick and easy no-bake s'mores fudge bars are popular year round. They can be stored in the fridge or kept at room temperature.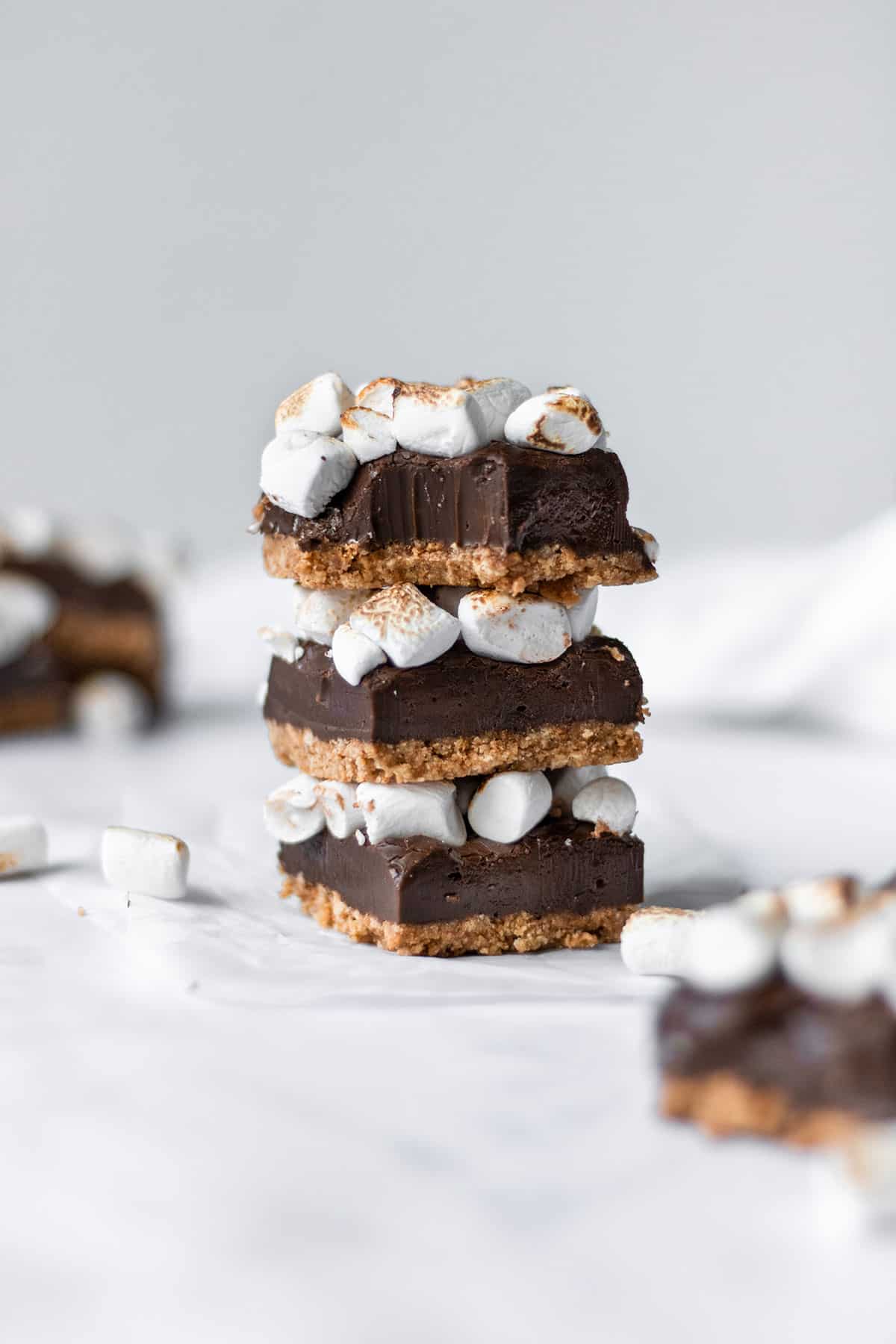 Last week it was chilly and cool. I loved it. I was able to wear a beanie, wrap a scarf around my neck, and even make myself a cup of hot chocolate.
And then, today happened. 80 degrees in the middle of December. I got dressed and ready to head out, only to return to my closet and change into shorts and a t-shirt. Oh, California.
With these s'mores fudge bar you can pretend it's summer regardless of the actual season!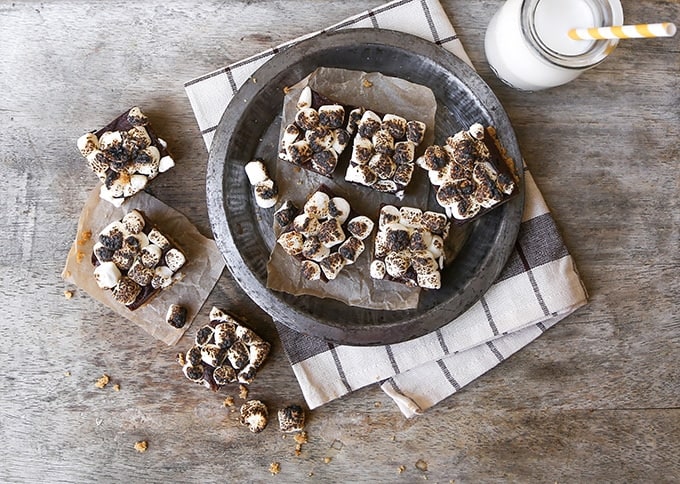 S'mores Fudge Bars
No campfire s'mores. And none of those cheater's s'mores made over the kitchen stove. I'm making s'mores FUDGE bars!
Buttery and crumbly graham cracker base. Rich and creamy chocolate fudge. Ooey,gooey toasted marshmallows. Yes to all of the above.
I've been testing out chocolate desserts to bring to my family's Christmas party this weekend. I may have found a winner with this one. These are sure to delight all the kids (as well as the adults).
I thought about spiking the chocolate with a splash of whiskey or rum for the grown-ups. Because, honestly, it's a not a holiday party without a little liquor.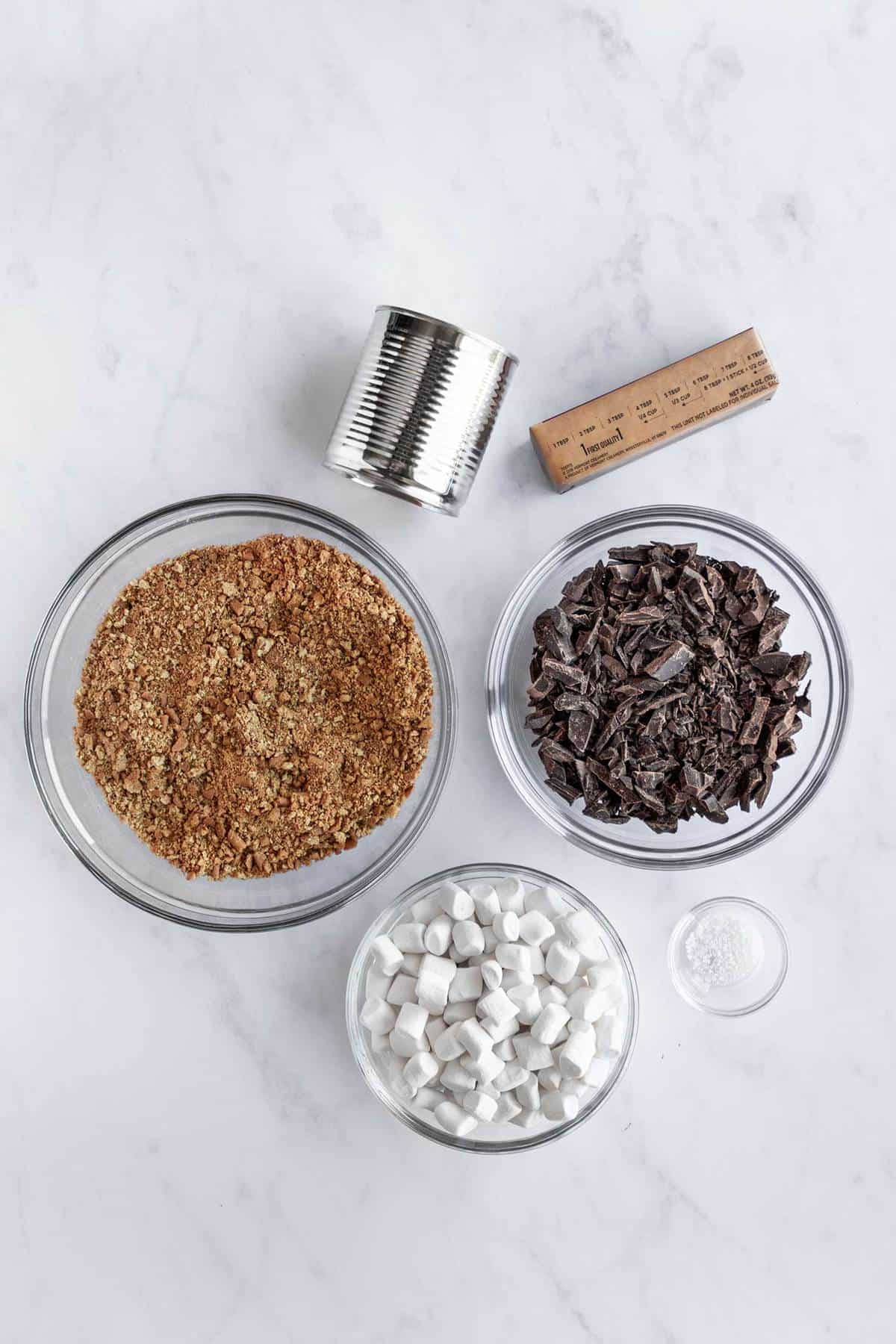 I'll be making plenty of these during the summer months– especially because it is a quick, easy, no-bake dessert! It can be stored in the fridge or kept at room temperature (read: perfect party and picnic food!).
S'mores Fudge Bars
Ingredients
1 ½

cup

ground graham crackers

1

Tablespoon

granulated sugar

1/4

teaspoon

kosher salt

1/2

cup

unsalted butter,

melted

2

cups

(11 oz) chopped dark chocolate

14

oz

can sweetened condensed milk

2

cup

small marshmallows
Instructions
Line a 9-inch square pan with parchment paper. Lightly grease with cooking spray. Set aside.

In a medium bowl, combine ground graham crackers, sugar, and salt. Add melted butter and fold together until mixture is moistened. Transfer mixture to prepared square pan. Press into an even layer. Keep chilled in the fridge while you melt chocolate.

Melt together chopped chocolate and sweetened condensed milk in a medium metal or glass bowl over a small pot filled with an inch of barely simmering water. Stir together until chocolate is melted. Be careful not to overheat the chocolate.

Once chocolate has melted, remove from heat and pour chocolate over graham cracker crust. Sprinkle 2 cups of small marshmallows over chocolate. Press to ensure marshmallows adhere to chocolate. Place in fridge for at least 20 minutes for chocolate fudge to set.

Remove from pan. Cut into desired portions. Use a kitchen torch to toast the marshmallows.
Notes
Ingredient Notes:
Do not use milk chocolate. Mixed with the sweetened condensed milk, it will be extremely sweet. I suggest 72% dark chocolate.
Storage and Leftovers:
Store leftovers in airtight container either at room temperature or keep chilled in the fridge. Leftovers should keep for a week (longer in the fridge).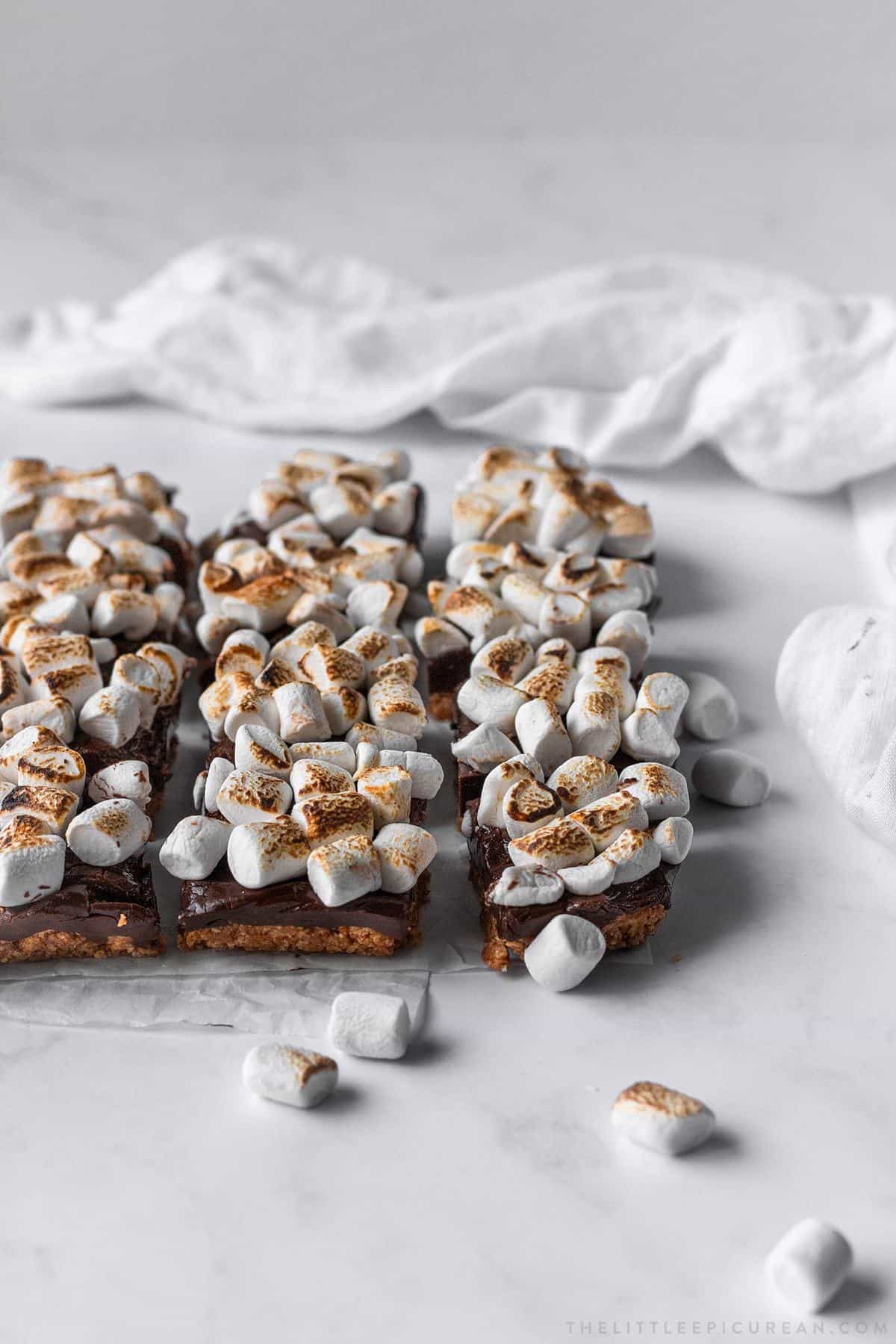 Craving some more s'mores? Here are some favorite recipes: