Miso butternut squash soup is an quick and easy comforting bowl of goodness. Use vegetable broth to turn this into a vegan dish.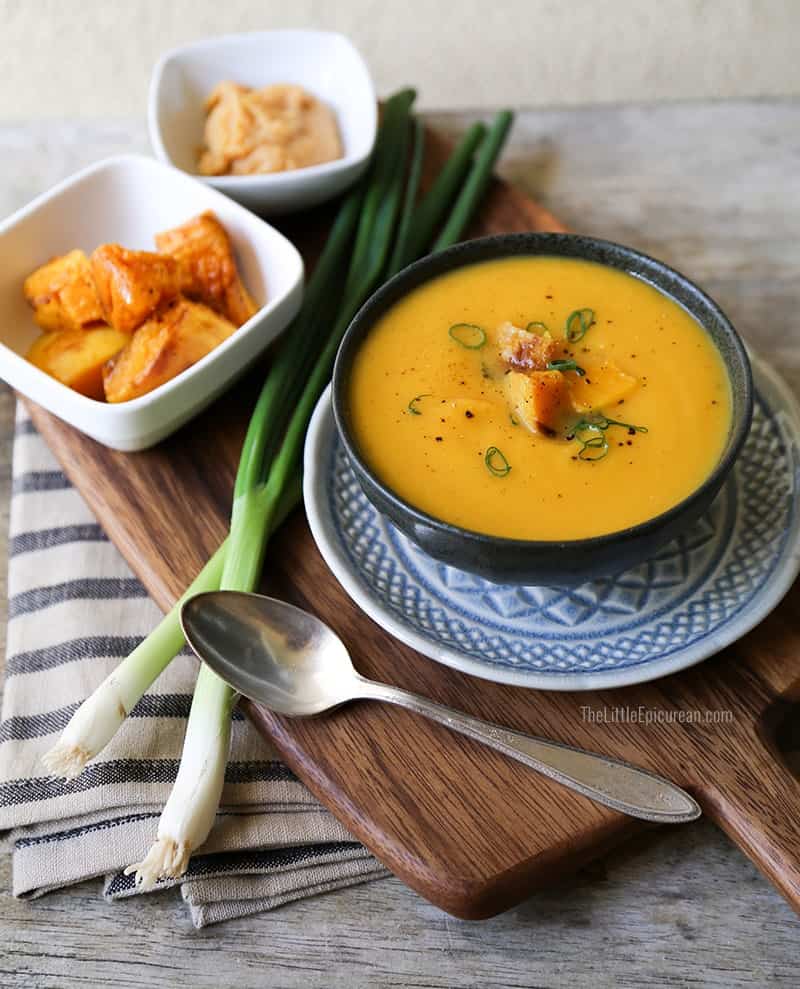 Rich and creamy without using butter, cream, or any non-dairy milks.
This soup gets its texture and richness from roasted butternut squash!
Miso Butternut Squash Soup
Cooler temperatures call for sweaters and soup! Bring on all soup!
Butternut squash is a hearty vegetable. I upped the umami flavors of this soup by adding some miso paste.
This soup is low fat, super flavorful, and a breeze to make.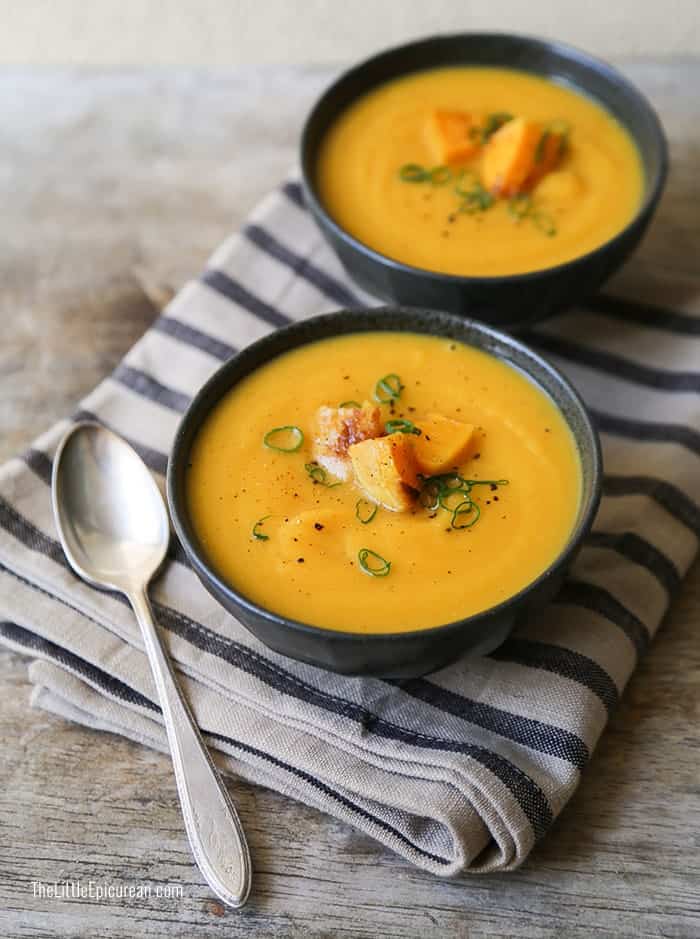 How to cook butternut squash
There are several ways to cook and prepare butternut squash: roast, steam, boil.
Roasting the butternut squash creates a sweeter, richer, deeper flavor. The butternut squash browns and caramelizes beautifully when baked slowly in high heat.
To save time, you can bake the butternut squash ahead of time! Quickly make soup the following day.
Otherwise, steam or microwave the squash for a super quick cooking method.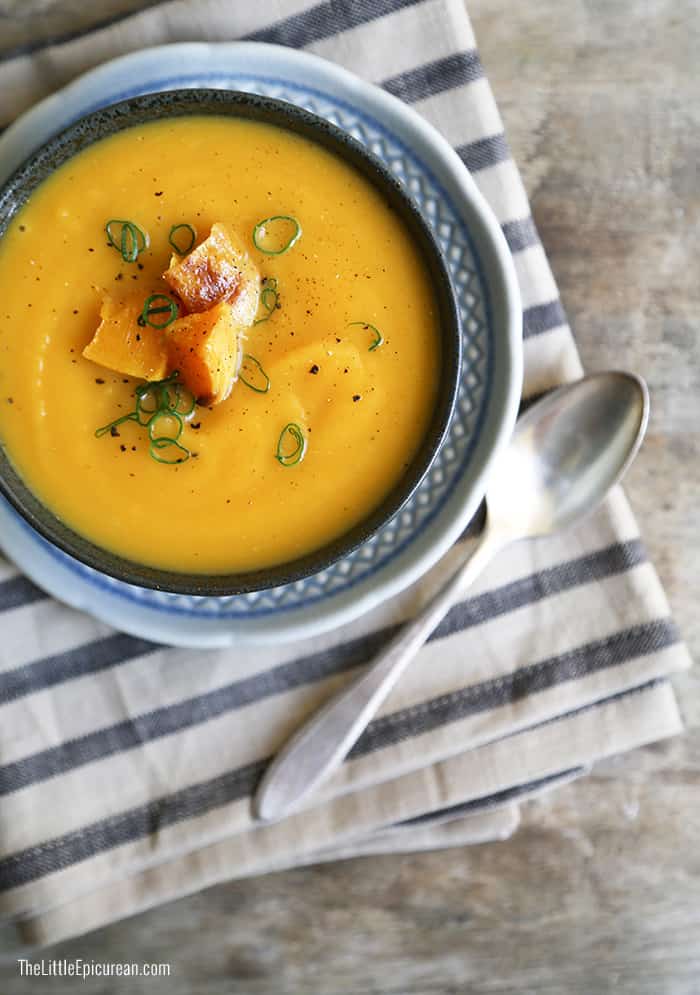 How to puree butternut squash
An immersion blender (also known as stick blender or hand blender) quickly and easily purees everything together right in the stockpot.
Alternatively, process the soup in batches using a standard countertop blender.
If you don't have a blender, you may also use a food processor.
Can't get enough butternut squash? Try these: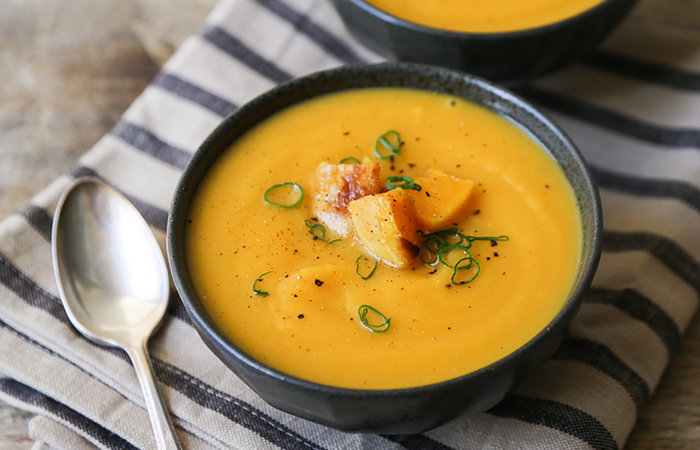 Miso Butternut Squash Soup
This quick and easy soup combines roasted butternut squash with miso paste and chicken broth. Use vegetable broth for a vegan version!
Ingredients
3

pounds

butternut squash,

peeled, cut into chunks

2

Tablespoons

olive oil

3

Tablespoon

yellow miso paste

3

cups

reduced-sodium chicken broth

or vegetable broth for vegetarian/vegan option

2

cups

water

kosher salt and freshly ground black pepper,

season to taste
Instructions
Preheat oven to 400°F. On a parchment lined baking sheet, spread out butternut squash. Drizzle with 2 Tbsp of olive oil. Season with salt and pepper. Toss to combine. Bake for 30-40 minutes until squash in soft and can be easily pierced with a fork. Set aside. Reserve some butternut squash for garnish.

In a large pot, bring chicken broth and water to a boil. Add miso and stir to dissolve. Add roasted butternut squash.

Remove from heat. Use an immersion blender to puree soup. Alternatively, puree soup in batches in a blender. Blend soup until smooth. Taste and season and salt and pepper accordingly. Serve soup warm or chilled. Garnish with reserved butternut squash and chopped green onions.