This easy to make slow cooker Asian braised beef combines garlic, ginger, lemongrass, soy sauce, and rice vinegar to create a delicious hearty dish. Serve it over rice, noodles, or steamed vegetables. 
I cannot live without my slow cooker.  I make all sorts of food in there from crème brûlée to loaded baked potato soup.  It seems like most of my slow cooker recipes are reserved for American and French foods.
I guess when I think slow cooker, I envision a lot braised beefs, creamy soups, and hearty stews.  You don't normally see a lot of Asian foods prepared in slow cookers.
Naturally, I had to experiment.  I tried out a dish I would normally cook in the oven or on the stove.  This is my slow cooker Asian braised beef.
It is slightly sweet, yet still super savory.  It cannot be eaten alone, and it best served with rice, noodles, or made into a sandwich à la bánh mì-style.
Ingredients needed for slow cooker asian braised beef: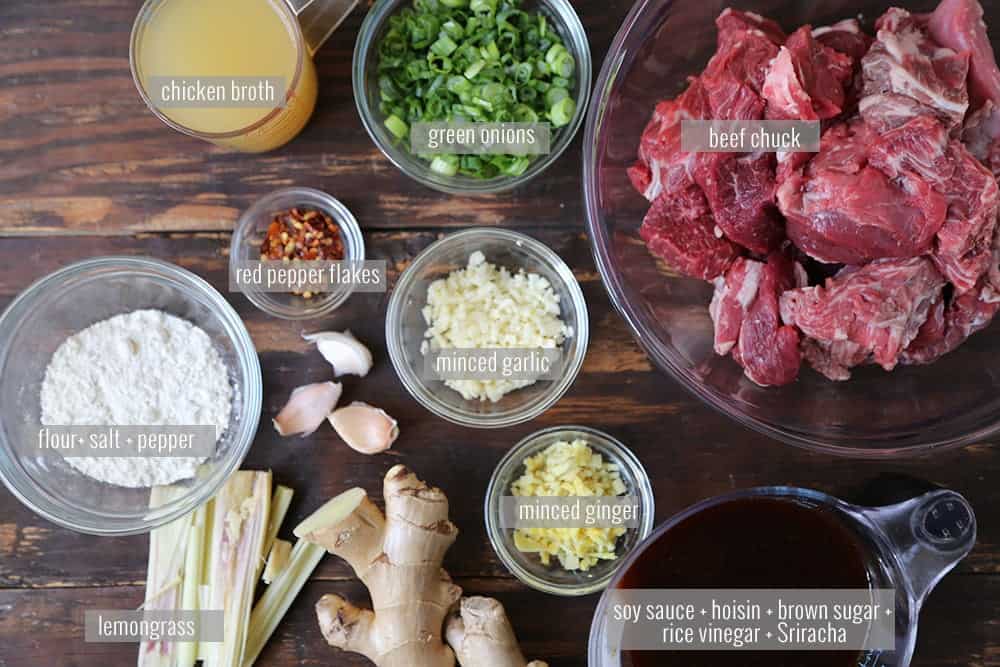 I used all sorts of Asian flavors, so it's not really associated with one country or cuisine.  I guess it kind of encompasses everything, like a melting pot.  There's lemongrass, garlic, hoisin sauce, ginger, rice vinegar and soy sauce.
Just like other braised meat dishes, this tastes even better the following day once the meat has had time to rest and soak up all the flavors of the sauce.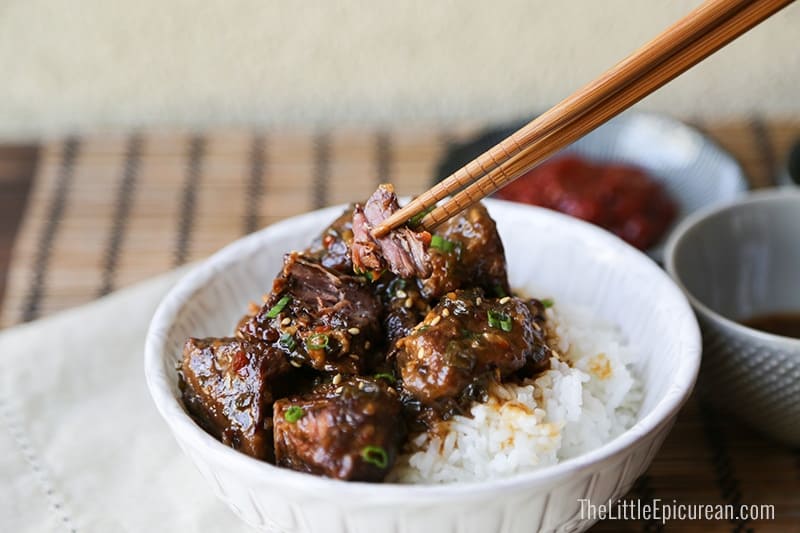 Slow Cooker Asian Braised Beef
Ingredients
3

pounds

beef chuck, cut into 1 1/2-inch cubes, excess fat trimmed

3

Tablespoons

all-purpose flour

1

teaspoon

kosher salt

1/2

teaspoon

freshly ground black pepper

3

Tablespoons

vegetable oil

5

garlic cloves, minced

3

green onions, thinly sliced (green and light green parts)

2-inch

piece of ginger, minced

1 1/2

teaspoon

crushed red pepper flakes

1

stalk lemongrass, cut into thirds and pounded

1

cup

reduced-sodium chicken broth

1/2

cup

reduced-sodium (light) soy sauce

1/4

cup

hoisin sauce

1/2

cup

rice vinegar

1/2

cup

light brown sugar, packed

2

Tablespoons

Sriracha sauce
Instructions
In a small bowl whisk together flour, salt, and pepper. Dredge cut beef into flour mixture. Shake off any excess flour. Set aside.

In a medium sized skillet, add vegetable oil and warm up over medium heat. Once warm, brown (sear) beef in batches. Not need to fully cook meat, you just want to have a nice crust while cooking off the flour. Place seared beef in slow cooker.


In the same pot you cooked beef, add minced garlic and ginger. Cook until fragrant. Add lemongrass and cook until garlic begins to brown. Add red pepper flakes and chicken broth. Transfer mixture to slow cooker.


In a bowl, whisk together soy sauce, hoisin sauce, rice vinegar, brown sugar, and Sriracha. Add to slow cooker. Add green onions.


Cover slow cooker. Cook for 4-5 hours on high heat, or 6-8 hours on low heat. Serve with rice, noodles or crusty bread.