Banana raspberry buttermilk muffins gives new life to ingredients commonly forgotten about kitchen staples. These rich and flavorful muffins are great for breakfast and snack.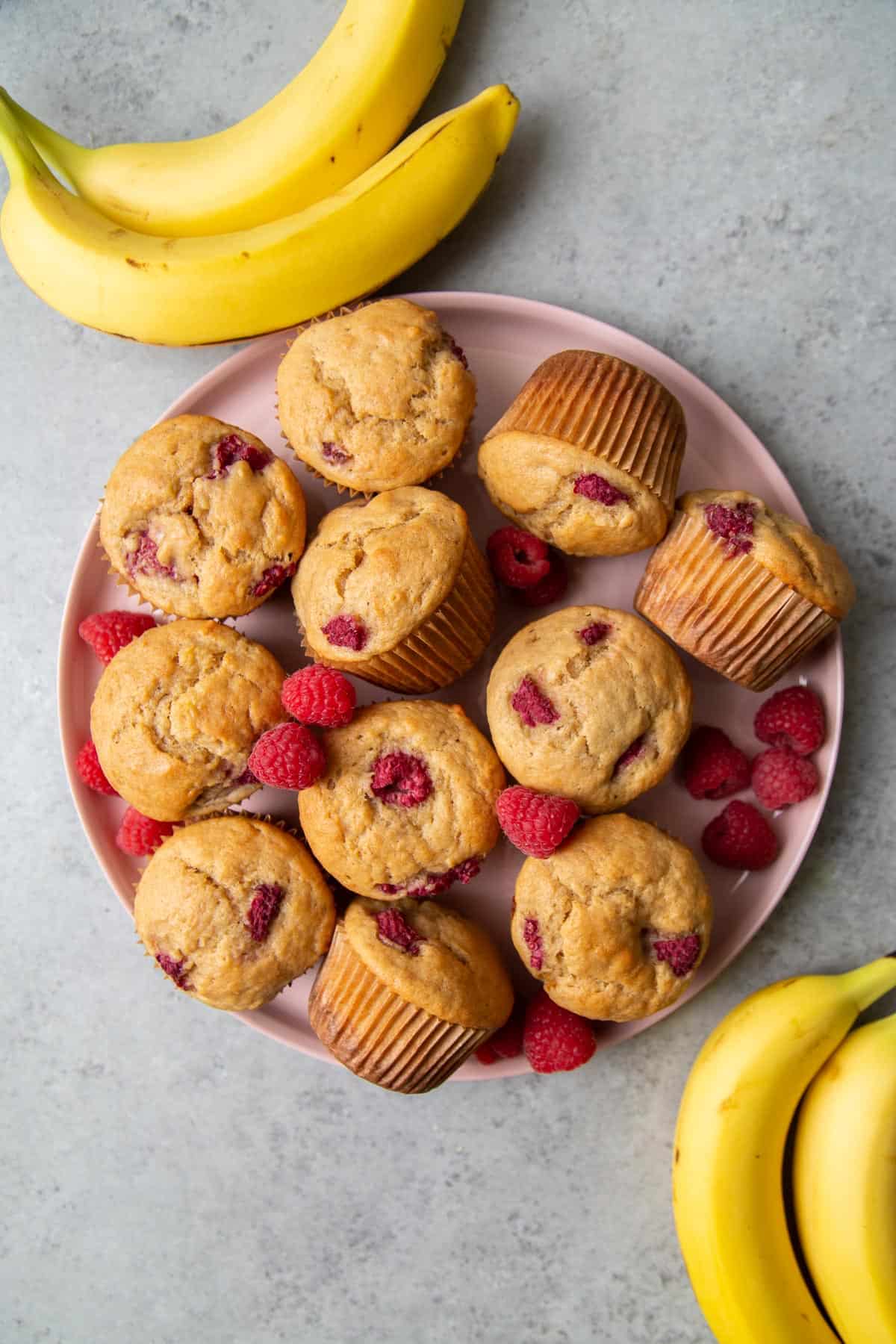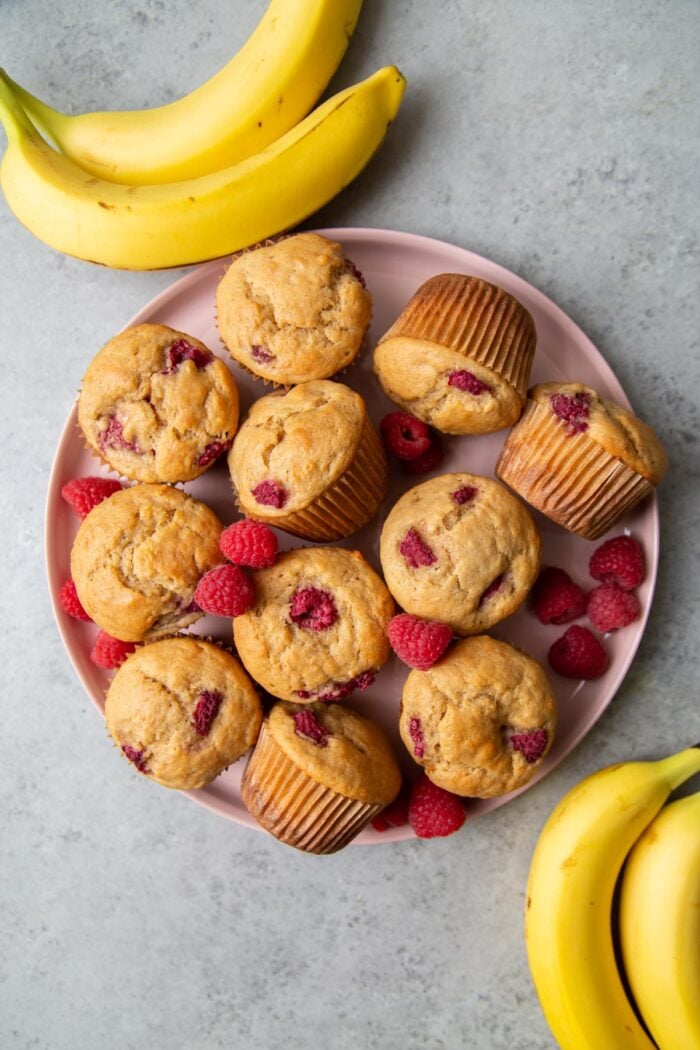 Every couple weeks or so, I stand before my fridge and accept the challenge that it's time to reorganize and clear out old food.
It's not fun. It's not something I look forward to.  
And, I hate hearing the beeping of the fridge telling me to hurry up and shut the door.  But it has to be done.
During this process, my creative juices start flowing and I often come up with random but delicious combinations.  I hate wasting food, so it's necessary that I find a way to use ingredients before they go bad.  
Don't believe me?  See: Clear the Fridge Bread Pudding.  
This time, I had a couple bananas past their prime, a cup of buttermilk, and some raspberries on their way out. As a result, the creation of these banana raspberry buttermilk muffins!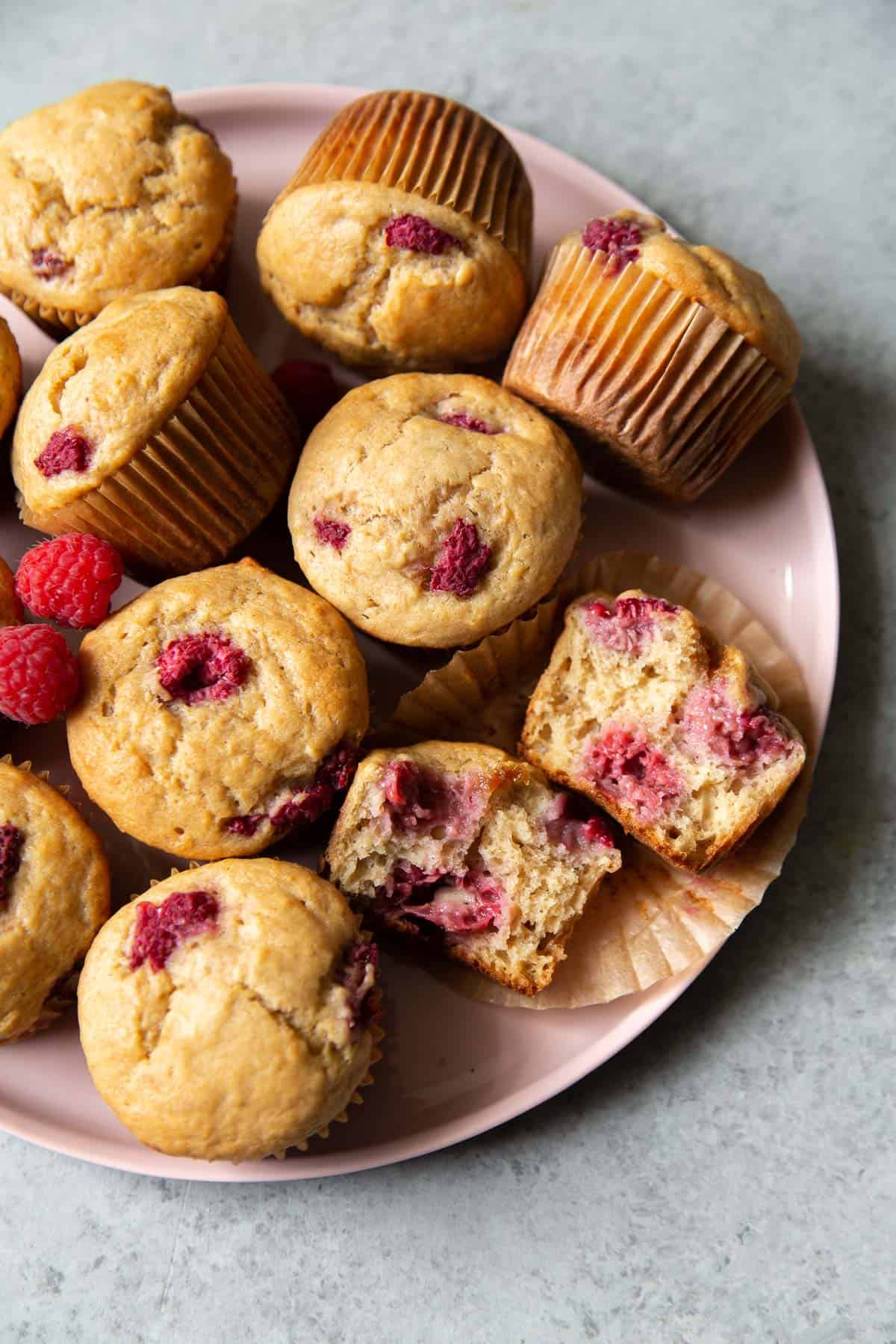 Banana Raspberry Muffins
I say this is a fairly healthy snack or breakfast.  
There's not too much sugar.  It's not very sweet, although its very moist and flavorful– especially if you happen to have super ripe bananas and happen to score on sweet raspberries.  
The buttermilk helps to add a nice tart yet clean finish.
These aren't one of the muffins you want to enjoy fresh from the oven. They actually taste better once they've had time to cool down.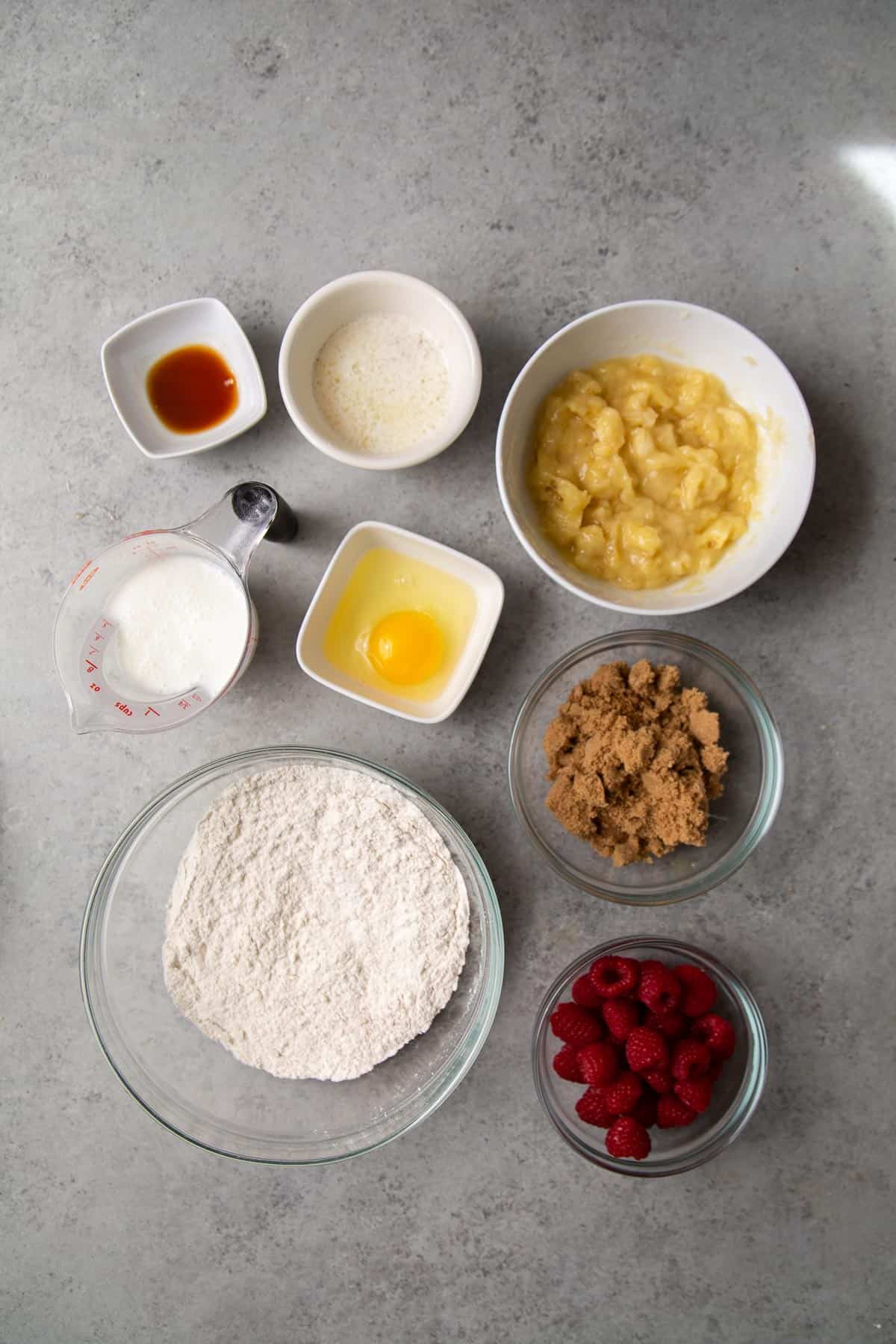 I didn't intend to make a Valentines-y looking muffin; it kinda just turned out that way. You can totally serve these alongside my baked egg dish and coffee cocktail for the ultimate breakfast in bed!
Breakfast in bed sounds so good because I'm so lazy most mornings. However, the more I think about it, I'm not sure how I feel about all the possible spills and crumbs. But hey, it's Valentine's Day- so why not?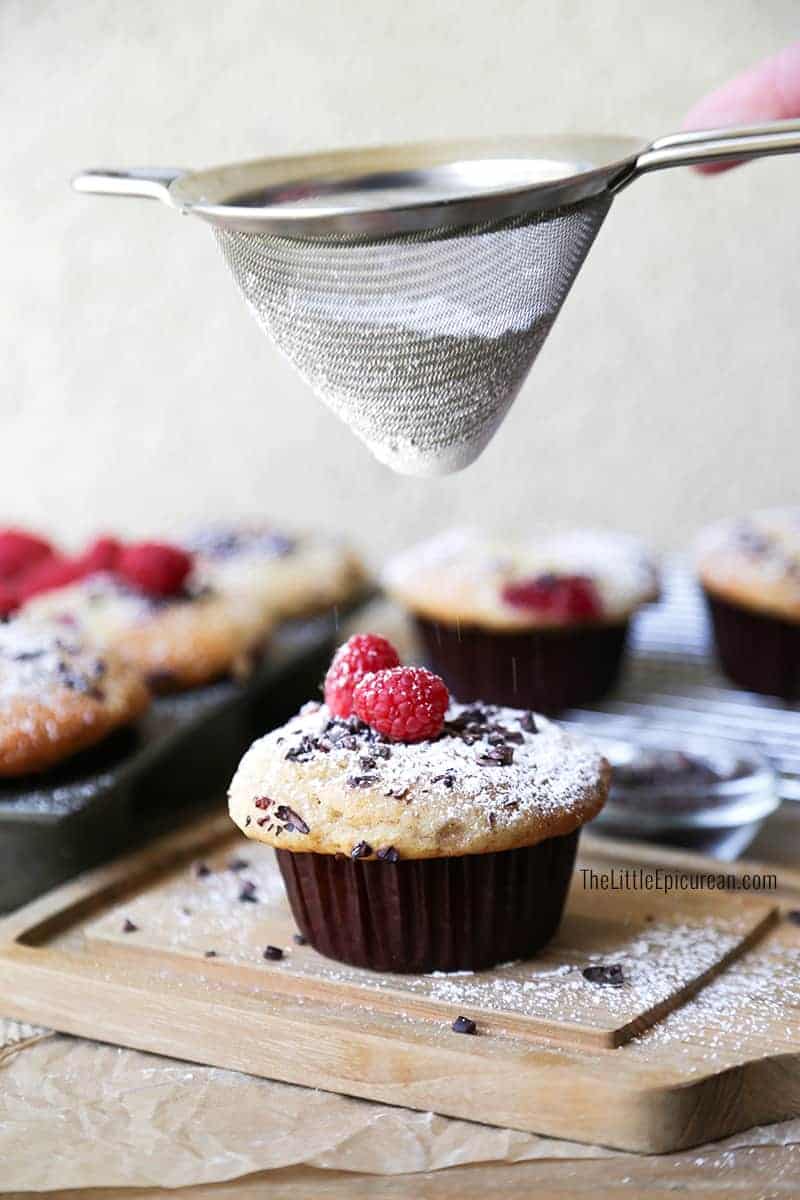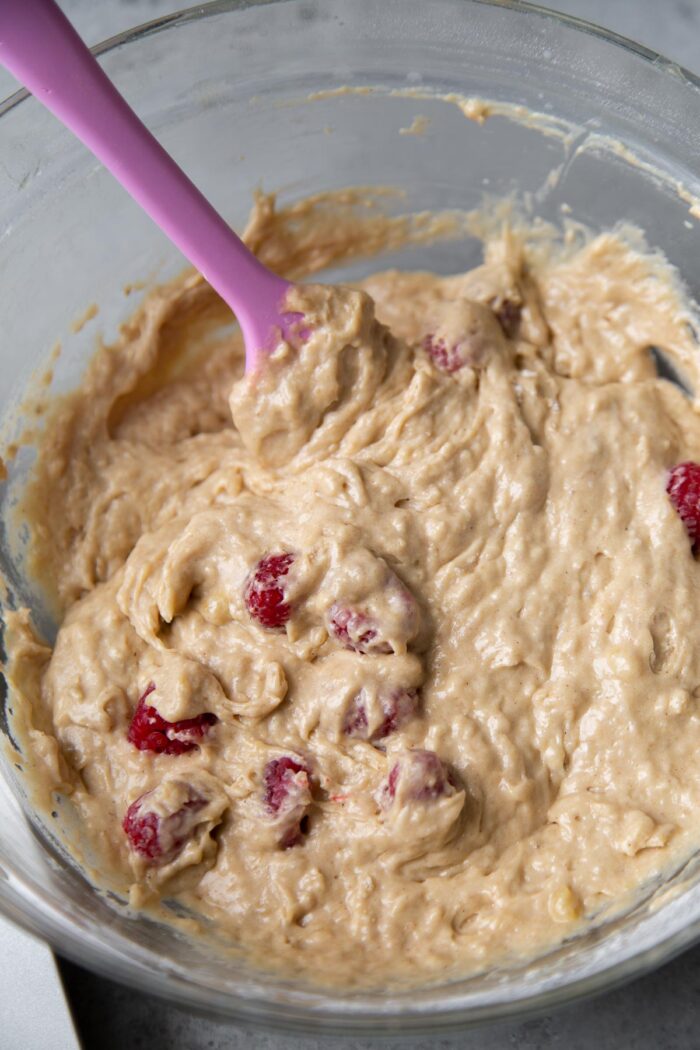 Note: I added cocoa nibs because I wanted a little crunch and some textural contrast. Next time, I think I'll add some chopped pecans and fold some cocoa nibs into the batter as well.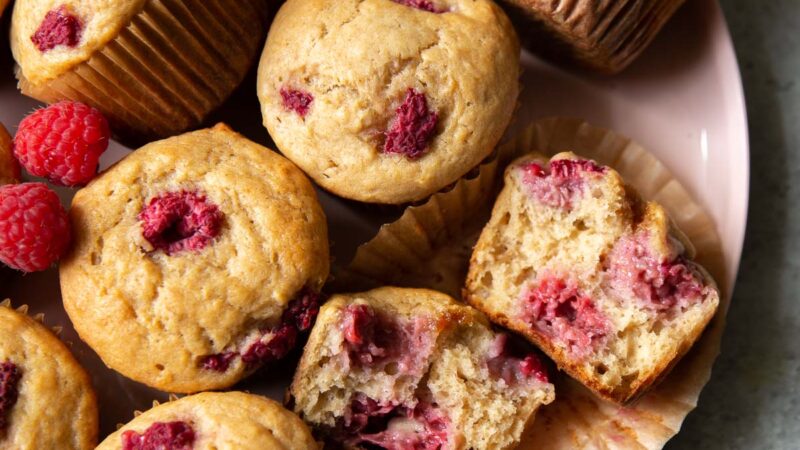 Banana Raspberry Buttermilk Muffins
Affectionately referred to as clean the fridge muffins. These muffins give new life to leftover bananas, raspberries, and buttermilk.
Ingredients
1 ¾

cup

all-purpose flour

½

cup

granulated sugar

1

teaspoon

baking powder

½

teaspoon

baking soda

1

teaspoon

kosher salt

⅓

cup

unsalted butter

melted

1

large egg

lightly whisked

1

cup

low-fat buttermilk

room temp

¾

cup

mashed ripe banana

½

cup

fresh raspberries

additional raspberries

to garnish

cocoa nibs

to garnish

confectioners' sugar

to garnish
Instructions
Preheat oven to 375 °F. Line muffin tin with cupcake liners. Set aside.

In a large bowl, whisk together flour, sugar, baking powder, baking soda, and salt.

In another bowl, combine melted butter, whisked egg, and buttermilk. Add to dry mixture. Stir together using a sturdy spatula.

Add mashed bananas and stir until incorporated. Gently fold in raspberries.

Use an ice cream scooper to distribute batter among prepare muffin tin. Fill tins about ¾ full and sprinkle cocoa nibs on top.

Bake for 18-22 minutes until muffins are golden brown and toothpick inserted in center of muffin comes out clean. Let cool in tin for 3-5 minutes. Then unmold and allow to cool to room temperature on wire rack.Sift powdered sugar on top of cooled muffins. Garnish with additional cocoa nibs and raspberries as desired.