Fresh strawberry puree swirled into a creamy buttermilk mixture. A scoop of this strawberry buttermilk ice cream is a tasty way to welcome spring!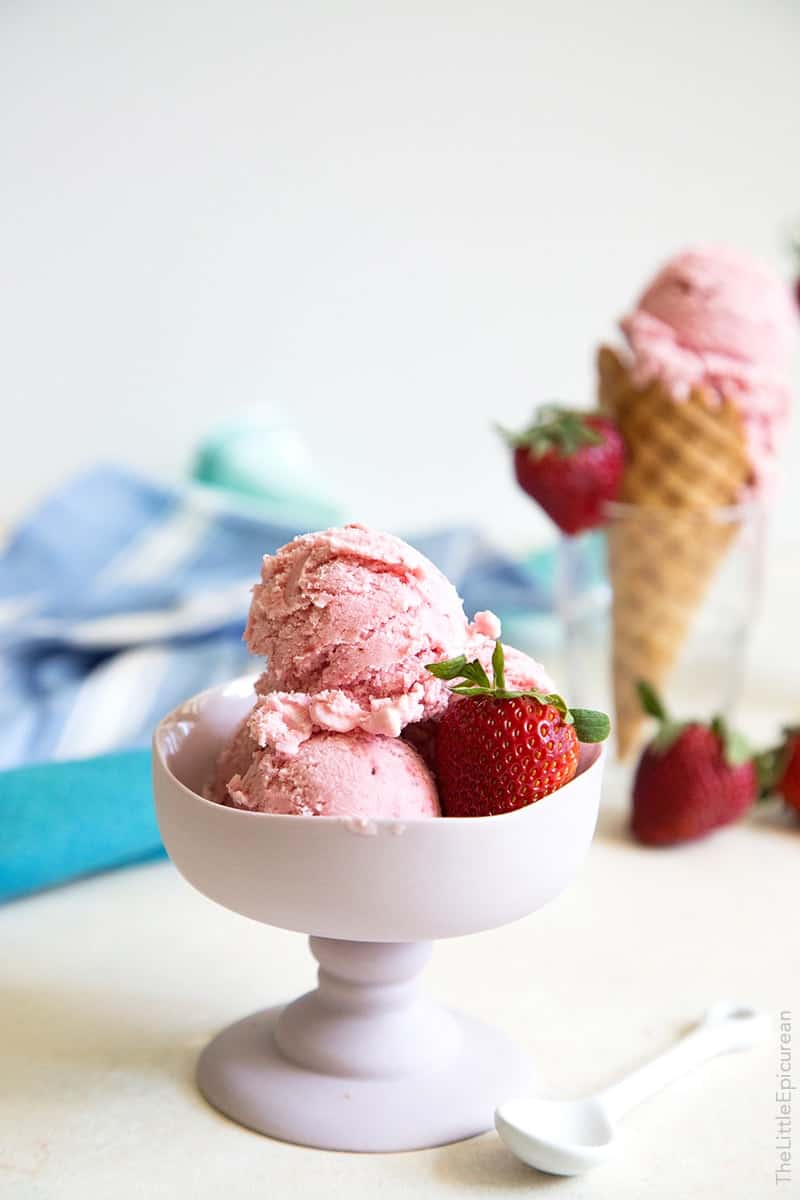 Strawberry Ice Cream
Buttermilk adds an unexpected dimension of flavor to desserts. It brings a pleasant tangy richness that keeps you coming back for more. Case in point- this espresso buttermilk ice cream.
When fresh strawberries are plenty, you have to try this strawberry buttermilk ice cream. It's a little tart, a little sweet, and so very flavorful.
A scoop of this is a perfect pick-me-up after a long day or a sweltering hot afternoon!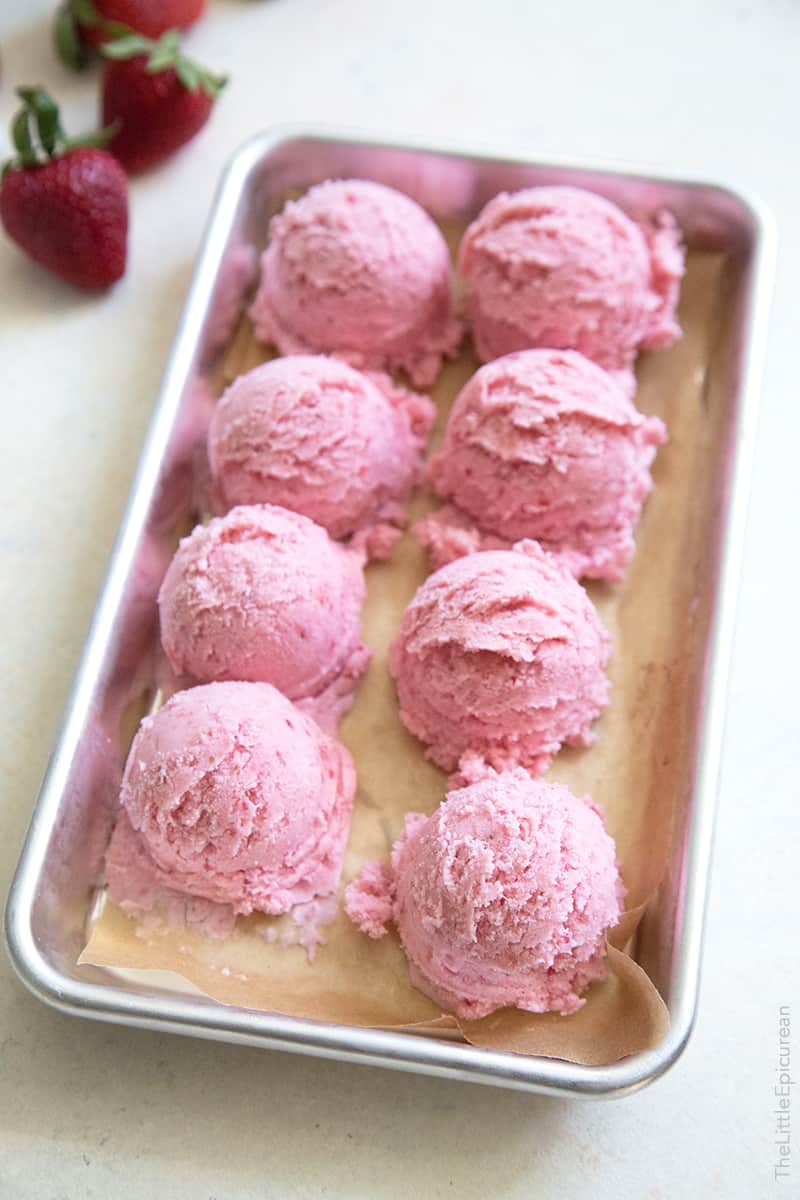 Ingredients and Substitutions
This super simple ice cream recipe contains 4 ingredients! It's a no egg ice cream base that you can easily customize to your liking.
Fresh Strawberries: This recipe works best with fresh strawberries. See below for more information.
Sugar: Use regular white granulated sugar. Raw or unbleached sugar will muddle the bright red-pink color of the strawberry ice cream.
Heavy Cream: Also labeled as heavy whipping cream. It has about 36-40% fat. You may also use whipping cream which has a slightly lower fat content at 30%.
Buttermilk: Low-fat buttermilk is most commonly available. It has a sweet and tangy flavor and slightly heavier texture than regular milk. In a pinch, you can make buttermilk by combining 1 cup milk with 1 tablespoon lemon juice (or white vinegar).
Recipes featuring Buttermilk
Fresh vs Frozen Strawberries
I don't suggest using frozen strawberries. The resulting ice cream will be a bit icy in texture. Also, the color of the finished ice cream will not be as vibrant.
Frozen strawberries are great for smoothies and certain baked goods. However, frozen strawberries are not meant to re-frozen once defrosted. The strawberries used in this recipe are never heated or cooked.
Don't have enough fresh strawberries? Make up the difference with raspberries. Or use a combination of berries (strawberries, blueberries, blackberries). Berries pair wonderfully with the buttermilk.
Recommended Ice Cream Machines
I personally use this automatic compressor ice cream maker. It uses a commercial quality compressor freezer that allows you to make ice cream quickly and efficently.
Compressor ice cream machines are a bit more expensive. It is worth the price if you make ice cream and sorbets often.
For infrequent ice cream makers, I suggest this insulated freezer bowl ice cream maker. I used this version for several years before upgrading. The only caveat with this simpler machine: you have keep the freezer bowl in the freezer for at least 24 hours before use.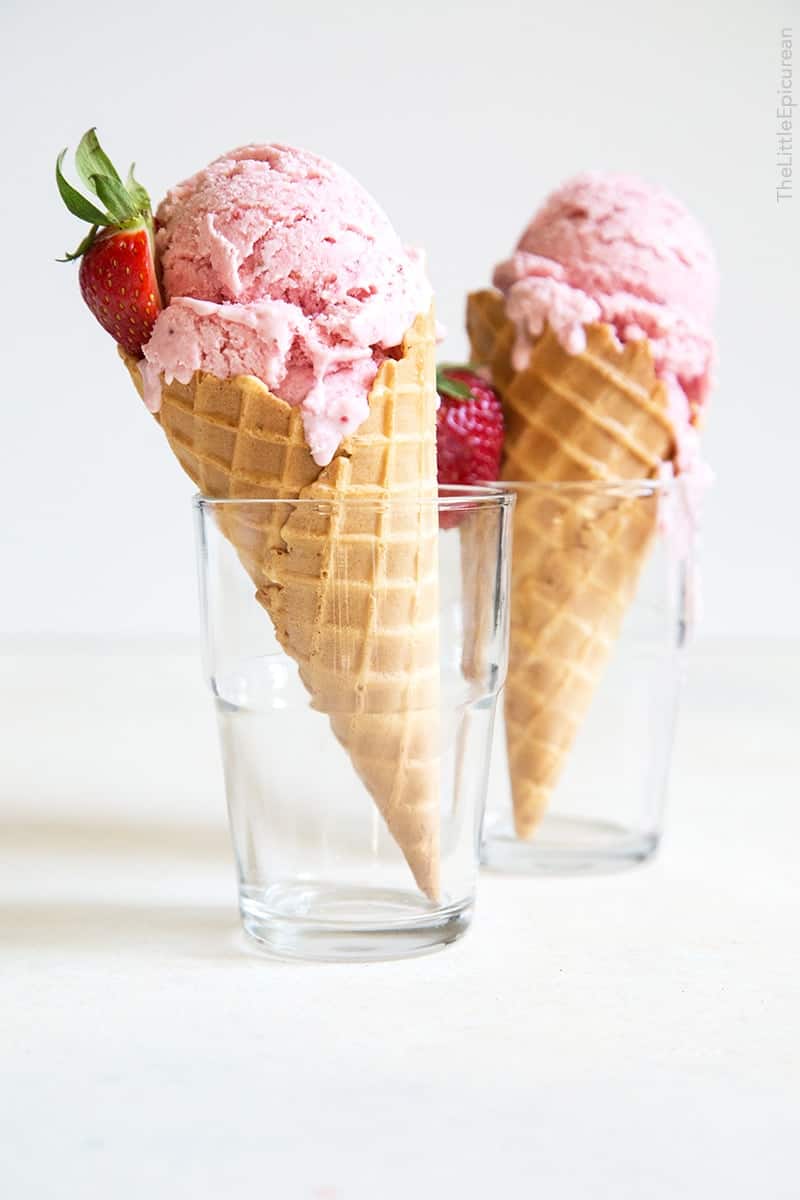 The compression machine doesn't need any extra prep. Simply pour the chilled ice cream mixture into the machine.
Within 35 minutes, you'll have real deal churned ice cream! The churned ice cream can be eaten straight from the canister. However, it will have the consistency of soft serve ice cream.
For better texture, spread the churned ice cream into a freezer safe container and freeze for a few hours until thickened.
Optional Ice Cream Mix-Ins
Once the ice cream has thickened during the the churning process, you may add in any desired mix-ins. I kept it simple and chose to omit mix-ins. Here are some ideas for possible options to toss in:
white chocolate chips or chopped white chocolate
drizzle in caramel or dulce de leche
strawberry sauce
More Ice Cream and Frozen Dessert Recipes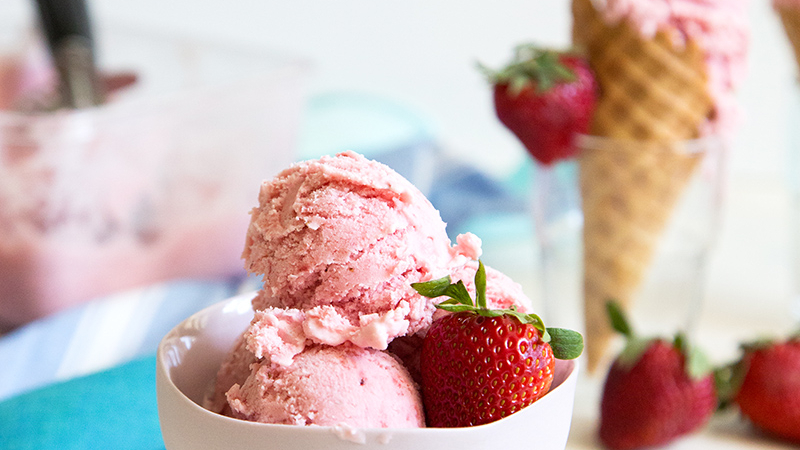 Strawberry Buttermilk Ice Cream
Fresh strawberry puree swirled into a creamy buttermilk mixture.
Equipment
Compressor Ice Cream Machine
Ingredients
4

cups

strawberries

(454 g) about 16oz/1pound, hulled and sliced

⅔

cup

granulated sugar

(135 g)

1 ½

cup

heavy cream

1 ½

cup

buttermilk

pinch

fine sea salt
Instructions
Puree strawberries. Pour into a large bowl and whisk in sugar. Add cream, buttermilk, and salt. Whisk until combined. Transfer to an airtight container and allow mixture to mature overnight in the fridge.

Stir contents together. Freeze mixture in ice cream maker according to your unit's instructions. Process until the volume has increased by half and has reached a soft serve consistency.

Transfer to an airtight, freezer-safe container and let rest in the freezer for at least 1 hour before serving. Allow to sit at room temperature for 5 minutes before scooping and serving.

Notes
Ingredient Notes:
Fresh strawberries work best. Frozen strawberries will create an icy texture.
Heavy cream is also labeled as heavy whipping cream.
Low-fat buttermilk is most commonly available. 
Storage: Keep in an airtight container in the freezer for up to two weeks.