Banana buttermilk muffins with raspberries are a great anytime snack!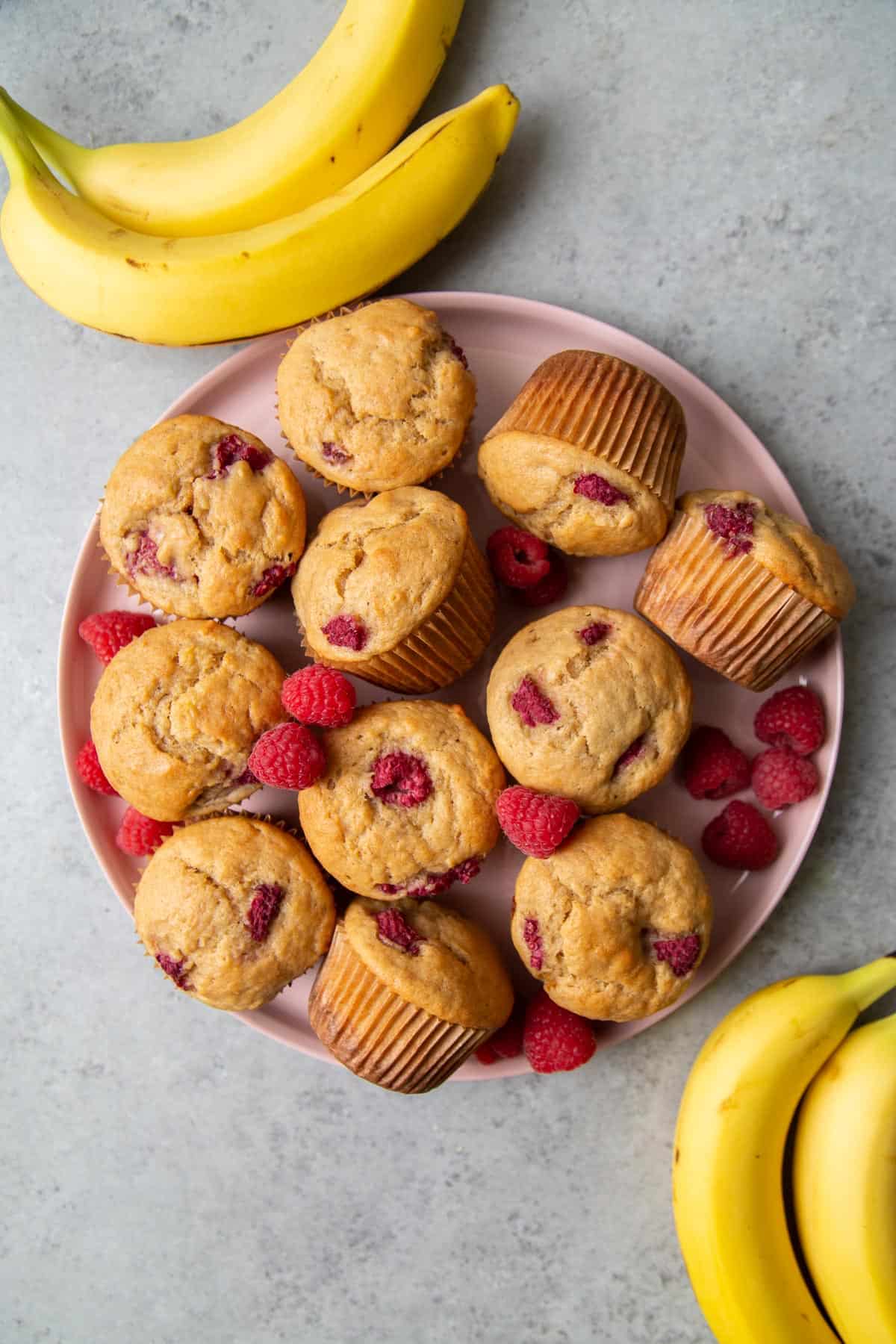 Buttermilk is traditionally the liquids left behind after churning butter made from cultured cream.
Today's modern buttermilk is made from milk mixed with lactic bacteria.
Buttermilk is a helpful ingredient that makes fried chicken irresistible, adds a nice tang to strawberry ice cream, and makes bundt cake moist and flavorful.
I don't buy buttermilk often we always end up with leftovers.
The half empty buttermilk carton often gets pushed to the back of the fridge, never to be thought of again until it's time to throw it out.
Here's a solution for leftover buttermilk! Make banana buttermilk muffins!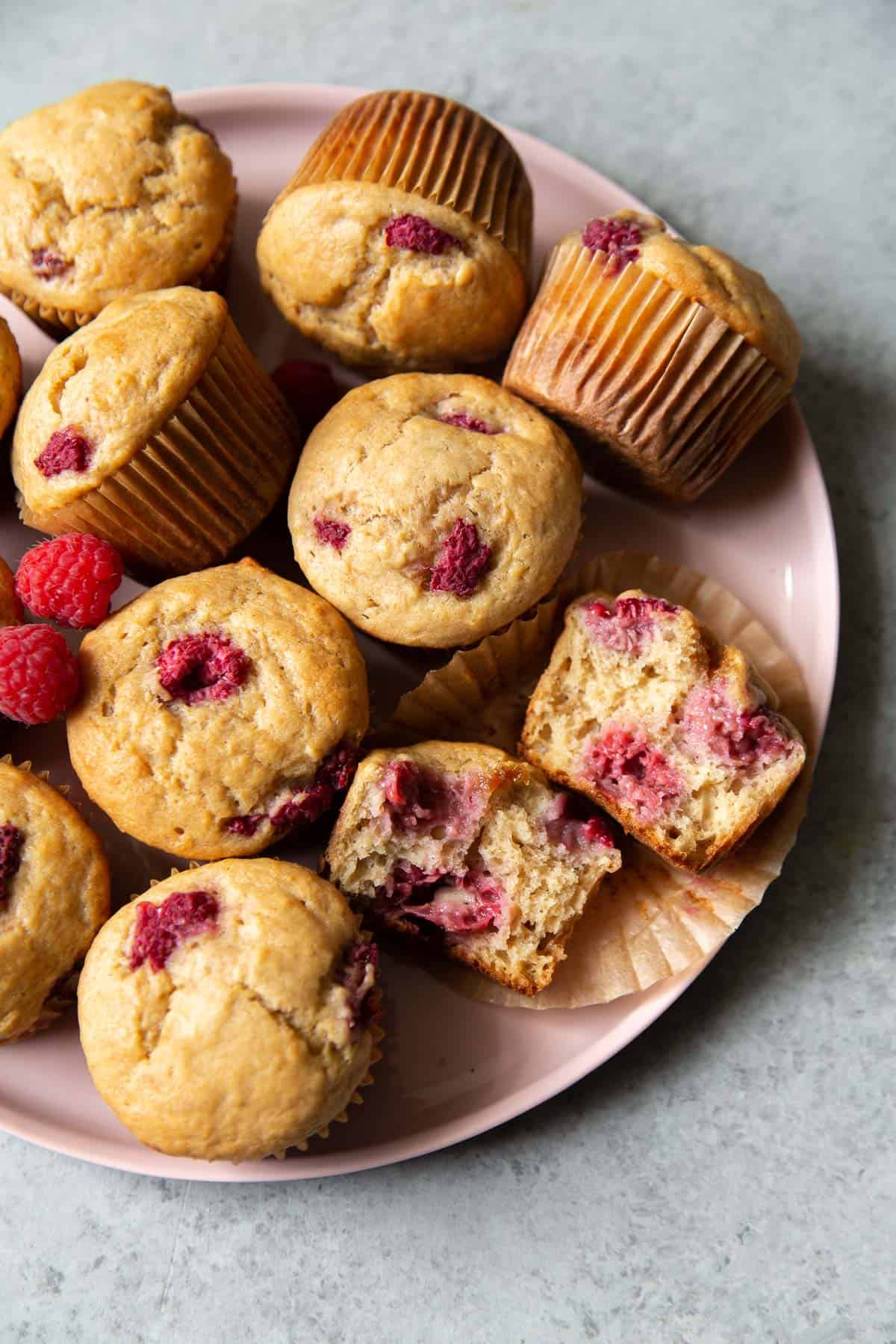 Banana Muffins
This is a great muffin for breakfast or as an anytime snack.
The recipe does not have a ton of sugar, compared to other fruit muffins.
While the recipe calls for light brown sugar, you may substitute in granulated sugar, dark brown sugar, or coconut sugar.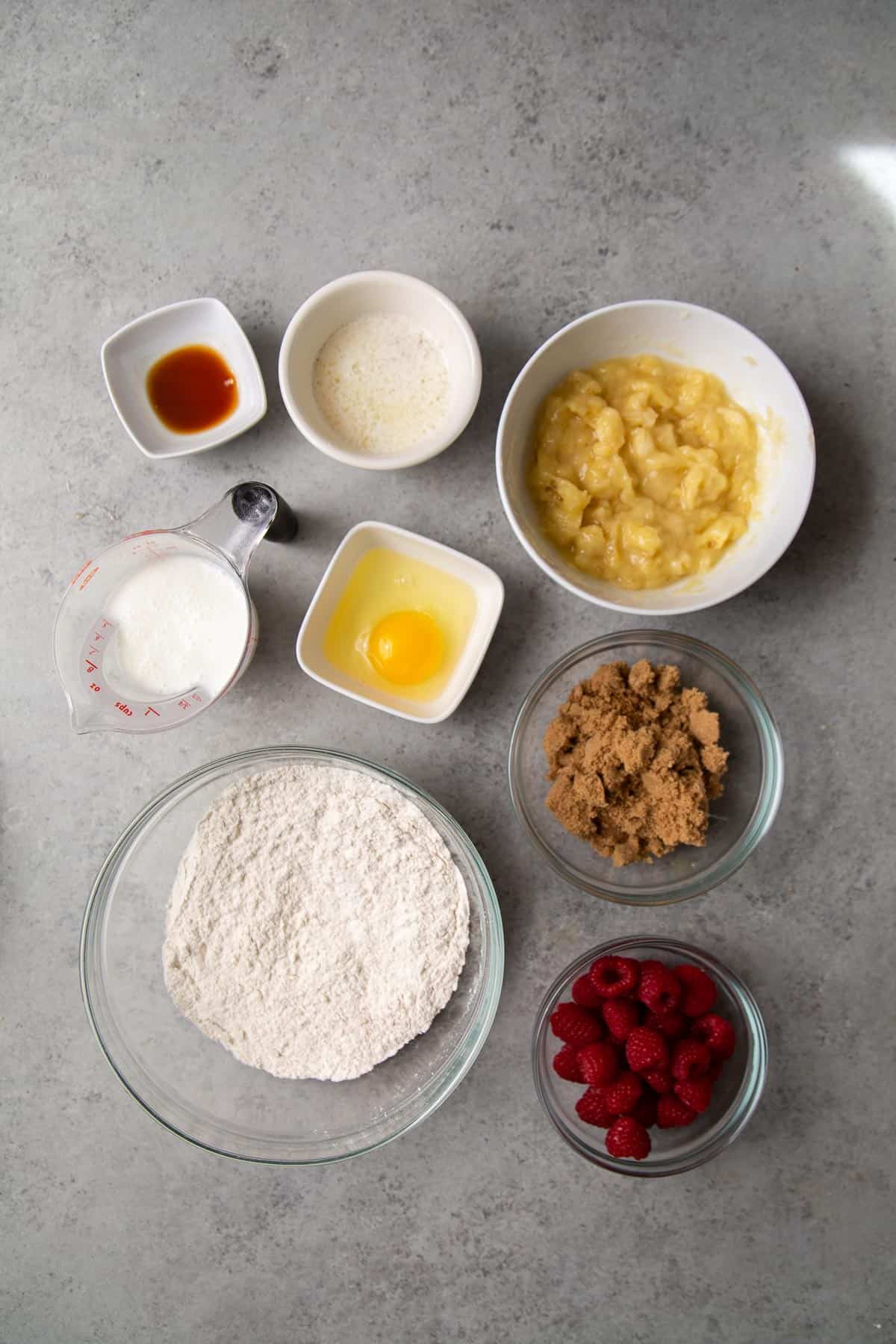 It's not very sweet. Much of the sweetness comes from the super ripe bananas!
Adding fresh raspberries adds the perfect amount of tart and zing.
Of course, you may substitute in choice of soft fruit. Excellent fruit options include:
sliced or chopped strawberries
blueberries
blackberries
chopped peaches (or other stone fruit)
The buttermilk helps to add a nice tart yet clean finish.
These aren't one of the muffins you want to enjoy fresh from the oven.
They actually taste better once they've had time to cool down.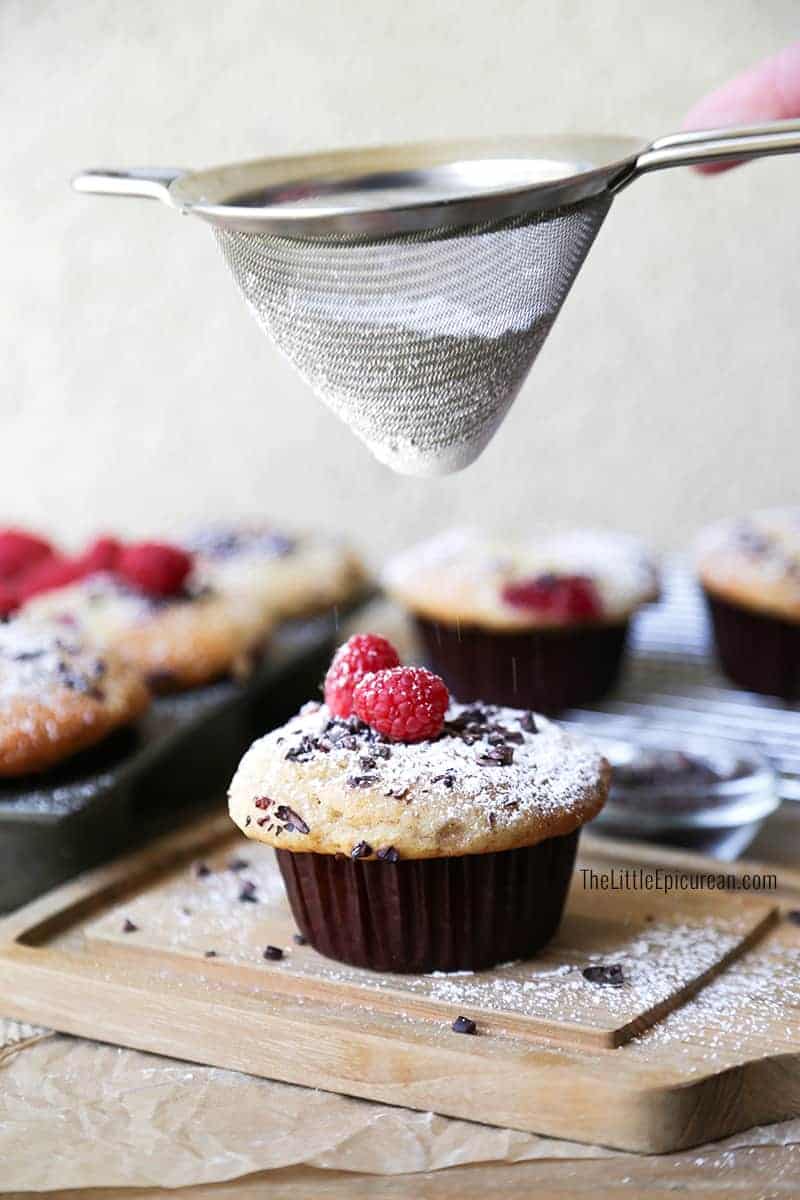 Mix Buttermilk Banana Muffin Batter by Hand
No need to bring out the stand mixer or electric hand mixer for this muffin recipe.
Easily mix this batter together by hand.
All you need is a whisk and a sturdy spatula. (I highly recommend GIR spatulas. I only have great things to say about their products!)
The batter will be rather thick. Be careful not to overmix.
Over-mixing will lead to a dense and chewy muffin.
How to Fill Muffin Tin
Line standard muffin or cupcake tin with paper wrappers.
Use an ice cream scoop to distribute batter among prepared baking tin.
Fill the muffin tin over 3/4 full of batter. The tins will look nearly full of batter. That's okay!
Add some chunks of raspberries on top to highlight the fruit.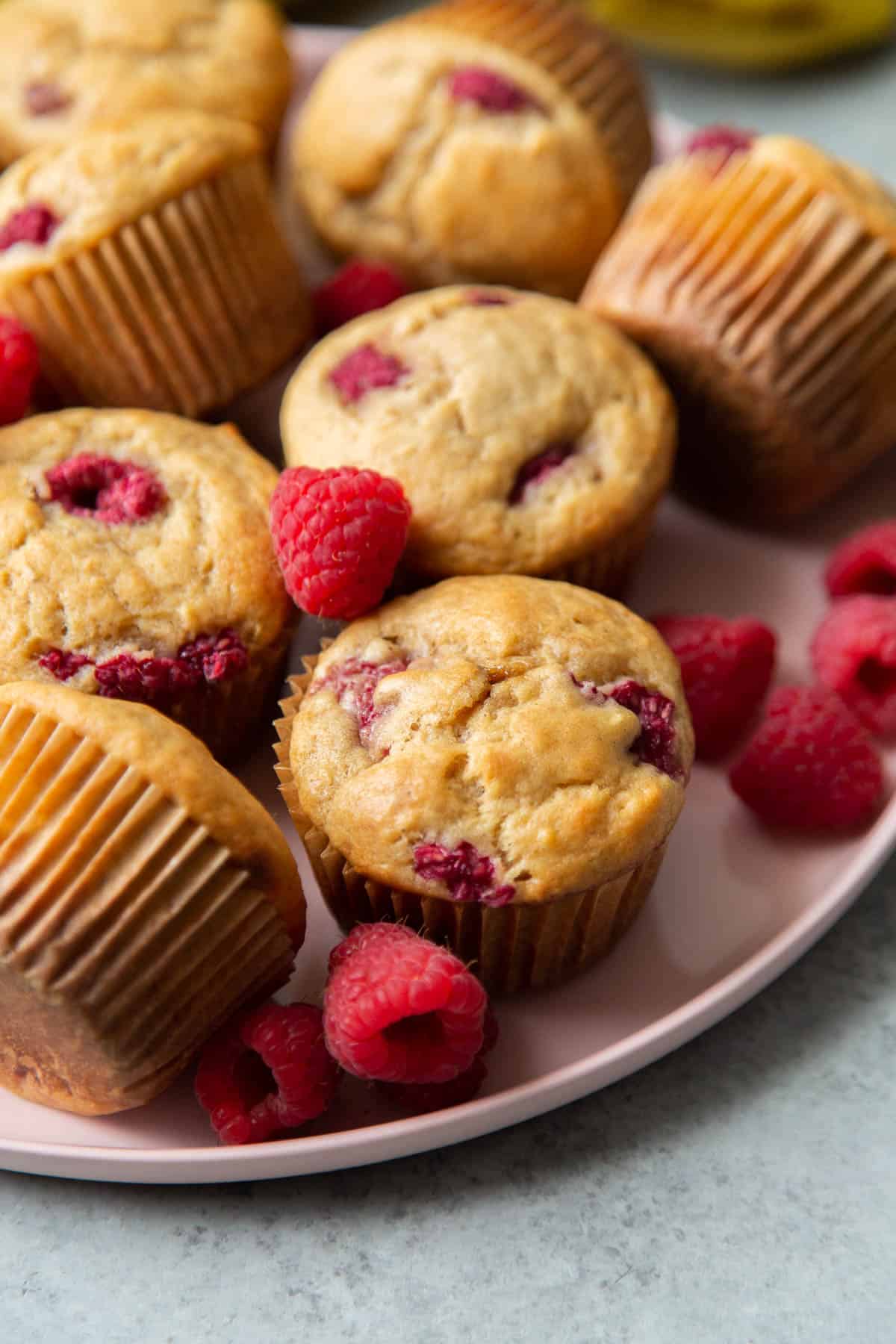 Muffins versus Cupcakes
There is great controversy and debate between what can be considered a muffin versus a cupcake.
Here's my definition:
Muffins are either sweet or savory. They can be enjoyed any time of day.
Cupcakes are sweet. A true cupcake must have frosting!
Banana blueberry muffins and banana jackfruit muffins are great when you have extra bananas leftover.
If you prefer something sweeter, these banana cupcakes with peanut butter buttercream are a wonderful treat!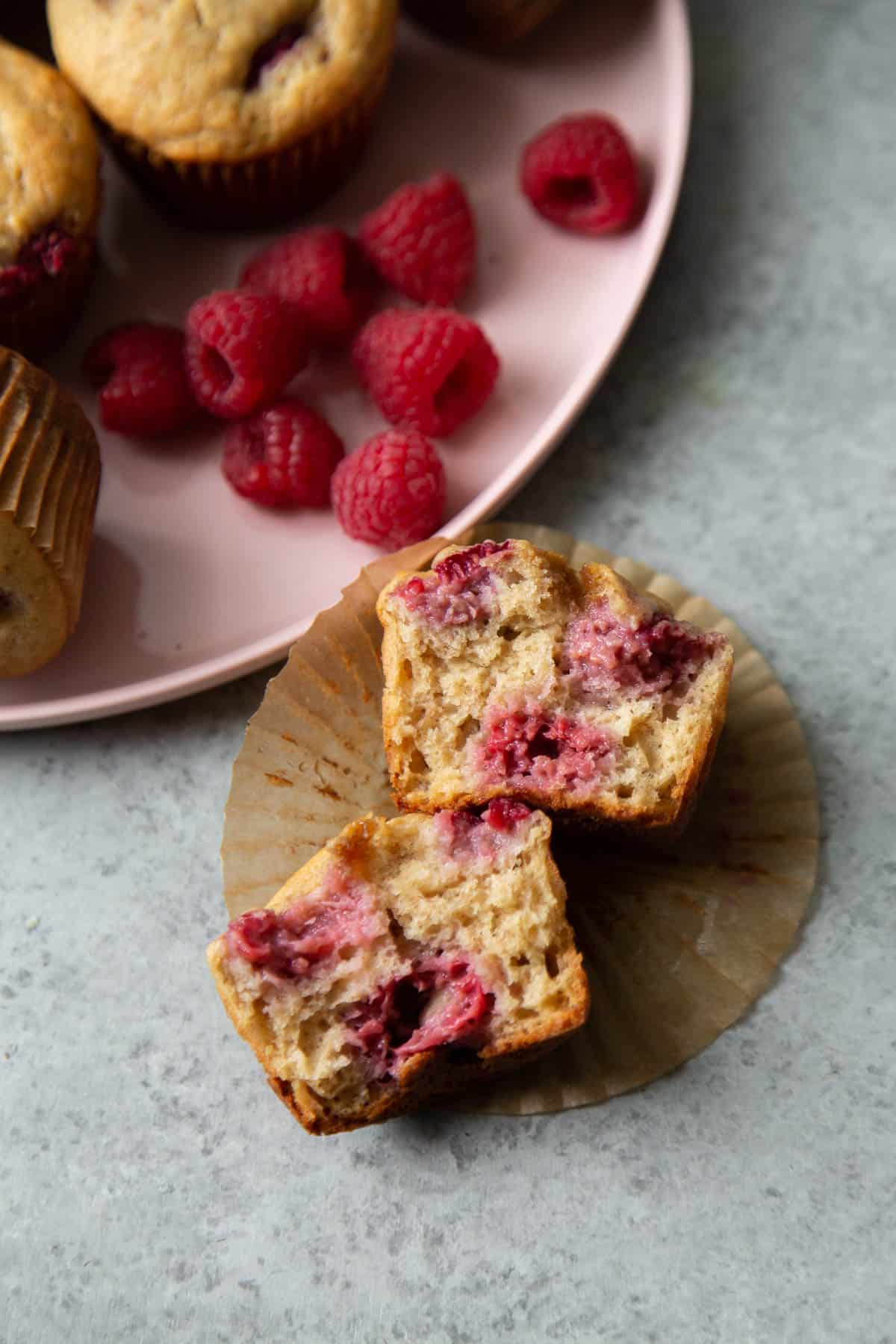 Muffin Storage and Leftovers
Enjoy banana muffins warm fresh from the oven or cool to room temperature.
These raspberry banana buttermilk muffins actually taste even better once they've had time to cool down!
Store baked muffins at room temperature in an airtight container overnight.
For longer storage, it is best to keep leftovers in the fridge to prevent mold from forming on the raspberries.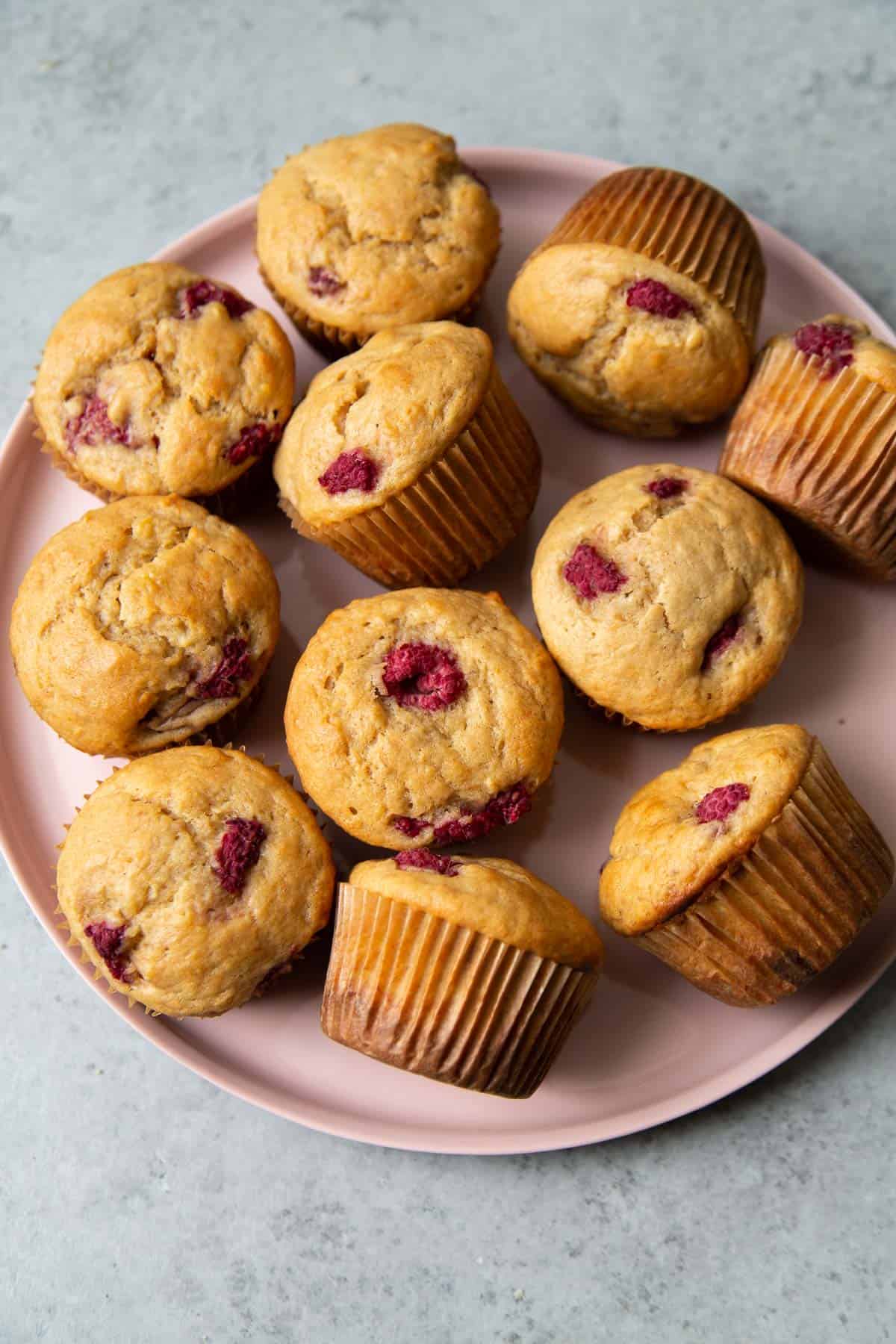 Related Fruit Muffin Recipes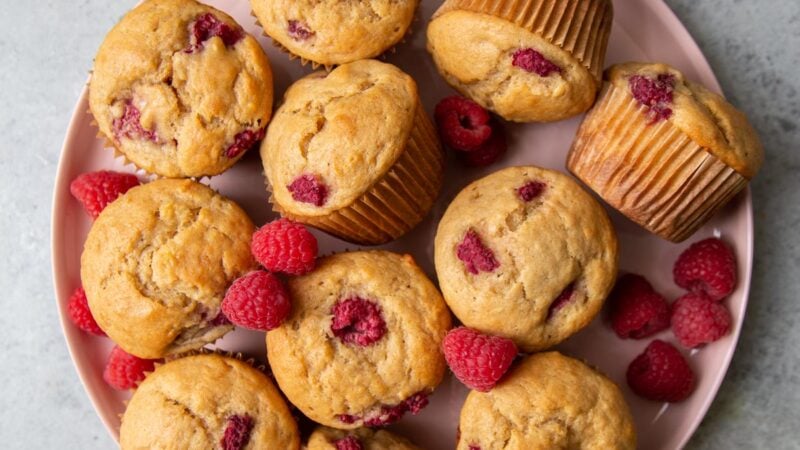 Banana Raspberry Buttermilk Muffins
Affectionately referred to as clean the fridge muffins. These muffins give new life to leftover bananas, raspberries, and buttermilk.
Yield: 1 dozen
Ingredients
1 ¾

cup

all-purpose flour

(230 g)

½

cup

light brown sugar

(100 g)

1

teaspoon

kosher salt

1

teaspoon

baking powder

½

teaspoon

baking soda

⅓

cup

unsalted butter

(76 g), melted

1

large egg

, lightly whisked

½

cup

low-fat buttermilk

, room temp

1

cup

mashed ripe banana

(250 g), about 2 medium bananas

1

cup

fresh raspberries

additional raspberries

to garnish
Instructions
Preheat oven to 375 °F. Line muffin tin with cupcake liners. Set aside.

In a large bowl, whisk together flour, sugar, salt, baking powder, and baking soda.

In another bowl, combine melted butter, whisked egg, and buttermilk. Add to dry mixture. Stir together using a sturdy spatula.

Add mashed bananas and stir until incorporated. Gently fold in raspberries.

Use an ice cream scooper to distribute batter among prepare muffin tin. Fill tins a little over ¾ full.

Bake for 18-22 minutes until muffins are golden brown and toothpick inserted in center of muffin comes out clean. Let cool in tin for 3-5 minutes. Unmold and allow to cool to room temperature on wire rack. Garnish with sifted powdered sugar and raspberries as desired.